BAX/Brooklyn Arts Exchange
718-832-0018
421 Fifth Ave. (corner of 8th Street)
Park Slope, NY
bax.org/birthday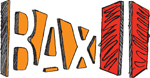 BAX Youth Arts Education provides expert instruction in building technical skills in dance, tumbling, and theater with an emphasis on cultivating creative expression. Working with professional performing arts faculty, BAX students develop improvisation, original choreography, and performance skills, working independently and in collaboration. Youth classes embody BAX's overarching mission to provide the space and support for "artists-in-progress" to explore, hone, and share their unique voice.
For more information on BAX's Youth Education programs visit http://youth.bax.org.
If you are interested in having your child's birthday party at BAX, please visit http://thebuilding.bax.org/birthday/