Ladybug Playhouse
516-252-7207
244 Glen Cove Ave.
Glen Head, NY
ladybugplayhouse.com


Description
At The Ladybug Playhouse Nursery School we offer innovative early childhood programs in a safe, nurturing and caring environment.
Our staff is made up of dedicated, qualified early childhood educators who strive for excellence. Your child will benefit from working with NYS certified teachers who are committed to the care and education of each individual child. Our class sizes are small, comprised of low teacher to child ratios (2:10). This allows the teachers the flexibility to individualize instruction to meet your child's specific interests and needs.
Numbers, counting, letters, listening, speaking, making observations, writing, drawing, classifying, comparing, sports skills, dancing, respecting one another, following rules and having fun are just a few skill that your child will embrace in our program.
Curriculum


Our curriculum nurtures the whole child and supports the child's social, emotional and intellectual growth. Children ages 3-5 will enjoy transitioning safely, along with their classroom teacher, through different classroom settings. These settings include: math/science/technology, literacy/art/ music and gym/dramatic play. In these rooms your child will have the opportunity to work in group settings as well as independently. He/She will enjoy exploring, playing and learning all about the world around them! Toddlers will explore similar academic transitions and themes within their classroom.

Mommy & Me
Mommy & Me classes are now available at the Ladybug Playhouse Nursery School. These classes are a great introduction to a preschool atmosphere. Mommy and Me classes enhance early learning by building socialization skills and increasing confidence and independence in children, while having the comfort of Mommy, Daddy or caretaker present. It gives parents and caretakers the opportunity to spend 90 minutes of quality time with their children.
Birthday Parties


We also specialize in Birthday Parties for children ages 2 and up. Your child along with his/her party guests will enjoy playing fun games, creating a craft and exploring in our Ladybug Town Center. There are many themes to choose from including the "Bug"-tastic Science Party, The Lady-Boogie dance party, the "Bug"-alicious Cookie Party and many more or just come up with a theme on your own. All parties are private. Check out our website for details.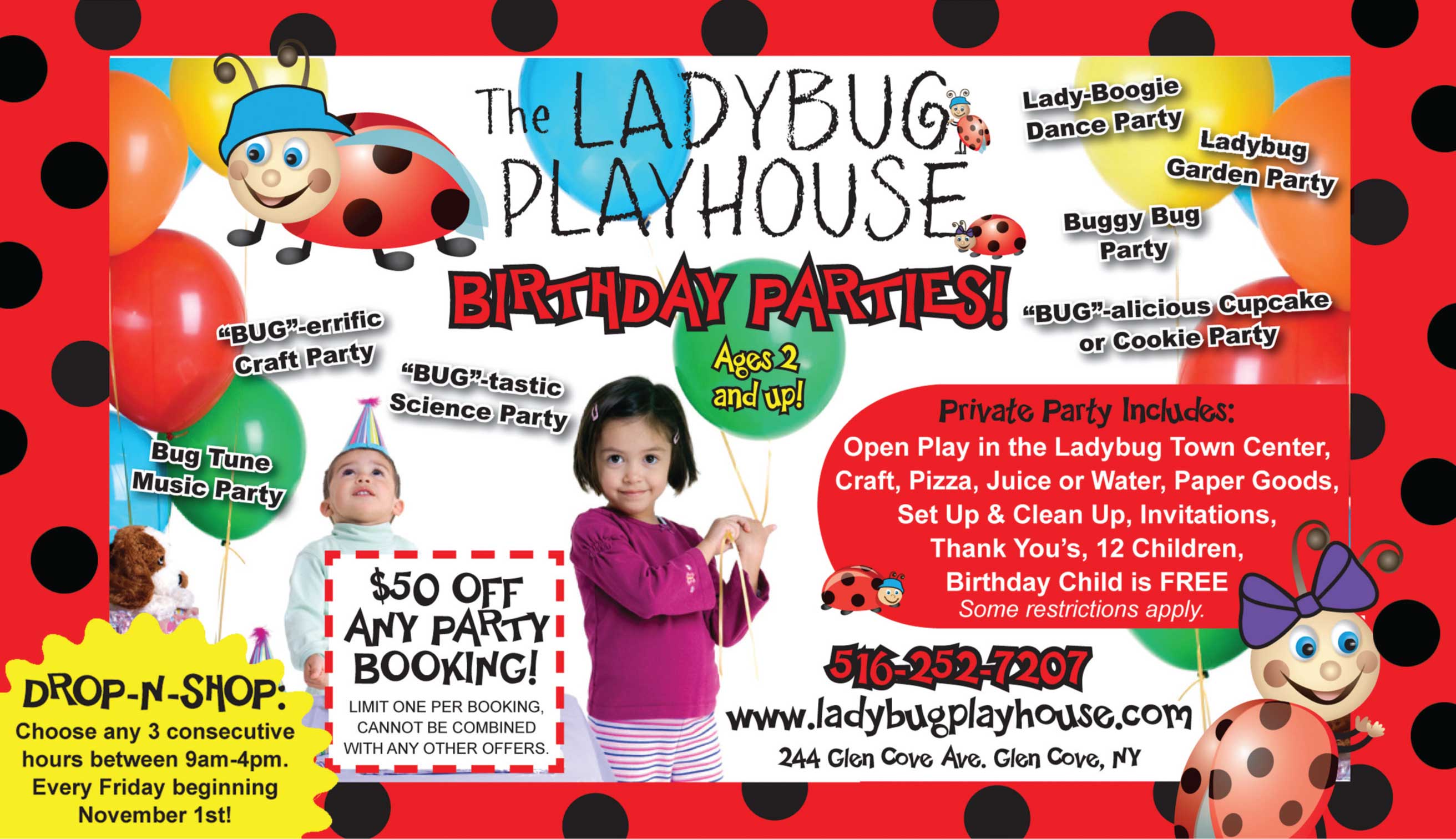 Other Features
The Ladybug Playhouse also, has great features for parents of children ages 2 - 8, Drop & Shop and Drop& Dine. Drop and shop is a time allotted drop off service. You may drop your child off for up to 3 hours between 9am-4pm. You must call and reserve a spot for your child and you must complete an enrollment form on or before the first day of drop off. Then just enjoy your shopping time. This feature will be offered every Friday starting November 1st. Another great feature we offer is Drop & Dine. Want to enjoy a relaxing dinner with your husband or friends. Just drop off your child for up to 3 hours between 6-10pm for a fun filled night of fun and enjoy your dinner. This service is available 2 or 3 times a month. Check out our website for dates and time available. You must also make a reservation and complete an enrollment form on or before the first day of drop off.