Gate Hill Day Camp
845-947-3223
750 Gate Hill Road
Stony Point, NY
www.gatehilldaycamp.com

Gate Hill is an experience of a lifetime for our campers. We offer programs and door to door transportation for children ages 3 to entering 10th grade. Each division of campers allows children to thrive within an exciting and developmentally age appropriate program

We understand that not all kids are the same. Interests vary and that should not prevent them from enjoying a complete camp experience. At Gate Hill we've created an environment that integrates campers into our camp community, while still nurturing their individual needs. Our Program is balanced; giving campers opportunities for independent choice, participation in daily activities, and the experience of camp wide events.

We pride ourselves on blending a caring environment with an amazing program all within a state of the art facility. It is our goal to help every Gate Hill camper build meaningful friendships and develop new skills all while having the time of their lives!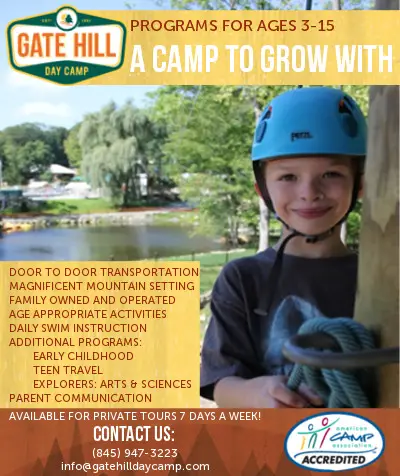 Explorers Arts & Sciences, Enrichment Program
A modern take on a summer at camp, Gate Hill Day Camp's Explorers Program combines the fun of a family camp with the excitement of an enrichment experience for campers entering 3rd grade - 9th grade. An alternative to the regular program, a portion of our community is drawn to the exciting variety of arts and science.

Uniquely designed workshops capture the interest of today's precocious child, in a community that encourages play, develops skills and builds self-esteem.
The program is based on five core workshop categories:
Science & Technology
Creative & Digital Arts
Strategic Games
Music & Theater
History & Social Science
Our Explorer's program allows campers to choose from a variety of workshops in the morning, while still maintaining a regular day camp experience in the afternoon. Explorer's day is structured so that they still have instructional and recreational swim periods.
Trailblazers Teen Travel Program
Our teen travel program is an opportunity of a lifetime! Through a combination of day trips, one, two and three night overnight trips and selected camp experiences (i.e. special events), our Trailblazers experience adventures daily. We help them explore the larger world through carefully planned trips and events, while giving them an opportunity to show leadership, build strong friendships and develop self reliance. Trailblazers' Staff are trained to work with teens and understand the responsibilities and significance of their role while off grounds.