Manhattan Free School (The)
212-533-2826
115 E. 106 St.
New York
manhattanfreeschool.org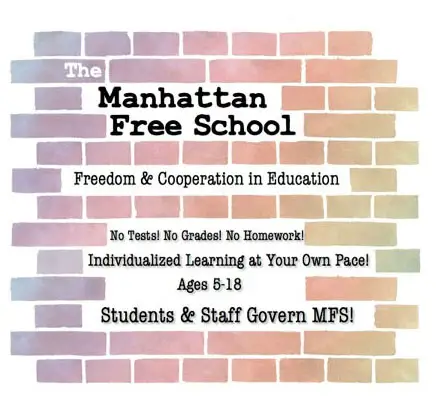 A Free Range Education
Last September, a revolutionary school, The Manhattan Free School, moved from the East Village to East Harlem's cultural corridor on 106th Street. A non-profit, democratically-run independent school, The Manhattan Free School offers students ages 5-18, the opportunity to develop their birth-given gifts while offering them an equal voice and vote in decisions affecting the day-to-day life of the school. Students and staff come together to make decisions on matters as important as arrival time, diploma requirements, and staff hiring.
The Manhattan Free School places a greater value on choice than control, on voice than silence, on age-integration than age-segregation. Students are empowered to make decisions concerning their own learning and their school community. At the Manhattan Free School students are not graded, ranked, or formally evaluated. Because students design their individual educational path, classes develop around student interest, with advisors to assist them as desired.
Developments in the science of learning have confirmed the need for schools like The Manhattan Free School who trust in the innate desire to learn and a child's enormous capacity to make sense of the world on their own terms. The Committee on Developments in the Science of Learning and the Committee on Learning Research and Educational Practice concluded " that very young children are competent, active agents of their own conceptual development. Children are active learners who are able to set goals, plan, and revise. This work demonstrates that the human mind is a biologically prepared organism." (How People Learn, 2000)
Reflections from MFS students and parents confirm the research-
"Being in the Manhattan Free School community has taught me so many valuable life lessons I never would have learned in standard high school: accountability to my own actions, the ability to successfully mediate problems, how to network and get the things I want from the community around me, and the courage to chase after what I really want. I feel like the freedom granted me has given me the power to discover myself as a person." Leelah
"It's so much more fulfilling to be in a course at the Manhattan Free School, because everyone there wants to be there and time isn't wasted with disciplinary issues and uninterested teachers. I'm studying things I never thought I would have studied at my old school. I'm challenging myself, not sitting back and daydreaming the way I did at my old school."
"I can learn about things I care about and the environment at The Manhattan Free School is infinitely more respectful."
"We make the rules. We are all required to make at least that much contribution to the community." Robin
"I guess the main difference is, I will enter college not only with a strong academic background, but, the ability to gather information, think and form opinions that are solely my own." Paige
"My son was able to spend time on things that were truly important to him and formulate some of his ideals and beliefs. He had more autonomy and the ability to truly participate in the governance and process of his school." Bridget
"MFS has a more nurturing, modern, organic approach to education, rather than a one-size-fits-all cookie cutter paradigm. As a parent I feel my son is greatly benefiting from learning how to function within a community, empathize and understand the perspective of others, understand and interpret the world, gain confidence in his innate talents and abilities, connect, share, and embrace his environment with love. There was a radical change in our son - from sullen and withdrawn to vibrant and connected." Cathy
While The Manhattan Free School's philosophy is radical, its place in the education establishment is certified by New York State. The Manhattan Free School offers diplomas and transcripts and all of their graduates have gone on to college.
If your child has been unhappy, unmotivated, or uninvolved in school, take a look at The Manhattan Free School. See their website for Open Houses, Tours, and more information- www.manhattanfreeschool.org or write to the Director, Pat Werner, patwerner@manhattanfreeschool.org