Grandmaster B. M. Kim's Tae Kwon Do
914-428-0085
60 S. Broadway
White Plains, NY
bmkimtkd.com

Our School

Grandmaster B.M. Kim's Tae Kwon Do is a special place dedicated to fitness, family and education. The emphasis of our training is based on setting and attaining goals, and reaching your maximum potential. Grandmaster Kim emphasizes the importance of internal change as well as external changes to the body from physical training.

Thinking positively, avoiding negative thinking and speech, doing good deeds every day, drinking green tea, beginning each day with meditation. By practicing these things daily, we can keep our bodies, minds and spirits in good health and harmony.

Our Style

Tae Kwon Do, the world's most popular martial art, originated in Korea. Officially introduced as an Olympic sport in 2000, Tae Kwon Do is admired for its wide range of high, powerful kicks, powerful hand strikes, and strong defensive techniques.

But Tae Kwon Do is much more than a sport, it is a philosophy. The ultimate goal of Te Kwon Do is self-improvement through discipline of the mind and conditioning of the body. The specialized training develops concentration and confidence while emphasizing respect and responsibility. It expands aerobic capacity, strengthens and tones muscles, increases flexibility, and improves coordination and balance. Tae Kwon Do is excellent for people of all ages and types.

Our Facility

We offer many different programs for students and new students. Most students start on our basic program and as students progress and continue to follow Grandmaster Kim's teachings at home, school, and with family they can be qualified for our higher level Black belt program, Instructor Program (Junior, Teen, Adult), and Master Program. We offer programs for toddlers ages 1-3, Pee Wee ages 3-6, Children ages 7-12, and Adult ages 13+.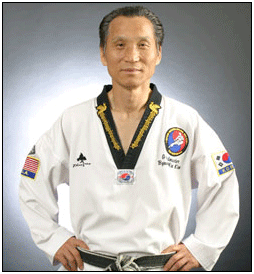 Our Grand Master
Grandmaster Byung Min Kim (President & Founder)
Grandmaster Kim has many accomplishments and is an internationally recognized competitor and coach. But, he is so much more - he is an inspiration to his students, advancing Tae Kwon Do as a philosophy and a way of life rather than just an after school activity.
Grandmaster Kim has been teaching in White Plains for 20 yrs. He believes that the ultimate goal of martial arts training is enlightenment. When his students learn Tae Kwon Do, Grandmaster wants to impart how to make a better life for oneself and, by extension, for one's family and friends. In fact, his dream is for every person to be truly happy.
He believes his dream can come true if everyone would respect all living things, eat right, meditate, work on physical training, erase bad habits and help each other always.