Peridance Capezio Center
2125050886
126 E 13th St
New York
www.peridance.com

The School at Peridance and it's renowned PeriChild Program and Core Training Program were established in 1983, and has been recognized as a pioneer in dance education within the New York dance community. Located within Peridance Capezio Center's new state of the art building, the program offers classes for those who wish to train at a professional level, as well as those who are looking for a fun after-school activity. Peridance offers it's students an enriched, cultivating environment where self-expression and creativity are encouraged while proper discipline and techniques are implemented.

Offering classes from toddlers to teens in Parents & Toddlers, Creative Movement, Ballet, Modern, Jazz, Tap, Hip-Hop, Musical Theater, Movement for Boys, African and Salsa.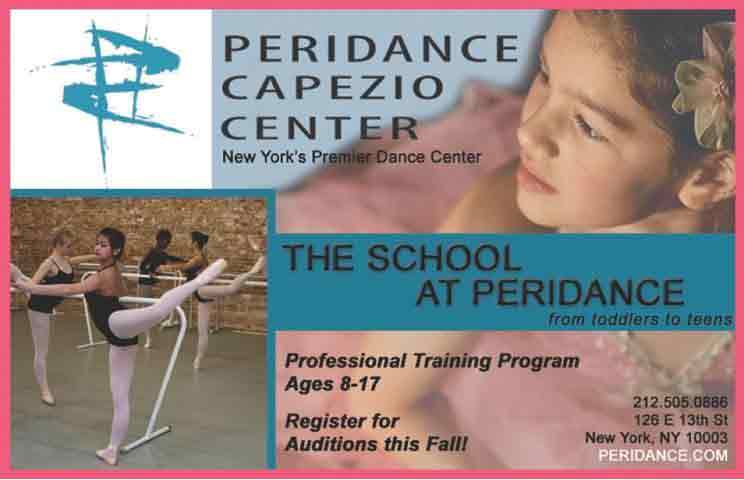 More exciting events and program at The School at Peridance...
The Nutcracker, a contemporary look
Every year, Peridance Capezio Center presents an original Nutcracker choreographed by the School's Artistic Director, Igal Perry. This contemporary ballet production pushes the boundaries of the holiday classic we all love! The performance showcases a cast of over 60 dancers including young students from The School at Peridance, pre-professionals from the Certificate Program and the International Student Programs, and professional dancers from Peridance Contemporary Dance Company.
Saturday, December 17th, 2012 at 6:30pm and 8:30pm, followed by a reception
Sunday, December 18th, 2012 at 2:30pm and 5:30pm
Join our open Kids Fair!! 11am-3pm on Sunday, January 15th, 2012
After a huge success last year, Peridance is bringing back its Kid's Fair, where everybody can join in the fun!!! Hosted in our spacious studios, located at 126 E.13th Street, our fair offers free sample kids' dance classes in various techniques, such as African, Salsa, Hip-Hop and more. Jam out to music while visiting booths sponsored by a variety of kid-centric organizations. Some of last year's vendors were Bee Tutored, Citibabes, Curious Jane Camp, French Woods Festival of the Performing Arts Summer Camp, Oasis Summer Camp, and the Usdan Center for the Creative and Performing Arts.
Summer Dance Camp / July 30th - August 10th, 2012
Join us this Summer again! Peridance's Summer Dance Camp includes daily technique classes, Mon-Fri, taught by an experienced faculty! Disciplines include Ballet, Modern, Jazz, Hip Hop, African, Salsa, Dance History, and Dance Composition. This Camp is for creative children, ages 6-12 years old, at any level (previous dance background is not required). During this 2-week Camp, which culminates in a studio showing, students explore their own voice through dance, while learning a diverse vocabulary of movement and enhancing their dance technique.