Oh My Girls (OMG)
516-802-5800

ohmygirls.com

ABOUT US

Oh My Girls! is the first-ever healthy living center designed exclusively for girls, ages 8 -18. Our focus is physical, nutritional, psychological, cognitive and social well being. OMG! creates an environment that aims to put the fun back in girlhood while guiding its members toward healthful and successful living in a most challenging time.

The center was founded by two mothers of young girls who are professionally credentialed in the areas of psychology, counseling, physical fitness, life coaching and law. It has a full commercial kitchen, physical fitness room, an organic make-your-own smoothie bar, and a small boutique for selling apparel and accessories. Most unique to the center is a circular-shaped workshop room designed to promote one on one, face-to-face communication during its classes which run the gamut from building positive body image to navigating the challenges of middle school.

Oh My Girls! offers a variety of uniquely-styled fitness classes specifically geared for the bodies and minds of developing girls and taught by instructors with extensive experience working with children. Oh My Girls! staff of professional chefs lead healthy cooking classes that go beyond just teaching cooking skills. Our chefs educate girls in areas such as nutrition, healthy food choices, self sufficiency in the kitchen and recipe calculations.

OMG's mission is to create a revolution in girlhood at a time when it is most needed. Toward this end, Oh My Girls! prides itself as a media free zone, where girls unplug from electronics and plug back into their lives. The owners of the center aim to make Oh My Girls! the ultimate stepping stone for every girl to reach her full potential!

READY for a new way of cooking? The OH MY GIRLS! Cooking Program will rewrite the book! New recipes, new cooking styles and a completely new attitude! We are about girls coming together to learn to cook healthy and nutritious food for themselves, their friends and family. In addition, we create an environment where girls will support each other through "healthy" peer pressure to eat with a consciousness for creating the best possible body, skin, hair, energy, school performance and overall well-being!

Each night of the week will feature a different emphasis from gluten-free cooking to vegetarian to international cuisines. Our Oh My Girls! Chefs are among the top chefs and chef-educators on Long Island with unique backgrounds that make them particularly well-suited to teach young girls the many different ways to make healthful and delicious meals, from mostly organic ingredients, all by themselves. Everyday features a healthier dessert for keeping the sugar and spice and everything nice in your Oh My Girl! Girls.

Girls will learn from the best bakers and pastry chefs the fine art of making delicious sweets that are more nutritious and gentler on the body and minds of their developing bodies than traditional desserts! So…don't be surprised when we become the next best thing on Americas' cooking shows! Note: These classes will fill up super FAST, so reserve your spot today!

"COOKING" AT THE OH MY GIRLS! SMOOTHIE BAR

Come inside and check out the Oh My Girls! Do-It-Yourself Smoothie Bar! While kids are having fun making sundaes at those do-it-yourself yogurt places, the Oh My Girls! Smoothie Bar is a place to dump all those fattening, toxic ingredients and make some delicious, nutritious drinks with organic fruits that will not only put a smile on a girl's face, but give that face the best glowing skin and healthiest smile. This Bar is especially well-suited for the OMG! jr. jems in our cooking program who are not yet using as many kitchen appliances and will feel empowered cooking on their own without a stove!

FITNESS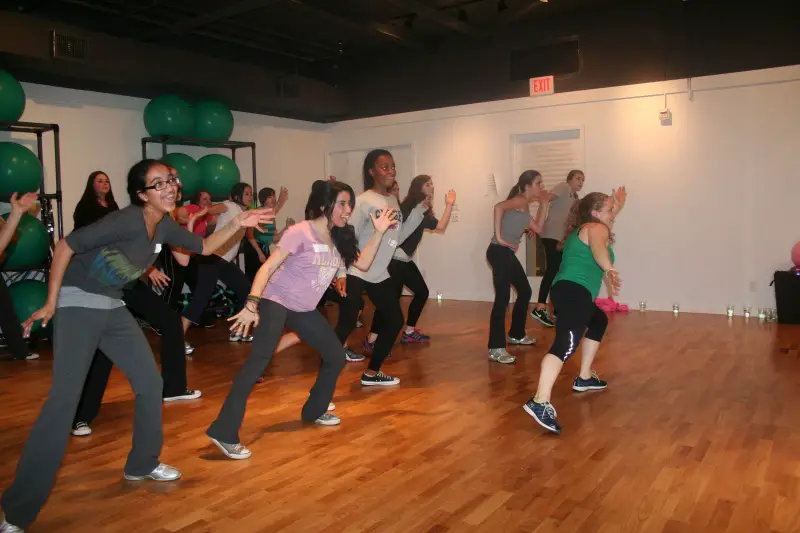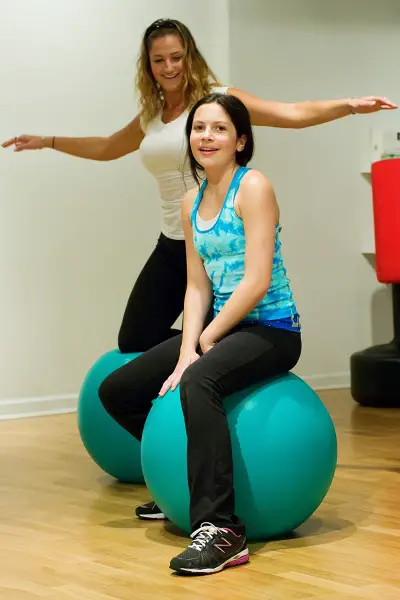 READY for fitness "The Oh My Girls! Way?"
Come join a Zumba® Fitness, Yoga, Pilates, Self Protection for Girls**, Cardio-Kickboxing or Cardio-Jam class or take all five!!
The Oh My Girls! Fitness Program is truly one-of-a kind: girls get to have a blast hanging with girls their own age, in a small, intimate setting with movements that are age-appropriate and uniquely designed with an understanding of the fitness needs of a girl's maturing body.
Unlike sports activities and other traditional programs for girls such as dance, skating and gymnastics, which don't get heart rates up to the optimum recommended levels, Oh My Girls! fitness classes are designed to give girls a fun and effective workout that will not only lead to great physical fitness, but also improve emotional and cognitive well-being.
BIRTHDAYS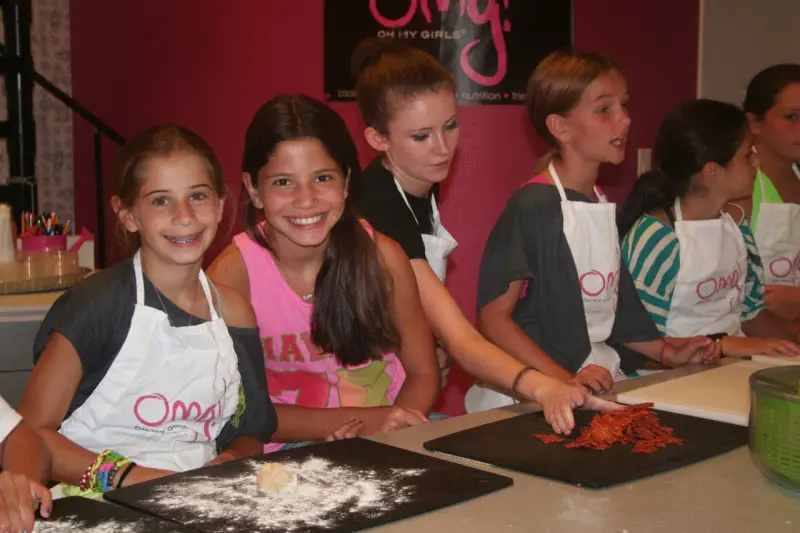 Oh My Girls! has some of the most unique, intimate birthday celebrations in the Metropolitan area.
Parties can include any combination of Cooking, Baking, Fitness and a Make-Your-Own Smoothie Each birthday girl having a cooking party gets to design her own meal to be cooked by her guests in our beautiful, professional kitchen.
Parties are 90 minutes to 21/2 hrs and include all invitations, a party favor, celebratory sweet, paper goods, dishware and candles.