PTS Coaching - Cindy Goldrich, Ed.M., ACAC
516-802-0593
89 Melanie Lane
Syosset, NY
ptscoaching.com
Cindy Goldrich specializes in parenting children and teens with ADHD. She helps parents reduce arguing, stress, and chaos to help children reach their true potential. Cindy conducts a parent workshop series to help parents develop the tools to create a calm, more compliant environment. Specific strategies are developed to establish workable, realistic rules and expectations, reduce homework stress, and improve children's problem solving, self-advocacy, and communication skills. Additional services include school support, staff development, and presentations. Coaching is available in person on Long Island and Manhattan or via phone.
She is a Certified ADHD Parent Coach, Teacher Trainer and ADHD Coach. She works nationwide with parents, teachers, and related services professionals for the education, treatment and support of children with ADHD and Executive Function Deficits.
Her guiding philosophy, "Parent the child you have" infuses my work as she helps parents and professionals nurture children thought tolerance, empathy, and support, with a healthy balance of guidance, structure and discipline. Cindy says, "Don't bend the Universe – too much. Prepare them for the real world, but know when to give them that extra chance they may need."
She is the creator of the Calm and Connected: Parenting Children with ADHD© workshop series offered nationwide and live via webinar. She provides professional development nationally in schools and continuing education centers addressing how ADHD and Executive Function Deficits impact children and how to boost behavior and performance in school and at home.
She is the author of 8 Keys to Parenting Children with ADHD, a book complete with compassionate and effective strategies for raising a child with ADHD.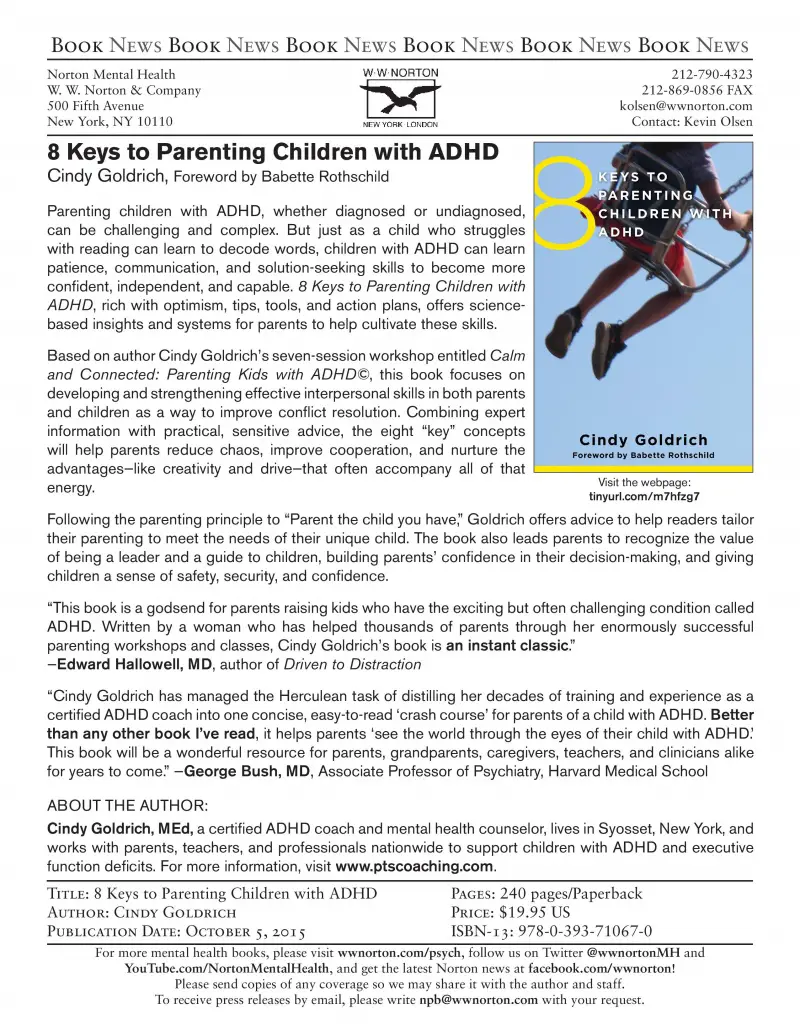 Through the ADHD Parent Coach Academy, she provides training for professionals who are interested in becoming ADHD Parent Coaches and facilitating the Calm and Connected: Parenting Children with ADHD© workshop series in their own practice.
She is the Co-Founder of the Long Island Professionals ADHD Consortium and is on the Executive Board of Nassau CHADD.