PacPlex/PacKids
718-531-1111
1500 Paerdegat Ave. N.
Brooklyn, NY
pacplex.com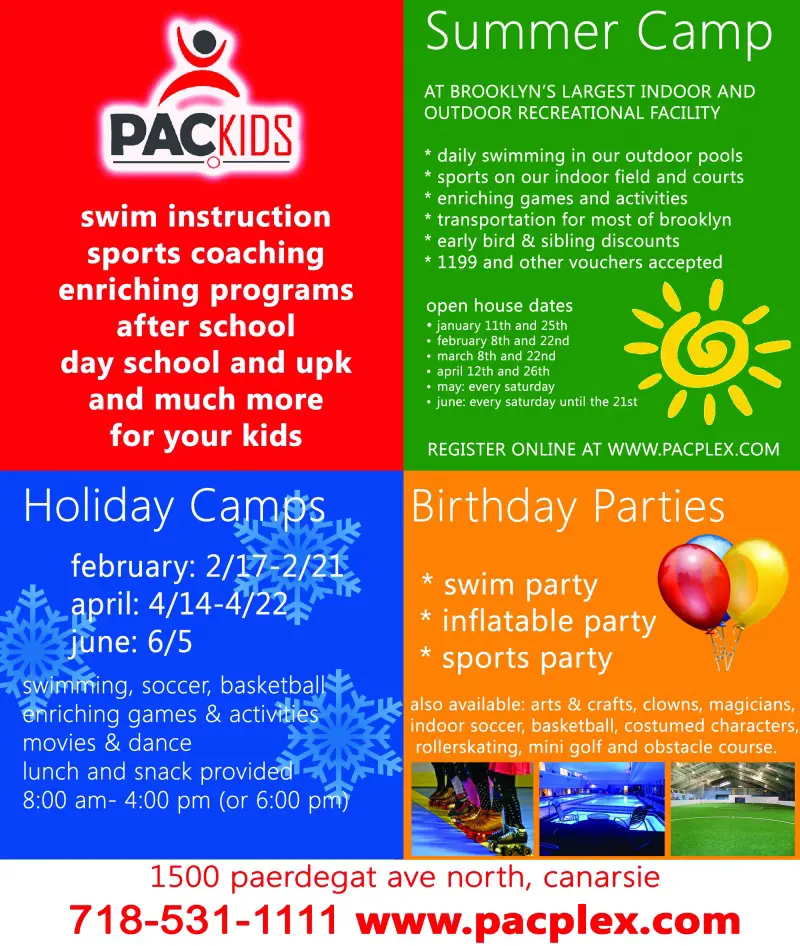 What Makes Our Camps Special
The large variety of programs we offer for ages 3 to 14
The safe, fun, stimulating environment we create
Our stable, talented and committed leadership team and staff who relate well to children
Daily access to outdoor pools and instructional swim.
Fabulous elective periods for concentration in sports & arts
Superior counselor to camper ratios
Flexible registrations: take any 4, 5, 6, 7, or 8 weeks you choose.
Extended-Camps at the end of August prior to the opening of school & during public school vacations (Week 9)
Professional management & organization
Licensed by the NYC Department of Health and inspected twice yearly.
Red Cross Certified Aquatic Staff
Transportation from most Brooklyn locations.
Extended day coverage: 4 pm to 6 pm
Early drop off option: 7 am to 9 am
Pee Wee ( ages 3-5)
Our Pee Wee Camp is a gentle introduction to the day camp experience. Our emphasis is on activities through which your child will learn, grow and strengthen the skills needed for school in an informal setting. Your child's days will include daily swim, arts & crafts, sports, swim instruction, games, music and dance, gymnastics, drama, age appropriate local trips surprise days and so much more. In all, our Pee Wee program offers age appropriate fun activities for the rookie camper and promotes their emotional and physical well-being. Groups are small and coed with excellent camper to counselor ratios.
Junior and Middle Camps (Grades 1 - 4)
Campers are encouraged to explore their interests by allowing them to choose specialty activities for themselves. We teach campers the importance of friendship, cooperation, and respect for the environment in which we live by modeling this behavior and incorporating these values into our expectations of campers and staff. Each camp week is built around a theme that comes alive in the songs we sing, the arts and crafts we make, the games we play, and a very special event. Our ongoing staff training incorporates the same weekly theme, and the result is personal growth for campers and staff alike.
Campers are involved in activities such as sports, gymnastics, arts &Craft, chess, music dance and daily swimming in our beautiful renovated facility Our daily swim program includes recreational and instructional swim session by American Red Cross certified instructors. We also go on a weekly trip to fun and exciting destinations throughout the tri-state area.
| | |
| --- | --- |
| | |
Senior Camp (Grades 5 & Up)
Year after year, the crowd turns out for Senior Camp, a program that offers the kind of variety and options that this age group enjoys. In the context of a full recreational summer program, the underlying theme in Senior Camp "Around the World in 40 Days" takes Senior Campers to places they never been before and has them making crafts, playing games and celebrating holidays from the countries and cultures they "visit." Mini-academies in Senior Camp provide time for elective activities like Arts & Crafts, Music, Drama, Martial Arts, Basketball, Soccer and Baseball. They're longer periods, great for really getting into the project or game.
Senior Campers have an enthusiasm of their own that follows them wherever they go.
Features Two Trips Each Week


Seniors travel twice a week to destinations ranging from cultural and learning centers like theater, museums and zoos to recreational activities such as canoeing, skating, water and amusement parks and ball games.

Overnight


Our annual two day, one night trip to Club Getaway, a top-notch residential camp in the Berkshires, is always a popular choice for our campers. Solid camp friendships and close relationships with the staff give our Seniors the confidence they need to enjoy what for most is a first overnight camp experience. Travel is by first-class coach bus.
PacCamps falls under the PacPlex umbrella. PacPlex is Brooklyn's largest sports, fitness and recreation complex. This amazing facility boasts an indoor soccer field, basketball courts, racquetball courts, 6 indoor and outdoor pools, steam room and saunas, restaurant and event spaces. PacFitness is a full health club with cardio theater, power gym, group exercises, personal training, and much more. PacKids offers early childhood education services from infant care to Universal Prekindergarten (UPK) and an afterschool program. PacSwim offers year round swim instruction to people of all ages. To learn more about this facility in Canarsie Brooklyn visit www.pacplex.com.