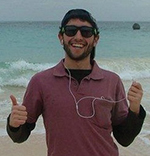 Central Park Upper Camp director-Mark Blackman is entering his 14th
full summer working at summer camp, and his fourth at Oasis in Central Park.
After ten years at sleep away camp as a counselor, leadership coordinator,
and program director, he has spent the last three years as the operations
director at Oasis in Central Park. Now, he is thrilled to be entering his second
summer as the Upper Camp director. Blackman knows that this is going to be
one of the best summers Oasis in Central Park has ever seen! Go camp!