Model Moves Boot Camp
917-721-7941
Serving Manhattan
imodelschool.com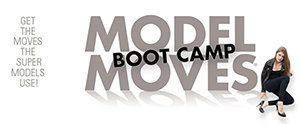 Model Moves Boot Camp is an empowering one-day workshop for aspiring models and actors taught by former Ford/Elite model Shawn Ehlers. Learn to walk and move with the confidence, grace and presence of a supermodel—both on the runway and in front of the camera.

Model Moves Boot Camp helps you to bring out the best in your personality, enabling you to project a powerful image to the world. Best of all, you'll get great photos to launch your career in the modeling and acting industry.
MODEL MOVES BOOT CAMP HIGHLIGHTS

Overview: Get an insider's view of the exciting world of modeling. Discover the differences between commercial print and fashion modeling, and see where you fit in.

Model Style: Tips for bringing together some basic pieces to make your wardrobe work for you and to distinguish yourself at go-sees.

Model Moves: To make it as a top model you have to move like a pro in front of the camera. Learn to focus on your positive attributes and how to connect with the camera. Knowing how to move will help you develop a supreme sense of confidence and this will be your key to success. As an extra bonus, you'll take home the Model Moves DVD which is full of tips and techniques for working in front of the camera.

Walk This Way: Walking for Life and the Runway— A fun approach to walking down the runway with ease and grace, as well as into a room and "wowing" everyone. It's about movement and bringing out the vibrant part of yourself that may be hidden. The foundation of having a great walk is embracing your uniqueness, strength and inner beauty. You'll learn to walk with the confidence and poise of a supermodel.

Photo Shoot including professional hair and makeup: Your photo shoot includes two different looks that will capture you at your very best. Begin to build a repertoire of moves for the camera and understand what it takes to become a working model. Get natural and clean photos just the way agents like them!

Meet the agent! Get seen by a top NYC agent and learn about the modeling industry.