KeytoKids
718-539-3550
14-48 College Point Blvd.
College Point, NY


KeytoKids program follows the NY
guidelines for Math, Reading & Writing and is second to none!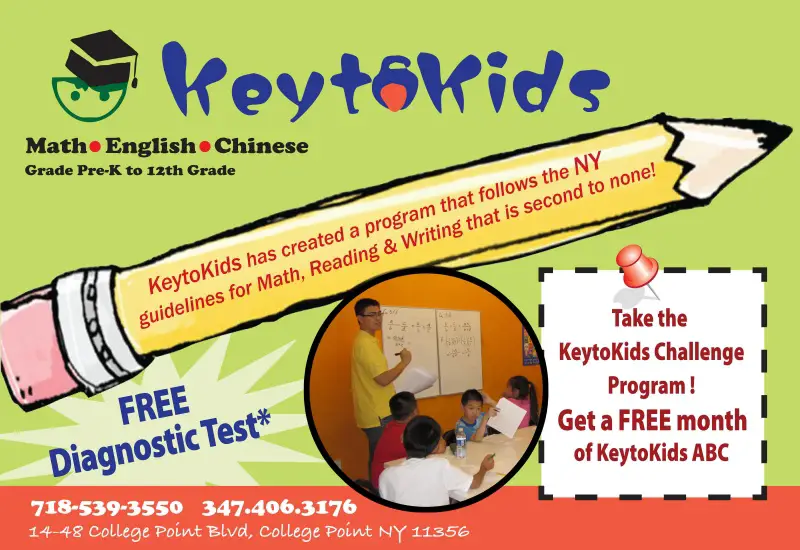 Transportation Available!!
Summer Camp (Monday-Friday/8 weeks/9-6pm)
Mornings- Math, English, Chinese
Afternoons-Activities: International Chess, Chinese Chess, Ping Pong
Every Friday- Field Trips
Lunch Included!!!

Let's find out what the KeytoKids Children get from KeytoKids!
Keytokids Afterschool
Program


Daily recommended reading and reading log
Homework with teachers individual support and help
Extra math and reading & writing enrichment (with one-on-one lesson plan)
ESL
Register any interesting club
Leadership, captain training
School bus service

KeytoKids ABC Program


Master Reading, Writing & Comprehension
Integrate a wide range of vocabulary
Ensure mastery of basic arithmetic operations
Develop analytical skills and critical thinking
Learn Chinese Language Listen, Speak, Read, and Write
Improve study habit
Increase self-condence

Afterschool Program (MondayFriday/3-6pm)
Summer Camp (Monday-Friday/8 weeks/9-6pm)
KeytoKids ABC Program
Weekends Chinese (Friday 4-6pm/ Sunday 9-6pm)
Weekends English, and Math Enrichment (Sunday 9-6pm)
Gifted & Talented Program Preparation
Statewide Test Preparation (Sunday 9-6pm)
ELA/Math (March and April), Regents, AP Preparation SSAT, SHSAT, PSAT SAT I, SAT II
Private tutoring for all subjects
Piano lessons
Tel: (718) 539 3550/ (347) 406 3176 Email: keytokids@gmail.com
Math/Reading/Writing/Chinese (Pre-K~12)
一起來看金钥匙教育中心的孩子们!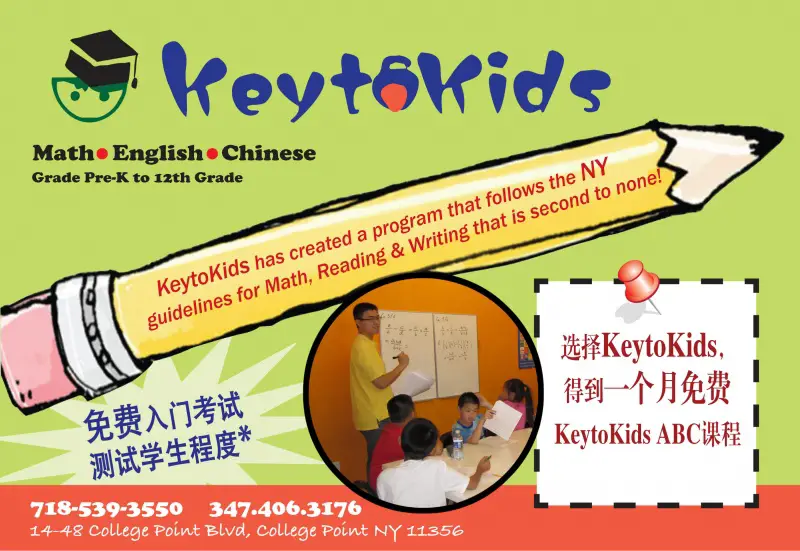 夏令营时间安排-7/1-8/23(周一~周五/8 周/9-3:30)
早上-数学、英文、中文
下午-中国象棋、国际象棋、乒乓球、课外活动
每周五-外出旅游
包括中饭,有校车服务
延迟服务(3:30-5:30)免费
金钥匙课后班:


天天指导阅读、及读书笔记
家庭作业辅导,讲解
数学、英文阅读及写作
(一对一教学计划)
新移民英文补习
各类兴趣班
训练、学习领导才能
校车优惠服务

金钥匙ABC班:


掌握英语阅读理解及写作
有效、合理扩充词汇
学会基本数学运算技能
开发智能、分析判断能力
学习中文听、说、读、写
改善学习习惯
提高学生自信

课后班(周一~周五/3-6)
夏令营(周一~周五 8周/9-6)
周末中文班 (周五4-6/周日9-6)
周末英、数加强班(周日9-6)
天才培训班
ESL及金钥匙ABC特色班
各类州统考备考班(周日9-6)
ELA/Math(三月、四月), Regent,
AP, SSAT, SHSAT, PSAT, SAT I,
SAT II
一对一各科辅导
艺术、钢琴
数学、英文阅读及写作、简体中文 学前班-12年级