Glitzy Chicks® Make-Over & Spa Parties
877-GLAM-JAM

Brooklyn, NY
glitzychicks.com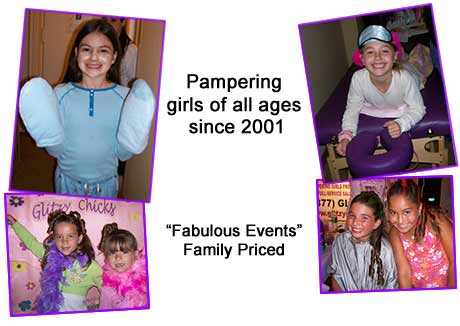 GLITZY CHICKS® has been providing "GLAM-JAM" services throughout the tristate area since 2001. Rest assured, we know EXACTLY what girls want. It is our pleasure to provide it all!
It has always been this company's mission to create and perfect events that mirror every girl's "Dream Party". Thousands of delighted Divas later...we are
proud to declare our mission a success.
Like the many young clients whom we've catered to over these 9+years, GLITZY CHICKS® and it's services, has grown by leaps and bounds! We've added package choices and additional options. If you have a custom event in mind, just describe it and we'll make it happen! We are committed to staying on top of trends as well as pampering Girls of all ages, all likes, and all dislikes. GLITZY CHICKS® is for everyone!
Custom events are a well-know GLITZY CHICKS® specialty!!
As we approach our 10th Anniversary, we take the opportunity to give sincere "Thanks" to all of you who have spread such good words about our events! We've added additional crews to accommodate the ever growing number of family and friends that you refer to us. It's our privilege to take part in so many of your most special moments.
Proud to be the first company of it's kind in the Metropolitan Area, GLITZY CHICKS® stands far apart from those now offering similar services.