Garden School
718-335-6363
33-16 79th St.
Jackson Heights, NY
gardenschool.org

Garden School is the only co-ed, fully-accredited independent school in Queens committed to offering an excellent and affordable Nursery to Grade 12 education in a supportive and welcoming community.

With small class sizes and a faculty/student ratio of 1:7, Garden School's caring and professional faculty and staff partner with families in order to provide an educational approach that develops academic strengths and addresses particular needs for each individual, promotes confidence of character and the critical social-emotional development necessary to be successful in college and beyond. Numerous clubs and activities, a league sports program, community service, carefully planned field trips and travel opportunities and comprehensive college counseling ensure that our students graduate as well-rounded, capable and responsible citizens of the world.
| | | |
| --- | --- | --- |
| | | |
Garden School's secure and spacious campus is located on a tree-lined street in Jackson Heights. The campus is easily accessible by highway and several public transportation options, and our own door-to-door bus transportation encourages families to come from a variety of neighborhoods and boroughs. Our well-appointed facilities include bright and well-equipped classrooms, a well-stocked library and technology center, two science labs, a large art studio, a swimming pool, an air-conditioned gym and auditorium featuring a weight-room and a stage with lighting system, a nutritious cafeteria and an ample fully-enclosed playground.
Garden School was founded in 1923 with the goal of providing a high-quality independent school option in Queens. Today, our commitment to remain accessible to a broad spectrum of families is evidenced by a tuition assistance program for qualifying applicants. While the Garden School community has always reflected the diversity of its surroundings, every member shares a passion to provide the very best education possible for our students. Because of this, families, faculty, administration and students participate actively in the educational process and support the ongoing development and sustainability of the school and its programs through fundraising and community building efforts.
Please visit the Garden School website at www.gardenschool.org for more information. And, the best way to get to know our school is by either scheduling a personalized visit and tour at your convenience, or by attending one of our weekly Open Houses on Wednesday at 9:00 AM.
We look forward to meeting you and sharing with you why Garden School may be a great fit for your family and for your child's education.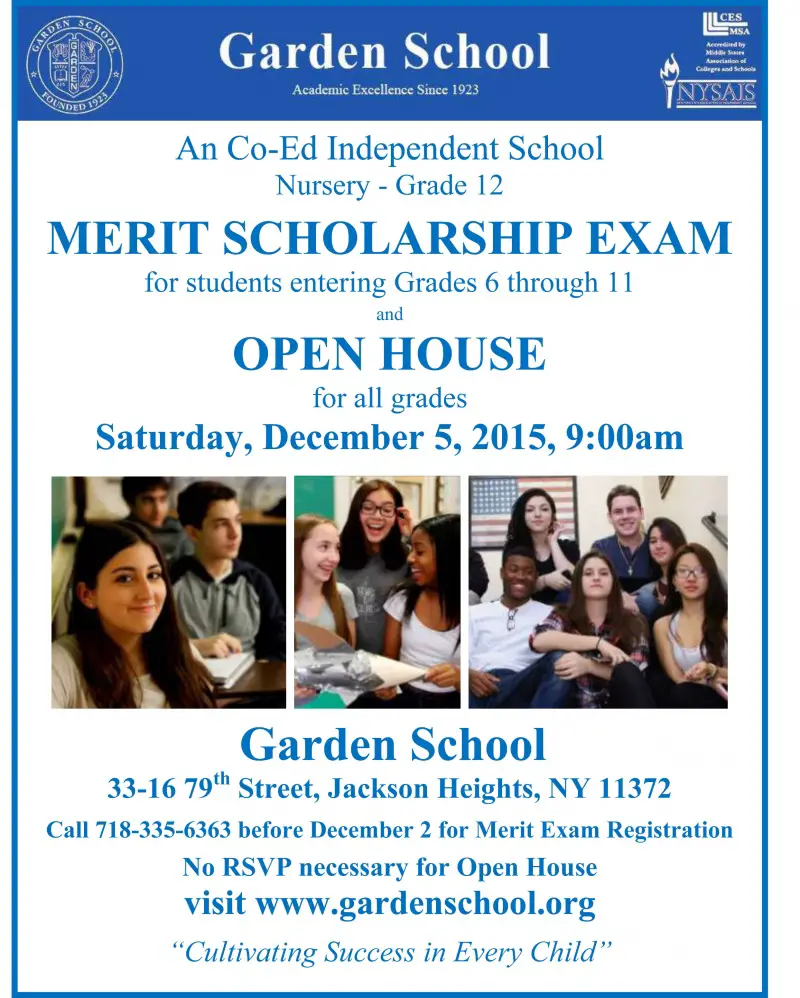 Each year, over 100 students participate in this competitive exam. Those students who achieve the best results are eligible for substanstial scholarships ranging from 25%-100% of tuition starting in September 2016 and continuing during all their years at Garden School. The maximum scholarships, therefore, cover tuition costs for six years.