SPORTIME Westchester Summer Camps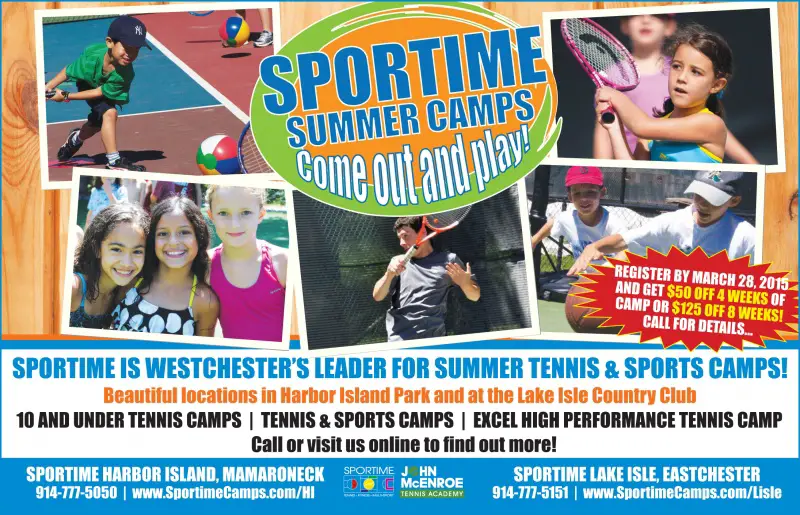 Join us for a birthday party that includes tennis instruction, competition, and fun! SPORTIME Harbor Island and SPORTIME Lake Isle tennis birthday parties are 1½ hours long, and include 1 hour of tennis instruction and play, and a 30-minute pizza party—or they can be custom made. Parties are held on two courts with two SPORTIME tennis pros. Call us for more information.
SPORTIME is Westchester's leader in Summer Tennis & Sports Day Camps with two great locations in Mamaroneck and Eastchester. We offer children the finest in sports programming, featuring experienced, qualified tennis professionals and counselors, and the safest, most attractive facilities. Our summer programs challenge a child's abilities, while enhancing his or her self-esteem and providing valuable social interaction.
SPORTIME U10 Tennis Camp – Ages 3-7
This full- or half-day camp utilizes smaller nets and racquets, balloons, beach balls, foam and low-compression tennis balls, and colorful cones, targets and hula hoops to help our youngest campers play, learn and succeed on their very first day of tennis. Campers will also spend 30-45 minutes each day participating in soccer, t-ball, kickball and other fun sports to keep the day fresh and exciting! This camp is offered only at SPORTIME Harbor Island. ENROLL TODAY!
U10 Red and Orange Ball Tennis and Sports Camp - Ages 5-10
Our U10 Red and Orange Ball Tennis and Sports Summer Camp offers young athletes high-quality, professional tennis instruction by John McEnroe Tennis Academy coaches. The programs features SPORTIME's U10 red and orange ball curriculum, including our unique "gamification" approach. To complement on-court tennis training, students receive tennisspecific, age-appropriate speed and agility training designed by SportsLab NYC@JMTA, which directs athletic and performance training for JMTA. This camp is offered only at SPORTIME Lake Isle. ENROLL TODAY!
Tennis & Multi-Sport Camp – Ages 8-15
This camp is specially designed for youngsters who want to focus their camp days on playing and learning tennis. Every camp day includes at least three and a half hours of tennis instruction and play. Campers will learn and perfect proper stroking technique, participate in competitive drills and games, learn match play and strategies, and receive individualized attention. This camp is offered only at SPORTIME Harbor Island. ENROLL TODAY!
EXCEL Tennis Training – Ages 8-16
SPORTIME's EXCEL Tennis Training Camp offers intensive summer tennis training designed for USTA tournament and aspiring high school and college players. Every EXCEL camp day includes hours of advanced stroke instruction, rallying drills to improve consistency and control, supervised match play with coaching, speed and agility training, and video analysis. Weekly inter-club matches and USTA tournament play with match charting helps hone competitive skills throughout the summer. This camp program is offered at SPORTIME Harbor Island and SPORTIME Lake Isle:
DON'T LET YOUR KIDS MISS OUT ON THE BEST SUMMER EVER!