INTENSITY
203-853-7727
490 Westport Ave.
Norwalk, CT
www.gointensity.com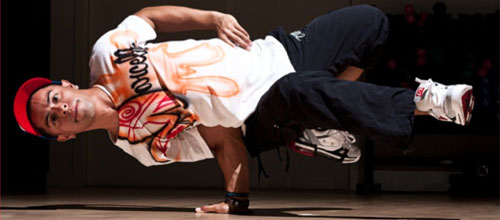 Junior Dance Programs—Hip-Hop, Breakdancing, and Modern
The Junior Dance Program is led by Marcello Deaguero, one of the area's most renowned dance instructors who hails from Colombia, the home of modern dance.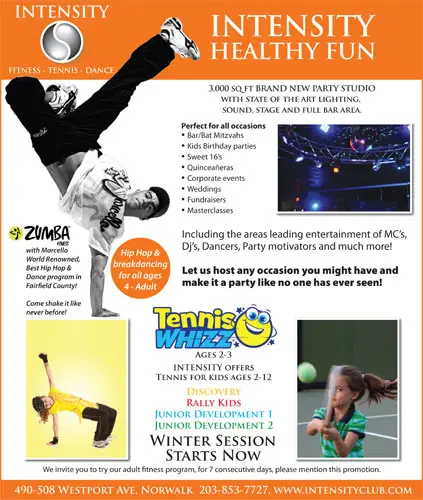 We are delighted to introduce you and your family to our state-of-the-art INTENSITY Club. It is our job and pleasure to provide the best in fun and innovative fitness programs for every member of your family.
We offer a wide range of fitness options for your entire family. They include: Tennis Programs for Preschoolers through Adults, Fitness Programs for Teens through Adults and Junior Dance classes in Hip Hop, Jazz and Creative Movement!
Junior Progressive Tennis Programs
Our members receive the most positive, exhilarating and challenging tennis program in the area led by our Sr. Director of Jr. Tennis, Kendra Becker and a team of industry-wide recognized tennis professionals.
Our High Performance Elite Tennis Academy, as well as our very specialized Full Time Academy are led by our Sr. Directors of High Performance/Player Development, Ryan Ginley and Adam Altschuler, and are the new standard for developing juniors of all ages to become top players not only in the United States, but globally.
All of our tennis offerings incorporate a strength, conditioning, and fitness element to maximize your performance on the court.
Junior Fitness Program
Kids and teens today are bombarded with every distraction from plasma TV's to IPODS and portable DVD players that keep them from being as active and healthy as kids even ten years ago were. Their fitness needs to be addressed now while the problem is still fixable before these life threatening habits lead to serious health problems in the future. That's the serious stuff... the rest of our program is all about getting fit, meeting some new friends and having fun!