Dancesource, The
718-997-1278
98-11 Queens Blvd. (at 65th Ave.)
Rego Park/Forest Hills, NY
dancesource.net

Our smaller dance classes allow more individual attention to our dancers by our instructors, so the corrections come quickly and effectively to ensure the dancer's correct development.

In the 30+ years that The DanceSource has been here, we have maintained our strong Ballet curriculum for all ages, and have built on the multi-disciplines that we offer in all realms of dance... including the standards of Tap, Jazz, Modern, Hip Hop, and the not so standards of Belly Dance, Yoga, Pilates, Arte Jujitsu Martial Arts, Georgian Dance, Bollywood and Classical Barata Natyam Indian Dance. And did you know that if you subscribe to the Subscription package, and miss one of your dance classes, that you can make up your missed class in nearly all of the other disciplines? What a great way to try a new dance style.

Health Benefits of Dance: When Children and Adults come to dance class and take a regiment of regular dance classes, they convert themselves from soft and chubby shapes into solid and toned bodies. It happens consistently in anyone who attends dance class on a regular basis. If a person who has limited mobility attends a dance class, and does so on a regular basis, they will begin to gain benefits of increased mobility, lower their overall heart rate, gain stability, and begin to stabilize their weight. If they continue they will feel better about themselves, and gain confidence.
---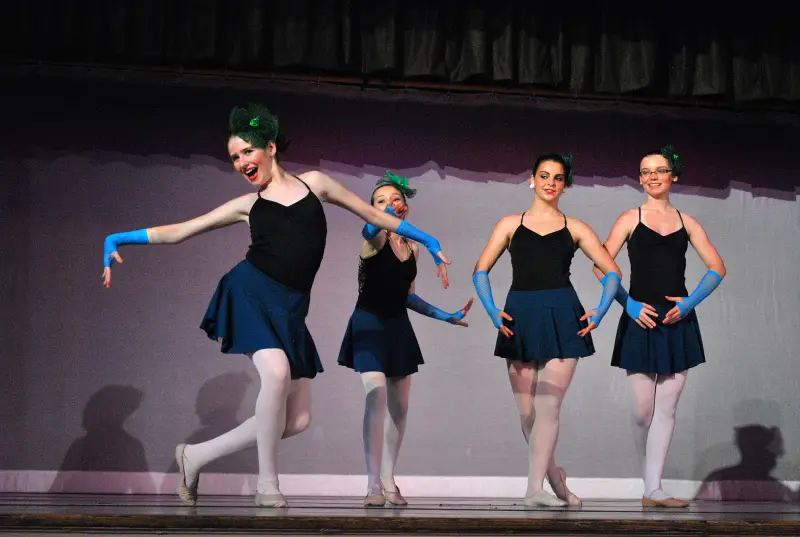 We have SO MUCH to share with you! Halloween Highlights, Days off over the Holidays, Upcoming NYCB Field trip, and more!

Thanks for wearing such great Halloween costumes last week. We had great fun taking pictures and seeing all your costume choices. We have more photos available at the studio.

The DanceSource will be OPEN for Veteran's Day next week. Here are the dates that we will be closed. Thursday, 11/27/14 Thanksgiving Day and Thursday, 12/25/14 through Friday 1/2/2015. Classes will begin on Saturday 1/3/2015. We will be closed on Easter Sunday in April 2015. And that will be all of our closings at the DanceSource, except for any announce of inclimate weather. All dance families will be contacted for any such occurence.
| | |
| --- | --- |
| | |
We are arranging a Field trip to New York City Ballet this coming Winter. We'd like to know who would be interested in taking a subway field trip to NYCB on a Saturday in February, leaving The Dancesource at 1:00PM, going to the Matinee at Lincoln Center, then returning back around 5:30 or 6:00PM. I'm inquiring about ticket prices now. Who would be interested in going?

We thank you all for being patrons of The DanceSource over the years. We appreciate those who have returned this year. If you have not come back yet this season, please see what other dance classes you may be interested in, as we have a good assortment, and great teachers to choose from. We'd also appreciate feedback, comments, to make us stronger. Please give us a testimonial if you're happy with us, so that we may post it on our website.
Did you know that The DanceSource is now on Facebook, Google+, Youtube, Instagram, and have you seen our new website at www.dancesource.net? Please visit our online locations, and let us know if you like what we are doing.

We hope to see you all soon back to The DanceSource! Bring sweaters, chilly weather is upon us.

Happy Holiday Season!

Dianna Petty
The DanceSource
98-11 Queens Blvd. at 65th Ave
Rego Park, NY 11374
718-997-1278
www.dancesource.net
info@dancesource.net