Our Lady Of Wisdom Regional Catholic School
631-473-1211
114 Myrtle Ave.
Port Jefferson, NY
ourladyofwisdomschool.com

Our Lady of Wisdom Regional School
114 Myrtle Ave, Port Jefferson, NY 11777
Phone: (631) 473-1211
www.ourladyofwisdomschool.com
Mission Statement
Our Lady of Wisdom Regional Catholic School was founded in 1938 by the Daughters of Wisdom. We are located in Port Jefferson, New York, serving children from kindergarten through eighth grade. Our students are generated principally from four parishes: Infant Jesus in Port Jefferson, Saint Gerard Majella in Port Jefferson Station, Saint James in Setauket, Saint Louis de Montfort in Sound Beach as well as surrounding school districts.

Our Lady of Wisdom Regional Catholic School ensures that each child in our care will have a high quality education in a loving, caring and structured environment incorporating God's influence within the learning experience. The school provides an excellent education within a faith based community conscious of the importance and individuality of each child to God, our Heavenly Father. Our students are made aware of their talents, which we as a school community nurture and cultivate to the fullest.

The Administration and Faculty aspire to explore and enhance our student's full potential as well as to provide a diversified learning situation in which personal achievement and success are attainable. The New York State Learning Standards, including guidelines set forth by the Diocese of Rockville Centre, are applied to all curriculum areas. It is our desire to educate the whole child, spiritually, and intellectually.

REGISTRATION INFORMATION
Registration is now open for all grades
Pre-K to 8th!
Please send back your re-registration
forms as soon as possible.
If you have any questions concerning registration
contact Mrs. Peluso at (631)473-1211
Thank You and God Bless!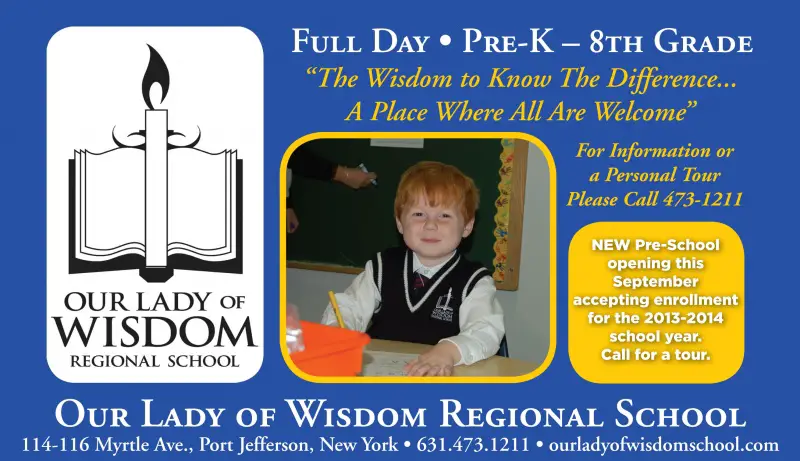 Our Lady of Wisdom Belief Statements

• To provide a diversified learning situation in which personal achievement and success are attainable through a coordinated curriculum throughout our school. • To develop awareness of Christ in self and others. • To give each child the necessary encouragement and aid to independently attain individual goals. • To be flexible in teaching so a lesson can be changed to fit students' needs. • To provide excellence in education in all subject areas. • To prepare the students spiritually, creatively, and intellectually, to participate fully in all aspects of life. • To understand that all children can learn and every child is entitled to an appropriate education • To integrate the teaching of Jesus Christ into our daily lessons. • To work together to improve productivity in Catholic education and in our individual lives. • To see each child as a unique individual with both strengths and weaknesses; we strive to help our students to build confidence in themselves and to see themselves and each other as valuable members of the of the school community.