Hidden Pond Day Camp at The Rinx
Camp: 631-232-3222 x201
660 Terry Road
Hauppauge, NY
therinx.com/camp

The Rinx is a corporation dedicated to the recreational enjoyment for all ages. The companies under The Rinx umbrella are located on the beautiful 97 acres of Hidden Pond Park in the Town of Islip, Hauppauge, New York.

Come and enjoy the many skating opportunities in our two full size, indoor ice rinks, or have a Birthday Party at The Time Out Cafe. You can even watch your child develop educationally at the Rinx Pre school Academy. We have something for everyone.

If you are more of a summer person, come and enjoy a day by our Olympic size pool and diving pool, or smile while watching the kids in the spacious kiddy pool. We are also very proud of our accredited Hidden Pond Day Camp where our campers have A Summer To Remember. We even have summer Hockey and Figure Skating programs. If you are looking for fun in the sun, we also offer Corporate Picnics adjacent to our pools.

Come and visit us and enjoy all the wonderful things you can do at The Rinx.
Your Families Recreation Destination!

Hidden Pond Day Camp at The Rinx
Our camp family has been growing since 1992. Watch our video and see what we are all about. We would love for you to become part of the H.P.D.C. family.
Stop by and let us show you around.
Things to Know About Hidden Pond Day Camp
1. The camp was established in the fall of 1992 as part of The Rinx Facility. Our first summer season was 1993.
Enrollment: At any given time approx. 500-600 campers on campus
Size: Approx. 95 acres
Multiple Programs:
Full day
Mini-day (Kindergarten/4yrs Only)
C.I.T.
Flexible weekly enrollment (Min. Enrollment is 3 weeks)
4 and 5 day programs available
Extended Hours from 7 am - 6 pm

Lunch and Snack are provided daily
2. Hidden Pond is a private American Camp Association (ACA) Accredited Day Camp that provides a safe and secure environment for all campers.
Only the best camps can become ACA accredited
There are over

300 safety and program standards

that must be met before accreditation is given
This is far and above what is require by New York State Health Department.
All visitors must be checked in at the main office and obtain a visitors pass and be escorted by a Division Head
All staff wears uniforms
Parents must sign out their child at the end of each day
Emergency numbers, Security Code, and e-mail address are required
All late arrivals and early pick-ups must be signed in or signed out in the Camp Office
Our Nurse and EMT are always centrally located on campus with walkie-talkie radios

Security Staff

Monitors the campus all day
3. Hidden Pond always provides innovative and cutting edge programming that creates fun and excitement.
***Hidden Pond gives children an opportunity to be exposed to a multitude of activites that they may not be able to otherwise experience.
****

NOTE-ALL ACTIVITIES HAVE SPECIALIST/INSTRUCTORS OR COACHES
(Some of our Activies)
Low Ropes Challenge Course with a "Zip Line".
High Ropes Course with a new "Swing Shot" AND "Whale Watch"
In door Climbing Wall
Go-Carts/Mt. Bike/Razor Scooters
Gamers Den (Computers, PS2's, Game Cubes, with 32 inch Flat screen TV's)
All types of Creative and Performing Arts Activities/Shows
Archery
Driving Range
Two NHL size Ice rinks (The only camp on Long Island with 2 full size indoor Ice Rinks)
3 Heated Pools (The only camp on Long Island with an Olympic size - fify meters x 3.5 ft deep - heated pool)
A separate diving pool - 13 feet deep with two 1 meter diving boards
Martial Arts/Wrestling
Ga-ga Ball
Tetherball
New Playground
7th and 8th grade Elective Program, Athletic Tournaments, and Field Day
5th and 6th grade Creative and Performing Arts Elective, Tournaments
Sports Clinics - Baseball, Wrestling, Soccer, Badminton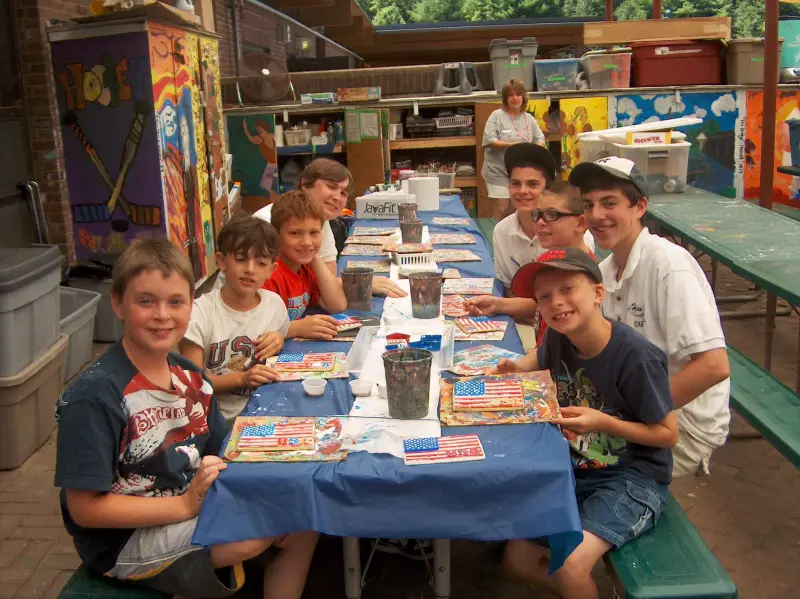 4. Hidden Pond has a low camper - counselor ration
Kindergarten/4yrs 4:1
1st grade 6:1
2nd grad and up 7:1
***Average age of counselors approx. 21
5. Together, the Hidden Pond Directors and Leadership Team have over 150 years of experience in the Day Camp Industry