City Shopping
Browse by Category: Mother's Day | Gifts | Eat, Drink, and Be Merry | Jewelry | Sporting Goods | Sales/Sample Sales | Women's Shoes | Art | Home Furnishings | Home Accessories | Accessories | Beauty: Spa & Bath | Luxury Goods | Getting Organized | Fun Stuff | Women's Clothing | Furs | Gloves, Hats, Scarves | Leather Goods | Tabletop | Beauty: Makeup & Skin Care | Linens | Men's Clothing | Useful Info | Beauty: Fragrance | Store Openings | Handbags & Totes | Beauty: Medical | Bridal | Fix It | New in NYC | Kitchen | Favorite Finds | Services | Lingerie | Men's Shoes | Stationery/Writing Instruments | Computers/Electronics | Kids' Stuff | Ties | Fur Maintenance & Repair | Hat Repair | Home Cleaning & Repairs | Travel
View More Blogs...

About the Author: About the Author: Ruth J. Katz is a well-known shopping and service writer based in New York City. She has written about shopping for 25 years for New York magazine; covered the topic on-air at Fox-TV for several years as the Home Services expert; and had her own show on both the USA and Lifetime Cable networks. Katz wrote extensively for The New York Times as well, and contributed periodically to the New York Daily News. She is a passionate shopper, always looking for not merely a good buy, but the best buy, ferreting out a "steal" or discovering up-and-coming designers. She has written five books and is a former contributing editor to Hearst's Redbook, Classic Home, and Colonial Homes; she is currently a Contributing Editor of New York Home, Golf Connoisseur, The Modern Estate, and Promenade magazines. She is also the former Shopping Director for Davler Media's Manhattan Living.


---
Serious About Sirio - The Top-Flight Restaurant in the Pierre Hotel Introduces Its Fall Menu
When Sirio Ristorante opened in the late fall of 2012, under threat of torture (just kidding!), I was "forced" to do a road test of the menu and could not have asked for a better, cushier assignment: Everything was perfect, from the service, to the fine, seductive cuisine, to the pleasant surroundings.
To reiterate and recap a little of what I noted earlier:
In 1974, La Forêt, a swell boite in the Pierre Hotel, opened and was quickly embraced by the smart set. At that time, Italian-born Sirio Maccioni, today one of Gotham's most beloved restaurateurs, worked at the hotel and oversaw the La Forêt lounge, restaurant, and nightclub. He had arrived in the States some 13 years prior, after paying his professional dues in the hospitality profession in Europe. He landed at the legendary Wall Street eatery Delmonico's, and subsequently, at the celebrated Colony. It was not long after that that the revered impresario opened his own showcase, the much-loved Le Cirque, in the Mayfair Hotel. (It's worth noting that Maccioni helped launch the careers of many luminaries among the brightest stars in the current foodie firmament; among them, Jacques Torres and Daniel Boulud.)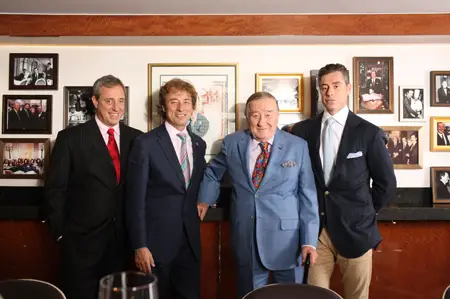 The Maccioni Family. Photo: Melissa Hom

So, it was all the more gratifying for him to return to the Pierre, currently a Taj Hotel, to open yet another restaurant, adding to the Maccioni Group's prestigious holdings. (The space had previously housed a branch of London-based Le Caprice.)
Designed by the renowned architect Adam D. Tihany, it marks the eighth collaboration between the two legends, and it is likely safe to say that at this point Tihany knows precisely what it is that Maccioni needs and wants in a restaurant. And Sirio Ristorante is likely the epitome of that wish list: inviting, cozy, warm.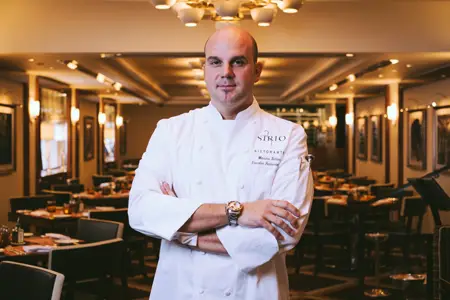 Newly ensconced executive chef Massimo Bebber, an avid cook from an early age, comes to the eatery with a solid CV. Armed with a degree from the Culinary Institute in Levico, Italy, Bebber worked in several prestigious restaurants in northern Italy before coming to New York to join a childhood friend, chef Denis Franceschini (currently owner of Bar Italia), who welcomed him into the Cipriani culinary family; from there he opened the successful restaurant Caravaggio in 2009 and most recently joined the Maccionis at Sirio.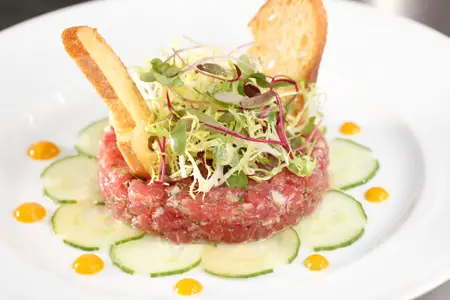 I heartily recommend stopping by to sample the autumnal fare gracing the menu currently. But before dining, you must first sip a few splendid cocktails from the colorful and interesting drink menu: There is the Grumpy Conquistador, a combo of Don Julio Tequila, jalapeno, pineapple, and pomegranate. What can I say? Sip it cautiously, as these kinds of drinks leave a heady punch when imbibed as if they were harmless "umbrella" drinks. The Russian Roulette is also worth way more than a few sips, but again, don't swig it down in one fell swoop, or you'll be sorry...it packs a punch, a good one! Organic cucumber, vodka, St. Germain liqueur, fresh cucumber, and a few other secret ingredients.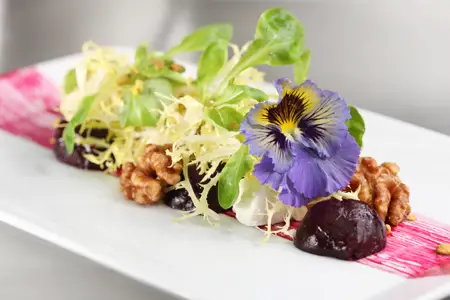 So much for drinking...and now to the main event: I adored the beet salad, Insalata di Barbabietole (pictured above), i.e., roasted baby yellow and red beets, with deliciously crunchy, candied walnuts, pistachios, goat cheese, and mache. I was torn between having the beets and the Buffalo mozzarella with the baby arugula and prosciutto, and truffled honey, but my colleague had it, so I got to taste it. Amen. Do not pass up an interim pasta course and I would strongly recommend a lamb ragout Bolognese with papardelle as well as the gnocchi, Gnocchetti al Profumo di Tartufo (pictured below; ricotta gnocchi with porcini mushroom purée, white truffle oil, and smothered under a canopy of airy, light Parmesan foam).
Main courses will delight and satiate, especially the classic meats like the Costoletta di Vitello al Forno, the roasted grass-fed veal chop, served with fingerling potatoes, sautéed spinach, and veal jus; and the Agnello in Crosta, herb-crusted loin of lamb, plated with braised Swiss chard, cauliflower purée, and lamb truffle jus. Both these heady meals were sensational. But there is so much more on the menu — seafood, fowl, and of course, the famous Sirio cheeseburger. Clearly, you will not go hungry here and, in fact, you'll be asking the waiter to slow down before dessert, as it would be a shame to miss it, but you're likely to be full, so pace yourself.
The tiramisu is served with a slight twist — it's mocha! And the expected tartufo is not loaded with a cherry-flavored ice cream or a spumoni-style gelato , with rather with a sophisticated pistachio ice cream; similarly, the torta al cioccolata has the Siro signature — it is prepared with chocolate mousse, apricot caramel, and surprising banana cake; and the bomboloni are also not to be missed: served hot, they are enchanting little doughnuts filled with thick, mouth-watering vanilla custard, accompanied by a gravy-bowl of a dee-vine, warm chocolate sauce.
Go to the restaurant hungry and eat slowly; you'll dine regally and peacefully here, and moreover, you'll leave satisfied and charmed. 795 Fifth Ave. (61st St.), 212-940-8195; siriony.com
Posted on Tuesday, October 22, 2013 @ 12:59 PM | 0 replies Start the Discussion
---
Nespresso On-the-Run at Grand Central
Nespresso, the coffee giant and worldwide pioneer in portioned coffee that has stormed these shores after so much success in Europe (where it is a household name), is increasing its footprint, albeit temporarily, in the Big Apple. As a way of marking and celebrating the tenth anniversary of the brand's AAA Sustainable Quality Program (in partnership with the Rainforest Alliance), the company is debuting today a pop-up Nespresso shop/boutique in Vanderbilt Hall at Grand Central Terminal. It will be open through this Friday, October 4th. Here, at this "experiential center," visitors will be able to immerse themselves in the company's bean-to-cup process, and also be able to savor Nespresso's 21 grand cru coffees.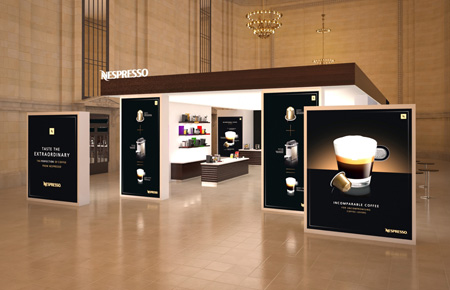 An interactive element of the Nespresso pop-up boutique is the "What Grand Cru Are You?" digital installation. Upon answering a series of questions about taste preferences, a real-time algorithm immediately processes the answers to define a specific coffee recommendation for each participant, who will then be invited to savor his or her grand cru match. A large, single wall of glass measuring 18' x 4' provides space for up to six people to interact with the display simultaneously. Visitors will also be able to view the various machines and ask questions to learn which machine, at which price point, is right for them.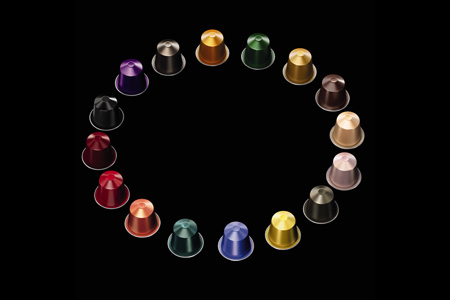 New Yorkers and tourists alike can enjoy and purchase Nespresso coffee while shopping for machines and their favorite capsules. This pop-up shop will be open daily from 7am to 6:30pm, with the exception of Thursday, when the shop closes at 4pm.

And lest I sign off without complete honesty, a personal disclaimer: I am addicted to my Nespresso machine and only wish there were more decaf "flavors," so I could drink mroe all day long, without fear of tossing and turning all night long; but, I suspec, that will come in time. I am also quite partial to the non-decaf specialty flavors that debuted this year, the Vanilio, Caramelito, and Ciocattino. Ummm-ummm good!
Posted on Tuesday, October 01, 2013 @ 04:53 PM | 0 replies Start the Discussion
---
Wild for Wahl: Therapy for Tired and Pained Muscles
I have written about Wahl products before, but maybe in at least one instance I ought to say "we" have written about the company previously since it was four-legged, furry Austin Katz who was doing the guest-blogging at least once when Wahl was the subject of a story. He extolled the virtues of Wahl's doggie-grooming tools. And now it's time for mom to praise Wahl's people products — the massagers and hot-cold packs for aching muscles that have saved my life recently.

Having survived two surgeries (both "structural," as I call them — shoulder and a new knee), I have nursed myself through months of physical therapy, iced irritated muscles, heated aching joints, elevated sore feet, and massaged throbbing trouble spots. I have every conceivable gizmo my physical therapist has recommended, but I recently added to the collection, incorporating a few products from Wahl that are unparalleled for my wellness program.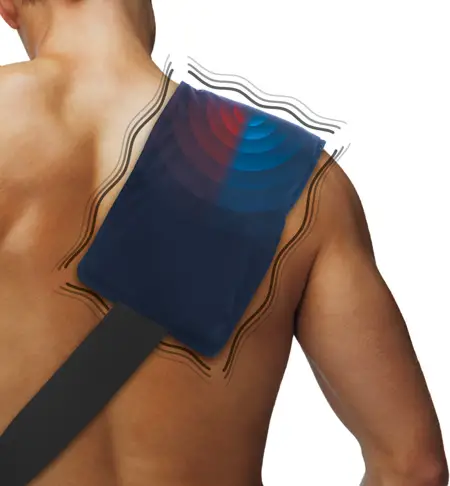 The first is the Hot-Cold Massaging Gel Pack. (Sure beats the cold-only bag of peas in the freezer, an old physical therapy trick.) This is terrific product for pain management, and it's a little surprising that Wahl, the company that invented the first electric massager nearly 100 years ago, took this long to combine the therapies of heat and cold with a massaging gadget. Notes Jenny McLaughlin, the product manager for Wahl's massager division: "People in pain use heating pads, hot/cold packs, and massage separately because there has never been one product incorporating them all." Well, now there is. It's so obvious, why didn't I think of this? And it's ideally suited for my knee...wraps around it just perfectly. And at a mere $24.99, it's a steal.

The benefits of heat and massage are known to include increased circulation which promotes healing and brings relief to sore muscles. Cold therapy is designed to restrict blood flow to a spot to reduce swelling and inflammation; for treatments such as joint pain and soreness of the extremities, light massage plus cold therapy can help speed up the recovery. And this product can deliver just that. You can pop this into the freezer or microwave and the gel pack holds its temperature for up to 30 minutes. The Velcro straps keep it in place handily. And having a little massager right in a pocket in the wrap is sheer genius!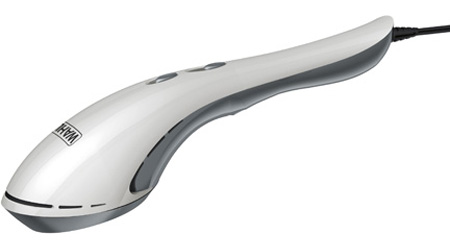 Speaking of hot and cold therapy brings me to another Wahl product, the Hot and Cold Therapy Massager, which is a corded massaging device that features a large flat surface, which is perfect for the lateral side of my knee, where tightness still lingers. The temperature plate is large and, therefore, it covers a lot of surface on the side of my knee, where there is still nerve damage, so anything I can do there to stimulate activity is welcome. It has four interchangeable plates, although I find the flat plate works the best for my purposes, and I think in general, this is ideal for swollen muscles, poor circulation (which is inherent in the knee, as you need to drive nutrition to the joint and get the synovial fluid into that tight space), and for general pain. This is a an invaluable tool for the days I have spent on my feet at the Javits Center, say, walking 6 hours at the Gift Show. (Approx. $69.99)

Lastly, for my shoulder, I needed something with a very focused nozzle, or pointed energy, so I could dig it into my shoulder, where the tear was and where there is still sensitivity and tenderness. Deep pressure and massage work best here. The Personal Therapeutic Massager ($18.95), which features a flexible neck (and is battery-operated) was the answer to my prayers here. The flexibility of the neck allows me to really press it into the hard-to-reach interstitial space in my shoulder, to focus on the tender spot that needs the massaging. It comes with a travel case, as well, and a few other additional attachments.

You can find all these products online at the Wahl store here.
Posted on Tuesday, September 17, 2013 @ 10:04 AM | 0 replies Start the Discussion
---
Hair Happiness: Rowenta's Infini Pro Hair Dryer
Renowned European small-appliance company Rowenta is over one hundred years old, so it would seem that in a century the company assuredly must have mastered a thing or three about appliances. In fact, most people have consistently associated Rowenta with manufacturing the ne plus ultra of irons, the ultimate heating appliance. And, indeed, irons are the company's bedrock...and nobody does them better than Rowenta, and they do them to perfection. (Although, for the record, let me say that my older model, the CW 8080, has a minor flaw, a constant annoyance when I am ironing — the water tank is constructed from a dark gray plastic and I can never tell how much water is in it since I cannot see through that dark gray plastic to view the water level.) But, back to the good: The company has also reconfigured the plain-Jane ironing board (no easy feat) to flawlessness, making it the world's neatest ironing board, a stroke of genius enabling easy storage without sacrificing all the bells and whistles of a top-tier home amenity.

As the company has moved into designing and manufacturing so many other appliances, it strikes me that a few are worth mentioning over the next few months, particularly since Rowenta has improved upon so many categories with its state-of-the-art ingenuity and technology. First on my list, since it's Fashion Week and I have been obsessed watching hair (the green hair at the Nicole Miller show was pretty attention-grabbing) at the shows. Rowenta's new Infini Pro hair dryer is now my go-to dryer. (It is worth noting that the company launched the first electric curling irons in 1921 and in 1966 produced one of the first blow dryers for at-home use!)
The Infini is a technologically advanced, salon-quality dryer featuring the company's exclusive AutoSensor technology that automatically turns the dryer off when it's set down, to save energy and provide extra styling convenience — and, I might add, safety. It's the only dryer I know that does this. In addition, there are two "off" buttons. With two speeds, three heat settings, and a built-in ionic generator that emits pure negative ions, hair is dried quickly and the results are frizz-free.

According to Rowenta, when compared with other leading brands, the Infini Pro provides 35% more airflow and 20% faster drying time. It comes with a 1/3" ultra-thin concentrator-style nozzle and a 5" diffuser. The other thing I like about it is that the filter at the back of the dryer is held in place with tiny magnets, making it very easy to remove and clean the filter. I often have found with other dryers, where the filter is not removable, that I am constantly cleaning with tiny tools to get the fuzz out. Additionally, it is equipped with 1875 watts which, for my head of hair, is a necessity...anything less just doesn't do the job. There is a little retractable metal hook for hanging it up, also, and for additional convenience, it has a nine-foot-long power cord. Indeed, this is a well thought out product and a dream to use. Not cheap, but worth the $159. rowentabeauty.com
Posted on Monday, September 09, 2013 @ 12:48 PM | 0 replies Start the Discussion
---
Fashion Plates to Wear and Eat: Dining Stylishly and Smartly
Starting next week, coinciding with Gotham's famed Mercedes-Benz Fashion Week, 27 ever-so-chic Upper West Side restaurants are stepping up to the plate (virtually and figuratively) and are offering their "Fashion Plate" deals on meals. The Lincoln Square Business Improvement District's successful dining promotionis back for the fourth year and the seventh seasonal Fashion Week, with a wide range of eateries participating, some with jaw-dropping, over-the-top menus -- places you've always wanted to try, but were hesitant. The event runs from September 5th to September 12th, for Fashion Week. The promotion expands each year and this season, Asiate at the Mandarin-Oriental joins the ranks of participants.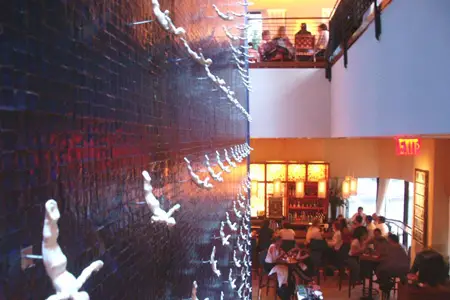 Fashion Plate Prix Fixe is open to the public for lunch, dinner, and brunches during Mercedes-Benz Fashion Week. Herewith a few examples of the deals to be had: Upper West Side staple Rosa Mexicano (above) is featuring a $25 prix-fixe lunch special as well a three-course dinner for only $38; The Smith is hosting a $27 three-course lunch with complimentary sparkling morning punch with any breakfast entree; and a special two-course, modern Italian weekend brunch is being offered at Lincoln Ristorante for $35.
There are also deals for Fashion Week staff at other, more affordable eateries where the crews working Fashion Week can get a delicious take-out meal to be eaten on the fly, with a deep discount. (That program is called Crew Cuts and it's for the staffs of Fashion Week, who survive for eight days on breathing mere air and eating take-out.) But Fashion Plate restaurants are open to all.
"We're always thrilled to welcome back our highly-anticipated Fashion Plate Prix Fixe and Crew Cuts programs to the Lincoln Square area as locals and visitors look forward to great deals on incredible meals," said Monica Blum, Lincoln Square Business Improvement District president. "Whether or not you have tickets to check out the runway, Fashion Plate Prix Fixe is a great way to dine at some of the city's best and favorite restaurants while celebrating and experiencing the ambiance of Mercedes-Benz Fashion Week in one of the city's most vibrant neighborhoods." The Lincoln Square BID has spearheaded the program since its inception. The non-profit business improvement district also promotes the area's diverse business, educational opportunities, and cultural offerings through annual events such as the annual Winter's Eve celebration, which is Gotham's largest holiday festival; Summer Concert Series at Richard Tucker Park; Tourist Information Ambassador Program, among others. Lincoln Square BID's neighborhood area runs from Columbus Circle to 70th Street between Amsterdam and Central Park West.
Fashion Plate Prix Fixe is open to all (just snag yourself a reservation first, so you can be assured you get into your favorite places) for lunch, dinner, and brunches during Fashion Week.
Click here for the complete list of Fashion Plate participants.
Posted on Thursday, August 29, 2013 @ 10:18 AM | 0 replies Start the Discussion
---
Who's Bored? You Won't Be, With a Rowenta Ironing Board
It's that time of year, when we are obliged to iron all our linen and cotton garments, clothing we truly depend on to keep us cool and comfy during the dog days of the season, humid summer days that are assuredly going to return in the next week. Many would wince at the thought of ironing, but I find the task a Zen-like activity, and it's also a rewarding one, 'cause you get immediate results. And when you have a good iron and a super-duper ironing board like the Rowenta IB9100 Pro Compact model, you cannot help but actually appreciate the process. (O.K., maybe I am in the minority here, and you're rolling your eyes, thinking, "She's actually extoling ironing?" But for me, there is something gratifying about hanging up a freshly ironed, crisp linen shirt, rendered to that state of elegance by your hand and a well-designed iron.)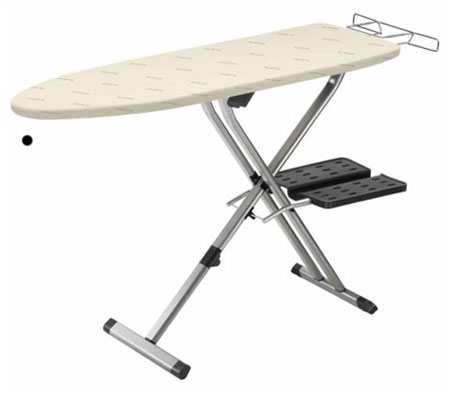 If we are like-minded, then it is Rowenta's IB9100 ironing board that you're gonna' love. Why didn't anyone think of this kind of ironing board sooner? This is a completely marvelous, brilliant product--an ironing board for those of us who are space-challenged in tiny New York City apartments. The board (when stored) measures only 45" high, but when you open it, it's a full 54" long, due to the compact aspect of the design — the end where the resting well for the iron sits folds over itself, knocking off those 9 inches in height, so it's not so cumbersome to store. Very clever.

The opening process is a snap, so you are not fumbling around trying to figure out how to slide the legs out so that they support the board, and where the mechanism locks. It's entirely self-evident and intuitive. There are adjustable heights for ease of standing (or even sitting, for that matter), as you iron. The frame has built-in wheels, making it simple to move the board around. The surface for ironing is cushy and laced with a felt layer. There is a handy steam-iron station restomg well at the end of the board. And a space to rest ironed clothing and a hanging rack... there is just nothing that the knowing geniuses at Rowenta have not thought of. Suggested retail price is $299 and it's worth each and every penny!
Posted on Friday, August 23, 2013 @ 12:47 PM | 0 replies Start the Discussion
---
Makeup Forever's Smoky Extravagant Mascara
I am addicted to purple mascara, hence I rarely venture out of my comfort zone for mainstream brands, unless they happen to make a color called "Wondrous Violet" or "Ravishing Lavender," or something like that. But, I do keep a few black mascaras in my makeup tray for the times I need that classic, but it's usually so boring. Well, Makeup Forever's new Smoky Extravagant is just that—no, not boring, but rather extravagant.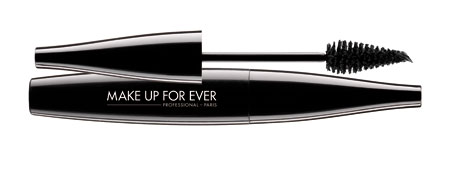 I say extravagant, as it does all the things you want mascara to do, and makes your lashes look natural while it plies its magic. I road-tested it with the usual dollop or skepticism, after having been told it promised to be revolutionary. After all, how different could it be? Black mascaras is black mascara. Well, this one isn't so ordinary.
As it glided on, I was shocked to see that it separated and colored my lashes and rendered them natural-looking, not clumpy, not fake, not thickly artificial. My lashes were instantly darker, longer, and lush. I could not get over it. My normally anemic lashes looked amazing! And my lower lashes, even more thin, were lavishly thick, yet still not clumped and fake-looking.
So, how does it do it? Here is what the company says it does to make this mascara different form all others. And oh, did I mention it is a mere $24?
Volume, length, curl, and precision are delivered through the company's proprietary, innovative formula, with a pigment that has the darkest color that the company could find—natural mineral comprised of micronized iron oxide, with a wax complex and Abyssinian oil base, which allows the mascara to glide on easily and remain smudge-proof. Panthenol pro-vitamin B5 restrcutures eyelashes by covering, nourishing, and protecting them. The conic-shaped brush, the company says, is also important, and that tiny little implement has a staggering 580 bristles on it!
Now if only lit came in purple. But, frankly, I have so fallen in love with this mascara; I am wearing black all the time these days. It's the new purple!
Posted on Monday, August 12, 2013 @ 10:56 AM | 0 replies Start the Discussion
---
One Silicone Oven Mitt + One Hot Pad + Ingenuity = The Hot Iron Holster!
Emergency room nurse Erin Balogh spent most of her mornings flipping pancakes, doing laundry, changing diapers, and trying to get ready for work. She found herself relegated to using her downstairs guest bathroom for her toilette, in between trips to the laundry room and the kitchen. In that tiny half-bath, she would balance her hot curling iron and flat iron on the edge of the pedestal sink, and invariably, her hair tools would slide into the basin or drop to the floor. There had to be a better way, she thought: She checked locally and on-line in an effort to pinpoint an appropriate implement to hold the pesky implements, but there wasn't much that would work. There were wall-mounted tools and gizmos for the countertop, but in her tiny bath, there was no counter, and she didn't want anything wall-mounted that would be permanent, to spoil her pretty guest bath.
Necessity is almost always the mother of invention, and in Balogh's case, trying to find the requisite tool forced her to be a little more pro-active, to think a little more creatively: She dusted off her sewing machine and grabbed a silicone oven mitt and a hot pad and then sewed them together, creating a kind of over-the-sink-edge holster from the oven mitt for holding her tools. At the other end, she fashioned a pocket from the oven mitt, weighted it with a piggy-bank's worth of coins, and put the sturdy heft into the bowl, to balance the weight. The silicone holster could comfortably hang over the edge of the sink, and the weighted oven mitt was draped into the sink—and it was the perfect assemblage for her hot tools. Yes, this would do it, this rudimentary silhouette would be the model of her ultimate product, the Hot Iron Holster.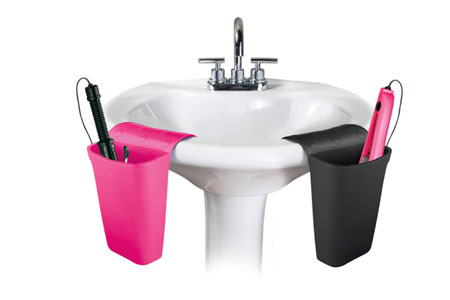 Now, all she needed was a professional and better-designed thingamajig like this. And off she went to streamlining it and having it made professionally. This would be the perfect tool holder, the answer to her prayers! And she knew others would want one, as well, as she knew she simply could not be alone. (And she wasn't...I, among the many, was with her!) She debuted her product at the International Home and Housewares Show, the Big Guns of the home industry, in Chicago, last year, where it was a huge hit.
Balogh ultimately created two versions of her holster—an at-home model and a professional model, for salons and stylists. The holster is ideal for hot tools (up to 500 degrees F)—flat irons, curling irons, hair dryers, and Lord only knows what else we use. The specially formulated silicone clings to any smooth, non-porous surface, including tile, wood, laminate, granite, metal, glass, vinyl, porcelain, plastic, and leather, among the mix. When put into place, both surfaces should be clean and dry; dirt and lint may reduce performance, but can be easily removed by rinsing with water or cleaning with rubbing alcohol.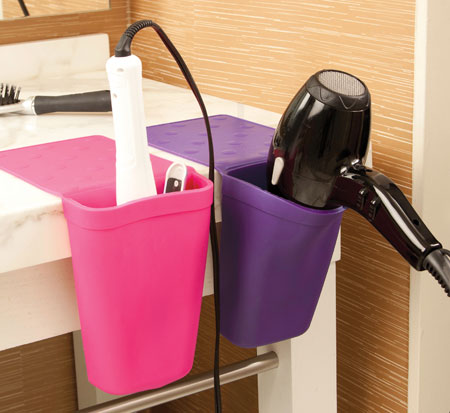 In addition to being easy to install on just about any surface, the longer end can be used over a towel bar, around an open shelf, over the edge of the sink, or (as I do it), over the rod of my portable bathroom moveable cart. The professional model has a longer tail, more copious pocket, and is capable of holding more...and the longer grip-end of the professional model is ideal for putting over the back of the salon chair. To remove the holster, just lift up the tail end. The at-home model retails for $29.95 and the professional model sells for $39.95 on the Hot Iron Holster Web site. Also available at, among other places, the Container Store.
Posted on Tuesday, August 06, 2013 @ 11:23 AM | 0 replies Start the Discussion
---
Guerlain's Newest: The Audacious Sense of Intoxicating Scents
I love fragrance; always have, always will. My morning's toilette is incomplete without a splash or spritz of something delicate, something heady, or something exotic. And for years, I have relied on Guerlain's war chest of fragrances for many of my olfactory sensorial desires. This company really knows fragrance, and has bottled so many "big names" that it's hard to even list them: Shalimar, L'Heure Bleu, Samsara, Insolence, and on and on, not to mention the entire group of "beehive" perfumes.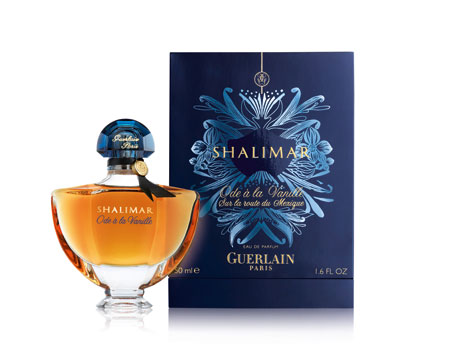 But let's start with the newest addition to the renowned Shalimar family, Shalimar Ode à la Vanille. Hard to believe that Shalimar itself is closing in on its centennial, and yet seems as fresh and refreshing to the nose's palate as the day it was created, perhaps accidentally, by Jacques Guerlain. The story goes that when the master perfumer was examining a sample of vanillin brought back from the Far East he decided for the heck of it (oh, those wacky, reckless perfumers!) to pour it into a bottle of Jicky (a popular Guerlain fragrance, created in 1889 and still a treasured standard in the company's repertoire), just to see what it would smell like, et voilà! Shalimar was born. Guerlain was supposedly stirred to refine his creation further, having been inspired by the legendary Mughal Empress Mumtaz Mahl, the favored wife of Shah Jahan, who built the Taj Mahal for her.
The newest scent is deliriously gorgeous, a mix of bergamot, rose, and iris, set against a sensual base of woodsy notes and spices: The top note is assertively vanilla, with a heart of jasmine and other florals, with a base of tonka bean, caramel, and cocoa....my God, you could cook this stuff and eat it! I did a test drive of the scent last week and cannot get it out of my mind, head, heart. Created by master nose Thierry Wasser, who, on a trip to Mexico found himself in Vanilla Land—and knowing the importance that bean played in Shalimar's history—decided to infuse a little more of that delicious bean into Shalimar, and thus Ode à la Vanille was born. He pays homage to the rich history of both the fragrant bean and the Maison du Guerlain, and the result is that timeless Shalimar has been suffused with a jolt of modernity in it. And happily it is very affordable at $103.00 for 50 ml. (For the record, the Shalimar DNA has several scents in its group, Parfum Initial, Eau de Shalimar, and this latest entry.)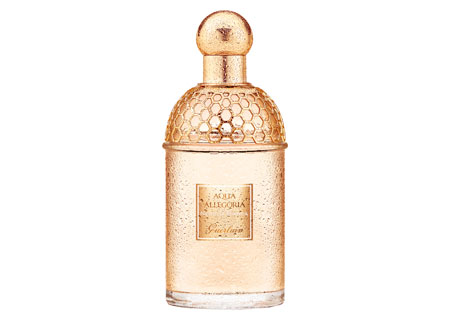 And now to the "Beehive" fragrances: the line is known as the Aqua Allegoria and the scents in this Guerlain family are all bottled in the famous "beehive" bottle which is inspired by nature, just as the fragrances themselves are. Sculpted in the shape and pattern of a bee hive and adorned with Guerlain's symbol of the bee, the Aqua Allegorias evoke a 760-year-old tradition, when the first fragrance—Eau de Cologne Impériale for the Empress Eugénie—in this group was created. Its legendary bottle was adorned with 69 bees, a storied emblem of the Empire under Napoleon and then Napoleon III.
The wonderful scents in the beehive bottles are generally floral, usually citrus—light, refreshing, evoking playfulness. While these fragrances are not specifically limited editions, there are usually only five fragrances available at any given time, therefore each new fragrance that enters the family replaces another one. So, if you become attached to any one of them, snap it up when you can, as it may be hard to find thereafter by the next year. Currently, the line includes the latest, Neriola Bianca, which I am desperately in love with, and the five presently in the group... and I am betting that one will be removed come Sepember, when this one officially launches: Flora Nymphéa, Pamplelune, Herba Fresca, Mandarine Basilic, and Les Soleia. (Fragrances are very reasonably priced at about $65.00 for 2.5 oz., in the eau de toilette spray in the famous bottle)
Posted on Monday, July 29, 2013 @ 03:04 PM | 0 replies Start the Discussion
---
Travel in Style and Comfort With Hästens
I travel a great deal for Promenade and have my little road rituals—road warriors all have their seemingly silly rites for planes and airports, and I am no different. But...now that the Hästens Company has brought to market a wonderful (and cleverly designed) travel pillow, I will be altering my travel routine to include bringing a Hästens pillow on board with me for snoozing and dreaming.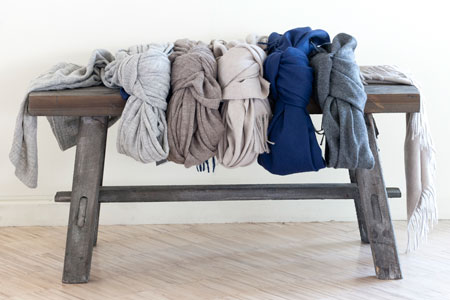 If you don't know know Hästens, allow me to introduce you to the company. It is Sweden's oldest, most revered manufacturer of beds and mattresses, with 160 years of history behind it, and is now well known beyond the borders of tiny Sweden. The company has received the prestigious Nordic Signum prize in 2013 for best long-term branding. But it's not just branding that is a corporate hallmark, it's the bedding, as it should be. Each Hästens bed is handcrafted in the company factory in Köping, Sweden, by expert artisans, meticulously assembling the all-natural materials, which include horsehair, cotton, flax, wool, and Swedish pine. Hästens beds allow for ventilation, creating the ideal temperature and perfect environment for a restful night's sleep. (And it's not for nothing that since 1952, Hästens has been the exclusive supplier of beds and mattresses to His Majesty King Carl XVI Gustaf of Sweden.)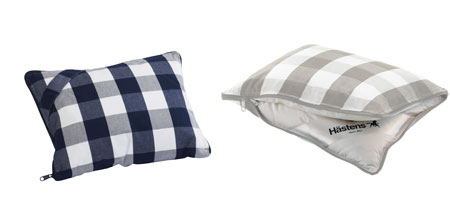 Hästens' travel pillow (above; $110) is a clever invention, making any location (even an uncomfortable economy seat) a sleep sanctuary. Filled with the highest quality duck-down and feathers (for maximum breathability and support), this little rectangle unzips to a full-size pillow, opening up to reveal the surface for cradling your head...and at the same time, then, the fold-over design protects that surface. And it's so soft you can mush it up into a ball, if that is how you like to prop your head up on a plane. It is also treated with SanProCare, an ecologically safe finish that absorbs moisture five times faster and disperses it twice as quickly as a conventional pillow, to keep you dry, even during a hot summer night, or during a particularly sticky flight. The pillow is available in the company's signature blue-and-white, large gingham check and in a neutral silver, too. It is truly my new go-to accessory for travel.

And if I am taking off on a particularly long flight, then I also grab a Hästens baby alpaca throw ($430 and up). The on-the-road blankie is super-soft, made from 100% baby alpaca wool (which does not contain lanolin, so it's completely hypoallergenic and never itchy); alpaca is among the rarest and finest of fibers. Soft like cashmere, but stronger than wool, alpaca has a hollow core that allows it to feel feather-light, and yet be heat-retentive; it also has great natural breathability, so it adjusts to changing body temperature. Available in: oatmeal, ink, charcoal, birch, nutmeg. It's pricey, but oh-so-worth-it.
Hästens New York is located at 1100 Madison Ave. (82nd-83rd Sts.), 212-628-8022.

Posted on Friday, July 12, 2013 @ 11:52 AM | 0 replies Start the Discussion
---
Chopard's Happy Sport: Gay Diamonds, Fish, and Fantasy
This autumn, the esteemed Swiss watchmaker Chopard will celebrate the twentieth anniversary of the creation of its fun and fantasy watch, the Happy Sport. The ingenious creation of co-president Caroline Scheufele, the Happy Sport originally married casual elegance and haute joaillerie in a single timepiece.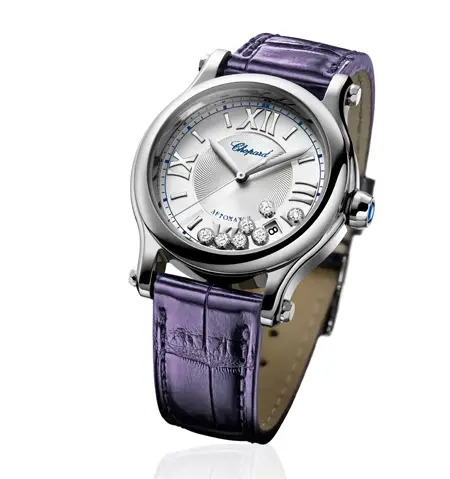 According to Chopard, it was the first time something as precious as diamonds was combined with a material as mundane as steel, exuding the devil-may-care vibe, coalescing diamonds and daytime in a way they had not been used together before. Over the years, there have been countless models of the Happy Sport watch, some giddily silly with "dancing" fish chasing diamond prey, twinkling snowflakes, fantastic four-leaf clovers, others more sedate but still with an toward whimsy, with playful, roving diamonds on the face of the watch. But always, the Happy Sport has brought a smile to a viewer's or a wearer's face.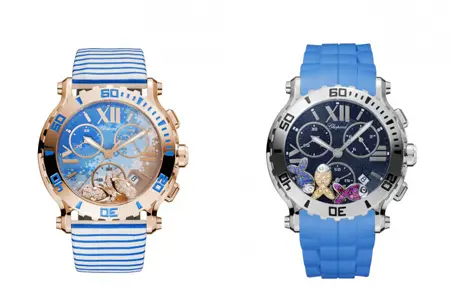 In acknowledging this landmark, Chopard has created a method for customers to create their own contemporary version of the Happy Sport, to have a one-of-a kind, truly singular watch. The Happy Sport customization process allows purchasers to truly personalize a timepiece, engaging them in the design process for the first time. The procedure is kind of fun, too: Download the iPad or iPhone app (or go to a Chopard boutique) and design your watch from scratch through the various options, selecting items from the hot pink Happy Sport traveling trunk-kit (pictured below): Pick a strap (how about lavender or coral rubber?), a face, a design, embellishments (trinkets, charms, and so on), different colors, and, well, you get the point... Three weeks later, voilà! You have a custom-made watch!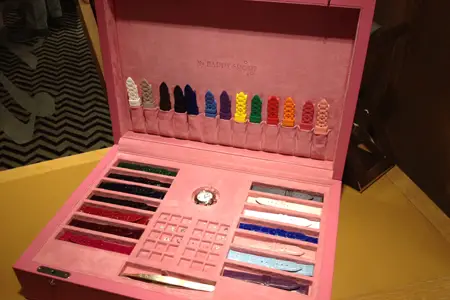 Watch prices vary of course, but most Happy Sport watches start at about $10,000, and of course, the sky is the limit, if you decide that you just need to have many roaming diamonds in the face of your watch! BE prepared to grin every time you look at the watch to check the time.
Chopard Boutique, 709 Madison Ave., 212-223-2304; chopard.com
Posted on Monday, July 01, 2013 @ 05:01 PM | 0 replies Start the Discussion
---
Glorious, Soaring Time: Breguet at The Frick Collection, New York
There are watchmakers and then there are watchmakers. In the pantheon of the superlative, the name Abraham-Louis Breguet, namesake of the eponymous Swiss watchmaking company, takes a front-and-center position, high in the firmament of timekeeping geniuses. It was unquestionably Breguet who was considered the leading watchmaker of his time (1747-1823), responsible for countless innovations and inventions, not the least of which was the 1801 patent for the tourbillon escapement, which he developed around 1795.
Celebrating the wizardry of Breguet, now through February 2, 2014, is the exhibit entitled Breguet, the Innovator: Inventor of the Tourbillon which honors the man and the "machine" at The Frick Collection's Portico Gallery, the only room in this illustrious jewel of a museum where direct sunlight bathes the artifacts—and therefore allows the treasured bijoux to glow in their own luminosity. Concommitantly, the Frick's Precision and Splendor: Clocks and Watches at The Frick Collection has also been mounted and it highlights some of the most spectacular timepieces ever created.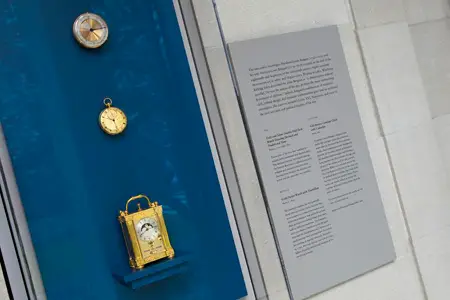 In his day, Breguet was the go-to guy for anyone wanting a specialty watch or a tricky clock—indeed, anything horological. His clientele included many leading political and public figures as well as members of the European aristocracy. Alongside his friend and contemporary John Arnold, Breguet is now widely acknowledged as one of the greatest horologists of all time.
Among other treasures, the exhibit features three historic Breguet timepieces by the master and his son, Antoine-Louis—a double-dial desk clock, a gold tourbillon pocket watch, and a gilt-bronze carriage clock—spanning the period from the early sixteenth century through the nineteenth century. Noted Ian Wardropper, director at The Frick Collection, New York, that for this exhibition, "We chose the Breguet watches and one clock before we ever thought about partnering with Breguet because they happen to be the finest clocks of that time. The three watches together just made a wonderful display and showed the innovation and clock-making of this era." Indeed, this is a partnership made in heaven...the best of New York and the best of Breguet.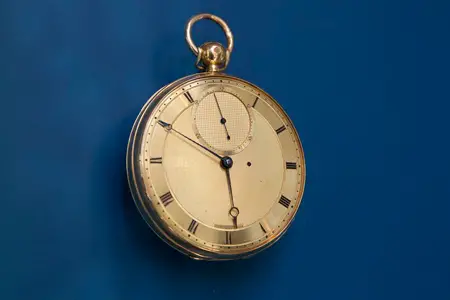 The show chronicles some of the most significant European watches in the United States and the items for it were carefully and artfully selected by Charlotte Vignon, The Frick Collection's associate curator of decorative arts. The exhibit comprises 11 clocks and 14 watches from the inheritance of Winthrop Kellogg Edey, as well as five clocks lent by collector Horace Wood Brock, which have never been on display in New York.
The Frick Collection is supporting the exhibition with educational programs, videos, and seminars during the run. It is no coincidence that during the time the exhibit is mounted, the anniversary of Breguet's creation of the tourbillon will occur—this week, June 26th (1801), and at that time, at the Breguet boutique flagship store (711 Fifth Avenue at 55th Street), there will be a viewing of the company's Extra-Thin Tourbillon 5377 along with an extensive collection of tourbillon timepieces and some of the newest and most novel models presented at the recent BaselWorld 2013. Additionally, earlier this year, Breguet began to celebrate its founder's tourbillon innovation through a month-long exhibit in Geneva that will tour other cities worldwide.
Posted on Monday, June 24, 2013 @ 11:00 AM | 0 replies Start the Discussion
---
A Fresh Face for Spring and Summer: Make Up Forever's Pro-Finish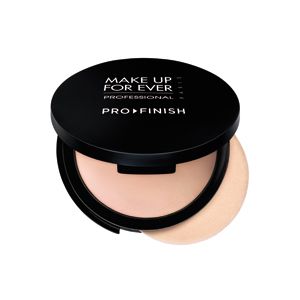 Billed as a multi-use compact foundation with an innovative formulation that can be applied wet for a sheer, satin finish or dry for a full, matte finish, Pro-Finish is the answer to your prayers. Make Up Forever released the product recently and I have been addicted since then. It can be light enough for these hot days ahead of us now, and yet, provide enough coverage for the days you want protection, too.

This foundation delivers a high-performance, versatile look, delivering a flawless complexion in minutes. The R & D on this base was more than six years in the making, and the company worked through more than 70 different formulations before settling on this excellent mix. It stays on the skin longer and more effectively than others. Silica and sericite powders deliver a light-reflecting, soft-focus effect, while oils and aloe vera add nourishment. Pro-Finish is mineral oil-, fragrance-, and paraben-free and the formula boasts significantly less talc than traditional formulations, eliminating that dreaded chalky, cakey effect.

Available in 25 shades (something for everyone!), ranging from pale white-ish, neutral, pink, golden, to deep tan shades, it is packaged in a compact with a sponge (ideal for both wet and dry applications) in a separate, aerated compartment. (And if added coverage is desired, a second application can be used dry after a wet application.) It retails for $36.00 at Sephora.
Posted on Friday, May 31, 2013 @ 05:26 PM | 0 replies Start the Discussion
---
Turn Back the Aging Clock: StriVectin's Newest Magic!
It started in 2002 as a wonder cream to persuade stretch marks to disappear. That was StriVectin-SD, and within no time flat, it sold over 6 million units worldwide. A miracle in a tube, indeed, and probably the single product that helped create the cosmeceutical craze. From that one product, the StriVectin Company has developed a multi-faceted line, with over a dozen effective, in-demand products introduced in the past four years alone. Today, the company markets a clinically-proven, scientifically-developed skincare line that offers comprehensive anti-aging solutions for people who would prefer to use a little dab of magic rather than search in vain for Ponce de Leon's Fountain of Youth.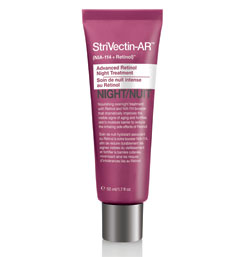 Newest to the StriVectin family is January's introduction of StriVectin-AR Advanced Retinol Night Treatment. A midnight multi-tasker, it combines the company's proprietary NIA-114 molecule and retinol (think: the ever popular retin A and its cousins), which is the gold standard in the anti-aging arena. This product relentlessly fights major signs of aging, helping to reduce the appearance of deep-set wrinkles and fine lines, hydrating and deeply nourishing skin, improving skin firmness and texture, and balancing out skin tones.

The company did a 12-week, independent, placebo-controlled, double-blind clinical trial against a placebo formula that did not contain the NIA-114...and the studies proved that the StriVectin-AR had impressive results after four weeks:
100% improvement in skin texture
88% improvement in skin clarity and radiance
79% had an improvement in skin firmness
8412% had an improvement in fine lines
After this 12-week trial, it was obvious that these were impressive results. For me, after the first of the year, I gave the StriVectin-AR an eight-week test and I can only say I am getting compliments on my skin—and I was actually asked on the street the other day by a dear friend whether I "had had work done." Hmmmm.....that is enough to convert me to a StriVectin devotee for life. (No, indeed, I did not have work done! Well, if having the carpet steamed counts as work, then I guess I did have work done, but it was the carpet, not my face!)

My results were enough to convince me to investigate more of the StriVectin product line, and now my 24-hour routine consists of the newly reformulated StriVectin-SD for daytime use and the StriVectin-SD Eye Concentrate at night...and voila! That is my new regime that I am currently in love with. If you feel like exploring the StriVectin products yourself, there are the StriVectin-AR lines, the -SD, -TL, -EV, and -SH lines, as well, that are worthy of your attention.

All these StriVectin lines consist of products that range from neck creams and cleansers to serums and more. The StriVectin-AR (50 ml / 1.7 oz) that I mentioned is $109.00; the StriVectin-SD Intensive Concentrate (150 ml / 5.0 oz), $139.00; StriVectin-SD Eye Concentrate for Wrinkles (30 ml / 1.0 oz), $65.00.
Posted on Tuesday, March 19, 2013 @ 03:20 PM | 0 replies Start the Discussion
---
Nabil Hayari's Delicious Perfumes
Fabricator of dreams, magician with fabric, Nabil Hayari was catapulted at an early age to the upper reaches of the Parisian fashion world. The couturier was captivated from an early age by textiles, clothing, and design. After attending one of France's prestigious fashion schools, he caught the eye of the École de la Chambre Syndicale de la Haute Couture Parisienne, and soon became the creative director at a fashion house in Paris' Golden Triangle, the area around Rue François Ier, Rue Pierre Charron, Rue Marbœuf, and, of course, the legendary Avenue Montaigne. Tucked into this rarefied neighborhood is a banquet of designer clothing, glittering accessories, dazzling jewelry, fragrant perfumes -- and shops and ateliers among the most celebrated in the world -- Givenchy, Louis Vuitton, Rochas, Dior, Celine, and Chanel, to name but a few.
By 2009, this wunderkind of wearables decided to open his own house and within a short time was dressing the likes of Nicole Kidman, Beyoncé, Pink, and Kylie Minogue.
His tools are lace, chiffon, shimmering beads, luminescent crystals, luscious satin, and undulating silk, and with them he creates sensational one-of-a-kind entrance gowns. It didn't take long 'til he made the leap to the world of scent, and in 2010 he introduced his signature fragrance, Only for Her. Today he has three scentsational perfumes, Goldy, Broderie, and the first, Only for Her, which is seductive, dynamic, and sparkling, with an essence of grapefruit, Egyptian jasmine e, peony, and magnolia. Goldy reflects a warm, powdery, and woody glow. White jasmine, orange blossom, and sandalwood permeate. And the lovely Broderie (embroidery, in French, underscoring the designer's love of his rich palette of textiles) is naturally inspired by the delicate fabrics Hayari works with. The scent is elegant, feminine, and sensual. There is lily and gardenia, amber, and patchouli, all of which combine to create a heady scent. The fragrances sell for $145 for a 1.7 oz bottle and are available at C. O. Bigelow apothecary in New York City.
And as an added incentive for you to check out Hayari's amazing fragrances, you have five more days to get to Bigelow and make a bid on one of Hyari's couture dresses. A Valentine's Day scarlet confection, the, the gown is a one‐of‐a‐kind exclusive frock. C. O. Bigelow will feature the flame-red gown in its window until the end of this week, and as an added incentive for passersby to bid on the gown, Hayari has pledged 100% of the proceeds to the American Heart Association. The one-shoulder, silk-satin entrance‐maker frock is designed in bold poppy and features a layer of chiffon and embroidered Chantilly lace that is generously accented with Swarovski crystals. The retail price for the gown is $11,500; minimum bid $3,500.
Posted on Tuesday, March 05, 2013 @ 02:35 PM | 0 replies Start the Discussion
---
Crackerjack Union Jacks! Fun Accessories with British Flair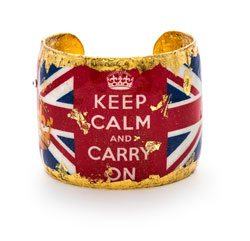 I was having a fuzzy, warm feeling about all things British (which is always an easy frame of mind for me to slide into) when I wrote about the fabulous Hollywood costume exhibit the Victoria & Albert Museum at the end of year. (And if you were in London at the time, then I hope you got to see it—it was truly spectacular.) With Great Britain firmly on my mind, I reminded myself that I had taken pictures at a trade show of the fun and lively jewelry of Barbara Ross-Innamorati of Evocateur, and decided it would be the next blog...but then Fate interfered in the form of shoulder surgery, which put an immediate end to typing for a while.
But, as they say, "We're back!" The recovering appendage is finally agreeable to typing, so we can now share Barbara's stunning bracelets. This jeweler has an interesting background and came to jewelry-making through the proverbial back-door, from the London School of Economics (LOL). Well, not exactly. But she did attend the renowned school, and while in the UK, she saw an exhibit of gold-worshipper Gustav Klimt and the images, resplendent with all that luscious, rich gold stayed with her for years. "Since that time, I have been passionate about and fascinated with gold leaf -- the way it can transform even the most ordinary of objects into something extraordinary, almost magical."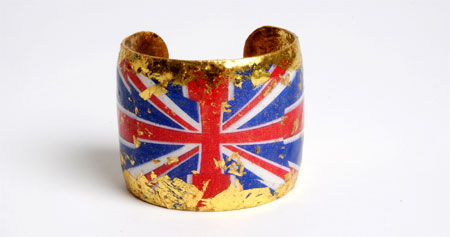 After dumping corporate America (corporate finance/investment banking/mergers and acquisitions, she notes), she was hunting for the just-right jewelry to wear with an ensemble and couldn't find what she wanted...and that need led to her experimentation with the gold leaf she so loved, and so, for 18 months, she doggedly pursued how to make the kind of jewelry she'd want. Et voila! Evocateur, her company, was born.
Today she sells a gorgeous line that includes some of my favorites, her British-inspired jewelry. Apparently I am not the only one with favorites from her line; her pieces also tickle the fancy of countless buyers from around the globe, as she sells not only to well over 100 outlets in the States, but also to such far-flung destinations around the world as Russia, Portugal, Panama, and even tiny Cyprus.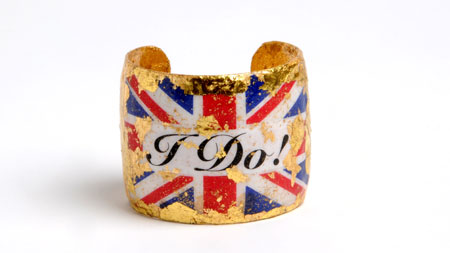 All her pieces are made in America, in her workshop in Connecticut. She continues to produce head-turning jewelry, heavily laden with that delicate, burnished gold, in 22kt. A more exotic collection, Humphrey's Safari, was inspired by a trip to Africa and named for her guide. (A portion of the proceeds from that collection goes to support a school in rural Zimbabwe.) Most cuffs range from about $220 (for the narrower, less elaborate ones) to about $340, for the wider, more involved ones.
Before signing off on things British, I must send you to the site Unique Vintage, which sells the most eclectic things you'll ever find on one Web site: a baby pacifier with a funny mustache attached to it; prom dresses and evening clothes; a pizza cutter; a stamper for imprinting toast, with a picture of the Eiffel Tower, called (rather cleverly) "French Toast Stamper"; luggage tags; swim suits; and Lord only knows what else you'll find!

It's an odd and interesting agglomeration of goods, but among the sundry offerings are a few things British and they are adorable: There is the little flask, convenient for a sporting event or just plain old travel ($26); a charming felted-wool handbag, with the Union Jack and a heart on it ($99). And, of course, there is an umbrella ($14.50) with the famous British flag on it. I have no clue what else you'll find if you jump around the site, but I guarantee an interesting time perusing it. Prices are reasonable, and it's a great site to plumb for novelty gifts, as well.
Posted on Tuesday, February 19, 2013 @ 03:11 PM | 0 replies Start the Discussion
---
Dining in Style and for a Good Price: Fashion Plates to Wear and Eat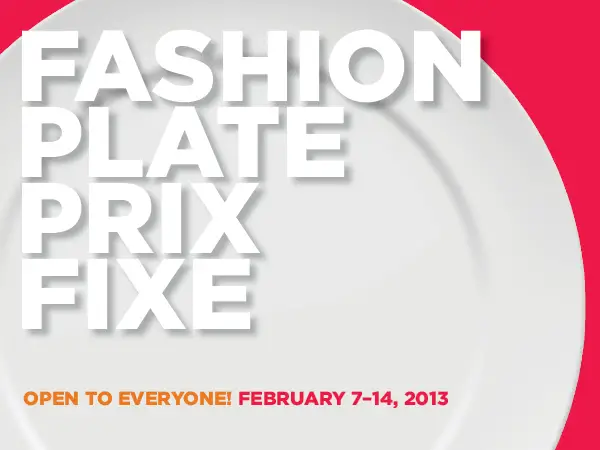 Starting this week, coinciding with Gotham's famed Mercedes-Benz Fashion Week, 28 ever-so-chic Upper West Side restaurants are stepping up to the plate (virtually) and are offering their "Fashion Plate" deals on meals. The Lincoln Square Business Improvement District's successful dining promotion, "Fashion Plate" is back this year, and there is a wide range of eateries participating, some with jaw-dropping, over-the-top menus -- places you've always wanted to try, but were hesitant. The event runs from the 7th to the 14th for Fashion Week. The promotion expands each season with American Table Café & Bar, Andanada 141, and Arpeggio Food & Wine being three of the latest additions to the list of participating restaurants.
Also new this season, a few of the participants are offering drink specials such as $5 Blackberry Bellinis at 'wichcraft (at David Rubenstein Atrium). There are also deals for Fashion Week staff, at other, more affordable eateries where the crews working Fashion Week can get a delicious take-out meal to be eaten on the fly, with a deep discount. (That program is called Crew Cuts and it's for the staffs of Fashion Week, who survive for eight days on breathing mere air and eating take-out.) But Fashion Plate restaurants are open to all.
"The Lincoln Square community loves playing host to visitors from around the city and the world -- and our restaurants are always eager to offer special deals. Whether you have tickets to watch the runway shows, Fashion Plate is a fun and tasty way to celebrate," noted Monica Blum, president of the Lincoln Square Business Improvement District, which has spearheaded this program since its inception.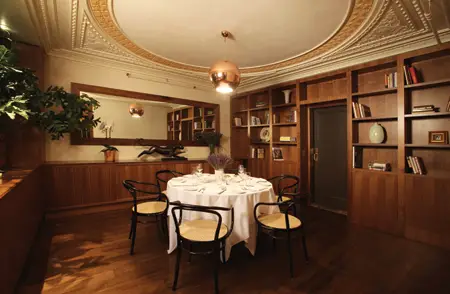 Fashion Plate Prix Fixe is open to all (just get yourself a reservation first, so you can be assured you get into your favorite places) for lunch, dinner, and brunches during Fashion Week. Some of New York City's newest hotspots, including Boulud Sud and The Leopard (in the old Café des Artistes spot; pictured above) are participating. Twenty-eight restaurants are offering outstanding menu options, for example: Upper West Side staple Atlantic Grill's three-course prix-fixe lunch and dinner for $25.00 and $38.00 respectively; A Voce's $33.00 three-course prix fixe lunch; The Smith is hosting a $27 three-course lunch and complimentary sparkling morning punch with any breakfast entree; and a special two-course, modern Italian brunch is being offered at Lincoln Ristorante (pictured below left) for $35. (For a complete list of participating restaurants, please see below.)
The Lincoln Square BID is also excited to bring back Lincoln Square Crew Cuts, designed to offer speedy and affordable dining/take-out options for the busy crews working on Fashion Week events. Discounts, such as 10% off breakfast, lunch and dinner, is being offered at 18 eateries in the Lincoln Square area, including Lincoln Square mainstays Alan's Market Place, Breadsoul and Lincoln Cafés, Melissa's Gourmet Deli, 'wichcraft, Old John's Luncheonette, P.J. Clarke's at Lincoln Square and others from January17 through February 25, 2013.
This is the fourth year and sixth season the Lincoln Square BID is supporting the event. The non-profit business improvement district also promotes the area's diverse business, educational opportunities, and cultural offerings through annual events such as the annual Winter's Eve celebration, which is Gotham's largest holiday festival; Summer Concert Series at Richard Tucker Park; Tourist Information Ambassador Program, among others. Lincoln Square BID's neighborhood area runs from Columbus Circle to 70th Street between Amsterdam and Central Park West.
Here is the complete list for the Fashion Plate participants:
A Voce
10 Columbus Circle
Time Warner Center, 3rd Floor
212.823.2523 / www.avocerestaurant.com
Three Course Prix Fixe Lunch: $33
(Monday–Friday only)
American Table Café & Bar (at Alice Tully Hall Lobby)
1941 Broadway at 65th Street
212.671.4200 / www.americantablecafeandbar.com
Two Course Prix Fixe Lunch, Dinner or Weekend Brunch Plus Snack: $20.00
Specialty Cocktail: $10
Andanada 141
141 West 69th Street between Broadway & Columbus Avenue
646.692.8762 / www.andanada141.com
Three Course Prix Fixe Dinner or Weekend Brunch: $38.00
Late Night Special Sangria or Wine: $7 (Excluding Valentine's Day)
Arpeggio Food & Wine (at Avery Fisher Hall)
Columbus Avenue at 64th Street
212.874.7000 / www.arpeggiofoodandwine.com
Three Course Prix Fixe Dinner: $45 (Excluding Valentine's Day)
Atlantic Grill
49 West 64th Street between Broadway & Central Park West
212.787.4663 / www.atlanticgrill.com
Three Course Prix Fixe Lunch: $25
Three Course Prix Fixe Dinner: $38
Haute Fashion Cocktail – Raspberry Vodka with cranberry juice and lemon juice: $14
(Monday-Friday only; excluding Valentine's Day)
Bar Boulud
1900 Broadway between 63rd & 64th Streets
212.595.0303 / www.barboulud.com
Three Course Prix Fixe Lunch: $29
(Monday-Friday only; excluding Valentine's Day)
Bouchon Bakery
10 Columbus Circle
Time Warner Center, 3rd Floor
212.823.9366 / www.bouchonbakery.com
Two Course Prix Fixe Lunch, Dinner or Weekend Brunch: $25
Three Course Prix Fixe Lunch, Dinner or Weekend Brunch: $29
Half Price Bottles of Wine
Boulud Sud
20 West 64th Street between Broadway & Central Park West
212.595.1313 / www.bouludsud.com
Three Course Prix Fixe Lunch: $29
(Monday-Friday only; excluding Valentine's Day)
Café Fiorello
1900 Broadway between 63rd & 64th Streets
212.595.5330 / www.cafefiorello.com
Three Course Prix Fixe Lunch: $27.95
Café Luxembourg
200 West 70th Street between West End & Amsterdam Avenues
212.873.7411 / www.cafeluxembourg.com
Three Item Breakfast : $14
Three Course Prix Fixe Lunch: $29
Ed's Chowder House
44 West 63rd Street between Broadway & Columbus Avenue
212.956.1288 / www.chinagrillmgt.com
Three Course Prix Fixe Lunch or Weekend Brunch: $25
Three Course Prix Fixe Dinner: $35 (Excluding Valentine's Day)
Gabriel's Bar & Restaurant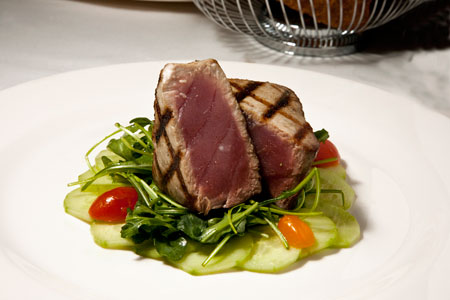 11 West 60th Street between Broadway & Columbus Avenue
212.956.4600 / www.gabrielsbarandrest.com
Three Course Prix Fixe Lunch: $25
(Excluding Valentine's Day)
Jalapeño
187 Columbus Avenue between 68th & 69th Streets
212.877.7800 / www.jalapenonyc.com
Two Course Prix Fixe Lunch or Dinner: $19.95
Three Course Prix Fixe Lunch or Dinner: $21.95
La Boite En Bois
75 West 68th Street between Columbus Avenue & Central Park West
212.874.2705 / www.laboitenyc.com
Three Course Prix Fixe Lunch: $26.50
Lansky's
235 Columbus Avenue between 70th & 71st Streets
212.787.0400 / www.lanskysnyc.com
Two Course Prix Fixe Lunch or Dinner: $19.95
Three Course Prix Fixe Lunch or Dinner: $21.95
The Leopard at des Artistes
1 West 67th Street between Columbus Ave & Central Park West
212.787.8767 / www.theleopardnyc.com
Three Course Prix Fixe Dinner: $38 (Excluding Valentine's Day)
Weekend Brunch: $25
Lincoln Ristorante
142 West 65th Street between Broadway & Amsterdam Avenue
212.359.6500 / www.lincolnristorante.com
Two Course Prix Fixe Lunch or Weekend Brunch: $35
(Wednesday-Sunday only)
Loi
208 West 70th Street between Amsterdam & West End Avenues
212.875.8600 / www.loirestaurant.com
Three Course Prix Fixe Dinner: $40 (Excluding Valentine's Day)
Luce Restaurant & Enoteca
2014 Broadway between 68th & 69th Streets
212.724.1400 / www.lucenyc.com
Two Course Prix Fixe Lunch: $19
Nanoosh
2012 Broadway between 68th & 69th Streets
212.362.7922 / www.nanoosh.com
Three Course Prix Fixe Lunch or Dinner: $14.95
Nick & Toni's Café
100 West 67th Street between Broadway & Columbus Avenue
212.496.4000 / www.nickandtoniscafe.com
Three Course Prix Fixe Dinner: $35 (Excluding Valentine's Day)
Nougatine at Jean-Georges
1 Central Park West at Trump International Hotel & Tower
212.299.3900 / www.jean-georges.com
Three Course Prix Fixe Lunch: $32 (Monday –Sunday only)
Three Course Prix Fixe Dinner: $38 (Sunday–Friday only) (Excluding Valentine's Day)
Porter House New York
10 Columbus Circle
Time Warner Center, 4th Floor
212.823.9500 / www.porterhousenewyork.com
Three Course Prix Fixe Lunch: $25
Rosa Mexicano
61 Columbus Avenue at 62nd Street
212.977.7700 / www.rosamexicano.com
Three Course Prix Fixe Lunch: $25
Three Course Prix Fixe Dinner: $38
Add a Rosalita 'Skinny' Margarita: $3.50 (Excludes Valentine's Day)
Sapphire Indian Cuisine
1845 Broadway between 60th & 61st Streets
212.245.4444 / www.sapphireny.com
Prix Fixe Lunch Buffet: $15.95
Shun Lee West
43 West 65th Street between Columbus Avenue & Central Park West
212.595.8895 / www.shunleewest.com
Three Course Prix Fixe Lunch: $25
The Smith
1900 Broadway between 63rd & 64th Streets
212.496.5700 / www.thesmithnyc.com
Three Course Prix Fixe Lunch: $27
Complimentary Sparkling Morning Punch with any Breakfast Entree (Monday–Friday only)
'wichcraft (at David Rubenstein Atrium)
61 West 62nd Street between Broadway & Columbus Avenue
212.780.0577 / www.wichcraftnyc.com
Blackberry Bellini: $5
Posted on Saturday, February 09, 2013 @ 09:49 AM | 0 replies Start the Discussion
---
Hollywood on the Thames: The Victoria & Albert's Hollywood Costume Exhibit
These are the stuff that dreams—or celluloid fantasies—are made of, to paraphrase Shakespeare: John Travolta's white disco suit from Saturday Night Fever... Judy Garand's blue-and-white-checked gingham pinafore-dress from, of course, The Wizard of Oz... Audrey Hepburn's sensational little black dress from Breakfast at Tiffany's...Vivien Leigh's green "drapery gown" from Gone with the Wind.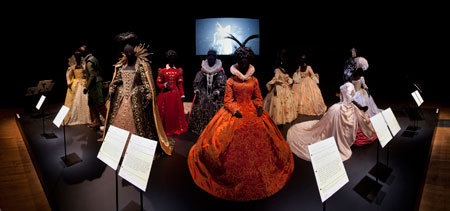 ©V&A images
Clothes make the man, they say, and in cinema, clothes help sculpt the character. "On every film, the clothes are half the battle in creating the character," notes Meryl Streep—a woman cable of transforming herself into personnae from every continent (or Mars, if need be); from every walk of life (high brown, low brow, no brow); from any age, at any age. And as she readily acknowledges, clothes aid her transformation. Just how wardrobe supports any actor in becoming a character will be patently clear if you visit the stunning, skillfully mounted exhibit, Hollywood Costume, currently at the V & A, and on view through January 27th.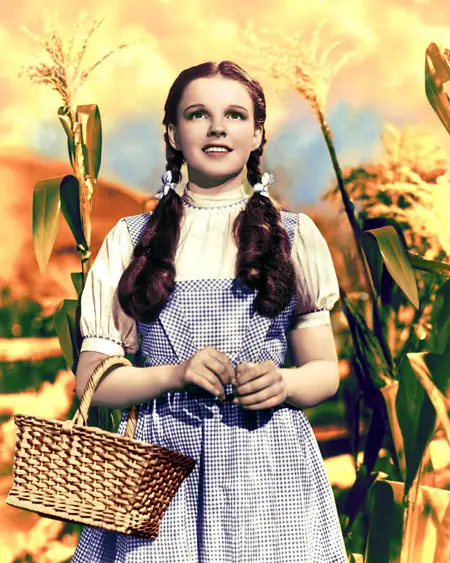 The Wizard of Oz, 1939. Credit: MGM/The Kobal Collection

This is the museum's major, late-fall exhibit and it gathers together over 130 of the most memorable, iconic costumes created for unforgettable cinematic characters from over a century of filmmaking. The exhibit explores the central role of costume design – from the glamorous to the most subtle – as an essential tool of cinematic storytelling. It illuminates the costume designer's creative process from script to screen and reveals the collaborative dialogue that leads to the invention of authentic people within the story. The exhibition also examines the changing social and technological context in which costume designers have worked over the last century, with the items on display spanning silent-film era to the present period, when costumes can even be computer-generated and "captured" for wearing.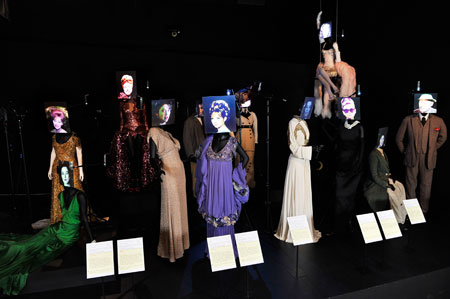 ©V&A images
The costumes on view are united by their single purpose—to serve the story, and tell it in another dimension. To this end, the exhibit's curators, Deborah Nadoolman Landis, a Hollywood costume designer, and Sir Christopher Frayling, guest curator, use montages, film clips, and projections; most appropriately, ensembles are showcased, not in an isolated museum format, but in their original context, in front of a blow-up still of the actor/actress wearing the outfit in the film. Additionally, to make the presentation even more authentic-looking, the explanatory panels are written as film script pages, and there are dialogue pages from the movie in which the garment appeared, as well, all helping to bring the textiles to life.
The exhibition has involved sourcing, identifying, and securing objects from all across the world over the course of five years. The costume collectors who have loaned pieces for the exhibition range from major motion picture studios, wardrobe houses, public museums and archives, to private individuals/collectors. The exhibit is cleverly organized into three "acts," creatively staged with cinematic paraphernalia and equipment. In Act One, the costumes are somewhat deconstructed, with an emphasis on the design process behind the scenes. So, for example, Harrison Ford's Indiana Jones' rough-and-ready outfit is projected on a large screen behind the actual costume, and piece by piece, item by item, the curators divulge the costumers' secrets, thebehind-the-scenes tricks of the trade—for example, how the leather is aged, or the trousers dirtied, why a certain fabric is chosen, or how a particular stitch is executed so it replicates the period, and so on, all in the effort to render the ensemble as authentically as possible.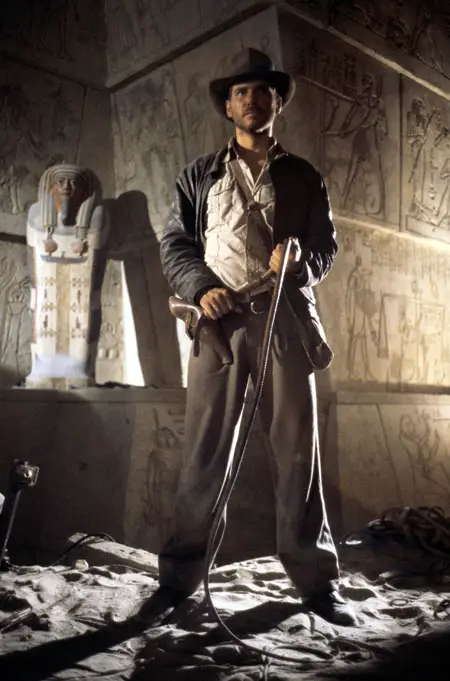 Raiders of the Lost Ark (1981). Credit: Lucasfilm/Paramount/The Kobal Collection
There are clothes instantly recognizable as being "costumes," such as the imperial robes designed by James Acheson for The Last Emperor (1987) alongside others that are supposed to be "real street clothes" (where the street is the mountains) like those from Brokeback Mountain (2005), in which designer Marit Allen's creations for Jack Twist (Jake Gyllenhaal) and Ennis Del Mar (Heath Ledger) may seem invisible against the backdrop, as they are so perfectly suited to their milieu. The steps of the costume designer's research process are explored in case studies that include Fight Club (Michael Kaplan, 1999), Addams Family Values (Theoni V. Aldrege, 1993), and Indiana Jones: Raiders of the Lost Ark (Deborah Nadoolman, 1981).
The development process is revealed using designs and sketches, photographs illustrating costume fittings, budget breakdowns, and script pages to show dialogue that discloses character-defining clues. Act One concludes with a dissection of designer Alexandra Byrne's Elizabeth: The Golden Age (2007) surrounded by a royal court of characters.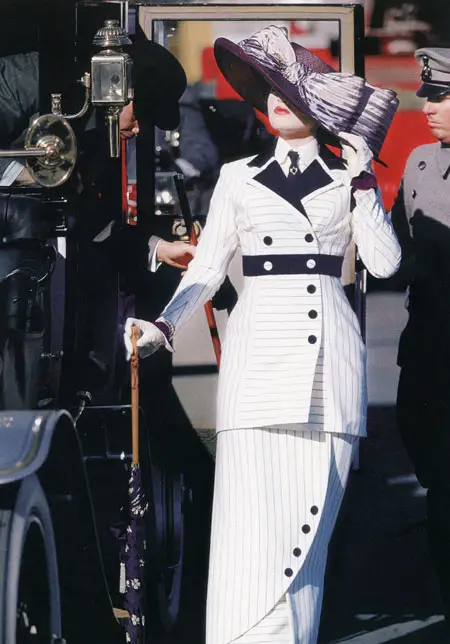 Titanic (1997). Credit: 20th Century Fox/Paramount/The Kobal Collection

Act Two: Dialogue examines the intimate creative collaboration among great filmmakers, actors, and costume designers. Using archival film footage as well as the audio from specially-commissioned interviews, this section explores four key director/designer pairings: Alfred Hitchcock and Edith Head who worked together on 11 films including The Birds (1963); Tim Burton and Colleen Atwood whose nine films together have spanned Edward Scissorhands (1990) to Alice in Wonderland (2010); Martin Scorsese and Sandy Powell who have teamed up on films from Gangs of New York (2002) to the recent Hugo (2011); and Mike Nichols and Ann Roth who have worked together for almost 30 years on films ranging from Silkwood (1983) to Closer (2004). This section is mounted in such a way, that viewers can actually sit down to listen to the complete audio interview, while almost being a part of the action or process. This section concludes with a striking presentation of countless garments worn by the transformative actors Meryl Streep and Robert DeNiro. In specially commissioned interviews, both actors discuss the importance of costume in developing and playing a range of their characters. Five costumes from each of their most famous roles are on view.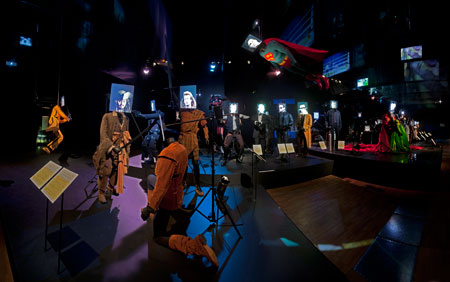 ©V&A images
In the last section, Act Three: Finale the best-known costumes from cinematic history are presented—featuring Hollywood heroes, femme fatales, comic-book superstars, to high-tech creations. Some of the memorable silhouettes featured here include the celebrated white cocktail dress worn by Marilyn Monroe in The Seven Year Itch, the unforgettable green silk-charmeuse, slinky frock worn by Keira Knightley as Cecilia Tallis in Atonement (2007), and a parade of James Bond's tuxedoes.
Ticket Information: Advance booking is advised, as this is a popular exhibit, with a £14 fee. www.vam.ac.uk/hollywoodcostume; 020 7907 7073.
Posted on Monday, December 31, 2012 @ 08:33 AM | 8 replies View/Post Feedback
---
Jane's Jewels: Designer Jane Bohan Holds Sample Sale
I have always loved (and appreciated) the jewelry designs of Jane Bohan and periodically I have featured her work in the pages of Promenade magazine. She is well known for her stackable rings, many of which are beautifully incised, featuring exquisite intaglio carving or etching, giving the shanks and settings remarkable texture and dimension. Her necklaces are usually elegant statement pieces, and her earrings are always feminine and provide the just-right touch for any outfit.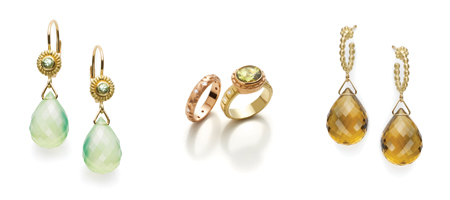 Luckily for us, all her bijoux are about to go on sale in her annual Holiday Jewelry Sale, for two weekends, December 6th through the 8th and the 14th through the 15th. She is promising huge savings on everything, with at least 50% off retail pricing. Prices at the sale start as low as $150 and escalate up to $2,500, significantly lower than her normal tariffs.
The sale is taking place at 611 Broadway (corner Houston Street), Suite 840. Hours: hursday the 6th, Friday the 7th, and Friday the 14th, from noon to 7 p.m.; Saturday the 8th and Saturday the 15th, from 11 a.m. to 5 p.m. Cash and credit cards accepted. Additional info: 212-529-6090 and info@janebohan.com.
Posted on Tuesday, December 04, 2012 @ 03:50 PM | 32 replies View/Post Feedback
---
Things Are Popping in the Meatpacking District: The POP-Up Jewelry Gallery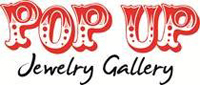 The holiday shopping season is now officially in full swing, and to help you pinpoint that just-right jewelry gift (and who wouldn't want a little sparkly something?), a charming pop-up jewelry gallery, aptly named POP Up Jewelry Gallery, has opened at 30 Gansevoort Street (between Hudson and Greenwich Streets). Open through December 31, the shop has a giant "pop-up" sign in the window...in bright Hollywood-style lights. It's cozy, spotless, and all-white inside, the better canvas for ferreting out sparkly jewels.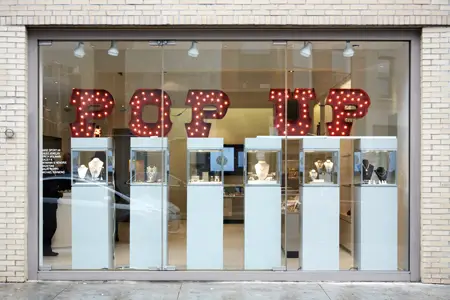 POP Up Jewelry Gallery located at 30 Gansevoort Street in the Meatpacking District features 8 fine jewelry designers for a limited time (until December 31st) including: Anne Sportun Fine Jewellery, Caleo, Heimann & Hendrix, Erica Molinari, Kacey K, MAD by Madstone and Madstone, Mauri Pioppo Fine Jewelry, Michael Raymond Designs
And of course, the timing could not be more perfect since forty percent of all fine jewelry is sold in the last quarter of the year. Unlike most pop-up shops which create an ultimate frenzy for impulse shoppers, this gallery has already been open for two months, establishing a mini-foothold in the ultra-trendy Meatpacking District, and attracting the typical weekend shoppers and the nabe regulars.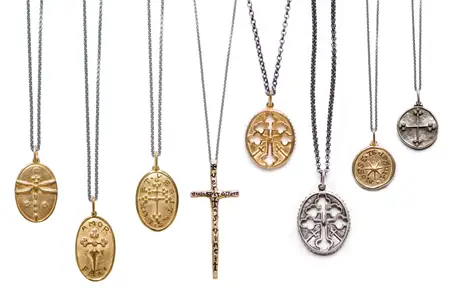 Erica Molinari - Sterling silver double sided charms with oxidized silver chains; 14 karat gold double sided charms with oxidized silver chains; 14 karat gold cross pendants with oxidized silver chains; Suggested retail prices range from $250 to $2,000
The salon is the brainchild jewelry-partners-in-crime, designer Kerri Halpern of MadStone Jewlery and Mad by MadStone and Diana Heimann of Heimann & Hendrix. The partners conceptualized, opened, and will manage the pop-up for the duration of the holiday season. The other designers on board include Anne Sportun Fine Jewellery, Caleo, Erica Molinari (above), Kacey K, Mauri Pioppo Fine Jewelry, and Michael Raymond Designs. Each designer showcases his/her bijoux in a separate case and the feel of the emporium is more gallery than shop.
Jewelry prices range from the highly affordable ($150) to the aspirational ($20,000), with a wide panoply of styles and tastes represented within that broad spectrum. While the majority of the jewelry in the shop is for women, there are also some designers specializing in menswear, with cufflinks, chunky chains, cool logo pins, and the link. There are also fine men's watches with a great deal of style and pizzazz from Jorg Gray. Additionally, there are some other items, such as special coffee table books, which are also available for sale.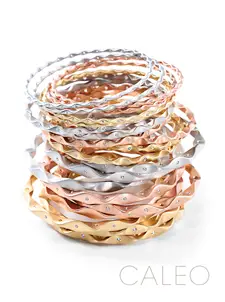 Jewelry from Caleo is actually from a husband-and-wife team, she an architect, and he, a sculptor. Working with elegant moonstones and hematite, they create lovely and delicate chains (and some more substantial ones for men) and talismans. Halpern's two lines range from about $200 to $18,000 and feature some fanciful pieces. She describes herself as a "rocker who loves champagne," and to satisfy that craving, she has created her "Bubble" line, with quartz etched with floating bubbles on the underside of the stones. She handles amethyst, smoky topaz, and quartz masterfully and brings the gems to life magically. Her bangles are a steal at $100. (The Caleo PINCH bangles, pictured right, come in many sizes and variations, and range from $275 to $6,250.)
Heimann & Hendrix's line includes some charming stackables, both feminine and delicate, and well-priced. Kacey K's offerings are dainty and fine, with countless variations of jewelry that can be worked with names, monograms, initials, and personal icons. Her line ranges from about $300 to $3,600. Erica Molinari's jewelry is noteworthy for its reversible pendants and charms. She also creates many dangly earrings, worked with a single stone that sparkles and dazzles. A simple, elegant statement. The work from jewelry Anne Sportun is marked by the use of colorful briolettes, sapphire beads, kyanite stones, shaped spinels (that look like lava rocks)and organic-shaped jewels. The line from Mauri Pioppo Fine Jewelry is rife with crystals, pendants, spirituality, symbolism—from love letters to initials, little locket-like charms that have room for a picture. A yogi, she tries to even incorporate healing stones within her work.
The shop will host themed weekly events (last week it was a doggy day, a fundraising event for orphaned pets from Hurricane Sandy), designer appearances, and entertainment, with a live DJ and an array of smart cocktails. Open to all patrons, the week's events will be posted on the front door. Store hours are Tuesday to Sunday, noon to 7:00 pm, closed Mondays. For more information, call 646-861-1180 or email info@popupjewels.com.
Posted on Monday, November 26, 2012 @ 11:12 AM | 0 replies Start the Discussion
---