City Shopping
Browse by Category: Mother's Day | Gifts | Eat, Drink, and Be Merry | Jewelry | Sporting Goods | Sales/Sample Sales | Women's Shoes | Art | Home Furnishings | Home Accessories | Accessories | Beauty: Spa & Bath | Luxury Goods | Getting Organized | Fun Stuff | Women's Clothing | Furs | Gloves, Hats, Scarves | Leather Goods | Tabletop | Beauty: Makeup & Skin Care | Linens | Men's Clothing | Useful Info | Beauty: Fragrance | Store Openings | Handbags & Totes | Beauty: Medical | Bridal | Fix It | New in NYC | Kitchen | Favorite Finds | Services | Lingerie | Men's Shoes | Stationery/Writing Instruments | Computers/Electronics | Kids' Stuff | Ties | Fur Maintenance & Repair | Hat Repair | Home Cleaning & Repairs | Travel
View More Blogs...

About the Author: About the Author: Ruth J. Katz is a well-known shopping and service writer based in New York City. She has written about shopping for 25 years for New York magazine; covered the topic on-air at Fox-TV for several years as the Home Services expert; and had her own show on both the USA and Lifetime Cable networks. Katz wrote extensively for The New York Times as well, and contributed periodically to the New York Daily News. She is a passionate shopper, always looking for not merely a good buy, but the best buy, ferreting out a "steal" or discovering up-and-coming designers. She has written five books and is a former contributing editor to Hearst's Redbook, Classic Home, and Colonial Homes; she is currently a Contributing Editor of New York Home, Golf Connoisseur, The Modern Estate, and Promenade magazines. She is also the former Shopping Director for Davler Media's Manhattan Living.


---
Will Wonders Never Cease: C Wonder Opens at the Time Warner Center
C Wonder, the brainchild of Chris Burch, the former husband of Tory Bruch--and we're guessing the star of the marketing team and a good part of the creative genius behind her line--has opened its second store in Manhattan, on the second floor of the Time Warner Center, in The Shops at Columbus Circle. Since it just opened this week, you might want to wait a day or three until the herd thins, as the place was crowded (not unshoppable-crowded, just busy) both times I visited. (And expect a very chripy, cheery hello from the very uber-exuberant staff; these guys are like on uppers.)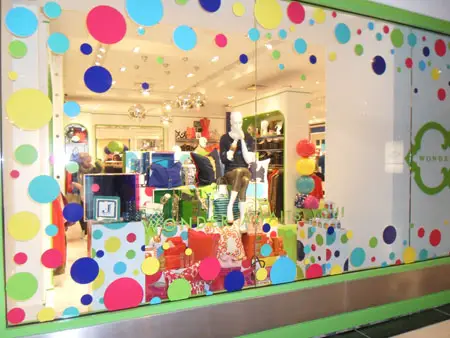 To say the emporium is a Crayola box of color, a symphony of rainbow tones, is an understatement. Clearly, here, more is more is more; the word "less" is assuredly not in Mr. Burch's vocabulary. A charming concept store, it is part Lily Pulitzer, part Newport preppie, part glamazon's lair, and part Britain's Primark, which if you don't know it, is sort of like Zara, H & M, Top Shop, and the old (wonderful) Loehmann's all rolled into one: Fashion with a bang, available for a song.
Here the price tags are not songs, but they are definitely sing-able, i.e., within reach, sort of like the furniture store, Design Within Reach. You won't mind in the least spending $78 for a pair of suede driving mocs (especially when there is an $88 pair of gaily-colored suede loafers in J. Jill's current catalog) in a bold Kelly green or a hot turquoise; but you also won't get an item that is made like the driving mocs from Tod's or from its little-sister shop (no longer open in SoHo), Hogan. The quality of the suede is not top-drawer, but the manufacturing is neat and trim, and definitely not shoddy...and for the price, it's a steal.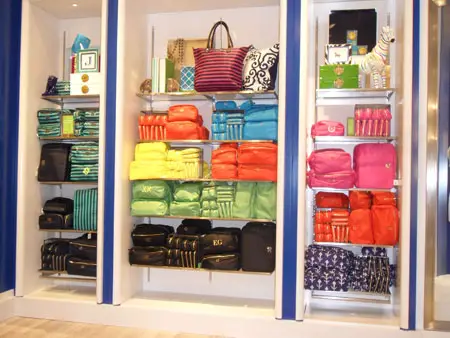 With much of the merch in the store, you also won't mind laying out the moolah for the tariff on the tag: for example, $50 or $75 for a nice wool cardigan or slipover crewneck or a lovely Perry Como-style, vesty sweater, that is a little edgy, but still from the prepsters, 'cause it will get you through this season and next—and you'll still look fashionable, should you keep it in your closet longer. There are very handsomely designed sweaters, a faux fur vest, trench coats, belts, and nice cotton button-down style shirts (without the buttons), with contrasting fabric—like maybe a paisley or a plaid against a blue-and-white striped shirt or a—on the interior of the collar and cuffs....very stylish.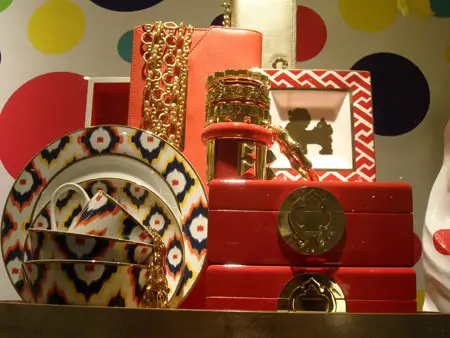 Totes, wallets, little handbags, and purses abound—in every shape, style, size, variety you can imagine, and you'll want to snatch up a few to put inside the big tote you will assuredly end up buying. The boutique's logo "C" is on a few items, as well, but there are many opportunities to put your own initials on something, as monograms are a hot commodity here....whether on dishes, ashtray-like catch-alls, clothing, tchotchkes for strategic placement around the house, or whatever. (There is even a dedicated monogram shop-within-the-shop.)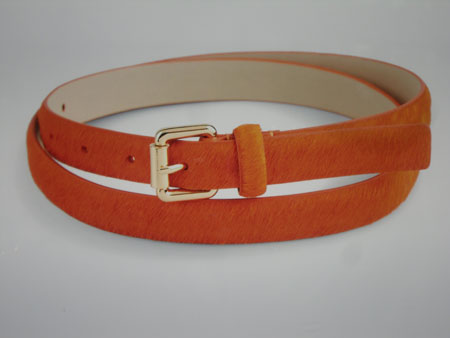 Home furnishings are abundant, as well—pretty pillows, tailored desk accessories, cache pots, smart lacquered trays, frames, mugs, and way more—and it's all in a rich kaleidoscope of saturated tones. And lest we forget the jewelry: Many bangles, some in faux–enamel, many in gold-tone with bamboo deisgns, others in squiggly, organic, stackable forms, and many that are sort of Hermès-like. Not so many earrings, but that is of no import, as there is something for everyone in the little jewelry room.
C Wonder is a wonder and it's no wonder that the company already has half a dozen shops around the States with many more planned. There will be wonder in your neighborhood soon! And if not, you can always visit Columbus Circle or SoHo, to get a glimpse of the jolly-ness and joy that the colorful shop brings to your eyes and your smile. C Wonder is a fun boutique-y concept and a lovely place to fork over your money for something useful, well designed, and fun.
Posted on Saturday, September 29, 2012 @ 09:16 AM | 0 replies Start the Discussion
---
LOOT 2012: Mad About Jewelry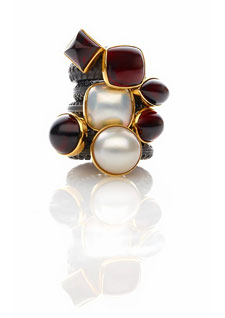 The word "loot" conjures up images of precious (perhaps purloined?) treasures—the spoils and bounty of war, plundered golden artifacts encrusted with diamonds, chalices and goblets dripping with ormolu, tomb-raided objets d'art. You get the idea: Prized, valuable "stuff," objects that can elevate the spirit or enlighten civilization—things meant to be coveted and cherished.
Twelve years ago when the Museum of Arts and Design began its annual LOOT extravaganza-event, it was hoped that the buying public would react that way—and come to purchase the splendorous and valuable jewelry showcased in this pop-up shop/exhibit. Here are riches designed by contemporary studio artists—jewelers you do not find at a typical "jewelry store"—many of whom have never shown in the States. Their works are inventively modern pieces, some created with precious metals and stones, and other jewelry crafted from unexpected materials such as titanium, stainless steel, glass, wood, rubber, fabric, leather, paper, and found objects.
Unlike any other jewelry event in the country, LOOT 2012 gives aficionados and neophytes alike the opportunity to meet some of the most innovative and sought-after jewelers working today...and to buy highly collectible bijoux from these gifted artists. This curated edition of LOOT is the grandest ever and represents an international cavalcade of over 50 fine jewelers. (It will also showcase the work of jewelry students from Gotham's own Fashion Institute of Technology.)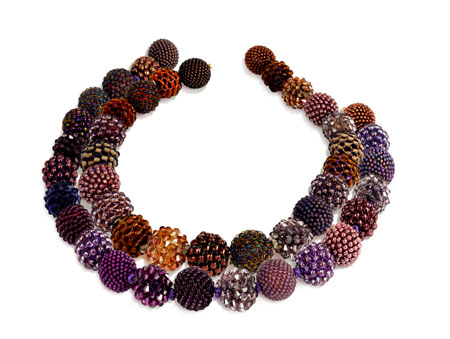 For the first time, LOOT will honor esteemed German jeweler Axel Russmeyer, who will receive the inaugural LOOT Award for Contemporary Art Jewelry. Russmeyer's signature work is constructed from extraordinarily stunning, ethereal, and elegant beaded-beads that he painstakingly creates by hand and then works into the most appealingly seductive earrings, necklaces, and bracelets (such as the one pictured above). Talk about wanting to covet jewelry—he's your man. (Russmeyer's works at the show will range in price mostly from $1,250 to $3,250, although there are highly desirous necklaces that soar up to $12,500.)
The show-sale is being staged September 11 to 15 at the Museum; proceeds benefit the exhibition and education programs of the Museum of Arts and Design. LOOT 2012 is made possible in part through the generosity of the Silver Institute: Silver Promotion Service and MAD's Jewelry Study Day is supported by Van Cleef & Arpels. Additional info: madmuseum.org; madaboutjewelry.tumblr.com
Posted on Tuesday, September 11, 2012 @ 12:45 PM | 0 replies Start the Discussion
---
Don't Cry for Me, Argentina: Treasures from Buenos Aires' Evita Museum Arrive in New York
In commemorating the 60th anniversary of the death of Argentina's beloved Eva Perón, and also marking the 10th anniversary of the founding of the Museo Evita in Buenos Aires, treasures from the South American museum are being exhibited here in New York City for the first time ever. Evita: Passion and Action will be mounted at the Consulate General of Argentina, starting September 7.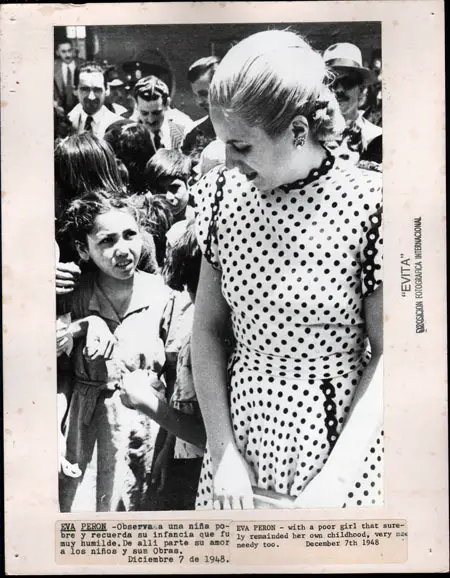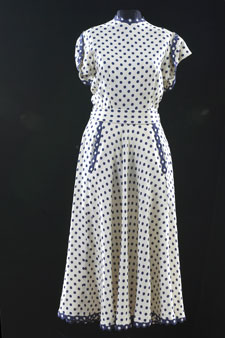 Dedicated to one of Argentina's most celebrated figures and one of the 20th century's cultural and political icons, the exhibition will showcase some 50 works, including paintings and photographs of Evita as well as stunning garments from her personal wardrobe. This is the first time these items have traveled, and short of going to Argentina, this is the only opportunity to see these artifacts. Sponsored by the Ministry of Tourism of Argentina, the Consulate General of Argentina in New York, and the Argentina National Institute of Tourism Promotion, the exhibition will remain open to the public until the 28th of September.
Established 10 years ago in July, 2002, the Museo Evita, or Eva Perón Museum, was created as part of the Instituto Nacional de Investigaciones Históricas Eva Perón (INIHEP) under the auspices of the National Secretariat of Culture. The INIHEP continues the study of Eva Perón's role in Argentine history, functioning as a center for research, an archive for documents and oral histories, and a publication center for investigative studies.
The museum was founded by Evita's great-niece, María Cristina Álvarez Rodríguez, who continues to be closely involved in its operations and is honorary president of the Eva Perón National Institute of Historical Research. The Museo Evita is located in the fashionable Palermo section of Buenos Aires. Housed in the early 20th-century mansion of the Carabassa family, constructed as a single-family residence in Plateresque and Italian Renaissance styles, the building was declared a National Historical Monument in 1999.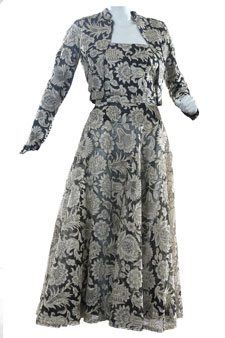 The journey through the museum is presented chronologically from Evita's childhood, and chronicles her family and formative years, and her journey to Buenos Aires from Los Toldos. Her beginnings in show business, followed by her meeting Juan Perón, and ultimately her role as First Lady, are all explored in the museum's diverse exhibits.
The museum's collection contains paintings and photographs; clothing (including some of her remarkable ball gowns and serious "business" suits), shoes, and jewelry; historical documents; and other memorabilia, many loaned by the Álvarez Rodríguez family. The items on display in New York were selected from the main collection by Museo Evita curator Gabriel Miremont, who is a prominent expert on the life and contributions of Eva Perón.
The Consulate General of Argentina is located at 12 West 56th Street (between Fifth and Sixth Avenues). Exhibition hours are 10:00 a.m. to 5:00 p.m., closed Saturday and Sunday except September 22 and 23, when the show will be open from 9:30 a.m. to 5:00 p.m. There is no admission charge.
Additional information: 212-603-0443
Posted on Tuesday, September 04, 2012 @ 05:01 PM | 0 replies Start the Discussion
---
The Metropolitan Opera's LIVE IN HD Presentations Grace the End of Summer
Get out your picnic supplies and your soft, traveling cushion. It is once again time to start thinking about the free (as in it costs no money) ten nights of opera, Met Opera: Live in HD, in the Plaza at Lincoln Center, starting Saturday evening, August 25th (and ending September 3rd, Labor Day). It is one of the greatest gifts that residents of the Big Apple receive--and did I mention, it's free!!?? This is the fourth year that it is being presented to eager Gothamites, as the event annually gathers greater and greater critical mass, it becomes more and more popular, even among people who have never savored opera before. (Last year more than 40,000 people attended; the seating in the Plaza accommodates 3,000, on a first-come, first-served basis.) The Live in HD performances are affecting, intimate, and imminently accessible. Presented in a larger-than-life fashion on the massive screen against the opera house's facade, each opera is fully translated with subtitles , so no need to try to divine what is happening, especially in some of opera's more complicated, convoluted, logic-defying, plot-twisting libretti.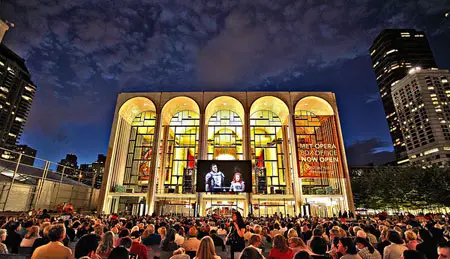 Operatic superstars abound in the ten nights of presentation: David Daniels, Natalie Dessay, Joyce DiDonato, Plácido Domingo, Mariusz Kwiecien, Jonas Kaufmann, Anna Netrebko, Juan Diego Flórez, Karita Mattila, Marina Poplavskaya, Dmitri Hvorostovsky, and Diana Damrau, are but the proverbial tip of the star-studded iceberg. So, come early, bring your dinner, camp out a bit, and make new friends with those around you, and enjoy this fabuloso gift, The Met: Live in HD, that is bestowed upon us, made possible by a generous grant from its founding sponsor, The Neubauer Family Foundation, and with global corporate sponsorship provided by Bloomberg.
Curtain times vary (ranging from 7:30 pm to 8:00 pm), so see the schedule below:
Saturday, August 25, 7:30 PM: THE ENCHANTED ISLAND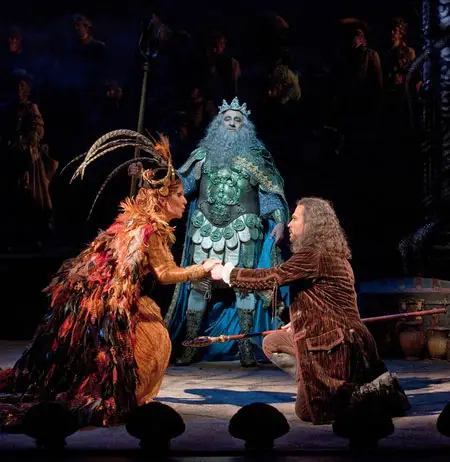 (left to right) Joyce DiDonato as Sycorax, Placido Domingo as Neptune, and David Daniels as Prospero in The Enchanted Island. Photo: Ken Howard/Metropolitan Opera
This world-premiere Baroque fantasy combines music by Handel, Vivaldi, and Rameau with a new libretto inspired by Shakespeare. Conducted by William Christie, directed by Phelim McDermott and Julian Crouch, and starring Danielle de Niese, Lisette Oropesa, Joyce DiDonato, David Daniels, Anthony Roth Costanzo, Plácido Domingo, and Luca Pisaroni. Approximate running time: 180 minutes
Sunday, August 26, 7:30 PM: DON GIOVANNI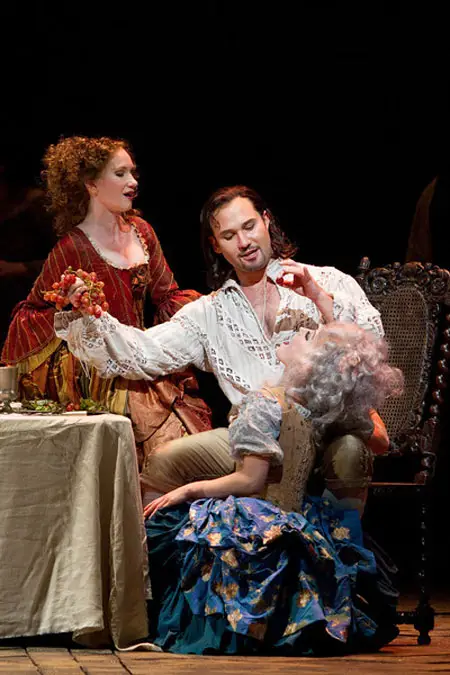 Mariusz Kwiecien (center) in the title role of Mozart's Don Giovanni. Photo: Marty Sohl/Metropolitan Opera. Taken during the rehearsal at the Metropolitan Opera on October 4, 2011.
Michael Grandage's new production of one of opera's supreme masterpieces stars Mariusz Kwiecien in the title role. Principal Conductor Fabio Luisi leads the Met Orchestra and a cast that also includes Marina Rebeka, Barbara Frittoli, Mojca Erdmann, Ramón Vargas, and Luca Pisaroni. Approximate running time: 173 minutes
Monday, August 27, 8:00 PM: LA SONNAMBULA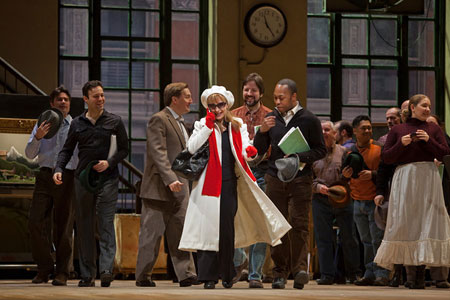 A scene from Bellini's La Sonnambula with Natalie Dessay as Amina. Photo: Ken Howard/Metropolitan Opera. Taken during the rehearsal on February 25, 2009 at the Metropolitan Opera in New York City.
Natalie Dessay and Juan Diego Flórez deliver bel canto fireworks in Mary Zimmerman's inventive production of Bellini's opera, which places the action in a contemporary rehearsal room where a production of La Sonnambula is being prepared. Evelino Pidò conducts. Approximate running time: 137 minutes
Tuesday, August 28, 7:45 PM: SATYAGRAHA
Philip Glass's landmark opera, whose Sanskrit title translates as "truth force," explores Mahatma Gandhi's formative years in South Africa. The visually extravagant production, starring Richard Croft, is directed and designed by Phelim McDermott and Julian Crouch and conducted by Dante Anzolini. Approximate running time: 165 minutes
Wednesday, August 29, 8:00 PM: SALOME
Karita Mattila gives a tour-de-force performance as the title heroine of Strauss's powerful drama, based on Oscar Wilde's play. Juha Uusitalo is Jochanaan in the Met's striking production, conducted by Patrick Summers. Approximate running time: 106 minutes
Thursday, August 30, 7:45 PM: LA CENERENTOLA
Rossini's charming Cinderella story is ideally served by an extraordinary cast, led by Elīna Garanča in the title role, Lawrence Brownlee as her prince, and Alessandro Corbelli as Don Magnifico. Maurizio Benini conducts a production that also stars Simone Alberghini and John Relyea. Approximate running time: 162 minutes
Friday, August 31, 7:30 PM: FAUST
Jonas Kaufmann, Marina Poplavskaya, and René Pape bring Gounod's retelling of the Faust legend to dramatic life in director Des McAnuff's new production, which updates the story to the dawn of the nuclear age. Yannick Nézét-Séguin conducts. Approximate running time: 177 minutes
Saturday, September 1, 8:00 PM: LE COMTE ORY
Bartlett Sher's Met premiere production of Rossini's vocally dazzling comedy features a trio of bel canto stars: Juan Diego Flórez in the title role, Diana Damrau as Countess Adèle, and Joyce DiDonato in the trouser role of the page Isolier. Maurizio Benini conducts. Approximate running time: 141 minutes
Sunday, September 2, 8:00 PM: IL TROVATORE
David McVicar's acclaimed 2009 production stars four extraordinary Verdi singers: Sondra Radvanovsky is Leonora, Marcelo Álvarez is Manrico, Dmitri Hvorostovsky sings Count di Luna, and Dolora Zajick is Azucena. Marco Armiliato conducts. Approximate running time: 142 minutes
Monday, September 3, 7:30 PM: ANNA BOLENA
Anna Netrebko stars as the ill-fated queen in David McVicar's Met premiere production, which opened the 2011–12 season. Ekaterina Gubanova is her rival, Jane Seymour, Ildar Abdrazakov sings Henry VIII, and Stephen Costello is Lord Percy. Marco Armiliato conducts. Approximate running time: 180 minutes
Posted on Thursday, August 23, 2012 @ 11:08 AM | 0 replies Start the Discussion
---
Sizzling Summer Coolers: SodaStream's Latest
Quite some time ago I wrote about SodaStream and Soda Club, the world's largest manufacturer, distributor, and marketer of home carbonation systems, and how useful and practical a SodaStream machine would be in your home for the Xmas holidays. Well, it would be all the more useful in your home, on your patio, on your boat, at your picnic, and so on, in summertime, too—and it still qualifies right now as summertime—when we are all drinking way more liquids and when we are very conscious of hydrating.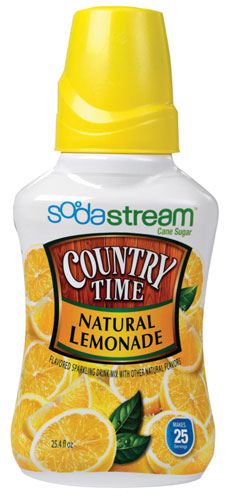 I have been virtually attached to my Soda Stream machine like glue all summer, given that I am (as I may have mentioned) post-op, and supposed to drink plenty of liquids anyhow. My Soda Stream machine is chugging out liter upon liter. And this year, I am soooo happy as two of my favorite brands with wonderful drink flavors have now become part of the Soda Stream family: Crystal Light and Country Time.
Country Time now has a naturally sweetened lemonade as well as its original lemonade, and a combo of iced tea and lemonade called Half & Half, which is really one of my all-time beverages of choice. How great to be able to make it myself with my Soda Stream machine! And to have it fizzy! My other beloved year-round drink is Crystal Light's Peach Iced Tea and that flavor, too, is now available from Soda Stream, as is the new Crystal Light Fruit Punch. (And a few more Crystal Light flavors are coming into the fold down the road.) But I wouldn't want to slight any of the other flavors on the regular menu from Soda Stream, flavors I have favored over the years: the wonderfully exotic ones, like Apple Mango, Black Currant & Pear, and Pink Grapefruit.
If those are not compelling enough reasons to scotch the cans and bottles of sodas and switch to a Soda Steam make-your-own-carbonated-beverages system, consider the following:
**460 billion beverage cans and bottles are manufactured worldwide each year
**Recycling rates hover just under 25% nationwide
**141 billion beverage cans and bottles go to landfill each year
**It takes over 400 years for a plastic bottle to begin decomposing
And dare I remind you, you will save a ton of money, too!
Posted on Monday, August 20, 2012 @ 03:51 PM | 0 replies Start the Discussion
---
Bad Hair Day? HairUWear Can Bring Sunshine and Glamour to a Gloomy Day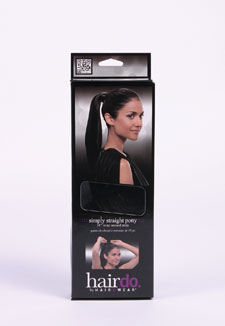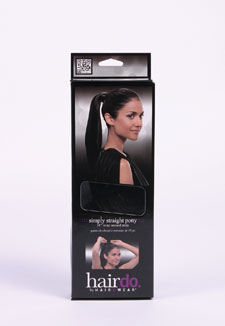 Hear ye, hear ye, ladies: If you have been plagued all summer with the frizzies, with over-chlorinated tresses that refuse to be coaxed into the style you are trying to command, or if you're just having generally and consistently bad hair days, I have found the perfect solution for all these ills: Hair pieces and sundry extensions, demi-wigs, pony tails, and more from the Hairdo Collections of HairUWear.
I stumbled upon a 16" curly extension piece (it's really like a half-wig, in truth), that was easily the answer to one's prayers for perfect summer hair. And the off-the-rack color was pretty darn close to my own, so it meant that I could have perfect hair—effortlessly—all summer. The hottest July on record brought with it the steamiest, most humid month for hair and so it was that I ended up using my Hairdo extension piece.
When I was little—not to date myself—I think we more or less called this sort of half-wig that fits over your crown, a fall; I remember, because my mother had one, and I thought it was very glam and exotic, but it sure didn't look like the stunning (and reasonably priced) model that Los Angeles-based hair stylist Ken Paves has dreamed up. His is a convex cap of mesh netting, about 8" in diameter, and it form-fittingly nestles like a little hat on the crown of your head. If you keep the front part of your hair brushed over it (and if you put your own hair in a barrette extending over it), then it looks just about as natural as can be.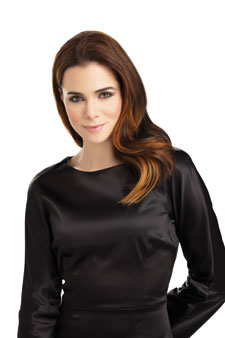 Paves is a celeb stylist and does Red Carpet hair and editorial do's (think: Harper's Bazaar, Vanity Fair, Elle, and Allure) for bold-faced names; his client list includes the likes of Jennifer Lopez, Celine Dion, Eva Longoria, and Jessica Alba. In 2006, he launched his award-winning line of hair extensions, dubbed Hairdo, and a few years later, he began selling many of these really fun (and practical) products on QVC. Today, QVC has well over a dozen different hair fashions (extensions, chignons, braids, pony tails, short and long do's, and so on from the highly versatile Paves.
Newest, just being introduced to the line in the next week or two are: a 16" Ombre Extension ($49); a Texture Wrap ($19), a blend of straight and crimped styles; French Braid Band ($10); Beach Curl Pony ($49): Clip-In Bang ($29); 18" Simply Straight Pony ($49): 16" Fineline Extension ($99): 23" Wavy Extension ($99): 20" Wavy Extension ($99): 22" Straight Extension ($99). Truly, there is something here for your every need...and with luck, the shades will be good for you, also: For example, the 23" Wavy Extension comes in 11 colors—from ebony and chocolate copper to glazed strawberry. Other shades available with some of his line include ginger brown, buttered toast, and chocolate ombre. Guaranteed you'll find something you like and something that flatters your skin tones and eye color; as I said, the one I have been wearing is a pretty good match, considering my hair color seems to change with the sun, anyhow.
The fiber itself is synthetic, and Paves has trademarked it True2Life, as it can be styled and "fooled around with" just as you'd treat your own hair—wash it, dry it with a hair dryer, use a crimper, a straightener, a curling iron, whatever. You will find that it responds to your styling tools the same way your own hair does, and that even adds to the ease of use. The company claims that it manufactures more hair additions than any other firm in the world and that it harnesses cutting-edge technology to create versatile and affordable hair wardrobes. (Prices for the multi-faceted line range from as little as $10 for the French braid—that you could really use as a sort of headband), to $99.00 for the most lavish, longest, and most opulent of near-full wigs. For more information, and to find a retailer besides QVC, visit the company Web site, www.hairuwear.com.
Posted on Tuesday, August 14, 2012 @ 03:58 PM | 0 replies Start the Discussion
---
Perfect Drinkware: Tervis
I have been a house-captive for a while, napping on the sofa and snoozing in bed....the result of having become, a few weeks ago, a bionic woman with a new knee. One thing that is always at my side is my Tervis drinking glass, with its plastic lid (with an easy-slide opening) with just enough room for me to insert a straw for quick access. It is particularly convenient, simple to use, and practical for my purposes—keeps hot things hot and cold things cold, and when sealed shut, I don't have any concern that the lid will leak if I knock it over. And if I am using it with a straw, the opening is still small—so if I do accidentally hit it and it turns over, I'm not worried that there will be a mess on the carpet. (I wouldn't dream of keeping a drinking glass with no lid by my side--I'm pretty sleepy at times, and reach for the glass with a less than radar-targeted vision!--any more than I would keep a glass next to me that is made out of actual, breakable glass.)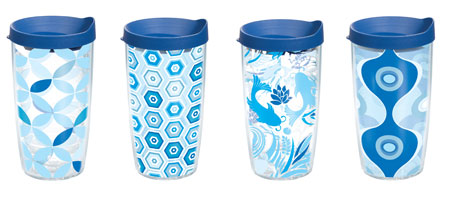 I have used Tervis products for years, but these days I find myself truly relying on them. So I did a little more research on the company and discovered that Tervis drinkware has had been made in America since 1946 by a family-owned and -operated company. (Created by two engineers—one G. Howlett Davis and the other a Frank Cotter—who chose an amalgam of their names for the company title; today that company employs a staff of 700!!) The duo discovered the natural insulating powers of air to create a permanently sealed, double-walled tumbler and the result was Tervis drinkware, manufactured from a high grade of a resin or plastic. It indestructible...not to mention, safe for use near the pool, or for outdoor use at picnics, etc.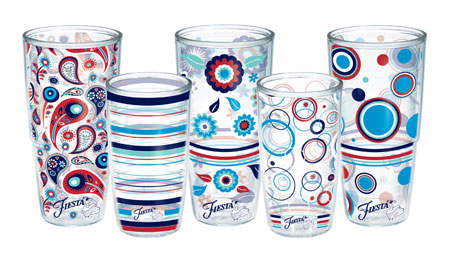 Tervis drinkware comes with a lifetime guarantee, even if you've long thrown out the receipt. If it says Tervis on the bottom, the company will honor the product and replace it if it's disappointed you in its performance. But chances are, it will not disappoint: It's virtually unbreakable, and is freezer- and microwave-safe. Also, the combos of design, color, and size make for countless choices; the company says, in fact, that it sells thousands of designs—and the company also does many specialty, customized items, with corporate logos and proprietary pictures, etc.....so you may well have gotten a Tervis tumbler (and not even realized it), with a giveaway from a corporation—there are licenses with Disney, Star Wars, NASCAR, Hello Kitty, and with just about every professional sports team you can think of, from the NFL and the NBA to the NHL. The sizes are variable (from 10 ounces to 24 ounces), and there are even coffee cups and water bottles, the newest item in the Tervis family.
While you can certainly shop on line, there is also extesnive Tervis inventory at over 5,000 retailers, including biggies like Bed, Bath & Beyond and department stores like Macy's. (Prices can range from about $12.00 to $20.00 for the water bottle.)
Posted on Thursday, August 09, 2012 @ 08:33 PM | 0 replies Start the Discussion
---
Duality Cosmetics' Nail Paks: A Solution in a Bottle
Barbara Lampugnale, a mother of six (yes, six) girls knows a thing or three about cosmetics, it would seem—if only from all the years her daughters have played dress-up. A problem-solver since she was a kid herself, at age six she produced a wardrobe of Barbie clothes out of old socks. Throughout her adolescence, she continued to dabble in the creative—crafting clothing, jewelry, candles, and what-nots for friends. It's no wonder she ended up in the creative field, building a successful interior design firm.
In April, she gave birth to her latest creation (not another daughter)—Duality Cosmetics' Nail Pak. Ever the inventor, she felt that women could use an entire manicure kit (well, more or less) in a single bottle, and thus Duality was born. The Nail Pak is a three-in-one nail-care kit. The simple bottle of polish actually houses a small nail file and 40 pre-soaked and -treated (no acetone, yeah!) nail polish remover pads. Unscrew the polish bottle from the base and the rest of the magic becomes visible.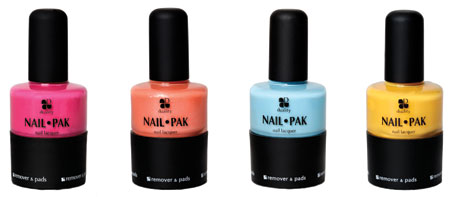 Florence, the first product in the Nail Rescue Collection is formulated to soothe and rebuild nails; it's a base and top coat combo, engineered to fight off UV damage, yellowing, stains, discolorations, and chipping. There are six fashion colors in that first collection (My Girls), and that premiere collection was quickly followed by Hope Springs Eternal, the second collection, with another six colors, all peppy and just-right for summer. They retail for $15.00.
Posted on Friday, August 03, 2012 @ 10:07 AM | 0 replies Start the Discussion
---
The Eyes Have It! IT Cosmetics' Magical Brow Power
Tweezing my eyebrows and getting the just-right shape has never been one of my beauty-regime issues. While all my contemporaries have to run to the eyebrow-threading salons weekly (and years ago it was the eyebrow-tweezing temples of beauty), I have never had to deal with any plucking or tweezing: I have skimpy eyebrows—and always have had anemic brows. I tried eyebrow pencils galore over the years to try to create some life in my brow line and I have used mascara on my brows, to darken what hairs there are—all aimed to make my brows look more shaped, fuller. Nothing was terribly successful.
But then I met Jamie Kern Lima, co-founder of IT Cosmetics, at a beauty extravaganza. She took one look at my brows and couldn't wait to get her hands on my face!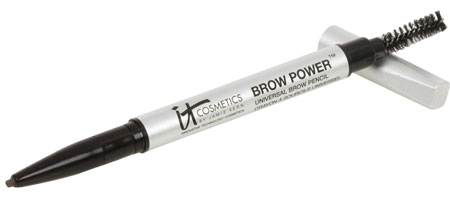 Although IT Cosmetics (which stands for Innovative Technology) sells blushers, lip colors and stains, eye liners, and so on—more or less a complete range of helpful beauty products—it is her Brow Power that is the number-one seller. (QVC is her main outlet and she has garnered awards there and within the beauty community for this product.) Amazingly, the Brow Power product comes in one color, and one color only...and unlike Henry Ford's auto, it is not black! And despite the single shade, it seems to adjust to your personal color by virtue of the pressure you use on the pencil-like stick when applying it. It seems like magic to me.
Jamie worked her sleight of hand on my brows, applying short, light, quick strokes, and then she used the other end of the Brow Power pencil—a little brush—to sort of brush my brows to accept the powdery color, to sort of claim that color as its own. Whatever is in it (and here are a few of the ingredients, all meant to be gentle and kind of your skin—biotin, nettle extract, green tea, Vitamins A, C, and E), makes the color adhere to your skin, looking like real hairs. It is magical, truly. And it lasts for the day. At a mere $32.00 (plus shipping and handling), it is a steal.
Lima has created this product with plastic surgeons, and has worked with doctors in creating the bulk of her line—so that everything she produces is a problem-solver. Additionally, IT Cosmetics has partnered with the American Cancer Society's Look Good, Feel Better program and for every Brow Power pencil sold, one is donated to the LGFB initiative, to help women face the effects of cancer with confidence. Brava, Jamie!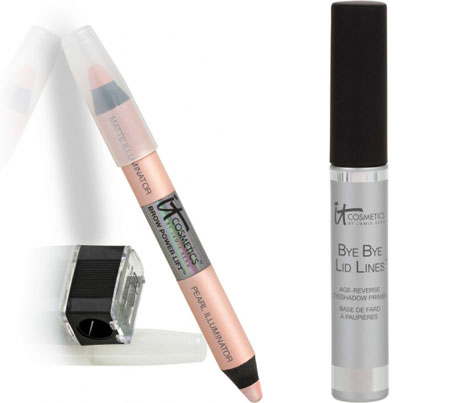 And lest I forget: You may also want to try IT's Brow Power Lift Illuminating Anti-Aging Pencil of Light; it's got micronized pigments in it that instantly add light and lift to the area where it is applied. It's a wonderful partner for the Brow Power. Another perfect product for the eyes is the Bye Bye Lid Lines Anti-Aging Eyeshadow Primer Duo, which functions to lock any eye shadow in place so that it doesn't crease or "migrate" elsewhere on the lid. Bye Bye Lid Lines also helps to reduce the appearance of fine lines and is laced with hydrolyzed collagen, green tea, grapeseed, and Vitamins A, C, and E. Another winner and the third for an Eye Trifecta!
Posted on Monday, July 23, 2012 @ 04:45 PM | 0 replies Start the Discussion
---
Ironing the Kinks (Well, Wrinkles) Out of Clothes With the BEST Iron: Rowenta to the Rescue
Although the calendar said that summer officially came in late June, the unofficial beginning of the sweltering season is now, right after July Fourth. And that to me signals the time to take out the linens and cottons, the gorgeous lightweight summer clothing that, sadly, needs ironing. No way around it. BUT, there is a way to make it easy and professional: The Rowenta Company has been making irons for over 100 years and they know a thing or three about crafting a really good iron. The company's R & D is not sidetracked by manufacturing countless categories of other home appliances: Irons are their business, and in essence, their only business. (They do make floor care cleaners and vacs, but in truth, some of their floor-care cleaning products employ technology used in developing steam irons.) So, unlike other companies that produce irons and small appliances, like mixers, toasters, meat slicers, and so on, Rowenta subdivides its company's product divisions into categories of irons—professional irons/steamers, travel irons, and the like.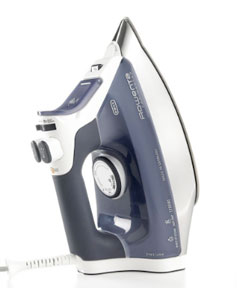 The well designed model DW-8080 (pictured here) is my new favorite. It is a powerful 1700-watt model, professional in all ways, and short of being attached to a continuous steam tank and more sophisticated machinery, it is as professional as you can get for a home model that does the job efficiently and easily. It has a stainless soleplate with a precision tip for advanced steam distribution, and the holes on the bottom assure the same. The burst of steam is long-lasting, and the spray nozzle really covers a lot of ground, so you can dampen a pesky linen shirt over half its front, with one big burst of steam. And I have noticed that I do not have to go over the same area again and again...it delivers perfect ironing with the first (and only) glide.
The iron is substantial, but not heavy-feeling in the hand, particularly because of the ergonomic handle and the smooth glide of the soleplate. It has a good-size water tank (over 12 ounces), with a closure that is secure. It heats up quickly and has an auto shut-off if it isn't moved in 8 minutes when in the vertical position, and after 30 seconds, if it is tipped over, an excellent safety feature. Additionally unlike most irons, it can be used in the vertical position as a steamer, a real plus. Lastly—another selling point—it is self-cleaning, with anti-drip and anti-calc systems, so it produces long-lasting, continuous clean steam. (It also comes with a 10 ounce water fill cup and has a one-year warranty.) The iron retails for approximately $125, although I've found it on the Internet for less; but regardless, it's worth it as the one (and last) iron you will buy!
Posted on Thursday, July 05, 2012 @ 11:20 AM | 0 replies Start the Discussion
---
Masterpiece London Draws Record Crowd in Its Third Year
A mere two years ago, the Masterpiece London art/collectibles show was established, staged at the former Chelsea Barracks. The fair, offering an extraordinarily wide range of goods—from cars, fine wines, timepieces, barometers, and ceramics, to fine and decorative arts and jewelry—featured 118 exhibitors, and resulted in a solid attendance record,18,000, which is certainly strong for a first-time exhibition. A year later, the show moved to its now-permanent home, the South Grounds of the Royal Hospital Chelsea, and the roster of dealers grew to over 150, while the number of attendees mushroomed to more than 28,000, among whom were HRH Prince Harry, Sir Elton John, Oprah Winfrey, Anish Kapoor, and Tom Ford. This year's show, with over 5,000 people attending the opening night preview over the weekend, promises to produce even greater numbers. (There are three more days to catch the show, so if you're in London, this is the place to be.)
Dealers from the world over have converged for the 2012 staging, and they are selling over £1 billion of collectibles—fine and decorative arts, Egyptian artifacts, jewelry, textiles, prints, contemporary art, automobiles, fine wines, clocks and watches, porcelains and ceramics, furniture, and objets de vertu. Galleries include a veritable who's who in the art world and also in the world of luxury collectibles, such as Hemmerle, Vacheron Constantin, Verdura, Ruinart Champagne, Rolls Royce Motor Cars, S. J. Phillips,Ltd., Marlborough Fine Art, Linley, Kentshire Galleries, Theo Fennell, and A La Vielle Russie; they are merely the proverbial tip of the iceberg in a list that again numbers well over 150.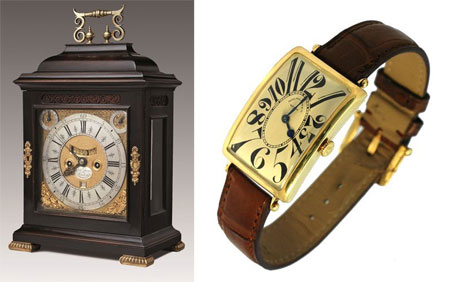 The show offers the world's best in fine and decorative arts and bespoke collectors' items. According to Masterpiece London Chairman, Philip Hewat-Jaboor, "This year the fair has attracted many of the most serious collectors, curators, and patrons from the Middle East, the Far East, Europe, America, and Canada. We've seen an incredibly high caliber of visitor, including Lord Thompson, Sheikh Al-Thani, Rose Tarlow, Charles Saatchi, Terence Conran, and Jeffery Archer, to name a few." New York City collector Roy Zuckerberg, who has experienced the fair since its inception, commented, "There's a wonderful crowd at Masterpiece London. As a collector the fair is excellent and gets a little better every year…and I'm a three-year veteran."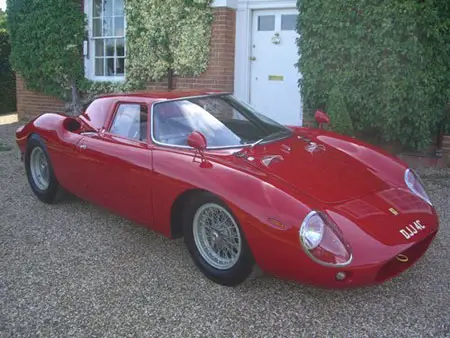 Presenting a snapshot of the history of art and design from antiquity to the present day, Masterpiece London provides visitors with the opportunity to view stellar offerings, all under one roof. The show is open today, Monday, from 11 a.m. to 9 p.m.; Tuesday, from 11 a.m. to 6 p.m.; and Wednesday, from 11 a.m. to 9 p.m. Tuesday's earlier closing allows time for Masterpiece London's charity event, the Masterpiece Midsummer Party, from 7 p.m. to 10 p.m., which supports CLIC Sargent, the UK's leading cancer charity for children and young people. Tickets for the fair are £20 per person and for the CLIC party, £150 per person. Tickets can be purchased online at www.masterpiecefair.com, where additional information is also available.
Posted on Monday, July 02, 2012 @ 10:50 AM | 0 replies Start the Discussion
---
Breathing Right in a Tough Allergy Season: Air-o-Swiss to the Rescue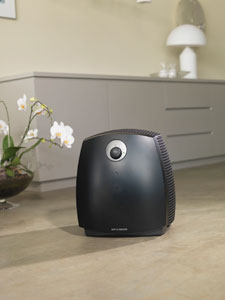 If you are sneezing your brains out, as the saying goes, because of allergies in this season of big-time, high-count pollen, then do as I do: I had already put away my two-in-one humidifier and air purifier, because all winter long I usually just think of it as a humidifier, only because that is my main need—the radiators in my apartment are so fiercely hot and give off such drying heat, that I need to put as much moisture in the air as possible.
But, in truth, the Air-o-Swiss is just as much an air purifier, and when I started sneezing from allergies as winter turned to spring, and now, as spring has turned to summer, I realized that it was time to get the appliance out of the closet, and impress it into service.
The Air-o-Swiss "machine" that I swear by is model #2055A Air Washer, which offers a highly effective humidifying system and which operates without evaporator wicks or filters, and without anything other than a fascinating system of discs that turn and cleanse the water. (Think of the water wheels on a paddle boat.) This action removes impurities from the air in a natural, simple fashion. (Trust me, seeing is believing.) You never need to deal with replacement filters or that really laborious cleansing process.
The water tank has a transparent window, so you can see just how much is in it, and when the water gets low (when this 2-in-1 machine senses that there is no water left in the water base, it shuts off. The interesting thing is that you never see a mist emanating from the machine, as you do with a steam system or ultrasonic humidifier. However, I can attest to the fact that it delivers moist and purified air…and since I set it up again, I've scarcely sneezed.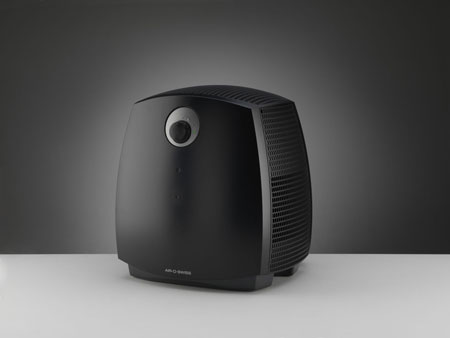 You can also sprinkle a cotton ball with a fragrance or essential oil and place it in an internal specifically designed container; this will allow the machine to scent the air at the same time it humidifies and purifies. The Air-o-Swiss air washer is ideally suited for rooms that are up to about 600 square feet in volume. It's also decent-looking, kinda' box-like, and is available, as Henry Ford supposedly quipped, in black, black, or black.
Since most stores have stopped selling humidifiers and have put them into storage, go directly to the manufacturer's Web site at www.airoswiss.net and grab one—you'll use it all year long. The suggested retail is $329.99, and it's worth every dime.
Posted on Monday, June 25, 2012 @ 10:01 AM | 0 replies Start the Discussion
---
Art in the Park at the Baur au Lac Hotel
Some years ago, I had the delightful pleasure of sipping a glass of something (stronger than iced tea) in the bucolic and serene garden-bar of the exquisite Baur au Lac Hotel's La Terrasse bar in the hotel's verdant, tranquil garden, Le Jardin, far from the proverbial madding crowd. You'd never know that beyond the gated perimeter, there is a cosmopolitan din and bustle, because in this tranquil enclave there is nothing but harmony -- not to mention fine food and delicious potions, many of them highly creative alcoholic indulgences.
However, as of this past weekend, and running throughout the summer -- well, at least until August 6th -- there is also some delicious eye candy in the form of astonishing sculptures dotting that Kelly-green grass. Curated by Gigi Kracht, the wife of sixth-generation hotelier-owner Andrea Kracht, the show was assembled with the well-knolwn, local Galerie Gmurzynska and features the works of renowned artists, including Fernando Botero, Alexander Calder, Robert Indiana, Joan Miro, and Kenny Scharf, among the roster. There are now 16 more reasons to spend a few Euros in the café-bar and relax for a spell with the Kracht family and their extended staff-family, who are without doubt, the ne plus ultra in the fine art of Swiss hospitality. Culture, cuisine, and curious-people-watching await you.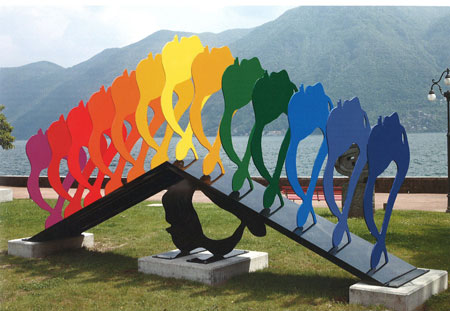 "Art in the Park" has been a Zurich institution since 2006 and usually debuts a week prior to Art Basel, which opened last evening, so this is, indeed, a Big Weekend locally...and if you are there, take advantage of this embarrassment of riches in the world of fine art, topping it off with a libation with a fancy umbrella in it as you sit under the cossetting, oversize, white umbrellas in the garden.
Posted on Friday, June 15, 2012 @ 11:52 AM | 0 replies Start the Discussion
---
A Charming Jewelry Tale
In our jewelry pages in the current issue of Promenade, we are featuring baubles and bijoux that people collect: Talismans, lockets, amulets; vintage jewelry; stackable jewelry; and charms for charm bracelets (or even charm necklaces). The latter is particularly dear to me, as I still have (and wear!) my charm bracelet, started when I was eight years old. Every time I bring it to my jeweler's to add another charm—which I do buy, but really far and few between at this stage of my life—my jeweler says that he could blackmail me, became he knows so much about me from my bracelet's charms and all the history they bear. (Dare I say that they tattle?)
One of the charm bracelets we have featured in this story is from Carolee, celebrating its fortieth year in business. Founded by Carolee Friedlander in 1972, the company has been at the forefront of stylish costume jewelry for these forty years -- always creating collections that you would salivate for. (Full disclosure: Yes, I have many Carolee pieces.) There have been collections inspired by Jackie O, the Duchess of Windsor, and countless other ladies of taste. There have been fabulous pin collections, great bridal jewelry, and the lavish Luxe Collection that has taken costume jewelry to new heights…and I may say new widths, too, since Carolee is now sold in 33 countries around the world. That is pretty broad distribution, an acknowledgement of the universality of the four-times-yearly collections and a tribute to the skill and acumen of the company's astute designers.
Perhaps the best thing that the company has done was to mark its 25th anniversary by partnering with the Breast Cancer Research Foundation. From that time 'til now (and I would assume forevermore, given the company's commitment), Carolee has created specific pieces for purchase that strike a fashionable note for women, and which strike a ka-ching with the charitable cash register: A portion of the purchase prices of these special pieces goes to the Foundation.

Newest to join the ranks of these singular pieces are three charm bracelets (above, from left - click here for a larger version): one created for Bloomingdale's ($95), one for Lord & Taylor ($65), and one for Macy's ($55). Each is different and exclusive to the specific department store. They are gold- or silver-tone and really adorable. The best part, however, is that $5.00 of the purchase price of each goes to the BCRF. They are cute and fun -- the Bloomie's bracelet features, among its charms, the signature Little Brown Bag. You'll recognize other icons, as well, on the bracelets...and you'll want to snap them up immediately, as they were produced in limited editions. If you feel you need more charms, you can always buy two bracelets! (Then you won't have a meddlesome jeweler knowning all your life's secrets, were you to add your own charms!)
Posted on Tuesday, June 05, 2012 @ 09:48 AM | 1 reply View/Post Feedback
---
Hip Hip Hooray for Yep Yup's Canine-Approved Mobile Pet Organizer!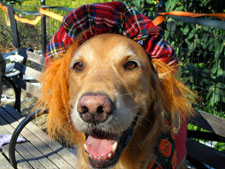 Greetings, again, from moi, your furry correspondent, Austin Katz. My human "editor" said I could scribble a blog again, as it's been months since I've put my two-cents into print. I was warned, however, that I have to be careful; I was advised to watch my language, so as not to put my paw in my mouth!
So, here is what I want to share with you: This is the weekend that begins the official rush to Fire Island, the Hamptons, Upstate New York, Connecticut, and so on...and if you're a fuzzy person like me, then you want to be sure all your "things" are properly packed to be transported to the summer abode. (Yes, some dogs really are literally lucky dogs, to have two homes!)
When they (the management of my domicile) pack up the car, I watch them like a hawk, to be sure my stuff gets loaded. Yes, transporting everything is a chore, to say the least; I have to keep reminding them waht to take, by moving my things to a spot in front of the door; I feel like I have to do it all--keep the humans in tow, get my stuff loaded, and remind them to take their junk—their arugula, their tennis rackets, their hiking boots, their battery-charging-electronics junk. Their stuff, in a word, is both mysterious and endless.
So, to protect myself and my treasured belongings, I have urged them to get the most wonderful mobile pet organizer. (We're strictly a canine-companion family, but I think any persnickety kitties who may be reading this and who belong to others could use this stupendous organizer, too; but I fear that they would then not allow us dogs to share it! You know those cats.) Anyhow, the organizer is from Yep Yup and it folds up neatly, and yet unravels to reveal pockets a-plenty, to hold all your necessities (like cookies and rawhides and bones and treats and Greenies and biscuits) and other non-necessities/provisions like brushes, leashes, collars, IDs, tooth-brushing annoyances, and ear-cleaning torture contrivances.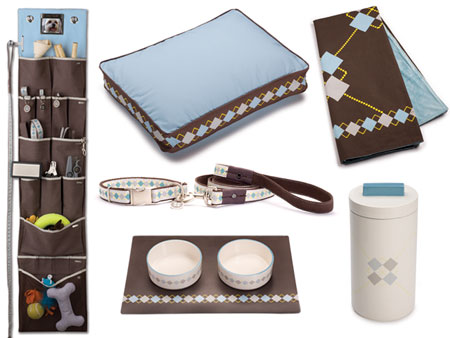 Designed by a duo, Sepi and Gerardo (who are very experienced in matters pet-related and design-oriented), the beautifully crafted and well thought-out organizers are perfect for the car and ideal to hang on the wall once you are at that vacation house. The organizers have storage galore for all my treasures, my bones, my gizmos, my fold-up dishes—my stuff, in a word. (I do not have any arugula, by the way.) And, as you see above each design style has many other pet-related items in the series--beds, leashes, cookie jars, and so on.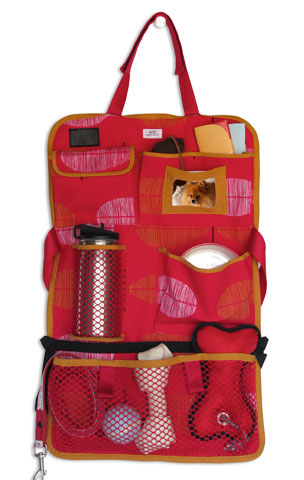 They are available in over a half-dozen different colors/designs and there are a few styles. They range in price from $49 to $59, real cheap if you ask me, since I am a dog and have no money anyhow. (I encourasge spending the humans' cash.) They are available on line at Yep Yup and also in New York at Canine Styles. (And just in case there IS a cat on the horizon, the organizers have a place for a photo, so let the cat have her own Yep Yup organizer -- and put her picture there in the little pocket -- so she doesn't horn in on my organizer!)
Posted on Friday, May 25, 2012 @ 10:35 AM | 1 reply View/Post Feedback
---
Afternoon Delight - The Mandarin Oriental Lobby Lounge
Now that the warmer weather has finally decided to settle in (what a wacky winter: hot, cold, hot cold, hot), there could not be a better time to hie thee up to the 35th floor of the lovely Mandarin Oriental Hotel at Columbus Circle and enjoy something cool and soothing in the beautiful sky bar just past the main desk, in the lobby's virtual rotunda. The lounge has a commanding view of Central Park and a bird's-eye vista straight down Central Park South -- and if you look out the smaller south windows, you see the hubbub of downtown, as well. It's a calm, airy aerie and one of the best bars in town. It's my favorite neighborhood watering hole; in fact, it's really my favorite spot for a drink, neighborhood or no neighborhood. But lucky me, it's near my office and the perfect place to meet for a leisurely afternoon cup of tea or a drink at the witching hour.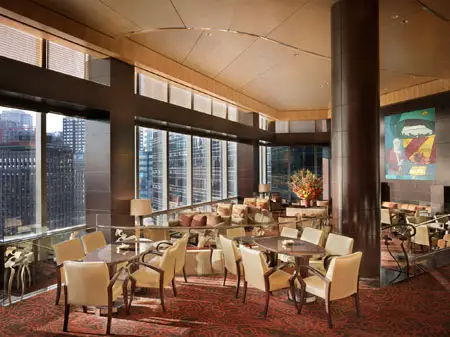 The view cannot be beat, the service is stellar, and the bill of fare to accompany that drink is flawless. I always meet out-of-town friends there for a cuppa' or a fancy cocktail. On a recent outing, I celebrated birthdays with friends and it could not have been a more pleasant afternoon. I cannot recommend heartily enough the Cantonese vegetable spring rolls, the Thai beef and chicken satays, and the chicken lollipops; the latter are just adorable to look at and even more toothsome to eat...they have a tamarind glaze that will please any palate, and if you choose to indulge in the accompanying blue cheese dressing, you'll salivate for more after the first bite. We also had the Vietnamese rice pancakes and they, too, were dee-lish. In fact, everything I have ever eaten there is superb.
The chairs are comfy and you'll feel as if you could truly lounge in the lounge. It's especially enjoyable in the afternoon, for the tea service with a selection of scrumptious, traditional sandwiches, petite gateaux, and the Mandarin's signature ginger scones, served up with sinfully rich Devon cream and homemade marmalade. If you are not a drinker, then opt for some of the Mandarin's mouthwatering non-alcoholic beverages, such as the Pomme Royale (apple cider, pear nectar with a cinnamon sugar), the Emperor's Punch (lychee and blood orange juice with sour mix), and the Half Circle (pomegranate and pineapple juices with Sprite).
The bar is open weekends until 2 a.m., so it is also an ideal stopping off point after theater, or after a meal elsewhere. The combo of the view, the service, the wonderful drinks, and the vitals makes for a splendid experience. Whether you're imbibing the best Champagne or a simple Coke, you'll drink in the luxury of the site and the wealth of the menu's treats as you revel in the perfect service. A winning combo.
Posted on Tuesday, May 15, 2012 @ 03:40 PM | 1 reply View/Post Feedback
---
A Weighty Issue - EatSmart Precision Voyager Digital Luggage Scale
So, imagine my shock and chagrin when Delta Airlines charged me for overweight luggage—a whopping $75 (but that is a whole lot better than the $400 I heard someone pay on another recent trip) and there was nothing that could be done about it. I was lugging about a million copies of Promenade magazine—our lovely mag!—to give to give to a million (OK, ten) people in the UK and even if I took those mags out, and attempted to hand-carry them, my suitcase was still five pounds (a mere five pounds, I'd like to point out to the Luggage Police) overweight...so I plunked down the tariff grudgingly. But since I am a loyal frequent flyer, the counter agent promised me frequent flyer miles to make the financial sting less sharp. (Alas, I never got them...and, yes, I will write to Delta sooner or later to remind them.)
So, to make sure this would never happen again and to be 100% certain I was never a recalcitrant flyer and overweight again (not the bod, but the luggage), I picked up the WONDERFULLY PRACTICAL EatSmart Precision Voyager digital luggage scale.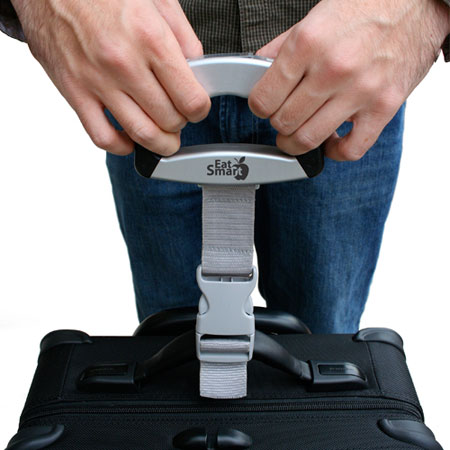 I have used EatSmart's food scale (more about that in a few weeks), and know their products to be accurate, durable, and well made. So, it was definitely a worthwhile investment for moi, since I am on the road a fair amount of time. And here is why you'll want one, too, for all your upcoming summer/holiday travel, since vacation time is upon us. It is reasonably priced (you'll find it most places for $19.95) and it will, potentially, save you a bundle; I have actually seen people at airports remove clothing out from their suitcases, abandoning goods in the airport.
It is simple to use: Just pack and zip up your bag, then secure the clip over the valise's handle. The scale has an easy-grip handle (you can use both hands, a smart design feature) with the scale built right into the handle. Then lift! The scale beeps when it has determined the weight and it's easy to read, with a back light. You can also check the avoir du poids in pounds or in kilos. When you turn it off, the scale resets to zero. But here is the best part -- I learned that my own luggage weigh an incredible 17 pounds!!! I was shocked. Next time, I'll buy luggage that is lighter weight. That sure takes a bite out of your clothing weight allotment.
And if you are a shopper, and think your luggage is going to -- shall we say? -- weigh more on the return trip, then just throw the scale into your suitcase pocket and you can weigh your luggage before the return trip, also. (The scale can weigh up to 110 pounds but if you are totin' a suitcase that weigh that much, then you're in serious trouble—back trouble and wallet trouble!) The sale comes with a battery that EatSmart says has a very long life, so you should be set for quite some time. Trust me, this is an item that is worth its weight in gold!
Posted on Monday, May 07, 2012 @ 04:32 PM | 0 replies Start the Discussion
---
Art and Antique Dealers League of America (Redux)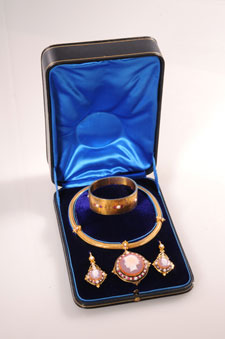 The Art and Antique Dealers League of America (AADLA) is staging its second incarnation of one of its major shows, The Spring Show NYC, running from May 2nd (opening benefit) to May 6th; the show will be mounted at the Park Avenue Armory once again. The five-day visual and shopping extravaganza will be a real treat for veteran collectors as well as for neophyte wannabe-collectors, who, in the past, may have been intimidated by some of the "big" antique shows that dot the fine art calendar throughout Gotham's social season.
New York City has traditionally been one of the biggest and most robust art markets in the world, and this second installation of the AADLA show is the highlight of Arts and Antiques Week NYC, and the opening night gala of the show will once again benefit for the ASPCA. The evening is co-sponsored by 1stdibs.com, the upmarket, online marketplace that presents an artfully curated selection of highly coveted items from many prestigious dealers in the high-end/estate sector as well as from 20th- and 21st-century design sources—the site showcases the finest antiques alongside interesting, unusual collectible objets. Noted Clinton Howell, the League's president (and the owner of Clinton Howell Antiques on the Upper East Side), "We are delighted to welcome back 1stdibs, and the ASPCA as our partners, and look forward to building upon the success of last year's inaugural fair."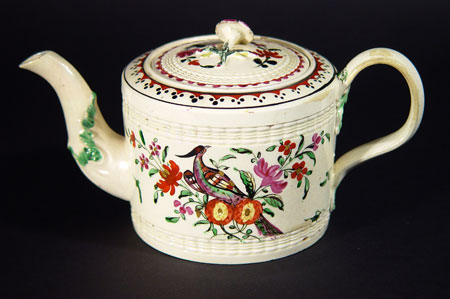 If last year's show is any measure, expect to be mesmerized by a panoply of exquisite, luxury antiques—everything from extraordinary furniture to sterling tabletop wares, sculpture, glass, nautical art, ceramics, paintings, maps, antiquities, tribal art, and textiles—and that is only a part of what will be on view and for sale, to be ogled over with appreciation and awe. With over 60 well-known, respected galleries exhibiting, there is assuredly something for everyone—at price points that will not scare off the newcomer interested in building a collection. Some of the premier galleries returning to the show include: Kentshire Galleries, Hyde Park Antiques (piece pictured below), Carlton Hobbs, Dalva Brothers, Earle Vandekar of Knightsbridge (pictured above), Leo Kaplan (necklace pictured at top), L'Antiquaire & The Connoisseur, Yew Tree Antiques, Vallin Galleries, and E&J Frankel.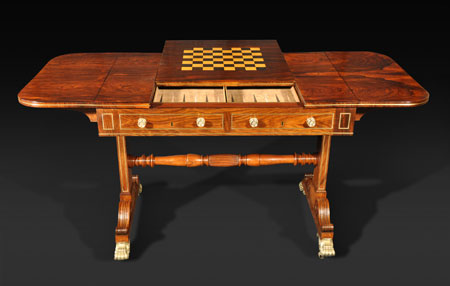 It is also worth noting that The Spring Show NYC is a vetted show—every item in every booth is examined by panels of specialists for authenticity. The vetting experts also ensure that comprehensive, accurate labeling is attached to every piece. (Vetted shows are the standard for all quality art and antiques fairs.) The show will be open May 2nd to the 6th, and the Armory is located at Park Avenue and East 67th Street. Tickets for the opening night VIP preview, May 2nd, are $250, and the evening's proceeds benefit the ASPCA. Tickets for the show, May3rd to the 6th, can be purchased at the Web site www.springshownyc.com; the event is staged by The Art Fair Company, 800-563-7632.
General Admission: Thursday, May 3rd: 11 a.m. to 7:30 p.m.
Friday, May 4th**: 11 a.m, to 9 p.m.
Saturday, May 5th: 11 a.m to 7:30 pm
Sunday, May 6th : 11 a.m. to 6 p.m.
Tickets are $20 for a single day of general admission and $40 for a four-day pass
**Arts' Night Out has been designed for the younger collector, the 20- 30-year-old, and it is a great way for a fledgling collector--one who is just starting out or one who is thinking about it--to gather some valuable professional insight and advice-and for free. And that's not the only thing gratis: Members of young-patrons groups at museums and other cultural organizations around New York City (like the New-York Historical Society, for example) are eligible for free admission. Otherwise, $30 tickets are available at the door.

Posted on Tuesday, May 01, 2012 @ 05:23 PM | 1 reply View/Post Feedback
---
Jewels to Captivate Your Eye and Heart: The Headley-Whitney Museum
If you made it to the SOFA show this past week (it ended yesterday and was last week's blog post), then chances are you appreciate exquisitely handmade, fine, functional art (and craft, if you will), as well as unique jewelry. So, if the latter tickles your fancy, then you'll want to at least look on at the Headley-Whitney Museum's Web site in case your travels do not take you to Lexington, Kentucky, between now and July 8th...and if they do, then you'll want to visit the museum, for sure.
The Headley-Whitney (a Smithsonian affiliate) is a little-known jewel in the pantheon of jewelry: George W. Headley III (1908-1985) studied art at the Art Students League in New York and l'Ecole des Beaux-Arts in Paris. He later apprenticed as a designer with the well-known New York jeweler Paul Flato in the '30s, and shortly thereafter, he opened his own bijoux boutique in California at the posh Hotel Bel-Air. Before long, he had a loyal fan base, devotees who included such Hollywood glitterati as Fanny Brice, Mae West, and Joan Crawford.
After nearly a decade of success on the West Coast, Headley returned to his family farm, La Belle, in Lexington and continued his career designing jewelry and bibelots. In 1960, he married Barbara Whitney Henry Peck, sister of noted thoroughbred horseman Cornelius Vanderbilt Whitney and daughter of the sculptor Gertrude Vanderbilt Whitney, the founder of New York's Whitney Museum of American Art. In '68, he opened his distinctive Jewel Room and Library building on the scenic grounds of the family homestead. The museum complex was completed with the addition of a new main building and a sort of charming, albeit a bit wacky, shell grotto.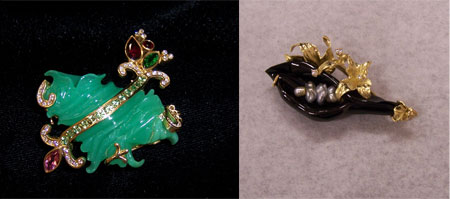 Left: Garden of Delight by Paula Crevoshay; right: pin by Angela Conty
The museum continues to mount gorgeous shows like The Cutting Edge II: A Gem and Jewelry Invitational, highlighting the decorative arts and, of course, jewelry. This lovely, carefully curated show showcases the works of 23 jewelers. The stunning jewelry on display includes brooches, rings, earrings, necklaces, bracelets, as well as wonderful eyewear and sumptuous objets de vertu, like pens, spoons, and decorative metalwork. This amazing exhibit features the work of 23 American and Canadian contemporary jewelers and gem carvers, many of whom have garnered prestigious awards including accolades from the American Gem Trade Association. Some of the fine jewelers have been featured in the pages of Promenade, our luxury magazine, and include Darryl Alexander, Jackie Anderson, Paula Crevoshay, Derek Levin, Todd Reed, Gil Roberts, Naomi Sarna, and Llyn Strelau, among the group.
The Headley-Whitney Museum is open Tuesday through Friday from 10 a.m. to 5 p.m., and Saturday and Sunday noon to 5 p.m, with the last tour at 4pm. For additional information: 859-255-6653 or visit the museum's Web site.
Posted on Wednesday, April 25, 2012 @ 01:33 PM | 0 replies Start the Discussion
---
The Art of Craft: The SOFA Show at the Armory
Every year it is with great pleasure that we herald the SOFA Show staged at the Park Avenue Armory, and this year, marking the exhibition's 15th year, is no exception -- the only difference is that the show keeps getting better and better with every incarnation. SOFA is not about furniture -- divans and recamiers. It is the acronym that stands the Sculptural Objects & Functional Art Fair, a visual extravaganza for outstanding, cutting-edge, and contemporary decorative arts and design. The show will feature the work of more than 600 major artists, from several dozen galleries/dealers, from a dozen countries, all displaying some of the most remarkable work, including jewelry, fiber art, glass, wood, ceramics, paper, and who-knows-what-else.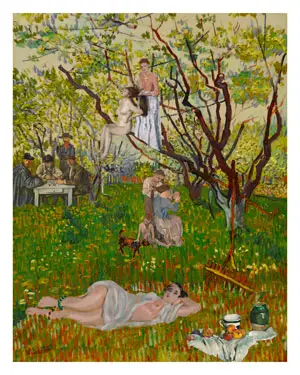 This is a serious show for collectors, but it's also a magnet for browsers who want to be educated and for shoppers who might want to pick up, say, a one-of-a-kind "statement" pieces: Beaded-bead necklaces from German jewelry designer Axel Russmeyer; or museum-quality glass sculpture from the important glass artists handled by the Heller Gallery; or at Ferrin Gallery, Lucy Feller's fanciful photo assemblages that tell a family history or celebrate a personal milestone -- or something from her latest collection of works which explore the theme of "coveting" (at right).

This year there are new international galleries presenting their artists, including Cultural Connections CC from Missenden, England, a gallery that specializes in Danish ceramics; Erskine, Hall & Coe, dealers in 20th century and contemporary ceramics, including the works of Lucie Rie and Hans Cooper, from London's Mayfair; Flow Gallery, also from London, showcasing Henk Wolvers, whose Lines porcelain piece was recently purchased for the Victoria & Albert Museum; and the Megumi Ogita Gallery, from Tokyo, which represents young Japanese and American artists who are known for working with traditional materials in startling new expressive forms.
Returning exhibitors include the Ferrin Gallery (Pittsfield, MA), the TAI Gallery (Santa Fe, NM), Sarah Myerscough Fine Art (London), Duane Reed Gallery (St. Louis, MO); Heller Gallery (New York); Jane Sauer Gallery (Santa Fe, NM); Lacoste Gallery (Concord, MA); Scott Jacobson Gallery (New York); Wexler Gallery (Philadelphia); and William Zimmer Gallery (Mendocino, CA). Jewelers are plentifully represented, as well, and there is always stunning work (and fabulous vintage, collectibles, as well).
As always, cutting-edge international art jewelry will have a strong presence; expect to see wonderful, innovative jewelry from dealers like Charon Kransen Arts (New York City), Ornamentum (Hudson, NY) and Sienna Gallery (Lenox, MA).

The show will run from Friday, April 20th to Monday, April 23rd; Thursday evening, the 19th, the Armory is open to invited guests only, from 5 p.m. to 7 p.m., but from 7 p,m. to 9 p.m., it is open for a paid preview ($100 tickets, available on line and at the door). Throughout the four days, special events, tours, and lectures will be staged. The lectures are on Friday and Saturday, when noted artists, curators, and collectors will present illustrated talks in the Tiffany Room; admission is included with a valid SOFA ticket unless noted otherwise).
General exhibition hours: Friday, April 20th, 11 a.m. to 7 p.m.; Saturday, April 21st, 11 a.m. to 6 p.m.; Sunday, April 22nd, 11 a.m. to 6 p.m.; Monday, April 23rd, 11 a.m to 5 p.m. Tickets are $25 for a single day of general admission and $40 for a four-day pass; both ticket prices include the catalog (quantity permitting). For general information, visit www.sofaexpo.com; call 800-563-SOFA (7632) or 312-587-7632.
Posted on Monday, April 16, 2012 @ 04:16 PM | 0 replies Start the Discussion
---