Behind the Scenes: Theatre Blog
Browse by Category: Awards | Reviews | Off-Broadway | Broadway | Special Performances | First Look | Hollywood on Stage | Festivals | Openings & Previews
View More Blogs...
About the Author: City Guide Theatre Editor Griffin Miller moved to New York to pursue an acting/writing career in the 1980s after graduating magna cum laude from Case Western Reserve University in Cleveland, Ohio. Since then, she has written for The New York Times, For the Bride, Hotels, and a number of other publications, mostly in the areas of travel and performance arts. She currently is the theatre and spa editor for Promenade Magazine as well as theatre editor for all NYMetroParents publications. An active member of The New York Travel Writers Association, she is also a playwright and award-winning collage artist. In addition, she sits on the board of The Lewis Carroll Society of North America. Griffin is married to Richard Sandomir, Sports Media reporter for The New York Times.


---
Little Miss Sunshine Swaps Wills, Cumming Returns in Cabaret & More
I like to think of myself as relatively sane – those who know me may question this assessment, but even they have to concede that even on my worst days I'm no Vlad the Impaler or Housewife of YouPickTheRealityTVCity.

Still, when my email runneth over with Broadway briefings, I am tempted to curl up in my own little corner of my own little world with a cat named Cassidy and a liter of scotch. But I do not give in to these impulses. I report, comment and (hopefully) edify. Which brings me to the latest tsunami of theatrical news…

Will Call: Will Chase (The Mystery of Edwin Drood), who was originally slated to play dad Richard Hoover (Greg Kinnear's role in the 2006 film) in Second Stage Theatre's season opener, Little Miss Sunshine, has been replaced with Will Swenson (Priscilla Queen of the Desert; Hair). Tony nominee Swenson, in case you hadn't heard, recently wed multi-Tony winner Audra McDonald: here's to happily ever after! (LMS opens 10/15)

Photo: Joan Marcus

It's a Hard Knock Life: It's official: The charming revival of Annie now playing at the Palace Theatre will be closing on January 5th having banked 487 performances before it revs up for a 2014-2015 U.S. National Tour. Riding the busy holiday wave to the grand finale are Anthony Warlow, the Broadway revival's sole Daddy Warbucks (understudies not withstanding), and Tony winner Faith Prince (above), the third in the show's trilogy of as Miss Hannigans, following Tony winner Katie Finneran and Emmy winner Jane Lynch.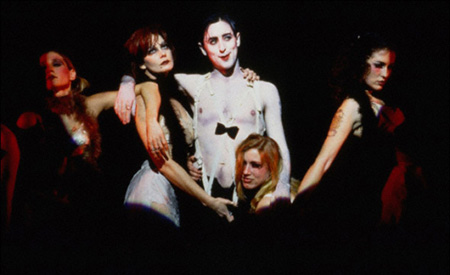 Cumming in the 1998 revival of Cabaret

Cumming This Spring: Now here's some good (albeit mildly convoluted) news: The revival of the spectacularly successful John Kander-Fred Ebb-Joe Masteroff 1998 revival of Cabaret is returning to its last known NYC residence, Studio 54, along with its Tony-winning Emcee, Alan Cumming. Slated to begin previews on 3/21, with an opening date of 4/24, the show's leading lady – aka Sally Bowles - will be three-time Academy Award nominee Michelle Williams in her Broadway debut. Harkening back to the original Studio 54 revival (and its transformation from an of the iconic nightspot to a theatre), the theatre will once again be converted to Berlin's seedy Kit Kat Klub, with cabaret seating up front, as well as regular theatre seats behind them.

Cumming, seen last season in a staggering tour de force presentation of Macbeth, had this to say about his return to Cabaret: "I first played the Emcee in London 20 years ago, and then again five years later on Broadway. I was in a totally different place in my life on both those occasions, and I am certainly a different man today. But one thing hasn't changed: There are still people in this world who want to oppress and destroy us for being different, and Cabaret is both a celebration of diversity and a reminder of the dangers of complacency. It couldn't be more relevant and I couldn't be more excited to be a part of it."

P.S. Since Cabaret's last appearance on Broadway, the venue has added its own real deal cabaret, 54 Below, doubling your entertainment/night on the town options.

Stay tuned for upcoming blogs regarding more spring productions, anniversaries, film spin-offs and a new theatre for a long-running hit.
Posted on Tuesday, September 10, 2013 @ 12:55 PM | 1 reply View/Post Feedback
---
Casting News for Broadway's Fall 2013 Season
According to Shakespeare – the ultimate pervasive presence On- and Off-Broadway this season – "The play's the thing" (Hamlet). Still, in terms of audience satisfaction, it's the players who spin words (and music) into entertainment gold. Taking my title cues from my favorite sitcom (The Big Bang Theory), I give you the latest in revolving door casting news... with more to come in future blogs.

Matilda the Musical: The Trunchbull Conversion

Craig Bierko (above; The Music Man; Guys and Dolls), who was slated to take over as Agatha Trunchbull on September 3rd (Bertie Carvel who originated the role here and in London played his last performance September 1st), has postponed his debut as the hulkingly malevolent headmistress due to a minor injury. Until Bierko is physically ready to pick up where he left off, The Trunchbull will be played by understudy Chris Hoch (La Cage aux Folles revival; Shrek, the Musical).
Pippin: The Star Player Fluctuation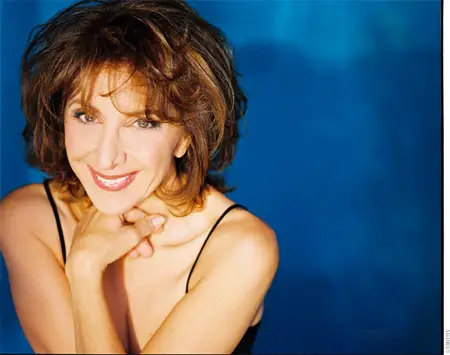 Clearly, Andrea Martin (pictured) is riding the crest of a massive career wave these days. Besides proving herself capable of circus-style feats in her Tony-winning portrayal of the title character's grandmother (Berthe), she has also landed a leading role in the new Global TV series Working the Engels. Unfortunately for Broadway audiences, this means the Canadian actress will be leaving this year's Best Revival of a Musical to begin shooting in Toronto, her last performance being September 22nd. And while a permanent replacement has yet to be announced, it's worth noting that Tovah Feldshuh (Golda's Balcony) took over the role for a week while Martin was on leave.

And speaking of time off, Terrance Mann, who plays King Charlemagne in the production, is vacationing, leaving the regal role in the competent hands of Christopher Sieber for much of the time (Sieber played a few days this week and will be back September 15th through the 25th.) Sieber, who played a Knight (Sir Dennis) in Spamalot and a Lord (Lord Farquaad) in Shrek, has officially ascended Broadway's royal hierarchy ladder — as did Mann (Disney's original Beauty and the Beast "Beast", who was actually a cursed Prince). Mann will resume his regular performance schedudle starting Thursday, September 26th.

Macbeth: The Shakespearean Congregation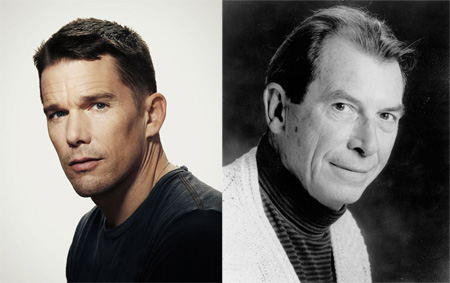 Clockwise from top left: Hawke; Easton; James; Glover
Ethan Hawke, the new season's Broadway Macbeth, is no longer flying solo on the celebrated casting front. The balance of the show's company has just been announced and includes Tony winner Richard Easton (The Invention of Love; The Coast of Utopia) as Duncan; Tony winner John Glover (Love! Valour! Compassion!) and Tony nominee Malcolm Gets (Amour; Caroline in the City) as two of the Witches; Tony nominee Brian d'Arcy James (Shrek) as Banquo (and, presumably, Banquo's ghost); and Daniel Sunjata (Take Me Out; Smash) as Macduff. As for Lady "Out, out damn spot" Macbeth, acclaimed London actress Anne-Marie Duff (St. Joan; Elizabeth – The Virgin Queen) had already signed on. The kilted back-up troops have arrived in time for October 24th previews at Lincoln Center's Vivian Beaumont Theater.
Posted on Wednesday, September 04, 2013 @ 06:01 PM | 0 replies Start the Discussion
---
Six Degrees of Broadway Separation - Fall 2013 Edition
My favorite multi-tentacled game Six Degrees of Broadway Separation is back this fall and this time it's a (cue "It's Possible") real Cinderella story.
The Main Players (pictured above, from left): Victoria Clark, the Tony-winning actress who originated the role of Fairy Godmother Marie (Tony nomination); Rebecca Luker, Best Lead Actress in a Musical Tony nominee for The Sound of Music, Music Man and Show Boat; Danny Burstein, Tony nominee for Golden Boy, Follies, South Pacific, and The Drowsy Chaperone.
Round One: Clark is taking a leave of absence from Rodger's & Hammerstein's Cinderella to join cast of the limited-run drama The Snow Geese, costarring Burstein and Mary-Louise Parker. She will be replaced by Luker, who has been married to Burstein in real life since 2000.
Round Two: Burstein appeared in South Pacific with Laura Osnes (Cinderella) who replaced Kelli O'Hara as Nellie Forbush; Clark picked up a Tony playing O'Hara's mother in The Light in the Piazza.
Round Three (where it gets really convoluted): In The Drowsy Chaperone, Burstein worked with Peter Bartlett (who plays Sebastian in Cinderella). Bartlett replaced Edward Hibbert as the butler (Underling) in Drowsy. Both Hibbert and Tony winner Harriet Harris, who plays Cinderella's stepmother "Madame," had classic recurring roles on the sitcom Frasier (he played food critic Gil Chesterton; she was Bebe Glazer, Frasier's cutthroat agent).
Round Four (where it reverts to the pedestrian): Burstein and Clark were both part of the company of Broadway's Titanic (1997-99).
As for nuts and bolts info, Luker officially takes over as Fairy Godmother on September 5th, while The Snow Geese begins previews starting October 1st for an October 24th opening. A limited run, The Snow Geese is set to close on December 15th. Clark is scheduled to return to Cinderella on January 21st.
Posted on Tuesday, September 03, 2013 @ 04:16 PM | 0 replies Start the Discussion
---
'Hello Goodbye' to Let It Be; Pippin Casting News and More
Looks like Let It Be (subtitled "A Celebration of the Music of The Beatles") is changing its Broadway status to "Let Me Outta Here". Rather than stick around for its intended run through December 29th it will be pulling up stakes at the St. James Theatre on September 1st, giving Boomers and their progeny a mere two weeks to rock out to the Faux Four.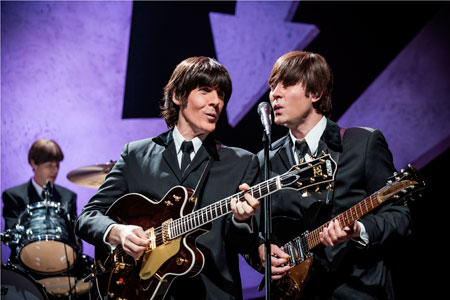 Photo: Chad Batka

According to a press release that came out today, "[T]he producers have opted to utilize the cast, physical production elements, and other resources to fulfill worldwide demand, instead of awaiting the more traditionally robust sales that come with the holiday season. Those plans include a North American tour for the 2014/15 Season; an extensive UK tour; an international tour to visit Moscow, Japan, and Monaco; and other worldwide opportunities. A three-city tour of Germany is also underway this month, visiting Leipzig, Cologne, and Frankfurt."
So if you miss it here, there's a chance the show will come to your hometown – or country – within the next year. And, should a trip to London be on your agenda, Let It Be is still going strong at the Savoy Theatre in London's West End, where it will be playing through mid-January.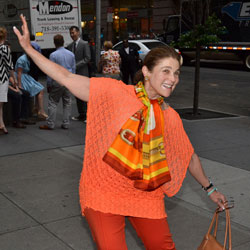 Pippin fans should also take note that as of tomorrow (8/20) four-time Tony Award nominee/Emmy winner Tovah Feldshuh (right) will be taking over the role of Berthe for Tony-winner Andrea Martin for the next week (8 performances only) while Martin goes on a well-earned vacation. Feldshuh, who already played Berthe for a couple of performances a few weeks ago, will – in case you were wondering – be doing the role's much talked about acrobatic maneuvers. Needless to say, if your main Tovah memories date back to her iconic turn as Golda Meir in Golda, seeing her in Pippin should blow your mind. Photo: David Gordon

Reeve Carney fans take note: he will take his final Spider-Man, Turn Off the Dark flight on September 15th. His replacement is still TBA, with NYC auditions taking place today and LA auditions banked on August 12th. Looking forward to the big announcement.
Meanwhile, through 8/28 you can catch Paige Davis (TLC's Trading Spaces) is the current Roxy Hart in the long-running hit musical revival Chicago (not her first appearance in the role on Broadway).
The dance phenom-a-thon Forever Tango has also undergone a cast change: Latin pop star Luis Fonsi has replaced Luis Enrique as guest vocalist through September 1st. (Enrique plays his last performance on August 18th – but the sizzling hot show will be around through September 15th.)
Posted on Monday, August 19, 2013 @ 02:35 PM | 0 replies Start the Discussion
---
---
Two New Annies, Sleep No More News & More
The 4th of July fireworks are officially behind us, but the theatrical fireworks – both modest and mondo are still bursting on New York's theatre scene. For instance, well worth noting:

Kinky Boots, yes, the one that took home the Best New Musical Tony this past June, has replaced its former "general rush" program with a swell new lottery ticket policy. In short, stash the sleeping bags and No-Doze, as beginning Tuesday, July 9th, the hit at the Hirschfeld will accept lottery entries 2-1/2 hours prior to the start of the show. Bottom Line: names will be drawn at random for a limited number of $37 tickets two hours before curtain. (For full details – including those ubiquitous "rules & regulations," visit kinkybootsthemusical.com. May your gamble net you a couple of discount tickets for this most excellent production!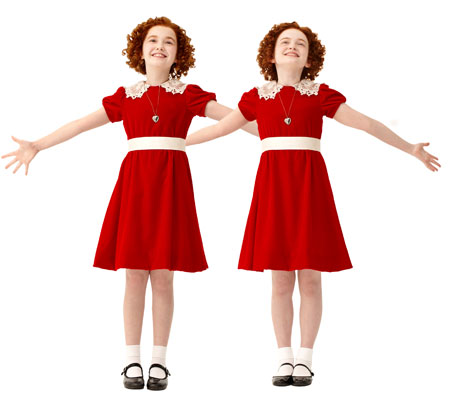 Photo: Jade Albert

Annie: Just in case your passion for this Depression-era musical packed with humor, kids, a billionaire and a lovable mutt is and you've already seen Lilla Crawford as the irresistible redheaded moppet (Crawford originated the role of Annie in this revival), she will be retiring from the Palace Theatre to be replaced by not one, but two, young leading ladies (alternating performances): Taylor Richardson and Sadie Sink (above). They'll be taking over starting July 30th.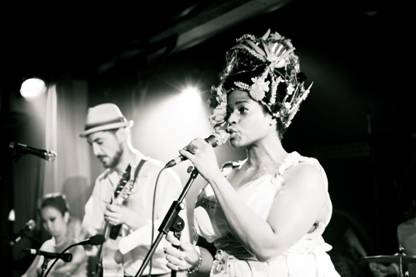 The McKittrick Hotel, home to Sleep No More (the interactive cult hit loosely based on Macbeth with a 1930s film noir gestalt), recently announced a new funk-rock house band, The Heathens (above). Custom-created for the venue, the group will begin its musical seduction at 9:30pm and play until closing Thursday through Saturday. Available to music-lovers both with and without Sleep No More tickets, The Heathens can be accessed through the 542 West 27th Street entrance. (Full bar is offered, and no reservations are required.) However, if you haven't as yet caught SNM in this retro-eerie/multi-floor hotel setting, I urge you to do so. The Heathens will just add to the overall experience.
Posted on Monday, July 08, 2013 @ 02:58 PM | 0 replies Start the Discussion
---
Celebrity Sightings: Faith Prince, Carol Kane & Wendy Williams on Broadway This Summer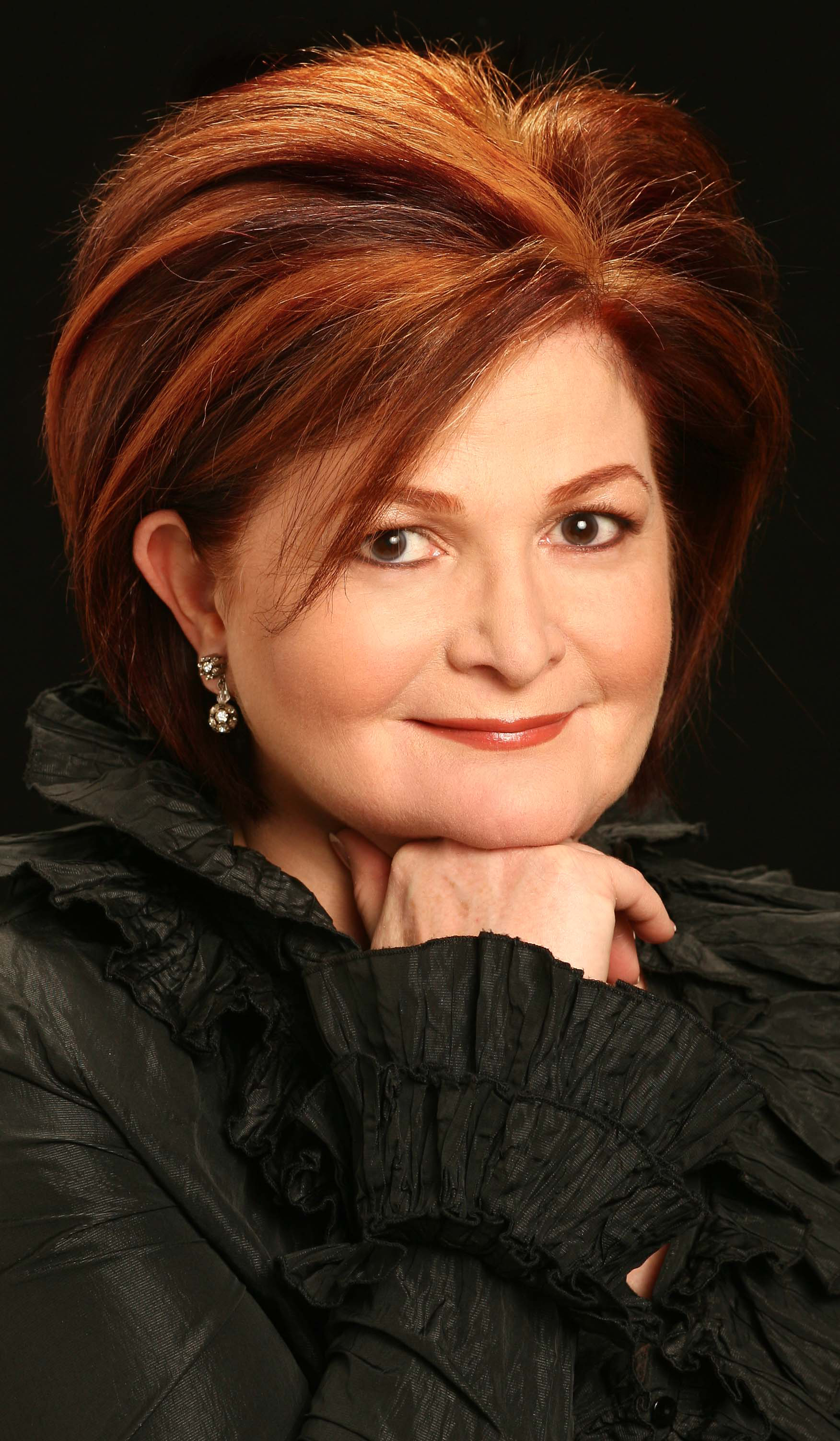 So here we are, all flip flops and tank tops sweating our way through the steamy throes of summer… and summer stages. Usually the big news this time of year comes wrapped in the vibrant theatre festivals that pepper Manhattan and its sister boroughs. In the summer of 2013, though, Broadway is amping up its game with a roster of incoming stars and shows. I suggest a score card.

ANNIE: Just announced: Faith Prince (above right) will be taking on the role of Miss Hannigan, replacing Emmy winner Jane Lynch (Glee) who replaced Tony winner Katie Finneran (new sitcom in the works).
Prince, who scored her own Tony Award playing Adelaide in Guys and Dolls opposite Nathan Lane, was last seen on Broadway as Ursula in Disney's The Little Mermaid. Which means Prince will have gone from magical, over-the-top, under-the-sea villain to tippling over-the-top, Depression-era villain (and, as Annie director James Lapine notes, "…a role she was born to play)."
Lynch will play her last performance on July 14th while Prince will pick up the Hannigan gauntlet five days later.
[FYI for Animal Lovers: For each Annie ticket sold through December 31, 2013, PEDIGREE® Food for Dogs will donate $2, up to $1 million, to PEDIGREE Foundation, a nonprofit organization dedicated to helping dogs find loving homes. In addition, you can pick up co-branded merchandise both at the theatre and online with 100 percent of the proceeds going to PEDIGREE Foundation. Click here for more info.]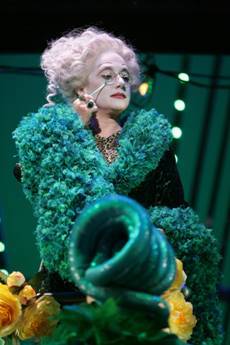 WICKED: Emmy winner Carol Kane (lower right) will reprise her iconic take on the role Madame Morrible (she's played the imperious headmistress both on Broadway and in L.A.). Kane, who recently appeared in Harvey with Jim Parsons (The Big Bang Theory) and Jessica Hecht (The Assembled Parties), is known for her extensive film and TV work -- a long and varied list that includes Annie Hall, Addams Family Values and Taxi.

CHICAGO has a new Matron "Mama" Morton through August 11th: Talk show host Wendy Williams. She joins a long list of Mamas that includes Marcia Lewis, Debra Monk and Roz Ryan. This crowd-pleaser musical revival has been around since 1997, and is the kind of show that never gets old. No wonder repeat visits are almost de rigueur.

As for new shows launching on Broadway this summer, two begin previews on July 9th: First Date, a new musical centering around a couple on a blind date; and the global sensation Forever Tango, in which sixteen world-class tango dancers bring the dramatic dance form to the stage of the Walter Kerr Theatre (through 9/15).
Finally, there's Let It Be – a concert celebrating the 50th anniversary of The Beatles. Already a hit abroad, the show features a newly cast Fab Four for the U.S. along with state of the art projections and sound and the songs that redefined rock and roll forever. And for the record – vinyl, naturally – Let It Be is set to run through December 29th, giving audiences ample time to "Twist and Shout" before 2014 arrives.
Posted on Monday, June 24, 2013 @ 03:01 PM | 0 replies Start the Discussion
---
All Tony Awards, All Night Long...
Is it just me or does Neil Patrick Harris totally soar when hosting the Tonys? No—it's everybody. And then there are the writers who, unlike those on any other award show, who are savvy, creative, fast and NOT EMBARRASSING (take note other awards shows!) And whoa, baby, it's way obvious that the presenters and performers actually REHEARSE and the imported set pieces (for the nominated numbers, and a few bonus Broadway shows) are impeccable. I'm just saying, if there were an award for award shows (and there well might be) the Tony folks would win hands down.

Granted, the show is live so there are always minor glitches and time issues, but who cares? The Tonys broadcast was a first-rate, first-class success. I give it a big old A (and according to the post-show buzz (and my Facebook page, I'm not alone).

Cutting to the chase, here is the complete Winners Circle….
---
THE CHAMPIONS: 2012-2013 BROADWAY SEASON

THE SHOWS
BEST PLAY: Vanya and Sonia and Masha and Spike (Author Christopher Durang)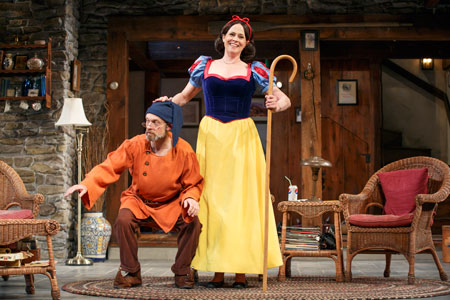 Hyde Pierce and Weaver in Vanya and Sonia... Photo: Carol Rosegg
BEST MUSICAL: Kinky Boots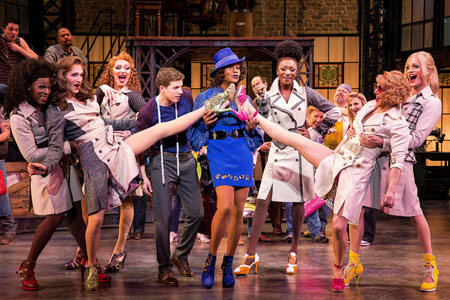 Kinky Boots' Stark Sands, Billy Porter, The Angels (L-R: Kyle Taylor Parker, Charlie Sutton, Joey Taranto, Kevin Smith Kirkwood, Paul Canaan, and Kyle Post), and cast. Photo: Matthew Murphy
BEST BOOK OF A MUSICAL: Matilda The Musical (Author Dennis Kelly)
BEST ORIGINAL SCORE (MUSIC AND/OR LYRICS) WRITTEN FOR THE THEATRE: Kinky Boots (Music & Lyrics: Cyndi Lauper)
BEST REVIVAL OF A PLAY: Who's Afraid of Virginia Woolf?
BEST REVIVAL OF A MUSICAL: Pippin

[So far no surprises – most were favorites, although all things Kinky Boots vs. Matilda were somewhat neck-and neck with Kinky Boots having a slight edge]

THE PLAYERS
BEST PERFORMANCE BY AN ACTOR IN A LEADING ROLE IN A PLAY: Tracy Letts (Who's Afraid of Virginia Woolf?)
BEST PERFORMANCE BY AN ACTRESS IN A LEADING ROLE IN A PLAY: Cicely Tyson (The Trip to Bountiful)
BEST PERFORMANCE BY AN ACTOR IN A LEADING ROLE IN A MUSICAL: Billy Porter
BEST PERFORMANCE BY AN ACTRESS IN A LEADING ROLE IN A MUSICAL: Patina Miller
BEST PERFORMANCE BY AN ACTOR IN A FEATURED ROLE IN A PLAY: Courtney B. Vance (Lucky Guy)
BEST PERFORMANCE BY AN ACTRESS IN A FEATURED ROLE IN A PLAY: Judith Light (The Assembled Parties)
BEST PERFORMANCE BY AN ACTOR IN A FEATURED ROLE IN A MUSICAL: Gabriel Ebert (Matilda The Musical)
BEST PERFORMANCE BY AN ACTRESS IN A FEATURED ROLE IN A MUSICAL: Andrea Martin (Pippin)

[Still no major upsets: Letts and Nathan Lane (The Nance) were a toss up and Best Featured Actor in both categories were anybody's guess. And for the record, with a little nod to myself (my therapist would be so proud) I interviewed five of the eight winners for stories in Promenade, City Guide and/or NYMetroParents. Take note, actor reps… take note.]
CREATIVE TEAM AWARDS
BEST DIRECTION OF A PLAY: Pam MacKinnon (Who's Afraid of Virginia Woolf?)
BEST DIRECTION OF A MUSICAL: Diane Paulus (Pippin) [BTW: The only women nominated in their categories!]
BEST CHOREOGRAPHY: Jerry Mitchell (Kinky Boots)
BEST ORCHESTRATIONS: Stephen Oremus (Kinky Boots)
BEST SCENIC DESIGN OF A PLAY: John Lee Beatty (The Nance)
BEST SCENIC DESIGN OF A MUSICAL: Rob Howell (Matilda The Musical)
BEST COSTUME DESIGN OF A PLAY: Ann Roth (The Nance)
BEST COSTUME DESIGN OF A MUSICAL: William Ivey Long (Rodgers + Hammerstein's Cinderella)
BEST LIGHTING DESIGN OF A PLAY: Jules Fisher & Peggy Eisenhauer (Lucky Guy)
BEST LIGHTING DESIGN OF A MUSICAL: Hugh Vanstone (Matilda The Musical)
BEST SOUND DESIGN OF A PLAY: Leon Rothenberg (The Nance)
BEST SOUND DESIGN OF A MUSICAL: John Shivers (Kinky Boots)

SPECIAL TONY AWARDS
SPECIAL TONY AWARD® FOR LIFETIME ACHIEVEMENT IN THE THEATRE: Bernard Gersten, Paul Libin, Ming Cho Lee
REGIONAL THEATRE AWARD: Huntington Theatre Company
ISABELLE STEVENSON AWARD: Larry Kramer
TONY HONORS FOR EXCELLENCE IN THE THEATRE: NYC Mayor Michael R. Bloomberg; Career Transition For Dancers; William Craver; Peter Lawrence; The Lost Colony

---
MISCELLANEOUS GRIFFIN OBSERVATIONS/HIGHLIGHTS:
• In the killer opening number loved the inclusion of now grown former Billy Elliot's and Annie's….

• Also in that number, funny thought to have Mike Tyson make a cameo, although he did look like an uncomfortable fish out of water, especially when he pretended to bite the ear of Neil Patrick Harris (NPH).

• Biggest, longest, most deserved standing ovation EVER for an opening number.

• Brilliant: Musical numbers introduced by members of successful (and apt) Broadway shows currently running [e.g., Jersey Boys announcing Motown; Spider-Man announcing Annie; Mamma Mia! announcing Kinky Boots (in seriously '70s platforms)

• Equally brilliant: The time-saving innovation of having presenters of key awards hand out both musical and play Tonys…

• Time savvy: showing clips of some of the award from earlier in the day and putting a 75-second time limit on acceptance speeches (even the grateful scofflaws acknowledged their brief flings of insubordination.

• Funny bits that actually worked (all worth a Google, trust me):

--NPH's fast-paced "mash-ups" combining musical and play titles: i.e., The Diary of Anne Frankenstein the Musical – "Justin Bieber would like this one."

-- Wearing laurels, Oliver Platt as "Comedy" and Liam Neeson as "Tragedy" offer up a snarky bit of back-and-forth saluting the American Theatre Wing.

-- NPH, Andrew Reynolds (from original cast of The Book of Mormon and a recently tanked sitcom), Megan Hilty (the Broadway veteran known for her role on the recently cancelled Smash) and former Tony winner Laura Benanti (Gypsy) who boasts two failed sitcoms – sing about the fiscal perks and potential heartbreaks of doing a television series vs. the accolades, personal achievement and dubious cash flow of performing on the stage.

• Cyndi Lauper, Cyndi Lauper, Cyndi Lauper: her hair, her tears, her sense of "I can't believe this," even though I'm sure her colleagues and friends assured her she was a shoe in for the Best Original Score Tony – and her lovely & poignant rendition of "True Colors" (was that a zither she was playing) as the Memorial Tribute appeared behind her.

• The teaming of Mayor Bloomberg with Sigourney Weaver: a delightful contrast in height that paralleled six-foot Jane Lynch looming over the orphans during her performance of the song "Little Girls" from Annie.

• Billy Porter's pedal-to-metal acceptance speech in which he (almost) managed to squeeze three minutes of gratefulness and acknowledgements into a minute and quarter.

• And finally the rushed-but-worth-it closing number, composed at warp speed during the show, that almost didn't make the cut, but in the end did thanks to CBS's largess in keeping the Tonys up and running until 11:12 pm.

Kudos to all and to all a good night.
Posted on Monday, June 10, 2013 @ 03:31 PM | 0 replies Start the Discussion
---
Neil Patrick Harris Returning to Host the Tony Awards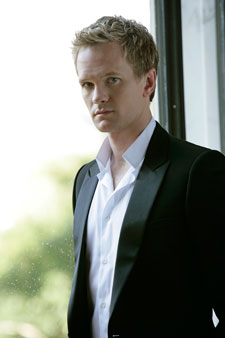 Thank heavens the suspense is over. I don't know about you, but waiting for the final heads up on who will host the 67th Annual Tony Awards on June 9th was keeping me up all night (and not in a good way). But halleluiah! and tada! we have a winner -- and he's a proven winner. Emmy Award-winning actor Neil Patrick Harris will be helming Broadway's biggest night for the fourth time, his past Tony triumphs being the 63rd, 65th & 66th editions.
Thankfully, the former Dr. Doogie is a sharp improviser who knows how to work sarcasm, irony, and the ultimate theatre crowd.
"I'm very excited to be back hosting the Tony Awards at the legendary Radio City Music Hall. It'll be more impressive than ever - if my math is correct, it will be 267 times bigger than last year," said Harris. "Oh, wait. No, that can't... hold on... carry the one... I'm awful at math. But rest assured, the show will rock!"
As for me, I say, "Kudos on your adept choice Broadway League and American Theatre Wing. I can finally sleep soundly knowing Neil will be in in the driver's seat!
Posted on Thursday, May 09, 2013 @ 10:59 AM | 0 replies Start the Discussion
---
Orphans Closing Early; Lucky Guy & Macbeth Extended
Some last minute changes on the pre-Tony Awards landscape (and there will no doubt be more before the glitz and glamour of June 9th rolls into Radio City Music Hall).
It was announced yesterday that Orphans -- currently playing at the Gerald Schoenfeld Theatre, will be closing on May 19th, more than a month before its originally scheduled closing date of June 30th. Up for two Tonys – Best Revival of a Play and Best Performance by an Actor in a Leading Role in a Play (Tom Sturridge) -- one would think it would have added rather than subtracted performances, especially since Sturridge and his costars Alec Baldwin and Ben Foster have created memorable characters caught up in a bizarrely compelling storyline. Oh well – see it while you can.
On the plus side, two show have already extended their runs: Nora Ephron's Lucky Guy starring Tom Hanks (having already recouped its investment and all its expected Tony nominations) will now run through July 3rd. Meanwhile Macbeth with Alan Cumming has extended through July 14th – despite its Leading Actor Tony snub.
Posted on Tuesday, May 07, 2013 @ 11:45 AM | 0 replies Start the Discussion
---
Jekyll & Hyde the Musical to Close May 12
With Queen's lyric "and another one bites the dust" pumping through my cerebral cortex, I bring news of the second casualty of this year's Tony nominations (the first being The Testament of Mary starring Fiona Shaw): Jekyll & Hyde the Musical, helmed by pop stars Constantine Maroulis and Deborah Cox, will close after its 7pm Sunday, May 12th performance.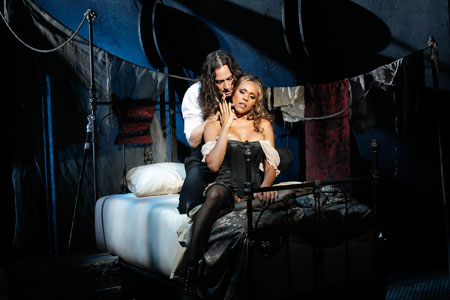 Having played 15 previews and 30 regular performances at the Marquis Theatre, this first revival of pop composer Frank Wildhorn's most successful musical was originally scheduled for a limited run concluding June 30th. However, failing to chalk up any Tony nominations clearly cut short the life span for J&H, a show that came to Broadway following a 25-week tour launch across the U.S.

For myself, I rather got into the show's Steampunk ambience, believing the mixed-to-really-really-bad reviews that met the NYC opening were born more of critical-by-rote Wildhorn-bashing than the actual quality of the show and its cast. Promotionally, I felt, and still feel, it has a built-in audience with the current followers of Victoriana thrillers and potboilers, not to mention fans of the Twilight films and their offshoots. I'd buy the album. Hopefully it will hit the road again – maybe follow in the original's international footsteps – who knows?
Posted on Friday, May 03, 2013 @ 01:30 PM | 0 replies Start the Discussion
---
Tony, Tony, Tony -67th Nomination Ceremony (Made at 8:30am ET, April 30, 2013)
Here they are, my theatre loving friends – hot off the Tony Awards® Announcement podium and direct from the lips of Tony winner Sutton Foster and stage/screen actor Jesse Tyler Ferguson.
Since I haven't as yet seen all the nominees, I'll hold my predictions for later. Still I must say I was pleased that Laurie Metcalf was nominated for her lead actress turn in The Other Place and that Rob McClure made the cut for his terrific Charlie Chaplin in Chaplin.
That said, in the WHAT WERE THEY THINKING department when Alan Cumming in Macbeth, Boyd Gaines in An Enemy of the People, Seth Numrich in Golden Boy and Jessica Hecht in The Assembled Parties did not receive nominations? But then I have problems with some of the nominated/not-nominated shows, too. As Jim Parsons (who also didn't get a nomination for playing Elwood P. Dodd in Harvey) would say on The Big Bang Theory, "bazinga" on all of us.
P.S. The first fatality of the Tony nominations has been announced: The Testament of Mary, the solo drama starring Fiona Shaw in the title role. (Miss Shaw failed to receive a nomination for her performance, as did the script by Colm Tóibín and direction by Deborah Warner.)

From the press release:
Nominations for the 2013 American Theatre Wing's Tony Awards®
Presented by The Broadway League and the American Theatre Wing
Best Play
The Assembled Parties
Author: Richard Greenberg
Producers: Manhattan Theatre Club, Lynne Meadow, Barry Grove
Lucky Guy
Author: Nora Ephron
Producers: Colin Callender, Roy Furman, Arielle Tepper Madover, Roger & William Berlind, Stacey Mindich, Robert Cole & Frederick Zollo, David Mirvish, Daryl Roth, James D. Stern/Douglas L. Meyer, Scott & Brian Zeilinger, Sonia Friedman Productions, The Shubert Organization
The Testament of Mary
Author: Colm Toíbín
Producers: Scott Rudin, Stuart Thompson, Jon B. Platt, Roger Berlind, Broadway Across America, Scott M. Delman, Jean Doumanian, Roy Furman, Stephanie P. McClelland, Sonia Friedman Productions/Tulchin Bartner Productions, The Araca Group, Heni Koenigsberg, Daryl Roth, Eli Bush
Vanya and Sonia and Masha and Spike
Author: Christopher Durang
Producers: Joey Parnes, Larry Hirschhorn, Joan Raffe & Jhett Tolentino, Martin Platt & David Elliott, Pat Flicker Addiss, Catherine Adler, John O'Boyle, Joshua Goodman, Jamie deRoy/Richard Winkler, Cricket Hooper Jiranek/Michael Palitz, Mark S. Golub & David S. Golub, Radio Mouse Entertainment, ShadowCatcher Entertainment, Mary Cossette/Barbara Manocherian, Megan Savage/Meredith Lynsey Schade, Hugh Hysell/Richard Jordan, Cheryl Wiesenfeld/Ron Simons, S.D. Wagner, John Johnson, MacCarter Theatre Center, Lincoln Center Theater
Best Musical
Bring It On: The Musical
Producers: Universal Pictures Stage Productions/Glenn Ross, Beacon Communications/Armyan Bernstein & Charlie Lyons, Kristin Caskey & Mike Isaacson
A Christmas Story, The Musical
Producers: Gerald Goehring, Roy Miller, Michael F. Mitri, Pat Flicker Addiss, Peter Billingsley, Timothy Laczynski, Mariano Tolentino, Jr., Louise H. Beard, Michael Filerman, Scott Hart, Alison Eckert, Bob Bartner, Michael Jenkins, Angela Milonas, Bradford W. Smith
Kinky Boots
Producers: Daryl Roth, Hal Luftig, James L. Nederlander, Terry Allen Kramer, Independent Presenters Network, CJ E&M, Jayne Baron Sherman, Just for Laughs Theatricals/Judith Ann Abrams, Yasuhiro Kawana, Jane Bergère, Allan S. Gordon & Adam S. Gordon, Ken Davenport, Hunter Arnold, Lucy & Phil Suarez, Bryan Bantry, Ron Fierstein & Dorsey Regal, Jim Kierstead/Gregory Rae, BB Group/Christina Papagjika, Michael DeSantis/Patrick Baugh, Brian Smith/Tom & Connie Walsh, Warren Trepp, Jujamcyn Theaters
Matilda The Musical
Producers: The Royal Shakespeare Company and The Dodgers
Best Revival of a Play
Golden Boy
Producers: Lincoln Center Theater, André Bishop, Bernard Gersten
Orphans
Producers: Frederick Zollo, Robert Cole, The Shubert Organization, Orin Wolf, Lucky VIII, Scott M. Delman, James P. MacGilvray, StylesFour Productions
The Trip to Bountiful
Producers: Nelle Nugent, Kevin Liles, Paula Marie Black, David R. Weinreb, Stephen C. Byrd, Alia M. Jones, Kenneth Teaton, Carole L. Haber/Philip Geier, Wendy Federman/Carl Moellenberg/Ricardo Hornos, Fifty Church Street Productions/Hallie Foote/Tyson and Kimberly Chandler, Joseph Sirola, Howard and Janet Kagan/Charles Salameno, Sharon A. Carr/Patricia R. Klausner, Raymond Gaspard/Andréa M. Price, Willette Murphy Klausner/Reginald M. Browne
Who's Afraid of Virginia Woolf?
Producers: Jeffrey Richards, Jerry Frankel, Susan Quint Gallin, Mary Lu Roffe, Kit Seidel, Amy Danis & Mark Johannes, Patty Baker, Mark S. Golub & David S. Golub, Richard Gross, Jam Theatricals, Cheryl Lachowicz, Michael Palitz, Dramatic Forces/Angelina Fiordellisi, Luigi & Rose Caiola, Ken Greiner, Kathleen K. Johnson, Kirmser Ponturo Fund, Will Trice, GFour Productions, Steppenwolf Theatre Company
Best Revival of a Musical
Annie
Producers: Arielle Tepper Madover, Roger Horchow, Sally Horchow, Roger Berlind, Roy Furman, Debbie Bisno, Stacey Mindich, James M. Nederlander, Jane Bergère/Daryl Roth, Eva Price/Christina Papagjika
The Mystery of Edwin Drood
Producers: Roundabout Theatre Company, Todd Haimes, Harold Wolpert, Julia C. Levy
Pippin
Producers: Barry and Fran Weissler, Howard and Janet Kagan, Lisa Matlin, Kyodo Tokyo, A&A Gordon/Brunish Trinchero, Tom Smedes/Peter Stern, Broadway Across America, Independent Presenters Network, Norton Herrick, Allen Spivak, Rebecca Gold, Joshua Goodman, Stephen E. McManus, David Robbins/Bryan S. Weingarten, Philip Hagemann/Murray Rosenthal, Jim Kierstead/Carlos Arana/Myla Lerner, Hugh Hayes/Jamie Cesa/Jonathan Reinis, Sharon A. Carr/Patricia R. Klausner, Ben Feldman, Square 1 Theatrics, Wendy Federman/Carl Moellenberg, Bruce Robert Harris/Jack W. Batman, Infinity Theatre Company/Michael Rubenstein, Michael A. Alden/Dale Badway/Ken Mahoney, American Repertory Theater
Rodgers + Hammerstein's Cinderella
Producers: Robyn Goodman, Jill Furman, Stephen Kocis, Edward Walson, Venetian Glass Productions, The Araca Group, Luigi Caiola & Rose Caiola, Roy Furman, Walt Grossman, Peter May/Sanford Robertson, Glass Slipper Productions LLC/Eric Schmidt, Ted Liebowitz/James Spry, Blanket Fort Productions, Center Theatre Group
Best Book of a Musical
A Christmas Story, The Musical
Joseph Robinette
Kinky Boots
Harvey Fierstein
Matilda The Musical
Dennis Kelly
Rodgers + Hammerstein's Cinderella
Douglas Carter Beane

Best Original Score (Music and/or Lyrics) Written for the Theatre
A Christmas Story, The Musical
Music and Lyrics: Benj Pasek and Justin Paul
Hands on a Hardbody
Music: Trey Anastasio and Amanda Green
Lyrics: Amanda Green
Kinky Boots
Music & Lyrics: Cyndi Lauper
Matilda The Musical
Music & Lyrics: Tim Minchin

Best Performance by an Actor in a Leading Role in a Play
Tom Hanks, Lucky Guy
Nathan Lane, The Nance
Tracy Letts, Who's Afraid of Virginia Woolf?
David Hyde Pierce, Vanya and Sonia and Masha and Spike
Tom Sturridge, Orphans

Best Performance by an Actress in a Leading Role in a Play
Laurie Metcalf, The Other Place
Amy Morton, Who's Afraid of Virginia Woolf?
Kristine Nielsen, Vanya and Sonia and Masha and Spike
Holland Taylor, Ann
Cicely Tyson, The Trip to Bountiful

Best Performance by an Actor in a Leading Role in a Musical
Bertie Carvel, Matilda The Musical
Santino Fontana, Rodgers + Hammerstein's Cinderella
Rob McClure, Chaplin
Billy Porter, Kinky Boots
Stark Sands, Kinky Boots

Best Performance by an Actress in a Leading Role in a Musical
Stephanie J. Block, The Mystery of Edwin Drood
Carolee Carmello, Scandalous
Valisia LeKae, Motown The Musical
Patina Miller, Pippin
Laura Osnes, Rodgers + Hammerstein's Cinderella

Best Performance by an Actor in a Featured Role in a Play
Danny Burstein, Golden Boy
Richard Kind, The Big Knife
Billy Magnussen, Vanya and Sonia and Masha and Spike
Tony Shalhoub, Golden Boy
Courtney B. Vance, Lucky Guy

Best Performance by an Actress in a Featured Role in a Play
Carrie Coon, Who's Afraid of Virginia Woolf?
Shalita Grant, Vanya and Sonia and Masha and Spike
Judith Ivey, The Heiress
Judith Light, The Assembled Parties
Condola Rashad, The Trip to Bountiful

Best Performance by an Actor in a Featured Role in a Musical
Charl Brown, Motown The Musical
Keith Carradine, Hands on a Hardbody
Will Chase, The Mystery of Edwin Drood
Gabriel Ebert, Matilda The Musical
Terrence Mann, Pippin

Best Performance by an Actress in a Featured Role in a Musical
Annaleigh Ashford, Kinky Boots
Victoria Clark, Rodgers + Hammerstein's Cinderella
Andrea Martin, Pippin
Keala Settle, Hands on a Hardbody
Lauren Ward, Matilda The Musical

Best Scenic Design of a Play
John Lee Beatty, The Nance
Santo Loquasto, The Assembled Parties
David Rockwell, Lucky Guy
Michael Yeargan, Golden Boy

Best Scenic Design of a Musical
Rob Howell, Matilda The Musical
Anna Louizos, The Mystery of Edwin Drood
Scott Pask, Pippin
David Rockwell, Kinky Boots

Best Costume Design of a Play
Soutra Gilmour, Cyrano de Bergerac
Ann Roth, The Nance
Albert Wolsky, The Heiress
Catherine Zuber, Golden Boy

Best Costume Design of a Musical
Gregg Barnes, Kinky Boots
Rob Howell, Matilda The Musical
Dominique Lemieux, Pippin
William Ivey Long, Rodgers + Hammerstein's Cinderella
Best Lighting Design of a Play
Jules Fisher & Peggy Eisenhauer, Lucky Guy
Donald Holder, Golden Boy
Jennifer Tipton, The Testament of Mary
Japhy Weideman, The Nance

Best Lighting Design of a Musical
Kenneth Posner, Kinky Boots
Kenneth Posner, Pippin
Kenneth Posner, Rodgers + Hammerstein's Cinderella
Hugh Vanstone, Matilda The Musical

Best Sound Design of a Play
John Gromada, The Trip to Bountiful
Mel Mercier, The Testament of Mary
Leon Rothenberg, The Nance
Peter John Still and Marc Salzberg, Golden Boy

Best Sound Design of a Musical
Jonathan Deans & Garth Helm, Pippin
Peter Hylenski, Motown The Musical
John Shivers, Kinky Boots
Nevin Steinberg, Rodgers + Hammerstein's Cinderella

Best Direction of a Play
Pam MacKinnon, Who's Afraid of Virginia Woolf?
Nicholas Martin, Vanya and Sonia and Masha and Spike
Bartlett Sher, Golden Boy
George C. Wolfe, Lucky Guy

Best Direction of a Musical
Scott Ellis, The Mystery of Edwin Drood
Jerry Mitchell, Kinky Boots
Diane Paulus, Pippin
Matthew Warchus, Matilda The Musical
Best Choreography
Andy Blankenbuehler, Bring It On: The Musical
Peter Darling, Matilda The Musical
Jerry Mitchell, Kinky Boots
Chet Walker, Pippin

Best Orchestrations
Chris Nightingale, Matilda The Musical
Stephen Oremus, Kinky Boots
Ethan Popp & Bryan Crook, Motown The Musical
Danny Troob, Rodgers + Hammerstein's Cinderella
Recipients of Awards and Honors in Non-competitive Categories
Special Tony Award for Lifetime Achievement in the Theatre
Bernard Gersten
Paul Libin
Ming Cho Lee
Regional Theatre Award
Huntington Theatre Company, Boston, MA
Isabelle Stevenson Award
Larry Kramer
Tony Honor for Excellence in the Theatre
Career Transition For Dancers
William Craver
Peter Lawrence
The Lost Colony
The four actresses who created the title role of Matilda The Musical on Broadway - Sophia Gennusa, Oona Laurence, Bailey Ryon and Milly Shapiro
Tony Nominations by Production
Kinky Boots - 13
Matilda The Musical - 12
Pippin - 10
Rodgers + Hammerstein's Cinderella - 9
Golden Boy - 8
Lucky Guy - 6
Vanya and Sonia and Masha and Spike - 6
The Mystery of Edwin Drood - 5
The Nance - 5
Who's Afraid of Virginia Woolf? - 5
Motown The Musical - 4
The Trip to Bountiful - 4
The Assembled Parties - 3
A Christmas Story, The Musical - 3
Hands on a Hardbody - 3
The Testament of Mary - 3
Bring It On: The Musical - 2
The Heiress - 2
Orphans - 2
Ann - 1
Annie - 1
The Big Knife - 1
Chaplin - 1
Cyrano de Bergerac - 1
The Other Place - 1
Scandalous - 1
For more info, etc. visit tonyawards.com
Posted on Tuesday, April 30, 2013 @ 10:24 AM | 0 replies Start the Discussion
---
Broadway News: Tiffany's Closing; Ann Discounts
Two important bits of Broadway info have crossed my desk over the last couple of days. Worth taking note of:
#1: Come this Sunday (4/21), the second casualty of the new season will bow out: Breakfast at Tiffany's. Despite high hopes for this latest take on Truman Capote's celebrated novel, the Richard Greenberg adaptation, directed by Sean Mathias, pretty much tanked in the wake of bad reviews and not-so-great word of mouth. It didn't help that Emilia Clarke, so impressive in HBO's Game of Thrones, failed to entice as Holly Golightly.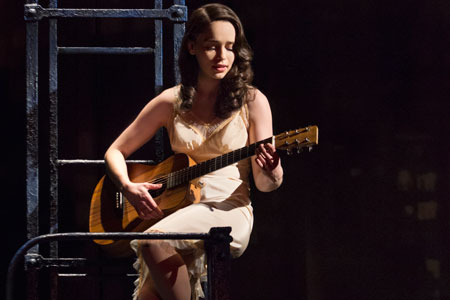 FYI, the first new show to drive off the Broadway lot was the original musical Hands on a Hardbody. It departed last Saturday night, after failing to attract enough of an audience to keep it afloat against some heavy-duty competition from productions like Kinky Boots and Matilda. Too bad since Hardbody was both entertaining and moving and boasted terrific performance by Hunter Foster and Keith Carradine.
#2: It seems the promotional wizards behind Ann, the Holland Taylor tour de force (she wrote the scripts and stars as former Texas governor Ann Richards), are ensuring the road to Lincoln Center's Vivian Beaumont Theater will be "well coupled" on Wednesday nights when "you can bring the man in your life for free to see Ann."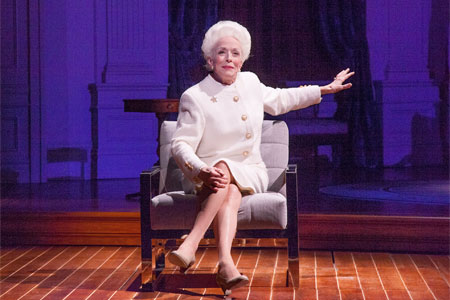 Having seen and loved the show I assure you this is a bargain you should not pass up. Taylor is a compelling presence and a veritable whirlwind in this briskly paced homage to the Lone Star State's outspoken, smart, funny and amazingly coiffed former Governor. (I give it four and a half "Yee-haws!")
To take advantage of this offer (good for 8 pm Wednesday performances through August 18th, "Use political man-date code: ANNBYM1 when you purchase your tickets by phone, online or in person. [Tickets range from $75 - $125 and can purchased at the Vivian Beaumont Theater box office, online at lct.org or through Telecharge.com (212-239-6200).
Posted on Tuesday, April 16, 2013 @ 04:22 PM | 0 replies Start the Discussion
---
For Elaine Stritch: A Final Adieu at Her Signature Venue
As the sassy, brassy octogenarian inches towards nonagenarian-ism (she'll hit the big nine-o February 2nd, 2015), she's heading home to her birth state of Michigan, passing her gilded perch at the Carlyle Hotel/Café Carlyle to entertainers other than herself. Ces't dommage!!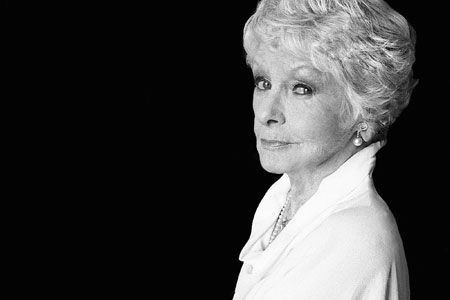 Still, she's heading out with a final flourish in a one-week swansong entitled Elaine Stritch at the Carlyle: Movin' Over and Out, a "freeform evening of story and song." Accompanied by Rob Bowman, her longtime musical collaborator, at the piano, Ms. Stritch will run her final lap Tuesday, April 2nd through Saturday, April 6th at 8:45pm at the Café Carlyle (a mega magnet for legendary performers like Stritch, Bobby Short, Barbara Cook, and Woody Allen). There is a $125 cover charge per person and $85 bar seating per person.
So if you're up for a truly iconic moment in the annals of Carlyle Hotel history, visit thecarlyle.com and if they're sold out (as well they may be), get on the waiting list -- no kidding, this phenom will not be repeated!
Photo: Nathalie-Vande-Walle.

Posted on Wednesday, March 27, 2013 @ 04:34 PM | 0 replies Start the Discussion
---
New Reviews: Cinderella, Ann & Vanya and Sonia
The bounty of Broadway shows set to premiere over the next several weeks has officially launched. So far, only a handful have been tossed into the Critics' Circle for reviews but there are many, many more to come. And of the three I've seen -- categories being The Good, The Bad, The So-So and The-I-Don't-Know-Yet -- things are pretty, pretty promising.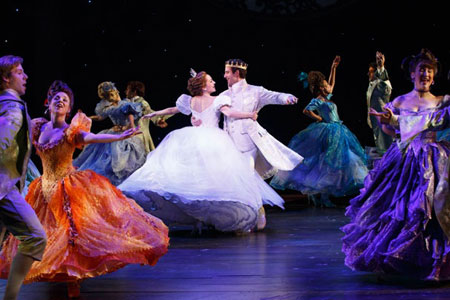 As long as there are little girls who long to be princesses and young lads who appreciate a good battle with a monster/tree, this show is more or less critic proof (mixed reviews veering to the positive side). I found it quite wonderful, albeit a tad long for its demographic. Still, the kids held their own in the attention-span department, so who am I to judge? My only real caveat was the Fairy Godmother's costume, which boasts a massively wide pannier (no doubt to accommodate the wires required to elevate her) and fairy antennae that resemble skinny silver bunny ears. All the other costumes, sets, etc. were glorious, however, and the performances -- from Cinderella and Prince Topher to the Racoon and Fox (who morphed into a footman and carriage driver) -- were enchanting.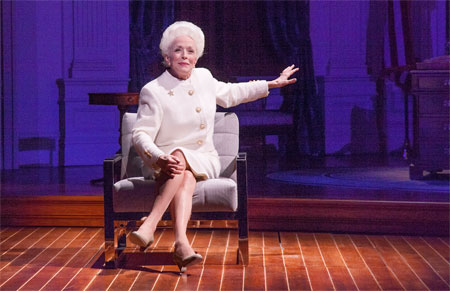 Photo: Ave Bonar

Holland Taylor as former Texas Governor Ann Richards gives a tour de force -- emphasis on force -- performance in this one-woman winner at Lincoln Center's Vivian Beaumont Theatre. And you don't have to be a political junkie to remain glued to her freewheeling embodiment of the big-haired, outspoken Richards. Did I mention Taylor (Two and a Half Men) also wrote the script? Bonus: Tony winner Julie White (The Little Dog Laughed) plays Richards' unseen-but-heard assistant (pre-recorded, but still a first-rate touch).
Vanya and Sonia and Masha and Spike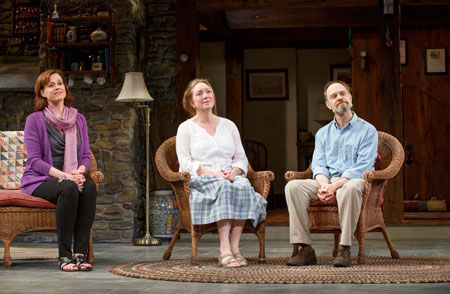 Sigourney Weaver, Kristine Nielsen, and David Hyde Pierce. Photo: Carol Rosegg
It had me at Christopher Durang, one of my longtime favorite playwrights, who feeds my gluttonous desire to consume a bouillabaisse of literacy, satire, silliness and unrepentant smarty-pants-itude. It doesn't hurt that the play -- an Off-Broadway upgrade -- stars David Hyde Pierce as Vanya (Act II tirade worth the price of admission), Sigourney Weaver (parodying every famous cougar (real and fictional) to ever hit Hollywood) as Masha, and Kristine Nielsen as Sonia (don't get me started on her channeling of Maggie Smith), whose scene-stealing brilliance is the stuff of theatrical legends.
In summary, my first three official viewings of the new season land feet first in the "plus" column. Tonight will be my fourth: Breakfast at Tiffany's (not-so-swell according to Ben Brantley at the Times this morning, but he and I don't necessarily see eye to eye). I'll keep you posted.
Posted on Thursday, March 21, 2013 @ 03:51 PM | 0 replies Start the Discussion
---
Final Weekend for As You Like It at the New Victory
For the final weekend of As You Like It at the New Victory Theatre on 42nd Street, I urge you to take advantage of this joyful new production to introduce your Generation Texters to the joys of comedic Shakespearean romance without the safety net of updated rhetoric (although it has been trimmed judiciously in terms of length and racy double entendre – including the epilogue).
But that only helps ensure that kids as young as eight will be able to both get it and get into it without too much coaching. The dialogue is also helped along by Dan Rothenberg's savvy direction and a brilliantly cast group of 20- and 30-something actors who do a dandy job of bringing home the rebellious/precocious/smitten young love theme to their target audience: everyone.
Even jaded I, someone who has seen this particular Shakespeare more than any other of his plays (and was first runner-up for the breeches role of Rosalind in college), was charmed by the 1920s costumes and use of turn-of-the-19th-century Victrolas that even managed to seem relevant in the Forest of Arden where most of the play's escapades unfold.
Four more performances only at the New Vic (209 W. 42nd Street) – Tonight at 7; Saturday at 2 & 7 and Sunday at 3 – so reserve your tickets now at newvictory.org!
Posted on Friday, March 08, 2013 @ 03:16 PM | 0 replies Start the Discussion
---
Bill Pullman to Join the Cast of The Other Place
Seems like breaking news on & about the Great White Way is in the stars as much as freezing temps are in the weather reports. The latest scuttlebutt concerns Sharr White's brilliantly acted, directed & designed drama The Other Place, running at MTC's Samuel J. Friedman Theatre.

According to an announcement released today, Daniel Stern, who gives a achingly moving performance as Ian, Juliana's (Laurie Metcalf) husband, will be leaving the production a month early "due to family matters in California." His final performance will take place on Sunday, February 3rd.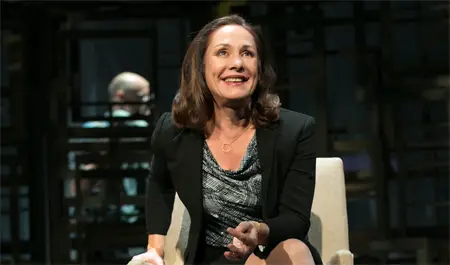 Laurie Metcalf in The Other Place. Photo: Joan Marcus.
Stepping in for Stern is Bill Pullman, whose NYC stage work includes Edward Albee's The Goat, or Who Is Sylvia? (Drama Desk Award nomination) and Peter & Jerry. His last Broadway appearance was opposite Julia Stiles in David Mamet's Oleanna.

Having seen & loved the play -- it's way up on my favorites list already with no chance of losing stature thanks to Metcalf's fearless layered performance as a woman locked into a mystery she can't seem to escape -- I cannot think of another actor more suited than Pullman to take over this particular role.

Pullman's first performance is Tuesday, February 5th and I will definitely try to catch his take on the role before The Other Place ends its extended limited run on March 3rd. Rarely do I have such a compelling reason to revisit a production this amazing.
Posted on Friday, January 25, 2013 @ 02:26 PM | 0 replies Start the Discussion
---
St. James Theatre Closed for the Weekend as Barry Manilow Recuperates
The grumbling you hear from under wool scarves, turtlenecks and giant winter coats outside theatres during the current frigid snap thankfully ends as soon as audiences cozy up to the performance warmth radiating from the stages themselves.
This, of course is all too literal cold comfort for Barry Manilow fans this week seeing as the pop megastar is postponing tonight's Manilow on Broadway opening – as well as all upcoming weekend performances -- due to a nasty case of bronchitis. (His first cancelled performance was his final preview last night, 1/23.)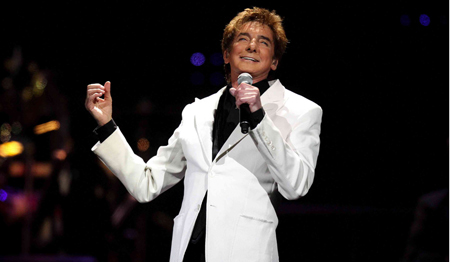 A statement released from the show reads:
"On doctors' orders, Manilow on Broadway has been forced to reschedule tonight's opening night along with the remainder of this weekend's performances. Manilow on Broadway will resume performances on Tuesday, January 29. It turns out the only thing worse than hell and high water is bronchitis. Barry is deeply sorry to disappoint his fans and is doing everything he can to ensure a speedy recovery."
The performance derailment has resulted in a second extension of the show, originally set to close on February 23rd, will run at least until March 2nd, according to the rescheduled dates below:

Thursday, January 24, 2013, has been moved to Thursday, February 28, 2013 @ 8pm; Friday, January 25, 2013, has been moved to Friday, March 1, 2013 @ 8pm; and Saturday, January 26, 2013, will be rescheduled to Saturday, March 2, 2013 @ 8pm.
Posted on Thursday, January 24, 2013 @ 02:13 PM | 0 replies Start the Discussion
---
A Sneak Peek at What's on Broadway This Spring
Busy, busy, news, news, news as the upcoming Spring Season nudges aside the carnage left when winter's giant Broadway ax lopped seven shows off the theatrical grid this past Sunday. (Another seven will have split by the end of February.)
Oh, the humanity!
And just when you think, "what the heck, March is when gobs of new productions begin preview performances," word trickles in that Mary Poppins - six years old and in the black -- is packing up her carpetbag and clearing out on March 3rd -- to make room for a new Disney property - Aladdin, based on the 1992 animated movie. (This info coming not from Disney directly, but from a scoop dealt to the New York Post yesterday.) Still, I wouldn't tell the wee ones about the new musical just yet: word has it the New Amsterdam Theatre, where all this coming and going is happening, will be doing some extensive re-hauling to accommodate the flying carpets and such that make up Aladdin. Translation: Don't expect it to open before spring 2014.
Still, much to talk about as new spring contenders reach my inbox at warp speed.
• Tony winner Bette Midler is set to replant her Broadway roots (after a 30-year absence) in I'LL EAT YOU LAST: A Chat with Sue Mengers. Midler - in a solo turn - plays the powerhouse Hollywood superagent (talk about idyllic casting) in this new play by Tony winner John Logan (Red), directed by Tony winner Joe Mantello (Assassins). A slam-dunk? Bet on it. [Opening night is set for April 24th with previews TBA.]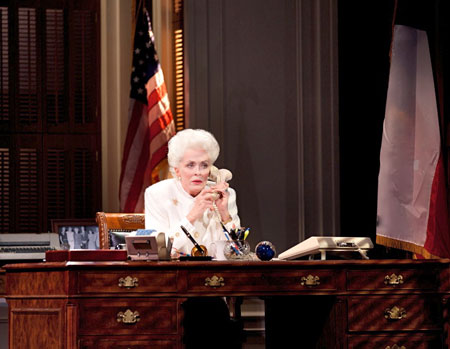 • In keeping with the one-woman show theme blossoming this spring (Holland Taylor (above) begins previews for her single-character play Ann about Texas Ann Richards on February 18th), it was announced today that Fiona Shaw will begin performances in The Testament of Mary on March 26th (Opening Night is April 22nd) for a limited engagement through June 16th. Shaw, known to fans of the Harry Potter films for her on-screen portrayal of Harry's aunt, Petunia Durdsley, embodies the mother of Jesus in this tour de force set after the Crucifixion, in which she tells her own story, "the one which has not been heard." The play, written by Colm Tóibín, is directed by Deborah Warner, Shaw's long-time collaborator who also directed the Irish-born actress in her last Broadway appearance as Medea.
• On the casting front, breaking news includes the addition of company members Mark Blum, Sam Robards and Jeremy Shamos (one of the stars of Glengarry Glen Ross, closing 1/20) to MTC's world premiere of Tony winner Richard Greenberg's (Take Me Out) new play The Assembled Parties. They join previously announced stars Judith Light and Jessica Hecht. [Previews 3/19; opens 4/17]
• Other breaking casting news: Joining super hot Bobby Cannavale (also fresh from Glengarry and starring in HBO's Boardwalk Empire) in Clifford Odets' The Big Knife are Marin Ireland (reasons to be pretty), Billy Eugene Jones (Passing Strange), Richard Kind (Spin City); Adam Rapp (Through the Yellow Hour); Ana Reeder (Top Girls); and Reg Rogers (The Royal Family). [Previews 3/22; opens 4/16]
• And finally, the announcement of two well-known actors joining Tom Hanks making his Broadway debut in Nora Ephron's Lucky Guy: Maura Tierney (ER, Newsradio; The Good Wife) and Courtney B. Vance (Fences; Law & Order: Criminal Intent; The Closer).
Posted on Tuesday, January 08, 2013 @ 06:08 PM | 0 replies Start the Discussion
---
Evita to Close January 26
When it was announced in late November that the stars of Evita would be exiting the Marriott Marquis Theatre in mid-January, it was just a matter of time before the closing notice would be posted – despite the promise of "new stars to be announced shortly." Well, today's the day: Evita will play its last performance on January 26, 2013.
"Our extensive search for a new cast presented the significant challenges of not only replacing a high-caliber trio of stars but also synchronizing the schedules of potential replacements with that of the production," said producer Hal Luftig. "Despite going down the road with a variety of artists, the planets have simply not aligned for us to engage the right talent at the right time. Therefore, we have made the decision to end this incredible journey on a high note on January 26 with our original stars intact."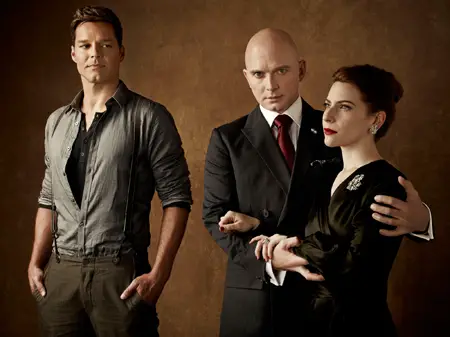 Added fellow producer Scott Sanders, "The style, grace and vision brought to this legendary musical by the cast, musicians and creative team exceeded our wildest expectations. We were thrilled by the diversity of the audiences that have filled the Marquis every evening and look forward to sharing this beautiful production with even larger audiences across the country beginning next fall."
Ricky Martin as Che has been designated the show's celebrity lifeline since it debuted in the spring of this year to mixed reviews. The diminutive Elena Roger in the title role suffered multiple slings, arrows and put-downs when held up to a mirror with Patti LuPone staring back at her, while Michael Cerveris, praised for his performance on the whole, was sadly dismissed for the secondary status of his character.
As for the massive Marquis Theatre, expect the next mondo musical to take up residence to be announced shortly. The beat goes on.
Posted on Wednesday, December 12, 2012 @ 10:16 AM | 0 replies Start the Discussion
---