City Shopping
I travel a great deal for Promenade and have my little road rituals—road warriors all have their seemingly silly rites for planes and airports, and I am no different. But...now that the Hästens Company has brought to market a wonderful (and cleverly designed) travel pillow, I will be altering my travel routine to include bringing a Hästens pillow on board with me for snoozing and dreaming.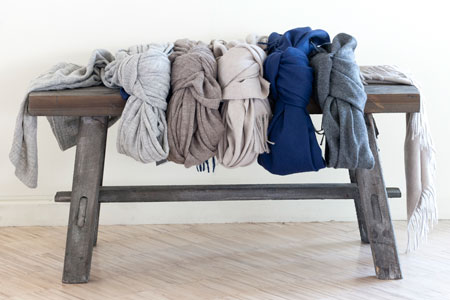 If you don't know know Hästens, allow me to introduce you to the company. It is Sweden's oldest, most revered manufacturer of beds and mattresses, with 160 years of history behind it, and is now well known beyond the borders of tiny Sweden. The company has received the prestigious Nordic Signum prize in 2013 for best long-term branding. But it's not just branding that is a corporate hallmark, it's the bedding, as it should be. Each Hästens bed is handcrafted in the company factory in Köping, Sweden, by expert artisans, meticulously assembling the all-natural materials, which include horsehair, cotton, flax, wool, and Swedish pine. Hästens beds allow for ventilation, creating the ideal temperature and perfect environment for a restful night's sleep. (And it's not for nothing that since 1952, Hästens has been the exclusive supplier of beds and mattresses to His Majesty King Carl XVI Gustaf of Sweden.)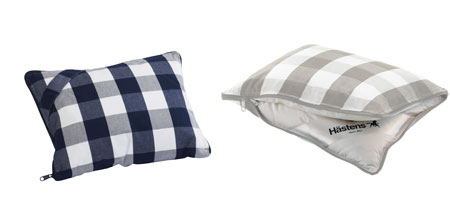 Hästens' travel pillow (above; $110) is a clever invention, making any location (even an uncomfortable economy seat) a sleep sanctuary. Filled with the highest quality duck-down and feathers (for maximum breathability and support), this little rectangle unzips to a full-size pillow, opening up to reveal the surface for cradling your head...and at the same time, then, the fold-over design protects that surface. And it's so soft you can mush it up into a ball, if that is how you like to prop your head up on a plane. It is also treated with SanProCare, an ecologically safe finish that absorbs moisture five times faster and disperses it twice as quickly as a conventional pillow, to keep you dry, even during a hot summer night, or during a particularly sticky flight. The pillow is available in the company's signature blue-and-white, large gingham check and in a neutral silver, too. It is truly my new go-to accessory for travel.

And if I am taking off on a particularly long flight, then I also grab a Hästens baby alpaca throw ($430 and up). The on-the-road blankie is super-soft, made from 100% baby alpaca wool (which does not contain lanolin, so it's completely hypoallergenic and never itchy); alpaca is among the rarest and finest of fibers. Soft like cashmere, but stronger than wool, alpaca has a hollow core that allows it to feel feather-light, and yet be heat-retentive; it also has great natural breathability, so it adjusts to changing body temperature. Available in: oatmeal, ink, charcoal, birch, nutmeg. It's pricey, but oh-so-worth-it.
Hästens New York is located at 1100 Madison Ave. (82nd-83rd Sts.), 212-628-8022.

Posted on Friday, July 12, 2013 @ 11:52 AM | 0 replies Start the Discussion