City Shopping - Sporting Goods Blogs
Back to Blog... | View More Bloggers...

About the Author: About the Author: Ruth J. Katz is a well-known shopping and service writer based in New York City. She has written about shopping for 25 years for New York magazine; covered the topic on-air at Fox-TV for several years as the Home Services expert; and had her own show on both the USA and Lifetime Cable networks. Katz wrote extensively for The New York Times as well, and contributed periodically to the New York Daily News. She is a passionate shopper, always looking for not merely a good buy, but the best buy, ferreting out a "steal" or discovering up-and-coming designers. She has written five books and is a former contributing editor to Hearst's Redbook, Classic Home, and Colonial Homes; she is currently a Contributing Editor of New York Home, Golf Connoisseur, The Modern Estate, and Promenade magazines. She is also the former Shopping Director for Davler Media's Manhattan Living.


---
City Shopping
One hundred and sixty years ago, Bally & Co. was founded by the Brothers Bally in Schönenwerd, Switzerland. Appropriately, enough, in the family's basement, as these stories go. While Carl Franz and Fritz Bally worked together for a few years, Fritz left the business and not long after that, Bally set up a shoe factory to craft the goods that Carl was manufacturing. The firm grew exponentially, and by 1916 employed 7,000 workers.
The company's shoes were always in demand, it seemed: It was Bally boots that climbers wore to ascend Mount Everest in 1953; it was Bally footwear that was donned by the Swiss athletes in 1956 at the Winter Olympics in St. Mortiz; and it was Bally footwear that went to the moon in 1969 -- that famous "That's one small step for a man, one giant leap for mankind." Well, that foot was wearing Bally. Bally can even lay claim to developing and designing the first classic pump, as we know it today.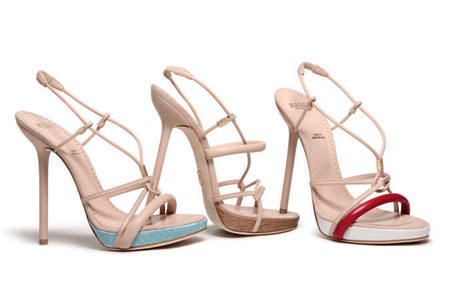 Of course, these days, the company is regarded for its stylish fashion, small leather goods and accessories, as much as it is for those famous coveted shoes. The joint creative directors, Michael Herz and Graeme Fidler, have created a unique contemporary aesthetic for the brand, revolving around the element of surprise garnered by the unexpected juxtaposition of materials, styles, aesthetic. As Bally celebrates its 160 years of style, innovation, and fine craftsmanship, the company has produced a delightful, two-minutes-forty-second video here, celebrating its heritage. Enjoy 160 years in 160 seconds!
Posted on Thursday, September 29, 2011 @ 02:09 PM | 0 replies Start the Discussion
---
City Shopping
Never have workout clothes been so fashionable -- so stylish, in fact, that we wear them all the time, not just at the gym. And what we want is comfort, easy-care, and fashion. Yes, fashion. The days of wearing a pair of Lycra leggings and an old T-shirt are gone, gone, gone.
Enter: Athleta. With two brand-new stores under its figurative belt, Athleta is rapidly on its way to being the premier brand for workout and active wear clothing for women. The company was founded in 1998 with the mission of providing female athletes with apparel for diverse sports and fitness activities; it has become one of the most sought after brands in this rapidly growing segment of the fitness-wear, sports, and active-wear apparel markets.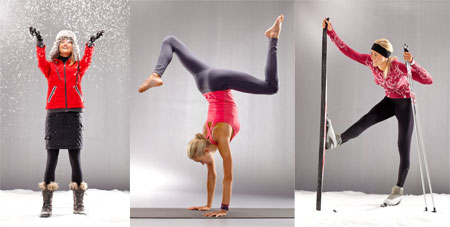 Athleta sells its products through catalogs and its website (athleta.com), but now New Yorkers can head to two new stores -- one on the Upper East Side (1517 Third Avenue) and the other on the Upper West Side (216 Columbus Avenue). Headquartered in Petaluma, CA, Athleta was acquired by The Gap in 2008, and since then the company has had big plans for expansion, and hopes to have 50 new shops by 2013.
Athleta thoughtfully offers free alterations in its stores, and there are kiosks that link directly to the website, offering customers access to additional products and sizes. Moreover, the company sponsors free fitness classes.
To mark the opening of the New York City stores, Athleta has partnered with Bent on Learning, a non-profit organization that offers instruction in yoga and meditation to students in grades K through 12 in New York City public schools and youth centers, as a means of reducing stress and improving concentration, self-esteem and overall health.
Posted on Thursday, September 01, 2011 @ 11:14 AM | 0 replies Start the Discussion
---
City Shopping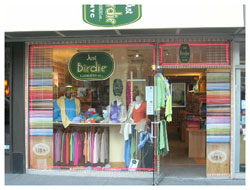 Just about the time last month that we were telling you about that "sneaky" Loehmann's opening on Broadway and 73rd Street, another stealthy retail debut occurred nearby, one that we have been meaning to write up and share with you. The shop is called Just Birdie, with homage paid to golfers (as its name implies), but its merch is not solely for duffers at all; "civilians" will find the stock alluring enough (and prices compelling enough) to make this shop a destination. And indeed, it's a darling, jewel-box-size store with wonderful cashmere-and-silk-blend sweaters, all of which would look very spiffy on the golf course. (The exterior of the shop is decorated with little vignettes picturing St. Andrews, and plaid seems to be the major design element on the interior -- so Scotland and golf are definitely part of the company's inspiration.)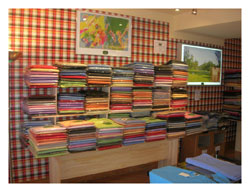 Started in France in 1996, the company has five stores in Europe and the one here at 2047 Broadway btw. 70th & 71st Sts. is the first in the U.S. There are well-priced styles for both sexes, and classics include turtle-, crew-, boat-, and V-necks, zip fronts and traditional cardigans, polos, T-shirt styles, and much, much more. Prices range from $89 to $165 for men, and from $79 to $165 for women, but there are accessories, wraps, and scarves in the store that are lower-priced. There are nearly three-dozen rich colors in the company?s yarn palette, ranging from delicate violet to deep russet.  

And just in time for Mother's Day, the shop is offering 10% off your purchases (if you mention that you read about it here), and considering that these are such well-priced sweaters to begin with, it?s a steal. So, forget scoring a birdie -- the shop is a hole-in-one!  
Posted on Monday, May 07, 2007 @ 01:16 PM | 248 replies View/Post Feedback
---
Subscribe to this Blog's
Feed