City Shopping - Sales/Sample Sales Blogs
Back to Blog... | View More Bloggers...

About the Author: About the Author: Ruth J. Katz is a well-known shopping and service writer based in New York City. She has written about shopping for 25 years for New York magazine; covered the topic on-air at Fox-TV for several years as the Home Services expert; and had her own show on both the USA and Lifetime Cable networks. Katz wrote extensively for The New York Times as well, and contributed periodically to the New York Daily News. She is a passionate shopper, always looking for not merely a good buy, but the best buy, ferreting out a "steal" or discovering up-and-coming designers. She has written five books and is a former contributing editor to Hearst's Redbook, Classic Home, and Colonial Homes; she is currently a Contributing Editor of New York Home, Golf Connoisseur, The Modern Estate, and Promenade magazines. She is also the former Shopping Director for Davler Media's Manhattan Living.


---
City Shopping
I have always loved (and appreciated) the jewelry designs of Jane Bohan and periodically I have featured her work in the pages of Promenade magazine. She is well known for her stackable rings, many of which are beautifully incised, featuring exquisite intaglio carving or etching, giving the shanks and settings remarkable texture and dimension. Her necklaces are usually elegant statement pieces, and her earrings are always feminine and provide the just-right touch for any outfit.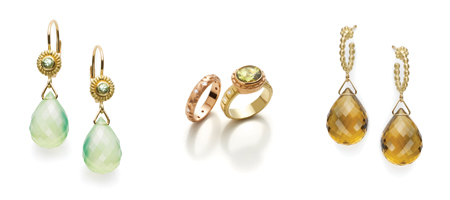 Luckily for us, all her bijoux are about to go on sale in her annual Holiday Jewelry Sale, for two weekends, December 6th through the 8th and the 14th through the 15th. She is promising huge savings on everything, with at least 50% off retail pricing. Prices at the sale start as low as $150 and escalate up to $2,500, significantly lower than her normal tariffs.
The sale is taking place at 611 Broadway (corner Houston Street), Suite 840. Hours: hursday the 6th, Friday the 7th, and Friday the 14th, from noon to 7 p.m.; Saturday the 8th and Saturday the 15th, from 11 a.m. to 5 p.m. Cash and credit cards accepted. Additional info: 212-529-6090 and info@janebohan.com.
Posted on Tuesday, December 04, 2012 @ 03:50 PM | 32 replies View/Post Feedback
---
City Shopping
We love Sferra linens -- all that luscious Italian bedding, so handsomely designed, so soft to the touch, so elegant on the bed. It is the bedding of royalty, or at least you'll feel like a royal with a set of Sferra sheets. Yes, we know it can be a little pricey (although we hasten to add, the Sferra 1981 line is more within a scribe's budget), but today through Saturday, you can afford Sferra! And that is because there's a great warehouse sale taking place. 
There will be first-quality discontinued and overstocked items, including bed linens, matelassé sets, sheet sets, blankets, throws, towels, decorative pillows, and table linens. Prices are up to 75% off retail...how can you go wrong?  The only bad news is you have to drive to Jersey. Snag a friend with a car, and get yourself there!  It's taking place at the Raritan Center, 15 Mayfield Avenue (at the back of the building), in Edison, Nouvelle Jersey (see directions below).

Here are the times:  Today (the 11th) and Thursday, the 12th, from 8 a.m. to 8 p.m.; Friday, June 13th, from 8 a.m. to 5 p.m., and Saturday, June 14th, from 8 a.m. to 12 noon.

All sales final; cash and most credit cards accepted; no checks.

(Here's how to get there:  Lincoln Tunnel to NJ Turnpike, South, to exit 10 (to Route 514 West). Then follow signs to the Raritan Center/Route 514 West. Merge onto Raritan Center Parkway (follow signs to Expo Center).  Make a right at the fourth light onto Mayfield Avenue and then turn left into the  Sferra parking lot.  Go to the back of the building for the warehouse entrance. Click here for a map.) 

Posted on Wednesday, June 11, 2008 @ 05:41 PM | 10111 replies View/Post Feedback
---
City Shopping
O.K., two things you must do tomorrow (Tuesday, Feb. 12): First go to the dogs, i.e., the Westminster Kennel Club Dog Show at Madison Square Garden. (We are, of course, partial to the Golden Retrievers and will be there at 9 a.m. for the judging of the Goldens.)  And, if you cannot get to the Garden, at least watch the show on TV tomorrow night (and tonight, too) to see the winners of the seven group categories. Then hop across the street (after all, you are in the neighborhood), to Soiffer Haskin (317 West 33rd Street, just west of 8th Avenue) to the Asprey/Baccarat sale. We suppose, in one form or another, going there is like going to the dogs, too, or at least going to hell in a hand basket fast...because we always find things to buy at that sale.

Tomorrow (Tuesday) is the last day, so we're hoping the already 75% off will be even sweeter.  It's the best time in the world to stock up on so many things we don't need, but want.  True, the sale started Saturday, and runs until tomorrow, so some things will be gone, but there will, undoubtedly, be good deals on what is there.  Today until 6:30 and tomorrow from 9 a.m to 5 p.m.  As usual, credit cards only; no strollers, no children under 12.

Here's hoping we all come back with a bundle of good stuff to bark about!
Posted on Monday, February 11, 2008 @ 09:50 PM | 2642 replies View/Post Feedback
---
City Shopping
If you are having a lazy Martin Luther King Day here is quickie errand you can run, while hopefully, not running up too large a bill on your charge card:  Yes, it's another Soiffer Haskin sale.  Today, tomorrow (Tuesday), and Wednesday (the last day).  Stuart Weitzman (one of our favorite shoe manufacturers (because, yes, we wear a size 10.5 and nobody makes that size, but we can always find something at Weitzman that fits just right and is stylish, too).  And Krizia, too.  And we don't need to embellish about Krizia, do we? 
So, here's the usual deal: Soiffer Haskin, 317 West 33rd Street, just west of 8th Avenue; credit cards only; all sales final; strollers not allowed; no children under 12 will be admitted. 
So, go out and get yourself some shoes!
Posted on Monday, January 21, 2008 @ 01:33 PM | 3812 replies View/Post Feedback
---
City Shopping

Guys are always so hard to buy for.  But if your guy (or any guy on your list, for that matter) likes clothes (duh?), then head over to the Joseph Abboud sale today through Wednesday.  There will be sample and stock items, with suits going for a staggering four for $700!!  Sport coats, three for $350 and trousers/pants for $29.99 (four pairs for $90!).  And those kinds of savings continue with dress and sport shirts, sweaters, ties, and accessories.  Credit cards only; no cash, no checks.  No exchanges, no refunds; all sales final.   Dressing rooms provided.  (no strollers!)
Takes place at Metropolitan Pavilion, 110 West 19th Street (between Sixth and Seventh Avenues), ground floor.  Today and tomorrow, Tuesday, from 8 a.m. to 8 p.m. and Wednesday, from 8 a.m. to 7 p.m.
Posted on Monday, December 10, 2007 @ 01:54 PM | 4059 replies View/Post Feedback
---
City Shopping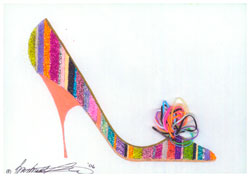 If you love shoes (and is there anyone among us who does not?), then you'll not want to miss Barbra Music's sale tomorrow, Saturday, from 1 p.m. to 6 p.m. It's an open studio sale, so you're going to get first crack at some charming "stuff" from this talented artist, obsessed as she is with creating delightful, flighty, and fun shoes -- as artwork and as for-real shoes (from her classes in shoemaking).  At this sale, there are no real shoes (she's not in the shoe business, but rather in the art business!), but there will be plenty to hang on your walls, or use as decoration, or for sharing: original shoe artwork (and without a doubt you'll find her shoe drawings and collages fanciful and whimsical); embellished shoe prints; boxed cards (for holiday and every day occasions); hand-printed T shirts, and more.

Where? 246 W. 80 St. (between Broadway and West End Ave.), Suite # 21 (fifth floor); from 1 to 6 p.m.; cash and checks.
Posted on Friday, December 07, 2007 @ 05:58 PM | 19 replies View/Post Feedback
---
City Shopping
Another super sale of Italian goods Frette, this time.  Super fine and super-superior white goods as well as table linens and assorted home accessories are all for sale, at up to 70% off retail...which is good, because Frette doesn't come cheap under normal circumstances.  Here is a chance, though, to snap up some of those lovely, over-the-top, high-count sheet sets and fluffy, plush towels, not to mention a box of $100 soaps or some of those silky, clingy dressing gowns that look like they should be in a Merchant/Ivory costume drama.  The sale is at Soiffer Haskin, 317 West 33rd Street, just west of Eighth Avenue (which you probably know by heart now).  Credit cards only, and as usual, no strollers, no children under 12.  Starts tomorrow, Saturday, and continues through Wednesday, the 12th.    Hours:  9 a.m. to 6:30 daily, except Wednesday, when they will close up shop at 5 p.m.
Posted on Friday, December 07, 2007 @ 05:03 PM | 12146 replies View/Post Feedback
---
City Shopping
Lambertson Truex makes high-quality, sometimes over-the-top leathergoods -- beautiful bags, belts, gloves, accessories. If you need anything in that funny-named category, "small leathergoods," then here is your chance. Think Christmas, think Hanukkah, which is VERY early this year, providing a handy excuse for shopping, as if you really needed one. Merchandise is up to 80% off retail, and there is sure to be a little trinket here with your name on it.

This is another Soiffer-Haskin sale, but at a new location, at least just for this sale: Metropolitan Pavilion, 123 W. 18th St. (between Sixth & Seventh Aves.); from Wednesday, December 5th through Friday the 7th, from 9 a.m. to 6:30 p.m. daily. This time, NO cash (unlike the TSE sale last week); plastic only, no checks; no strollers, no children under 12.

Posted on Tuesday, December 04, 2007 @ 02:14 PM | 20 replies View/Post Feedback
---
City Shopping
If you love Catherine Malandrino's clothes the way we do, then you won't want to miss this sale. It's her fall/winter sample sale, and there is no telling what might end up on the sales floor. Take a look, take a chance. Nobody does wonderful mix-and-match patterns, fabrics, and designs the way she does (well, O.K., Etro...O.K., Missoni). Sale starts Wednesday, December 5th, from 8 a.m. to 8 p.m., and continues Thursday, from 10 a.m. to 8 p.m., and then ends Friday the 7th, from 10 a.m. to 8 p.m. 145 W. 18th St., 212-840-0106; www.catherinemalandrino.com (Cash and credit cards only.)
Posted on Monday, December 03, 2007 @ 03:30 PM | 6 replies View/Post Feedback
---
City Shopping
We rhapsodized about TSE Cashmere months ago, recalling that pink sweater that eluded us at Henri Bendel so many years ago. And darn, we'll miss this sale ourselves, as duty calls in Europe. But you go, and snag that symbolic pink cashmere jumper (as the Brits would call it) for us! What can we say now that we haven't already said about TSE Cashmere's goods? They're luxe? They're fabulous? They're exquisitely designed? They're too expensive for us at retail? So here they are, at up to 80% off! Go, girl, and get some.
This is a Soiffer-Haskin sale, so you know the drill: No kids (strollers, etc.), no checks, etc. Plastic and plenty of it...or cash! Sunday, December 2nd through Thursday, December 6th, from 9 a.m. to 7 p.m. daily; 317 W. 33rd St. (just west of Eighth Ave.).
Posted on Friday, November 30, 2007 @ 11:33 AM | 5 replies View/Post Feedback
---
City Shopping
We're pretty crazy about The Loom Company and all the different lines this manufacturer's rep handles. We always see them at the Gift Show and always find things that we want to write up in our sundry magazines. And when there's a sample sale at The Loom Company, you can bet that it's the real deal -- a real sample sale. That is to say, they are truly selling samples, and overruns, and extra stock, and seconds, and you-name-it. We always hustle on down to the sale, and this is the perfect time for you to play Santa yourself and stock up on great goodies for your friends at VERY good prices. (CASH ONLY, Kids!)
Expect to find goods from John Derian (ah, that master découpager), Hable Construction (can anyone do MORE with felt than these guys?), and tons of other names you might or might not know but who all make very tasteful goods. So go to the take-out bank (that's the cash machine for those of you who were born yesterday) and get some green stuff and get down there! The early bird catches a lot of worms here.
Thursday and Friday, the 29th and the 30th, from 10 a.m. to 7 p.m., and Saturday, from 10 a.m. to 4 p.m. 1140 Broadway, Suite 1602 (between 26th & 27th Sts.).
Posted on Thursday, November 29, 2007 @ 12:25 PM | 432 replies View/Post Feedback
---
City Shopping
While you're stocking up on your very practical work clothes (see yesterday's post), drop by Cassin for some luxury accessories to doll up those gabardine suits and coats. Cassin produces furs, cashmere sweaters, fabulous fun fur hats, and shawls and scarves and other accessories, and you're sure not to leave there without a small bag of goodies. Tell Santa you needed his stuff, too, and to just leave the cash for your purchases at both Linda Richards and Cassin.
Sale starts tomorrow, Wednesday, November 28th and goes through Friday the 30th, from 10am to 7 p.m., at the Cassin showroom, 150 W. 30th St. (between Sixth & Seventh Aves.), 5th flr., 212-564-0946.

Posted on Tuesday, November 27, 2007 @ 11:25 AM | 5129 replies View/Post Feedback
---
City Shopping
Linda Richards can always be depended upon for her semi-annual warehouse sales. Lots of wonderful work clothes -- pants, skirts, suits, and really great winter coats. This woman never met a bolt of gabardine she didn't like. We always manage to find lots of things here to fill in holes in our ever-expanding wardrobe, and sometimes we have to buy them in many sizes, to fill in the holes in the ever-expanding size range in our closet. Among the outerwear, expect to find wondrous cashmeres, alpaca, angora, and her usual gabs, including her very versatile raincoats. And of course, stock up on all your work-clothes needs.
The sale started just before Thanksgiving and goes through December 2nd (9am to 6pm daily), so you have plenty of time. Buy what you want and then just tell Santa to give you the cash for it. How could the big guy refuse when you tell him that you paid wholesale or below? 209 W. 38th St., Suite 505 (between Seventh & Eighth Aves.), 212-382-2257
Posted on Monday, November 26, 2007 @ 10:49 AM | 248 replies View/Post Feedback
---
City Shopping
It's that time of year again, although it's hard to believe....but you better. The tree at Rock Center is going up as we speak and the first day of Chanukah is barely three weeks away. So, it's time for that wonderful sale of handsome, handmade gifts at the Upper West Side Jewish Community Center. It runs for two days, Tuesday and Wednesday, November 13th and 14th, from 11 a.m. to 8 p.m. The Center's very talented studio art/craft teachers sell their goods, so count on everything from exquisitely crafted, beaded, blown-glass, gold, and silver jewelry; textiles/scarves/wovens; and ceramic sculptures and utilitarian objets, among the many fine craft items these pros produce.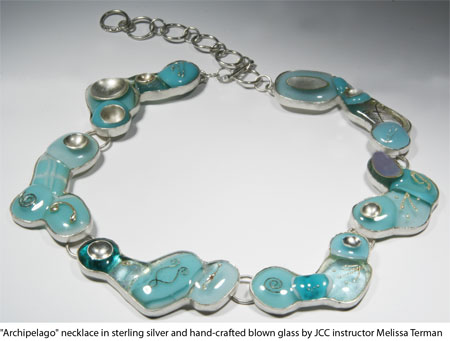 The JCC is at 334 Amsterdam Avenue, at 76 Street, and the Jewelry, Ceramics, and Wearable Art Holiday Sale takes place in the lobby in the Samuel Priest Rose building. Check out more info at www.jccartstudios.org. (If you're intrigued, you can even register for classes from these gifted instructors!) Cash, checks, and plastic accepted.
Posted on Monday, November 12, 2007 @ 03:30 PM | 0 replies Start the Discussion
---
City Shopping
The shops at the Metropolitan Museum of Art have been having a sale the last few weeks (shame on us, we were out of the country, so we just didn't get a chance to attend to blogging, but more about that in later posts), which ends on Monday, so here's your chance to get last licks in. The Museum has reduced tons of items (stock up now for Christmas, because it's not too early to think Santa -- despite the fact that it feels like summer outside!), and take advantage of the reductions up to 50% off original retail.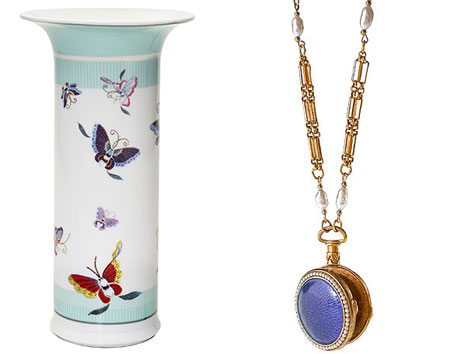 Here are but a few items you might find on sale: A Chinese trumpet-style "Butterfly" vase (porcelain), originally $85, now $57.38 (for members and $63.75 for non-members); a pearl-and-enamel chatelaine, normally $140 and on sale now for $62.99 (members) and $69.99 (non-members). The Metropolitan Museum of Art, 1000 Fifth Ave., 212-570-3894; other locations include Rockefeller Center, 15 W. 49th St.; Macy's Herald Square, 151 W. 34th St.; 800-468-7386.

Posted on Thursday, October 25, 2007 @ 12:31 PM | 0 replies Start the Discussion
---
City Shopping
We're not sure just what this sale is promising today, but we're going to check it out later and we'll report from the front.  It's allegedly supposed to have Gucci and Pucci…and Chanel and Hermès.  We shall see just how much of each of these houses it actually has for sale…and for how much off.  The material sent to us by our friends at Lazar Media says that there will be clothing and accessories at 75% off.  Stay tuned for tonight's report.  But in the meantime, here is what you need to know:  It's today and tomorrow, at the Shoreham Hotel, 33 West 55th Street (between Fifth and Sixth Avenues), Ground Floor; from 10 a.m. to 7 p.m.....credit cards accepted.
Posted on Wednesday, September 26, 2007 @ 01:14 PM | 184 replies View/Post Feedback
---
City Shopping
Tourneau is having a BIG sample sale, up to 70% off (so forget your cousin in the biz who could get you a "good" watch for 30% off).  It started on Saturday, but you have until Thursday, the 20th to stock up on all those Jaeger LeCoultres and Vacherons that you've lusted after for so long.  There will also be some estate pieces and some pre-owned timepieces.  Hey, it's worth a look-see, for sure, even if your pockets aren't bulging with moolah, or watches, for that matter. Daily, from 9 a.m. to 6:30 p.m., at the usual Soiffer Haskin joint:  317 W. 33rd St., just west of Eighth Ave.  Again, as usual, no children, no strollers, no cash (credit cards only), and come with time on your hands, so you can buy some more.   
Posted on Monday, September 17, 2007 @ 02:59 PM | 46 replies View/Post Feedback
---
City Shopping
Nancy Koltes Linens are among the finest.  (If you know her charming little NoLita shop, then you already know what treasures her linens are.)  So, here's your chance to snag some, at maybe 80% off retail…O.K., so not every style in every color in every size is going to be available, but there will be plenty from which to choose—sheet sets, duvet covers, towels, home accessories, and loungewear, in a variety of Jacquards, sateens, percales, and prints.  You already know the usual drill for those Soiffer Haskin sales:  No strollers, no kids, no cash, no checks (credit cards only).  Today, tomorrow, and Tuesday, from 9 a.m. to 6:30 p.m. at 317 W. 33 St. (between 8th and 9th Aves.)


Posted on Sunday, September 09, 2007 @ 06:00 PM | 43 replies View/Post Feedback
---
City Shopping
Tomorrow, one day only (we are sorry to say), it's Eileen Fisher's clean-out-the-boutiques sale;  this is the Fisher shop (her first) where all the sale merch from her other shops usually ends up—not to mention oddball one-off's, irregulars, and unusual samples that really are samples.  (How odd for a sample sale—real samples!)  Anyhow, we have often waited for favorite items that we just couldn't bring ourselves to spend on, at retail, to wind up here and once in a while we have been rewarded, but caveat emptor, not always.  Tomorrow, Saturday, from 10 a.m. to 7 p.m., at 314 E. 9th St., between First and Second Aves.
Posted on Friday, September 07, 2007 @ 02:51 PM | 1 reply View/Post Feedback
---
City Shopping
We should have put this Hermès "sample" sale up a few days ago, when we listed the Million Dollar Babe night, and for that matter, we should have listed the sale for Intermix, too -- all of them at the Metropolitan Pavilion. For all you label-conscious competitive shoppers, though, the first stop would have been the fourth floor gallery, for the Hermès sale, on Thursday, continuing through today. Now, we're not saying that you'd have walked out with the proverbial kitchen sink, but there were plenty of scarves, ties ($89 instead of the retail of $145), shoes, clothes, and a smattering of leathergoods, home goods, and assorted tschotschkes. The scarves were the doggie ones--the ones that they just don't really move in the store, but we suppose if you are stuck giving a gift to your great-aunt's sister (and you didn't really need a box for it), then snagging a scarf here would have been o.k. (After all, $195 sure beats $325 or is it $345?) There were none of our favorites, none of the top-sellers, no luscious florals, no popular patterns (like "Les Clefs," oldies and goodies that we collect, like "Les Rubans"), and so on. But, so be it. There were amazing shoes for men and clothes galore....real finds, at a fraction of their retails--but even then, they were thousands and thousands. So, if you have money to burn, and are a fan of the esteemed saddlemaker, we promise that next year, we'll give you a heads-up really early. Be prepared, though, to stand in a queue for a long time.
Posted on Saturday, August 25, 2007 @ 05:28 PM | 3 replies View/Post Feedback
---
Subscribe to this Blog's
Feed