City Shopping - Women's Shoes Blogs
Back to Blog... | View More Bloggers...

About the Author: About the Author: Ruth J. Katz is a well-known shopping and service writer based in New York City. She has written about shopping for 25 years for New York magazine; covered the topic on-air at Fox-TV for several years as the Home Services expert; and had her own show on both the USA and Lifetime Cable networks. Katz wrote extensively for The New York Times as well, and contributed periodically to the New York Daily News. She is a passionate shopper, always looking for not merely a good buy, but the best buy, ferreting out a "steal" or discovering up-and-coming designers. She has written five books and is a former contributing editor to Hearst's Redbook, Classic Home, and Colonial Homes; she is currently a Contributing Editor of New York Home, Golf Connoisseur, The Modern Estate, and Promenade magazines. She is also the former Shopping Director for Davler Media's Manhattan Living.


---
City Shopping
One hundred and sixty years ago, Bally & Co. was founded by the Brothers Bally in Schönenwerd, Switzerland. Appropriately, enough, in the family's basement, as these stories go. While Carl Franz and Fritz Bally worked together for a few years, Fritz left the business and not long after that, Bally set up a shoe factory to craft the goods that Carl was manufacturing. The firm grew exponentially, and by 1916 employed 7,000 workers.
The company's shoes were always in demand, it seemed: It was Bally boots that climbers wore to ascend Mount Everest in 1953; it was Bally footwear that was donned by the Swiss athletes in 1956 at the Winter Olympics in St. Mortiz; and it was Bally footwear that went to the moon in 1969 -- that famous "That's one small step for a man, one giant leap for mankind." Well, that foot was wearing Bally. Bally can even lay claim to developing and designing the first classic pump, as we know it today.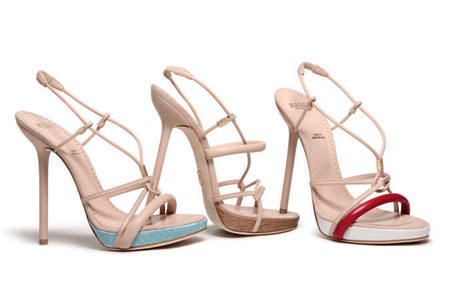 Of course, these days, the company is regarded for its stylish fashion, small leather goods and accessories, as much as it is for those famous coveted shoes. The joint creative directors, Michael Herz and Graeme Fidler, have created a unique contemporary aesthetic for the brand, revolving around the element of surprise garnered by the unexpected juxtaposition of materials, styles, aesthetic. As Bally celebrates its 160 years of style, innovation, and fine craftsmanship, the company has produced a delightful, two-minutes-forty-second video here, celebrating its heritage. Enjoy 160 years in 160 seconds!
Posted on Thursday, September 29, 2011 @ 02:09 PM | 0 replies Start the Discussion
---
City Shopping
If you are having a lazy Martin Luther King Day here is quickie errand you can run, while hopefully, not running up too large a bill on your charge card:  Yes, it's another Soiffer Haskin sale.  Today, tomorrow (Tuesday), and Wednesday (the last day).  Stuart Weitzman (one of our favorite shoe manufacturers (because, yes, we wear a size 10.5 and nobody makes that size, but we can always find something at Weitzman that fits just right and is stylish, too).  And Krizia, too.  And we don't need to embellish about Krizia, do we? 
So, here's the usual deal: Soiffer Haskin, 317 West 33rd Street, just west of 8th Avenue; credit cards only; all sales final; strollers not allowed; no children under 12 will be admitted. 
So, go out and get yourself some shoes!
Posted on Monday, January 21, 2008 @ 01:33 PM | 3812 replies View/Post Feedback
---
City Shopping
We're not sure just what this sale is promising today, but we're going to check it out later and we'll report from the front.  It's allegedly supposed to have Gucci and Pucci…and Chanel and Hermès.  We shall see just how much of each of these houses it actually has for sale…and for how much off.  The material sent to us by our friends at Lazar Media says that there will be clothing and accessories at 75% off.  Stay tuned for tonight's report.  But in the meantime, here is what you need to know:  It's today and tomorrow, at the Shoreham Hotel, 33 West 55th Street (between Fifth and Sixth Avenues), Ground Floor; from 10 a.m. to 7 p.m.....credit cards accepted.
Posted on Wednesday, September 26, 2007 @ 01:14 PM | 184 replies View/Post Feedback
---
City Shopping

When Té Casan opened on West Broadway last year, we thought we had died and gone to heaven. Well, now we're off to a loftier aerie -- the new shoe department at Saks Fifth Avenue.  While Té Casan boasted over 5,000 square feet of footwear -- everything from slides to sneakers -- the new Saks shoe department, on the entire eighth floor, boasts a cool 10,000 square feet, and more than 100,000 pairs of shoes. Be still our heart. (Maybe we're having déjà vu all over again, but somehow, we remember from our youth, an entire floor at Saks devoted to shoes.)  O.K., you probably won't find the cutting-edge foot finery at Saks, as you would downtown at that Soho newcomer (or maybe not even so many name brands as at the warehouse-y DSW), but Saks' eighth floor can brag about something no other shoe department -- dare we say in America? -- has:  its very own zip code.  We are not kidding.  It opens tomorrow, so get out your plastic and hie thee to Fifth and 50th for all the usual suspects (Chanel, Prada, Stuart Weitzman) and countless other brand names that may be new to you.  Bring peds.
Posted on Thursday, August 16, 2007 @ 06:43 PM | 34 replies View/Post Feedback
---
City Shopping
Celine, the French maker of fine quality small leather goods, as well as handbags, shoes, and tailored, tasteful accessories, is ending a sample sale today…and if only we'd had the two seconds to post it yesterday.  But, you have until 3 p.m. tomorrow, Thursday to make it there, to get yourself to the company's offices (at 19 East 57th St., 8th floor, 212-931-2120), to take advantage of the huge savings on the luxury goods.  Bring ID to get into the building and a credit card to pay for your bounty. 
Posted on Thursday, August 02, 2007 @ 10:33 AM | 271 replies View/Post Feedback
---
City Shopping
We have a few pairs of Patricia Green's fun, comfy, and cuddly slippers in our closet and we love them on nippy, wintry nights.  That's why we were especially happy when "The Slipper Queen," Patricia, started adding casual outdoorsy shoes to her line…comfy as slippers, but real shoes you can walk the dog in.  For a twinkling July Fourth, these two pairs are winners…and we just love sparkly things, anyhow. (By now you know, we never met a rhinestone or a sequin we didn't like.)


The Italian gel ballerina flats (left; $92) are made of clear rubbery stuff, embedded with golden, magical glitter; the sock lining is either sexy zebra or leopard…yummy. The gel thong sandal (right; $66) has a cushy, soft rubber sole; the upper is encrusted with shimmering rhinestones.

Get them at www.patriciagreen.com or call 1-877-486-1499…and then tap dance your way into the hearts of millions.
 
Posted on Monday, July 02, 2007 @ 10:16 AM | 1 reply View/Post Feedback
---
City Shopping
Here's another one you will not want to miss -- no matter where your feet are taking you today and the next two days, get them to hike on over to Metropolitan Pavilion.

We remember when Delman Shoes ruled Bergdorf's shoe department, on the ground floor of the store, on the Fifth Avenue side of the shop. It was a sprawling shoe department, and Delman was the classiest, most gorgeous line, which made up the largest chunk of the merchandise there…nobody made ballet flats like Delman, and frankly, nobody does today, either. Nobody did as many cute, clever, smart, stylish things with a ballet flat the way Delman did and does. (But, of course, ballet flats are just one part of the sexy, trendy line.)

Well, Delman has never stopped manufacturing and, luckily for us, the company has a perfectly marvelous sample sale starting today. Expect to find lots of the spring and summer line there, and even some early fall styles. When the sale used to be held at the corporate headquarters, the "ladies" lined up early and waited hours to get in. Mercifully, the sale is now staged at a new location that can accommodate many more pairs of feet! The details: Wednesday through Friday, May 16th through the 18th from 10am to 7pm at the Metropolitan Pavilion, 123 W. 18th St., fourth floor (between Sixth & Seventh Aves.), 212-399-2323. Credit cards and cash; no checks. Take your cards with the big limits as you'll probably go over your budget -- we always do. 
Posted on Wednesday, May 16, 2007 @ 12:24 PM | 368 replies View/Post Feedback
---
Subscribe to this Blog's
Feed