City Shopping - Art Blogs
Back to Blog... | View More Bloggers...

About the Author: About the Author: Ruth J. Katz is a well-known shopping and service writer based in New York City. She has written about shopping for 25 years for New York magazine; covered the topic on-air at Fox-TV for several years as the Home Services expert; and had her own show on both the USA and Lifetime Cable networks. Katz wrote extensively for The New York Times as well, and contributed periodically to the New York Daily News. She is a passionate shopper, always looking for not merely a good buy, but the best buy, ferreting out a "steal" or discovering up-and-coming designers. She has written five books and is a former contributing editor to Hearst's Redbook, Classic Home, and Colonial Homes; she is currently a Contributing Editor of New York Home, Golf Connoisseur, The Modern Estate, and Promenade magazines. She is also the former Shopping Director for Davler Media's Manhattan Living.


---
City Shopping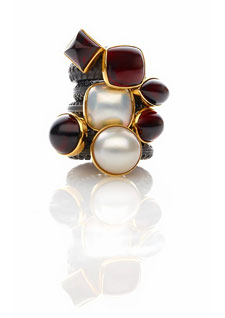 The word "loot" conjures up images of precious (perhaps purloined?) treasures—the spoils and bounty of war, plundered golden artifacts encrusted with diamonds, chalices and goblets dripping with ormolu, tomb-raided objets d'art. You get the idea: Prized, valuable "stuff," objects that can elevate the spirit or enlighten civilization—things meant to be coveted and cherished.
Twelve years ago when the Museum of Arts and Design began its annual LOOT extravaganza-event, it was hoped that the buying public would react that way—and come to purchase the splendorous and valuable jewelry showcased in this pop-up shop/exhibit. Here are riches designed by contemporary studio artists—jewelers you do not find at a typical "jewelry store"—many of whom have never shown in the States. Their works are inventively modern pieces, some created with precious metals and stones, and other jewelry crafted from unexpected materials such as titanium, stainless steel, glass, wood, rubber, fabric, leather, paper, and found objects.
Unlike any other jewelry event in the country, LOOT 2012 gives aficionados and neophytes alike the opportunity to meet some of the most innovative and sought-after jewelers working today...and to buy highly collectible bijoux from these gifted artists. This curated edition of LOOT is the grandest ever and represents an international cavalcade of over 50 fine jewelers. (It will also showcase the work of jewelry students from Gotham's own Fashion Institute of Technology.)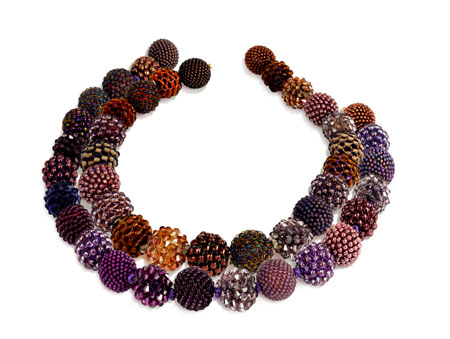 For the first time, LOOT will honor esteemed German jeweler Axel Russmeyer, who will receive the inaugural LOOT Award for Contemporary Art Jewelry. Russmeyer's signature work is constructed from extraordinarily stunning, ethereal, and elegant beaded-beads that he painstakingly creates by hand and then works into the most appealingly seductive earrings, necklaces, and bracelets (such as the one pictured above). Talk about wanting to covet jewelry—he's your man. (Russmeyer's works at the show will range in price mostly from $1,250 to $3,250, although there are highly desirous necklaces that soar up to $12,500.)
The show-sale is being staged September 11 to 15 at the Museum; proceeds benefit the exhibition and education programs of the Museum of Arts and Design. LOOT 2012 is made possible in part through the generosity of the Silver Institute: Silver Promotion Service and MAD's Jewelry Study Day is supported by Van Cleef & Arpels. Additional info: madmuseum.org; madaboutjewelry.tumblr.com
Posted on Tuesday, September 11, 2012 @ 12:45 PM | 0 replies Start the Discussion
---
City Shopping
A mere two years ago, the Masterpiece London art/collectibles show was established, staged at the former Chelsea Barracks. The fair, offering an extraordinarily wide range of goods—from cars, fine wines, timepieces, barometers, and ceramics, to fine and decorative arts and jewelry—featured 118 exhibitors, and resulted in a solid attendance record,18,000, which is certainly strong for a first-time exhibition. A year later, the show moved to its now-permanent home, the South Grounds of the Royal Hospital Chelsea, and the roster of dealers grew to over 150, while the number of attendees mushroomed to more than 28,000, among whom were HRH Prince Harry, Sir Elton John, Oprah Winfrey, Anish Kapoor, and Tom Ford. This year's show, with over 5,000 people attending the opening night preview over the weekend, promises to produce even greater numbers. (There are three more days to catch the show, so if you're in London, this is the place to be.)
Dealers from the world over have converged for the 2012 staging, and they are selling over £1 billion of collectibles—fine and decorative arts, Egyptian artifacts, jewelry, textiles, prints, contemporary art, automobiles, fine wines, clocks and watches, porcelains and ceramics, furniture, and objets de vertu. Galleries include a veritable who's who in the art world and also in the world of luxury collectibles, such as Hemmerle, Vacheron Constantin, Verdura, Ruinart Champagne, Rolls Royce Motor Cars, S. J. Phillips,Ltd., Marlborough Fine Art, Linley, Kentshire Galleries, Theo Fennell, and A La Vielle Russie; they are merely the proverbial tip of the iceberg in a list that again numbers well over 150.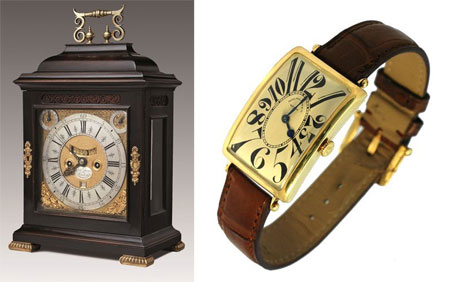 The show offers the world's best in fine and decorative arts and bespoke collectors' items. According to Masterpiece London Chairman, Philip Hewat-Jaboor, "This year the fair has attracted many of the most serious collectors, curators, and patrons from the Middle East, the Far East, Europe, America, and Canada. We've seen an incredibly high caliber of visitor, including Lord Thompson, Sheikh Al-Thani, Rose Tarlow, Charles Saatchi, Terence Conran, and Jeffery Archer, to name a few." New York City collector Roy Zuckerberg, who has experienced the fair since its inception, commented, "There's a wonderful crowd at Masterpiece London. As a collector the fair is excellent and gets a little better every year…and I'm a three-year veteran."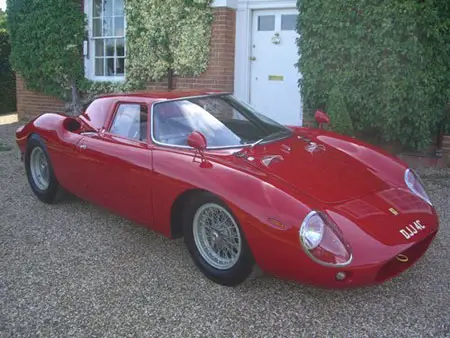 Presenting a snapshot of the history of art and design from antiquity to the present day, Masterpiece London provides visitors with the opportunity to view stellar offerings, all under one roof. The show is open today, Monday, from 11 a.m. to 9 p.m.; Tuesday, from 11 a.m. to 6 p.m.; and Wednesday, from 11 a.m. to 9 p.m. Tuesday's earlier closing allows time for Masterpiece London's charity event, the Masterpiece Midsummer Party, from 7 p.m. to 10 p.m., which supports CLIC Sargent, the UK's leading cancer charity for children and young people. Tickets for the fair are £20 per person and for the CLIC party, £150 per person. Tickets can be purchased online at www.masterpiecefair.com, where additional information is also available.
Posted on Monday, July 02, 2012 @ 10:50 AM | 0 replies Start the Discussion
---
City Shopping
Some years ago, I had the delightful pleasure of sipping a glass of something (stronger than iced tea) in the bucolic and serene garden-bar of the exquisite Baur au Lac Hotel's La Terrasse bar in the hotel's verdant, tranquil garden, Le Jardin, far from the proverbial madding crowd. You'd never know that beyond the gated perimeter, there is a cosmopolitan din and bustle, because in this tranquil enclave there is nothing but harmony -- not to mention fine food and delicious potions, many of them highly creative alcoholic indulgences.
However, as of this past weekend, and running throughout the summer -- well, at least until August 6th -- there is also some delicious eye candy in the form of astonishing sculptures dotting that Kelly-green grass. Curated by Gigi Kracht, the wife of sixth-generation hotelier-owner Andrea Kracht, the show was assembled with the well-knolwn, local Galerie Gmurzynska and features the works of renowned artists, including Fernando Botero, Alexander Calder, Robert Indiana, Joan Miro, and Kenny Scharf, among the roster. There are now 16 more reasons to spend a few Euros in the café-bar and relax for a spell with the Kracht family and their extended staff-family, who are without doubt, the ne plus ultra in the fine art of Swiss hospitality. Culture, cuisine, and curious-people-watching await you.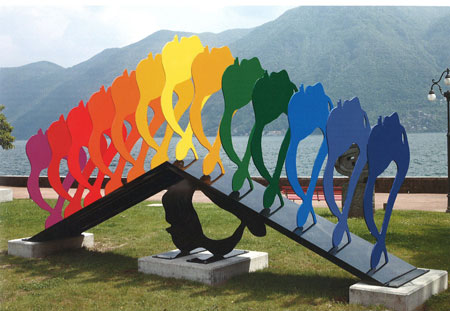 "Art in the Park" has been a Zurich institution since 2006 and usually debuts a week prior to Art Basel, which opened last evening, so this is, indeed, a Big Weekend locally...and if you are there, take advantage of this embarrassment of riches in the world of fine art, topping it off with a libation with a fancy umbrella in it as you sit under the cossetting, oversize, white umbrellas in the garden.
Posted on Friday, June 15, 2012 @ 11:52 AM | 0 replies Start the Discussion
---
City Shopping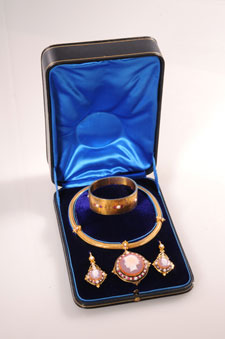 The Art and Antique Dealers League of America (AADLA) is staging its second incarnation of one of its major shows, The Spring Show NYC, running from May 2nd (opening benefit) to May 6th; the show will be mounted at the Park Avenue Armory once again. The five-day visual and shopping extravaganza will be a real treat for veteran collectors as well as for neophyte wannabe-collectors, who, in the past, may have been intimidated by some of the "big" antique shows that dot the fine art calendar throughout Gotham's social season.
New York City has traditionally been one of the biggest and most robust art markets in the world, and this second installation of the AADLA show is the highlight of Arts and Antiques Week NYC, and the opening night gala of the show will once again benefit for the ASPCA. The evening is co-sponsored by 1stdibs.com, the upmarket, online marketplace that presents an artfully curated selection of highly coveted items from many prestigious dealers in the high-end/estate sector as well as from 20th- and 21st-century design sources—the site showcases the finest antiques alongside interesting, unusual collectible objets. Noted Clinton Howell, the League's president (and the owner of Clinton Howell Antiques on the Upper East Side), "We are delighted to welcome back 1stdibs, and the ASPCA as our partners, and look forward to building upon the success of last year's inaugural fair."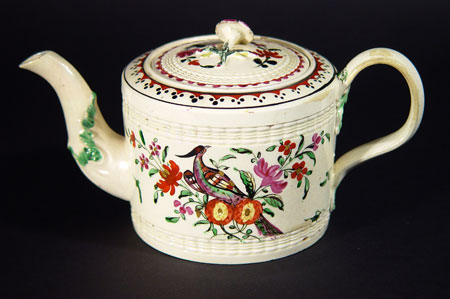 If last year's show is any measure, expect to be mesmerized by a panoply of exquisite, luxury antiques—everything from extraordinary furniture to sterling tabletop wares, sculpture, glass, nautical art, ceramics, paintings, maps, antiquities, tribal art, and textiles—and that is only a part of what will be on view and for sale, to be ogled over with appreciation and awe. With over 60 well-known, respected galleries exhibiting, there is assuredly something for everyone—at price points that will not scare off the newcomer interested in building a collection. Some of the premier galleries returning to the show include: Kentshire Galleries, Hyde Park Antiques (piece pictured below), Carlton Hobbs, Dalva Brothers, Earle Vandekar of Knightsbridge (pictured above), Leo Kaplan (necklace pictured at top), L'Antiquaire & The Connoisseur, Yew Tree Antiques, Vallin Galleries, and E&J Frankel.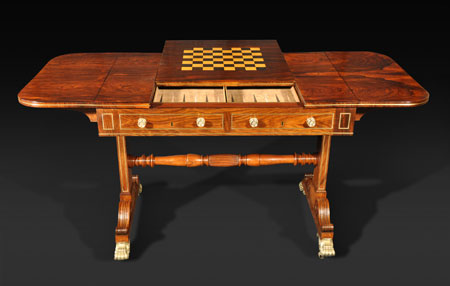 It is also worth noting that The Spring Show NYC is a vetted show—every item in every booth is examined by panels of specialists for authenticity. The vetting experts also ensure that comprehensive, accurate labeling is attached to every piece. (Vetted shows are the standard for all quality art and antiques fairs.) The show will be open May 2nd to the 6th, and the Armory is located at Park Avenue and East 67th Street. Tickets for the opening night VIP preview, May 2nd, are $250, and the evening's proceeds benefit the ASPCA. Tickets for the show, May3rd to the 6th, can be purchased at the Web site www.springshownyc.com; the event is staged by The Art Fair Company, 800-563-7632.
General Admission: Thursday, May 3rd: 11 a.m. to 7:30 p.m.
Friday, May 4th**: 11 a.m, to 9 p.m.
Saturday, May 5th: 11 a.m to 7:30 pm
Sunday, May 6th : 11 a.m. to 6 p.m.
Tickets are $20 for a single day of general admission and $40 for a four-day pass
**Arts' Night Out has been designed for the younger collector, the 20- 30-year-old, and it is a great way for a fledgling collector--one who is just starting out or one who is thinking about it--to gather some valuable professional insight and advice-and for free. And that's not the only thing gratis: Members of young-patrons groups at museums and other cultural organizations around New York City (like the New-York Historical Society, for example) are eligible for free admission. Otherwise, $30 tickets are available at the door.

Posted on Tuesday, May 01, 2012 @ 05:23 PM | 1 reply View/Post Feedback
---
City Shopping
Every year it is with great pleasure that we herald the SOFA Show staged at the Park Avenue Armory, and this year, marking the exhibition's 15th year, is no exception -- the only difference is that the show keeps getting better and better with every incarnation. SOFA is not about furniture -- divans and recamiers. It is the acronym that stands the Sculptural Objects & Functional Art Fair, a visual extravaganza for outstanding, cutting-edge, and contemporary decorative arts and design. The show will feature the work of more than 600 major artists, from several dozen galleries/dealers, from a dozen countries, all displaying some of the most remarkable work, including jewelry, fiber art, glass, wood, ceramics, paper, and who-knows-what-else.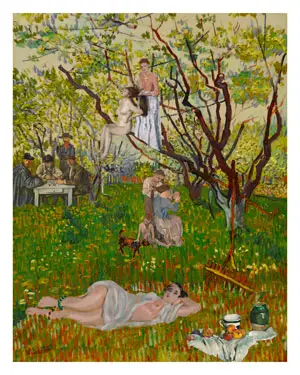 This is a serious show for collectors, but it's also a magnet for browsers who want to be educated and for shoppers who might want to pick up, say, a one-of-a-kind "statement" pieces: Beaded-bead necklaces from German jewelry designer Axel Russmeyer; or museum-quality glass sculpture from the important glass artists handled by the Heller Gallery; or at Ferrin Gallery, Lucy Feller's fanciful photo assemblages that tell a family history or celebrate a personal milestone -- or something from her latest collection of works which explore the theme of "coveting" (at right).

This year there are new international galleries presenting their artists, including Cultural Connections CC from Missenden, England, a gallery that specializes in Danish ceramics; Erskine, Hall & Coe, dealers in 20th century and contemporary ceramics, including the works of Lucie Rie and Hans Cooper, from London's Mayfair; Flow Gallery, also from London, showcasing Henk Wolvers, whose Lines porcelain piece was recently purchased for the Victoria & Albert Museum; and the Megumi Ogita Gallery, from Tokyo, which represents young Japanese and American artists who are known for working with traditional materials in startling new expressive forms.
Returning exhibitors include the Ferrin Gallery (Pittsfield, MA), the TAI Gallery (Santa Fe, NM), Sarah Myerscough Fine Art (London), Duane Reed Gallery (St. Louis, MO); Heller Gallery (New York); Jane Sauer Gallery (Santa Fe, NM); Lacoste Gallery (Concord, MA); Scott Jacobson Gallery (New York); Wexler Gallery (Philadelphia); and William Zimmer Gallery (Mendocino, CA). Jewelers are plentifully represented, as well, and there is always stunning work (and fabulous vintage, collectibles, as well).
As always, cutting-edge international art jewelry will have a strong presence; expect to see wonderful, innovative jewelry from dealers like Charon Kransen Arts (New York City), Ornamentum (Hudson, NY) and Sienna Gallery (Lenox, MA).

The show will run from Friday, April 20th to Monday, April 23rd; Thursday evening, the 19th, the Armory is open to invited guests only, from 5 p.m. to 7 p.m., but from 7 p,m. to 9 p.m., it is open for a paid preview ($100 tickets, available on line and at the door). Throughout the four days, special events, tours, and lectures will be staged. The lectures are on Friday and Saturday, when noted artists, curators, and collectors will present illustrated talks in the Tiffany Room; admission is included with a valid SOFA ticket unless noted otherwise).
General exhibition hours: Friday, April 20th, 11 a.m. to 7 p.m.; Saturday, April 21st, 11 a.m. to 6 p.m.; Sunday, April 22nd, 11 a.m. to 6 p.m.; Monday, April 23rd, 11 a.m to 5 p.m. Tickets are $25 for a single day of general admission and $40 for a four-day pass; both ticket prices include the catalog (quantity permitting). For general information, visit www.sofaexpo.com; call 800-563-SOFA (7632) or 312-587-7632.
Posted on Monday, April 16, 2012 @ 04:16 PM | 0 replies Start the Discussion
---
City Shopping
Art is a-popping these next few weeks here in Gotham and that should be a real treat for collectors, design aficionados, art-insiders, as well as curious neophytes to the art world. The annual Winter Antiques Show, the granddaddy of them all, in its 58th season, opens this week at the Park Avenue Armory, and promises to deliver, as usual, art of all stripes -- provided thast art comprises antiques through the 1960s. The show features the best of the best, and is arguably the most prestigious antiques show in America. There are photographs, antiquarian books, extraordinary needlework/textiles, furniture, ceramics, ironwork, and even eye-popping vintage jewelry.
However, the entire second half of the month promises to be an art-lovers' delight, with so much more to view, and perhaps to buy. Two shows not to miss:

The Art Fair Company -- which organizes, among other fairs, the Sculpture Objects & Functional Art Fair, which we always rave about -- will launch The Metro Show, a new arts and design fair that will replace The American Antiques Show (TAAS), formerly organized by the American Folk Art Museum (which, despite some rough patches, is still breathing, thank you very much). Among some of the dealers who are premiering at this new, expanded show are New York galleries Barry Friedman Ltd.; Cavin-Morris; Galerie St. Etienne; and Schillay Fine Art. Expect to see objets spanning 300 years of remarkable American design, ranging from folk art, furniture, fine and decorative arts, to jewelry, ceramics, silver, and American arts and crafts, and American Indian art.
The Art Fair Company will add a few new components to the old American Antique Show, including European fine and decorative arts, modern design, and photography. The debut show will showcase nearly 50 exhibitors, whose offerings will encompass everything ranging from fine and decorative treasures dating from the pre-Columbian era through the twentieth century, including such diverse works as Japanese woodblock prints and tribal, oceanic art.
The opening night preview will take place Wednesday, January 18. The American Folk Art Museum will host a fundraising dinner that same evening in conjunction with the preview. The Metropolitan Show will be held January 19-22, at the Metropolitan Pavilion, 125 West 18th Street. The opening night preview party is by invitation and costs $75. The show will be open to the public from Thursday through Sunday, daily from 11 a.m. to 7 p.m., save for Sunday, the last day, when the show closes at 5:30 p.m.
Also opening this week, with the debut evening's gala (by invitation) on Friday the 20th, is the Master Drawings Week show, open to the public from Saturday the 21st to Saturday, the 28th, with works being shown at various galleries along Madison Avenue. Collectors, connoisseurs, curators, and art aficionados who appreciate works on paper look forward annually to Master Drawings/New York in January. This acclaimed event is a visual feast of highly sought-after art work -- from water colors, oil sketches, pen-and-ink drawings, pencil renderings, old botanicals, and so on -- all on paper. (The two dozen dealers who are part of this extravaganza do not show prints or photography.) Offerings include everything from incomparable 16th-century drawings to more modern, 21st-century pieces, with prices ranging from the low thousands to over the million-dollar mark.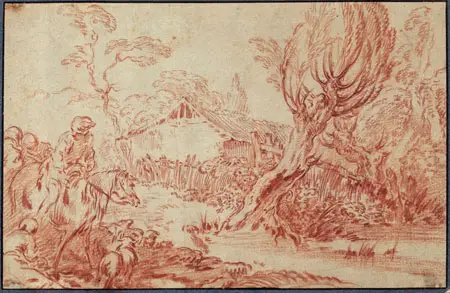 Among the specialty dealers participating in MDNY is Monroe Warshaw of Kunstkabinett (showing at Kraushaar Galleries, 74 East 79th Street; 212-288-2558), who has focused on Old Master drawings for the last decade. While his specialty area is the highly sought-after and scarce Northern Drawings (early Netherlandish and German), Warshaw also deals in Italian and French works. Pictured above is a rare, early drawing by François Boucher (1703-1770), a work that shows Watteau's influence on the artist, evident in the willow tree and farm buildings.
All the dealers are on the Upper East Side, so strolling from venue to venue presents an opportunity for a pleasant promenade up Madison Avenue. The week of viewing premieres with previews (by invitation) Friday evening, January 20th, and continues daily, open to the public, until Saturday, January 28th, open daily from 11 a.m. to 6 p.m,, but on Sunday, the 22nd, form 2 p.m. to 6 po.m. For further information, call 212-755-8500.
Posted on Monday, January 16, 2012 @ 06:20 PM | 0 replies Start the Discussion
---
City Shopping
Tonight is the night! SOFA opens. That is to say, the show for sculpture objects, fine art. (Get it? SOFA?) This is a show we look forward to annually. For years, we covered the fine craft category for The New York Times and have followed the rise of museum-quality craft, elevated to its proper place in the pantheon of art and design. (That age-old argument of what is art and what is craft is a tricky, sticky wicket which we have no desire to enter into, thank you very much.) So as far as we are concerned, fine craft is art and the SOFA show underscores that year in and year out.  Yes, this is the Mecca show for serious collectors, gallery owners, dealers, and well, just plain interested shoppers. 

It is here that you will find extraordinary, contemporary decorative arts and unusual, superlative designs from more than 60 galleries, hailing from 11 countries, with many luminaries in their fields, like ceramist Bennett Bean (above left), furniture-maker Sam Maloof, and glass maestro Dale Chihuly, all exhibiting here. We have so many favorites, it's hard to enumerate, but we always gravitate to the jewelry of German designer Axel Russmeyer and to the presentation from the Charon Kransen Gallery (which represents many modern jewelers who work in unexpected media); we love the glass at Heller Gallery, which represents Lino Tagliapietra (above right), one of the finest glass artists in the world; we love the ceramics of Mara Superior, the photo works of Lucy Feller, and the sculptural, folded Japanese paper by Nishimura Yuko (below)...and on and on and on and on.  

If you've never been to SOFA, make this the year to get enlightened and see the amazing work -- ceramics, glass, metalwork, jewelry, woodworking, and so much more -- at the exhibition (and needless to say, sale, since this is capitalist America and the works shown here are for sale), opening tonight at the Park Avenue Armory, on Park Avenue at 67th Street. This evening, from 5:30 to 9 p.m., is the big-deal preview, with $100 tickets. It's a great gala (always with exceptional food and fare!) and we have never missed it. But if you don't want to spend a Benny, regular tickets are $25 for a single admission and $40 for a three-day pass. The hours for the show are Thursday and Friday (the 29th and the 30th), from 11 a.m. to 8 p.m., and Saturday (the 31st) from 11 a.m. to 7 p.m., and Sunday (June 1st), from noon to 6 p.m.

Posted on Wednesday, May 28, 2008 @ 11:59 AM | 40 replies View/Post Feedback
---
City Shopping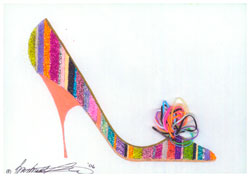 If you love shoes (and is there anyone among us who does not?), then you'll not want to miss Barbra Music's sale tomorrow, Saturday, from 1 p.m. to 6 p.m. It's an open studio sale, so you're going to get first crack at some charming "stuff" from this talented artist, obsessed as she is with creating delightful, flighty, and fun shoes -- as artwork and as for-real shoes (from her classes in shoemaking).  At this sale, there are no real shoes (she's not in the shoe business, but rather in the art business!), but there will be plenty to hang on your walls, or use as decoration, or for sharing: original shoe artwork (and without a doubt you'll find her shoe drawings and collages fanciful and whimsical); embellished shoe prints; boxed cards (for holiday and every day occasions); hand-printed T shirts, and more.

Where? 246 W. 80 St. (between Broadway and West End Ave.), Suite # 21 (fifth floor); from 1 to 6 p.m.; cash and checks.
Posted on Friday, December 07, 2007 @ 05:58 PM | 19 replies View/Post Feedback
---
City Shopping
SOFA New York is a wondrous annual show of fine craft art; the acronym stands for Sculptural Objects and Functional Art, and if you've never been to SOFA, you must head over to the Park Avenue Armory (on Park at 67th St.), Friday through Sunday (June 1st through the 3rd) of this week. There will be nearly 60 international galleries displaying some of the most amazing, refreshing, beguiling work: jewelry, fiber art, glass, wood, ceramics, paper, and who knows what else. This is a serious show for collectors, it's true, but it's also a show for browsers who want to be educated, the curious who want to see outstanding, exciting art, and for shoppers, too. (There are many price tags that are very friendly to a pocketbook that isn't bulging.) WE have never been disappointed by this show: It's awe-inspiring and actually thrilling to see just what creative minds and hands can do with paper or yarn or molten silica.



Look for the wonderfully tactile, highly inventive jewelry of Axel Russmeyer at browngrotta arts, the slightly surreal photo montage work of Lucy Feller at Ferrin Gallery, and all the cutting-edge glass sculptures and objets at the Heller Gallery space. The show is open noon to 8pm on Friday and Saturday and 11am to 6pm on Sunday. Admission for a single day is $20 and includes the beautiful catalog. For more information, log on to www.sofaexpo.com, or call 800-563-7632. (There are also lectures held in the building throughout the three days.)
Posted on Tuesday, May 29, 2007 @ 08:30 PM | 0 replies Start the Discussion
---
Subscribe to this Blog's
Feed