City Shopping - Home Accessories Blogs
Back to Blog... | View More Bloggers...

About the Author: About the Author: Ruth J. Katz is a well-known shopping and service writer based in New York City. She has written about shopping for 25 years for New York magazine; covered the topic on-air at Fox-TV for several years as the Home Services expert; and had her own show on both the USA and Lifetime Cable networks. Katz wrote extensively for The New York Times as well, and contributed periodically to the New York Daily News. She is a passionate shopper, always looking for not merely a good buy, but the best buy, ferreting out a "steal" or discovering up-and-coming designers. She has written five books and is a former contributing editor to Hearst's Redbook, Classic Home, and Colonial Homes; she is currently a Contributing Editor of New York Home, Golf Connoisseur, The Modern Estate, and Promenade magazines. She is also the former Shopping Director for Davler Media's Manhattan Living.


---
City Shopping
It's that time of year, when we are obliged to iron all our linen and cotton garments, clothing we truly depend on to keep us cool and comfy during the dog days of the season, humid summer days that are assuredly going to return in the next week. Many would wince at the thought of ironing, but I find the task a Zen-like activity, and it's also a rewarding one, 'cause you get immediate results. And when you have a good iron and a super-duper ironing board like the Rowenta IB9100 Pro Compact model, you cannot help but actually appreciate the process. (O.K., maybe I am in the minority here, and you're rolling your eyes, thinking, "She's actually extoling ironing?" But for me, there is something gratifying about hanging up a freshly ironed, crisp linen shirt, rendered to that state of elegance by your hand and a well-designed iron.)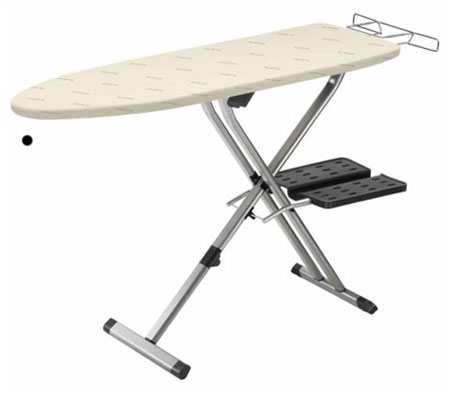 If we are like-minded, then it is Rowenta's IB9100 ironing board that you're gonna' love. Why didn't anyone think of this kind of ironing board sooner? This is a completely marvelous, brilliant product--an ironing board for those of us who are space-challenged in tiny New York City apartments. The board (when stored) measures only 45" high, but when you open it, it's a full 54" long, due to the compact aspect of the design — the end where the resting well for the iron sits folds over itself, knocking off those 9 inches in height, so it's not so cumbersome to store. Very clever.

The opening process is a snap, so you are not fumbling around trying to figure out how to slide the legs out so that they support the board, and where the mechanism locks. It's entirely self-evident and intuitive. There are adjustable heights for ease of standing (or even sitting, for that matter), as you iron. The frame has built-in wheels, making it simple to move the board around. The surface for ironing is cushy and laced with a felt layer. There is a handy steam-iron station restomg well at the end of the board. And a space to rest ironed clothing and a hanging rack... there is just nothing that the knowing geniuses at Rowenta have not thought of. Suggested retail price is $299 and it's worth each and every penny!
Posted on Friday, August 23, 2013 @ 12:47 PM | 0 replies Start the Discussion
---
City Shopping
Although the calendar said that summer officially came in late June, the unofficial beginning of the sweltering season is now, right after July Fourth. And that to me signals the time to take out the linens and cottons, the gorgeous lightweight summer clothing that, sadly, needs ironing. No way around it. BUT, there is a way to make it easy and professional: The Rowenta Company has been making irons for over 100 years and they know a thing or three about crafting a really good iron. The company's R & D is not sidetracked by manufacturing countless categories of other home appliances: Irons are their business, and in essence, their only business. (They do make floor care cleaners and vacs, but in truth, some of their floor-care cleaning products employ technology used in developing steam irons.) So, unlike other companies that produce irons and small appliances, like mixers, toasters, meat slicers, and so on, Rowenta subdivides its company's product divisions into categories of irons—professional irons/steamers, travel irons, and the like.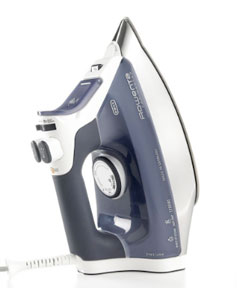 The well designed model DW-8080 (pictured here) is my new favorite. It is a powerful 1700-watt model, professional in all ways, and short of being attached to a continuous steam tank and more sophisticated machinery, it is as professional as you can get for a home model that does the job efficiently and easily. It has a stainless soleplate with a precision tip for advanced steam distribution, and the holes on the bottom assure the same. The burst of steam is long-lasting, and the spray nozzle really covers a lot of ground, so you can dampen a pesky linen shirt over half its front, with one big burst of steam. And I have noticed that I do not have to go over the same area again and again...it delivers perfect ironing with the first (and only) glide.
The iron is substantial, but not heavy-feeling in the hand, particularly because of the ergonomic handle and the smooth glide of the soleplate. It has a good-size water tank (over 12 ounces), with a closure that is secure. It heats up quickly and has an auto shut-off if it isn't moved in 8 minutes when in the vertical position, and after 30 seconds, if it is tipped over, an excellent safety feature. Additionally unlike most irons, it can be used in the vertical position as a steamer, a real plus. Lastly—another selling point—it is self-cleaning, with anti-drip and anti-calc systems, so it produces long-lasting, continuous clean steam. (It also comes with a 10 ounce water fill cup and has a one-year warranty.) The iron retails for approximately $125, although I've found it on the Internet for less; but regardless, it's worth it as the one (and last) iron you will buy!
Posted on Thursday, July 05, 2012 @ 11:20 AM | 0 replies Start the Discussion
---
City Shopping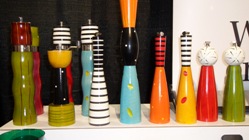 Last month, we walked miles of aisles, that is to say, 13 miles in countless aisles in Chicago's behemoth McCormick Place convention center, at the International Home Housewares Show. We scoped out the various booths where thousands of products were showcased, in several sections, including "Dine + Design," "Wired + Well," and "Clean + Contain." And don't' think these booths are like anything you've seen at a typical trade show; they are massive in size, and are made to feel like glamorous showrooms. Some have two levels, cooking facilities, hospitality suites, and so on....not to mention, all the necessary exhibition space where you can test drive products. We saw so many new, innovative gizmos and gadgets, not to mention items that sported new takes on old favorites, at the gazillions of pavilion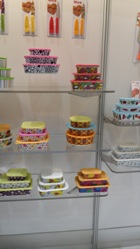 s at the show, that it's hard to pinpoint just a handful. But what we can target was the prolific use of color in all the things we saw....not that sleek, glittery chrome, shiny ebony plastic, and antiseptic white surfaces weren't in attendance-they were. But color ruled.
Herewith a glimpse of some of the housewares we spotted that created rainbows of splendid hues, sometimes splashed on unexpected accessories and appliances. In the next week or two, we'll highlight a few specific lines or products we've singled out for other reasons.
Posted on Thursday, April 29, 2010 @ 05:15 PM | 0 replies Start the Discussion
---
City Shopping
Another super sale of Italian goods Frette, this time.  Super fine and super-superior white goods as well as table linens and assorted home accessories are all for sale, at up to 70% off retail...which is good, because Frette doesn't come cheap under normal circumstances.  Here is a chance, though, to snap up some of those lovely, over-the-top, high-count sheet sets and fluffy, plush towels, not to mention a box of $100 soaps or some of those silky, clingy dressing gowns that look like they should be in a Merchant/Ivory costume drama.  The sale is at Soiffer Haskin, 317 West 33rd Street, just west of Eighth Avenue (which you probably know by heart now).  Credit cards only, and as usual, no strollers, no children under 12.  Starts tomorrow, Saturday, and continues through Wednesday, the 12th.    Hours:  9 a.m. to 6:30 daily, except Wednesday, when they will close up shop at 5 p.m.
Posted on Friday, December 07, 2007 @ 05:03 PM | 12146 replies View/Post Feedback
---
City Shopping
We're pretty crazy about The Loom Company and all the different lines this manufacturer's rep handles. We always see them at the Gift Show and always find things that we want to write up in our sundry magazines. And when there's a sample sale at The Loom Company, you can bet that it's the real deal -- a real sample sale. That is to say, they are truly selling samples, and overruns, and extra stock, and seconds, and you-name-it. We always hustle on down to the sale, and this is the perfect time for you to play Santa yourself and stock up on great goodies for your friends at VERY good prices. (CASH ONLY, Kids!)
Expect to find goods from John Derian (ah, that master découpager), Hable Construction (can anyone do MORE with felt than these guys?), and tons of other names you might or might not know but who all make very tasteful goods. So go to the take-out bank (that's the cash machine for those of you who were born yesterday) and get some green stuff and get down there! The early bird catches a lot of worms here.
Thursday and Friday, the 29th and the 30th, from 10 a.m. to 7 p.m., and Saturday, from 10 a.m. to 4 p.m. 1140 Broadway, Suite 1602 (between 26th & 27th Sts.).
Posted on Thursday, November 29, 2007 @ 12:25 PM | 432 replies View/Post Feedback
---
City Shopping
We're not sure just what this sale is promising today, but we're going to check it out later and we'll report from the front.  It's allegedly supposed to have Gucci and Pucci…and Chanel and Hermès.  We shall see just how much of each of these houses it actually has for sale…and for how much off.  The material sent to us by our friends at Lazar Media says that there will be clothing and accessories at 75% off.  Stay tuned for tonight's report.  But in the meantime, here is what you need to know:  It's today and tomorrow, at the Shoreham Hotel, 33 West 55th Street (between Fifth and Sixth Avenues), Ground Floor; from 10 a.m. to 7 p.m.....credit cards accepted.
Posted on Wednesday, September 26, 2007 @ 01:14 PM | 184 replies View/Post Feedback
---
City Shopping
Nancy Koltes Linens are among the finest.  (If you know her charming little NoLita shop, then you already know what treasures her linens are.)  So, here's your chance to snag some, at maybe 80% off retail…O.K., so not every style in every color in every size is going to be available, but there will be plenty from which to choose—sheet sets, duvet covers, towels, home accessories, and loungewear, in a variety of Jacquards, sateens, percales, and prints.  You already know the usual drill for those Soiffer Haskin sales:  No strollers, no kids, no cash, no checks (credit cards only).  Today, tomorrow, and Tuesday, from 9 a.m. to 6:30 p.m. at 317 W. 33 St. (between 8th and 9th Aves.)


Posted on Sunday, September 09, 2007 @ 06:00 PM | 43 replies View/Post Feedback
---
City Shopping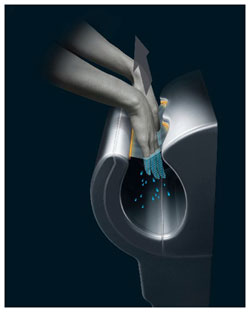 We somehow skipped writing all the stories we wanted to do on spring cleaning (we'll get to a few of them still; we'll just have to call them "summer cleaning"), but vowed to at least write up the new Dyson canister vacuum, which we test-drove recently.  (It sure sucked up all that Golden Retriever dog fur lurking around the old homestead, so we're happy!)  We do, however, have a better Dyson product here to tout -- the Airblade Hand Dryer -- although, we hasten to add, this is assuredly not for anyone.

We think you have to have a major mansion, with a basement family level -- outfitted with a pool, spa, home-entertainment center/movie theater, billiard room, wine-tasting facility, wet bar, and game room, and Lord-only-knows-what-else -- and you have to use it a lot and have a lot of guests over who use it a lot.  Mirabile dictu!  We don't have that kind of set-up in our less-than-a-thousand-square-foot domicile, but the mansions of the Antares Company in Greenwich, Connecticut (which we recently toured) sure do…so whoever buys those properties up there in Taconic Estates, listen up! (Also, for the record, these Airblade Hand Dryers are in the AMC movie theaters on 42nd Street near Eighth Avenue…go check them out if you're going to take in a flick over the long holiday week/weekend.)

So we're writing these Airblade Dryers up because we think they're cool. They dry hands faster than you can say, "Evaporate the water, Sesame."  And, they're hygienic.  No more sort-of dry hands, with damp spots underneath your rings.  No more using your elbow to press the knob on the wall dryer to avoid getting germs.

The way it works: You put your hands into the dryer well and they are instantly surrounded by gushing power streams of hot air, coming at you at 400 mph. The air is funneled through slits no thicker than an eyelash, so the resulting hot air streams are like having invisible windshield wipers removing the moisture from your hands, drying them in 12 seconds! Of course, this nifty little gizmo is a little pricey ($1,400), but then again, as we said, it's not for everyone, and it's hardly an apartment must-have.  But, nice to know it's around…definitely the cutting edge.

Posted on Friday, June 29, 2007 @ 10:11 AM | 0 replies Start the Discussion
---
City Shopping
Two years ago, we hit the proverbial terrycloth jackpot at the Frette sample sale, paying something like $80 for a sumptuous robe that we know would sell for a few hundred bucks under normal circumstances. Not to mention all the other little "trinkets" we picked up. (Hey, you never know when you need to give a lovely house gift -- a few washcloths, divine soaps, a set of guest towels, whatever.) Starting Sunday, June 3, through next Thursday, June 7, Frette is having a great sale at Soiffer-Haskin, at 317 W. 33rd St. (just west of Eighth Ave.). Daily Sunday through Wednesday, 9am to 6:30pm, and Thursday, 9 am to 5pm. If you don't know Frette, you're in for a tactile surprise, as the goods are just sumptuous, Italy's finest. Luxurious towels, linens, bedding, and home accessories, and even delicious lounge- and sleepwear. Absolutely worth the trip. As usual, no cash, no checks; credit cards only.
Posted on Thursday, May 31, 2007 @ 11:26 PM | 215 replies View/Post Feedback
---
City Shopping
SOFA New York is a wondrous annual show of fine craft art; the acronym stands for Sculptural Objects and Functional Art, and if you've never been to SOFA, you must head over to the Park Avenue Armory (on Park at 67th St.), Friday through Sunday (June 1st through the 3rd) of this week. There will be nearly 60 international galleries displaying some of the most amazing, refreshing, beguiling work: jewelry, fiber art, glass, wood, ceramics, paper, and who knows what else. This is a serious show for collectors, it's true, but it's also a show for browsers who want to be educated, the curious who want to see outstanding, exciting art, and for shoppers, too. (There are many price tags that are very friendly to a pocketbook that isn't bulging.) WE have never been disappointed by this show: It's awe-inspiring and actually thrilling to see just what creative minds and hands can do with paper or yarn or molten silica.



Look for the wonderfully tactile, highly inventive jewelry of Axel Russmeyer at browngrotta arts, the slightly surreal photo montage work of Lucy Feller at Ferrin Gallery, and all the cutting-edge glass sculptures and objets at the Heller Gallery space. The show is open noon to 8pm on Friday and Saturday and 11am to 6pm on Sunday. Admission for a single day is $20 and includes the beautiful catalog. For more information, log on to www.sofaexpo.com, or call 800-563-7632. (There are also lectures held in the building throughout the three days.)
Posted on Tuesday, May 29, 2007 @ 08:30 PM | 0 replies Start the Discussion
---
City Shopping
Here's another top-flight sale from Soiffer-Haskin. This time it's Christofle, that French maker and purveyor of to-die-over silver, flatware, crystal, porcelain, hollowware -- and even jewelry. All suitable for gifts. Got any June weddings popping up? Well if so, here's a great opportunity to find a fab present, at a huge savings. As we always advise: Go early, buy what you absolutely MUST have, and eyeball whatever else you want...then return the last day, and pray that those items are still there, 'cause if they are, chances are they will marked down further. You know the deal: Credit cards only, no kids, no strollers. 317 W. 33rd St. (just west of Eighth Ave.); Wednesday and Thursday, May 30th and 31st, from 9am to 6:30pm. and Friday, June 1st, 9am to 5pm.
Posted on Tuesday, May 29, 2007 @ 01:48 PM | 4945 replies View/Post Feedback
---
City Shopping
(1) Lenox Warehouse Sale

Do you love Lenox? If so, get out to Cranbury, New Jersey, for the Lenox Warehouse sale. Expect to find selected patterns, seconds, overstocked and discontinued items, slightly irregular items, and special products. There is dinnerware (both fine and casual), crystal stemware, and flatware, as well as giftware and assorted tabletop items. The sale starts May 26th (this Saturday) and runs for nearly a month, until June 24th. Open daily, Monday to Saturday, from 9am to 8pm and Sundays from 11am to 6pm (Memorial Day, from 9am to 6pm). It takes place at 53 Commerce Drive (Route 535); take the New Jersey Turnpike to exit 8A, and follow the signs for Cranbury via Route 535 South. (800-587-7444)

(2) Lamberston Truex

Lambertson Truex is the maker of fine leather accessories -- handbags, gloves, belts, and so on -- all sold at places like Bergdorf's. The sale is currently on (with values up to 80% off the original retail) and ends Thursday, the 24th, open from 9am to 5pm. 230 W. 17th St. btw. Seventh & Eighth Aves., 6th flr., 212-604-9494
(3) Valentino, Prada, Cavalli and more
Perennial favorites Valentino, Fendi, Dior, Dolce & Gabbana, and Prada are among the offerings at this sale, today and tomorrow. Look for values up to 75% off retail. From 10am to 7pm, at the Surrey Hotel, 20 E. 76 St. btw. Fifth & Madison Aves.; ask the concierge for directions to the sale. 917-330-9318
All these sales come to us courtesy of our friends at Lazar Media. Thanks!
Posted on Wednesday, May 23, 2007 @ 05:29 PM | 4565 replies View/Post Feedback
---
City Shopping
Holy matelassé and liseré! How did we miss telling you about this sample sale, especially when there are only two days left?!#$% One of our favorite fabric houses is slashing prices and we let the sale slip right through our proverbial fingers. The very elegant house of Brunschwig & Fils is staging its first-ever sample sale in the city, and here we are telling you about it a little late... Just walk through the newly opened Kips Bay Showhouse on East 82nd St., and you're bound to find Brunschwig fabrics. A perennial favorite -- like Clarence House and Scalamandre -- Brunschwig goods are always found in the best of homes, so you'll be all the more pleased to see that everything is at least 50% off -- and that's good 'cause this stuff is very dear. Look for wallpaper and fabric, as well as upholstered lamps, tables, and furniture -- like comfy armchairs. TODAY, THURSDAY (9am to 6:30pm) and TOMORROW, FRIDAY (9am to 5pm) at the Metropolitan North Pavilion, 110 W. 19th St. (between Sixth and Seventh Aves.) All sales final; credit cards only. And if you're buying bulky stuff, our friends at Soiffer Haskin, who are staging this sale, have a shipper on the premises to send it, lug it, ship it, whatever…in other words, get it from there to your living room.

Posted on Thursday, April 26, 2007 @ 09:42 AM | 1 reply View/Post Feedback
---
City Shopping
We interrupt our offering of spring-like stuff, to post a notice of a sample sale today. Do these sales (I mean really good sales, not just a "take-an-extra-25%-off-at-the-register kind of sale) never end? Will our bank accounts hold up? Here is another you won't want to skip, particularly if you missed the last day (prices slashed, just as we predicted!) of the Pratesi sale last week.

So, this one is Bellino, another Italian company, which produces very fine linens -- even the "hotel" collection, designed specifically for the rugged wash-n'-wear usage that the hospitality industry puts their sheets and towels through -- is elegant and high-quality. So get out the plastic again (no cash, no checks), and head on over to the sale. There will be things for the bed, things for the bath, and things for the beyond -- like baby stuff and tabletop items -- and the savings could be as much as 80% off retail. Really, there is just no excuse now for having ugly, character-less sheets. (You never know who might see them!) It starts Sun. the 25th and goes through Wed., the 28th. Hours: Sun. through Tues., 9am to 6:30pm, and Wed., 9am to 5pm. Address: Soiffer Haskin, 317 W. 33rd St., just west of Eighth Ave.
 
Posted on Friday, March 23, 2007 @ 03:25 PM | 0 replies Start the Discussion
---
City Shopping
Yesterday, we promised you several more "springy" items over the next few days, to at least acknowledge the arrival of prima vera and perhaps coax the gods into sending us more lovely weather. And, yes, today is warmer than yesterday -- and (hopefully) the thermometer will keep going in the right direction -- but we still have not seen the crocuses trying to push through the slush. However, one look at the work of Isabelle de Borchgrave and you'll think "spring" and feel peppy and upbeat.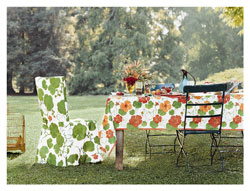 This gifted Belgian designer has created some amazing projects, all from paper (yes, she also designs in fabric and other materials), including floral kimonos for a Marshall Fields flower show, shop windows for Hermès and LVMH, and a collection of mind-blowing, life-size gowns and dresses, all modeled after the frocks of the legendary and much lauded Ventian designer, Mariano Fortuny.  Not coincidentally, these whimsical paper concoction-constructions are on display -- a visual feast, truly -- in the aptly named Fortuny Bar at the luxurious Hotel Cipriani in Venice.

So, what spring-like things can Isabelle supply you with?  Her chair covers and tablecloths, designed for Target, are so pretty (and they could not be any cheaper!), you'll find it hard to believe that the table cloth is made from paper and the chair covers are made from a paper-like, non-woven, polypropylene, spun-bounded material -- in other words, plastic paper, if such is possible. They are astonishing -- and practical.  The "Nasturtium" tablecloth is $5.99 and the leaf-patterned chair covers are $3.99 each. (They fit over a standard dining-table chair or bridge chair; also available in a rose pattern.) For more Target locations, call 800-800-8800 or visit target.com. 
 
Posted on Thursday, March 22, 2007 @ 12:34 PM | 0 replies Start the Discussion
---
City Shopping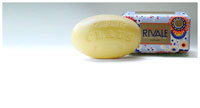 So, today kicks off Portuguese Weekend -- that is to say, we expect to write about the island of Madeira and the amazing Reid's Palace Hotel over the next several days -- and we thought a good appetizer would be an introduction (for those of you who do not know them) to the emollient-rich, sinfully creamy, headily fragrant soaps of Claus Porto -- obviously made in Portugal, and obviously admired adjectivally by us. You've probably seen them at Saks and better specialty shops, but may not have been able to associate the name with their whimsical packaging.  Not only are they dee-vine inside, but they're memorable for their packaging, which looks like an explosion in a fireworks factory. The designs and graphics are original -- i.e., what was used in the first half of the 20th century -- and every bar is cloaked in distinctively different eye-popping, vivid wrappers. 

The company is 117 years old and was founded (not coincidentally in Porto) by two chemists who were (company literature declares) world-renowned at the time, and, not surprisingly, one of them had a "Claus" in his name. Today, the firm is still family-owned and churning out the soaps the same way great-grandpa did yesteryear.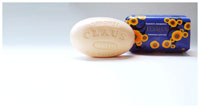 O.K., about the soaps: They are milled seven times (that means that all the ingredients are basically thrown into the soap-making equivalent of a Cuisinart -- or I guess we should say a Mixmaster, given the years we're discussing here, and considering the company is still using many of its very old machines),  and then the ingredients are creamed, like you cream butter in that Mixmaster to make a nice layer cake.  The more the ingredients are milled, the more air is removed from them, with the result being a creamier soap that eagerly retains fragrance and doesn't crack and split with age...and that's good, because the largest sizes are so grand, they'll last you a month.  Hence, they're worth every penny of the $14 they cost for a 12.3-ounce bar. They come in "flavors" that span the alphabet, as diverse as "Almond" and "Acacia Tuberose" to "Vetyver" and "Vanilla."  There are also boxes of three smaller-size soaps for $22.  But the item we love best, our absolute favorito, is the colossal holiday sampler -- a dozen soaps for the entire calendar -- for $85.  Find them all in Portugal, or at www.lafcony.com; it's decidedly more fun to go to Portugal, but easier and cheaper to click on a URL.

 
Posted on Friday, March 16, 2007 @ 03:55 PM | 0 replies Start the Discussion
---
City Shopping
Yet another terrific Soiffer Haskin sample/overstock sale, and this one starts the minute the Pratesi sale ends!  You just never know what you'll find at these sales, but from Tuesday, Mar. 13 through Friday, Mar. 16, it is all Ralph Lauren Home, so you can count on furniture, lighting, fabrics, wallpaper, one-of-a-kind antiques, and assorted accessories. As usual, there are surprising prices and there's a chance that the prices will get more surprising near the end of the sale. And, as you also know, we always like to scope things out early and then come back near the end of the sale and just hope that the things we've eyed are not only still there, but have also been further reduced. NOTE:  New address: The Altman Building, 135 W. 18th St. btw. Sixth & Seventh Aves.  Hours:  Tues.: noon-7pm; Wed. and Thurs.: 9am-7pm; Fri.: 9am-5pm.
Posted on Monday, March 12, 2007 @ 02:29 PM | 7 replies View/Post Feedback
---
City Shopping
O.K., get out the plastic again -- you will not want to miss this sale.  Both Baccarat and Asprey are cutting prices and now is your chance to stock up on lavish gifts, find luxe clothing, or dress the house in the finery of crowned heads of state.  
Asprey, with all its fancy royal warrants and over-the-top merchandise (if memory serves us, we once saw a sterling Champagne chiller there -- for multiple bottles -- for thousands and thousands and thousands) is a pretty $$$ shop, but at the "sample" sale, there are tons of things that are affordable…expect to find Asprey's signature leather goods, jewelry, silver, and clothing -- up to 75% off.  
Baccarat is known for its superb lead crystal, giftware, and decorative items and at this sale, they say, there will be rare museum pieces, whatever that means.  But one thing we do know that it means, is d-i-s-c-o-u-n-t -- probably 60-75% off original prices. Do what we do to try to finesse an even better deal:  Go the first day or two and scope out what you want, and then wait until the last day, when the prices are generally cut even more. (Yeah, we know -- you do, indeed, risk losing your item; it's a hedge, what can we say? -- we still do it!)  Remember, plastic only, no cash, no checks.  
The sales are at Soiffer Haskin, 317 W. 33 St., just west of  Eighth Ave. It starts tomorrow, Mar. 3, and goes through Tuesday, the 6th.  Daily, 9am to 6:30pm., and Tuesday, until 5pm only. Again -- read the entry below for Dennis Basso -- no kids under 12, no strollers, etc. Be prepared to check big bags, and also to go home a happy camper with really gorgeous stuff! 

Posted on Friday, March 02, 2007 @ 02:37 PM | 0 replies Start the Discussion
---
Subscribe to this Blog's
Feed