City Shopping - Beauty: Spa & Bath Blogs
Back to Blog... | View More Bloggers...

About the Author: About the Author: Ruth J. Katz is a well-known shopping and service writer based in New York City. She has written about shopping for 25 years for New York magazine; covered the topic on-air at Fox-TV for several years as the Home Services expert; and had her own show on both the USA and Lifetime Cable networks. Katz wrote extensively for The New York Times as well, and contributed periodically to the New York Daily News. She is a passionate shopper, always looking for not merely a good buy, but the best buy, ferreting out a "steal" or discovering up-and-coming designers. She has written five books and is a former contributing editor to Hearst's Redbook, Classic Home, and Colonial Homes; she is currently a Contributing Editor of New York Home, Golf Connoisseur, The Modern Estate, and Promenade magazines. She is also the former Shopping Director for Davler Media's Manhattan Living.


---
City Shopping
Renowned European small-appliance company Rowenta is over one hundred years old, so it would seem that in a century the company assuredly must have mastered a thing or three about appliances. In fact, most people have consistently associated Rowenta with manufacturing the ne plus ultra of irons, the ultimate heating appliance. And, indeed, irons are the company's bedrock...and nobody does them better than Rowenta, and they do them to perfection. (Although, for the record, let me say that my older model, the CW 8080, has a minor flaw, a constant annoyance when I am ironing — the water tank is constructed from a dark gray plastic and I can never tell how much water is in it since I cannot see through that dark gray plastic to view the water level.) But, back to the good: The company has also reconfigured the plain-Jane ironing board (no easy feat) to flawlessness, making it the world's neatest ironing board, a stroke of genius enabling easy storage without sacrificing all the bells and whistles of a top-tier home amenity.

As the company has moved into designing and manufacturing so many other appliances, it strikes me that a few are worth mentioning over the next few months, particularly since Rowenta has improved upon so many categories with its state-of-the-art ingenuity and technology. First on my list, since it's Fashion Week and I have been obsessed watching hair (the green hair at the Nicole Miller show was pretty attention-grabbing) at the shows. Rowenta's new Infini Pro hair dryer is now my go-to dryer. (It is worth noting that the company launched the first electric curling irons in 1921 and in 1966 produced one of the first blow dryers for at-home use!)
The Infini is a technologically advanced, salon-quality dryer featuring the company's exclusive AutoSensor technology that automatically turns the dryer off when it's set down, to save energy and provide extra styling convenience — and, I might add, safety. It's the only dryer I know that does this. In addition, there are two "off" buttons. With two speeds, three heat settings, and a built-in ionic generator that emits pure negative ions, hair is dried quickly and the results are frizz-free.

According to Rowenta, when compared with other leading brands, the Infini Pro provides 35% more airflow and 20% faster drying time. It comes with a 1/3" ultra-thin concentrator-style nozzle and a 5" diffuser. The other thing I like about it is that the filter at the back of the dryer is held in place with tiny magnets, making it very easy to remove and clean the filter. I often have found with other dryers, where the filter is not removable, that I am constantly cleaning with tiny tools to get the fuzz out. Additionally, it is equipped with 1875 watts which, for my head of hair, is a necessity...anything less just doesn't do the job. There is a little retractable metal hook for hanging it up, also, and for additional convenience, it has a nine-foot-long power cord. Indeed, this is a well thought out product and a dream to use. Not cheap, but worth the $159. rowentabeauty.com
Posted on Monday, September 09, 2013 @ 12:48 PM | 0 replies Start the Discussion
---
City Shopping
Emergency room nurse Erin Balogh spent most of her mornings flipping pancakes, doing laundry, changing diapers, and trying to get ready for work. She found herself relegated to using her downstairs guest bathroom for her toilette, in between trips to the laundry room and the kitchen. In that tiny half-bath, she would balance her hot curling iron and flat iron on the edge of the pedestal sink, and invariably, her hair tools would slide into the basin or drop to the floor. There had to be a better way, she thought: She checked locally and on-line in an effort to pinpoint an appropriate implement to hold the pesky implements, but there wasn't much that would work. There were wall-mounted tools and gizmos for the countertop, but in her tiny bath, there was no counter, and she didn't want anything wall-mounted that would be permanent, to spoil her pretty guest bath.
Necessity is almost always the mother of invention, and in Balogh's case, trying to find the requisite tool forced her to be a little more pro-active, to think a little more creatively: She dusted off her sewing machine and grabbed a silicone oven mitt and a hot pad and then sewed them together, creating a kind of over-the-sink-edge holster from the oven mitt for holding her tools. At the other end, she fashioned a pocket from the oven mitt, weighted it with a piggy-bank's worth of coins, and put the sturdy heft into the bowl, to balance the weight. The silicone holster could comfortably hang over the edge of the sink, and the weighted oven mitt was draped into the sink—and it was the perfect assemblage for her hot tools. Yes, this would do it, this rudimentary silhouette would be the model of her ultimate product, the Hot Iron Holster.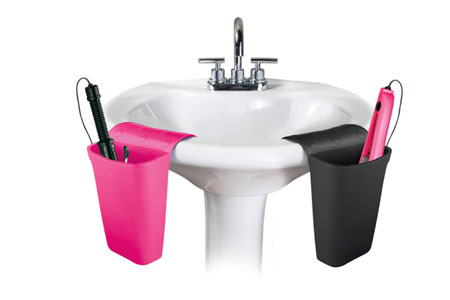 Now, all she needed was a professional and better-designed thingamajig like this. And off she went to streamlining it and having it made professionally. This would be the perfect tool holder, the answer to her prayers! And she knew others would want one, as well, as she knew she simply could not be alone. (And she wasn't...I, among the many, was with her!) She debuted her product at the International Home and Housewares Show, the Big Guns of the home industry, in Chicago, last year, where it was a huge hit.
Balogh ultimately created two versions of her holster—an at-home model and a professional model, for salons and stylists. The holster is ideal for hot tools (up to 500 degrees F)—flat irons, curling irons, hair dryers, and Lord only knows what else we use. The specially formulated silicone clings to any smooth, non-porous surface, including tile, wood, laminate, granite, metal, glass, vinyl, porcelain, plastic, and leather, among the mix. When put into place, both surfaces should be clean and dry; dirt and lint may reduce performance, but can be easily removed by rinsing with water or cleaning with rubbing alcohol.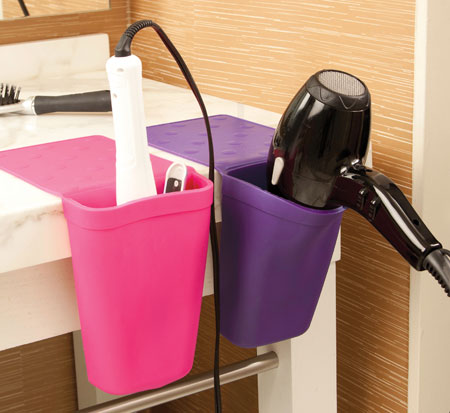 In addition to being easy to install on just about any surface, the longer end can be used over a towel bar, around an open shelf, over the edge of the sink, or (as I do it), over the rod of my portable bathroom moveable cart. The professional model has a longer tail, more copious pocket, and is capable of holding more...and the longer grip-end of the professional model is ideal for putting over the back of the salon chair. To remove the holster, just lift up the tail end. The at-home model retails for $29.95 and the professional model sells for $39.95 on the Hot Iron Holster Web site. Also available at, among other places, the Container Store.
Posted on Tuesday, August 06, 2013 @ 11:23 AM | 0 replies Start the Discussion
---
City Shopping
Summer has assuredly ended with a bang, and we are now facing fall, celebrating Halloween, turning the clocks back, enjoying the upcoming Marathon, and—before you know it—ushering in the Christmas season. However, before the summer's halo effect entirely evaporates, I must comment on the wonders of having your hair "glamorized" with the Brazilian Keratin treatment. (Yes, I know, there has been some talk about these hair applications, and doing them responsibly, and not constantly...but I gotta say, wonder of wonder, they really work.) And, I must share info with you about some of the absolute best products to use to care for that "new" hair--and also, if you just want to get and keep relaly "good" hair, using products from Keratin Complex.
I got my treatment at Sergio Limpopo and took advantage of a Lifebooker deal. I wasn't sure what to expect and discovered after my treatment (which did not take as long as I thought it would), that I could not wash my hair for three days, and sort of had to sleep standing up, well, not quite. That was the down side, but the upside was that I discovered, much to my delight, that three neighbors barely recognized me (that was good—they thought I looked very red-carpet glam) and all could not stop telling me how wonderful I looked, not quite pinpointing that it was my very straight mane; the downside of their wonder was that tacit in their compliments and approval was the the implied notion that I must have looked bad before!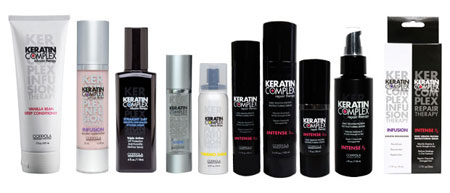 It took a while to adjust to the performance features of my new hair—I wasn't sure just how curly or frizzy it might be, just how much the keratin treatment had removed those tendencies to defy my ministrations for straight hair. I have to say, that through two different on-the-water vacations, through a very humid week in New Orleans, and through a hospital stay (that didn't exactly allow for shampooing, my hair looked GREAT: Straight, manageable, glamorous. But one thing that really mattered and that I had to pay attention to, was using a shampoo that had no sodium chloride; other people I know who have gotten keratin treatments have told me that they were instructed not to use any treatment product that had sulfides, but I was instructed to avoid sodium chloride.
I bought a shampoo and conditioner at the local Duane Reade and found them a little disappointing—expensive and not very bubbly, that is to say, not very foamy or sudsy. Somehow my hair didn't feel clean and slick.
BUT...enter the hair care line from Keratin Complex. These products are simply fabulous, in a word. I road-tested two shampoos and two cream rinses/conditioners: Keratin Color Care Shampoo, the "matching" conditioner, and another pair, the Keratin Care Shampoo and, again, the conditioner from that line. In addition, I tried a few treatment products, the Infusion Therapy, Keratin Complex Intense, Glowtion Potion Styling Oil, and the Instant Keratin Repair pack. They were all terrific, delivering great performance.

Keratin Complex offers a complete, well-balanced range of shampoos and conditioners to keep your hair looking and feeling great day after day–all with natural keratin. These shampoos and conditioners are designed and formulated to complement every hair type and specific need–from maintaining your therapy treatment and hair color to clarifying and re-balancing. Here is rundown on the two shampoos and two conditioners I now swear by:
Keratin Care Shampoo was developed to provide a gentle cleansing that will not diminish the precious nutrients of healthy hair; it is formulated with keratin protein for lasting protection. This sodium chloride-free formula is recommended for dry, chemically over-processed or damaged hair.
Keratin Care Conditioner was developed as a daily use conditioner with specially formulated nutrients and proteins that work in unison with keratin protein to maintain hair's shine and body. Helps detangle, leaving wet hair feeling smooth and slick. Special wheat and soy protein oils provide lasting nourishment while protecting the hair from the heat of blow-drying, hot curlers, and straightening irons.
Keratin Color Care Shampoo was developed to extend the vibrancy of color-treated hair. This sodium chloride- and sulfate-free formula contains mild surfactants that gently remove dirt and buildup without stripping hair of its color. It is formulated with keratin, soy, and wheat proteins for lasting protection.
Keratin Color Care Conditioner was developed to moisturize while protecting hair color. Helps detangle, leaving wet hair feeling smooth and slick. Special Keratin, wheat, and soy proteins provide lasting nourishment while protecting the hair from the heat of blow-drying, hot curlers, and straightening irons. Hair is softer, more manageable and stronger.
Posted on Thursday, November 01, 2012 @ 09:26 AM | 0 replies Start the Discussion
---
City Shopping
The cold weather finally descended upon us this week...after that little burst of springtime over the weekend. And not a minute too soon -- just in time for you to ask Santa to bring you one -- comes Panasonic's Ionic Facial Steamer. The company says that the machine uses nano-sized particles that penetrate deeply into the skin to hydrate it, focusing obviously on the delicate skin of the face. The nano-particle steam, which is 4,000 times finer than average steam, helps moisture to penetrate more deeply into the skin, opening pores for a thorough cleansing. Most of us opt for facials to exfoliate the layer of dead skin cells, to extract the "bad stuff" that gets into the pores, and to cleanse, rejuvenate, and hydrate...and here is a machine that can help you do it.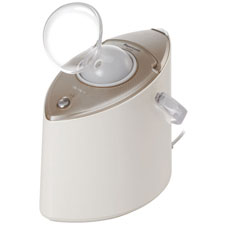 Over time, we all know (and can see) that skin loses elasticity, and just doesn't renew itself the way the soft skin on a baby's face does. The loss of elasticity and the inability to retain moisture ultimately causes wrinkles -- not to mention what sun exposure does! The company claims that with regular use, your skin will be stimulated so that the appearance of the fine lines is diminished; after 4 weeks of daily use, the Panasonic Facial Ionic Steamer, they say, has been clinically shown to improve wrinkles, skin texture, luster, and moisture. I tested it for two weeks and thought it made my skin feel softer and look fresher.
The machine is a little pricey at the suggested retail of $399.99 (so warn Santa), but if it means you can skip a monthly facial, then it pays for itself in no time at all. You may opt for two or three professional facials a year and then use the steamer for your at-home treatments the rest of the time, which would be a great compromise, saving you a ton of money for those salon facials.
It's available at Hammacher Schlemmer, where I noticed it is selling for $299.95! A HUGE savings! Obviously, it's available elsewhere, but this is a GREAT deal!!! And just remember, it will be perfect for caring for sun- and wind-dried-out skin. Give yourself a new glow for the new year...and stay tuned, 'cause in January I will write up (am testing now) some skin care creams for the cold and the foul weather.
Posted on Friday, December 02, 2011 @ 11:46 AM | 0 replies Start the Discussion
---
City Shopping
So, as "unsexy" as it is, this is the gift you should have gotten for Christmas! In fact, in the next few weeks, I'd like to show you a few things you should have received as gifts for the holidays, but most likely did not; and, actually, if anyone had put these items under your tree, you might well have beaned them (at first blush!), but after test-driving, you'd have been VERY grateful.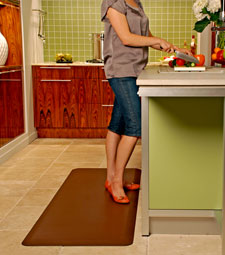 A WellnessMat is a -- well, a mat you stand on at the kitchen sink, or frankly, in any work area. Initially developed for workers who are on their feet a lot in professional settings -- in the health-care (think chiropractors) profession, beauty/salon/spa fields, hospitality industry, and the like -- the mats were created with health and comfort in mind. It didn't take long for other professionals to latch on to these mats: Think of airline personnel standing for hours behind a ticket counter, or salespeople in retail who are on their feet behind a cash register all day long. In fact, they are the mat of choice for the Department of Homeland Security and the TSA.
The use of the WellnessMat spread very quickly among pros and as the mats were adopted widely, the company decided to expand availability to the "civilian" population, so that they are now sold to consumers. And trust me, anyone who stands on his/her feet a great deal will ooh and aah with delight and surprise (as I did) when I first stepped onto a WellnessMat and felt that springiness underfoot.
The mats are built with a patented anti-fatigue technology, and according to CEO Dan Bouzide, they are proven to medically promote proper circulation and reduce fatigue; made with something the company calls Advanced Polyurethane Technology, WellnessMats' proprietary technology guarantees that these single-piece construction mats will never curl at the edges or delaminate; moreover, the mats deliver longevity and durability, resulting in WellnessMats' seven-year warranty.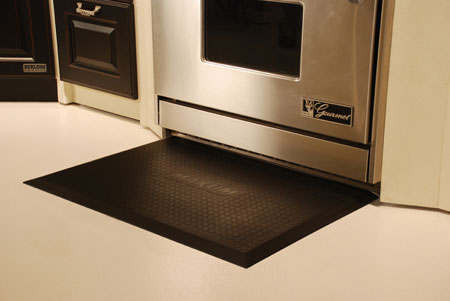 When I put one down in front of my kitchen sink, I couldn't get over the feeling of support and cushy comfort. My tired legs and bad knees felt light and rested. "Standing is believing," as the company motto states, and so it is. The mats are non-toxic and PVC-free, and are ergonomically engineered to provide maximum comfort, safety, fatigue-relief, and general well-being while you stand. They remain flat and "unrumpled" on the floor, and they stay where you put them -- and you won't trip on the mat, as it's got a beveled edge. They are also bacteria- and stain-proof, heat-resistant, and puncture-proof.
WellnessMats are ideal for the laundry room, kitchen, garage or basement workroom, home gym, potting shed, and so on. They range in price from about $125 to $300, and are available in about six colors (black and neutral earth tones), and various sizes, from 2' x 3' to 4' x 5' to 3' x 6' and now they are available in what the company calls "puzzle" mats, whereby you can latch together a few pieces to make a longer and bigger mat. In other words, there is a mat for every spot you'd want to put one in.
Posted on Sunday, January 23, 2011 @ 05:59 PM | 0 replies Start the Discussion
---
City Shopping
It's travel season, officially, what with Memorial Day-the unofficial beginning of summer-upon us. And, darn, if it isn't inconvenient to start meting out three-ounce "servings" of all your vital and favorite cosmetics and toiletries to stick into plastic bottles, all of which then have to be stuffed into a ridiculously small plastic bag. Well, forget it. We just check our l
uggage these days, despite the nasty luggage fee. One royal pain, indeed.
However, if you want to travel in style, with the most gorgeous "train" case (yeah, these train cases know how to travel in plane luggage holds, too!) loaded to the brim with travel-size lotions and potions, then treat yourself to the Luxe Travel Cases from Minimus , a Web retailer which specializes in all things travel-size...and we mean all things! If it's something you want to take on the road with you, they've got it in miniature. Single-servings of things you do not want to buy in bulk; or oddball, travel accessories of medicines; or European cosmetics, or whatever.
For the lady-like jet-setter, there is a stunning, cream- and luggage-colored "Tuscan" train case by Bric's, makers of fine-quality valises and totes, all crafted in Italy-artistry, quality, and craftsmanship are inherent in these bags. The little valise is loaded up with 52 (yes, really) travel-size, beauty-regime products, and includes things like: Badger Headache Soother in peppermint and lavender; Evian Facial Spray (this is one of my favorites and I take it on every plane trip!); H2O+ Lip Mender; Philip B Chocolate Milk Body Wash & Bubble Bath (yummy, yummy); Nexxus Mousse Plus...and way more. The entire case and contents retails for $895, which is probably more than your plane ticket costs.
For those with a Y chromosome, there is a slightly smaller cache of goodies, 43 items, and they include high-end luxury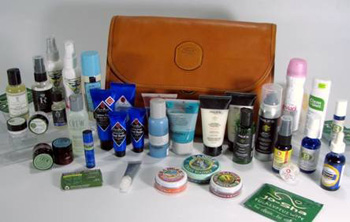 brands, and hard-to-find items, including things like: Dr. Singha's Travel Tonic Herbal Supplement; E-shave Pre-Shave Oil in a lavender scent; Jack Black Oil-Free Sweat Resistant Sun Guard SPF 30+; Badger Sore Muscle Rub (now, we're talking-who doesn't get absolutely trashed on long flights?); Brittanie's Thyme Organic Insect Repellent. It's all packed very handsomely in a tobacco-toned Bric's Italian "Life Pelle Necessaire" tri-fold toiletry bag for $549.
Posted on Tuesday, May 25, 2010 @ 02:04 PM | 4 replies View/Post Feedback
---
City Shopping
"Embrace the silence." That's what is written on the plaques outside the relaxation room/library (yes, library -- where, mercifully, cell phones are prohibited) at the Cornelia Day Resort. Indeed, each and every room in this exquisitely designed and appointed day spa engenders relaxation -- and luxury. (There's even a private side-street entrance for boldface names to use.) Romanian-born Cornelia Zicu has created a haven of sanctum in midtown, and even the little gift shop (with carefully edited wares) is peaceful. There are glorious treatments to be had here, too, from the signatures facials ($175 and up, depending on which "enhancers" you opt for, which might include the balancing peel or the oxygen revitalizer), soaking baths (Romanian mud, honey harmony), and all types of massages. There are seaweed pedicures, and special packages for the bride and her party, and on and on, but perhaps the most innovative of all the services is the Watsu massage, which is performed in a penthouse-level, private pool filled with 20,000 bottles of salinated Evian water. Really. Not surprisingly, 30% of the clientele is male, who also come for special facials, hand- and foot-grooming, waxing, and of course, to visit the barbershop. The best part of this sybaritic indulgence is that you can take home a bit of Cornelia, since the salon also sells three of Cornelia's own scientifically developed skincare-product lines ($28 to 150). 663 Fifth Ave. btw. 52nd & 53rd Sts., 8th flr., 212-871-3050; www.cornelia.com (This article originally appeared in the 1/06 issue of Manhattan Living.)
Posted on Monday, November 26, 2007 @ 03:51 PM | 5104 replies View/Post Feedback
---
City Shopping
For over a thousand years, the communal experience of the Slavic banya (bath) has been as integral a part of Russian life as vodka and limitless sheets of snow. The recently opened Okeanos combines the traditional aspects of this weekly (at least) ritual with a modern setting and amenities -- suffice it to say, you can leave behind any thoughts of whalesongs and cucumber juice. An appointment begins with a visit to the banya, a powerful, 170-degree sauna, the intensity of which is mitigated by intermittent trips to the shower for the bite of an invigorating cold rinse, and capped off by the energizing platza, a gentle brushing with bundled birch leaves against the primed flesh. The entire sybaritic experience is topped off with a Russian sports massage so tranquilizing someone may have to shovel you back onto the sidewalk. We suggest getting together with a small group of friends and spending the better part of the day going in and out of the banya, relaxing in the lounge (Okeanos is wired for wi-fi use), getting a facial (Molton Brown offers treatments), a haircut, or trying any of the spa's other self-indulgent offerings. Caviar king Petrossian is in charge of the menu (we supped on smoked salmon blini and strawberry tarts), and the bar is stocked with ZYR Russian vodka and Heidsieck & C° Monopole Champagne. With the strong possibility of a long winter ahead, Okeanos will revitalize any man -- Russian or otherwise -- worn weary by even the hint of frosty months to come. 211 E. 51st St. near Third Ave., 212-223-6773; www.okeanosclubspa.com (This article originally appeared in the 1/06 issue of Manhattan Living.)
Posted on Monday, November 26, 2007 @ 03:51 PM | 3170 replies View/Post Feedback
---
City Shopping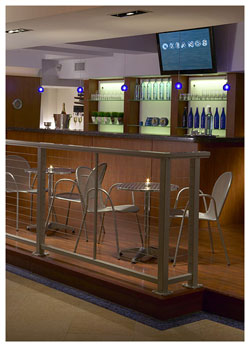 If last night's rain didn't cool you off enough, you'll be able to lower your internal thermostat and escape the pervasiveness of the week's heat tonight, and any Thursday this summer, at the Okeanos Club Spa at 211 E. 52nd St.  (212-223-6773).  For the rest of the summer, through the end of August, Thursday nights are free jazz nights.  The spa/club has a small lounge area where clients can relax between treatments and enjoy complimentary Baltika Russian Beer (the top-seller in the Motherland) and "fashionable" Zyr vodka -- although we suspect that ANY vodka is a top-seller in the Motherland, this one is a very trendy one here in the States. Petrossian is even supplying free hors d'oeuvres, although we rather doubt that they will be springing for the Royal Special Reserve Persicus that is $9,800 for 1,000 grams.
There is no cover fee; clients already using the club and spa facilities are welcome to linger and enjoy the jazz, from 5 to 10pm. While the club is open to both sexes, it's a little more of a men's hangout, what with the resident barber and the male-oriented activities. However, the traditional Russian banya (steamy sauna) and platza (sort of something you'd see in an Ingmar Bergman movie -- bundled birch branches tapped against naked flesh, to enhance circulation) are available to all, as are cooling dips in the plunge pool, and Russian, deep-tissue muscle massages, hot stone massage, reflexology treatments and so on. Tonight, the jazz trio includes Tom Baker on the drums, Matt Hughes, bass, and Andy Friedberg on the guitar.

 
Posted on Thursday, July 12, 2007 @ 05:14 PM | 0 replies Start the Discussion
---
City Shopping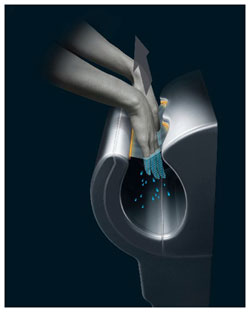 We somehow skipped writing all the stories we wanted to do on spring cleaning (we'll get to a few of them still; we'll just have to call them "summer cleaning"), but vowed to at least write up the new Dyson canister vacuum, which we test-drove recently.  (It sure sucked up all that Golden Retriever dog fur lurking around the old homestead, so we're happy!)  We do, however, have a better Dyson product here to tout -- the Airblade Hand Dryer -- although, we hasten to add, this is assuredly not for anyone.

We think you have to have a major mansion, with a basement family level -- outfitted with a pool, spa, home-entertainment center/movie theater, billiard room, wine-tasting facility, wet bar, and game room, and Lord-only-knows-what-else -- and you have to use it a lot and have a lot of guests over who use it a lot.  Mirabile dictu!  We don't have that kind of set-up in our less-than-a-thousand-square-foot domicile, but the mansions of the Antares Company in Greenwich, Connecticut (which we recently toured) sure do…so whoever buys those properties up there in Taconic Estates, listen up! (Also, for the record, these Airblade Hand Dryers are in the AMC movie theaters on 42nd Street near Eighth Avenue…go check them out if you're going to take in a flick over the long holiday week/weekend.)

So we're writing these Airblade Dryers up because we think they're cool. They dry hands faster than you can say, "Evaporate the water, Sesame."  And, they're hygienic.  No more sort-of dry hands, with damp spots underneath your rings.  No more using your elbow to press the knob on the wall dryer to avoid getting germs.

The way it works: You put your hands into the dryer well and they are instantly surrounded by gushing power streams of hot air, coming at you at 400 mph. The air is funneled through slits no thicker than an eyelash, so the resulting hot air streams are like having invisible windshield wipers removing the moisture from your hands, drying them in 12 seconds! Of course, this nifty little gizmo is a little pricey ($1,400), but then again, as we said, it's not for everyone, and it's hardly an apartment must-have.  But, nice to know it's around…definitely the cutting edge.

Posted on Friday, June 29, 2007 @ 10:11 AM | 0 replies Start the Discussion
---
City Shopping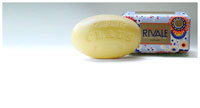 So, today kicks off Portuguese Weekend -- that is to say, we expect to write about the island of Madeira and the amazing Reid's Palace Hotel over the next several days -- and we thought a good appetizer would be an introduction (for those of you who do not know them) to the emollient-rich, sinfully creamy, headily fragrant soaps of Claus Porto -- obviously made in Portugal, and obviously admired adjectivally by us. You've probably seen them at Saks and better specialty shops, but may not have been able to associate the name with their whimsical packaging.  Not only are they dee-vine inside, but they're memorable for their packaging, which looks like an explosion in a fireworks factory. The designs and graphics are original -- i.e., what was used in the first half of the 20th century -- and every bar is cloaked in distinctively different eye-popping, vivid wrappers. 

The company is 117 years old and was founded (not coincidentally in Porto) by two chemists who were (company literature declares) world-renowned at the time, and, not surprisingly, one of them had a "Claus" in his name. Today, the firm is still family-owned and churning out the soaps the same way great-grandpa did yesteryear.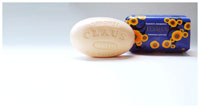 O.K., about the soaps: They are milled seven times (that means that all the ingredients are basically thrown into the soap-making equivalent of a Cuisinart -- or I guess we should say a Mixmaster, given the years we're discussing here, and considering the company is still using many of its very old machines),  and then the ingredients are creamed, like you cream butter in that Mixmaster to make a nice layer cake.  The more the ingredients are milled, the more air is removed from them, with the result being a creamier soap that eagerly retains fragrance and doesn't crack and split with age...and that's good, because the largest sizes are so grand, they'll last you a month.  Hence, they're worth every penny of the $14 they cost for a 12.3-ounce bar. They come in "flavors" that span the alphabet, as diverse as "Almond" and "Acacia Tuberose" to "Vetyver" and "Vanilla."  There are also boxes of three smaller-size soaps for $22.  But the item we love best, our absolute favorito, is the colossal holiday sampler -- a dozen soaps for the entire calendar -- for $85.  Find them all in Portugal, or at www.lafcony.com; it's decidedly more fun to go to Portugal, but easier and cheaper to click on a URL.

 
Posted on Friday, March 16, 2007 @ 03:55 PM | 0 replies Start the Discussion
---
Subscribe to this Blog's
Feed