City Shopping - Luxury Goods Blogs
Back to Blog... | View More Bloggers...

About the Author: About the Author: Ruth J. Katz is a well-known shopping and service writer based in New York City. She has written about shopping for 25 years for New York magazine; covered the topic on-air at Fox-TV for several years as the Home Services expert; and had her own show on both the USA and Lifetime Cable networks. Katz wrote extensively for The New York Times as well, and contributed periodically to the New York Daily News. She is a passionate shopper, always looking for not merely a good buy, but the best buy, ferreting out a "steal" or discovering up-and-coming designers. She has written five books and is a former contributing editor to Hearst's Redbook, Classic Home, and Colonial Homes; she is currently a Contributing Editor of New York Home, Golf Connoisseur, The Modern Estate, and Promenade magazines. She is also the former Shopping Director for Davler Media's Manhattan Living.


---
City Shopping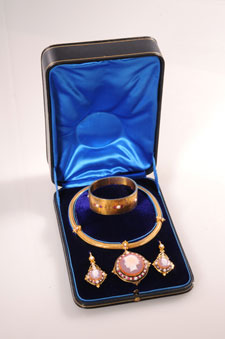 The Art and Antique Dealers League of America (AADLA) is staging its second incarnation of one of its major shows, The Spring Show NYC, running from May 2nd (opening benefit) to May 6th; the show will be mounted at the Park Avenue Armory once again. The five-day visual and shopping extravaganza will be a real treat for veteran collectors as well as for neophyte wannabe-collectors, who, in the past, may have been intimidated by some of the "big" antique shows that dot the fine art calendar throughout Gotham's social season.
New York City has traditionally been one of the biggest and most robust art markets in the world, and this second installation of the AADLA show is the highlight of Arts and Antiques Week NYC, and the opening night gala of the show will once again benefit for the ASPCA. The evening is co-sponsored by 1stdibs.com, the upmarket, online marketplace that presents an artfully curated selection of highly coveted items from many prestigious dealers in the high-end/estate sector as well as from 20th- and 21st-century design sources—the site showcases the finest antiques alongside interesting, unusual collectible objets. Noted Clinton Howell, the League's president (and the owner of Clinton Howell Antiques on the Upper East Side), "We are delighted to welcome back 1stdibs, and the ASPCA as our partners, and look forward to building upon the success of last year's inaugural fair."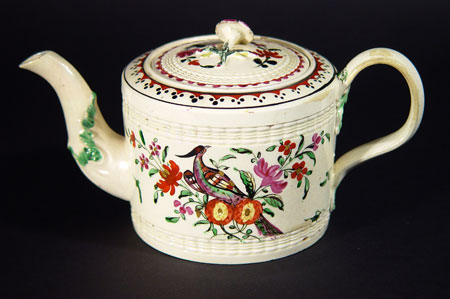 If last year's show is any measure, expect to be mesmerized by a panoply of exquisite, luxury antiques—everything from extraordinary furniture to sterling tabletop wares, sculpture, glass, nautical art, ceramics, paintings, maps, antiquities, tribal art, and textiles—and that is only a part of what will be on view and for sale, to be ogled over with appreciation and awe. With over 60 well-known, respected galleries exhibiting, there is assuredly something for everyone—at price points that will not scare off the newcomer interested in building a collection. Some of the premier galleries returning to the show include: Kentshire Galleries, Hyde Park Antiques (piece pictured below), Carlton Hobbs, Dalva Brothers, Earle Vandekar of Knightsbridge (pictured above), Leo Kaplan (necklace pictured at top), L'Antiquaire & The Connoisseur, Yew Tree Antiques, Vallin Galleries, and E&J Frankel.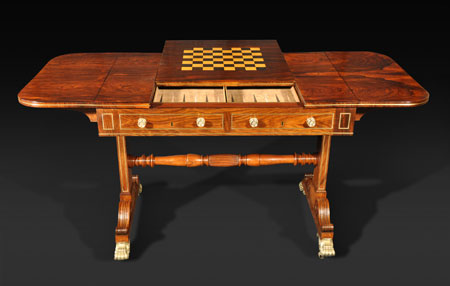 It is also worth noting that The Spring Show NYC is a vetted show—every item in every booth is examined by panels of specialists for authenticity. The vetting experts also ensure that comprehensive, accurate labeling is attached to every piece. (Vetted shows are the standard for all quality art and antiques fairs.) The show will be open May 2nd to the 6th, and the Armory is located at Park Avenue and East 67th Street. Tickets for the opening night VIP preview, May 2nd, are $250, and the evening's proceeds benefit the ASPCA. Tickets for the show, May3rd to the 6th, can be purchased at the Web site www.springshownyc.com; the event is staged by The Art Fair Company, 800-563-7632.
General Admission: Thursday, May 3rd: 11 a.m. to 7:30 p.m.
Friday, May 4th**: 11 a.m, to 9 p.m.
Saturday, May 5th: 11 a.m to 7:30 pm
Sunday, May 6th : 11 a.m. to 6 p.m.
Tickets are $20 for a single day of general admission and $40 for a four-day pass
**Arts' Night Out has been designed for the younger collector, the 20- 30-year-old, and it is a great way for a fledgling collector--one who is just starting out or one who is thinking about it--to gather some valuable professional insight and advice-and for free. And that's not the only thing gratis: Members of young-patrons groups at museums and other cultural organizations around New York City (like the New-York Historical Society, for example) are eligible for free admission. Otherwise, $30 tickets are available at the door.

Posted on Tuesday, May 01, 2012 @ 05:23 PM | 1 reply View/Post Feedback
---
City Shopping
It's rare that I write something up that you really don't have a snowball's chance in proverbial hell of participating in. However, this is such a wonderful event, I just want to share it. Maybe it's also because I am such a fan of opera. But, I think it would be interesting for anyone to see and share -- and at least to know about.
London's world-renowned Royal Opera House at Covent Garden is cleaning house, emptying the closets, and unloading the wardrobes of countless operas. More than 1,500 costumes will be on sale in a massive clearance -- the garments are costumes from operas that are no longer in the repertory. They range from post-war Paris -- things that resemble Dior's "New Look"-inspired costumes from the opera Boulevard Solitude, designed by Tobias Hoheisel -- to modern-day suits from the 2009 production of Cosi fan Tutte. There are costumes from Katya Kabanova, designed by Maria Bjornson, the designer of Phantom of the Opera, Don Carlo, Parsifal, and on and on. It's possible that you might buy something that had been worn by the likes of the celebrated baritone Simon Keenlyside. Prices range from modest sums for bits and pieces, to "kingly" sums for kings' raiment.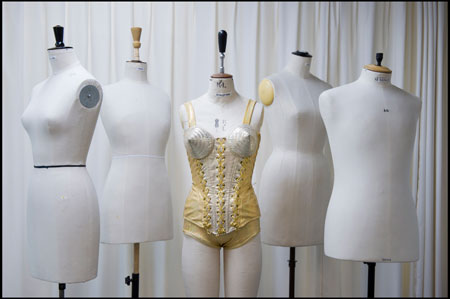 Proceeds from the sale benefit the Royal Opera. The sale is taking place this weekend (Saturday, from 10 a.m. to 5 p.m. And Sunday, from 19 a.m. to 4 p.m.), at the new Bob and Tamar Production Workshop at the High House Production Park in Purfleet, and if you are lucky enough to be reading this and are in the UK, then hie thee there, and have a look-see around the grounds, the café, the orchards, kitchen, and beautiful walled gardens. (There is a train station in Purfleet and it's about a half-hour's ride from London.)
Posted on Friday, September 23, 2011 @ 05:35 PM | 0 replies Start the Discussion
---
City Shopping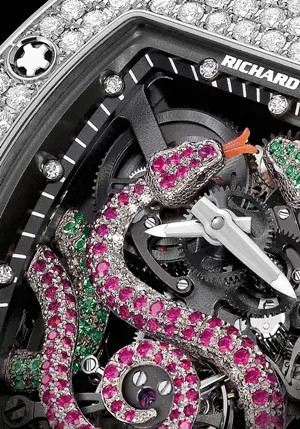 "My wife promised me that when I turned forty, I could get a new watch," commented one VIP visitor today, at the new TimeCrafters show. The exhibition and sales extravaganza is New York's first luxury watchmaking fair, and today is the preview for press and VIPs; the show opens to the public tomorrow. "Well," he continued, "when we got close to that date, I really put the thumb screws on to remind her, and, of course, when I got that new watch, she couldn't complain, since it was her idea." (However, he hastened to add, that the wife in question will soon have a birthday of her own, and so jewelry is on the horizon.)
This gentleman was but one of the droves of rabid watch collectors (mostly men), who are often the kinda' guys who would rather have a new timepiece than a new car, and who were eagerly "shopping." And if that is the case (ahem) for you, then this is the perfect show to visit. (Leave your charge card at home, or you will get into serious trouble.) On view from 20 manufacturers (among the mix are A. Lange & Sohne, Girard-Perregaux, Officine Panerai, Audemars Piguet, IWS Schaffhausen, and Chopard) are their latest, most unusual, most seductive, most precious keepers of time.
Organized by Editions Temps International (ETI), the leading European publisher of supplements in the international watch sector (with sponsoring support from the Mandarin Oriental Hotel, Piper Heidsieck, Sotheby's, Swiss Airlines, and the Watch Avenue.com), the show also features an exhibition of historic timepieces, curated by the Fondation de la Haute Horlogerie, which promotes technical and precious fine watches throughout the world. This wonderful exhibition features over 50 extraordinary examples of benchmark timepieces, each illustrating the development of the art and science of a handcrafted mechanical watch movement and the subsequent advances in technology that have helped to create newer and amazing complications. Addition there are three skilled watchmakers—craftsmen of the highest order—who will be workin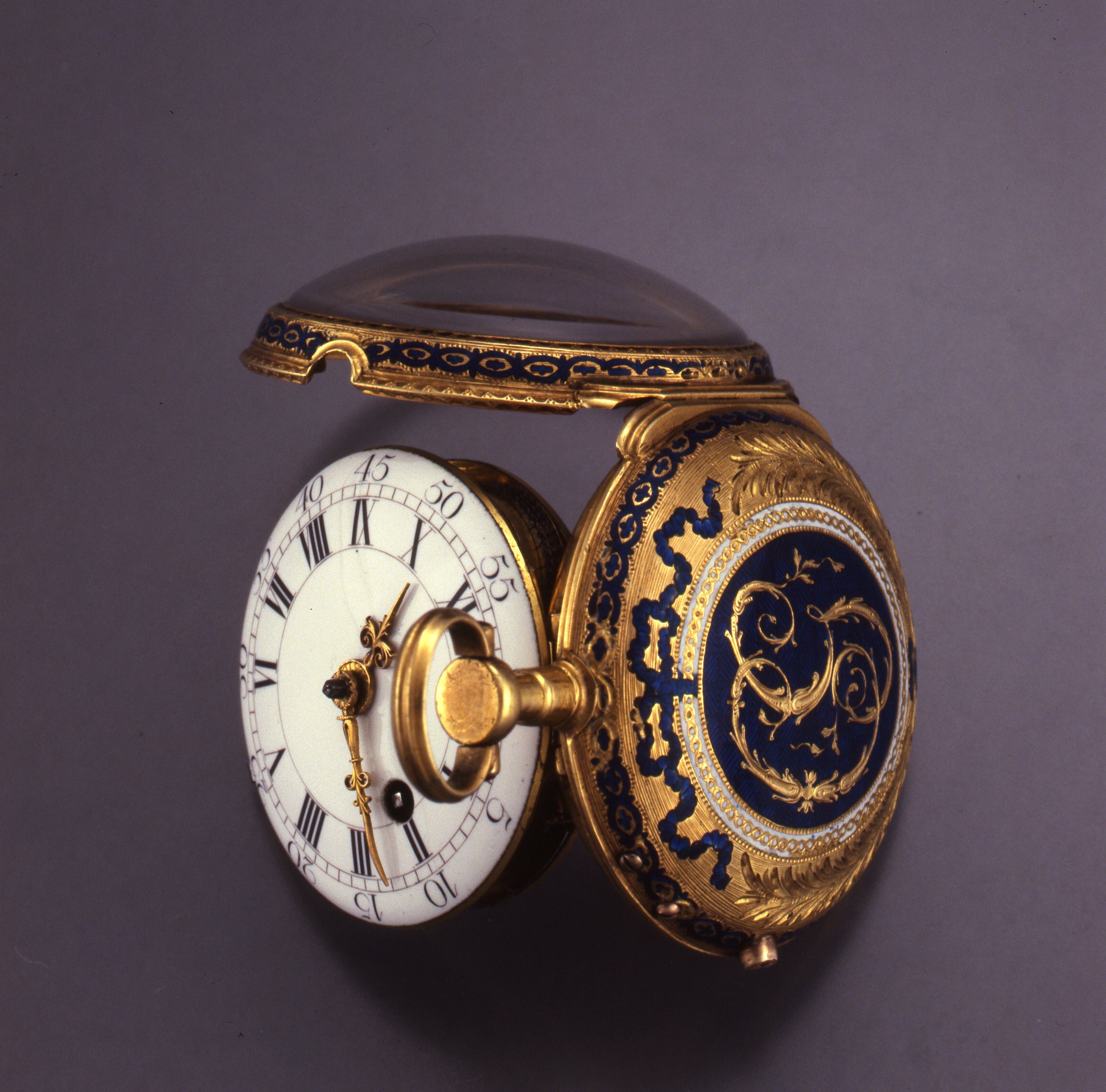 g at benches in the exhibition to give visitors a glimpse of the extraordinary expertise required to call one's self a master watchmaker.
Perhaps the most staggering part of the extravaganza is the exhibit, so even if you own but one pedestrian Crackerjack-box watch, you will still have reason to go and ooh-and-ahhh: You can view the transition from pocket watches to wrist watches; there are one-of-a-kind beauties that represent elegant jewelry-watch combos—a ring, a little book (Girard-Perregaux), a button closure, a pendant. Additionally, you'll marvel at the Vacheron-Constantin watch that has shutters on the face, the Jaeger-leCoultre Memovox wristwatch, two Audemars Piguet watches (one with a minute repeater and another, a tourbillon). And among the women's watches on view are two true marvels with itsy-bitsy movements: a Jaeger with the tiniest mechanical movement ever made and a drop-dead-gorgeous Cartier Art Deco diamond model.
The show is open Saturday and Sunday, from 9 a.m. both days to 6 p.m. on Saturday and to 5 p.m. on Sunday. The exhibition is mounted in the stunning The New York Times' TimesCenter, at 242 West 41st Street, between Seventh and Eighth Avenues. More information: timecrafters.us
Posted on Friday, May 13, 2011 @ 03:42 PM | 0 replies Start the Discussion
---
City Shopping
Madison Avenue, that gilded swath (dare we say Swatch?) of retail fantasy, stretching from midtown up to about 86hth Street is home to more fine, upmarket watch boutiques than there are hours on the clock dial. And in recognition of the prestigious brands that have graced the thoroughfare over the years and in honor of all the new watch emporia opening (think: Vacheron Constantin and Geneva's DeLaneau, among others), this boulevard of dreams is staging its first Madison Avenue Watch Week from April 11th (Monday ) through the 16th (Saturday). Madison Avenue Watch Week (presented by The Wall Street Journal) is a celebration of haute horology for collectors and connoisseurs, feat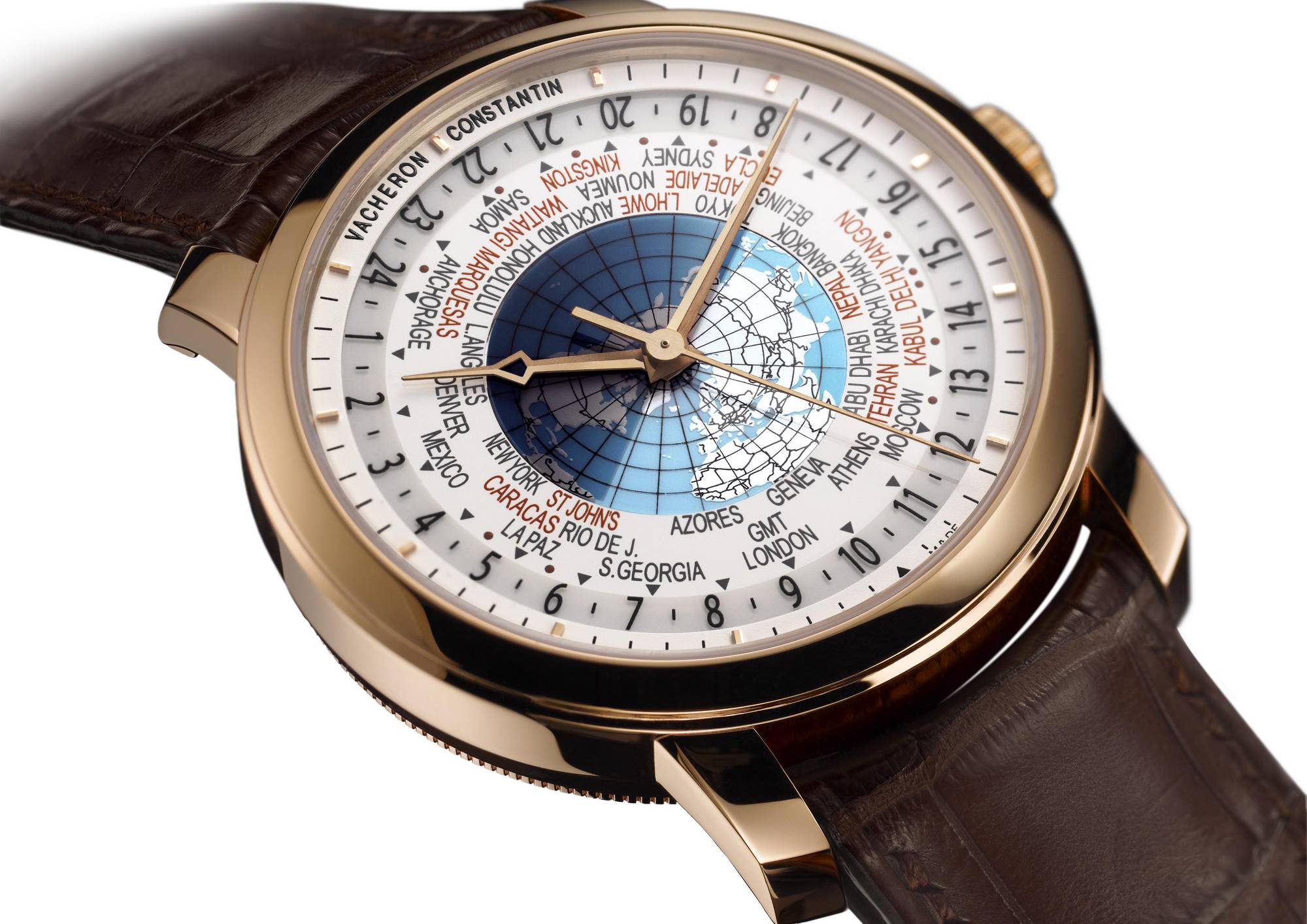 uring artisan demonstrations; new watch previews and launches; discussions with watchmakers; presentations regarding trends in design, manufacturing, and mechanism technology; an exhibition of antique and historic timepieces; and private VIP sales opportunities.
This is definitely a time to set the alarm on your watch to remind you of the many opportunities that there will be along the Avenue, for both shopping and dreaming. Participating boutiques include:
Asprey / 853 Madison Ave. / 212-688-1811
Blancpain / 781 Madison Ave. / 212-396-1735
Breguet / 779 Madison Ave. / 212-288-4014
Chopard / 709 Madison Ave. / 212-223-2304
Damiani / 796 Madison Ave. / 212-375-6474
David Yurman / 712 Madison Ave. / 212-752-4255
DeLaneau / 681 Madison Ave. / 212-355-3142
Georg Jensen / 687 Madison Ave. / 212-759-6457
Girard-Perregaux / 701 Madison Ave. / 646-495-9915
Graff / 710 Madison Ave. / 212-355-9292
Hublot / 692 Madison Ave. / 212-308-0408
Mauboussin / 714 Madison Ave. / 212-752-4300
Montblanc / 598 Madison Ave. / 212-223-8888
OC Concept Store / 655 Madison Ave. / 212-759-9220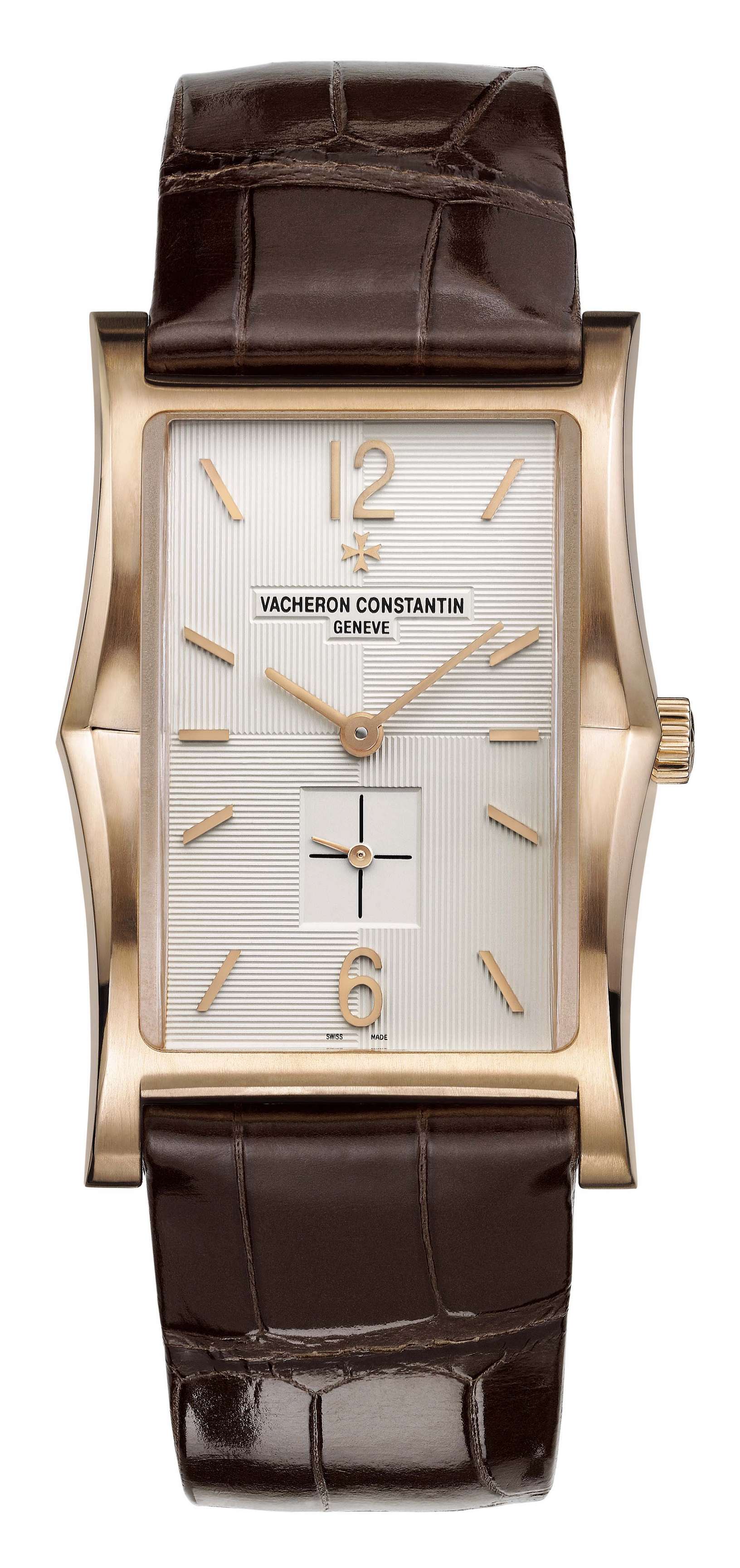 Peter Elliot / 1070 Madison Ave. / 212-570-2300
Porsche Design / 624 Madison Ave. / 212-308-1786
Vacheron Constantin / 729 Madison Ave. / (opening soon) / 877-862-7555
Log on to the home page to access of the calendar of events for the week and to sign up for information on in-store programs, invitations to receptions, talks, and so on.
For additional information: Matthew Bauer, Director, the Madison Avenue Business Improvement District, at information@madisonavenuebid.org.
Posted on Thursday, April 07, 2011 @ 02:02 PM | 0 replies Start the Discussion
---
City Shopping
Another super sale of Italian goods Frette, this time.  Super fine and super-superior white goods as well as table linens and assorted home accessories are all for sale, at up to 70% off retail...which is good, because Frette doesn't come cheap under normal circumstances.  Here is a chance, though, to snap up some of those lovely, over-the-top, high-count sheet sets and fluffy, plush towels, not to mention a box of $100 soaps or some of those silky, clingy dressing gowns that look like they should be in a Merchant/Ivory costume drama.  The sale is at Soiffer Haskin, 317 West 33rd Street, just west of Eighth Avenue (which you probably know by heart now).  Credit cards only, and as usual, no strollers, no children under 12.  Starts tomorrow, Saturday, and continues through Wednesday, the 12th.    Hours:  9 a.m. to 6:30 daily, except Wednesday, when they will close up shop at 5 p.m.
Posted on Friday, December 07, 2007 @ 05:03 PM | 12146 replies View/Post Feedback
---
City Shopping
Lambertson Truex makes high-quality, sometimes over-the-top leathergoods -- beautiful bags, belts, gloves, accessories. If you need anything in that funny-named category, "small leathergoods," then here is your chance. Think Christmas, think Hanukkah, which is VERY early this year, providing a handy excuse for shopping, as if you really needed one. Merchandise is up to 80% off retail, and there is sure to be a little trinket here with your name on it.

This is another Soiffer-Haskin sale, but at a new location, at least just for this sale: Metropolitan Pavilion, 123 W. 18th St. (between Sixth & Seventh Aves.); from Wednesday, December 5th through Friday the 7th, from 9 a.m. to 6:30 p.m. daily. This time, NO cash (unlike the TSE sale last week); plastic only, no checks; no strollers, no children under 12.

Posted on Tuesday, December 04, 2007 @ 02:14 PM | 20 replies View/Post Feedback
---
City Shopping
While you're stocking up on your very practical work clothes (see yesterday's post), drop by Cassin for some luxury accessories to doll up those gabardine suits and coats. Cassin produces furs, cashmere sweaters, fabulous fun fur hats, and shawls and scarves and other accessories, and you're sure not to leave there without a small bag of goodies. Tell Santa you needed his stuff, too, and to just leave the cash for your purchases at both Linda Richards and Cassin.
Sale starts tomorrow, Wednesday, November 28th and goes through Friday the 30th, from 10am to 7 p.m., at the Cassin showroom, 150 W. 30th St. (between Sixth & Seventh Aves.), 5th flr., 212-564-0946.

Posted on Tuesday, November 27, 2007 @ 11:25 AM | 5129 replies View/Post Feedback
---
City Shopping
Twenty years ago, John R. Sullivan left behind a high-powered career in event planning for both Revlon and Estee Lauder. Sensing a need, he decided to hang out a shingle to provide top-drawer party help. Today, his well-trained staff is totally at your service -- whether you need a coat-check person or a highly skilled chef. "We have everything, from soup to nuts," he tells us, although he adds jokingly, "We try to not send out too many nuts." Coat checkers are $20/hour, waiters $25/hour, and maitre d's are $40/hour (with a five-hour minimum). Tips, he confides, are at the pleasure and satisfaction of the host, but "taxi fare after midnight is much appreciated." Sullivan notes that even for a dinner party of 30 or cocktails for 50, you need to have a maitre d'. His clients range from simple folk who just need a few extra hands to boldface names and Social Registry -- including one doting hostess who tells him her "living room looks empty without 100 people in it." Staff will come attired as you request -- but he observes that the "current thing is for black and black and more black." Although for the holidays, "a lot of clients prefer white dinner jackets and colorful ties." By reservation only. 212-255-7596; www.thebutlerdiditnyc.com (This article originally published in the 10/05 issue of Manhattan Living.)
Posted on Monday, November 26, 2007 @ 03:49 PM | 239 replies View/Post Feedback
---
City Shopping
We're not sure just what this sale is promising today, but we're going to check it out later and we'll report from the front.  It's allegedly supposed to have Gucci and Pucci…and Chanel and Hermès.  We shall see just how much of each of these houses it actually has for sale…and for how much off.  The material sent to us by our friends at Lazar Media says that there will be clothing and accessories at 75% off.  Stay tuned for tonight's report.  But in the meantime, here is what you need to know:  It's today and tomorrow, at the Shoreham Hotel, 33 West 55th Street (between Fifth and Sixth Avenues), Ground Floor; from 10 a.m. to 7 p.m.....credit cards accepted.
Posted on Wednesday, September 26, 2007 @ 01:14 PM | 184 replies View/Post Feedback
---
City Shopping
Tourneau is having a BIG sample sale, up to 70% off (so forget your cousin in the biz who could get you a "good" watch for 30% off).  It started on Saturday, but you have until Thursday, the 20th to stock up on all those Jaeger LeCoultres and Vacherons that you've lusted after for so long.  There will also be some estate pieces and some pre-owned timepieces.  Hey, it's worth a look-see, for sure, even if your pockets aren't bulging with moolah, or watches, for that matter. Daily, from 9 a.m. to 6:30 p.m., at the usual Soiffer Haskin joint:  317 W. 33rd St., just west of Eighth Ave.  Again, as usual, no children, no strollers, no cash (credit cards only), and come with time on your hands, so you can buy some more.   
Posted on Monday, September 17, 2007 @ 02:59 PM | 46 replies View/Post Feedback
---
City Shopping
Nancy Koltes Linens are among the finest.  (If you know her charming little NoLita shop, then you already know what treasures her linens are.)  So, here's your chance to snag some, at maybe 80% off retail…O.K., so not every style in every color in every size is going to be available, but there will be plenty from which to choose—sheet sets, duvet covers, towels, home accessories, and loungewear, in a variety of Jacquards, sateens, percales, and prints.  You already know the usual drill for those Soiffer Haskin sales:  No strollers, no kids, no cash, no checks (credit cards only).  Today, tomorrow, and Tuesday, from 9 a.m. to 6:30 p.m. at 317 W. 33 St. (between 8th and 9th Aves.)


Posted on Sunday, September 09, 2007 @ 06:00 PM | 43 replies View/Post Feedback
---
City Shopping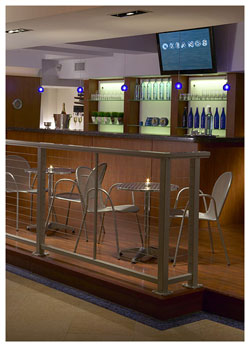 If last night's rain didn't cool you off enough, you'll be able to lower your internal thermostat and escape the pervasiveness of the week's heat tonight, and any Thursday this summer, at the Okeanos Club Spa at 211 E. 52nd St.  (212-223-6773).  For the rest of the summer, through the end of August, Thursday nights are free jazz nights.  The spa/club has a small lounge area where clients can relax between treatments and enjoy complimentary Baltika Russian Beer (the top-seller in the Motherland) and "fashionable" Zyr vodka -- although we suspect that ANY vodka is a top-seller in the Motherland, this one is a very trendy one here in the States. Petrossian is even supplying free hors d'oeuvres, although we rather doubt that they will be springing for the Royal Special Reserve Persicus that is $9,800 for 1,000 grams.
There is no cover fee; clients already using the club and spa facilities are welcome to linger and enjoy the jazz, from 5 to 10pm. While the club is open to both sexes, it's a little more of a men's hangout, what with the resident barber and the male-oriented activities. However, the traditional Russian banya (steamy sauna) and platza (sort of something you'd see in an Ingmar Bergman movie -- bundled birch branches tapped against naked flesh, to enhance circulation) are available to all, as are cooling dips in the plunge pool, and Russian, deep-tissue muscle massages, hot stone massage, reflexology treatments and so on. Tonight, the jazz trio includes Tom Baker on the drums, Matt Hughes, bass, and Andy Friedberg on the guitar.

 
Posted on Thursday, July 12, 2007 @ 05:14 PM | 0 replies Start the Discussion
---
City Shopping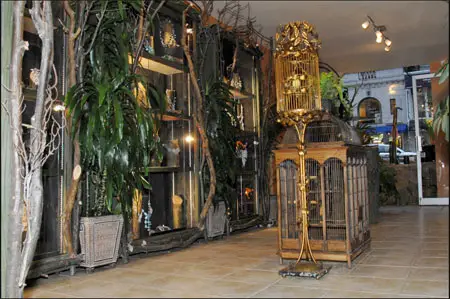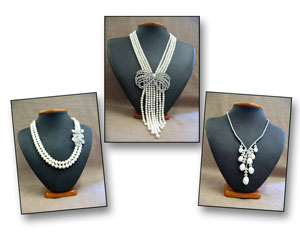 We're off to a wedding this weekend, and it got us to thinking about jewelry designer Siman Tu and his brand-new store at 860 Lexington Ave. at 65th St. It looks less like a bridal salon and more like a learning experience; something conjured up by the wizards behind the educational exhibits at the Bronx Zoo. Tu's shop, you see, is sort like a little Amazon rain forest in the middle of an urban jungle. The trees, the plants, the fish pond, and the birds are all accented with showcases of lustrous pearls, gleaming zircons, Victorian reproduction jewelry, and other sort of earthy bijoux, crafted from things like lapis and natural-looking stones. Tu has a few different collections (one of which is very bridal-y) and they couldn't be more diverse.  (Prices range from about $150 to $3,000.)  We're drawn, however, to the bridal looks -- they're sleek and grown-up looking -- and, they deliver a lot of bang for the buck. Moreover, just because you're not getting married, it doesn't mean you can't snatch up a tiara, or a stunning crown, or hair comb, or barrette, or whatever. Worst case scenario: a parure of a necklace, a bracelet, and earrings to wear to someone else's wedding.

Posted on Friday, July 06, 2007 @ 12:42 PM | 0 replies Start the Discussion
---
City Shopping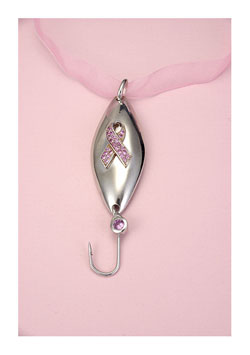 With a birthday of national importance upon us, today seems like the perfect day to check out early. "Gone Fishing," a notion we like very much, works for us. But at the moment, we mean "fishing" in a different fashion. Our hook is from MacDaddy's Fishing Lures and it's wrought from solid platinum (30 times more rare than gold, thank you very much) and accented with a pink ribbon crafted from rosy sapphires. It's an alluring little trinket, at a price that is also a bit of a lure (just a tad under $5,000) for those with some loose change in their pockets…and 10% of the sale proceeds goes to charities dedicated to cancer prevention and recovery.  Forget about trying to catch flounder with it.  Just wear it around your neck.  Available at www.macdaddysfishinglures.com and at fine jewelry stores nationwide.

Posted on Tuesday, July 03, 2007 @ 09:59 AM | 0 replies Start the Discussion
---
City Shopping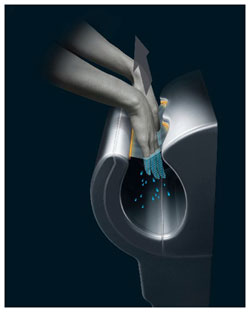 We somehow skipped writing all the stories we wanted to do on spring cleaning (we'll get to a few of them still; we'll just have to call them "summer cleaning"), but vowed to at least write up the new Dyson canister vacuum, which we test-drove recently.  (It sure sucked up all that Golden Retriever dog fur lurking around the old homestead, so we're happy!)  We do, however, have a better Dyson product here to tout -- the Airblade Hand Dryer -- although, we hasten to add, this is assuredly not for anyone.

We think you have to have a major mansion, with a basement family level -- outfitted with a pool, spa, home-entertainment center/movie theater, billiard room, wine-tasting facility, wet bar, and game room, and Lord-only-knows-what-else -- and you have to use it a lot and have a lot of guests over who use it a lot.  Mirabile dictu!  We don't have that kind of set-up in our less-than-a-thousand-square-foot domicile, but the mansions of the Antares Company in Greenwich, Connecticut (which we recently toured) sure do…so whoever buys those properties up there in Taconic Estates, listen up! (Also, for the record, these Airblade Hand Dryers are in the AMC movie theaters on 42nd Street near Eighth Avenue…go check them out if you're going to take in a flick over the long holiday week/weekend.)

So we're writing these Airblade Dryers up because we think they're cool. They dry hands faster than you can say, "Evaporate the water, Sesame."  And, they're hygienic.  No more sort-of dry hands, with damp spots underneath your rings.  No more using your elbow to press the knob on the wall dryer to avoid getting germs.

The way it works: You put your hands into the dryer well and they are instantly surrounded by gushing power streams of hot air, coming at you at 400 mph. The air is funneled through slits no thicker than an eyelash, so the resulting hot air streams are like having invisible windshield wipers removing the moisture from your hands, drying them in 12 seconds! Of course, this nifty little gizmo is a little pricey ($1,400), but then again, as we said, it's not for everyone, and it's hardly an apartment must-have.  But, nice to know it's around…definitely the cutting edge.

Posted on Friday, June 29, 2007 @ 10:11 AM | 0 replies Start the Discussion
---
City Shopping
With Father's Day approaching, time to start thinking about dear old dad…and truth is, there are traditional gifts and then there are wacky ones. But one of the most popular gifts is alcohol, to stock up the bar, and perhaps to offer something that Dad might not splurge on for himself.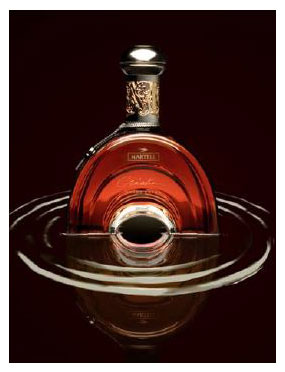 So, if you are going to break the bank, then break it with Martell's most dee-lish and dee-vine cognac, Creation Grand Extra, which is a reinterpretation of the Martell Extra that was first conceived two centuries ago. This is the smoothest, most mellow cognac you can imagine, with a delicate nose and an extraordinary finish -- like drinking a cloud. Sheer velvet. The color alone should tell you it is magical; it's blended from cognacs ranging in age from 50- to 100-years-old. It comes in a stunning, arc-shaped, semi-circle, crystal-looking bottle, at $299 for 750 ml. This will assuredly tell dad that he's the number one in your book.



For those dads who fancy vodka, Stolichnaya's elit vodka is the ticket. It's made with a century-old recipe, in the time-honored Russian tradition (and made in Russia): distilled four times, mixed with pure spring water, and then filtered using a patented freeze, a nifty process that causes the contents inside of the barrel to ice up, leaving only the best and most delectable vodka unfrozen in the center -- and that ultimately serves up unprecedented clarity and smoothness. This is for the true vodka connoisseur. It's $75 a bottle for 750 ml.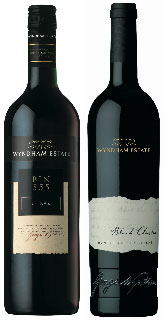 Last, and assuredly not least, are the prestige wines from Wyndham Estate, Australia's oldest continuously operating winery, and originally family-owned and -operated. An émigré from the U.K., George Wyndham first planted vines in 1828 and today the vineyard is home to countless award-winning wines, although the vintner is perhaps best known for its shiraz -- and for an extensive variety of shiraz, from a modest $9.99 for the BIN 555 (which won a Critic's Award at the Critics Challenge International Wine Competition) to the award-winning Black Cluster at $35.99. The company also produces ultra-premium Pinot Noir, Merlot, and Chardonnay, among others.

If want to spring for a really special gift, you can take dear old dad to Australia to tour Wyndham Estate; the tour features a visit to the historic cellars, open fermenters, and a 100-year-old operational basket press, ensuring that guests enjoy the traditional winery experience. There is also a 400-seat restaurant where tasting and sipping are definitely encouraged; the grounds further include a stunning natural amphitheatre that plays host to a number of musical and theatrical events. Overlooking the winery from a picturesque hill is Dalwood House, the original home of George Wyndham, which has been deemed a National Trust treasure.

Posted on Monday, June 11, 2007 @ 04:02 PM | 0 replies Start the Discussion
---
City Shopping
Kati Stern, a European-born-and-bred designer, is having her first-ever sample sale. Stern first showed here in the States at Seventh on Sixth in 2004 and has been a hit ever since, a choice of cutting-edge fashionistas.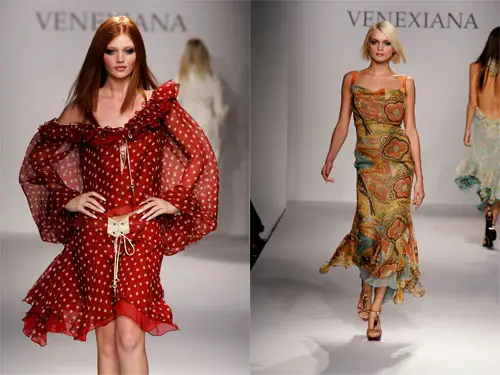 The sale will feature separates, dresses, cocktail/eveningwear, some fancy-schmancy gowns (her after-eight attire is really va-va-va-voom!), shearling vests, and more…all one-of-a-kind! Prices start at $175 and represent a significant savings off retail, not to mention off wholesale! No charge cards accepted, cash ONLY. Tuesday the 12th and Wednesday the 13th, both days, noon to 5pm at Stern's showroom, Venexiana, 521 W. 26th St., fourth floor, (between 10th and 11th Aves.); 212-629-6868; www.venexiana.us 
Posted on Monday, June 11, 2007 @ 01:30 PM | 0 replies Start the Discussion
---
City Shopping
Rev up those charge cards: Yesterday, a Valentino sample sale started. If you love the maestro's clothing, shoes, and accessories, now is your chance to snag a great buy. (There will be some furnishings for men, by the way.)
 
We think that one of the finest -- absolute finest -- exhibits of haute couture we've ever seen was the Valentino show at the Park Avenue Armory. (We swear, you'd never have known it was an armory, the way it was "done up"; it was completely transformed.) The show was amazing -- all that luscious red -- and the catalogue Rizzoli published to accompany it is well worth hunting for on the Web. It's called Valentino/Thirty Years of Magic, and if you find it, buy it. His work is masterly and the book imparts the tiniest flavor of that retrospective.
 
So, if you'd like to see something you own as a part of the next retrospective, buy something now -- this is just the place. The sale will run through Wednesday the 13th. Hours: Sunday through Tuesday, 9am to 6:30pm, and Wednesday, 9am to 5pm.  Place:  317 W. 33rd St., just west of Eighth Ave.  It's another Soiffer Haskin's sale, so you know that means credit cards only, all sales final, no kids, no strollers.  But plenty of wonderful merchandise.  DO NOT MISS THIS ONE!

Posted on Monday, June 11, 2007 @ 09:57 AM | 46 replies View/Post Feedback
---
City Shopping
Yesterday's deluge reminded us that we had totally forgotten to complete our April umbrella cycle! That is to say, when the April showers started coming, we suggested picking up the mini-est of mini-umbrellas, Totes' itsy-bitsy six-incher. But we had other umbrellas to share -- not tiny and not inexpensive, but VERY cool and very special. We snagged a picture or two of the ones we are eager to put over our head on a rainy day (or any day). But then again, our better judgment tells us that even when we become the proud owner of one of these rhinestone-encrusted brollies (just waiting to win the lottery, you see), to never take it out for a stroll, because we are sure to leave it in a cab, at the dentist's, or in somebody's office. And we'd just shoot ourselves. Because not only are these umbrellas, from an Italian company called Pasotti, singular and charming and stunning, but they're also pretty $$$ up there. Some are $450. Yeah. Hang on to your rain hat.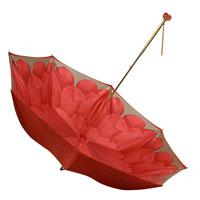 But the ones with the ombréed scattering or deliberate pattern of rhinestones are breathtaking. And they're all lined in different color fabric, too…so it's like having two umbrellas for the price of one. (Well, not really. That's just a rationalization, since you really can't turn them inside out!) But, on the plus side, the handles are special and jewel-like. As you can readily see, we are trying our damnedest to talk ourselves into running out right now and getting the hot pink one with all the rhinestones, sort of strewn over the surface. We're not saying "Rain, rain, go away," but we are hoping it never rains again, so we won't feel "deprived" when next we open up our plain black brolly (probably this afternoon) and feel like a have-not. (Oh, are we sounding like Paris now? Do you think she had to leave one behind when she entered the Big House?)

You can see a huge chunk of the Pasotti line at BrellaBar (www.brellabar.com) and can even shop online. (We've even spotted some Pasotti umbrellas on eBay!) Otherwise, it's a trip to 1043 Third Ave. btw. 61st & 62nd Sts., 212-813-9530. Bring a charge card, for sure, and be prepared for umbrella madness.

Posted on Tuesday, June 05, 2007 @ 02:01 PM | 0 replies Start the Discussion
---
City Shopping
Two years ago, we hit the proverbial terrycloth jackpot at the Frette sample sale, paying something like $80 for a sumptuous robe that we know would sell for a few hundred bucks under normal circumstances. Not to mention all the other little "trinkets" we picked up. (Hey, you never know when you need to give a lovely house gift -- a few washcloths, divine soaps, a set of guest towels, whatever.) Starting Sunday, June 3, through next Thursday, June 7, Frette is having a great sale at Soiffer-Haskin, at 317 W. 33rd St. (just west of Eighth Ave.). Daily Sunday through Wednesday, 9am to 6:30pm, and Thursday, 9 am to 5pm. If you don't know Frette, you're in for a tactile surprise, as the goods are just sumptuous, Italy's finest. Luxurious towels, linens, bedding, and home accessories, and even delicious lounge- and sleepwear. Absolutely worth the trip. As usual, no cash, no checks; credit cards only.
Posted on Thursday, May 31, 2007 @ 11:26 PM | 215 replies View/Post Feedback
---
Subscribe to this Blog's
Feed