City Shopping - Getting Organized Blogs
Back to Blog... | View More Bloggers...

About the Author: About the Author: Ruth J. Katz is a well-known shopping and service writer based in New York City. She has written about shopping for 25 years for New York magazine; covered the topic on-air at Fox-TV for several years as the Home Services expert; and had her own show on both the USA and Lifetime Cable networks. Katz wrote extensively for The New York Times as well, and contributed periodically to the New York Daily News. She is a passionate shopper, always looking for not merely a good buy, but the best buy, ferreting out a "steal" or discovering up-and-coming designers. She has written five books and is a former contributing editor to Hearst's Redbook, Classic Home, and Colonial Homes; she is currently a Contributing Editor of New York Home, Golf Connoisseur, The Modern Estate, and Promenade magazines. She is also the former Shopping Director for Davler Media's Manhattan Living.


---
City Shopping
Emergency room nurse Erin Balogh spent most of her mornings flipping pancakes, doing laundry, changing diapers, and trying to get ready for work. She found herself relegated to using her downstairs guest bathroom for her toilette, in between trips to the laundry room and the kitchen. In that tiny half-bath, she would balance her hot curling iron and flat iron on the edge of the pedestal sink, and invariably, her hair tools would slide into the basin or drop to the floor. There had to be a better way, she thought: She checked locally and on-line in an effort to pinpoint an appropriate implement to hold the pesky implements, but there wasn't much that would work. There were wall-mounted tools and gizmos for the countertop, but in her tiny bath, there was no counter, and she didn't want anything wall-mounted that would be permanent, to spoil her pretty guest bath.
Necessity is almost always the mother of invention, and in Balogh's case, trying to find the requisite tool forced her to be a little more pro-active, to think a little more creatively: She dusted off her sewing machine and grabbed a silicone oven mitt and a hot pad and then sewed them together, creating a kind of over-the-sink-edge holster from the oven mitt for holding her tools. At the other end, she fashioned a pocket from the oven mitt, weighted it with a piggy-bank's worth of coins, and put the sturdy heft into the bowl, to balance the weight. The silicone holster could comfortably hang over the edge of the sink, and the weighted oven mitt was draped into the sink—and it was the perfect assemblage for her hot tools. Yes, this would do it, this rudimentary silhouette would be the model of her ultimate product, the Hot Iron Holster.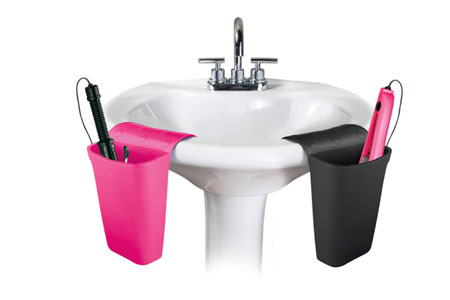 Now, all she needed was a professional and better-designed thingamajig like this. And off she went to streamlining it and having it made professionally. This would be the perfect tool holder, the answer to her prayers! And she knew others would want one, as well, as she knew she simply could not be alone. (And she wasn't...I, among the many, was with her!) She debuted her product at the International Home and Housewares Show, the Big Guns of the home industry, in Chicago, last year, where it was a huge hit.
Balogh ultimately created two versions of her holster—an at-home model and a professional model, for salons and stylists. The holster is ideal for hot tools (up to 500 degrees F)—flat irons, curling irons, hair dryers, and Lord only knows what else we use. The specially formulated silicone clings to any smooth, non-porous surface, including tile, wood, laminate, granite, metal, glass, vinyl, porcelain, plastic, and leather, among the mix. When put into place, both surfaces should be clean and dry; dirt and lint may reduce performance, but can be easily removed by rinsing with water or cleaning with rubbing alcohol.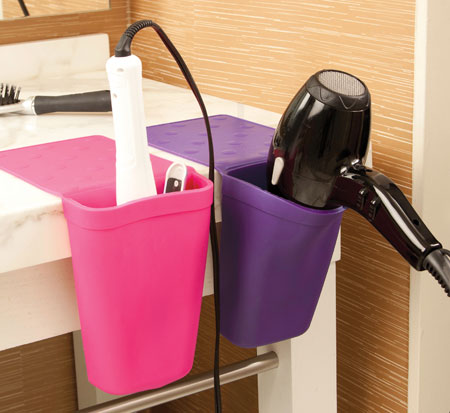 In addition to being easy to install on just about any surface, the longer end can be used over a towel bar, around an open shelf, over the edge of the sink, or (as I do it), over the rod of my portable bathroom moveable cart. The professional model has a longer tail, more copious pocket, and is capable of holding more...and the longer grip-end of the professional model is ideal for putting over the back of the salon chair. To remove the holster, just lift up the tail end. The at-home model retails for $29.95 and the professional model sells for $39.95 on the Hot Iron Holster Web site. Also available at, among other places, the Container Store.
Posted on Tuesday, August 06, 2013 @ 11:23 AM | 0 replies Start the Discussion
---
City Shopping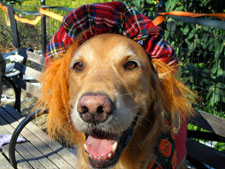 Greetings, again, from moi, your furry correspondent, Austin Katz. My human "editor" said I could scribble a blog again, as it's been months since I've put my two-cents into print. I was warned, however, that I have to be careful; I was advised to watch my language, so as not to put my paw in my mouth!
So, here is what I want to share with you: This is the weekend that begins the official rush to Fire Island, the Hamptons, Upstate New York, Connecticut, and so on...and if you're a fuzzy person like me, then you want to be sure all your "things" are properly packed to be transported to the summer abode. (Yes, some dogs really are literally lucky dogs, to have two homes!)
When they (the management of my domicile) pack up the car, I watch them like a hawk, to be sure my stuff gets loaded. Yes, transporting everything is a chore, to say the least; I have to keep reminding them waht to take, by moving my things to a spot in front of the door; I feel like I have to do it all--keep the humans in tow, get my stuff loaded, and remind them to take their junk—their arugula, their tennis rackets, their hiking boots, their battery-charging-electronics junk. Their stuff, in a word, is both mysterious and endless.
So, to protect myself and my treasured belongings, I have urged them to get the most wonderful mobile pet organizer. (We're strictly a canine-companion family, but I think any persnickety kitties who may be reading this and who belong to others could use this stupendous organizer, too; but I fear that they would then not allow us dogs to share it! You know those cats.) Anyhow, the organizer is from Yep Yup and it folds up neatly, and yet unravels to reveal pockets a-plenty, to hold all your necessities (like cookies and rawhides and bones and treats and Greenies and biscuits) and other non-necessities/provisions like brushes, leashes, collars, IDs, tooth-brushing annoyances, and ear-cleaning torture contrivances.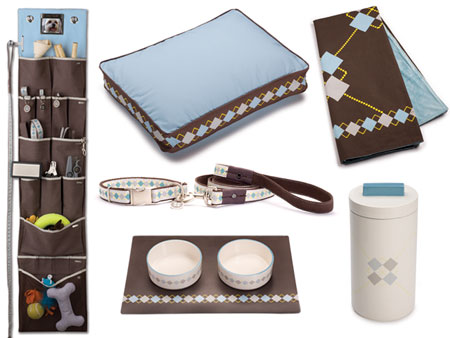 Designed by a duo, Sepi and Gerardo (who are very experienced in matters pet-related and design-oriented), the beautifully crafted and well thought-out organizers are perfect for the car and ideal to hang on the wall once you are at that vacation house. The organizers have storage galore for all my treasures, my bones, my gizmos, my fold-up dishes—my stuff, in a word. (I do not have any arugula, by the way.) And, as you see above each design style has many other pet-related items in the series--beds, leashes, cookie jars, and so on.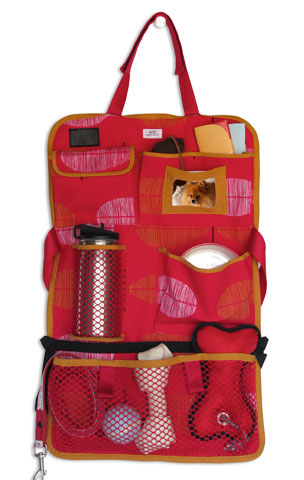 They are available in over a half-dozen different colors/designs and there are a few styles. They range in price from $49 to $59, real cheap if you ask me, since I am a dog and have no money anyhow. (I encourasge spending the humans' cash.) They are available on line at Yep Yup and also in New York at Canine Styles. (And just in case there IS a cat on the horizon, the organizers have a place for a photo, so let the cat have her own Yep Yup organizer -- and put her picture there in the little pocket -- so she doesn't horn in on my organizer!)
Posted on Friday, May 25, 2012 @ 10:35 AM | 1 reply View/Post Feedback
---
City Shopping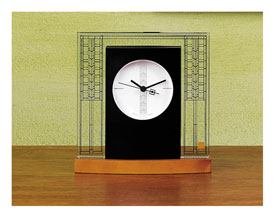 Dad has given us so much of his time over the years, so for Father's Day, why not give some time back to him? We think that this desk clock from the Metropolitan Museum of Art is the perfect way to capture time and share it with dear ol' pop. It's adapted from a 1905 art glass window by Frank Lloyd Wright, which was created for the living room of the W.A. Glassner House in Glencoe, Illinois. The $65 clock is constructed from a mineral glass panel and a solid wood base with a light cherry stain. (Measures 6 1/4" in height, 6 1/4" in width, and 2" in depth.) Available at the Metropolitan Museum of Art bookstores (800-662-3397) or online (www.metmuseum.org/store). Watch as tempus fugit with this gift!

Posted on Tuesday, June 12, 2007 @ 10:00 AM | 0 replies Start the Discussion
---
City Shopping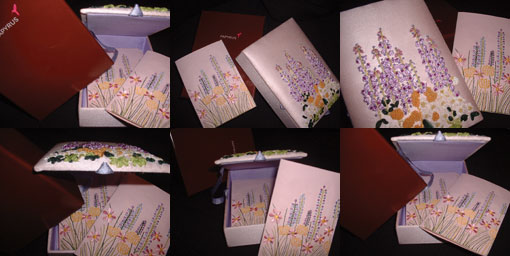 We have previously sung the praises of the local Papyrus stores, which keep sprouting up, everywhere in the city, it seems. We spot a new one every time we alight from the subway and stare at a street corner, figuring out which way to walk. And lauding the shops' merchandisers once again -- just in time for Mother's Day -- is actually in order. Yes, there are pretty picture frames, exquisite and diverse journals, bath and spa products, and even books Mom might like (on Audrey Hepburn, Chanel, and other iconic women), but once again, we have to say our favorite Papyrus things are the paper goods -- the stationery collections, the bags, the wrappings, the cards, the trinkets. Never have so few done so much with, and for, paper.

We spotted several stationery collections that would make lovely gifts, packaged in re-usable silky boxes, just oozing trimmings of one form or another -- embroidery, beads, opulent embellishments. And inside each is a set of handsome note cards, and maybe even a pen. Look for the celadon-green collection with tons of beads in forms that resemble a Chinese-inspired floral fantasy garden (around $40) or the silky, pale-lavender box, heavily embroidered with seasonal blossoms, containing six elegantly embroidered (yes, embroidered on handmade paper) note cards in the palest of pinks (around $30). The shops' assortment of cards is all-encompassing -- for the hip mom, the grandmom, the steadfast mom, the friend who acts like a mom -- whether you want to make a funny statement or hit a heartfelt, Hallmark-y kinda' note.

You will not go wrong with anything from the Papyrus shops. Surely, all the Papyrus people have mothers they want to please and they stocked the store with all the things that they'd buy for them! 

Posted on Friday, May 11, 2007 @ 04:03 PM | 255 replies View/Post Feedback
---
City Shopping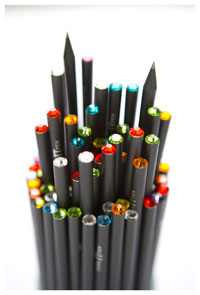 Twelve more shopping days 'til Mom's special day. Have you made a list, checked it twice? Oh, dear, that's the wrong holiday. But actually, it's not, as we are eager to get you to write something...and to use that instrument as a jumping-off point for a gift for mom. Russell + Hazel has just come out with (they're so new, you'll be able to get them ONLY at the Web site, www.russellandhazel.com, but soon, they'll be in stores) the world's most magnificent pencils. Sleek matte black, they're crowned with a brilliant, luminous Swarovksi crystal. Oh, O.K., we know: "Hasn't' the world seen enough Swarovski crystals?" you're sneering. But no, it's never enough…and you've not seen them like this, anyhow. Besides, we really love sparkly things (we wouldn't turn down a tiara, you know) and we're sure your mom will just adore these sparkly things, too. Big deal -- so you can't get her the Kohinoor Diamond, or the Hope, but get her a basket of these beauties. And, by the way, they're not that cheap, either; she won't think you chintzed on her gift. Three pencils are a mighty $20, but they are ever so worth it. They come in three different colorways -- the orange-y/red group is nice, we think, but the celery/light blue group is even nicer, and then there's the orchid/pink group that is just splendid. Oh, they also come in gold!

Posted on Tuesday, May 01, 2007 @ 01:56 PM | 0 replies Start the Discussion
---
City Shopping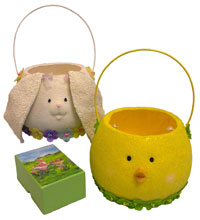 We love the "stuff" at Papyrus. All the beautiful gift bags, the clever cards, the gift-wrap accessories that we absolutely don't need and yet fall for each and every time we see them. Every trip to one of the 17 Papyrus stores is always an exploration into soul-pleasing fun, albeit financially ruinous soul-pleasing fun. It's not that the merch is pricey (it's very well priced, in fact), but it's just that we want it all. The stores are an outgrowth of the Marcel Schurman Company, known for years for its fine papers and party products. Today, Papyrus stores are merchandised so cleverly and festively, it's hard not to want to bring everything home -- for whatever celebration we're painting the town fuchsia.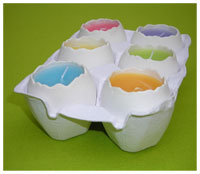 So get there now for all your Easter needs. The little chickie baskets are darling, as are the bunny baskets ($19.95).  We loved all the shopping bags trimmed in marabou and we were salivating to light up the half-dozen "eggs" in the crate -- —they are actually sorbet-colored candles in "eggshells" ($14.95). If there is no store near you, check out the site: www.papyrusonline.com.
 
Posted on Thursday, April 05, 2007 @ 04:33 PM | 0 replies Start the Discussion
---
City Shopping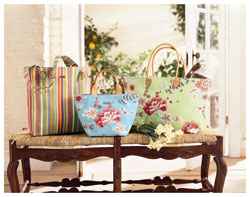 Despite last week's hail storm (beware the Ice of March!), the nip in the air today, and the slush puddles at every curb, it's Spring. At least that's what the calendar proclaims. We know it's a paltry offering, but we hope you can take some cold comfort in reading about springy stuff for the next day or so, as we share fleurs and printemps.

When we think of Pierre Deux, we think of those signature textiles, evocative of the French countryside. They have a distinctive feel, colors, and motifs and are instantly identifiable. They bear names like Avignonet, Indianaire, and Maianenco. No sooner do we conjure up those fabrics, we next think of those wonderful tote and market bags, satchels, and generous duffels, all made with those fabrics, and for which Pierre Deux is well known.

Newest to the Deux famille of fabric and bags are the Pauline bucket bags, bedecked with an oversize, uncharacteristically large floral print against a calming azure or pistachio background. We love the sturdy leather handles, the perfect sizes (priced at $78 and $120), the compartments. (On the left in our shot is another style in bold stripes, dubbed a "beach bag.") Grab them while they are in stock, as they were manufactured in limited editions and could be gone by the time you start to book your first jaunt on the Jitney. 625 Madison Ave., 212-521-8012; www.pierredeux.com
Posted on Wednesday, March 21, 2007 @ 02:53 PM | 0 replies Start the Discussion
---
City Shopping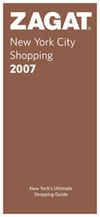 The 2007 Zagat New York City Shopping guide ($14.95) is out as of yesterday, and although we wanted to be the first on the block to bring it to you -- after what in the publishing biz is called an embargo was lifted -- we were just too jet-lagged to do it, so we're a day late. (More about the jet lag later this week.)  
On to the important stuff, the shopping:  Even if you're an inveterate shopper -- an intrepid New Yorker who has plenty of his or her own little haunts and secrets shops -- this guide is a very useful Baedeker, a resource you'll consult often, if only to check an address, phone number, or the cross streets (something that they wisely added this year). Like all the Zagat guides, it's a handy, pocket-sized volume; you'll find many new features and updated graphics and icons. Moreover, our good friend and professional colleague Randi Gollin edited it...so we just have to tell you how wonderful it is! There are close to 2,500 shops listed, with 167 new entries. There is also a pull-out map (also new, and a smart addition) with all the most popular chains and independents dotting the geographical landscape. Click here to get your copy.

Posted on Thursday, March 15, 2007 @ 12:43 PM | 0 replies Start the Discussion
---
City Shopping
O.K., get out the plastic again -- you will not want to miss this sale.  Both Baccarat and Asprey are cutting prices and now is your chance to stock up on lavish gifts, find luxe clothing, or dress the house in the finery of crowned heads of state.  
Asprey, with all its fancy royal warrants and over-the-top merchandise (if memory serves us, we once saw a sterling Champagne chiller there -- for multiple bottles -- for thousands and thousands and thousands) is a pretty $$$ shop, but at the "sample" sale, there are tons of things that are affordable…expect to find Asprey's signature leather goods, jewelry, silver, and clothing -- up to 75% off.  
Baccarat is known for its superb lead crystal, giftware, and decorative items and at this sale, they say, there will be rare museum pieces, whatever that means.  But one thing we do know that it means, is d-i-s-c-o-u-n-t -- probably 60-75% off original prices. Do what we do to try to finesse an even better deal:  Go the first day or two and scope out what you want, and then wait until the last day, when the prices are generally cut even more. (Yeah, we know -- you do, indeed, risk losing your item; it's a hedge, what can we say? -- we still do it!)  Remember, plastic only, no cash, no checks.  
The sales are at Soiffer Haskin, 317 W. 33 St., just west of  Eighth Ave. It starts tomorrow, Mar. 3, and goes through Tuesday, the 6th.  Daily, 9am to 6:30pm., and Tuesday, until 5pm only. Again -- read the entry below for Dennis Basso -- no kids under 12, no strollers, etc. Be prepared to check big bags, and also to go home a happy camper with really gorgeous stuff! 

Posted on Friday, March 02, 2007 @ 02:37 PM | 0 replies Start the Discussion
---
Subscribe to this Blog's
Feed