City Shopping - Fun Stuff Blogs
Back to Blog... | View More Bloggers...

About the Author: About the Author: Ruth J. Katz is a well-known shopping and service writer based in New York City. She has written about shopping for 25 years for New York magazine; covered the topic on-air at Fox-TV for several years as the Home Services expert; and had her own show on both the USA and Lifetime Cable networks. Katz wrote extensively for The New York Times as well, and contributed periodically to the New York Daily News. She is a passionate shopper, always looking for not merely a good buy, but the best buy, ferreting out a "steal" or discovering up-and-coming designers. She has written five books and is a former contributing editor to Hearst's Redbook, Classic Home, and Colonial Homes; she is currently a Contributing Editor of New York Home, Golf Connoisseur, The Modern Estate, and Promenade magazines. She is also the former Shopping Director for Davler Media's Manhattan Living.


---
City Shopping
Emergency room nurse Erin Balogh spent most of her mornings flipping pancakes, doing laundry, changing diapers, and trying to get ready for work. She found herself relegated to using her downstairs guest bathroom for her toilette, in between trips to the laundry room and the kitchen. In that tiny half-bath, she would balance her hot curling iron and flat iron on the edge of the pedestal sink, and invariably, her hair tools would slide into the basin or drop to the floor. There had to be a better way, she thought: She checked locally and on-line in an effort to pinpoint an appropriate implement to hold the pesky implements, but there wasn't much that would work. There were wall-mounted tools and gizmos for the countertop, but in her tiny bath, there was no counter, and she didn't want anything wall-mounted that would be permanent, to spoil her pretty guest bath.
Necessity is almost always the mother of invention, and in Balogh's case, trying to find the requisite tool forced her to be a little more pro-active, to think a little more creatively: She dusted off her sewing machine and grabbed a silicone oven mitt and a hot pad and then sewed them together, creating a kind of over-the-sink-edge holster from the oven mitt for holding her tools. At the other end, she fashioned a pocket from the oven mitt, weighted it with a piggy-bank's worth of coins, and put the sturdy heft into the bowl, to balance the weight. The silicone holster could comfortably hang over the edge of the sink, and the weighted oven mitt was draped into the sink—and it was the perfect assemblage for her hot tools. Yes, this would do it, this rudimentary silhouette would be the model of her ultimate product, the Hot Iron Holster.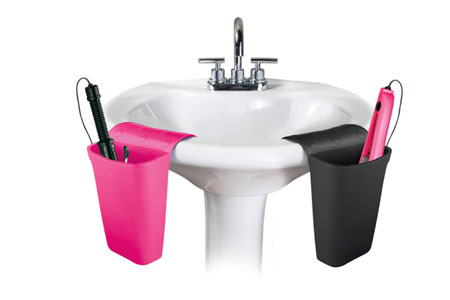 Now, all she needed was a professional and better-designed thingamajig like this. And off she went to streamlining it and having it made professionally. This would be the perfect tool holder, the answer to her prayers! And she knew others would want one, as well, as she knew she simply could not be alone. (And she wasn't...I, among the many, was with her!) She debuted her product at the International Home and Housewares Show, the Big Guns of the home industry, in Chicago, last year, where it was a huge hit.
Balogh ultimately created two versions of her holster—an at-home model and a professional model, for salons and stylists. The holster is ideal for hot tools (up to 500 degrees F)—flat irons, curling irons, hair dryers, and Lord only knows what else we use. The specially formulated silicone clings to any smooth, non-porous surface, including tile, wood, laminate, granite, metal, glass, vinyl, porcelain, plastic, and leather, among the mix. When put into place, both surfaces should be clean and dry; dirt and lint may reduce performance, but can be easily removed by rinsing with water or cleaning with rubbing alcohol.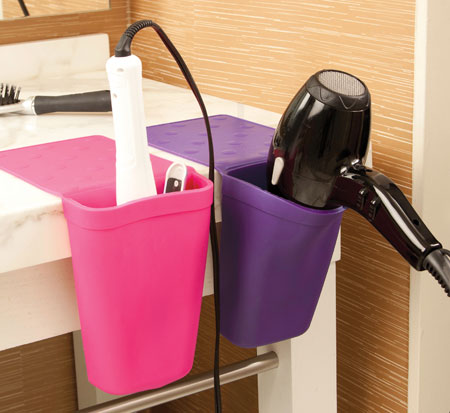 In addition to being easy to install on just about any surface, the longer end can be used over a towel bar, around an open shelf, over the edge of the sink, or (as I do it), over the rod of my portable bathroom moveable cart. The professional model has a longer tail, more copious pocket, and is capable of holding more...and the longer grip-end of the professional model is ideal for putting over the back of the salon chair. To remove the holster, just lift up the tail end. The at-home model retails for $29.95 and the professional model sells for $39.95 on the Hot Iron Holster Web site. Also available at, among other places, the Container Store.
Posted on Tuesday, August 06, 2013 @ 11:23 AM | 0 replies Start the Discussion
---
City Shopping
These are the stuff that dreams—or celluloid fantasies—are made of, to paraphrase Shakespeare: John Travolta's white disco suit from Saturday Night Fever... Judy Garand's blue-and-white-checked gingham pinafore-dress from, of course, The Wizard of Oz... Audrey Hepburn's sensational little black dress from Breakfast at Tiffany's...Vivien Leigh's green "drapery gown" from Gone with the Wind.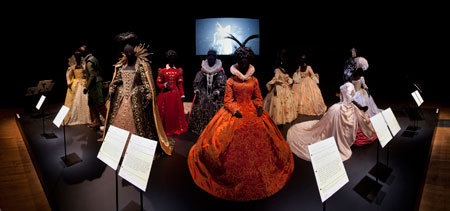 ©V&A images
Clothes make the man, they say, and in cinema, clothes help sculpt the character. "On every film, the clothes are half the battle in creating the character," notes Meryl Streep—a woman cable of transforming herself into personnae from every continent (or Mars, if need be); from every walk of life (high brown, low brow, no brow); from any age, at any age. And as she readily acknowledges, clothes aid her transformation. Just how wardrobe supports any actor in becoming a character will be patently clear if you visit the stunning, skillfully mounted exhibit, Hollywood Costume, currently at the V & A, and on view through January 27th.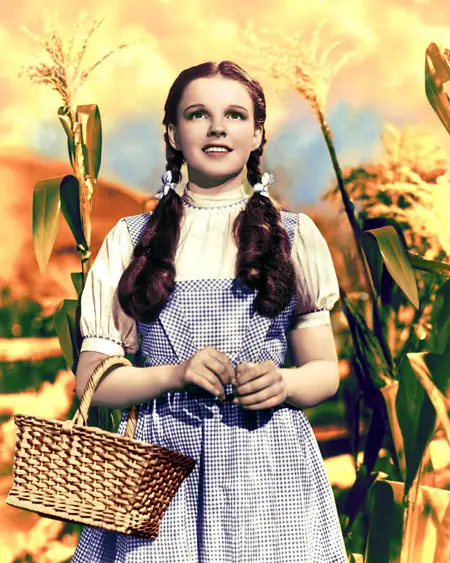 The Wizard of Oz, 1939. Credit: MGM/The Kobal Collection

This is the museum's major, late-fall exhibit and it gathers together over 130 of the most memorable, iconic costumes created for unforgettable cinematic characters from over a century of filmmaking. The exhibit explores the central role of costume design – from the glamorous to the most subtle – as an essential tool of cinematic storytelling. It illuminates the costume designer's creative process from script to screen and reveals the collaborative dialogue that leads to the invention of authentic people within the story. The exhibition also examines the changing social and technological context in which costume designers have worked over the last century, with the items on display spanning silent-film era to the present period, when costumes can even be computer-generated and "captured" for wearing.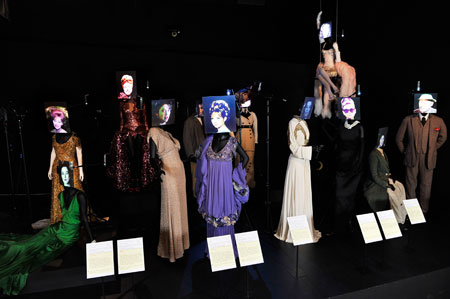 ©V&A images
The costumes on view are united by their single purpose—to serve the story, and tell it in another dimension. To this end, the exhibit's curators, Deborah Nadoolman Landis, a Hollywood costume designer, and Sir Christopher Frayling, guest curator, use montages, film clips, and projections; most appropriately, ensembles are showcased, not in an isolated museum format, but in their original context, in front of a blow-up still of the actor/actress wearing the outfit in the film. Additionally, to make the presentation even more authentic-looking, the explanatory panels are written as film script pages, and there are dialogue pages from the movie in which the garment appeared, as well, all helping to bring the textiles to life.
The exhibition has involved sourcing, identifying, and securing objects from all across the world over the course of five years. The costume collectors who have loaned pieces for the exhibition range from major motion picture studios, wardrobe houses, public museums and archives, to private individuals/collectors. The exhibit is cleverly organized into three "acts," creatively staged with cinematic paraphernalia and equipment. In Act One, the costumes are somewhat deconstructed, with an emphasis on the design process behind the scenes. So, for example, Harrison Ford's Indiana Jones' rough-and-ready outfit is projected on a large screen behind the actual costume, and piece by piece, item by item, the curators divulge the costumers' secrets, thebehind-the-scenes tricks of the trade—for example, how the leather is aged, or the trousers dirtied, why a certain fabric is chosen, or how a particular stitch is executed so it replicates the period, and so on, all in the effort to render the ensemble as authentically as possible.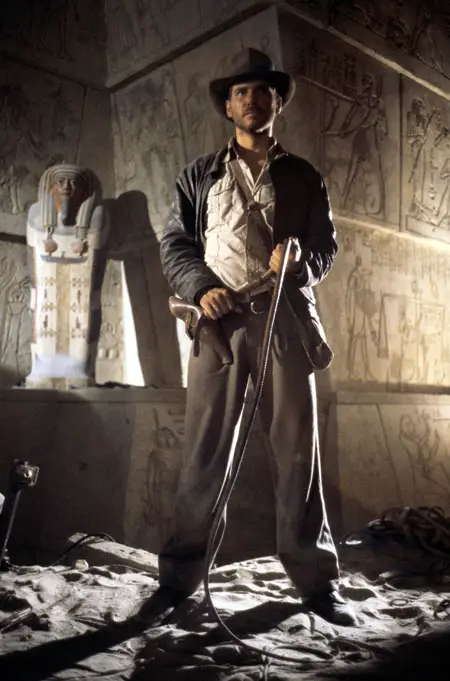 Raiders of the Lost Ark (1981). Credit: Lucasfilm/Paramount/The Kobal Collection
There are clothes instantly recognizable as being "costumes," such as the imperial robes designed by James Acheson for The Last Emperor (1987) alongside others that are supposed to be "real street clothes" (where the street is the mountains) like those from Brokeback Mountain (2005), in which designer Marit Allen's creations for Jack Twist (Jake Gyllenhaal) and Ennis Del Mar (Heath Ledger) may seem invisible against the backdrop, as they are so perfectly suited to their milieu. The steps of the costume designer's research process are explored in case studies that include Fight Club (Michael Kaplan, 1999), Addams Family Values (Theoni V. Aldrege, 1993), and Indiana Jones: Raiders of the Lost Ark (Deborah Nadoolman, 1981).
The development process is revealed using designs and sketches, photographs illustrating costume fittings, budget breakdowns, and script pages to show dialogue that discloses character-defining clues. Act One concludes with a dissection of designer Alexandra Byrne's Elizabeth: The Golden Age (2007) surrounded by a royal court of characters.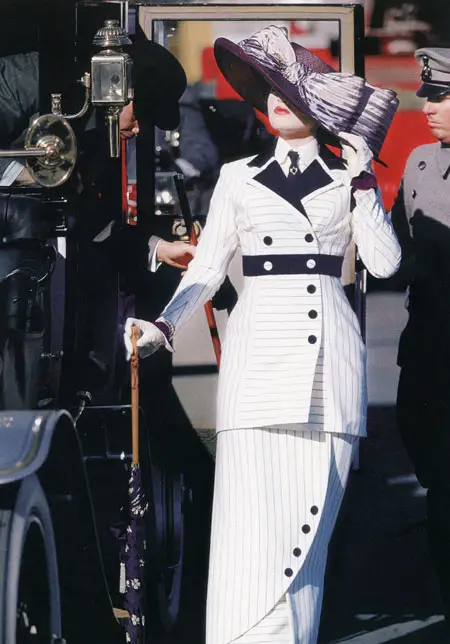 Titanic (1997). Credit: 20th Century Fox/Paramount/The Kobal Collection

Act Two: Dialogue examines the intimate creative collaboration among great filmmakers, actors, and costume designers. Using archival film footage as well as the audio from specially-commissioned interviews, this section explores four key director/designer pairings: Alfred Hitchcock and Edith Head who worked together on 11 films including The Birds (1963); Tim Burton and Colleen Atwood whose nine films together have spanned Edward Scissorhands (1990) to Alice in Wonderland (2010); Martin Scorsese and Sandy Powell who have teamed up on films from Gangs of New York (2002) to the recent Hugo (2011); and Mike Nichols and Ann Roth who have worked together for almost 30 years on films ranging from Silkwood (1983) to Closer (2004). This section is mounted in such a way, that viewers can actually sit down to listen to the complete audio interview, while almost being a part of the action or process. This section concludes with a striking presentation of countless garments worn by the transformative actors Meryl Streep and Robert DeNiro. In specially commissioned interviews, both actors discuss the importance of costume in developing and playing a range of their characters. Five costumes from each of their most famous roles are on view.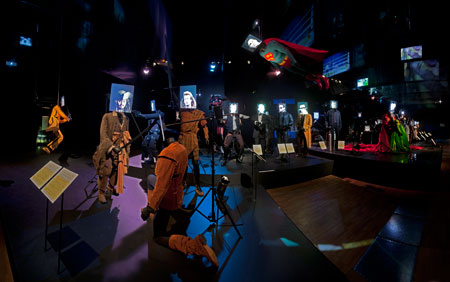 ©V&A images
In the last section, Act Three: Finale the best-known costumes from cinematic history are presented—featuring Hollywood heroes, femme fatales, comic-book superstars, to high-tech creations. Some of the memorable silhouettes featured here include the celebrated white cocktail dress worn by Marilyn Monroe in The Seven Year Itch, the unforgettable green silk-charmeuse, slinky frock worn by Keira Knightley as Cecilia Tallis in Atonement (2007), and a parade of James Bond's tuxedoes.
Ticket Information: Advance booking is advised, as this is a popular exhibit, with a £14 fee. www.vam.ac.uk/hollywoodcostume; 020 7907 7073.
Posted on Monday, December 31, 2012 @ 08:33 AM | 8 replies View/Post Feedback
---
City Shopping
It's time! It's time! At 12:55 p.m., this past Saturday afternoon, The Met: Live in HD returned to a theater near you; and of course, if you were in Gotham, then there were many theater choices for you. This is the seventh season that the Metropolitan Opera is bringing us simulcast operas as well as encore presentations—a dozen simulcasts this year, starting with Saturday's exuberant and joyful L'Elisir d'Amore, which starred Anna Netrebko, Matthew Polenzani, Mariusz Kwiecien, and Ambrogio Maestri, who joined forces in a delightful new production helmed by that master of fun and frolic, Bartlett Sher. One could argue that these Live in HD performances (which have won Emmys and Peabody Awards) are the best thing that the Met's General Manager Peter Gelb has brought us at his "new" Met, but then again he himself has set the bar high and has been responsible for so much innovation at the house that it wouldn't be fair to say that it is the absolute best; but for any opera lover in the hinterlands who cannot get to the Met or for a local who is loath to buy an inexpensive nose-bleed seat, then these are assuredly the best thing since sliced bread.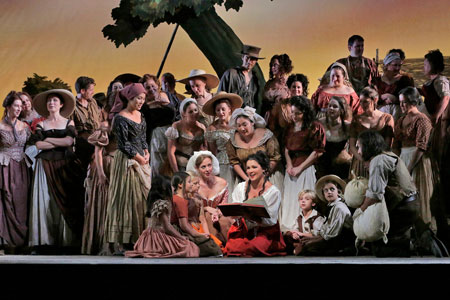 The presentations are brought to the screen by National CineMedia's Fathom Events, NCM's entertainment and events division, which also brings to the screen many other cinematic and cultural performances. (Two weeks ago, Fathom presented the remastered Lawrence of Arabia, in all its glory; and at least locally, in NYC, the house was sold out!) For anyone who missed Saturdays' performance—or, for that matter, cannot attend a live simulcast Saturday afternoon performance—there is always an encore presentation, generally the third Wednesday after the live event, in at least one neighborhood theater, if not more. Noted Gelb: "In addition to bringing grand opera directly from our stage into communities across the nation and around the world, our HD programs energize our performers, who know that a sizeable percentage of the global population of opera fans are watching and listening to them."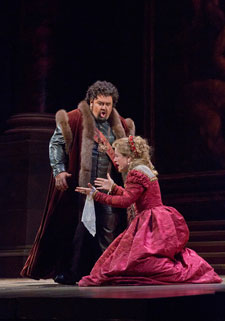 Tickets are available at participating cinema box offices and online at www.FathomEvents.com. (Prices may vary theater to theater, market to market, but are generally around $15 to $20.) The broadcasts will reach 167 U.S. markets in more than 660 select cinemas; the series is also shown in 100 additional independent venues nationwide. The Met: Live in HD is also screened in more than 1,900 cinemas in 60 countries, making the Met the only arts institution with an ongoing global art series of this scale. (The Met: Live in HD series is made possible by a generous grant from The Neubauer Family Foundation; global corporate sponsor of the series is by Bloomberg.)
The schedule for the coming season is below (times are always 12:55 Eastern and 9:55 Pacific, unless otherwise noted, and of course, as you might guess, the programs and the casts are subject to change), but I will report back from time to time so that you do not miss a single must-see performance. Meantime, I just loved, loved, loved the charming L'Elisir SAsturday and look forward to many more winning operas; expect the rest of the season's performances to be wonderful, exhilarating, breathtaking! (For additional info, check out the Met's Web site at www.metopera.org/hdlive)
Saturday, October 13, 2012
L'ELISIR D'AMORE (Donizetti)
Anna Netrebko and Matthew Polenzani star in one of the greatest comic gems in opera, as the fickle Adina and her besotted Nemorino. Bartlett Sher, whose previous productions of Il Barbiere di Siviglia, Le Comte Ory and Les Contes d'Hoffmann have delighted Met audiences, guides this lively staging, where surface charm will meet with real emotion. Mariusz Kwiecien is the blustery sergeant Belcore; Ambrogio Maestri is Dulcamara, the loveable quack and dispenser of the elixir. Maurizio Benini conducts.
OTELLO (Verdi)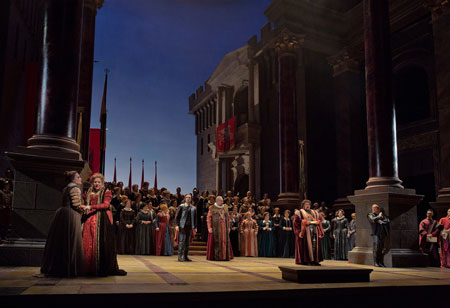 Verdi's Shakespearean masterpiece returns to the Met with Johan Botha as the title role opposite the acclaimed Desdemona of star soprano Renée Fleming, with Falk Struckmann as Iago and Michael Fabiano as the captain Cassio. Acclaimed Russian conductor Semyon Bychkov also makes his cinematic debut.
Saturday, November 10, 2012
THE TEMPEST (Adès) – Met Premiere
British composer Thomas Adès makes his Met debut conducting the first-ever Met performances of his opera, which has been widely praised as a modern masterpiece. Director Robert Lepage recreates the interior of Milan's famous opera house La Scala, including the hidden workings underneath the stage, where Prospero, the banished Duke of Milan, practices his otherworldly arts. The magnetic baritone Simon Keenlyside stars as Prospero, a role he has sung to great acclaim in London.
Saturday, December 1, 2012
LA CLEMENZA DI TITO (Mozart)
The virtuosic Elīna Garanča sings Sesto in Mozart's drama set in ancient Rome. Giuseppe Filianoti is the noble Tito and Barbara Frittoli is Vitellia, in this handsome revival of one of the composer's final masterpieces. Harry Bicket conducts.
Saturday, December 8, 2012
UN BALLO IN MASCHERA (Verdi)
Accompanied by a thrilling score, Verdi's vivid characters grapple with life and love, betrayal and death. Director David Alden's dreamlike setting provides a compelling backdrop for this dramatic story of jealousy and vengeance. Marcelo Álvarez stars as the conflicted king; Sondra Radvanovsky is Amelia, the object of his secret passion; and Dmitri Hvorostovsky is her suspicious husband. Kathleen Kim is the page Oscar, and mezzosoprano powerhouse Stephanie Blythe sings the fortuneteller Ulrica. Fabio Luisi conducts.
Saturday, December 15, 2012
AIDA (Verdi)
The Met's unforgettable production of Verdi's ancient Egyptian drama stars Liudmyla Monastyrska in her Met debut in the title role of the enslaved Ethiopian princess caught in a love triangle with the heroic Radamès, played by Roberto Alagna, and the proud Egyptian princess Amneris, sung by Olga Borodina. Fabio Luisi conducts this revival, which features recent choreography by Alexei Ratmansky.
Saturday, January 5, 2013
LES TROYENS (Berlioz)
The Met offers a rare opportunity to witness Berlioz's vast epic, last performed at the Met in 2003. Deborah Voigt, Susan Graham and Marcello Giordani lead the star cast. Met Principal Conductor Fabio Luisi marshals the large-scale musical forces.
Saturday, January 19, 2013
MARIA STUARDA (Donizetti) – Met Premiere
Fresh from her triumph in the Met's The Enchanted Island, mezzo-soprano Joyce DiDonato, one of the world's most exciting singers, takes on the virtuosic bel canto role of the doomed Mary, Queen of Scots. Having scored a major success with his production of "Anna Bolena," director David McVicar now turns to the second opera of Donizetti's Tudor trilogy, which explores regal characters at fateful moments of their lives. Elza van den Heever sings Elizabeth I, and Maurizio Benini conducts.
Saturday, February 16, 2013
RIGOLETTO (Verdi)
Director Michael Mayer has placed his new production of Verdi's towering tragedy in Las Vegas in 1960—an ideal setting for this eternal conflict of depravity and innocence. In this production, inspired by the antics of the Rat Pack, Piotr Beczala is the womanizing Duke of Mantua, with Zeljko Lucic as his tragic sidekick, Rigoletto. Diana Damrau is Rigoletto's daughter—and their victim. Michele Mariotti conducts.
Saturday, March 2, 2013
PARSIFAL (Wagner)
Director François Girard's timeless new vision for Wagner's final masterpiece explores the many facets of this mystical score, while designer Michael Levine (Eugene Onegin) creates a surreal landscape. Jonas Kaufmann stars in the title role of the innocent who finds wisdom. His fellow Wagnerian luminaries include Katarina Dalayman as the mysterious Kundry, Peter Mattei as the ailing Amfortas and René Pape as the noble knight Gurnemanz. Daniele Gatti conducts.
Saturday, March 16, 2013
FRANCESCA DA RIMINI (Zandonai)
Zandonai's compelling opera, inspired by an episode from Dante's Inferno, returns in the Met's ravishingly beautiful production, last seen in 1986. Dramatic soprano Eva-Maria Westbroek and tenor Marcello Giordani are the doomed lovers. Marco Armiliato conducts.
Saturday, April 27, 2013 – Noon Eastern / 9:00 a.m. Pacific
GIULIO CESARE (Handel)
David McVicar's inventive production of Handel's Baroque classic comes to the Met for the first time, with major stars as Caesar and Cleopatra. The world's leading countertenor, David Daniels, sings the title role of Julius Caesar opposite Natalie Dessay as an irresistibly exotic Cleopatra. Baroque specialist Harry Bicket conducts.
Posted on Monday, October 15, 2012 @ 11:15 AM | 0 replies Start the Discussion
---
City Shopping
In commemorating the 60th anniversary of the death of Argentina's beloved Eva Perón, and also marking the 10th anniversary of the founding of the Museo Evita in Buenos Aires, treasures from the South American museum are being exhibited here in New York City for the first time ever. Evita: Passion and Action will be mounted at the Consulate General of Argentina, starting September 7.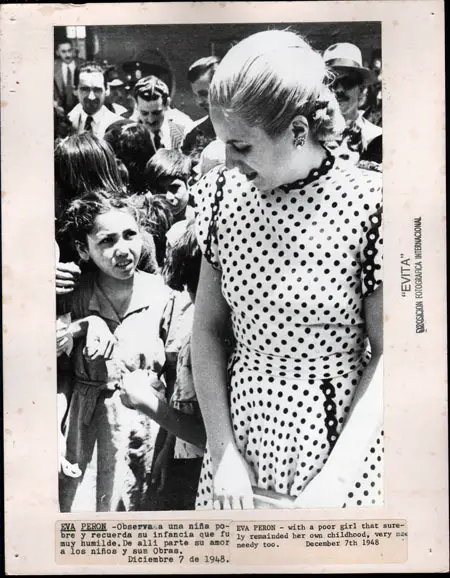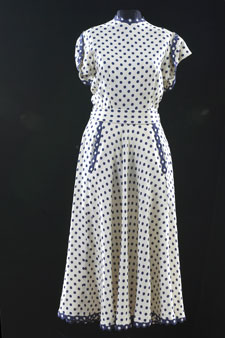 Dedicated to one of Argentina's most celebrated figures and one of the 20th century's cultural and political icons, the exhibition will showcase some 50 works, including paintings and photographs of Evita as well as stunning garments from her personal wardrobe. This is the first time these items have traveled, and short of going to Argentina, this is the only opportunity to see these artifacts. Sponsored by the Ministry of Tourism of Argentina, the Consulate General of Argentina in New York, and the Argentina National Institute of Tourism Promotion, the exhibition will remain open to the public until the 28th of September.
Established 10 years ago in July, 2002, the Museo Evita, or Eva Perón Museum, was created as part of the Instituto Nacional de Investigaciones Históricas Eva Perón (INIHEP) under the auspices of the National Secretariat of Culture. The INIHEP continues the study of Eva Perón's role in Argentine history, functioning as a center for research, an archive for documents and oral histories, and a publication center for investigative studies.
The museum was founded by Evita's great-niece, María Cristina Álvarez Rodríguez, who continues to be closely involved in its operations and is honorary president of the Eva Perón National Institute of Historical Research. The Museo Evita is located in the fashionable Palermo section of Buenos Aires. Housed in the early 20th-century mansion of the Carabassa family, constructed as a single-family residence in Plateresque and Italian Renaissance styles, the building was declared a National Historical Monument in 1999.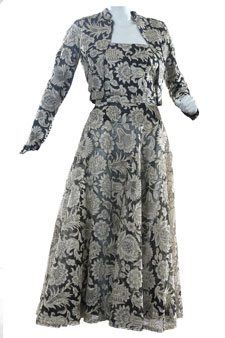 The journey through the museum is presented chronologically from Evita's childhood, and chronicles her family and formative years, and her journey to Buenos Aires from Los Toldos. Her beginnings in show business, followed by her meeting Juan Perón, and ultimately her role as First Lady, are all explored in the museum's diverse exhibits.
The museum's collection contains paintings and photographs; clothing (including some of her remarkable ball gowns and serious "business" suits), shoes, and jewelry; historical documents; and other memorabilia, many loaned by the Álvarez Rodríguez family. The items on display in New York were selected from the main collection by Museo Evita curator Gabriel Miremont, who is a prominent expert on the life and contributions of Eva Perón.
The Consulate General of Argentina is located at 12 West 56th Street (between Fifth and Sixth Avenues). Exhibition hours are 10:00 a.m. to 5:00 p.m., closed Saturday and Sunday except September 22 and 23, when the show will be open from 9:30 a.m. to 5:00 p.m. There is no admission charge.
Additional information: 212-603-0443
Posted on Tuesday, September 04, 2012 @ 05:01 PM | 0 replies Start the Discussion
---
City Shopping
Get out your picnic supplies and your soft, traveling cushion. It is once again time to start thinking about the free (as in it costs no money) ten nights of opera, Met Opera: Live in HD, in the Plaza at Lincoln Center, starting Saturday evening, August 25th (and ending September 3rd, Labor Day). It is one of the greatest gifts that residents of the Big Apple receive--and did I mention, it's free!!?? This is the fourth year that it is being presented to eager Gothamites, as the event annually gathers greater and greater critical mass, it becomes more and more popular, even among people who have never savored opera before. (Last year more than 40,000 people attended; the seating in the Plaza accommodates 3,000, on a first-come, first-served basis.) The Live in HD performances are affecting, intimate, and imminently accessible. Presented in a larger-than-life fashion on the massive screen against the opera house's facade, each opera is fully translated with subtitles , so no need to try to divine what is happening, especially in some of opera's more complicated, convoluted, logic-defying, plot-twisting libretti.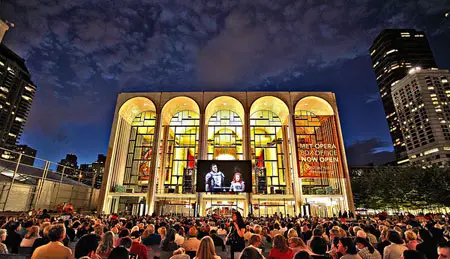 Operatic superstars abound in the ten nights of presentation: David Daniels, Natalie Dessay, Joyce DiDonato, Plácido Domingo, Mariusz Kwiecien, Jonas Kaufmann, Anna Netrebko, Juan Diego Flórez, Karita Mattila, Marina Poplavskaya, Dmitri Hvorostovsky, and Diana Damrau, are but the proverbial tip of the star-studded iceberg. So, come early, bring your dinner, camp out a bit, and make new friends with those around you, and enjoy this fabuloso gift, The Met: Live in HD, that is bestowed upon us, made possible by a generous grant from its founding sponsor, The Neubauer Family Foundation, and with global corporate sponsorship provided by Bloomberg.
Curtain times vary (ranging from 7:30 pm to 8:00 pm), so see the schedule below:
Saturday, August 25, 7:30 PM: THE ENCHANTED ISLAND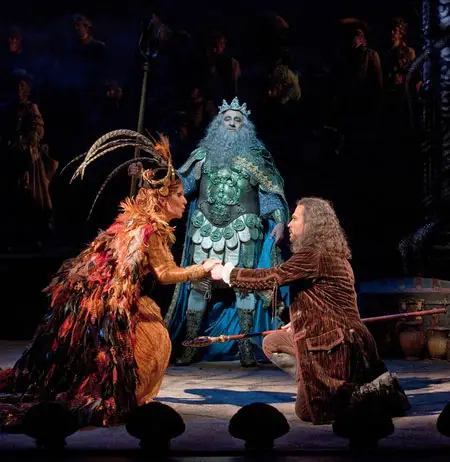 (left to right) Joyce DiDonato as Sycorax, Placido Domingo as Neptune, and David Daniels as Prospero in The Enchanted Island. Photo: Ken Howard/Metropolitan Opera
This world-premiere Baroque fantasy combines music by Handel, Vivaldi, and Rameau with a new libretto inspired by Shakespeare. Conducted by William Christie, directed by Phelim McDermott and Julian Crouch, and starring Danielle de Niese, Lisette Oropesa, Joyce DiDonato, David Daniels, Anthony Roth Costanzo, Plácido Domingo, and Luca Pisaroni. Approximate running time: 180 minutes
Sunday, August 26, 7:30 PM: DON GIOVANNI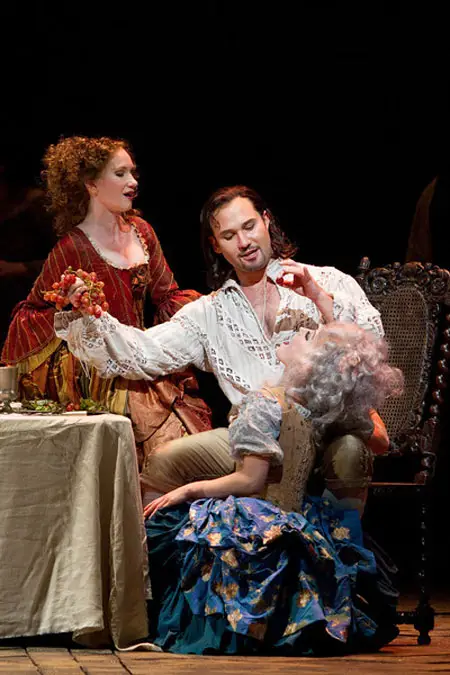 Mariusz Kwiecien (center) in the title role of Mozart's Don Giovanni. Photo: Marty Sohl/Metropolitan Opera. Taken during the rehearsal at the Metropolitan Opera on October 4, 2011.
Michael Grandage's new production of one of opera's supreme masterpieces stars Mariusz Kwiecien in the title role. Principal Conductor Fabio Luisi leads the Met Orchestra and a cast that also includes Marina Rebeka, Barbara Frittoli, Mojca Erdmann, Ramón Vargas, and Luca Pisaroni. Approximate running time: 173 minutes
Monday, August 27, 8:00 PM: LA SONNAMBULA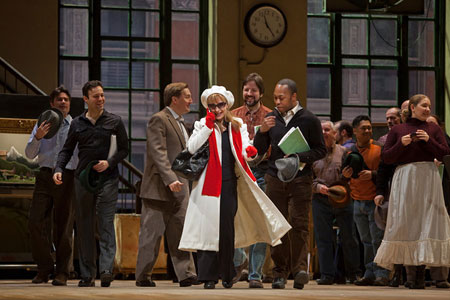 A scene from Bellini's La Sonnambula with Natalie Dessay as Amina. Photo: Ken Howard/Metropolitan Opera. Taken during the rehearsal on February 25, 2009 at the Metropolitan Opera in New York City.
Natalie Dessay and Juan Diego Flórez deliver bel canto fireworks in Mary Zimmerman's inventive production of Bellini's opera, which places the action in a contemporary rehearsal room where a production of La Sonnambula is being prepared. Evelino Pidò conducts. Approximate running time: 137 minutes
Tuesday, August 28, 7:45 PM: SATYAGRAHA
Philip Glass's landmark opera, whose Sanskrit title translates as "truth force," explores Mahatma Gandhi's formative years in South Africa. The visually extravagant production, starring Richard Croft, is directed and designed by Phelim McDermott and Julian Crouch and conducted by Dante Anzolini. Approximate running time: 165 minutes
Wednesday, August 29, 8:00 PM: SALOME
Karita Mattila gives a tour-de-force performance as the title heroine of Strauss's powerful drama, based on Oscar Wilde's play. Juha Uusitalo is Jochanaan in the Met's striking production, conducted by Patrick Summers. Approximate running time: 106 minutes
Thursday, August 30, 7:45 PM: LA CENERENTOLA
Rossini's charming Cinderella story is ideally served by an extraordinary cast, led by Elīna Garanča in the title role, Lawrence Brownlee as her prince, and Alessandro Corbelli as Don Magnifico. Maurizio Benini conducts a production that also stars Simone Alberghini and John Relyea. Approximate running time: 162 minutes
Friday, August 31, 7:30 PM: FAUST
Jonas Kaufmann, Marina Poplavskaya, and René Pape bring Gounod's retelling of the Faust legend to dramatic life in director Des McAnuff's new production, which updates the story to the dawn of the nuclear age. Yannick Nézét-Séguin conducts. Approximate running time: 177 minutes
Saturday, September 1, 8:00 PM: LE COMTE ORY
Bartlett Sher's Met premiere production of Rossini's vocally dazzling comedy features a trio of bel canto stars: Juan Diego Flórez in the title role, Diana Damrau as Countess Adèle, and Joyce DiDonato in the trouser role of the page Isolier. Maurizio Benini conducts. Approximate running time: 141 minutes
Sunday, September 2, 8:00 PM: IL TROVATORE
David McVicar's acclaimed 2009 production stars four extraordinary Verdi singers: Sondra Radvanovsky is Leonora, Marcelo Álvarez is Manrico, Dmitri Hvorostovsky sings Count di Luna, and Dolora Zajick is Azucena. Marco Armiliato conducts. Approximate running time: 142 minutes
Monday, September 3, 7:30 PM: ANNA BOLENA
Anna Netrebko stars as the ill-fated queen in David McVicar's Met premiere production, which opened the 2011–12 season. Ekaterina Gubanova is her rival, Jane Seymour, Ildar Abdrazakov sings Henry VIII, and Stephen Costello is Lord Percy. Marco Armiliato conducts. Approximate running time: 180 minutes
Posted on Thursday, August 23, 2012 @ 11:08 AM | 0 replies Start the Discussion
---
City Shopping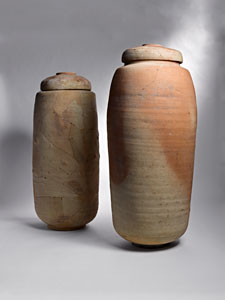 If you have never been to the Discovery Center in Times Square, at 226 West 44th Street, literally just off Times Square, then it's time to discover it. Located in the old New York Times building, the Center is currently mounting a stellar exhibit, The Dead Sea Scrolls: Life and Faith in Biblical Times, and it is a veritable educational Mecca.
The exhibit features the most comprehensive collection of ancient artifacts from Israel ever organized, including one of the largest collections of the priceless (and that is no MasterCard reference), 2000-year-old Dead Sea Scrolls displayed in North America. There is also an actual three-ton stone from Jerusalem's Western Wall -- no easy feat to bring all this here.
The Scrolls themselves are of religious, historical, and cultural importance and they comprise both Biblical and extra-Biblical documents, written in Hebrew, Aramaic, and Greek; the mostly parchment Scrolls are considered among the world's most significant archeological discoveries. They date from about 150 BCE to 70 CE. They were hidden for years and were unearthed in 1947 by a local goat herder, around the Dead Sea. (The exhibit has mounted a wonderfully educational film depicting this and telling the story of how the Scrolls came to light.) In total, there are nearly 1,000 Scrolls, with 20 on display here (with ten being shown at any given moment). Those on display include text from the Books of Psalms, Isaiah, Deuteronomy, and others.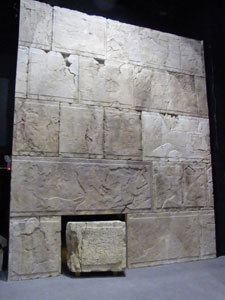 Among the other outstanding objects to see in the show are many newly discovered objects from the Holy Land. These hundreds of items help piece together the texture and fabric of daily life during Biblical times through the period when the Dead Sea Scrolls were authored and then hidden; altogether, these artifacts provide a unique window into the period when the traditions, and ultimately religions, that we know as Judaism and Christianity emerged from the Holy Land.
The show was created by the Israel Antiquities Authority from the collections of the Israel National Treasures and produced by Discovery Times Square and the renowned Franklin Institute in Philadelphia. The exhibit will be mounted through April 15, 2012. It is open seven days a week: Monday to Thursday, from 10 a.m. to 7 p.m.; Friday to Sunday, 10 a.m. to 8 p.m. Tickets must be purchased 90 minutes prior to closing. Tariffs are $25.00 (adults); $19.50 (children, 4 to 12—children under 4 are free); $22.50 (senior). Group sales are available. For additional information: 866-987-9692 and info@tsxnyc.com.
Posted on Monday, November 07, 2011 @ 10:57 AM | 0 replies Start the Discussion
---
City Shopping
I'm about to take off for a week of work outside the country, and I just know that when I return -- while Halloween will still be a day or two away -- the Christmas decorations will be up everywhere....last year, I returned to the city in late October and saw the holiday decorations up in no less than a half dozen "big" stores, and while that may not have included the department stores, there was still plenty of glitter and tinsel around brand-name stores.
So, it's time to start thinking Xmas. The Home Shopping Network 2011 Heart Designer Ornament Collection just went up on the company's Web site last week, and if the past few years' sales are any indication, they will sell out way before Xmas. The ornaments are elegant, fun, and romantic holiday-themed, created by forty-plus Home Shopping Network designers and "friends," a star-studded group. The list of participants reads like a guide to A-list celebs: Martha Stewart, Mariah Carey, Colin Cowie, Todd English, and Nate Berkus, among the many. The ornaments are charming and highly collectible, priced from around $10 to $40. The ornaments are available on hsn.com through the holiday season.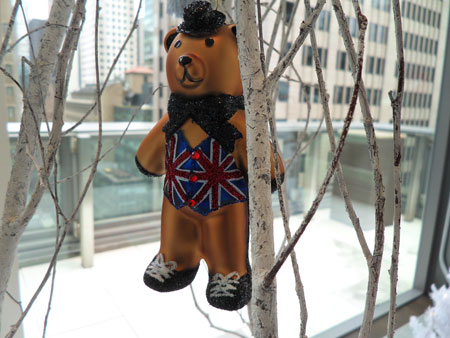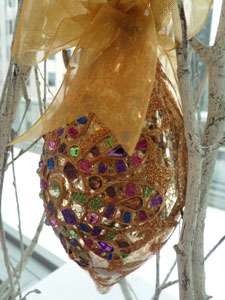 You won't mind (and certainly will not regret) spending any amount on these ornaments, as 100% of the profit, which is at least 30% of the selling price, will go to St. Jude Children's Research Hospital, supporting its ongoing and pioneering efforts to find cures and to save children with cancer and other catastrophic diseases. You could not give to a more worthy charity, as you might well imagine: Giving the gift of health to a child is surely among the greatest gifts of all.
There are a lot of ornaments with rhinestones, glitter, bejeweled surfaces, and sparkly elements, so if you like glam with your Yule, as I do, you'll especially love the many glitzy offerings; among my favorites is the colorful jewel-mosaic ornament from jeweler R. J. Graziano (right). There are about a half-dozen teddy bear ornaments, and many others with doggie and animals themes. There is a sweet doggie with a furry Santa hat on, from jewelry designer Heidi Daus; a cameo designed from renowned cameo jeweler Amedeo; and, also appropriate to his profession, is Emeril Lagasse's ornament, an ear of corn. There are serious ornaments, with a slightly religious tone, and some far more playful. In short, there is something for everyone here.
Posted on Thursday, October 20, 2011 @ 09:26 AM | 0 replies Start the Discussion
---
City Shopping
It's rare that I write something up that you really don't have a snowball's chance in proverbial hell of participating in. However, this is such a wonderful event, I just want to share it. Maybe it's also because I am such a fan of opera. But, I think it would be interesting for anyone to see and share -- and at least to know about.
London's world-renowned Royal Opera House at Covent Garden is cleaning house, emptying the closets, and unloading the wardrobes of countless operas. More than 1,500 costumes will be on sale in a massive clearance -- the garments are costumes from operas that are no longer in the repertory. They range from post-war Paris -- things that resemble Dior's "New Look"-inspired costumes from the opera Boulevard Solitude, designed by Tobias Hoheisel -- to modern-day suits from the 2009 production of Cosi fan Tutte. There are costumes from Katya Kabanova, designed by Maria Bjornson, the designer of Phantom of the Opera, Don Carlo, Parsifal, and on and on. It's possible that you might buy something that had been worn by the likes of the celebrated baritone Simon Keenlyside. Prices range from modest sums for bits and pieces, to "kingly" sums for kings' raiment.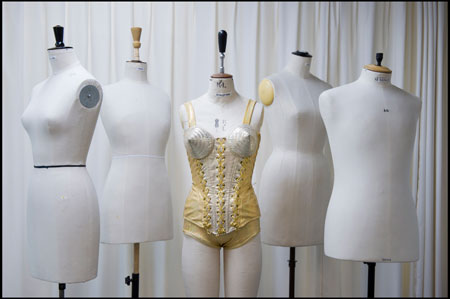 Proceeds from the sale benefit the Royal Opera. The sale is taking place this weekend (Saturday, from 10 a.m. to 5 p.m. And Sunday, from 19 a.m. to 4 p.m.), at the new Bob and Tamar Production Workshop at the High House Production Park in Purfleet, and if you are lucky enough to be reading this and are in the UK, then hie thee there, and have a look-see around the grounds, the café, the orchards, kitchen, and beautiful walled gardens. (There is a train station in Purfleet and it's about a half-hour's ride from London.)
Posted on Friday, September 23, 2011 @ 05:35 PM | 0 replies Start the Discussion
---
City Shopping
"Of all the noises known to man, opera is the most expensive," so quipped Molière.
Well, Molière, grab your opera glasses -- and leave your checkbook at home. This Saturday night, August 27th, you'll get your big, fat chance to see splendid, joyous, brilliant opera at its finest, and it won't cost you a single sou! The Metropolitan Opera's annual high-definition opera fest -- which takes place in the plaza at Lincoln Center on a jumbo screen attached to the outdoor terrace of the opera house -- begins its annual ten-day run. (I guess the Met has been doing it about five years now.) This summer mini-session kicks off with a stellar Don Pasquale (Donizetti), featuring the lovely Anna Netrebko opposite Matthew Polenzani in an Otto Schenk production. (O.K., UPDATE: BAD NEWS, THIS SCREENING HAS BEEN CANCELED BECAUSE OF "MEAN IRENE." The outdoor opera screenings will commence on Monday night, August 29th, see below.)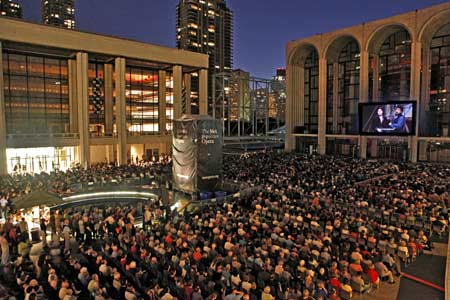 The Metropolitan Opera's "Summer HD Festival" on Lincoln Center Plaza. Photo: Cory Weaver/Metropolitan Opera © 2010
The figurative curtain goes up at 8 p.m.; there are no intermissions as there are in the real-time HD performances that are simulcast during actual Saturday afternoon performances during the opera's regular season, so it will not be as long a production as a live opera is. In other words, you can get the babysitter home early. BUT, while you'll get out at a reasonable hour, you must come at an unreasonable hour, if you like to sit up close, as I do. The plaza holds about 3,000 seats, but frankly, in my humble opinion, le tout New York shows up for these special evenings, so I (and my opera posse) always go very early. Bring a boxed dinner with you and you'll be a happy camper.
The rest of the productions include:
Sunday, August 28 at 8 p.m., Simon Boccanegra (Verdi) (BAD NEWS, IT'S CANCELLED)
Monday, August 29 at 8:30 p.m., Iphigénie en Tauride (Gluck) (N.B: THIS WAS ORIGINALLY SCHEDULED FOR 8:00 P.M., BUT CURTAIN TIME HAS BEEN PUSHED BACK TO 8:30.)
Tuesday, August 30, 8 p.m., La Rondine (Puccini)
Wednesday, August 31, 7:45p.m., Nixon in China (Adams)
Thursday, September 1, 7:45 p.m., Carmen (Bizet)
Friday, September 2, 8 p.m., La Fanciulla del West (Puccini)
Saturday, September 3, 7:15 p.m., Boris Godunov (Mussorgsky)
Sunday, September 4, 8 p.m., Lucia di Lammermoor (Donizetti)
Monday, September 5, 7:15 p.m., Don Carlo (Verdi)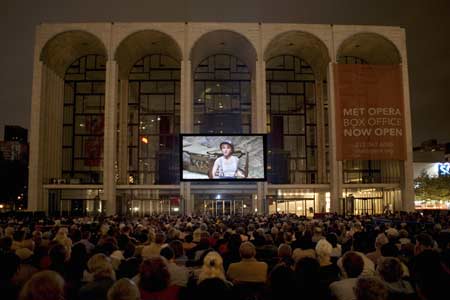 The Metropolitan Opera's "Summer HD Festival" on Lincoln Center Plaza. Photo: Cory Weaver/Metropolitan Opera © 2010
If you have a good time -- and you will -- do a good deed and text a $10 contribution to the Met. The company has very cleverly put up some pre-production coming attractions and donation info on the screen before the opera begins...and who could resist texting a paltry $10 contribution for such a wonderful ten days of FREE opera!? Seriously. And even if you don't kick in a little, at least thank the Powers That Be, who have made these evenings possible -- the Metropolitan Opera Guild and the founding sponsor, the Neubauer Family Foundation.
This is truly one of Gotham's greatest gifts to its citizens and you'd be a fool not to go.
Note to the wise: With a weather advisory for the weekend -- both Saturday and Sunday -- log on to the Met's site to see if presentations are canceled...or check back here. As soon as I know if the screenings are canceled for this weekend, I'll post it. ALREADY POSTED IN THE BODY OF THE BLOG...BOO-HOO, WE WILL MISS TWO FABULOUS OPERAS!
Posted on Friday, August 26, 2011 @ 10:14 AM | 0 replies Start the Discussion
---
City Shopping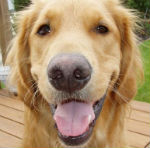 Austin Katz here again, just in case you didn't recognize me. (I am a vain boy, so for my "author's photo" I am using a different picture this time.)
I am here to tell you about my favorite new book for fun reading at the beach, The Dogs of Central Park.
It's SOOOOO good that I actually gave up my tennis ball at the beach in order to read this book (not that I am bragging about my reading abilities); it's just that good that you'll give up your tennis ball, too, in order to enjoy it. It is a MUST for all dogs, friends of dogs, owners of dogs, boyfriends and girlfriends of owners of dogs, people who love dogs, dogs who love dogs, dogs who love people, and anyone who loves New York City. That should just about take care of everyone. I ♥ this book! OMG. It's the BEST.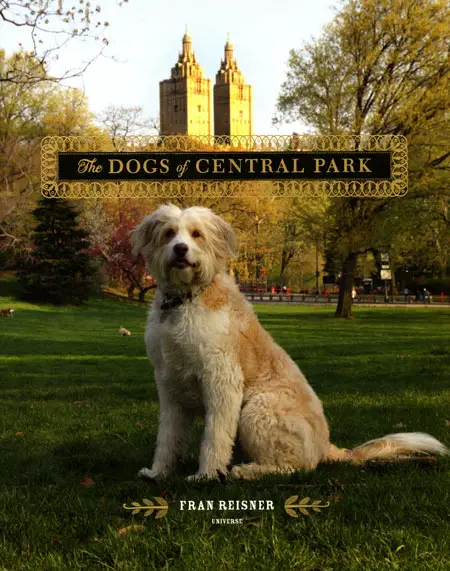 It is by a nice photographer-lady named Fran Reisner, who has created a photographic love letter to me and my canine pals, although I personally use Riverside Park, I must admit. Mom says we are boycotting Central Park -- although I have no clue what "boycotting" means -- until the civic-minded (narrow-minded?) Central Park Conservancy decides that it can afford to give up a tiny parcel of the park for a real dog run like we have elsewhere in the city, but that is another story.
So, back to Central Park's dogs... and in this wonderful book we meet many friends -- here are two, just to give you an inkling of what lies ahead: Lenny, another Golden, like me, was born in Austria and loves to frolic in the freshly fallen snow; there is Charley, a standard poodle (not one of those fussy ones, with a topiary hair-do), who does therapy work at Mount Sinai Hospital (my predecessor Violetta was a therapy dog at Roosevelt Hospital, but I'm just too high strung to take the classes).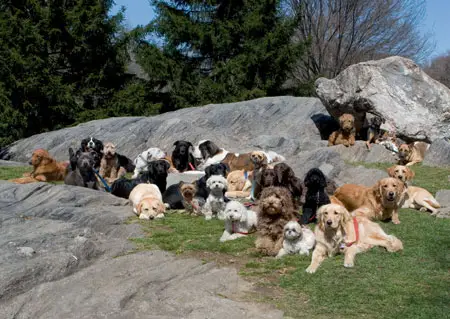 You will love looking at all the pictures -- there are 144 pages and most of them are filled with fetching canine pix. You have to buy this book, because a portion of the proceeds from sales goes to animal rescue organizations, and that is a really-very good thing. Besides, it's only $19.95 and that is a really-very good price for a book, especially one with a hard cover. And after you're done reading it, you could always eat it, too. (When I was a pupster and had just come to my forever home from the animal rescue place, I was left alone during my first week while The Mangement went out gallivanting. Well, since opportunity was knocking, I went exploring, on an expedition to the bathroom and there, I filched two books -- a volume of Italian sonnets and Micheal Lewis' Liar's Poker. I sort of nibbled on both -- all around the perimeters. After that, I knew how to tell fibs in Italian.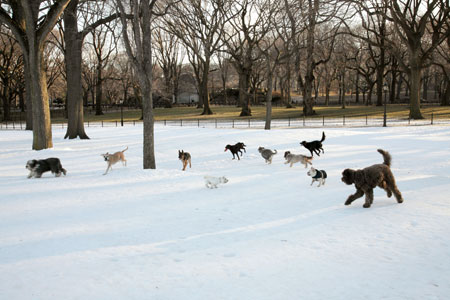 So, to reiterate, buy this book, smell this book, eat this book, love this book, give this book as a gift to everyone you know, and help save animals. It's from Rizzoli New York.
Posted on Tuesday, August 02, 2011 @ 10:19 AM | 0 replies Start the Discussion
---
City Shopping
Now that you have gazillions of holiday digital shots--not to mention funny shots of your dog buried in two feet of snow in Central Park--out of your camera and into your computer, what are you going to do with them? Most of us do nothing, at least for a long time, until we feel less intimated by the jumble of p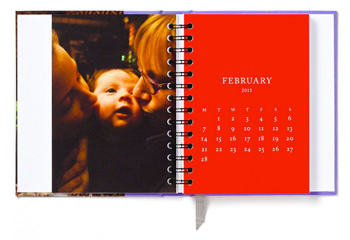 ictures with indecipherable code names, like SAM-897-a402.cf, instead of names that read: "Rosie and Austin Making Snow Angels." But, even if you are the least bit digitally-challenged, Pinhole Press can help you make lemons from the digital salmagundi.
The company, a destination online boutique for personalized photo gifts, was launched a mere two months ago, a combo effort between the design firm of Rosebrook | Peters | Funaro and Mohawk Fine Papers, makers of superior-quality, elegant writing papers (think: Strathmore), and the largest privately-owned manufacturer of premium printing, writing, and digital papers in North America. The effort is a home run, from photo books and holiday cards to calendars and day-planners. Each photo gift is handsomely designed, sophisticated, and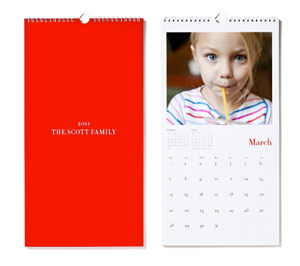 stylish.
The Web site offers more than 150 gift ideas (hey, make some for yourself-they don't all have to gifts!), from simple holiday cards (at $1.59 each) to the most pricey item on the site, a 13-photo large day-planner ($78.99). The site is very beautifully designed-a clean, crisp presentation, making it easy to find what you want, and order it. You do not have to hold a degree from MIT in order to figure out how to get your pictures into their format, to make a calendar (I made four in the wink of an eye!), or a beautiful day-planner or journal. In fact, once your picture is up on the site, you can tinker with it and edit a little, crop, and so on. "We had our mothers in mind when we were creating the products for Pinhole Press," said Peters. "Simplicity is at the core of the products, website and design; and each one of our products was conce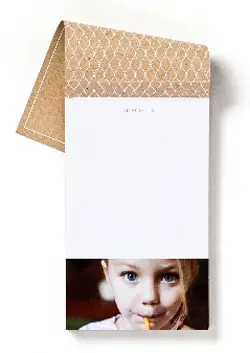 ived to make gifting easy and fun. We want to give consumers the opportunity to share their photos in the most beautiful, yet simple way."
Once you log on and start to make agendas, calendars, notepads, etc., you'll agree. Just as an aside: I made my stuff early on when the site was brand-new and a little hinky; I've checked it weekly and all seems to be running smoothly now, so get online and put those digital photos somewhere where you can admire them, not taking up RAM in your computer, tucked away in folders! Pinhole Press is classy, affordable, and easy to use!
Posted on Thursday, January 06, 2011 @ 12:27 PM | 0 replies Start the Discussion
---
City Shopping
Just in time for Cyber Monday, comes The Foundary, a flash-sale site, featuring high-end home furnishings--things like picture frames, luxurious doggie beds, beautiful leather journals, cookware and appliances, carpets and rugs, and even oddball services like LobsterGrams. (If anyone is reading who wants to send me a birthday present, a LobsterGram is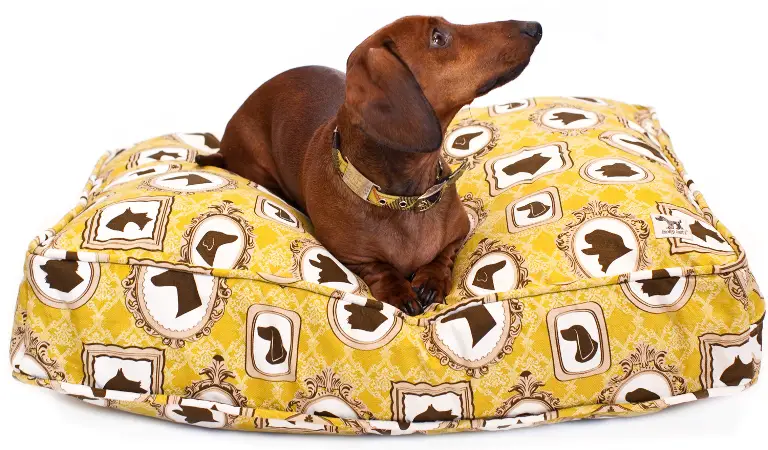 a really nice idea! Along with the butler to do the cooking, serving, and tidying up.)
The site just launched, so it is leading with some really neat sales. Founded by seasoned retailers who say they have combed the depths of the retail markets to find the best, the latest, the newest, and the neatest, so expect to nail some good deals here. As with all flash-sale sites, the offerings are good for a few days only, and when the merchandise is depleted, that is the end of it. Finito. If you're a fan of other sale sites and follow the fashion sites--places like RueLaLa , Ideeli and Haute Look--then this site is for you. Sale deals can be as much as 70% off retail. Many sites, such as Gilt Group ask that a "member" refer you to "get into the site," but t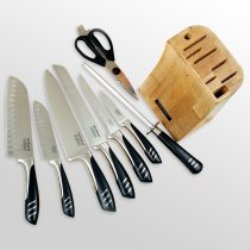 he notion of membership is a sort of silly one, with just about all these sites: No site is going to turn you away because a friend didn't refer you!
So, testing the waters of The Foundary, last week, I stocked up on Austin's doggie's Xmas gifts--for him and for him to give to his canine pals--with treats from the adorable Polka Dog Bakery, all exceptionally well-priced, nicely packaged, tasty (so far as I can tell, since Austin is the arbiter). The Naughty and Nice cookies look adorable, too! Coming up soon will be a sale on rival dog-stuff manufacturer, Harry Barker, and for the felines among you, Molly Meow will be on board with a sale soon, also.
Currently there are sales for snow globes, carpets-and just in time for Thanksgiving-fabulous cutlery and carving knives from Top Chef. There have been sales fro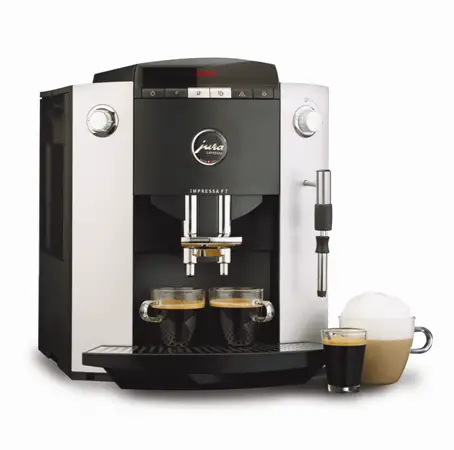 m companies like Jura Capresso, featuring its ultra-luxe espresso/coffee/cappuccino makers (yeah, if that same person is reading, I could use one of these, too!), and it is not uncommon to find names like Dyson, Le Cruset, Nancy Koltes (linens to slaver over), and Riedel Crystal offering their upmarket brands at "good" prices. Whether they are overstocks or returned orders from the likes of Gump's,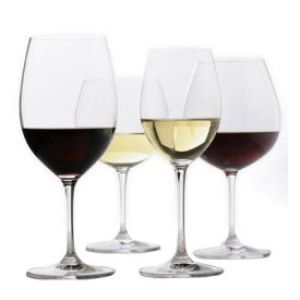 who cares. They are yours for the plucking.
Most sales start at 11 a.m. and last for three days, with the clock ticking on the side of the site...should the merchandise be exhausted sooner, then that is that, alas. After traipsing around and exhausting yourself on Black Friday, it will really be a pleasure to sit and point and click on Cyber Monday.
Posted on Tuesday, November 23, 2010 @ 11:36 AM | 0 replies Start the Discussion
---
City Shopping
For those among the horsey set, this week and last were among the biggest on the annual calendar of equine events: The World Equestrian Games are currently taking place in Lexington, Kentucky, arguably the most verdant city in the country. In addition to rolling hills and bourbon, horses reign here and hosting the Games is an honor that has heretofore never been bestowed upon an American City. Last weekend we enjoyed watching a few of the competitions on TV and would highly recommend this couch potato pastime...dressage, endurance, driving, jumping, reining, vaulting...it's all thrilling and heart-stopping to view. The only thing better than seeing it on the tube would be being there in person.

So, in an effort to get a little sniff of those Kentucky fields, we cracked open a special box of deliciously "deadly" Woodford Reserve bourbon balls (oooh-la-la!), poured a tiny shot of Pappy Van Winkle's Reserve Bourbon, and began to pore over a few beautiful books from the Bluegrass state.
First up is the Horse Lover's Guide to Kentucky (256 pages, $19.95, Eclipse Press) by Patti Nickell who provides the ultimate, essential tour of the horsey capital of the world. Nickell (O.K., in all fairness, we must admit that we personally know this esteemed travel writer...full disclosure complete) explores the cultural and historical importance of the horse to the commonwealth. She takes readers into the most famous farms of the state (and that is one tour you do not want to miss), explores historic racetracks, and delivers a virtual roadmap to the state -- she even includes wonderful places to dine and spend an overnight or two.

To further appreciate the Crayola colors of the state, John Carloftis' Beautiful Gardens of Kentucky (322 pages, $50.00, Canal Hose Publishers) is a coffee-table must. Carloftis is a prolific and sought-after landscape and garden designer, native Kentuckian, and the recipient of a garden-design award from the Museum of the City of New York. He divides his time between Kentucky and Gotham and has designed gardens for the likes of boldface names like Julianne Moore, Mike Myers, and Edward Norton, among others. His work has been featured in countless periodicals and he is the author of several other garden books.
In these pages are gardens galore -- manicured, English, rambling, tidy and trim, and wild and untamed. There are gardens embellished with shells, rocks, faux animals, statuary, gazebos, pergolas, and just about everything you can think of, maybe even a mercury ball or two. Savor the lush and florid florals as you turn the pages, rife with Technicolor photos of these vibrant landscapes that will take your breath away.

Lastly, if you don't have those bourbon balls and that Pappy to delight in, you will most likely think you do when you amble through Keeneland Entertains (256 pages, $39.95, Keeneland Association/Eclipse Press), by Fran Taylor, the Executive Director of the Keeneland Foundation. The Keeneland Association is uniquely positioned in the equine universe, as it is the global leader in both Thoroughbred horse auctions and racing; Keeneland oversees and stages world-class Thoroughbred horse-racing twice a year at its first-class horse park and race track.
This lavish book features -- nay (neigh, did you say?), truly venerates -- the other side of horse-racing. In these pages, it's not the sales and the race statistics that predominate, but rather, it's the graceful and lavish lifestyle that has grown up around the equine sports. Southern hospitality reigns (or dare we say reins?) here. From casual tailgate parties to black tie galas, Keeneland Entertains does not disappoint. There are tip lists, menus, recipes (for food and drink, of course), ideas for goody bags, inspiration for setting elegant and interesting tablescapes, lists of oft-forgotten, but necessary items, say, for a tailgate picnic (like jumper cables and a fire extinguisher), countless photos of real-life people at chic soirees and casual buffets, all enjoying the feasts and finery of the occasions. (And just as an aside, speaking of finery, but having nothing whatsoever to do with the book, Keeneland has a remarkable gift shop -- vending all things horsey, including its own Hermès scarf design, honoring the Keeneland organization in glorious color and pattern.)

You'll relish every leaf of each of these three volumes and feel as if you've been transported to the Blue Grass. Giddy-yap, giddy-yap.
Posted on Monday, October 04, 2010 @ 02:26 PM | 0 replies Start the Discussion
---
City Shopping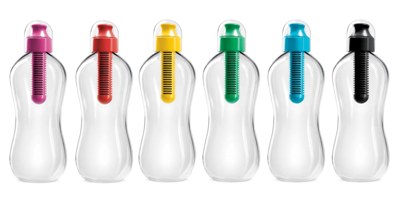 It's got a really cute name, Bobble, to go with its really cute design, which is from the fertile pen and mind of that genius of modern everything, industrial designer Karim Rashid. It's a stylish water bottle with a smart patented filter built into it, a filter that removes chlorine and organic contaminants from municipal tap water. It more or less replicates the experience of drinking purchased, clean, bottled water.
And since we spend over $15 billion a year to buy water, it's sure going to save us all a little bit of moolah, not to mention space in landfills. It's made from recycled plastic and is free of BPA and PVC...in other words, stuff you don't want your water bottle made of. Given the heat waves we have been experiencing these past weeks, nobody, not even a camel, is likely to leave the house without toting a bottle of hydration.
The Bobble comes in a half dozen snappy colors - Kelly green, poppy red, lemon yellow, turquoise, magenta, and sedate black. The carbon filter is good for about 40 gallons of water and it's suggested that it be replaced every two months or so; to clean it, soak in boiling water. It sells for $9.95 and is available on line, and at Bed Bath & Beyond and Barnes and Noble.
Posted on Tuesday, August 03, 2010 @ 04:47 PM | 0 replies Start the Discussion
---
City Shopping
Anyone who has ever swooned over the more-is-more, gay, highly patterned MacKenzie-Childs wares, full well knows that you could easily drop $600 for a "trinket." (Well, O.K., for the newest place settings...but it's easy to run up a big tariff if you let yourself go.) So, all those who love the brand and want to save a bit, Attention: Starting this week, July 16th through the 18th, the company is holding its annual blow-out barn sale...YEAH!!!! Expect savings up to even 80% off original retail.
The sale will be held at the company's headquarters in Aurora, in New York State's scenic Finger Lakes district (more about that later). But here are some examples of the kinds of savings you can count on:
Hand-painted glassware that normally sells for as much as $100 may be found for as little as $20.
Ceramic flower pots, canisters, and plates normally ranging from $150 to about $285 may be found for as little as $30 to $60.
Enamel trays, pots, and vases which would sell for as much as $128 full price may be found for as little as $30.
There are returns, overstocks, and seconds or irregulars, but as you well know, y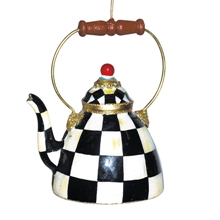 ou'd be hard pressed to find anything "irregular" about something that the company calls "irregular." There will be thousands and thousands of items up for grabs, including M-C's famous enamelware, glassware, furniture, home décor accessories, and "trinkets" of all stripes. The company will also be providing music and some Dinosaur BBQ delicacies. You can take a tour of the famous, restored farmhouse, a three-story Victorian mansion, and you can watch a video showing how many of the company's handcrafted pieces are made.
And if all that is not enough, stay a day or three longer and visit New York State's stunning Finger Lake District, an area with 11 pristine lakes, spread like fingers across central New York, encompassing 9,000-plus square miles filled with outdoor adventures and bucolic scenery. It's accessible from Gotham, Boston, Philadelphia and Toronto. In addition to an abundance of Thoreau-esque lakeside retreats, the region offers top-notch vineyards, farm-to-table culinary delights, and internationally acclaimed annual festivals:
Take in a show at the Merry-Go-Round Playhouse. Known as "Broadway in the Finger Lakes," the theater is currently featuring Promises, Promises through July 28.
At the Schweinfurth Memorial Art Center, you can see a show of the masterful quilter Nancy Crow. We have had the pleasure of writing her up many times, most notably in The New York Times. Let's just say, to call her a "quilter" is sort of like calling Michelangelo a doodler. The woman is a fab artist who has just chosen textiles as her métier. Her quilts are sensational. Period.
There is also a Finger Lakes Wine Festival taking place at the same time, so it's the perfect time to shop, enjoy the arts and have a drink!
MacKenzie-Childs is located at 3260 State Route 90, one mile north of the historic village of Aurora.
Posted on Thursday, July 15, 2010 @ 04:31 PM | 8 replies View/Post Feedback
---
City Shopping
It's Dad's special day coming up this Sunday, so we thought we'd focus on a few things for the grillmeister in him, and leave the ties 'til Xmas. Cuisinart, one of our favorite brands for all things kitchen-appliance-y, has some fab accessories and products for the outdoor chef, starting with the 14-piece Deluxe Grill Set (for a sum that won't break the bank, $39.95). It's made from durable stainless and includes the vital tongs, basting and cleaning brushes, a spatula, and even (cleverly) four pairs of corn holders. There is also an extra cleaning brush, a good idea, since we all know how disgusting the grills can get. Comes packaged elegantly in a sturdy aluminum case--very sleek, very James Bond, minus the car, sorry to say. But, what it does come with--a little something even Q wouldn't mind having--is an added goodie: The smart marketers at Cuisinart and Omaha Steaks have tucked a lovely $20 Omaha Steak Gift Reward Card into the package....not bad.
Dad may also like to get his mitts, oven or otherwise, on the Cuisinart's digital temperature gauge, ($24.99) with a color-changing display. Very cool, or hot, depending on the temperature. It's programmable and magnetic, and you can actually set the desired temperature, then test to see if the meat is-in the words of the kids when you travel--there yet??? When the steak, chops, chicken, etc., have reached their set temperatures, the color in the read-out display changes
; and just in case dad is off somewhere sharing a mojito and conversation with a neighbor over the back fence, there is an audible alarm that will alert him to return to the grill. Comes with a three-foot-long Teflon cable, so that it can reach the corners of the grilling tray. And it's magnetic to allow for easy storage.
Two other items from Cuisinart that are worth considering, as well, for use both indoors and outdoors: The pre-seasoned cast iron fajita set ($39.99) and the non-stick wok ($19.99). The former is manufactured with innovative flavor slots which work to remove excess grease and fat from food while at the same time, enhancing the natural grilled flavor of the meat. And it comes with a handsome wooden serving tray, that fits the skillet perfectly, so the meal can be served sizzling hot. The non-stick wok would also be a treat for dad, as it's got a well designed non-stick surface and a heat-resistant folding handle.....all this, just to ask him to make you dinner on HIS day!
Posted on Monday, June 14, 2010 @ 02:58 PM | 1 reply View/Post Feedback
---
City Shopping
A few years ago there were Chanel rainboo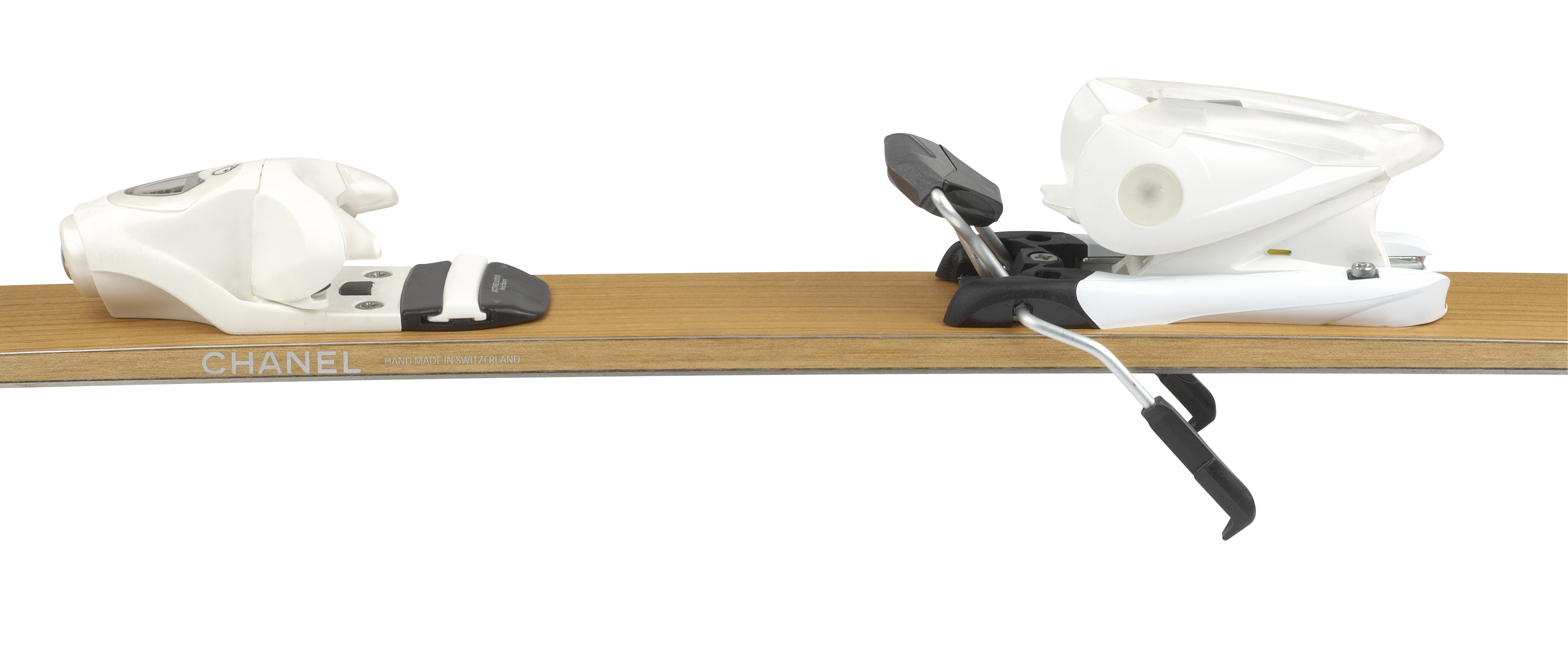 ts-white rubberized jobs with 60-point, ebony, intertwined CC logos on the heels-and then there were Chanel snowboots-also appropriately labeled for the uninformed to quickly acknowledge that the weatherproof footgear was Chanel footwear, not just mukluks gone fashionista. Then there were the Chanel snowboards. (Could you resist?) And now there are the Chanel skis, tagged at $4,055.

From the winter Chanel Sport Collection, these lightweight, sleek skis come with either a black lacquered-looking finish or a natural wooden finish. Both styles have the word "Chanel" emblazoned on the backs (and sides) and the classic intertwined alphabet logo on the tips, so everyone will know whence your equipment hails. Be forewarned, with skis like this, you really better know how to schuss down a slope.
At select Chanel boutiques, 800-550-0005
Posted on Wednesday, January 27, 2010 @ 09:12 AM | 0 replies Start the Discussion
---
City Shopping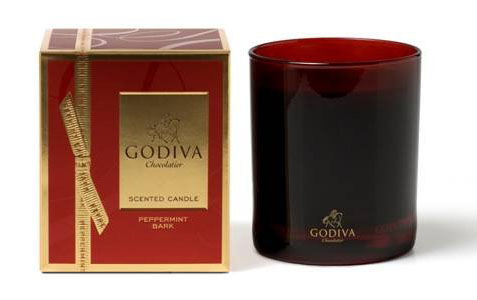 Well, not exactly dietetic chocolate. But close. If last week's cocoas were just too rich and too caloric for your New Year's resolutions-restricted waistline, then hie thee to Godiva or to Neiman Marcus and scoop up one of the company's brand-new scented candles. Infused with delicious aromas of luscious chocolate flavors, the nearly one-pound candle (the glass container contributes to the weight of the pillar-style candle), imparts heady, chocolate-y flavors even when unlit. Candles are about 3" tall, with a 10"diameter, and are "enrobed" in a cocoa-brown glass container.
Five mouth-watering flavors are on the market: Milk Chocolate Truffles, Black Almost Truffles, White Chocolate Magnolia, Raspbery Ganache, and Peppermint Bark (inspired by one of the company's traditional bestsellers, peppermint bark), and, all of which are truly evocative of the real deal. Created by Laura Slatkin (formerly of the eponymous Slatkin & Co., makers of fine home fragrances, which is now part of the Bath & Body Works family), the scents are intoxicating and they smell as if a few dozen boxes of rich and robust chocolates have been opened in proximity of the receptive scent detectives in your nose! Sniff the caramel, the Madagascar bourbon vanilla, the fresh mint, brown sugar, and ripe fruit...
The candles are available at Neiman Marcus and Bath & Body Works for $22.50 (50 hours' burn time); there are also smaller, travel versions (10 hours' burn time), for $12.50.
Posted on Thursday, January 14, 2010 @ 12:51 PM | 0 replies Start the Discussion
---
City Shopping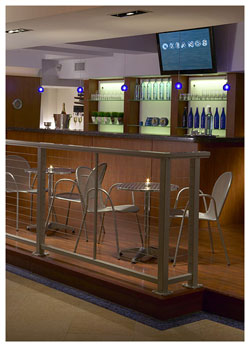 If last night's rain didn't cool you off enough, you'll be able to lower your internal thermostat and escape the pervasiveness of the week's heat tonight, and any Thursday this summer, at the Okeanos Club Spa at 211 E. 52nd St.  (212-223-6773).  For the rest of the summer, through the end of August, Thursday nights are free jazz nights.  The spa/club has a small lounge area where clients can relax between treatments and enjoy complimentary Baltika Russian Beer (the top-seller in the Motherland) and "fashionable" Zyr vodka -- although we suspect that ANY vodka is a top-seller in the Motherland, this one is a very trendy one here in the States. Petrossian is even supplying free hors d'oeuvres, although we rather doubt that they will be springing for the Royal Special Reserve Persicus that is $9,800 for 1,000 grams.
There is no cover fee; clients already using the club and spa facilities are welcome to linger and enjoy the jazz, from 5 to 10pm. While the club is open to both sexes, it's a little more of a men's hangout, what with the resident barber and the male-oriented activities. However, the traditional Russian banya (steamy sauna) and platza (sort of something you'd see in an Ingmar Bergman movie -- bundled birch branches tapped against naked flesh, to enhance circulation) are available to all, as are cooling dips in the plunge pool, and Russian, deep-tissue muscle massages, hot stone massage, reflexology treatments and so on. Tonight, the jazz trio includes Tom Baker on the drums, Matt Hughes, bass, and Andy Friedberg on the guitar.

 
Posted on Thursday, July 12, 2007 @ 05:14 PM | 0 replies Start the Discussion
---
City Shopping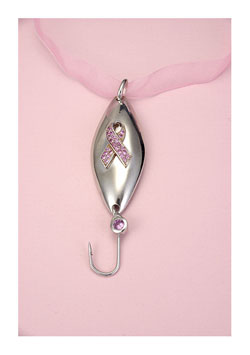 With a birthday of national importance upon us, today seems like the perfect day to check out early. "Gone Fishing," a notion we like very much, works for us. But at the moment, we mean "fishing" in a different fashion. Our hook is from MacDaddy's Fishing Lures and it's wrought from solid platinum (30 times more rare than gold, thank you very much) and accented with a pink ribbon crafted from rosy sapphires. It's an alluring little trinket, at a price that is also a bit of a lure (just a tad under $5,000) for those with some loose change in their pockets…and 10% of the sale proceeds goes to charities dedicated to cancer prevention and recovery.  Forget about trying to catch flounder with it.  Just wear it around your neck.  Available at www.macdaddysfishinglures.com and at fine jewelry stores nationwide.

Posted on Tuesday, July 03, 2007 @ 09:59 AM | 0 replies Start the Discussion
---
Subscribe to this Blog's
Feed