City Shopping - Women's Clothing Blogs
Back to Blog... | View More Bloggers...

About the Author: About the Author: Ruth J. Katz is a well-known shopping and service writer based in New York City. She has written about shopping for 25 years for New York magazine; covered the topic on-air at Fox-TV for several years as the Home Services expert; and had her own show on both the USA and Lifetime Cable networks. Katz wrote extensively for The New York Times as well, and contributed periodically to the New York Daily News. She is a passionate shopper, always looking for not merely a good buy, but the best buy, ferreting out a "steal" or discovering up-and-coming designers. She has written five books and is a former contributing editor to Hearst's Redbook, Classic Home, and Colonial Homes; she is currently a Contributing Editor of New York Home, Golf Connoisseur, The Modern Estate, and Promenade magazines. She is also the former Shopping Director for Davler Media's Manhattan Living.


---
City Shopping
Never have workout clothes been so fashionable -- so stylish, in fact, that we wear them all the time, not just at the gym. And what we want is comfort, easy-care, and fashion. Yes, fashion. The days of wearing a pair of Lycra leggings and an old T-shirt are gone, gone, gone.
Enter: Athleta. With two brand-new stores under its figurative belt, Athleta is rapidly on its way to being the premier brand for workout and active wear clothing for women. The company was founded in 1998 with the mission of providing female athletes with apparel for diverse sports and fitness activities; it has become one of the most sought after brands in this rapidly growing segment of the fitness-wear, sports, and active-wear apparel markets.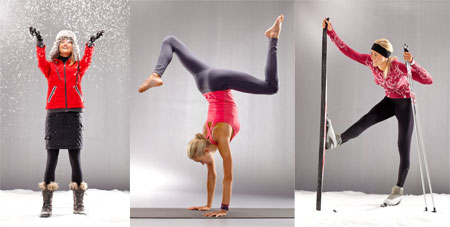 Athleta sells its products through catalogs and its website (athleta.com), but now New Yorkers can head to two new stores -- one on the Upper East Side (1517 Third Avenue) and the other on the Upper West Side (216 Columbus Avenue). Headquartered in Petaluma, CA, Athleta was acquired by The Gap in 2008, and since then the company has had big plans for expansion, and hopes to have 50 new shops by 2013.
Athleta thoughtfully offers free alterations in its stores, and there are kiosks that link directly to the website, offering customers access to additional products and sizes. Moreover, the company sponsors free fitness classes.
To mark the opening of the New York City stores, Athleta has partnered with Bent on Learning, a non-profit organization that offers instruction in yoga and meditation to students in grades K through 12 in New York City public schools and youth centers, as a means of reducing stress and improving concentration, self-esteem and overall health.
Posted on Thursday, September 01, 2011 @ 11:14 AM | 0 replies Start the Discussion
---
City Shopping
Silhouettes and Profiles has been in business nearly 40 years and has had some of the same loyal patrons for all that time! Not hard to fathom, when you consider that it is tricky to find a really good tailor/dressmaker who will just as happily put up a simple trouser hem as create a new, lavish evening cape-and owner Irene Chermiakhovsky can do both with great skill and an artistic eye. At Silhouettes and Profiles, Irene, along with her right arm, Anna Drugova (not to mention Irene's half-dozen crew of nimble-fingered magician-sewers, mostly all foreign-born) will work on your simple mending, your complicated alterations and remakes, just as eagerly as she will refashion and revitalize a vintage Poiret, for example (should you be fortunate enough to own one). Irene counts the Metropolitan Museum of Art Costume Institute among her clients, thank you very much, and she particularly relishes working on vintage clothing and heirloom garments. However, if your problem garment's still got tags on it, or it's a resale-shop treasure, no matter: Irene and her team can ply their sleight of hand and refit or retrofit it.
They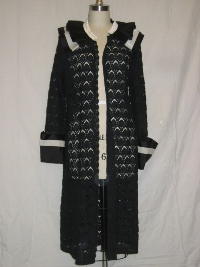 have also created a boutique-y line of clothing that they will custom-make to your size, mostly vintage-inspired, with touches of period laces, beading, or remarkable trims. But not all the line has its root in fashion history. There are also young, hip garments that are cut from very edgy designs-a cute straight, asymmetric white skirt with interesting black writing on it, and a flirty little ruffle, $120. There is a fabulous crochet-look, long, straight coat-sweater, with the cuffs embellished with layers of ribbon ruffles that are iconic of this season's Chanel chiaroscuro silhouettes, and so Irene's interpretation is, of course, fashioned in classic black and white, $275. She has also designed an extraordinarily stylish, black-and-white, Courrèges-inspired jacket, with red leather trim, $450. (It is also a great buy, because it's reversible to a small checkered woolen fabric, so it's really like gettin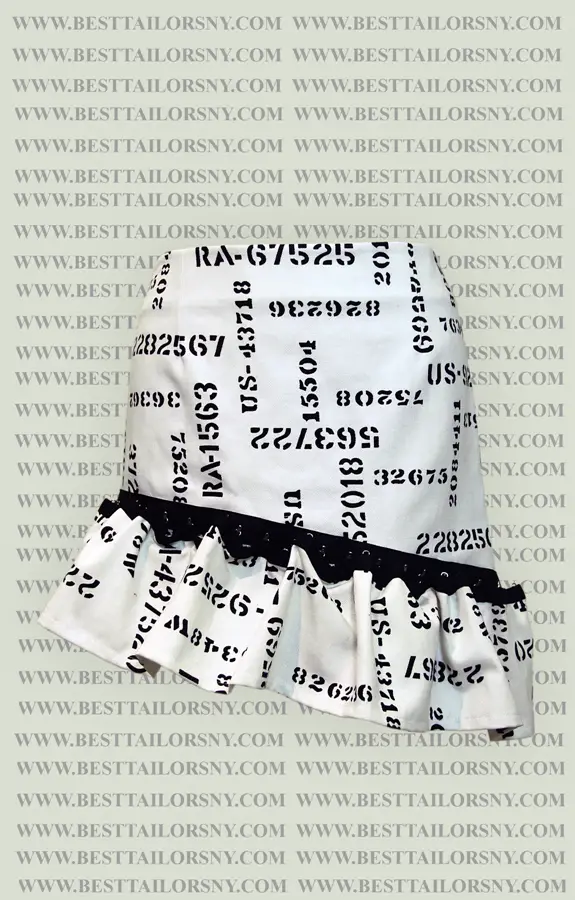 g two jackets in one.) There are sexy sweaters, blouses, and a half-dozen styles of dresses (also with various vintage trims mixed into the styling), and naturally, if you walk in with your own fantasy design, they can whip it up. You dream it up, they stitch it up.
Naturally, they still do repairs, so that if all you need is a hem put up on trousers ($24)*, or a jacket ($45) or a skirt ($25), they will cheerfully do just that, or take in/let out anything, or patch a knee, elbow, or inner thigh.....in other words, whatever.
*prices quoted are the starting tariffs for these types of repairs; so for example, a trouser with a cuff and a lining may cost more
Silhouettes and Profiles
160 West 71st Street
(Broadway and Columbus Avenue)
212-877-3372
closed Sunday and Monday
www.silhouettesandprofiles.com
Posted on Tuesday, November 03, 2009 @ 04:03 PM | 0 replies Start the Discussion
---
City Shopping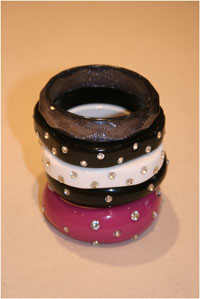 We love sparkly things, and we love bangle bracelets, so when we stumbled across both those things at the fairly new Helianthus boutique in the Village, we had to share them. This cute little shop has a mix of American and European clothing and accessories, but what kept grabbing our eye were the stacks and stacks of bangles, which range in price from $22 to $42 -- hot pink, black, clear, silvery, white, and all twinkling with rhinestones and crystals.  The shop is located at 522 LaGuardia Place, between Bleecker & West 3 Sts., near Washington Square Park.  (212-677-6888; www.helianthusny.com)

Posted on Wednesday, March 19, 2008 @ 10:04 AM | 3227 replies View/Post Feedback
---
City Shopping
If you are having a lazy Martin Luther King Day here is quickie errand you can run, while hopefully, not running up too large a bill on your charge card:  Yes, it's another Soiffer Haskin sale.  Today, tomorrow (Tuesday), and Wednesday (the last day).  Stuart Weitzman (one of our favorite shoe manufacturers (because, yes, we wear a size 10.5 and nobody makes that size, but we can always find something at Weitzman that fits just right and is stylish, too).  And Krizia, too.  And we don't need to embellish about Krizia, do we? 
So, here's the usual deal: Soiffer Haskin, 317 West 33rd Street, just west of 8th Avenue; credit cards only; all sales final; strollers not allowed; no children under 12 will be admitted. 
So, go out and get yourself some shoes!
Posted on Monday, January 21, 2008 @ 01:33 PM | 3812 replies View/Post Feedback
---
City Shopping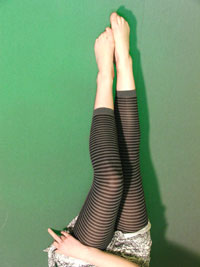 What we like about Fogal can be summed up in three words: The Crayola Effect. There isn't a color of hosiery that this company does not fashion...well, at least they make well over 80 shades of black, white, and everything in between. We like to just click on the Web site and watch the Pantone-like parade of colors whisk by. And once you find your color, then you have to choose your hose style, from super sheer to opaque, from textured to shiny, to whatever. Unlike competitor Wohlford, which has a sort of dependably black palette, Fogal just hasn't met a color it doesn't like. And that's what we like. Because you never know when you'll need something to match a luteous green bridesmaid's dress -- or what if you land a job as a flight attendant on Austrian Air and need bright-red hose? Fogal's sure to be your new best friend. There are also some neat body suits and other intimate accessories for women, along with hose for men and cute stuff for kids. But still, we come back time and time again for that Grumbacher palette of hosiery. Dependable. Colorful. Textured styles, sleek styles. And a decent size range. What legs could ask for more? 515 Madison Ave. (near 53rd St.), 212-355-3254; www.fogal.com

Posted on Monday, December 17, 2007 @ 02:18 PM | 6142 replies View/Post Feedback
---
City Shopping
If you love Catherine Malandrino's clothes the way we do, then you won't want to miss this sale. It's her fall/winter sample sale, and there is no telling what might end up on the sales floor. Take a look, take a chance. Nobody does wonderful mix-and-match patterns, fabrics, and designs the way she does (well, O.K., Etro...O.K., Missoni). Sale starts Wednesday, December 5th, from 8 a.m. to 8 p.m., and continues Thursday, from 10 a.m. to 8 p.m., and then ends Friday the 7th, from 10 a.m. to 8 p.m. 145 W. 18th St., 212-840-0106; www.catherinemalandrino.com (Cash and credit cards only.)
Posted on Monday, December 03, 2007 @ 03:30 PM | 6 replies View/Post Feedback
---
City Shopping
We rhapsodized about TSE Cashmere months ago, recalling that pink sweater that eluded us at Henri Bendel so many years ago. And darn, we'll miss this sale ourselves, as duty calls in Europe. But you go, and snag that symbolic pink cashmere jumper (as the Brits would call it) for us! What can we say now that we haven't already said about TSE Cashmere's goods? They're luxe? They're fabulous? They're exquisitely designed? They're too expensive for us at retail? So here they are, at up to 80% off! Go, girl, and get some.
This is a Soiffer-Haskin sale, so you know the drill: No kids (strollers, etc.), no checks, etc. Plastic and plenty of it...or cash! Sunday, December 2nd through Thursday, December 6th, from 9 a.m. to 7 p.m. daily; 317 W. 33rd St. (just west of Eighth Ave.).
Posted on Friday, November 30, 2007 @ 11:33 AM | 5 replies View/Post Feedback
---
City Shopping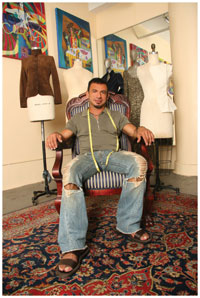 What a wizard Ecuadorian-born Guillermo Molina is! Just give him a swathe of fabric, a needle, and some thread, and he?ll whip up a wardrobe that will rival anything the Mam'selle herself could have envisioned. In fact, countless private clients come to him just to ask for Chanel look-alikes: He can copy anything -- and he can design originals, too. Show him a picture from a magazine, or a fanciful sketch of something you dreamed up, and he can fabricate it. Present him with your favorite well-worn, about-to-die Armani or Donna Karan and he'll "rub off" (as they say in the industry) the pattern and deliver a flawless replacement. See a stylish Prada in a store window that you're dying for, but can't afford? It's no problem for Willie (as he's known to his longtime customers) to make you a dead ringer. (Closed Sun.) Starting prices (includes fabric): Trousers, $400; blouses, $400; tailored suit, $1,200; dressy evening suit, $1,500; cocktail dress, $900; coat, $1,100. House calls start at $500. 153 W. 27th St. btw. Sixth and Seventh Aves., Ste. 301, 212-366-6965; www.guillermocouture.com (This article originally appeared in the 8/05 issue of Manhattan Living.)

Posted on Monday, November 26, 2007 @ 03:48 PM | 0 replies Start the Discussion
---
City Shopping
Linda Richards can always be depended upon for her semi-annual warehouse sales. Lots of wonderful work clothes -- pants, skirts, suits, and really great winter coats. This woman never met a bolt of gabardine she didn't like. We always manage to find lots of things here to fill in holes in our ever-expanding wardrobe, and sometimes we have to buy them in many sizes, to fill in the holes in the ever-expanding size range in our closet. Among the outerwear, expect to find wondrous cashmeres, alpaca, angora, and her usual gabs, including her very versatile raincoats. And of course, stock up on all your work-clothes needs.
The sale started just before Thanksgiving and goes through December 2nd (9am to 6pm daily), so you have plenty of time. Buy what you want and then just tell Santa to give you the cash for it. How could the big guy refuse when you tell him that you paid wholesale or below? 209 W. 38th St., Suite 505 (between Seventh & Eighth Aves.), 212-382-2257
Posted on Monday, November 26, 2007 @ 10:49 AM | 248 replies View/Post Feedback
---
City Shopping
We're not sure just what this sale is promising today, but we're going to check it out later and we'll report from the front.  It's allegedly supposed to have Gucci and Pucci…and Chanel and Hermès.  We shall see just how much of each of these houses it actually has for sale…and for how much off.  The material sent to us by our friends at Lazar Media says that there will be clothing and accessories at 75% off.  Stay tuned for tonight's report.  But in the meantime, here is what you need to know:  It's today and tomorrow, at the Shoreham Hotel, 33 West 55th Street (between Fifth and Sixth Avenues), Ground Floor; from 10 a.m. to 7 p.m.....credit cards accepted.
Posted on Wednesday, September 26, 2007 @ 01:14 PM | 184 replies View/Post Feedback
---
City Shopping
Another Metropolitan Pavilion sale is on the calendar this week, with clothing and accessories by Valentino, Missoni (oh, how we love those sweaters), See by Chloe, Moschino Jeans, and assorted other goods. (What could be bad with labels like those?)Wednesday from 9:30 a.m. to 7 p.m., and Thursday from 9 a.m. to 7 p.m.; 123 West 18 Street, fourth floor gallery. (Thanks to our pals at Lazar Media for alerting us in time to post this!) So, if you missed out buying something at Hermès a few days ago, make up for it now!
Posted on Monday, August 27, 2007 @ 12:24 PM | 0 replies Start the Discussion
---
City Shopping
Well, it doesn't get much better than Nina Ricci and Carolina Herrera.  About the only way it can get better is to make the sale prices better--and our sample sale stagers at Soiffer Haskin say that this sale features clothing up to 90% off.  We'd say that that is "better," wouldn't you?  You gotta' go there to believe it; expect bridal and women's wear, the kind of stuff you wear when you want to make a real entrance when walking into a room.  Clothes with bearing, clothes you'd wear when you go on an important job interview, or to meet prospective in-laws, or to meet the Queen.  By now, if you don't know the drill, here it is again:  Soiffer Haskin, 317 W. 33rd St, just west of Eighth Ave.  Sunday, June 24th through Tuesday, June 26th; 9am to 6:30pm; credit cards only, all sales final; no strollers, no children under 12.
Posted on Tuesday, June 19, 2007 @ 03:22 PM | 38 replies View/Post Feedback
---
City Shopping
1) The Guy Laroche sale features clothing for men and women, up to 60% off! 47 W. 57th St., through the 17th; Friday and Saturday, from 10am to 7pm, and Sunday, 11am to 6pm.
2) The Jil Sander sale also features men's and women's clothing, up to 40% off. 11 E. 57th St., through the 24th of the month; Monday through Friday, 10am to 6pm. (Thursday, 'til 7pm) and Sundays, noon to 5pm.
3) The Balenciaga sale is another one not to be missed, featuring haute, haute couture for men and women. Again, up to 40% off. Through the 17th of the month. Saturday, 11am to 7pm and Sunday, noon to 5pm.
4) The Dolce and Gabbana sale also features the D & G line, with up to 40% off. Again, for men and women. Location: 434 West Broadway btw. Prince & Spring Sts. through Sunday; Friday and Saturday, 11am 8pm, and Sunday, noon to 7pm.

Courtesy of our friends at Lazar Media.
Posted on Friday, June 15, 2007 @ 11:50 AM | 55 replies View/Post Feedback
---
City Shopping
If you're late for Dad's special day, Hugo Boss has a sample sale starting today...
O.K., we're not going to chastise you for not heeding our week-long tips for securing a fun, interesting, on-the-mark gift for dad this Sunday. We're not going to say we told you so...just get out right now and get that gift, a nice gift, because no matter what you find at the Hugo Boss sample sale, it's sure to be hit. On sale are Boss' signature tailored clothing, sportswear, assorted furnishings, shoes, and accessories. All at a huge savings. This is another Soiffer-Haskin sale, so we think by now you know the drill: Credit cards only, no strollers, all sales final. Where? 317 W. 33rd St. (west of Eighth Ave.). Sale runs from Sunday, the 17th through Thursday, the 21st, of next week; Sunday, 9am to 6:30pm; Monday, 9am to 7:30pm; Tuesday and Wednesday, 9am to 7pm; Friday, 9am to 5pm.
Posted on Friday, June 15, 2007 @ 09:48 AM | 0 replies Start the Discussion
---
City Shopping
Kati Stern, a European-born-and-bred designer, is having her first-ever sample sale. Stern first showed here in the States at Seventh on Sixth in 2004 and has been a hit ever since, a choice of cutting-edge fashionistas.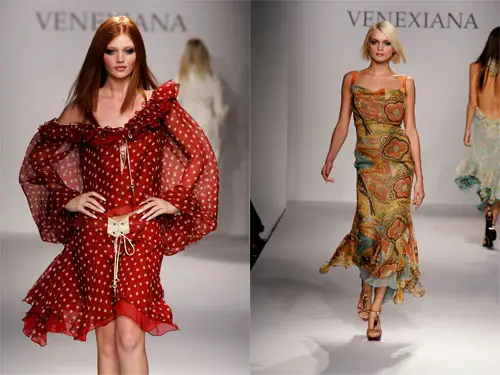 The sale will feature separates, dresses, cocktail/eveningwear, some fancy-schmancy gowns (her after-eight attire is really va-va-va-voom!), shearling vests, and more…all one-of-a-kind! Prices start at $175 and represent a significant savings off retail, not to mention off wholesale! No charge cards accepted, cash ONLY. Tuesday the 12th and Wednesday the 13th, both days, noon to 5pm at Stern's showroom, Venexiana, 521 W. 26th St., fourth floor, (between 10th and 11th Aves.); 212-629-6868; www.venexiana.us 
Posted on Monday, June 11, 2007 @ 01:30 PM | 0 replies Start the Discussion
---
City Shopping
Rev up those charge cards: Yesterday, a Valentino sample sale started. If you love the maestro's clothing, shoes, and accessories, now is your chance to snag a great buy. (There will be some furnishings for men, by the way.)
 
We think that one of the finest -- absolute finest -- exhibits of haute couture we've ever seen was the Valentino show at the Park Avenue Armory. (We swear, you'd never have known it was an armory, the way it was "done up"; it was completely transformed.) The show was amazing -- all that luscious red -- and the catalogue Rizzoli published to accompany it is well worth hunting for on the Web. It's called Valentino/Thirty Years of Magic, and if you find it, buy it. His work is masterly and the book imparts the tiniest flavor of that retrospective.
 
So, if you'd like to see something you own as a part of the next retrospective, buy something now -- this is just the place. The sale will run through Wednesday the 13th. Hours: Sunday through Tuesday, 9am to 6:30pm, and Wednesday, 9am to 5pm.  Place:  317 W. 33rd St., just west of Eighth Ave.  It's another Soiffer Haskin's sale, so you know that means credit cards only, all sales final, no kids, no strollers.  But plenty of wonderful merchandise.  DO NOT MISS THIS ONE!

Posted on Monday, June 11, 2007 @ 09:57 AM | 46 replies View/Post Feedback
---
City Shopping
If you're a fan of Eileen Fisher's clothing line, then set aside some time this Saturday, June 2, and head over to the shop at 314 E. 9th St. btw. First & Second Aves. Fisher's wonderfully clean, classic, and contemporary fashions will be reduced a good 40%. This is a one-day-only sale, at the shop where Fisher usually ships all its sale items anyhow, so expect the very best here…samples, overruns, returned goods, and things you may not have seen elsewhere. Eileen Fisher is one of our favorites, so get there early if you want to beat us! (Open 10am to 7pm; thanks to our friends at Lazar Media for tipping us off to this one.) 
Posted on Thursday, May 31, 2007 @ 09:28 AM | 0 replies Start the Discussion
---
City Shopping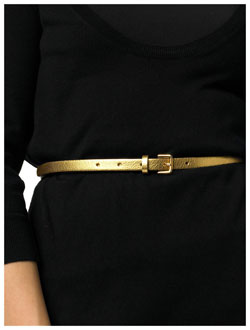 It's definitely the season of the belt and it's also the season of glitz, so combine the two and pick up a very useful wardrobe-builder in the form of a skinny little gold metallic belt. Cinch it over T's, tanks, and tops. Banana Republic has a very chic, narrow, glittery gold leather belt that won't wear out after four outings (or get all cracked at the buckle point), but at $38 it won't break the bank, either...and it's also something you'll have and use for years. BR also has some handsome horn bangles ($28), some coral-y, ombréd, beaded bracelets ($24) and lots of bags, scarves, and cute ballet flats, all of which can transform an outfit, taking it from no-nonsense office-y to lots-of-nonsense after-hours-y. 

Posted on Monday, May 21, 2007 @ 01:15 PM | 5340 replies View/Post Feedback
---
City Shopping
Malo is one of Italy's finest cashmere producers, and along with Brunello Cucinelli, among our favorites. (O.K., yes, we admit, and we put it into print a week or so ago, we still lust after that TSE pullover that got away from us 18 years ago.)  But there is almost nothing in the Malo line we'd turn down. So that's why we're thrilled there's a Malo sample sale, starting Sunday, with goods for men and women -- mostly cashmere, but some silks, too. It's another Soiffer-Haskin sale, taking place at the company's site, 317 W. 33rd St., just west of Eighth Ave. It goes from Sunday through Wednesday, the 20th through the 23rd, from 9am to 6:30pm daily, except the last day, Wednesday, when it closes at 5pm. You know the drill by now: NO cash, NO checks, just credit cards. NO KIDS, NO STROLLERS.   

Posted on Friday, May 18, 2007 @ 03:45 PM | 5101 replies View/Post Feedback
---
City Shopping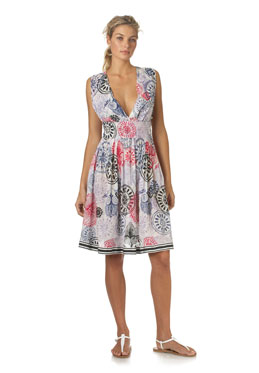 Adam Plus Eve makes fun clothing for men and women, and today and tomorrow (May 18th and 19th) the company's staging a terrific sample sale at the Chelsea Market (75 Ninth Ave. btw. 15th & 16th Sts.) from 9am to 7pm. Current Spring '07 merch is included, not to mention the company's signature jersey knits. Expect to see prices that are up to 70% off retail, including appealing prices for things like lightweight cashmere cardigans for him and silk taffetas for her. For example, for men: tennis/swim shorts in red and khaki, originally $95, now $35; striped jersey short-sleeved V-neck T's, originally $110, now $38. For women: Cashmere hoodies in solids and stripes, originally $395, now $140; piqué tank dresses with pockets in cream and slate, originally $275, now $175.

All sales final, cash and credit cards only, no checks. 
Posted on Friday, May 18, 2007 @ 03:42 PM | 0 replies Start the Discussion
---
Subscribe to this Blog's
Feed