City Shopping - Furs Blogs
Back to Blog... | View More Bloggers...

About the Author: About the Author: Ruth J. Katz is a well-known shopping and service writer based in New York City. She has written about shopping for 25 years for New York magazine; covered the topic on-air at Fox-TV for several years as the Home Services expert; and had her own show on both the USA and Lifetime Cable networks. Katz wrote extensively for The New York Times as well, and contributed periodically to the New York Daily News. She is a passionate shopper, always looking for not merely a good buy, but the best buy, ferreting out a "steal" or discovering up-and-coming designers. She has written five books and is a former contributing editor to Hearst's Redbook, Classic Home, and Colonial Homes; she is currently a Contributing Editor of New York Home, Golf Connoisseur, The Modern Estate, and Promenade magazines. She is also the former Shopping Director for Davler Media's Manhattan Living.


---
City Shopping
It's Dad's special day coming up this Sunday, so we thought we'd focus on a few things for the grillmeister in him, and leave the ties 'til Xmas. Cuisinart, one of our favorite brands for all things kitchen-appliance-y, has some fab accessories and products for the outdoor chef, starting with the 14-piece Deluxe Grill Set (for a sum that won't break the bank, $39.95). It's made from durable stainless and includes the vital tongs, basting and cleaning brushes, a spatula, and even (cleverly) four pairs of corn holders. There is also an extra cleaning brush, a good idea, since we all know how disgusting the grills can get. Comes packaged elegantly in a sturdy aluminum case--very sleek, very James Bond, minus the car, sorry to say. But, what it does come with--a little something even Q wouldn't mind having--is an added goodie: The smart marketers at Cuisinart and Omaha Steaks have tucked a lovely $20 Omaha Steak Gift Reward Card into the package....not bad.
Dad may also like to get his mitts, oven or otherwise, on the Cuisinart's digital temperature gauge, ($24.99) with a color-changing display. Very cool, or hot, depending on the temperature. It's programmable and magnetic, and you can actually set the desired temperature, then test to see if the meat is-in the words of the kids when you travel--there yet??? When the steak, chops, chicken, etc., have reached their set temperatures, the color in the read-out display changes
; and just in case dad is off somewhere sharing a mojito and conversation with a neighbor over the back fence, there is an audible alarm that will alert him to return to the grill. Comes with a three-foot-long Teflon cable, so that it can reach the corners of the grilling tray. And it's magnetic to allow for easy storage.
Two other items from Cuisinart that are worth considering, as well, for use both indoors and outdoors: The pre-seasoned cast iron fajita set ($39.99) and the non-stick wok ($19.99). The former is manufactured with innovative flavor slots which work to remove excess grease and fat from food while at the same time, enhancing the natural grilled flavor of the meat. And it comes with a handsome wooden serving tray, that fits the skillet perfectly, so the meal can be served sizzling hot. The non-stick wok would also be a treat for dad, as it's got a well designed non-stick surface and a heat-resistant folding handle.....all this, just to ask him to make you dinner on HIS day!
Posted on Monday, June 14, 2010 @ 02:58 PM | 1 reply View/Post Feedback
---
City Shopping
While you're stocking up on your very practical work clothes (see yesterday's post), drop by Cassin for some luxury accessories to doll up those gabardine suits and coats. Cassin produces furs, cashmere sweaters, fabulous fun fur hats, and shawls and scarves and other accessories, and you're sure not to leave there without a small bag of goodies. Tell Santa you needed his stuff, too, and to just leave the cash for your purchases at both Linda Richards and Cassin.
Sale starts tomorrow, Wednesday, November 28th and goes through Friday the 30th, from 10am to 7 p.m., at the Cassin showroom, 150 W. 30th St. (between Sixth & Seventh Aves.), 5th flr., 212-564-0946.

Posted on Tuesday, November 27, 2007 @ 11:25 AM | 5129 replies View/Post Feedback
---
City Shopping
By this time, your furs should have gone to summer camp -- if they haven't, now is definitely the time. Don't think that keeping them sequestered in the back of a closet in an air-conditioned apartment is okay. To maximize the life of a delicate and costly fur coat during summer, its hides need to be maintained in a moisture-controlled, 50-degree environment.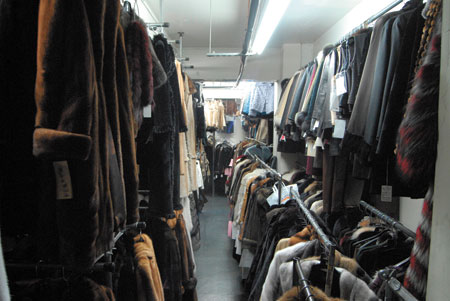 "Do not store them in plastic, do not mothproof them...these can shorten the life of your coat," cautions Murray Cox, the director of sales at Alexandros, a family-owned, fourth-generation furrier in the city's famed fur district. Prices here for cleaning and storing are very reasonable. And of course, they're inspected for loose seams, dangling hooks, frayed hems, and so on; repair costs are additional. Storage alone, for all garments: $45; cleaning and glazing (a sort of finishing and "fluffing" of the fur) classic fur coats, $45, and for fur-lined raincoats, suede, shearlings, and leather coats, $75 and up. Pick up or delivery is free; the return trip is $25. 345 Seventh Ave. btw. 29th & 30th sts., 4th flr., 212-868-1043 (This article originally appeared in the 6/06 issue of Manhattan Living.)
Posted on Tuesday, November 27, 2007 @ 10:00 AM | 2476 replies View/Post Feedback
---
City Shopping
O.K., we hate to start off our blog with something that is kinda pricey, but it's a GREAT sale, and worth your time to drop by -- today and tomorrow. Wednesday is the last day and that's why the prices (of everything) at this sample sale have been reduced even further…slashed, if you will. We promise in the future to have other sales to tell you about that are more modest and other merchandise that is cute and cheap…but with only a day left, we felt we had to throw this into the blog NOW.  (And besides, all that cold weather from last week is not too distant a memory, so a little fur shrug might be in order and on your shopping list.)
 
You've read about and seen Dennis Basso's show-stopping coats and entrance wraps. He's the furrier to the society ladies and boldface names -- and now is your chance to be a lady who lunches, or at least be a lady with one of Basso's signature, voluptuous fur wraps -- or jewelry, if the furry is stuff is too rich for your purse (or against your principles). There are even men's shearlings and fur-lined raincoats, in case you know a man who wants to join the ladies who lunch!
 
The sale is being held at Soiffer Haskin (not the Dennis Basso store) at 317 W. 33 St., just west of Eighth Ave. Come with plastic, as cash and checks are NOT permitted. (No kids under 12, strollers, bicycles, etc., are permitted either.) Today and tomorrow, Wednesday, from 9am to 6:30pm (Feb. 27 & 28).  For more info, call 718-747-1656. 

Posted on Tuesday, February 27, 2007 @ 01:59 PM | 35 replies View/Post Feedback
---
Subscribe to this Blog's
Feed