City Shopping - Gloves, Hats, Scarves Blogs
Back to Blog... | View More Bloggers...

About the Author: About the Author: Ruth J. Katz is a well-known shopping and service writer based in New York City. She has written about shopping for 25 years for New York magazine; covered the topic on-air at Fox-TV for several years as the Home Services expert; and had her own show on both the USA and Lifetime Cable networks. Katz wrote extensively for The New York Times as well, and contributed periodically to the New York Daily News. She is a passionate shopper, always looking for not merely a good buy, but the best buy, ferreting out a "steal" or discovering up-and-coming designers. She has written five books and is a former contributing editor to Hearst's Redbook, Classic Home, and Colonial Homes; she is currently a Contributing Editor of New York Home, Golf Connoisseur, The Modern Estate, and Promenade magazines. She is also the former Shopping Director for Davler Media's Manhattan Living.


---
City Shopping
If you are having a lazy Martin Luther King Day here is quickie errand you can run, while hopefully, not running up too large a bill on your charge card:  Yes, it's another Soiffer Haskin sale.  Today, tomorrow (Tuesday), and Wednesday (the last day).  Stuart Weitzman (one of our favorite shoe manufacturers (because, yes, we wear a size 10.5 and nobody makes that size, but we can always find something at Weitzman that fits just right and is stylish, too).  And Krizia, too.  And we don't need to embellish about Krizia, do we? 
So, here's the usual deal: Soiffer Haskin, 317 West 33rd Street, just west of 8th Avenue; credit cards only; all sales final; strollers not allowed; no children under 12 will be admitted. 
So, go out and get yourself some shoes!
Posted on Monday, January 21, 2008 @ 01:33 PM | 3812 replies View/Post Feedback
---
City Shopping
Lambertson Truex makes high-quality, sometimes over-the-top leathergoods -- beautiful bags, belts, gloves, accessories. If you need anything in that funny-named category, "small leathergoods," then here is your chance. Think Christmas, think Hanukkah, which is VERY early this year, providing a handy excuse for shopping, as if you really needed one. Merchandise is up to 80% off retail, and there is sure to be a little trinket here with your name on it.

This is another Soiffer-Haskin sale, but at a new location, at least just for this sale: Metropolitan Pavilion, 123 W. 18th St. (between Sixth & Seventh Aves.); from Wednesday, December 5th through Friday the 7th, from 9 a.m. to 6:30 p.m. daily. This time, NO cash (unlike the TSE sale last week); plastic only, no checks; no strollers, no children under 12.

Posted on Tuesday, December 04, 2007 @ 02:14 PM | 20 replies View/Post Feedback
---
City Shopping
While you're stocking up on your very practical work clothes (see yesterday's post), drop by Cassin for some luxury accessories to doll up those gabardine suits and coats. Cassin produces furs, cashmere sweaters, fabulous fun fur hats, and shawls and scarves and other accessories, and you're sure not to leave there without a small bag of goodies. Tell Santa you needed his stuff, too, and to just leave the cash for your purchases at both Linda Richards and Cassin.
Sale starts tomorrow, Wednesday, November 28th and goes through Friday the 30th, from 10am to 7 p.m., at the Cassin showroom, 150 W. 30th St. (between Sixth & Seventh Aves.), 5th flr., 212-564-0946.

Posted on Tuesday, November 27, 2007 @ 11:25 AM | 5129 replies View/Post Feedback
---
City Shopping
In business since 1935, this throwback to another era specializes in all things relating to hats -- from making fab, one-of-a-kind chapeaux to maintaining them. Horace Weeks, who's been with the company since the 1940s, will oversee whatever you fancy. For summer, it's the cleaning and the blocking that we're interested in, to keep our boaters and our big straw beach hats pristine.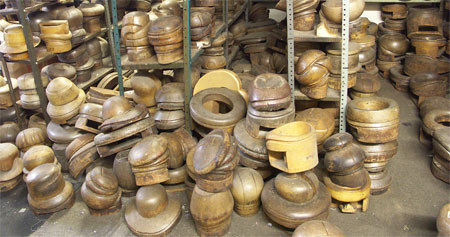 Anika Lopes, who runs the operation, says that they have the largest selection of hat blocks in the U.S. "Just hundreds -- it's like a museum! And there's nothing we can't do with a hat," she notes, and that includes minor things like changing the inside or outside sweatband, sizing, repairing, and so on. For cleaning and blocking (about $45 and up, with approximately a week's turnaround), walk-ins are welcome; other jobs require an appointment. 36 W. 38th st. btw. Fifth & Sixth aves., 4th flr., 212-730-4369; www.peterandirving.com (This article originally appeared in the 6/06 issue of Manhattan Living.)

Posted on Tuesday, November 27, 2007 @ 10:00 AM | 740 replies View/Post Feedback
---
City Shopping
If you wanted to be a hat maker, you couldn?t have a much better pedigree than Leah Chalfen of Leah C. Couture Millinery. Armed with a degree from Temple University, Leah completed the millinery program at the Fashion Institute of Technology and went on to work at renowned British hat designer Patricia Underwood's studio. Before striking out on her own, Chalfen even worked in the remarkable millinery department of the Metropolitan Opera House (which, as she notes, gave her insight into the world of theatrical styles -- sometimes veritably jaw-dropping styles, indeed). 
Her elegant and flattering headpieces are worn by "distinctive brides who want to walk down the aisle with pride and confidence -- not the 'classic' tiara woman," she says jokingly. "And I'm known for the graceful use of feathers, too." Her headpieces embody the infinite possibilities that feathers, flowers, veiling, pearls, and a gifted hand and creative eye can bring to them -- and editors of major bridal magazines agree, as her headpieces are regularly published in national periodicals, including top-tier magazines like Town & Country and InStyle. "I love to make the most flattering veils and headpieces for my brides -- things that are contemporary and stylish," she notes. Veils start at $125 and headpieces range from about $275 to $425. 124 W. 30th St. btw. Sixth & Seventh Aves., Suite 203, 212-947-3505; www.leahc.net (This article originally appeared in the 4/06 issue of Manhattan Living.)
Posted on Monday, November 26, 2007 @ 03:51 PM | 5082 replies View/Post Feedback
---
City Shopping
We're not sure just what this sale is promising today, but we're going to check it out later and we'll report from the front.  It's allegedly supposed to have Gucci and Pucci…and Chanel and Hermès.  We shall see just how much of each of these houses it actually has for sale…and for how much off.  The material sent to us by our friends at Lazar Media says that there will be clothing and accessories at 75% off.  Stay tuned for tonight's report.  But in the meantime, here is what you need to know:  It's today and tomorrow, at the Shoreham Hotel, 33 West 55th Street (between Fifth and Sixth Avenues), Ground Floor; from 10 a.m. to 7 p.m.....credit cards accepted.
Posted on Wednesday, September 26, 2007 @ 01:14 PM | 184 replies View/Post Feedback
---
City Shopping
We should have put this Hermès "sample" sale up a few days ago, when we listed the Million Dollar Babe night, and for that matter, we should have listed the sale for Intermix, too -- all of them at the Metropolitan Pavilion. For all you label-conscious competitive shoppers, though, the first stop would have been the fourth floor gallery, for the Hermès sale, on Thursday, continuing through today. Now, we're not saying that you'd have walked out with the proverbial kitchen sink, but there were plenty of scarves, ties ($89 instead of the retail of $145), shoes, clothes, and a smattering of leathergoods, home goods, and assorted tschotschkes. The scarves were the doggie ones--the ones that they just don't really move in the store, but we suppose if you are stuck giving a gift to your great-aunt's sister (and you didn't really need a box for it), then snagging a scarf here would have been o.k. (After all, $195 sure beats $325 or is it $345?) There were none of our favorites, none of the top-sellers, no luscious florals, no popular patterns (like "Les Clefs," oldies and goodies that we collect, like "Les Rubans"), and so on. But, so be it. There were amazing shoes for men and clothes galore....real finds, at a fraction of their retails--but even then, they were thousands and thousands. So, if you have money to burn, and are a fan of the esteemed saddlemaker, we promise that next year, we'll give you a heads-up really early. Be prepared, though, to stand in a queue for a long time.
Posted on Saturday, August 25, 2007 @ 05:28 PM | 3 replies View/Post Feedback
---
City Shopping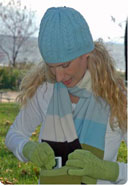 O.K., so it's sort of balmy today, but by Tuesday it could be in the 20s -- if you believe the forecasts on www.weather.com.  And don't forget that four years ago, in April, we had a major, brrr-brrr blizzard. We suspect you don't need these mild scare tactics, though, to appreciate a really amazing sale: Log on to www.girl32.com and check out the hats, gloves, and scarves available now for nearly half-price. They're not just plain ol' wintergear, either: The hats have a neat set of Swarovski-crystal buttons that open up to allow you to stick your ponytail through, so you're not sporting a lumpy-head look; the gloves have flip-top digits so your thumb and index finger can work your Blackberry; and the scarf (our favorite) has a handy zippered pocket for keys and secret stuff (pictured). The palette of colors is beautiful, from a luscious pink to punky stripes. Everything is 51% wool and 49% acrylic, so they wash well and wear even better. Hats are $33 now (originally $65); gloves, $20 ($35); and scarves, $40 ($75). Buy the entire trio for $89 (as opposed to $93, or the original $175). Now that is a really great deal for snuggly style.

Posted on Thursday, March 01, 2007 @ 01:07 PM | 0 replies Start the Discussion
---
Subscribe to this Blog's
Feed