City Shopping - Tabletop Blogs
Back to Blog... | View More Bloggers...

About the Author: About the Author: Ruth J. Katz is a well-known shopping and service writer based in New York City. She has written about shopping for 25 years for New York magazine; covered the topic on-air at Fox-TV for several years as the Home Services expert; and had her own show on both the USA and Lifetime Cable networks. Katz wrote extensively for The New York Times as well, and contributed periodically to the New York Daily News. She is a passionate shopper, always looking for not merely a good buy, but the best buy, ferreting out a "steal" or discovering up-and-coming designers. She has written five books and is a former contributing editor to Hearst's Redbook, Classic Home, and Colonial Homes; she is currently a Contributing Editor of New York Home, Golf Connoisseur, The Modern Estate, and Promenade magazines. She is also the former Shopping Director for Davler Media's Manhattan Living.


---
City Shopping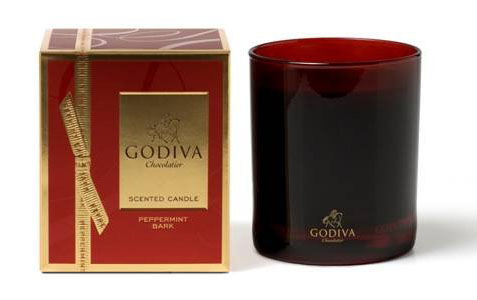 Well, not exactly dietetic chocolate. But close. If last week's cocoas were just too rich and too caloric for your New Year's resolutions-restricted waistline, then hie thee to Godiva or to Neiman Marcus and scoop up one of the company's brand-new scented candles. Infused with delicious aromas of luscious chocolate flavors, the nearly one-pound candle (the glass container contributes to the weight of the pillar-style candle), imparts heady, chocolate-y flavors even when unlit. Candles are about 3" tall, with a 10"diameter, and are "enrobed" in a cocoa-brown glass container.
Five mouth-watering flavors are on the market: Milk Chocolate Truffles, Black Almost Truffles, White Chocolate Magnolia, Raspbery Ganache, and Peppermint Bark (inspired by one of the company's traditional bestsellers, peppermint bark), and, all of which are truly evocative of the real deal. Created by Laura Slatkin (formerly of the eponymous Slatkin & Co., makers of fine home fragrances, which is now part of the Bath & Body Works family), the scents are intoxicating and they smell as if a few dozen boxes of rich and robust chocolates have been opened in proximity of the receptive scent detectives in your nose! Sniff the caramel, the Madagascar bourbon vanilla, the fresh mint, brown sugar, and ripe fruit...
The candles are available at Neiman Marcus and Bath & Body Works for $22.50 (50 hours' burn time); there are also smaller, travel versions (10 hours' burn time), for $12.50.
Posted on Thursday, January 14, 2010 @ 12:51 PM | 0 replies Start the Discussion
---
City Shopping
Another super sale of Italian goods Frette, this time.  Super fine and super-superior white goods as well as table linens and assorted home accessories are all for sale, at up to 70% off retail...which is good, because Frette doesn't come cheap under normal circumstances.  Here is a chance, though, to snap up some of those lovely, over-the-top, high-count sheet sets and fluffy, plush towels, not to mention a box of $100 soaps or some of those silky, clingy dressing gowns that look like they should be in a Merchant/Ivory costume drama.  The sale is at Soiffer Haskin, 317 West 33rd Street, just west of Eighth Avenue (which you probably know by heart now).  Credit cards only, and as usual, no strollers, no children under 12.  Starts tomorrow, Saturday, and continues through Wednesday, the 12th.    Hours:  9 a.m. to 6:30 daily, except Wednesday, when they will close up shop at 5 p.m.
Posted on Friday, December 07, 2007 @ 05:03 PM | 12146 replies View/Post Feedback
---
City Shopping
Sure there are lots of big party rental places, but most of them cater to elite party planners who throw those huge bashes you read about in the society columns. But County Chair really wants your business -- people who just need a little "stuff" for an at-home fete. Prices are reasonable (there is no off-putting $500 minimum -- it?s $85 in the Big Apple) and the selection of goods is broad: silver, glasses, old-fashioned samovars, linens (in 80 colors and prints), ballroom and folding chairs, serving pieces, and, of course, dishes -- even kosher ones. The fanciest china is "Gold Grande" (white, bordered with gold), which rents for $8.50 for a dozen plates; the simplest is "Blanc" (plain white) at $7 a dozen. Ballroom chairs are $6.50 each and available in nearly two dozen colors and styles, and folding chairs are a mere $2.35 each.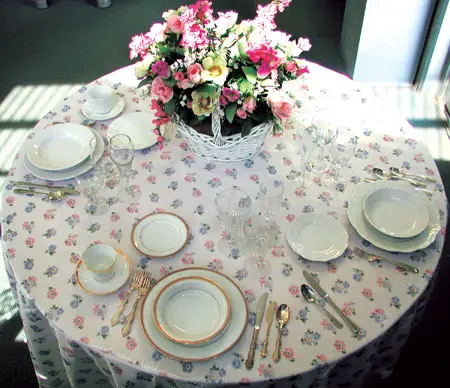 County Chair has been in business since 1934, and is the oldest privately owned party-goods rental business in the area. Check out its website, as you'll find it both educational and amusing: In response to a question about deliveries to Manhattan, the "answer" reads: "We've air-freighted candelabra to Florida and delivered chairs to Truman's inauguration in 1948. (Yes, we deliver to Manhattan.)" Try to give them at least two-weeks notice during holiday season. By reservation only. 914-664-5700; www.countychair.com (This article originally appeared in the 10/05 issue of Manhattan Living.)
Posted on Monday, November 26, 2007 @ 03:49 PM | 1 reply View/Post Feedback
---
City Shopping
Larisa Shlahet counts among her loyal clients "Sex and the City's" Cynthia Nixon and corporate biggies like HBO, JPMorgan Chase, Citibank, and the Corcoran Group. They all know a good thing when they see (and smell) it, and Shlahet manages to provide a very good thing: solid value at a good price. Because she doesn't maintain a storefront shop, she can create not only exquisite floral arrangements, but also deliver price-conscious style -- and she's got quite an artful eye and a polished flair for design. Her jobs span smallish dinner parties to large-scale events, and her $100 arrangements look more like what you'd get from a "fancy" florist for much more than that. (Her minimum job is $300.) She loves to mix fruits and vegetables in with her bouquets as well. At holiday time, she might surround an arrangement of red blossoms with candy canes, or immerse green limes in a clear-glass vase below the water line, among the stems. By appointment only. 212-877-8733; www.larisadesigns.com (This article originally appeared in the 10/05 issue of Manhattan Living.)
Posted on Monday, November 26, 2007 @ 03:49 PM | 1542 replies View/Post Feedback
---
City Shopping
Nancy Koltes Linens are among the finest.  (If you know her charming little NoLita shop, then you already know what treasures her linens are.)  So, here's your chance to snag some, at maybe 80% off retail…O.K., so not every style in every color in every size is going to be available, but there will be plenty from which to choose—sheet sets, duvet covers, towels, home accessories, and loungewear, in a variety of Jacquards, sateens, percales, and prints.  You already know the usual drill for those Soiffer Haskin sales:  No strollers, no kids, no cash, no checks (credit cards only).  Today, tomorrow, and Tuesday, from 9 a.m. to 6:30 p.m. at 317 W. 33 St. (between 8th and 9th Aves.)


Posted on Sunday, September 09, 2007 @ 06:00 PM | 43 replies View/Post Feedback
---
City Shopping
Here's another top-flight sale from Soiffer-Haskin. This time it's Christofle, that French maker and purveyor of to-die-over silver, flatware, crystal, porcelain, hollowware -- and even jewelry. All suitable for gifts. Got any June weddings popping up? Well if so, here's a great opportunity to find a fab present, at a huge savings. As we always advise: Go early, buy what you absolutely MUST have, and eyeball whatever else you want...then return the last day, and pray that those items are still there, 'cause if they are, chances are they will marked down further. You know the deal: Credit cards only, no kids, no strollers. 317 W. 33rd St. (just west of Eighth Ave.); Wednesday and Thursday, May 30th and 31st, from 9am to 6:30pm. and Friday, June 1st, 9am to 5pm.
Posted on Tuesday, May 29, 2007 @ 01:48 PM | 4945 replies View/Post Feedback
---
City Shopping
(1) Lenox Warehouse Sale

Do you love Lenox? If so, get out to Cranbury, New Jersey, for the Lenox Warehouse sale. Expect to find selected patterns, seconds, overstocked and discontinued items, slightly irregular items, and special products. There is dinnerware (both fine and casual), crystal stemware, and flatware, as well as giftware and assorted tabletop items. The sale starts May 26th (this Saturday) and runs for nearly a month, until June 24th. Open daily, Monday to Saturday, from 9am to 8pm and Sundays from 11am to 6pm (Memorial Day, from 9am to 6pm). It takes place at 53 Commerce Drive (Route 535); take the New Jersey Turnpike to exit 8A, and follow the signs for Cranbury via Route 535 South. (800-587-7444)

(2) Lamberston Truex

Lambertson Truex is the maker of fine leather accessories -- handbags, gloves, belts, and so on -- all sold at places like Bergdorf's. The sale is currently on (with values up to 80% off the original retail) and ends Thursday, the 24th, open from 9am to 5pm. 230 W. 17th St. btw. Seventh & Eighth Aves., 6th flr., 212-604-9494
(3) Valentino, Prada, Cavalli and more
Perennial favorites Valentino, Fendi, Dior, Dolce & Gabbana, and Prada are among the offerings at this sale, today and tomorrow. Look for values up to 75% off retail. From 10am to 7pm, at the Surrey Hotel, 20 E. 76 St. btw. Fifth & Madison Aves.; ask the concierge for directions to the sale. 917-330-9318
All these sales come to us courtesy of our friends at Lazar Media. Thanks!
Posted on Wednesday, May 23, 2007 @ 05:29 PM | 4565 replies View/Post Feedback
---
City Shopping
O.K., get out the plastic again -- you will not want to miss this sale.  Both Baccarat and Asprey are cutting prices and now is your chance to stock up on lavish gifts, find luxe clothing, or dress the house in the finery of crowned heads of state.  
Asprey, with all its fancy royal warrants and over-the-top merchandise (if memory serves us, we once saw a sterling Champagne chiller there -- for multiple bottles -- for thousands and thousands and thousands) is a pretty $$$ shop, but at the "sample" sale, there are tons of things that are affordable…expect to find Asprey's signature leather goods, jewelry, silver, and clothing -- up to 75% off.  
Baccarat is known for its superb lead crystal, giftware, and decorative items and at this sale, they say, there will be rare museum pieces, whatever that means.  But one thing we do know that it means, is d-i-s-c-o-u-n-t -- probably 60-75% off original prices. Do what we do to try to finesse an even better deal:  Go the first day or two and scope out what you want, and then wait until the last day, when the prices are generally cut even more. (Yeah, we know -- you do, indeed, risk losing your item; it's a hedge, what can we say? -- we still do it!)  Remember, plastic only, no cash, no checks.  
The sales are at Soiffer Haskin, 317 W. 33 St., just west of  Eighth Ave. It starts tomorrow, Mar. 3, and goes through Tuesday, the 6th.  Daily, 9am to 6:30pm., and Tuesday, until 5pm only. Again -- read the entry below for Dennis Basso -- no kids under 12, no strollers, etc. Be prepared to check big bags, and also to go home a happy camper with really gorgeous stuff! 

Posted on Friday, March 02, 2007 @ 02:37 PM | 0 replies Start the Discussion
---
Subscribe to this Blog's
Feed