City Shopping - Linens Blogs
Back to Blog... | View More Bloggers...

About the Author: About the Author: Ruth J. Katz is a well-known shopping and service writer based in New York City. She has written about shopping for 25 years for New York magazine; covered the topic on-air at Fox-TV for several years as the Home Services expert; and had her own show on both the USA and Lifetime Cable networks. Katz wrote extensively for The New York Times as well, and contributed periodically to the New York Daily News. She is a passionate shopper, always looking for not merely a good buy, but the best buy, ferreting out a "steal" or discovering up-and-coming designers. She has written five books and is a former contributing editor to Hearst's Redbook, Classic Home, and Colonial Homes; she is currently a Contributing Editor of New York Home, Golf Connoisseur, The Modern Estate, and Promenade magazines. She is also the former Shopping Director for Davler Media's Manhattan Living.


---
City Shopping
Although the calendar said that summer officially came in late June, the unofficial beginning of the sweltering season is now, right after July Fourth. And that to me signals the time to take out the linens and cottons, the gorgeous lightweight summer clothing that, sadly, needs ironing. No way around it. BUT, there is a way to make it easy and professional: The Rowenta Company has been making irons for over 100 years and they know a thing or three about crafting a really good iron. The company's R & D is not sidetracked by manufacturing countless categories of other home appliances: Irons are their business, and in essence, their only business. (They do make floor care cleaners and vacs, but in truth, some of their floor-care cleaning products employ technology used in developing steam irons.) So, unlike other companies that produce irons and small appliances, like mixers, toasters, meat slicers, and so on, Rowenta subdivides its company's product divisions into categories of irons—professional irons/steamers, travel irons, and the like.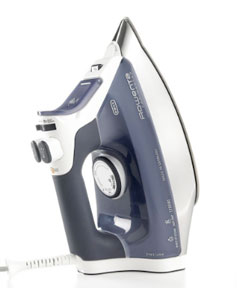 The well designed model DW-8080 (pictured here) is my new favorite. It is a powerful 1700-watt model, professional in all ways, and short of being attached to a continuous steam tank and more sophisticated machinery, it is as professional as you can get for a home model that does the job efficiently and easily. It has a stainless soleplate with a precision tip for advanced steam distribution, and the holes on the bottom assure the same. The burst of steam is long-lasting, and the spray nozzle really covers a lot of ground, so you can dampen a pesky linen shirt over half its front, with one big burst of steam. And I have noticed that I do not have to go over the same area again and again...it delivers perfect ironing with the first (and only) glide.
The iron is substantial, but not heavy-feeling in the hand, particularly because of the ergonomic handle and the smooth glide of the soleplate. It has a good-size water tank (over 12 ounces), with a closure that is secure. It heats up quickly and has an auto shut-off if it isn't moved in 8 minutes when in the vertical position, and after 30 seconds, if it is tipped over, an excellent safety feature. Additionally unlike most irons, it can be used in the vertical position as a steamer, a real plus. Lastly—another selling point—it is self-cleaning, with anti-drip and anti-calc systems, so it produces long-lasting, continuous clean steam. (It also comes with a 10 ounce water fill cup and has a one-year warranty.) The iron retails for approximately $125, although I've found it on the Internet for less; but regardless, it's worth it as the one (and last) iron you will buy!
Posted on Thursday, July 05, 2012 @ 11:20 AM | 0 replies Start the Discussion
---
City Shopping
We love Sferra linens -- all that luscious Italian bedding, so handsomely designed, so soft to the touch, so elegant on the bed. It is the bedding of royalty, or at least you'll feel like a royal with a set of Sferra sheets. Yes, we know it can be a little pricey (although we hasten to add, the Sferra 1981 line is more within a scribe's budget), but today through Saturday, you can afford Sferra! And that is because there's a great warehouse sale taking place. 
There will be first-quality discontinued and overstocked items, including bed linens, matelassé sets, sheet sets, blankets, throws, towels, decorative pillows, and table linens. Prices are up to 75% off retail...how can you go wrong?  The only bad news is you have to drive to Jersey. Snag a friend with a car, and get yourself there!  It's taking place at the Raritan Center, 15 Mayfield Avenue (at the back of the building), in Edison, Nouvelle Jersey (see directions below).

Here are the times:  Today (the 11th) and Thursday, the 12th, from 8 a.m. to 8 p.m.; Friday, June 13th, from 8 a.m. to 5 p.m., and Saturday, June 14th, from 8 a.m. to 12 noon.

All sales final; cash and most credit cards accepted; no checks.

(Here's how to get there:  Lincoln Tunnel to NJ Turnpike, South, to exit 10 (to Route 514 West). Then follow signs to the Raritan Center/Route 514 West. Merge onto Raritan Center Parkway (follow signs to Expo Center).  Make a right at the fourth light onto Mayfield Avenue and then turn left into the  Sferra parking lot.  Go to the back of the building for the warehouse entrance. Click here for a map.) 

Posted on Wednesday, June 11, 2008 @ 05:41 PM | 10111 replies View/Post Feedback
---
City Shopping
Another super sale of Italian goods Frette, this time.  Super fine and super-superior white goods as well as table linens and assorted home accessories are all for sale, at up to 70% off retail...which is good, because Frette doesn't come cheap under normal circumstances.  Here is a chance, though, to snap up some of those lovely, over-the-top, high-count sheet sets and fluffy, plush towels, not to mention a box of $100 soaps or some of those silky, clingy dressing gowns that look like they should be in a Merchant/Ivory costume drama.  The sale is at Soiffer Haskin, 317 West 33rd Street, just west of Eighth Avenue (which you probably know by heart now).  Credit cards only, and as usual, no strollers, no children under 12.  Starts tomorrow, Saturday, and continues through Wednesday, the 12th.    Hours:  9 a.m. to 6:30 daily, except Wednesday, when they will close up shop at 5 p.m.
Posted on Friday, December 07, 2007 @ 05:03 PM | 12146 replies View/Post Feedback
---
City Shopping
We're pretty crazy about The Loom Company and all the different lines this manufacturer's rep handles. We always see them at the Gift Show and always find things that we want to write up in our sundry magazines. And when there's a sample sale at The Loom Company, you can bet that it's the real deal -- a real sample sale. That is to say, they are truly selling samples, and overruns, and extra stock, and seconds, and you-name-it. We always hustle on down to the sale, and this is the perfect time for you to play Santa yourself and stock up on great goodies for your friends at VERY good prices. (CASH ONLY, Kids!)
Expect to find goods from John Derian (ah, that master découpager), Hable Construction (can anyone do MORE with felt than these guys?), and tons of other names you might or might not know but who all make very tasteful goods. So go to the take-out bank (that's the cash machine for those of you who were born yesterday) and get some green stuff and get down there! The early bird catches a lot of worms here.
Thursday and Friday, the 29th and the 30th, from 10 a.m. to 7 p.m., and Saturday, from 10 a.m. to 4 p.m. 1140 Broadway, Suite 1602 (between 26th & 27th Sts.).
Posted on Thursday, November 29, 2007 @ 12:25 PM | 432 replies View/Post Feedback
---
City Shopping
Nancy Koltes Linens are among the finest.  (If you know her charming little NoLita shop, then you already know what treasures her linens are.)  So, here's your chance to snag some, at maybe 80% off retail…O.K., so not every style in every color in every size is going to be available, but there will be plenty from which to choose—sheet sets, duvet covers, towels, home accessories, and loungewear, in a variety of Jacquards, sateens, percales, and prints.  You already know the usual drill for those Soiffer Haskin sales:  No strollers, no kids, no cash, no checks (credit cards only).  Today, tomorrow, and Tuesday, from 9 a.m. to 6:30 p.m. at 317 W. 33 St. (between 8th and 9th Aves.)


Posted on Sunday, September 09, 2007 @ 06:00 PM | 43 replies View/Post Feedback
---
City Shopping
Tomorrow, one day only (we are sorry to say), it's Eileen Fisher's clean-out-the-boutiques sale;  this is the Fisher shop (her first) where all the sale merch from her other shops usually ends up—not to mention oddball one-off's, irregulars, and unusual samples that really are samples.  (How odd for a sample sale—real samples!)  Anyhow, we have often waited for favorite items that we just couldn't bring ourselves to spend on, at retail, to wind up here and once in a while we have been rewarded, but caveat emptor, not always.  Tomorrow, Saturday, from 10 a.m. to 7 p.m., at 314 E. 9th St., between First and Second Aves.
Posted on Friday, September 07, 2007 @ 02:51 PM | 1 reply View/Post Feedback
---
City Shopping
Two years ago, we hit the proverbial terrycloth jackpot at the Frette sample sale, paying something like $80 for a sumptuous robe that we know would sell for a few hundred bucks under normal circumstances. Not to mention all the other little "trinkets" we picked up. (Hey, you never know when you need to give a lovely house gift -- a few washcloths, divine soaps, a set of guest towels, whatever.) Starting Sunday, June 3, through next Thursday, June 7, Frette is having a great sale at Soiffer-Haskin, at 317 W. 33rd St. (just west of Eighth Ave.). Daily Sunday through Wednesday, 9am to 6:30pm, and Thursday, 9 am to 5pm. If you don't know Frette, you're in for a tactile surprise, as the goods are just sumptuous, Italy's finest. Luxurious towels, linens, bedding, and home accessories, and even delicious lounge- and sleepwear. Absolutely worth the trip. As usual, no cash, no checks; credit cards only.
Posted on Thursday, May 31, 2007 @ 11:26 PM | 215 replies View/Post Feedback
---
City Shopping
O.K., here we go again. If you didn't maxed out your plastic with the Basso and the Asprey/Baccarat sales, then you'll probably do it now with the Pratesi sale…but don't have a financially ruinous day with this one, as we have another GREAT sale coming up next week! 
Starting on Sunday and going through Tuesday (Mar. 11-13), Soiffer Haskin is having a Pratesi blowout. If you don't know Pratesi, your body should: They're the makers of truly fine, ultra-luxurious linens and accoutrements, imported from Italy. There's nothing like a suite of linens from this company -- except maybe the bathrobes, or the towels, or the baby goods, or the PJ's, or the blankets, or the table accessories... They're normally so expensive, the prices would give you nightmares, but at this sale, you'll think lullaby instead. Same drill as always: Address is 317 W. 33rd St., just west of Eighth Ave.; plastic only, no checks, no cash; no strollers, no kids under 12. Hours: 9am-6:30pm.

Posted on Friday, March 09, 2007 @ 03:51 PM | 0 replies Start the Discussion
---
Subscribe to this Blog's
Feed