City Shopping - Men's Clothing Blogs
Back to Blog... | View More Bloggers...

About the Author: About the Author: Ruth J. Katz is a well-known shopping and service writer based in New York City. She has written about shopping for 25 years for New York magazine; covered the topic on-air at Fox-TV for several years as the Home Services expert; and had her own show on both the USA and Lifetime Cable networks. Katz wrote extensively for The New York Times as well, and contributed periodically to the New York Daily News. She is a passionate shopper, always looking for not merely a good buy, but the best buy, ferreting out a "steal" or discovering up-and-coming designers. She has written five books and is a former contributing editor to Hearst's Redbook, Classic Home, and Colonial Homes; she is currently a Contributing Editor of New York Home, Golf Connoisseur, The Modern Estate, and Promenade magazines. She is also the former Shopping Director for Davler Media's Manhattan Living.


---
City Shopping
Dad's Big Day is coming, and things like wallets and golf shirts are probably on the (uninspired) shopping list; if you're thinking about major purchases and are living large these days, then perhaps big-ticket items like an iPad or special barbecue grill, or even nifty things like motorized lawnmowers and sports memorabilia are the target gifts.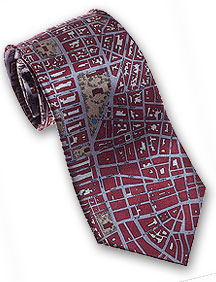 But, the one thing that is always on the list, and is often not terribly brilliant, is a tie. However, designer Josh Bach can handily come to the rescue here -- and in other gift-giving departments, as well, taking the blah out of that tie. Bach is an architect, who was educated at the University of Pennsylvania, and in 1993, when he was working as an art director in an advertising agency, decided to take a giant leap of faith and go into the tie business. I might add, with no prior experience in retail, fashion, or menswear (other than wearing it).
Before long, his unique ties were appearing not only on the bods of fashionable guys, but were also featured in magazines and movies, and spotted on celebs. It's no surprise: His ties are less fashion statements, and more emotional connections. Guys (and the women who love them) don't buy Bach ties because they need another tie -- something green and gold for a new suit -- but because they connect to the spirited, lively, and graphically pleasing designs emotionally. "One day I looked down and realized neckties are like blank canvases," he noted. "The original concept was to do witty and whimsical ties that are wearable." And so he did.
He is inspired by the mundane: the stock market ticker tape, animal motifs, the Gotham subway Baedeker, old maps of favorite cities (like London shown in red on the tie), and fun things like hula girls. It was not long after he set up shop, that commissions came to him from prestigious organizations and institutions like the American Museum of Natural History, the New York Public Library, the New York City Opera, and even the National Football League.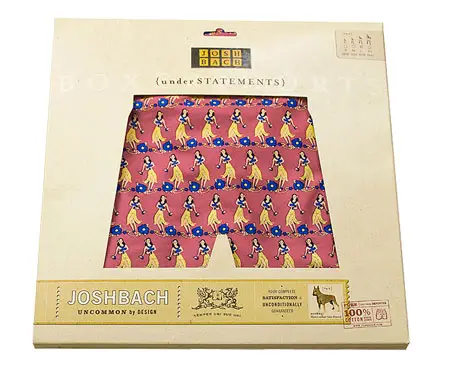 Soon, Bach's line of ties was joined by his adorable dresser cache-pots and colorful boxer shorts, too, along with other accessories. His line is sold online at www.joshbach.com, in catalogues, in museum shops, and in gifts shops around the country and abroad. He's your man for a tie for dad, or for whimsical boxers (above), or accessories. Ties are $45 and $55 (for the line I like the best, the "Civitas" ties, which depict interpretations of ancient city maps); boxers are $24; pens, $29.50; and Catch-It dresser trays are $45.
© Ruth J. Katz, all rights reserved
Posted on Wednesday, June 15, 2011 @ 12:03 PM | 0 replies Start the Discussion
---
City Shopping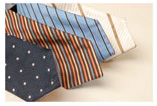 We would normally say that we think Century 21 is a good place to shop for discounts, and discounted designer ties among those bargains. Or Hermès, definitely, for classy ties, distinguished ties. Ties that any knowing eye would recognize as readily as one recognizes an Hermès scarf. And what other destinations? Bergdorf Goodman's Men's Store for variety. Or Barneys for the colorful displays...so many ties, so few -- only 365 -- days to wear them.
But we're going to throw in a ringer here: Lord & Taylor. And why? Well, it?s really because of the Henry Jacobsen reversible ties (pictured). Other stores have bigger selections, or better selections, or more reasonably priced selections, or whatever. But nobody has these neat reversible ties. And they're barely $75. We think at that price, considering you're getting two-for-the-price-of-one, they're a steal.
And lest we forget: For those venturing beyond the Hudson (mon Dieu!), there is a wonderfully upscale, family-owned store called Garmany in Redbank, in La Nouvelle Jersey, that has an amazing selection of ties, many of which you will find nowhere else. Don't ask -- we don't know how Larry Garmany and his son Johnell do it, but they find manufacturers in Italy who do exclusive, limited-edition runs of ties with prices that can soar up to $300...so we figured it's worth a mention here. You definitely will not see yourself coming and going in those Garmany ties. Lord & Taylor, 424 Fifth Ave., 212-391-3344; www.lordandtaylor.com. Garmany, 121 Broad St., Redbank, New Jersey, 732-576-8500; www.garmany.com
Posted on Wednesday, December 19, 2007 @ 11:55 AM | 2333 replies View/Post Feedback
---
City Shopping

Guys are always so hard to buy for.  But if your guy (or any guy on your list, for that matter) likes clothes (duh?), then head over to the Joseph Abboud sale today through Wednesday.  There will be sample and stock items, with suits going for a staggering four for $700!!  Sport coats, three for $350 and trousers/pants for $29.99 (four pairs for $90!).  And those kinds of savings continue with dress and sport shirts, sweaters, ties, and accessories.  Credit cards only; no cash, no checks.  No exchanges, no refunds; all sales final.   Dressing rooms provided.  (no strollers!)
Takes place at Metropolitan Pavilion, 110 West 19th Street (between Sixth and Seventh Avenues), ground floor.  Today and tomorrow, Tuesday, from 8 a.m. to 8 p.m. and Wednesday, from 8 a.m. to 7 p.m.
Posted on Monday, December 10, 2007 @ 01:54 PM | 4059 replies View/Post Feedback
---
City Shopping
We rhapsodized about TSE Cashmere months ago, recalling that pink sweater that eluded us at Henri Bendel so many years ago. And darn, we'll miss this sale ourselves, as duty calls in Europe. But you go, and snag that symbolic pink cashmere jumper (as the Brits would call it) for us! What can we say now that we haven't already said about TSE Cashmere's goods? They're luxe? They're fabulous? They're exquisitely designed? They're too expensive for us at retail? So here they are, at up to 80% off! Go, girl, and get some.
This is a Soiffer-Haskin sale, so you know the drill: No kids (strollers, etc.), no checks, etc. Plastic and plenty of it...or cash! Sunday, December 2nd through Thursday, December 6th, from 9 a.m. to 7 p.m. daily; 317 W. 33rd St. (just west of Eighth Ave.).
Posted on Friday, November 30, 2007 @ 11:33 AM | 5 replies View/Post Feedback
---
City Shopping
We should have put this Hermès "sample" sale up a few days ago, when we listed the Million Dollar Babe night, and for that matter, we should have listed the sale for Intermix, too -- all of them at the Metropolitan Pavilion. For all you label-conscious competitive shoppers, though, the first stop would have been the fourth floor gallery, for the Hermès sale, on Thursday, continuing through today. Now, we're not saying that you'd have walked out with the proverbial kitchen sink, but there were plenty of scarves, ties ($89 instead of the retail of $145), shoes, clothes, and a smattering of leathergoods, home goods, and assorted tschotschkes. The scarves were the doggie ones--the ones that they just don't really move in the store, but we suppose if you are stuck giving a gift to your great-aunt's sister (and you didn't really need a box for it), then snagging a scarf here would have been o.k. (After all, $195 sure beats $325 or is it $345?) There were none of our favorites, none of the top-sellers, no luscious florals, no popular patterns (like "Les Clefs," oldies and goodies that we collect, like "Les Rubans"), and so on. But, so be it. There were amazing shoes for men and clothes galore....real finds, at a fraction of their retails--but even then, they were thousands and thousands. So, if you have money to burn, and are a fan of the esteemed saddlemaker, we promise that next year, we'll give you a heads-up really early. Be prepared, though, to stand in a queue for a long time.
Posted on Saturday, August 25, 2007 @ 05:28 PM | 3 replies View/Post Feedback
---
City Shopping
Well, as usual, a day late and a dollar short. In this case, at least 48 hours late, if not more; we had wanted to include the wonderfully distinctive socks of V. K. Nagrani as a FABULOSO Father's Day gift, but deadlines trapped us. So, we just didn't get to post it before Sunday, in time for Dad's big day. Shame on us. But, we also think that these socks -- in cotton and nylon blends, made in Italy and Peru -- are the cat's pajamas, so they're good any time, any holiday, any celebration.

Nagrani, whose company is called Ovadaût, has a sense of humor, not only with his lively designs and vibrant patterns, but also with the company's name. Say it a few times, out loud. Get it? Yeah, these socks are meant to go over the foot. Duh. He designs not only colorfully playful sock-canvases, but he also creates sartorial patterns that are a tad more -- shall we say? -- conservative, for that new grad who is job-hunting.

Buy 21 pairs ultimately and you'll be a member of Nagrani's "21 Club," which entitles you to test drive new models, get in early on the limited editions (they're all produced in small quantities—after all, these are socks for the elite!), and a few other perks. Available at Rothman's on Union Square, at 200 Park Ave. South at 17th St., 212-777-7400; www.rothmansny.com. Oh? The price, you ask? $35 -- not bad for what they are: very special, for very discriminating feet.
Posted on Tuesday, June 19, 2007 @ 04:14 PM | 391 replies View/Post Feedback
---
City Shopping
1) The Guy Laroche sale features clothing for men and women, up to 60% off! 47 W. 57th St., through the 17th; Friday and Saturday, from 10am to 7pm, and Sunday, 11am to 6pm.
2) The Jil Sander sale also features men's and women's clothing, up to 40% off. 11 E. 57th St., through the 24th of the month; Monday through Friday, 10am to 6pm. (Thursday, 'til 7pm) and Sundays, noon to 5pm.
3) The Balenciaga sale is another one not to be missed, featuring haute, haute couture for men and women. Again, up to 40% off. Through the 17th of the month. Saturday, 11am to 7pm and Sunday, noon to 5pm.
4) The Dolce and Gabbana sale also features the D & G line, with up to 40% off. Again, for men and women. Location: 434 West Broadway btw. Prince & Spring Sts. through Sunday; Friday and Saturday, 11am 8pm, and Sunday, noon to 7pm.

Courtesy of our friends at Lazar Media.
Posted on Friday, June 15, 2007 @ 11:50 AM | 55 replies View/Post Feedback
---
City Shopping
If you're late for Dad's special day, Hugo Boss has a sample sale starting today...
O.K., we're not going to chastise you for not heeding our week-long tips for securing a fun, interesting, on-the-mark gift for dad this Sunday. We're not going to say we told you so...just get out right now and get that gift, a nice gift, because no matter what you find at the Hugo Boss sample sale, it's sure to be hit. On sale are Boss' signature tailored clothing, sportswear, assorted furnishings, shoes, and accessories. All at a huge savings. This is another Soiffer-Haskin sale, so we think by now you know the drill: Credit cards only, no strollers, all sales final. Where? 317 W. 33rd St. (west of Eighth Ave.). Sale runs from Sunday, the 17th through Thursday, the 21st, of next week; Sunday, 9am to 6:30pm; Monday, 9am to 7:30pm; Tuesday and Wednesday, 9am to 7pm; Friday, 9am to 5pm.
Posted on Friday, June 15, 2007 @ 09:48 AM | 0 replies Start the Discussion
---
City Shopping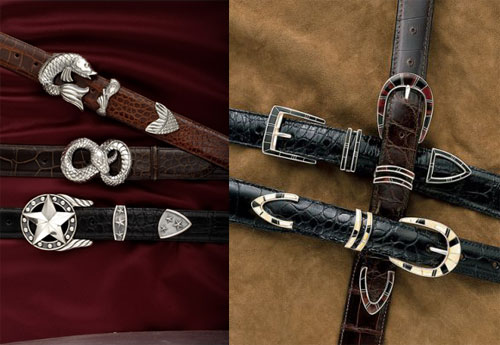 A month or so ago, we sang the praises of the J.W. Cooper jewelry emporium at the Shops at the Time Warner Center, when we were touting the one-of-a-kind charm -- not bracelets but necklaces, for Mother's Day. Now it's Dad's turn. (We'll try to give you some suggestions each day this week.) Cooper has actually built its reputation on its huge variety of fine sterling belt buckles and belt findings/buckle sets, all hand-crafted and unique. Each is virtually a "trophy buckle" of classic or contemporary design. There are themed buckles that will celebrate Dad's favorite sport, hobby, or pastime -- and there are literally hundreds of choices priced from a few hundred dollars up to the thousands. And lest we forget, the buckles come on belts, too, and the Cooper staff will help you select from a wide array of skins -- from the exotic to the exclusive to the exceptional. Cooper also has belts in just about every size -- up to size 50 -- for the fat-cat Dad whose workout is in the boardroom, not on the bench press.

Posted on Wednesday, June 13, 2007 @ 12:14 PM | 455 replies View/Post Feedback
---
City Shopping
Malo is one of Italy's finest cashmere producers, and along with Brunello Cucinelli, among our favorites. (O.K., yes, we admit, and we put it into print a week or so ago, we still lust after that TSE pullover that got away from us 18 years ago.)  But there is almost nothing in the Malo line we'd turn down. So that's why we're thrilled there's a Malo sample sale, starting Sunday, with goods for men and women -- mostly cashmere, but some silks, too. It's another Soiffer-Haskin sale, taking place at the company's site, 317 W. 33rd St., just west of Eighth Ave. It goes from Sunday through Wednesday, the 20th through the 23rd, from 9am to 6:30pm daily, except the last day, Wednesday, when it closes at 5pm. You know the drill by now: NO cash, NO checks, just credit cards. NO KIDS, NO STROLLERS.   

Posted on Friday, May 18, 2007 @ 03:45 PM | 5101 replies View/Post Feedback
---
City Shopping
You've got until 5pm today to get over to Soiffer-Haskin (317 W. 33rd St.) to cash in on the Abboud sale. Guaranteed, the prices will be slashed as the hands on the clock approach closing time, beyond the already GREAT mark-downs. Suits, sportscoats, dress shirts, ties, sportswear, and trousers -- the Abboud bounty is all there. As usual, credit cards only; all sales final.

Posted on Friday, May 18, 2007 @ 10:50 AM | 6862 replies View/Post Feedback
---
City Shopping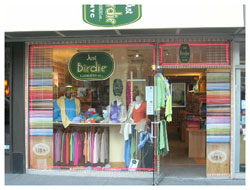 Just about the time last month that we were telling you about that "sneaky" Loehmann's opening on Broadway and 73rd Street, another stealthy retail debut occurred nearby, one that we have been meaning to write up and share with you. The shop is called Just Birdie, with homage paid to golfers (as its name implies), but its merch is not solely for duffers at all; "civilians" will find the stock alluring enough (and prices compelling enough) to make this shop a destination. And indeed, it's a darling, jewel-box-size store with wonderful cashmere-and-silk-blend sweaters, all of which would look very spiffy on the golf course. (The exterior of the shop is decorated with little vignettes picturing St. Andrews, and plaid seems to be the major design element on the interior -- so Scotland and golf are definitely part of the company's inspiration.)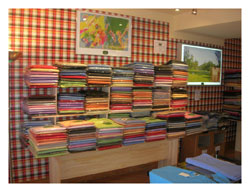 Started in France in 1996, the company has five stores in Europe and the one here at 2047 Broadway btw. 70th & 71st Sts. is the first in the U.S. There are well-priced styles for both sexes, and classics include turtle-, crew-, boat-, and V-necks, zip fronts and traditional cardigans, polos, T-shirt styles, and much, much more. Prices range from $89 to $165 for men, and from $79 to $165 for women, but there are accessories, wraps, and scarves in the store that are lower-priced. There are nearly three-dozen rich colors in the company?s yarn palette, ranging from delicate violet to deep russet.  

And just in time for Mother's Day, the shop is offering 10% off your purchases (if you mention that you read about it here), and considering that these are such well-priced sweaters to begin with, it?s a steal. So, forget scoring a birdie -- the shop is a hole-in-one!  
Posted on Monday, May 07, 2007 @ 01:16 PM | 248 replies View/Post Feedback
---
City Shopping
We are sorry that we don't have more info, but when the name is this big, you take what you get. On May 3, THURSDAY, ONE DAY ONLY (to paraphrase that song from "Dream Girls"), Helmut Lang, that master of pure minimalism and clean elegance, is holding a sample sale with goods for men and women.  From 10am to 7pm, at 261 W. 36 St. (btw. Seventh & Eighth Aves.). Credit cards accepted; try-ons permitted.

Posted on Monday, April 30, 2007 @ 01:35 PM | 0 replies Start the Discussion
---
City Shopping
If you're in the mood to do a little spring shopping, here is where you ought to be doing it: At the Hickey Freeman/Bobby Jones sample sale. Assorted men's furnishings, including sportswear, and even some women's sportswear, is greatly reduced -- up to 75% off. Starts this weekend, Sunday, the 29th and runs through next Thursday, May 3rd. Sunday 10 a.m. to 6 p.m., and Monday through Wednesday, 9am to 6:30pm, and Thursday, 9am to 5pm. Credit cards only. And yes, the usual drill: No kids, no strollers; all sales final, so choose wisely. I guess with the deep discount you can afford to make a tiny mistake, but with a terrific manufacturer like this one, it's doubtful you will. Held at the usual Soiffer-Haskin destination: 317 W. 33rd St. (just west of Eighth Ave.)

Posted on Friday, April 27, 2007 @ 11:10 AM | 0 replies Start the Discussion
---
City Shopping
We've been watching the construction at the new Loehmann's, on Broadway between 73rd and 74th Streets, for months and months and months. Ever the snoop, we kept asking about the opening date, which it seemed kept getting pushed further into the calendar. And then suddenly, poof!  The store flung open its doors. This past Saturday. No notices. No fanfare. No nothing. It was, as the salesperson at the register confided to us (when we were paying for our cheapie -- but really adorable -- Marc Jacobs silvery, glitter ballerinas),  "even a surprise to us." (The staff.) Yeah, really. Apparently, sales associates came in that morning and were clueless that the store was going to open that day!

So, here is what we espied after a very quick trip around the vast football field of a store. (Remember, it was a Gristedes.) There are racks and racks of all the usual suspects: Anne Klein, Calvin Klein, DKNY, blah-blah-blah. You get the picture. As well as lots of names that mean nothing to you. BUT, in the accessories department, there were prestige brands that might tickle your fancy and put a little dent in your wallet, even discounted: A few stray Bulgari handbags (if only they were a New Yorker' s favorite color  -- black -- and not a fashionably springy pink and beige), but they were not $530 as they might be midtown, but rather $269. Colorful Pucci summer bags ($309, as opposed to $445, according to their price tags).  Furla and Tod's at discounted rates, too. In the shoe department, big names like Kenzo, Judith Leiber, Lacroix, and Cole Haan.

The store will be open (it's really a soft opening) through the 7th, closed Easter Sunday, and then on Monday the 9th, open only until 3pm, and closed for the "big party" that night; then a preview day (like what's going on now isn't a preview?) on Monday the 10th; and then finally, on April 11th, the Big Opening Day. 

Sit tight for more reports from the front.

Posted on Tuesday, April 03, 2007 @ 05:11 PM | 0 replies Start the Discussion
---
City Shopping
We're at it again...another fab sale from Soiffer Haskin. This time, the y-chromosome set will be pleased as Paul Stuart offers tons of merchandise, including outerwear and assorted furnishings, sport coats, trousers, shirts, sweaters, scarves, robes, pajamas, ties, hats, and shoes.  (There will also be suit fabric for sale -- a nice touch.)  The women's wear will include jackets, suits, trousers, accessories, and more.  It starts tomorrow (3/20), and runs though Friday (3/23). Daily from 9am to 6:30pm, Friday until 5pm.  Held at Soiffer Haskin, 317 W.33rd St., just west of Eighth Ave. You know the drill, we assume:  CREDIT CARDS ONLY. No cash, no checks, no children under twelve, no strollers.
Posted on Monday, March 19, 2007 @ 02:27 PM | 5652 replies View/Post Feedback
---
City Shopping
Yet another terrific Soiffer Haskin sample/overstock sale, and this one starts the minute the Pratesi sale ends!  You just never know what you'll find at these sales, but from Tuesday, Mar. 13 through Friday, Mar. 16, it is all Ralph Lauren Home, so you can count on furniture, lighting, fabrics, wallpaper, one-of-a-kind antiques, and assorted accessories. As usual, there are surprising prices and there's a chance that the prices will get more surprising near the end of the sale. And, as you also know, we always like to scope things out early and then come back near the end of the sale and just hope that the things we've eyed are not only still there, but have also been further reduced. NOTE:  New address: The Altman Building, 135 W. 18th St. btw. Sixth & Seventh Aves.  Hours:  Tues.: noon-7pm; Wed. and Thurs.: 9am-7pm; Fri.: 9am-5pm.
Posted on Monday, March 12, 2007 @ 02:29 PM | 7 replies View/Post Feedback
---
Subscribe to this Blog's
Feed