City Shopping - Useful Info Blogs
Back to Blog... | View More Bloggers...

About the Author: About the Author: Ruth J. Katz is a well-known shopping and service writer based in New York City. She has written about shopping for 25 years for New York magazine; covered the topic on-air at Fox-TV for several years as the Home Services expert; and had her own show on both the USA and Lifetime Cable networks. Katz wrote extensively for The New York Times as well, and contributed periodically to the New York Daily News. She is a passionate shopper, always looking for not merely a good buy, but the best buy, ferreting out a "steal" or discovering up-and-coming designers. She has written five books and is a former contributing editor to Hearst's Redbook, Classic Home, and Colonial Homes; she is currently a Contributing Editor of New York Home, Golf Connoisseur, The Modern Estate, and Promenade magazines. She is also the former Shopping Director for Davler Media's Manhattan Living.


---
City Shopping
Emergency room nurse Erin Balogh spent most of her mornings flipping pancakes, doing laundry, changing diapers, and trying to get ready for work. She found herself relegated to using her downstairs guest bathroom for her toilette, in between trips to the laundry room and the kitchen. In that tiny half-bath, she would balance her hot curling iron and flat iron on the edge of the pedestal sink, and invariably, her hair tools would slide into the basin or drop to the floor. There had to be a better way, she thought: She checked locally and on-line in an effort to pinpoint an appropriate implement to hold the pesky implements, but there wasn't much that would work. There were wall-mounted tools and gizmos for the countertop, but in her tiny bath, there was no counter, and she didn't want anything wall-mounted that would be permanent, to spoil her pretty guest bath.
Necessity is almost always the mother of invention, and in Balogh's case, trying to find the requisite tool forced her to be a little more pro-active, to think a little more creatively: She dusted off her sewing machine and grabbed a silicone oven mitt and a hot pad and then sewed them together, creating a kind of over-the-sink-edge holster from the oven mitt for holding her tools. At the other end, she fashioned a pocket from the oven mitt, weighted it with a piggy-bank's worth of coins, and put the sturdy heft into the bowl, to balance the weight. The silicone holster could comfortably hang over the edge of the sink, and the weighted oven mitt was draped into the sink—and it was the perfect assemblage for her hot tools. Yes, this would do it, this rudimentary silhouette would be the model of her ultimate product, the Hot Iron Holster.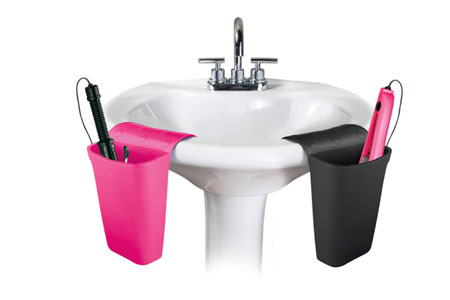 Now, all she needed was a professional and better-designed thingamajig like this. And off she went to streamlining it and having it made professionally. This would be the perfect tool holder, the answer to her prayers! And she knew others would want one, as well, as she knew she simply could not be alone. (And she wasn't...I, among the many, was with her!) She debuted her product at the International Home and Housewares Show, the Big Guns of the home industry, in Chicago, last year, where it was a huge hit.
Balogh ultimately created two versions of her holster—an at-home model and a professional model, for salons and stylists. The holster is ideal for hot tools (up to 500 degrees F)—flat irons, curling irons, hair dryers, and Lord only knows what else we use. The specially formulated silicone clings to any smooth, non-porous surface, including tile, wood, laminate, granite, metal, glass, vinyl, porcelain, plastic, and leather, among the mix. When put into place, both surfaces should be clean and dry; dirt and lint may reduce performance, but can be easily removed by rinsing with water or cleaning with rubbing alcohol.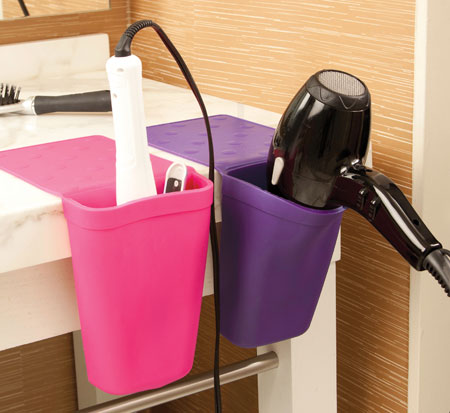 In addition to being easy to install on just about any surface, the longer end can be used over a towel bar, around an open shelf, over the edge of the sink, or (as I do it), over the rod of my portable bathroom moveable cart. The professional model has a longer tail, more copious pocket, and is capable of holding more...and the longer grip-end of the professional model is ideal for putting over the back of the salon chair. To remove the holster, just lift up the tail end. The at-home model retails for $29.95 and the professional model sells for $39.95 on the Hot Iron Holster Web site. Also available at, among other places, the Container Store.
Posted on Tuesday, August 06, 2013 @ 11:23 AM | 0 replies Start the Discussion
---
City Shopping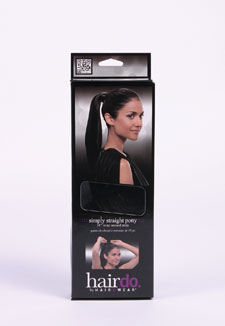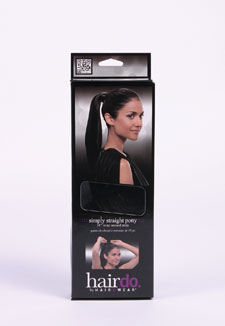 Hear ye, hear ye, ladies: If you have been plagued all summer with the frizzies, with over-chlorinated tresses that refuse to be coaxed into the style you are trying to command, or if you're just having generally and consistently bad hair days, I have found the perfect solution for all these ills: Hair pieces and sundry extensions, demi-wigs, pony tails, and more from the Hairdo Collections of HairUWear.
I stumbled upon a 16" curly extension piece (it's really like a half-wig, in truth), that was easily the answer to one's prayers for perfect summer hair. And the off-the-rack color was pretty darn close to my own, so it meant that I could have perfect hair—effortlessly—all summer. The hottest July on record brought with it the steamiest, most humid month for hair and so it was that I ended up using my Hairdo extension piece.
When I was little—not to date myself—I think we more or less called this sort of half-wig that fits over your crown, a fall; I remember, because my mother had one, and I thought it was very glam and exotic, but it sure didn't look like the stunning (and reasonably priced) model that Los Angeles-based hair stylist Ken Paves has dreamed up. His is a convex cap of mesh netting, about 8" in diameter, and it form-fittingly nestles like a little hat on the crown of your head. If you keep the front part of your hair brushed over it (and if you put your own hair in a barrette extending over it), then it looks just about as natural as can be.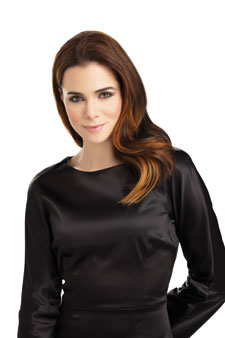 Paves is a celeb stylist and does Red Carpet hair and editorial do's (think: Harper's Bazaar, Vanity Fair, Elle, and Allure) for bold-faced names; his client list includes the likes of Jennifer Lopez, Celine Dion, Eva Longoria, and Jessica Alba. In 2006, he launched his award-winning line of hair extensions, dubbed Hairdo, and a few years later, he began selling many of these really fun (and practical) products on QVC. Today, QVC has well over a dozen different hair fashions (extensions, chignons, braids, pony tails, short and long do's, and so on from the highly versatile Paves.
Newest, just being introduced to the line in the next week or two are: a 16" Ombre Extension ($49); a Texture Wrap ($19), a blend of straight and crimped styles; French Braid Band ($10); Beach Curl Pony ($49): Clip-In Bang ($29); 18" Simply Straight Pony ($49): 16" Fineline Extension ($99): 23" Wavy Extension ($99): 20" Wavy Extension ($99): 22" Straight Extension ($99). Truly, there is something here for your every need...and with luck, the shades will be good for you, also: For example, the 23" Wavy Extension comes in 11 colors—from ebony and chocolate copper to glazed strawberry. Other shades available with some of his line include ginger brown, buttered toast, and chocolate ombre. Guaranteed you'll find something you like and something that flatters your skin tones and eye color; as I said, the one I have been wearing is a pretty good match, considering my hair color seems to change with the sun, anyhow.
The fiber itself is synthetic, and Paves has trademarked it True2Life, as it can be styled and "fooled around with" just as you'd treat your own hair—wash it, dry it with a hair dryer, use a crimper, a straightener, a curling iron, whatever. You will find that it responds to your styling tools the same way your own hair does, and that even adds to the ease of use. The company claims that it manufactures more hair additions than any other firm in the world and that it harnesses cutting-edge technology to create versatile and affordable hair wardrobes. (Prices for the multi-faceted line range from as little as $10 for the French braid—that you could really use as a sort of headband), to $99.00 for the most lavish, longest, and most opulent of near-full wigs. For more information, and to find a retailer besides QVC, visit the company Web site, www.hairuwear.com.
Posted on Tuesday, August 14, 2012 @ 03:58 PM | 0 replies Start the Discussion
---
City Shopping
So, imagine my shock and chagrin when Delta Airlines charged me for overweight luggage—a whopping $75 (but that is a whole lot better than the $400 I heard someone pay on another recent trip) and there was nothing that could be done about it. I was lugging about a million copies of Promenade magazine—our lovely mag!—to give to give to a million (OK, ten) people in the UK and even if I took those mags out, and attempted to hand-carry them, my suitcase was still five pounds (a mere five pounds, I'd like to point out to the Luggage Police) overweight...so I plunked down the tariff grudgingly. But since I am a loyal frequent flyer, the counter agent promised me frequent flyer miles to make the financial sting less sharp. (Alas, I never got them...and, yes, I will write to Delta sooner or later to remind them.)
So, to make sure this would never happen again and to be 100% certain I was never a recalcitrant flyer and overweight again (not the bod, but the luggage), I picked up the WONDERFULLY PRACTICAL EatSmart Precision Voyager digital luggage scale.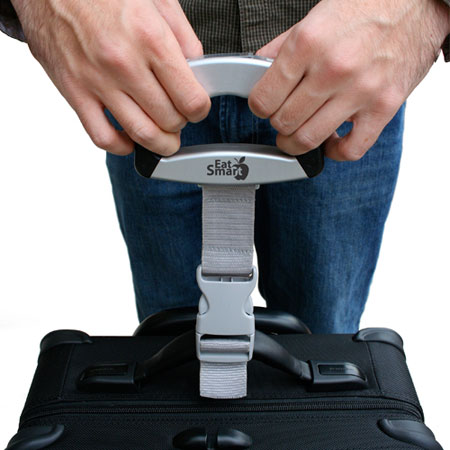 I have used EatSmart's food scale (more about that in a few weeks), and know their products to be accurate, durable, and well made. So, it was definitely a worthwhile investment for moi, since I am on the road a fair amount of time. And here is why you'll want one, too, for all your upcoming summer/holiday travel, since vacation time is upon us. It is reasonably priced (you'll find it most places for $19.95) and it will, potentially, save you a bundle; I have actually seen people at airports remove clothing out from their suitcases, abandoning goods in the airport.
It is simple to use: Just pack and zip up your bag, then secure the clip over the valise's handle. The scale has an easy-grip handle (you can use both hands, a smart design feature) with the scale built right into the handle. Then lift! The scale beeps when it has determined the weight and it's easy to read, with a back light. You can also check the avoir du poids in pounds or in kilos. When you turn it off, the scale resets to zero. But here is the best part -- I learned that my own luggage weigh an incredible 17 pounds!!! I was shocked. Next time, I'll buy luggage that is lighter weight. That sure takes a bite out of your clothing weight allotment.
And if you are a shopper, and think your luggage is going to -- shall we say? -- weigh more on the return trip, then just throw the scale into your suitcase pocket and you can weigh your luggage before the return trip, also. (The scale can weigh up to 110 pounds but if you are totin' a suitcase that weigh that much, then you're in serious trouble—back trouble and wallet trouble!) The sale comes with a battery that EatSmart says has a very long life, so you should be set for quite some time. Trust me, this is an item that is worth its weight in gold!
Posted on Monday, May 07, 2012 @ 04:32 PM | 0 replies Start the Discussion
---
City Shopping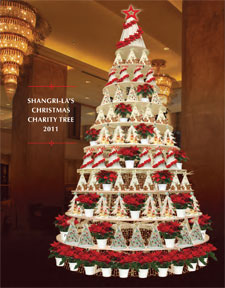 I just returned from Kuala Lumpur (not that I am name-dropping or destination-dropping, as it were -- and that trip is another story, that will, fact, be another story in Promenade mag, our umbrella publication for NYLuxury.com), where I was blown away by the stunning Christmas tree in the lobby of that city's most cossetting (and gorgeous) of hotels, the Shangri-La Hotel. It is, without a doubt, one of the most gracious, flawlessly designed, and well thought-out hotels I have ever had the pleasure to call home for a night or three.
But, I wanted to write about the charity that is the "machine" behind the hotel's Yule tree...and save the hotel and my trip for another story, a larger one in the pages of Promenade. The tree is called "Embrace the Gift of Life," and it is aptly named.
It is a grand tree in every way: crystalline white, gleaming, festive, and exceptionally elegant. Upon closer examination, I saw that it was made up of many mini sugar trees, gingerbread men, and conical frosted ornaments--and obviously, had come out of the hotel's pastry kitchen...where, undoubtedly it took the pastry chef(s) days to prepare. But more importantly, it is a fundraising tree. Each smaller tree is placed on a perch on the wrought-iron tree-armature as a result of a generous donation by local citizens, corporations, and interested parties; each ornament is designated to help a child in medical need.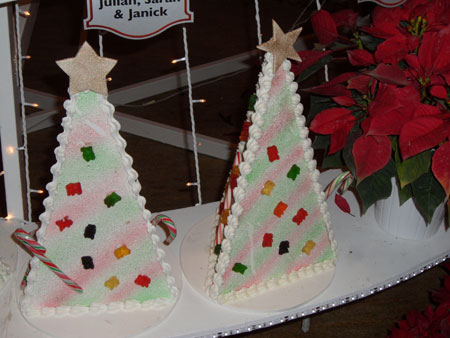 The sums collected are donated to help kids who have been diagnosed with heart complications such as ventricular septal defect (VSD), a condition that manifests at birth, in which a hole is present in the wall that separates the right and left ventricles; and such as cyanosis, a condition that results in blueness of the skin, caused by lack of oxygen in the tissues and bloodstream. The charity also aids children who require artificial limbs.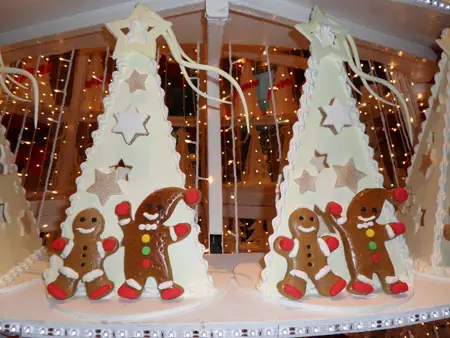 I wanted to write about it, not because the tree was so beautiful (and it is), and not because in my former life as a crafts editor I would have featured such a magnificent, novel tree in my sundry magazines' how-to pages, but because it only underscores that the holiday spirit is alive and well all around the world. Shangri-La has been erecting this tree, promoting holiday-centric giving, since 1985, and it underlines that those of us who are more fortunate should not forget that all around the world are others in need. Whether you give to local charities like New York Cares, which is mounting its 23rd annual coat drive, or City Harvest, or an international not-for-profit, or a specific charity that resonates with you personally, don't forget to give this time of year...people all over the world, in Timbuktu, Bora Bora, Kuala Lumpur, and right here in Gotham are all remembering that it's a time to share -- it's not merely a time to shop.
Posted on Thursday, December 22, 2011 @ 04:29 PM | 25 replies View/Post Feedback
---
City Shopping
Eager to take advantage of the Columbus Day sales, I went to a big box retailer for a TV. I knew what I wanted, but I also wanted the best price. I searched around the Internet, also, and ultimately found my hole-in-one at a Manhattan retailer. The entire purpose of my odyssey was to locate the unit and then pay for it with my American Express points, which I had transformed into AmEx gift cards last spring, when the company ran a "sale" for 20% more value. Not a bad deal. Wish I had had more points to convert. It seemed too good to be true, but it was true...and when I bought my TV, it felt like I was getting it for free!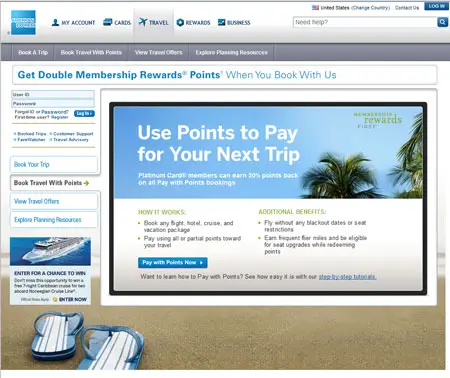 So, that led me to sleuth around the AmEx Web site and then I looked into the company's Pay with Points Program. This is a way to pay for vacations-flights and hotels—with your Membership Rewards points. This program seems particularly user-friendly, unlike trying to use airline points to do anything, what with the miasma of black-out dates and rules. With Membership Rewards Pay it with Points, there are no blackout dates—an amazing perk—considering holiday vacation time is approaching. There are also no seat restrictions on flights. Just try to snag a free flights, using 25,000 points, during the next few months and you'll want to shoot yourself.
But with the Pay with Points program, bookings are not restricted to a particular number of seats in a cabin, and there is great airline flexibility all around. Moreover, AmEx guarantees that people using the Pay with Points program are guaranteed the lowest rates. Pretty good. A great perk. Just go online to American Express and book yourself a few airline seats and a swell vacation in the Caribbean for the dead of winter.
Posted on Friday, October 14, 2011 @ 09:44 AM | 0 replies Start the Discussion
---
City Shopping
The annual Kips Bay designer showhouse always features some pretty nifty rooms filled with sumptuous furnishings -- the finest carpets, extraordinary draperies, and countless objets and bibelots all just waiting to be manhandled and broken. The delicate task of cleaning the tchotchke-filled mansion during the month-long show falls on the shoulders of New York's Little Elves, run for 30 years by the intrepid Barbara Fierman. (In addition, Fierman numbers among her clients the Southampton Showhouse, countless fussy designers, and the party space at the Time Warner building.) In short, these elves know how to clean up after a major bash and for very particular folks...and they'll know how to scour and polish after your engagement party or at-home wedding -- or how to tackle that spring cleaning you've been putting off. Some of Fierman's staff have been with her for over ten years, and many of her employees are part of extended families. (Most importantly, she points out, all her people are covered by workers' comp, something very few firms can boast about.) And they're fussy, careful, and thorough. The cost is $34 per hour per person, and if you need three or more, she'll supply a captain for the crew at $43 per hour. They'll use your supplies ("Most people have pretty weak vacuums, though," she points out) or they'll bring their own ($125), everything from Q-Tips to an industrial vacuum. One thing she jokes about: "We don't do windows," but she'll bring in the service she regularly uses that does! By reservation only. 212-673-5507; www.nyelves.com (This article originally appeared in the 4/06 issue of Manhattan Living.)
Posted on Monday, November 26, 2007 @ 03:52 PM | 211 replies View/Post Feedback
---
City Shopping
Next time someone lights your fire -- or rather, lights you on fire -- with a cigarette burn on your clothing, the rescue squad you'll be calling is French American Reweaving Co. The company has been in business since the 1930s, and owner Ronnie Moore has been there since the '60s. He and his nimble-fingered magicians in the back room can make holey cloth whole, either by piece-weaving sections of fabric (harvested from inconspicuous places on the garment) into the missing spots, or weaving single threads into the gaps -- one by one by one. Yup, even where there is no cloth they can create fabric, and do it so seamlessly that you'd be hard-pressed to find the original tear, burn, or hole. 
Got a pair of trousers with a worn crotch, or a hip/wallet pocket that is threadbare around the edges? Or how about a bunch of little moth holes in a pretty sweater? (And you'll definitely want to save this resource for the fall, when you awaken your clothes from their lollygagging estivation and you discover that a family of moths has turned a cashmere sleeve into lunch!) Moore's work is flawless --  but be forewarned, this kind of handwork is pricey -- and people send him their ripped and tattered clothing from all over the country and as far away as Australia. Re-knitting a cigarette burn on a sweater starts at $45; piece-weaving on a woven starts at $95; single-thread reweaving on a woven starts at $115; repairing a worn crotch starts at $65; and repairing a worn hip pocket starts at $75. French American Re-weaving Co., 119 W. 57 St. btw. Sixth & Seventh Aves., 212-765-4670 (This article originally appeared in the 5/06 issue of Manhattan Living.)

Posted on Thursday, August 09, 2007 @ 02:06 PM | 0 replies Start the Discussion
---
City Shopping
Jerry Leeds, Fashion Award Cleaners' owner, has been in the dry-cleaning biz nearly 40 years and is one of the city's go-to guys for tricky cleaning jobs. The one thing that Fashion Award can do that arguably few -- if any -- other cleaners can do is remove the smoke smell from clothing in an ozone chamber. The ozone room looks like any other well-sealed room, but it's hooked up to a sort of life-support machine that constantly sucks the air out of the room, purifies it, and then puts it back so that, over a 24-hour period, the smell of the smoke (and even the mildew-y smell of water damage on, say, draperies soaked from a flood) is mitigated. Inside the room, there is also a hepa-filter that further purifies the air. Fashion Award's manager, Henry Ortiz, says you can expect 98.9-percent success in removing noxious smells. Items are first dry-cleaned before going into the chamber and, afterwards, they're finished, steamed, and pressed. The cost is variable, and is in addition to the fee for the dry cleaning. 2205 Broadway btw. 78th & 79th Sts., 212-289-5623; fashionaward.com (This article originally appeared in the 5/06 issue of Manhattan Living.)
Posted on Thursday, August 09, 2007 @ 01:35 PM | 1 reply View/Post Feedback
---
City Shopping
Superior Leather Restorers. "But if it were made of leather, we'd be able to do it." Rosen's been restoring and repairing leather goods for 45 years and there isn't anything that he cannot repair -- from your most delicate lavender, buttery-suede trench coat with a nasty stain on it to a special designer handbag that needs new straps. 

Got a nasty gash in your best-fitting, slim leather pants? Marvin's your guy. The trickier the job, the more he likes the challenge. Those trousers with the hole in them? He can replace the entire panel and match the color, no sweat ($95 and up). Shortening the straps on a handbag starts at $50; changing straps and hardware on a handbag starts at $150; re-glazing an alligator or croc bag starts at $175. Replacing zippers on leather garments starts at $95, but a simple zipper repair might be $35. Refinishing a leather jacket (brown and black only) is $125 and up, while the same work on a jacket in a fashion color that Rosen has to mix and match would be $195 and up. Even if your job is a simple cleaning, Superior will do a superior job. 141 Lexington Ave. btw. 29th & 30th Sts., 212-889-7211; www.superiorleathernyc.com (This article originally appeared in the 9/06 issue of Manhattan Living.)
Posted on Thursday, August 09, 2007 @ 11:25 AM | 0 replies Start the Discussion
---
City Shopping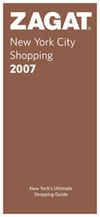 The 2007 Zagat New York City Shopping guide ($14.95) is out as of yesterday, and although we wanted to be the first on the block to bring it to you -- after what in the publishing biz is called an embargo was lifted -- we were just too jet-lagged to do it, so we're a day late. (More about the jet lag later this week.)  
On to the important stuff, the shopping:  Even if you're an inveterate shopper -- an intrepid New Yorker who has plenty of his or her own little haunts and secrets shops -- this guide is a very useful Baedeker, a resource you'll consult often, if only to check an address, phone number, or the cross streets (something that they wisely added this year). Like all the Zagat guides, it's a handy, pocket-sized volume; you'll find many new features and updated graphics and icons. Moreover, our good friend and professional colleague Randi Gollin edited it...so we just have to tell you how wonderful it is! There are close to 2,500 shops listed, with 167 new entries. There is also a pull-out map (also new, and a smart addition) with all the most popular chains and independents dotting the geographical landscape. Click here to get your copy.

Posted on Thursday, March 15, 2007 @ 12:43 PM | 0 replies Start the Discussion
---
Subscribe to this Blog's
Feed