City Shopping - Beauty: Fragrance Blogs
Back to Blog... | View More Bloggers...

About the Author: About the Author: Ruth J. Katz is a well-known shopping and service writer based in New York City. She has written about shopping for 25 years for New York magazine; covered the topic on-air at Fox-TV for several years as the Home Services expert; and had her own show on both the USA and Lifetime Cable networks. Katz wrote extensively for The New York Times as well, and contributed periodically to the New York Daily News. She is a passionate shopper, always looking for not merely a good buy, but the best buy, ferreting out a "steal" or discovering up-and-coming designers. She has written five books and is a former contributing editor to Hearst's Redbook, Classic Home, and Colonial Homes; she is currently a Contributing Editor of New York Home, Golf Connoisseur, The Modern Estate, and Promenade magazines. She is also the former Shopping Director for Davler Media's Manhattan Living.


---
City Shopping
I love fragrance; always have, always will. My morning's toilette is incomplete without a splash or spritz of something delicate, something heady, or something exotic. And for years, I have relied on Guerlain's war chest of fragrances for many of my olfactory sensorial desires. This company really knows fragrance, and has bottled so many "big names" that it's hard to even list them: Shalimar, L'Heure Bleu, Samsara, Insolence, and on and on, not to mention the entire group of "beehive" perfumes.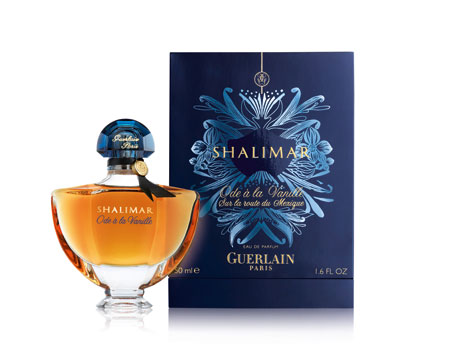 But let's start with the newest addition to the renowned Shalimar family, Shalimar Ode à la Vanille. Hard to believe that Shalimar itself is closing in on its centennial, and yet seems as fresh and refreshing to the nose's palate as the day it was created, perhaps accidentally, by Jacques Guerlain. The story goes that when the master perfumer was examining a sample of vanillin brought back from the Far East he decided for the heck of it (oh, those wacky, reckless perfumers!) to pour it into a bottle of Jicky (a popular Guerlain fragrance, created in 1889 and still a treasured standard in the company's repertoire), just to see what it would smell like, et voilà! Shalimar was born. Guerlain was supposedly stirred to refine his creation further, having been inspired by the legendary Mughal Empress Mumtaz Mahl, the favored wife of Shah Jahan, who built the Taj Mahal for her.
The newest scent is deliriously gorgeous, a mix of bergamot, rose, and iris, set against a sensual base of woodsy notes and spices: The top note is assertively vanilla, with a heart of jasmine and other florals, with a base of tonka bean, caramel, and cocoa....my God, you could cook this stuff and eat it! I did a test drive of the scent last week and cannot get it out of my mind, head, heart. Created by master nose Thierry Wasser, who, on a trip to Mexico found himself in Vanilla Land—and knowing the importance that bean played in Shalimar's history—decided to infuse a little more of that delicious bean into Shalimar, and thus Ode à la Vanille was born. He pays homage to the rich history of both the fragrant bean and the Maison du Guerlain, and the result is that timeless Shalimar has been suffused with a jolt of modernity in it. And happily it is very affordable at $103.00 for 50 ml. (For the record, the Shalimar DNA has several scents in its group, Parfum Initial, Eau de Shalimar, and this latest entry.)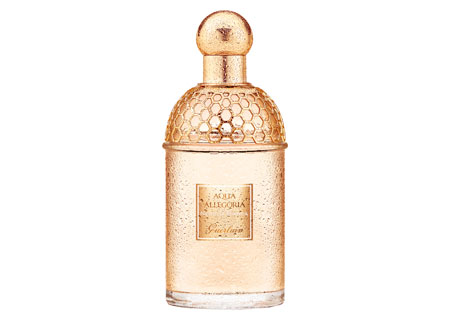 And now to the "Beehive" fragrances: the line is known as the Aqua Allegoria and the scents in this Guerlain family are all bottled in the famous "beehive" bottle which is inspired by nature, just as the fragrances themselves are. Sculpted in the shape and pattern of a bee hive and adorned with Guerlain's symbol of the bee, the Aqua Allegorias evoke a 760-year-old tradition, when the first fragrance—Eau de Cologne Impériale for the Empress Eugénie—in this group was created. Its legendary bottle was adorned with 69 bees, a storied emblem of the Empire under Napoleon and then Napoleon III.
The wonderful scents in the beehive bottles are generally floral, usually citrus—light, refreshing, evoking playfulness. While these fragrances are not specifically limited editions, there are usually only five fragrances available at any given time, therefore each new fragrance that enters the family replaces another one. So, if you become attached to any one of them, snap it up when you can, as it may be hard to find thereafter by the next year. Currently, the line includes the latest, Neriola Bianca, which I am desperately in love with, and the five presently in the group... and I am betting that one will be removed come Sepember, when this one officially launches: Flora Nymphéa, Pamplelune, Herba Fresca, Mandarine Basilic, and Les Soleia. (Fragrances are very reasonably priced at about $65.00 for 2.5 oz., in the eau de toilette spray in the famous bottle)
Posted on Monday, July 29, 2013 @ 03:04 PM | 0 replies Start the Discussion
---
City Shopping
Fabricator of dreams, magician with fabric, Nabil Hayari was catapulted at an early age to the upper reaches of the Parisian fashion world. The couturier was captivated from an early age by textiles, clothing, and design. After attending one of France's prestigious fashion schools, he caught the eye of the École de la Chambre Syndicale de la Haute Couture Parisienne, and soon became the creative director at a fashion house in Paris' Golden Triangle, the area around Rue François Ier, Rue Pierre Charron, Rue Marbœuf, and, of course, the legendary Avenue Montaigne. Tucked into this rarefied neighborhood is a banquet of designer clothing, glittering accessories, dazzling jewelry, fragrant perfumes -- and shops and ateliers among the most celebrated in the world -- Givenchy, Louis Vuitton, Rochas, Dior, Celine, and Chanel, to name but a few.
By 2009, this wunderkind of wearables decided to open his own house and within a short time was dressing the likes of Nicole Kidman, Beyoncé, Pink, and Kylie Minogue.
His tools are lace, chiffon, shimmering beads, luminescent crystals, luscious satin, and undulating silk, and with them he creates sensational one-of-a-kind entrance gowns. It didn't take long 'til he made the leap to the world of scent, and in 2010 he introduced his signature fragrance, Only for Her. Today he has three scentsational perfumes, Goldy, Broderie, and the first, Only for Her, which is seductive, dynamic, and sparkling, with an essence of grapefruit, Egyptian jasmine e, peony, and magnolia. Goldy reflects a warm, powdery, and woody glow. White jasmine, orange blossom, and sandalwood permeate. And the lovely Broderie (embroidery, in French, underscoring the designer's love of his rich palette of textiles) is naturally inspired by the delicate fabrics Hayari works with. The scent is elegant, feminine, and sensual. There is lily and gardenia, amber, and patchouli, all of which combine to create a heady scent. The fragrances sell for $145 for a 1.7 oz bottle and are available at C. O. Bigelow apothecary in New York City.
And as an added incentive for you to check out Hayari's amazing fragrances, you have five more days to get to Bigelow and make a bid on one of Hyari's couture dresses. A Valentine's Day scarlet confection, the, the gown is a one‐of‐a‐kind exclusive frock. C. O. Bigelow will feature the flame-red gown in its window until the end of this week, and as an added incentive for passersby to bid on the gown, Hayari has pledged 100% of the proceeds to the American Heart Association. The one-shoulder, silk-satin entrance‐maker frock is designed in bold poppy and features a layer of chiffon and embroidered Chantilly lace that is generously accented with Swarovski crystals. The retail price for the gown is $11,500; minimum bid $3,500.
Posted on Tuesday, March 05, 2013 @ 02:35 PM | 0 replies Start the Discussion
---
City Shopping
Vichy's face care and beauty products come from, not surprisingly, the town of Vichy in the French heartland, where the corporation was founded; the town is known for its antioxidant waters which abundantly flow from the renowned Vichy springs--100% pure and naturally rich with 15 minerals. The company was established by a French dermatologist, Dr. Pro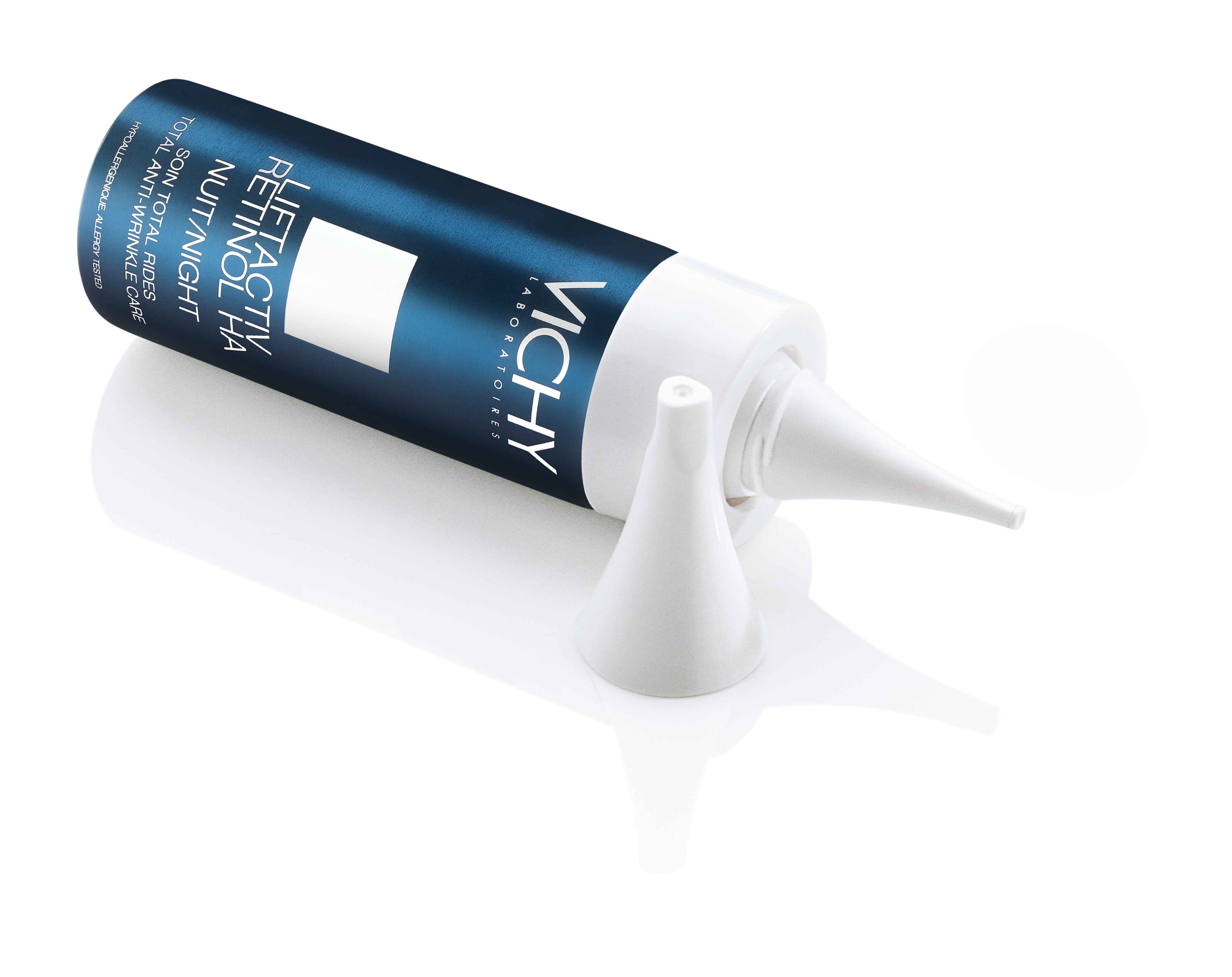 sper Haller, along with a pharmacist, Georges Guerin. Today, the Vichy brand boasts many different lines (nearly a dozen, in fact, including a suncare line, Capital Soleil, with some products with an SPF of 60), but I gave a few specific products a serious test drive, and can report back that I've had terrific results with each of them.
For starters, here is the simplest and most obvious must-have for your summer handbag: Eau Thermale (Thermal Spa Water), i.e., an atomizer of Vichy water! It's merely a delicious spray for refreshing your summer visage. It soothes and fortifies and feels so delightful when you spritz it on your face when you really need it--like when you get out of the subway. Because I am on planes so much, I bought a stash of the smallest size, 1.69 ounces (50 g), so that I can carry it on board a flight, since airplanes are like desiccating machines. You will use it all summer, on the beach, on the bus, and on board.
For keeping that face young, there are the LiftActiv Retinol HA products, harnessing the latest retinols, adenosines, hyaluronic acid, and so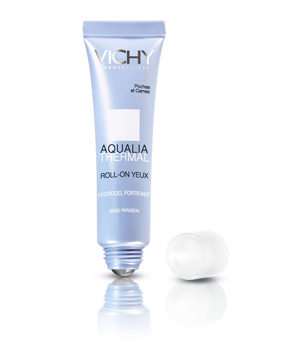 on: The company's studies proved that it had to address a variety of wrinkles that bother us: permanent wrinkles (deep furrows that appear over time); reversible wrinkles (surface furrows that change in shape during the day); and programmed wrinkles (small points that join together over time to actually form a wrinkle). This line has a LiftActiv Retinol HA Eyes product that incorporates more ingredients specifically developed for the delicate eye area, and which reduce wrinkles; it also can make the wrinkles seem to disappear with an illumining effect. (This is like putting some magic abra-

ca-dabra fairy dust around your eyes.) There are also the miraculous LiftActiv Retinol HA Night cream (let the elves make you younger while you sleep) and the LiftActive Reintol HA cream with SPF 18--a great tonic for your face during the day.
You'll also love another eye care product, the Aqualia Thermal Eye Roll-On which attacks puffiness and dark circles. This is another one you'll want to carry on a plane. It feels cool and soothing when you apply it, and seems to really take the puffiness down. The company's lines are quite diverse (for example, for problem, outbreak-plagued skin there is the acne line, NormaDerm), so there is something for everyone. And while it's not the highest priced product line on the market, it's the high end of the somewhat lower end. But as Allure magazine has proven time and time again, it's not about price, it's about performance.
So I suspect, after you try a few of the Vichy elixirs, you'll feel as I did: Veni, Vidi, Vichy--that you came and saw, but it conquered you!
Posted on Wednesday, June 22, 2011 @ 04:25 PM | 0 replies Start the Discussion
---
City Shopping
As with so many things, necessity often proves to be the Mother of Invention. For Dr.'s Remedy Enriched Nail Polish, it all started with a pregnancy caveat: Dr. Adam Cirlincione's wife, Rachel, was indeed, in the family way, and she was advised to avoid hair dyes for fear of being exposed to certain chemicals. Al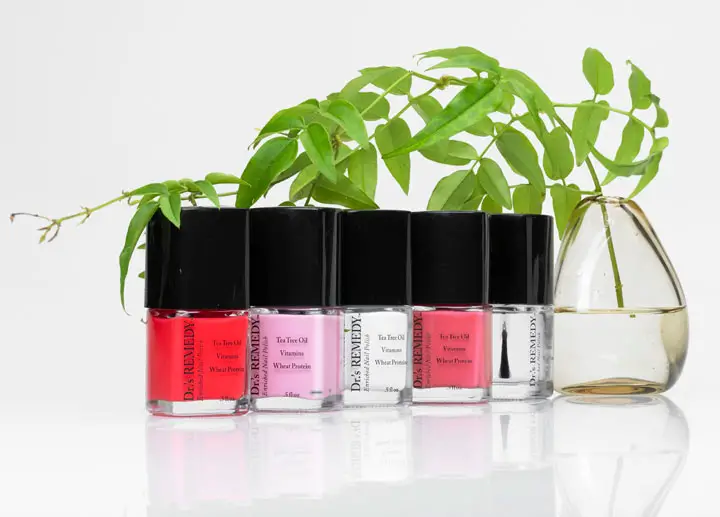 ong with that warning, came the advice to stay away from certain foods and beauty or household products which might contain harsh chemicals.
Dr. Cirlincione, a board-certified podiatrist, began to research the ingredients in commercial nail polishes and it became obvious to him that the formaldehyde, toluene (that is usually the stuff that makes the polish smell kinda' nasty), and DBP (dibutyl phthalate) regularly used in polish formulas could be both damaging to the nail, and moreover, potentially bad for one's health, not to mention a baby's health. Indeed, consumer activists, like the Campaign for Safe Cosmetics, have lobbied to persuade manufacturers to sign a Compact for Safe Cosmetics, which urges them to replace suspect chemicals with safer alternatives.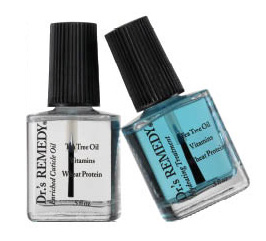 Dr. Cirlincione partnered with a colleague, Dr. William Spielfogel, and jointly, they undertook the challenge to develop polish that was free of those three "nefarious" chemicals. The result? Dr.'s Remedy. Their polishes and nail care products are free from the "big three," yes, but they are also enriched, helping to stave off the dry, brittle nails that can result from constant polish use. They have added things like tea tree oil and garlic bulb extract, which are naturally occurring anti-fungal and antibacterial agents-clearly their formulas are better for the nails. For anyone with allergies (yours truly stopped using "regular" polishes years ago, and sticks with glazes that are toluene-free), they are a godsend. And now that it is definitely pedi season-even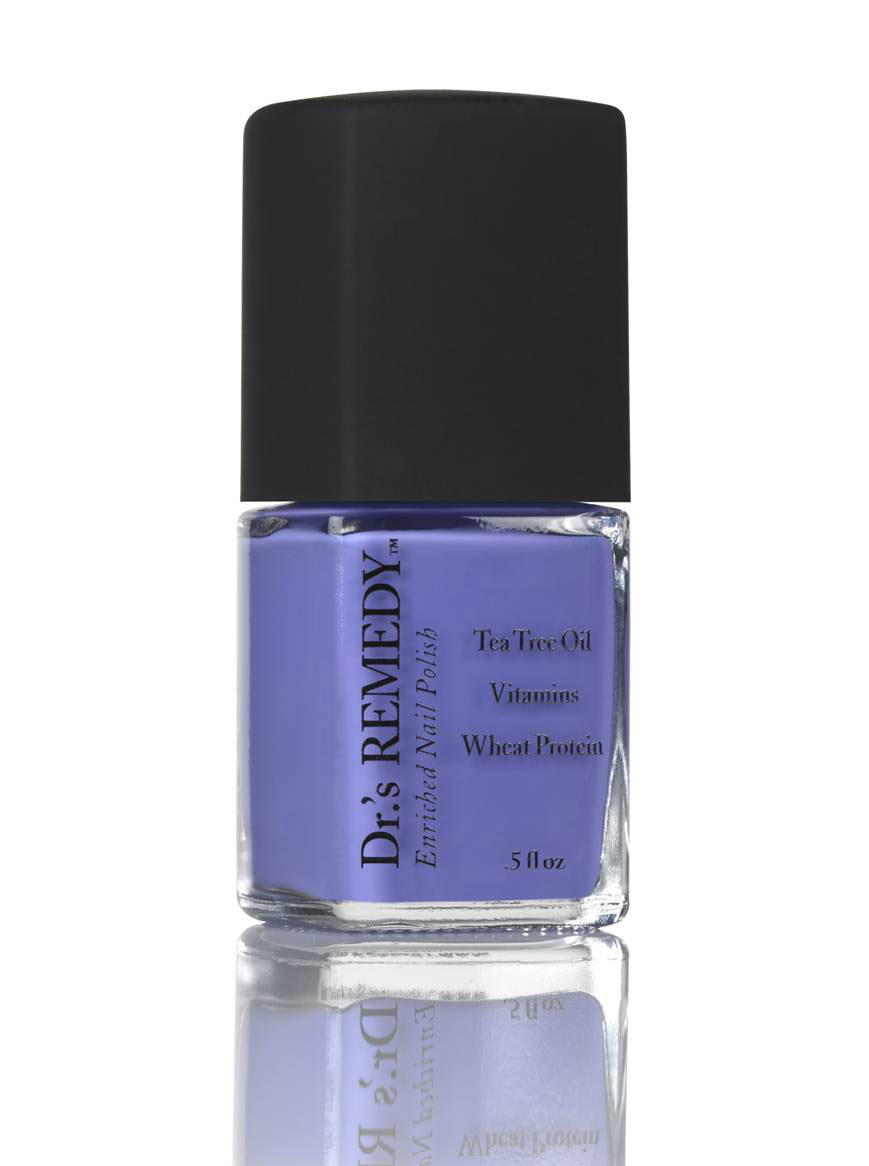 if you kept your tootsies hidden in boots all winter-it's time to bare the metatarsals and get some stylish (and safe) polish on those digits.
This past winter, Dr.'s Remedy unveiled a batch of cool colors-chic dark, wintry tones, like claret, burgundy, brick, and ruby. But for spring there is bright, flower-garden-like menu of perky poppy, subtle rose, creamy coral, peachy-pinks, and a French manicure kit. There are also nail-care products in the line-acetone-free remover, oil for cuticles, base and top coats--and the best product--a tea tree oil brush-on treatment, for helping damaged nails. The polishes are priced at $17.00 and are available at the on-line store.
© Ruth J. Katz, all rights reserved
Posted on Tuesday, May 24, 2011 @ 01:27 PM | 0 replies Start the Discussion
---
City Shopping
If you know the MacKenzie-Childs' collection of fanciful and over-the-top home décor accessories, then you know that to the company's design team in Aurora, New York, more is more is more, as I have often noted in describing the sumptuous surface embellishments of the M-C line. Pattern upon pattern upon patte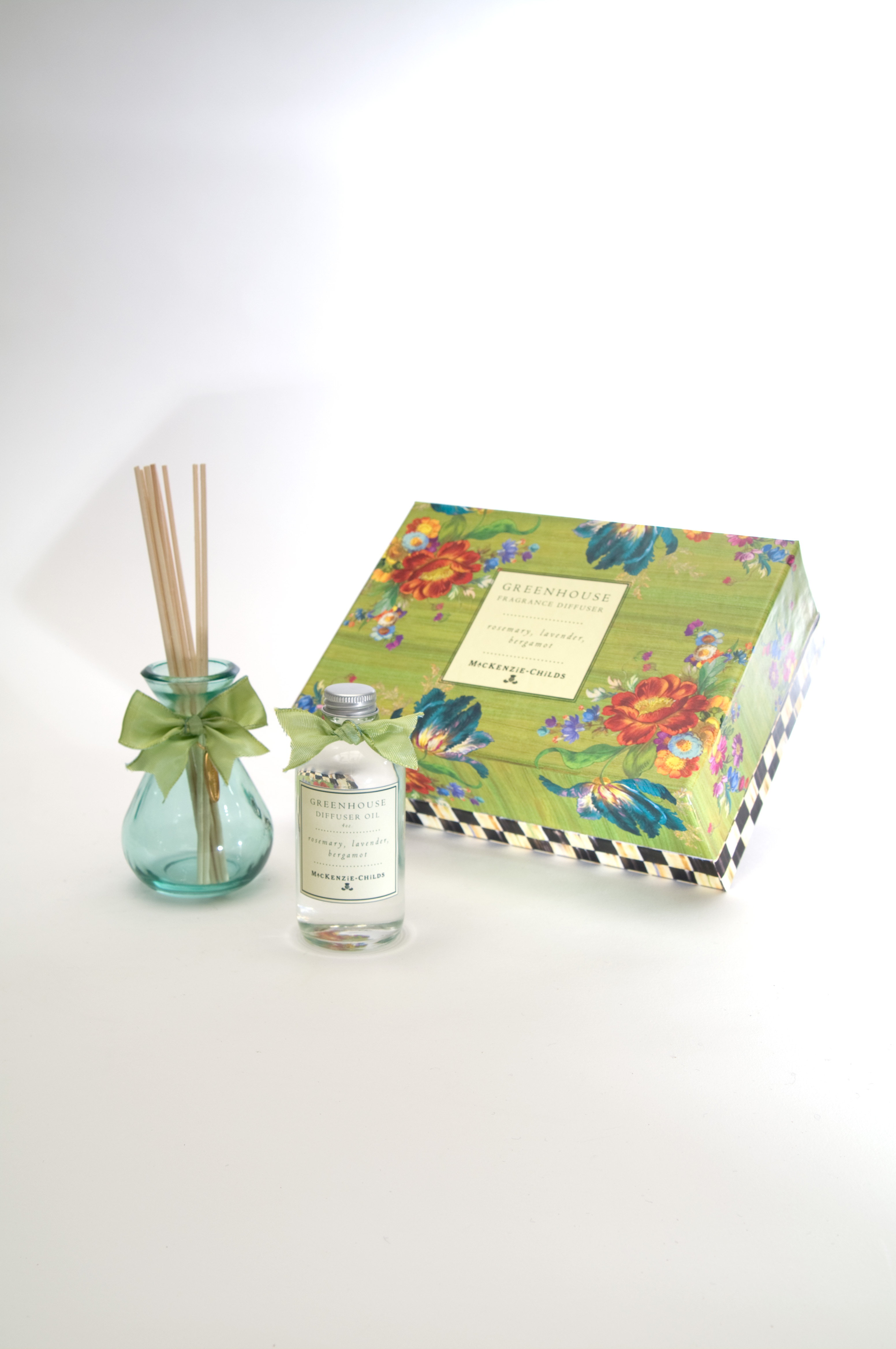 rn is the hallmark of its designs-a charming pattern of black and white squares known as "Courtly Check" is often worked along borders on lush floral-emblazoned items, and in addition to that duo, there might also be design snippets or references to maps, geometrics, paisleys, and anything else these wonderfully talented upstate artists can whip up and incorporate into a seamless design fantasy. The M-C line consists of so many items it would be hard to name them all (dog houses, menorahs, Christmas stockings, campaign chests, spoon rests, garden gates, eyeglasses, welcome mats, mail boxes, drawer pulls), and of course, all the usual suspects-china, glassware, tableware in general, home furnishings-are produced in abundance.
But, now comes a debut: For the first time, the company has ventured into home fragrance. (Could a nice body splash be far behind?) Newly introduced to the line is a selection of room diffusers and candles. The scents were inspired by the bucolic Finger Lakes location of the headquarters, where a visual and fragrant feast greets co-workers daily: ever-changing, colorful gardens; a herd of Scottish Highland cattle (the ones with the big wooly mammoth look to them); a chicken "coop" that is really a Gothic Revival-style palace for well, lucky ducks; a du
ck pond; an antique horse farm; a 1930s greenhouse; and of course, the pastoral, verdant scenery. There is much for inspiration here and the scents were thusly derived.
The four fragrances are Studio, Lake House, Farmhouse, and Greenhouse. Studio evokes grapefruit, lemon, and black currant; Lake House is topped off with apple, pomegranate, and mint; almond, fig, and cedar bring the Farmhouse fragrance to life; and the Greenhouse is aroused by bergamot, rosemary, and lavender wafting through the air.
The line consists of an exquisitely packaged diffuser set (4 ounces, $68) and a single, three-inch-square candle (7 ounces, $62).
.
Posted on Tuesday, March 08, 2011 @ 01:43 PM | 0 replies Start the Discussion
---
City Shopping
La Prairie, the genius cosmetics company behind near-magical skincare products that scores of women swear by, has taken a serious foray into the fragrance arena, with a series of three sensual, graceful fragrances that are meant to evoke life's passages-encouraging an open heart and celebration of life's joys. Aptly called the "Life Threads Collection," each of the trifecta of fragrances is named for one of "a girl's best friends"-ruby, emerald, sapphire. (O.K., so diamonds are missing, but there is probably a diamond scent in the works, somewhere in a Petri dish.) The perfumes were created by the noted nose, Constance Georges-Picot of Cosmo-Fragrances, and the trio is meant to be evocative, each in its own way.
Ruby is designed to be the most "smoldering and passionate" of the trio, with evocative notes of exotic ingredients like bergamot, coriander, ylang ylang, passion musk, and vanilla beans. Emerald, inspired by the Sri Lankan Sea, is a refreshing and enchanting scent, perhaps reminiscent of young love, both naïve, and exuberant. The notes are redolent with orange, angelica, rose, lilac, jasmine, daffodil, and with touches of oakmoss and amber. Lastly, Sapphire is tender and elegant, with underlying drama. Seduction was on the maker's mind when blending apricot, freesia, jasmine, gardenia, amber and woodsy notes like sandalwood and dewy woods.
All three are stunning to see and to smell: The bottles are cleverly wrapped in silver threads and embellished with sparkly crystals, and if the scents don't seduce, the beguiling packaging alone will. Available in 50 ml. sizes, each is $125; they are stocked at Bergdorf Goodman, Bloomingdale's, and Saks Fifth Avenue. Where in the world could you get rubies, emeralds, and sapphires for a mere $125? And still end up very happy with rhinestones!
Posted on Thursday, October 14, 2010 @ 01:51 PM | 0 replies Start the Discussion
---
City Shopping


Officially summer doesn't end for another few weeks, but the unofficial finish line is in sight-dreaded Labor Day, when, alas, we start to think of back-to-school, back-to-work, back-to-basics. However, given that we are experiencing a heat wave--the fifth of the summer,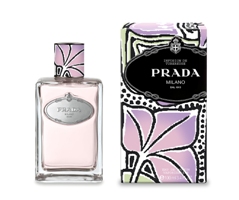 the weather prognosticators tell us--it's still summer so far as we're concerned. And to make sure that we feel festive all day long, we're touting, this week and next, some of the most delicious, floral-y scents that have come down the pike this summer. These are fragrances that will just make you swoon, dreaming of gardens redolent with gardenia, tuberose, lilac, and Mother Nature's most heavenly scents.

Prada aptly named its new, limited-edition fragrance Infusion de Tubéreuse, and although the unmistakable scent of the heady tuberose is present, there is a rich tapestry of blood orange from Italy and Indian spices in the mix. Last year Prada introduced its series of limited-edition infusions, and fans of the Infusion d'Iris will probably love this one, as well. The scent is layered with something called dynamore (a rare and luxurious ingredient in perfumery), which allegedly brings a sensuality to this scent. We don't know about that, but we will say that its woody notes coalesce cunningly with the citrus and floral.

The packaging is cute and playful, not romantic and gooey as you might expect. The box is a mosaic-like pattern, inspired by a print taken from the Prada archives. The leaves of the flowers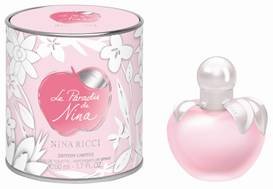 on the box are an ombréed mauve, and the print is a very edgy one, not a dreamy one. Grab it while you still can. (Available in sizes from 1.7 to 6.75 fl. oz., $74 to $135)

The second fragrance we're crazy about is Nina Ricci's Le Paradis de Nina, an intoxicating reinterpretation of a scent created for the company years ago. The notes start off with a whiff of orange and mandarin peels, and as the scent deepens, layers of orange and almond blossoms and heliotrope emerge. And then finally, unexpected, candy apple, and the irresistible notes of gardenia. Lastly, mysterious scents of sandalwood emanate, along with a hint of patchouli and vanilla.

The bottle is the Ricci classic apple that has been reworked for several different fragrances, most notably last year, into a version with Swarovski-encrusted leaves. It's a tamer apple this year, in a soft frosty pink. (1.7 fl oz for 56)

Stay tuned next week for two more special floral fragrances.
Posted on Monday, August 30, 2010 @ 04:41 PM | 0 replies Start the Discussion
---
City Shopping
Arriving stateside just in time for the holiday gift-giving season, Editions de Parfums Frédéric Malle, is opening
its doors as we write. Although fragrance-industry insider Frédéric Malle has claim to dozens of stores around the globe, from Riyadh, to Hong Kong, to Melbourne, to Moscow, this is his first freestanding boutique in America. It's a charming, cozy jewel-box of nearly 1,000 square feet at the corner of Madison and 72nd Street in one of Gotham's signature buildings, from architects Rosario Candela and Mott Schmidt.
Working with nearly a dozen of France's greats "noses" (including the likes of Pierre Bourdon
Jean-Claude Ellena, and Edouard Fléchier, not people who are household names, but who are well- known in the fragrance field), Malle has created a line of nearly two dozen sumptuous fragrances, all branded and packaged in his signature crisp, clean black, white, and red. Prices range from about $125 to over $300 for some scents (in 50 ml. and 100 ml. bottles). "Carnal Flower" is among our favorites, with heady tuberose wafting up our nose and setting our pheromones loose. But if fleurs are not your thing, there are plenty of other musky, oaky, woodsy scents and a few for the gents, too, including the new "Geranium pour Monsieur."
Malle's shops all feature "smelling booths" which look like something out of 1950s American television-where, on a quiz show, the contestant would be locked into a sound-deprived chamber so
as not to hear the "secret word" or the answer to the blockbuster, big-prize question. Malle's smelling chambers are tall, tubular columns, constructed in clear Plexi, with a door. The scent can be sprayed into this antiseptically clean, vacuum-sucked structure, so that the only smell in it is the one you want to savor. After spraying, huge air pumps or extractors remove the aroma and you've just sprayed...and then you're ready to spritz another into the chamber, to get the pure essence of the next fragrance. Very high tech for such a sensuous experience.
The shop is located at 898 Madison Avenue (at 72nd Street); 212-249-7941; editionsdeparfums.com
Posted on Monday, November 16, 2009 @ 12:04 PM | 0 replies Start the Discussion
---
City Shopping
Dolce & Gabbana: The ads on the lit billboards at the city's bus stops feature a bevy of in-the-buff models, all of whom usually have the word "super" preceeding to the word "model" when describing them.The shots are tempting, with a tangle of flesh -- men and women -- all stunning, shimmery, and sleek.The idea that the ad is trying to convey (duh) is that the
fragrances from the D & G Fragrance Anthology are unisex, ideal for anyone who wants to just ooze sex appeal. But then isn't that what you would expect form Dolce & Gabbana, masters of in-your-face subtlety and sophistication? And the fragrances do not disappoint.There are five of them, numbered and named, and packaged in clean, crisp black and white boxes, with simple lettering and numbers.Each describes a personality type, someone to aspire to -- someone (in your dreams) you think you are, or you want your friends to think you are:The Player, the Star, the Seducer, the Charmer, the Dreamer. (point of Information: The names derive from cards in the Tarot deck.) It's the colors of the fragrances that grab the eye, not to mention, the aroma of the scents that captivates the nose.The pale violet, pale pink, delicate green, azure, and lemon liquids are beautifully spun from magical mixes of pink pepper, juniper berry, rhubarb, grapefruit wood, cardamom, and birch leaf, among the many wondrous ingredients.Each is $65 (100 ml.), available at Sephora.
Nina Ricci: There couldn't be a more polar opposite to the D & G fragrances, at least so far as packaging is concerned, than the new Nina Ricci fragrance, Nina, being distributed as we speak.(Perhaps it
will be destined to become a classic, like L'Air du Temps, although it is supposedly being produced in a limited edition.) Composed of tantalizing fruit essences, the scent opens up with brilliant, fresh notes of Calabrian lemon and Caipirinha lime; the heart notes then move into a luscious toffee apple, accompanied by peony and moonflower. It's a perfectly feminine and rich scent. And the bottle -- did we mention the bottle? -- is the height of femininity. A sort of matte pink meal accented lavishly embellished with petals of "Crystallized Swarovski elements," as the company calls them; you'll think they are very sparkly rhinestones. No matter.They are the perfect accent to such a delicate, desirable fragrance.$72 (80 ml) at Macy's.
Posted on Wednesday, October 07, 2009 @ 12:55 PM | 0 replies Start the Discussion
---
City Shopping
Scientists calculate that we are capable of differentiating an astonishing 10,000 disparate aromas.  Sure, we could list a bunch of them, appealing and noxious--vanilla, gasoline, clove, tobacco, tar, freshly baked bread, skunk--but 10,000?

Modern fragrance--the kind you put on your body, the kind that makes pheromones whirl--came into being in the late 19th century and has evolved to a point where, according to the Fragrance Foundation,  a not-for-profit, educational organization, approximately 300 to 350 new scents come to market yearly.

The French, regardless of the government du jour, have always done their part to promote perfumes:  The court of Louis the XV was dubbed the "perfumed court" because it commanded that fragrances be changed daily. Napoleon is said to have ordered two quarts of violet cologne per week! 

One French nose that was always fascinated with scent belongs to Gérard Ghislain, a restaurateur, who has a bit of Proust and those madeleines in his soul, when he admits that he loves the smells emanating from his ovens--and to satisfy his interest, he finally enrolled in "fragrance" classes at the institute run by the Versailles Val-d'Oise/Yvelines Chamber of Commerce, and thereafter decided to enter the competitive world of perfume, but with a clever and intoxicating twist:  His fragrances are based on history, on particular years and pers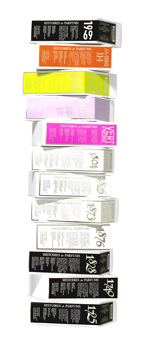 onages who lived in that era, and scents that were popular at those times--hence was born Histoires de Parfums . There are homages to George Sand, Mata Hari, Colette, Jules Verne, the Marquis de Sade, and Casanova, to name but a few of Ghislain's inspirations which find their embodiment in a group of heady swirls of bergamot, mandarin, tiaré, vetiver, vanilla, grapefruit, and on and on...a limitless palate of scent.  

Ghislain's dozen fragrances are for men and women, with a few unisex blends.  His perfumes have a high 15% concentration, so they are long-lived, which is good, as a 120 ml. bottle is $185.
But, for those who cannot live without his blends--and who want smaller (and less pricey) bottles for travel--the company has just come out with a travel set, which will be stocked at Takashimaya in the next few weeks.  Three fragrances, each 14 ml. (you pick the scents you want) will be $95, packed in a little pouch to go.
 


 
Posted on Tuesday, July 07, 2009 @ 11:48 AM | 0 replies Start the Discussion
---
City Shopping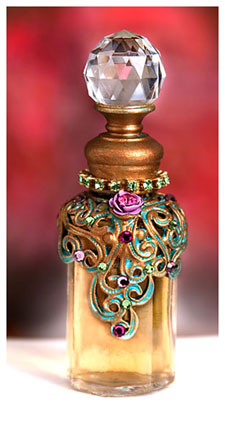 If you like fresh and romantic floral fragrances, then Summersent is for you. We know that it's certainly for us. The heady, intoxicating fragrance is a blend of Italian jasmine, Moroccan orange blossom, cassis flower, and something called genet, not to mention some other mysterious blossoms. We're not sure what the entire mixture is, but whatever it is, it's so dee-vine that we are going to splurge and get some. And, we also love that it comes in bottles that are daintily embellished with Swarovski crystals, all hand-applied. (Don't think Liberace, think Harry Winston.) The parfum is available in a diminutive flaçon, in a very elegant shape, and is $150 for .3 fluid ounces; the eau de parfum is presented in a taller, more slender vial, and is $90 for 2 fluid ounces. There is also a brand-new body crème, selling for $80 for 4 ounces, and that, too, is capped with Swarovski crystals. It's available at Takashimaya, 693 Fifth Ave. btw. 54th & 55th Sts., 212-350-0100 and 800-753-2038.
Posted on Wednesday, June 06, 2007 @ 03:13 PM | 43 replies View/Post Feedback
---
City Shopping
O.K., before the rains come again and we have to start talking about umbrellas (and I did promise you two more fabulous umbrellas), and while it's really spring-like -- or should we say summer-like? -- let's continue accessorizing for the warm weather. So here's the latest from Tommy Bahama, a perennial favorite of golfers and bons vivants everywhere.  It's a fragrance called Set Sail, St. Barts. What could conjure up warm weather more than that? Available for both men and women, it's packaged in nautical blue and white. The men's is very citrus-y with notes of tequila (hmmm….) and tropical musk. The women's is quite floral with a hint of fresh lime. They'll both make you think you're sailing somewhere into the azure blue, instead of on black asphalt. Both the men's cologne spray and the women's eau de parfum spray are $52.50.  They should just be pulling into port at Macy's any minute now.

Posted on Tuesday, April 24, 2007 @ 04:14 PM | 0 replies Start the Discussion
---
City Shopping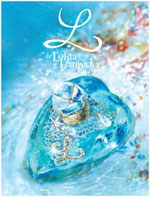 One of our favorite scents is Lolita Lempicka's eponymous original fragrance and its "lighter" cousin. Now along comes "L", the designer's second scent, which is just as yummy…evocative, ethereal, dreamy. That is my verbiage, but the company's description promises it will be "dangerously feminine" and it just may be. With hints of vanilla, cinnamon, orange, and patchouli, it's a rich, heady mixture, but as light as a breeze wafting across the ocean when it's sprayed on the wrist. For the designer herself, it brings back "memories of my skin gently kissed by the sun and lightly brushed against by the waves." Think mermaid here. (Yeah, "dangerously feminine" could work.) Even the bottle speaks to a mysterious shipwreck with treasures left bobbing in the sea -- an azure-blue, glass bottle with gilded netting at its throat and a swirly, pearl-encrusted capital-letter "L" charm dangling from it, along with a few beachy artifacts. Available starting this week at Bloomingdale's and Saks Fifth Avenue. .5 parfum extract $126; 2.65 eau de parfum, $84; 1.7 oz eau de parfum, $65.

Posted on Thursday, March 15, 2007 @ 04:09 PM | 242 replies View/Post Feedback
---
Subscribe to this Blog's
Feed