City Shopping - Store Openings Blogs
Back to Blog... | View More Bloggers...

About the Author: About the Author: Ruth J. Katz is a well-known shopping and service writer based in New York City. She has written about shopping for 25 years for New York magazine; covered the topic on-air at Fox-TV for several years as the Home Services expert; and had her own show on both the USA and Lifetime Cable networks. Katz wrote extensively for The New York Times as well, and contributed periodically to the New York Daily News. She is a passionate shopper, always looking for not merely a good buy, but the best buy, ferreting out a "steal" or discovering up-and-coming designers. She has written five books and is a former contributing editor to Hearst's Redbook, Classic Home, and Colonial Homes; she is currently a Contributing Editor of New York Home, Golf Connoisseur, The Modern Estate, and Promenade magazines. She is also the former Shopping Director for Davler Media's Manhattan Living.


---
City Shopping
Last week, it was shoes. A passion. This week, it's pens and leather goods, more favorites. How lucky are we, to get to be The Town Crier (at least of this blog) and to share the things we love with everyone else? We have cooed over Campo Marzio pens for years. And whenever we are in Italy (the company has nine boutiques and nearly 60 different sales counters in other stores across the country), we try to find a little trinket to gratify our craving. Since Campo Marzio has been satisfying the pen-lust of Italian nobles, politicians, and artists for over 80 years, we feel right at home with our own yearnings for writing implements of style, marked by fine workmanship.

A few years ago we discovered that Campo Marzio had opened in London, so now we have to always stop by the shop on Piccadilly when we're heading to St. James's. (For the record, the company has 17 boutiques in 15 cities in 11 countries.) And now – finalemente!!!! – there is a shop-within-a-shop at Kate's Paperie in SoHo (72 Spring Street, between Crosby and Lafayette Streets). Coming soon, at the other Kate's locations (East Side, West Side, and all around the town, as the song goes), more Campo Marzio boutiques.

Let's see. What do we love about Campo Marzio? Well, for starters, the pens with all the rhinestones. But then we love the pens with all the polka dots. Then we love the silvery pens that are very cutting-edge. Then it's the leather goods -- the portfolio cases, the business-card holders, the stationery boxes, the organizers, the wallets, the waste paper baskets, the envelopes, the letter-holders....and on and on.
It's also about the color. No store in the world is a happier shop to walk into. From the bright-orange, signature exterior to the painted shelves, the colorful panoply of merchandise spread out so appealingly, and the rainbow-like displays...it's like walking into a Pantone color catalogue. Even if you hate pens -- and the company has every kind of pen, ball point and fountain pens, roller balls, calligraphy sets, etc. -- you will easily be turned into a pen lover, as a Campo Marzio shop is simply a joy to behold.
Prices are soothing, also, and will not break the proverbial bank: Leather goods in general range from about $12 to $210; pens range from as little as $13 to $90 for the most fancy; journals and albums from $25 to $160; desk accessories from $15 to $40; and portfolio envelopes, from $15 to $40.

Hip-hip-hooray, that the work of these talented Italian craftsmen has finally made it to our shores. Bravissimi!
Posted on Wednesday, September 29, 2010 @ 01:36 PM | 9 replies View/Post Feedback
---
City Shopping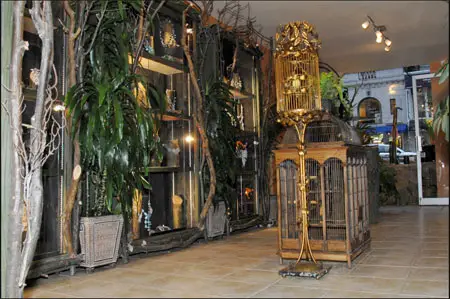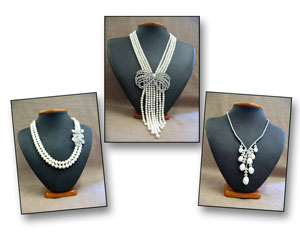 We're off to a wedding this weekend, and it got us to thinking about jewelry designer Siman Tu and his brand-new store at 860 Lexington Ave. at 65th St. It looks less like a bridal salon and more like a learning experience; something conjured up by the wizards behind the educational exhibits at the Bronx Zoo. Tu's shop, you see, is sort like a little Amazon rain forest in the middle of an urban jungle. The trees, the plants, the fish pond, and the birds are all accented with showcases of lustrous pearls, gleaming zircons, Victorian reproduction jewelry, and other sort of earthy bijoux, crafted from things like lapis and natural-looking stones. Tu has a few different collections (one of which is very bridal-y) and they couldn't be more diverse.  (Prices range from about $150 to $3,000.)  We're drawn, however, to the bridal looks -- they're sleek and grown-up looking -- and, they deliver a lot of bang for the buck. Moreover, just because you're not getting married, it doesn't mean you can't snatch up a tiara, or a stunning crown, or hair comb, or barrette, or whatever. Worst case scenario: a parure of a necklace, a bracelet, and earrings to wear to someone else's wedding.

Posted on Friday, July 06, 2007 @ 12:42 PM | 0 replies Start the Discussion
---
City Shopping
Our friend the film critic likes to do all his filing in clear-plastic, envelope-style sheets, secured in binders from Muji. What?!?!?! You don't know Muji? Well, soon you will. A Japan-based retailer -- with over 300 stores in its homeland, and another 69 stores around the world -- Muji sells environmentally conscious, minimalist housewares, paper goods, furniture, clothing, fabrics, accessories, and all kinds of things that you never knew you'd need or want, but need or want the minute you see them at Muji. And they're cheap -- really cheap. Everything has a very less-is-more look and is well designed and clever. Muji will be opening in the Renzo Piano-designed new New York Times building at 620 Eighth Ave. btw. 40th & 41st Sts. Muji is the first tenant to sign a retail lease for the building, and is expected to open for the holiday season this year. (The name comes from the Japanese words mujirushi ryohin, which more or less means "no-brand quality goods.")

Posted on Thursday, April 12, 2007 @ 09:55 AM | 35 replies View/Post Feedback
---
City Shopping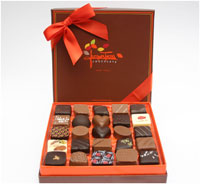 Uh-oh. We're in deep cocoa trouble. Chocolatier Jacques Torres has just signed a lease to open his third Gotham emporium right across the street from -- dum-da-dum-dum -- our residence. Bring in the guys in the hazmat suits for damage control.  The new shop will be on Amsterdam Ave. just north of 73rd St., within punting distance of the 72nd Street subway stop and Verdi Square.  It will be 1,000 square feet -- in other words, just large enough to sell more chocolate than you could eat in a year. Stay tuned; we'll be getting more particulars and an opening date...so you can mark your calendar and we can start the diet -- so we'll all be ready for the maestro when he starts tempering that chocolate on the UWS.

Posted on Tuesday, March 20, 2007 @ 02:36 PM | 0 replies Start the Discussion
---
Subscribe to this Blog's
Feed