City Shopping - Gifts Blogs
Back to Blog... | View More Bloggers...

About the Author: About the Author: Ruth J. Katz is a well-known shopping and service writer based in New York City. She has written about shopping for 25 years for New York magazine; covered the topic on-air at Fox-TV for several years as the Home Services expert; and had her own show on both the USA and Lifetime Cable networks. Katz wrote extensively for The New York Times as well, and contributed periodically to the New York Daily News. She is a passionate shopper, always looking for not merely a good buy, but the best buy, ferreting out a "steal" or discovering up-and-coming designers. She has written five books and is a former contributing editor to Hearst's Redbook, Classic Home, and Colonial Homes; she is currently a Contributing Editor of New York Home, Golf Connoisseur, The Modern Estate, and Promenade magazines. She is also the former Shopping Director for Davler Media's Manhattan Living.


---
City Shopping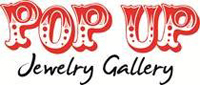 The holiday shopping season is now officially in full swing, and to help you pinpoint that just-right jewelry gift (and who wouldn't want a little sparkly something?), a charming pop-up jewelry gallery, aptly named POP Up Jewelry Gallery, has opened at 30 Gansevoort Street (between Hudson and Greenwich Streets). Open through December 31, the shop has a giant "pop-up" sign in the window...in bright Hollywood-style lights. It's cozy, spotless, and all-white inside, the better canvas for ferreting out sparkly jewels.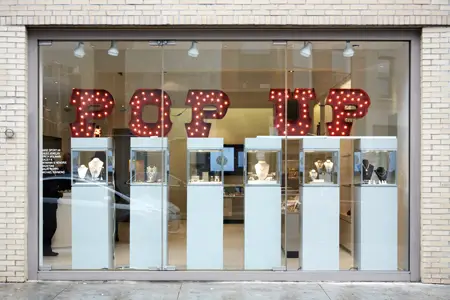 POP Up Jewelry Gallery located at 30 Gansevoort Street in the Meatpacking District features 8 fine jewelry designers for a limited time (until December 31st) including: Anne Sportun Fine Jewellery, Caleo, Heimann & Hendrix, Erica Molinari, Kacey K, MAD by Madstone and Madstone, Mauri Pioppo Fine Jewelry, Michael Raymond Designs
And of course, the timing could not be more perfect since forty percent of all fine jewelry is sold in the last quarter of the year. Unlike most pop-up shops which create an ultimate frenzy for impulse shoppers, this gallery has already been open for two months, establishing a mini-foothold in the ultra-trendy Meatpacking District, and attracting the typical weekend shoppers and the nabe regulars.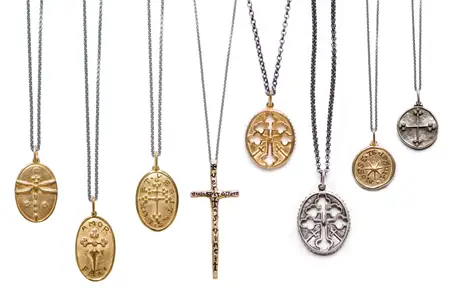 Erica Molinari - Sterling silver double sided charms with oxidized silver chains; 14 karat gold double sided charms with oxidized silver chains; 14 karat gold cross pendants with oxidized silver chains; Suggested retail prices range from $250 to $2,000
The salon is the brainchild jewelry-partners-in-crime, designer Kerri Halpern of MadStone Jewlery and Mad by MadStone and Diana Heimann of Heimann & Hendrix. The partners conceptualized, opened, and will manage the pop-up for the duration of the holiday season. The other designers on board include Anne Sportun Fine Jewellery, Caleo, Erica Molinari (above), Kacey K, Mauri Pioppo Fine Jewelry, and Michael Raymond Designs. Each designer showcases his/her bijoux in a separate case and the feel of the emporium is more gallery than shop.
Jewelry prices range from the highly affordable ($150) to the aspirational ($20,000), with a wide panoply of styles and tastes represented within that broad spectrum. While the majority of the jewelry in the shop is for women, there are also some designers specializing in menswear, with cufflinks, chunky chains, cool logo pins, and the link. There are also fine men's watches with a great deal of style and pizzazz from Jorg Gray. Additionally, there are some other items, such as special coffee table books, which are also available for sale.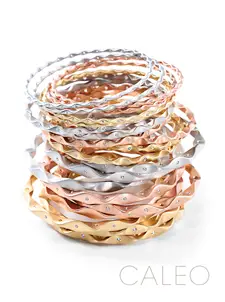 Jewelry from Caleo is actually from a husband-and-wife team, she an architect, and he, a sculptor. Working with elegant moonstones and hematite, they create lovely and delicate chains (and some more substantial ones for men) and talismans. Halpern's two lines range from about $200 to $18,000 and feature some fanciful pieces. She describes herself as a "rocker who loves champagne," and to satisfy that craving, she has created her "Bubble" line, with quartz etched with floating bubbles on the underside of the stones. She handles amethyst, smoky topaz, and quartz masterfully and brings the gems to life magically. Her bangles are a steal at $100. (The Caleo PINCH bangles, pictured right, come in many sizes and variations, and range from $275 to $6,250.)
Heimann & Hendrix's line includes some charming stackables, both feminine and delicate, and well-priced. Kacey K's offerings are dainty and fine, with countless variations of jewelry that can be worked with names, monograms, initials, and personal icons. Her line ranges from about $300 to $3,600. Erica Molinari's jewelry is noteworthy for its reversible pendants and charms. She also creates many dangly earrings, worked with a single stone that sparkles and dazzles. A simple, elegant statement. The work from jewelry Anne Sportun is marked by the use of colorful briolettes, sapphire beads, kyanite stones, shaped spinels (that look like lava rocks)and organic-shaped jewels. The line from Mauri Pioppo Fine Jewelry is rife with crystals, pendants, spirituality, symbolism—from love letters to initials, little locket-like charms that have room for a picture. A yogi, she tries to even incorporate healing stones within her work.
The shop will host themed weekly events (last week it was a doggy day, a fundraising event for orphaned pets from Hurricane Sandy), designer appearances, and entertainment, with a live DJ and an array of smart cocktails. Open to all patrons, the week's events will be posted on the front door. Store hours are Tuesday to Sunday, noon to 7:00 pm, closed Mondays. For more information, call 646-861-1180 or email info@popupjewels.com.
Posted on Monday, November 26, 2012 @ 11:12 AM | 0 replies Start the Discussion
---
City Shopping
Now that you have gazillions of holiday digital shots--not to mention funny shots of your dog buried in two feet of snow in Central Park--out of your camera and into your computer, what are you going to do with them? Most of us do nothing, at least for a long time, until we feel less intimated by the jumble of p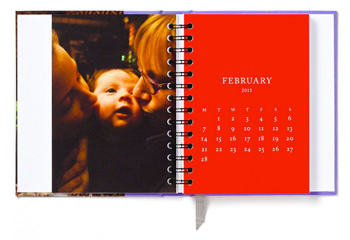 ictures with indecipherable code names, like SAM-897-a402.cf, instead of names that read: "Rosie and Austin Making Snow Angels." But, even if you are the least bit digitally-challenged, Pinhole Press can help you make lemons from the digital salmagundi.
The company, a destination online boutique for personalized photo gifts, was launched a mere two months ago, a combo effort between the design firm of Rosebrook | Peters | Funaro and Mohawk Fine Papers, makers of superior-quality, elegant writing papers (think: Strathmore), and the largest privately-owned manufacturer of premium printing, writing, and digital papers in North America. The effort is a home run, from photo books and holiday cards to calendars and day-planners. Each photo gift is handsomely designed, sophisticated, and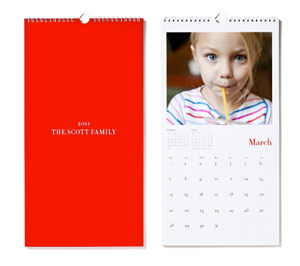 stylish.
The Web site offers more than 150 gift ideas (hey, make some for yourself-they don't all have to gifts!), from simple holiday cards (at $1.59 each) to the most pricey item on the site, a 13-photo large day-planner ($78.99). The site is very beautifully designed-a clean, crisp presentation, making it easy to find what you want, and order it. You do not have to hold a degree from MIT in order to figure out how to get your pictures into their format, to make a calendar (I made four in the wink of an eye!), or a beautiful day-planner or journal. In fact, once your picture is up on the site, you can tinker with it and edit a little, crop, and so on. "We had our mothers in mind when we were creating the products for Pinhole Press," said Peters. "Simplicity is at the core of the products, website and design; and each one of our products was conce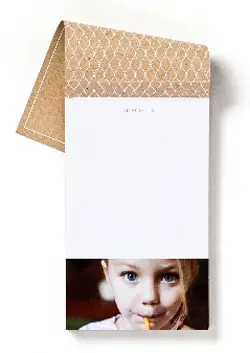 ived to make gifting easy and fun. We want to give consumers the opportunity to share their photos in the most beautiful, yet simple way."
Once you log on and start to make agendas, calendars, notepads, etc., you'll agree. Just as an aside: I made my stuff early on when the site was brand-new and a little hinky; I've checked it weekly and all seems to be running smoothly now, so get online and put those digital photos somewhere where you can admire them, not taking up RAM in your computer, tucked away in folders! Pinhole Press is classy, affordable, and easy to use!
Posted on Thursday, January 06, 2011 @ 12:27 PM | 0 replies Start the Discussion
---
City Shopping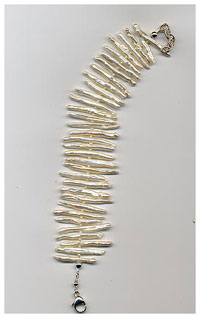 The Jewish Community Center on the Upper West Side is holding its annual Mother's Day Gift Sale, Tuesday and Wednesday, May 6th and 7th, from 11 a.m. to 8 p.m., featuring the work of the Center's professional teaching staff, from its art/craft/design faculty. We always write this sale up, as we know that there are so many wonderful artists, designers, and craftspeople there selling great stuff...and the price is usually "right."

Here is a perfect opportunity to snag some exquisite jewelry, textiles, ceramics, and other professionally handmade items that are well priced and one-of-a-kind, the perfect gifts to say "I Love You" to Mom. There will be richly beaded necklaces, bracelets, and earrings; lavish hand-painted scarves and pillows; belts, hats, and other fashion accessories; as well as home furnishing items. Prices are from $15 and up. (Shown here: a lavish pearl bracelet from glass artist/jeweler Melissa Terman, whose work includes both beaded jewelry and blown-glass jewelry.)

All the teachers at the sale offer courses, too, at the JCC (that's the whole point, of course!), so inquire about signing up for the late spring or early summer semester if you are inspired and think you'd like to learn how to make beaded jewelry or paint on silk yourself...or whatever.

Cash, checks, and credit cards accepted. For more information call Sigrid Orr at 646-505-5715. JCC in Manhattan, The Samuel Priest Rose Building, 334 Amsterdam Avenue at 76th Street; www.jccmanhattan.org
Posted on Monday, May 05, 2008 @ 07:46 AM | 1050 replies View/Post Feedback
---
City Shopping
Well, as usual, a day late and a dollar short. In this case, at least 48 hours late, if not more; we had wanted to include the wonderfully distinctive socks of V. K. Nagrani as a FABULOSO Father's Day gift, but deadlines trapped us. So, we just didn't get to post it before Sunday, in time for Dad's big day. Shame on us. But, we also think that these socks -- in cotton and nylon blends, made in Italy and Peru -- are the cat's pajamas, so they're good any time, any holiday, any celebration.

Nagrani, whose company is called Ovadaût, has a sense of humor, not only with his lively designs and vibrant patterns, but also with the company's name. Say it a few times, out loud. Get it? Yeah, these socks are meant to go over the foot. Duh. He designs not only colorfully playful sock-canvases, but he also creates sartorial patterns that are a tad more -- shall we say? -- conservative, for that new grad who is job-hunting.

Buy 21 pairs ultimately and you'll be a member of Nagrani's "21 Club," which entitles you to test drive new models, get in early on the limited editions (they're all produced in small quantities—after all, these are socks for the elite!), and a few other perks. Available at Rothman's on Union Square, at 200 Park Ave. South at 17th St., 212-777-7400; www.rothmansny.com. Oh? The price, you ask? $35 -- not bad for what they are: very special, for very discriminating feet.
Posted on Tuesday, June 19, 2007 @ 04:14 PM | 391 replies View/Post Feedback
---
City Shopping
A few years ago, Tokens and Coins hit upon a wonderful idea, particularly for nostalgic baby boomers: jewelry and gewgaws made from old typewriter keys. As you might guess, those "margin release" and "back space" keys struck a responsive note, and since then, Tokens and Coins has greatly expanded its line to include salvaged goodies from old Scrabble sets, watch movements, Monopoly trinkets, memorabilia from subways and from baseball parks, you-name-it. Among the best sellers are cufflinks made from old fountain-pen nibs (gold-plated sterling silver), Scrabble cufflinks, and assorted key rings. We think the coolest key rings are the ones that say "Floating Shift" -- and we're sure that all these items are things that Dad will go for.  Prices range from under $50 to a few hundred dollars.

Posted on Friday, June 15, 2007 @ 12:53 PM | 1 reply View/Post Feedback
---
City Shopping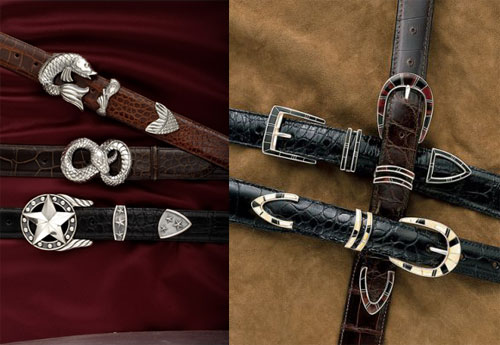 A month or so ago, we sang the praises of the J.W. Cooper jewelry emporium at the Shops at the Time Warner Center, when we were touting the one-of-a-kind charm -- not bracelets but necklaces, for Mother's Day. Now it's Dad's turn. (We'll try to give you some suggestions each day this week.) Cooper has actually built its reputation on its huge variety of fine sterling belt buckles and belt findings/buckle sets, all hand-crafted and unique. Each is virtually a "trophy buckle" of classic or contemporary design. There are themed buckles that will celebrate Dad's favorite sport, hobby, or pastime -- and there are literally hundreds of choices priced from a few hundred dollars up to the thousands. And lest we forget, the buckles come on belts, too, and the Cooper staff will help you select from a wide array of skins -- from the exotic to the exclusive to the exceptional. Cooper also has belts in just about every size -- up to size 50 -- for the fat-cat Dad whose workout is in the boardroom, not on the bench press.

Posted on Wednesday, June 13, 2007 @ 12:14 PM | 455 replies View/Post Feedback
---
City Shopping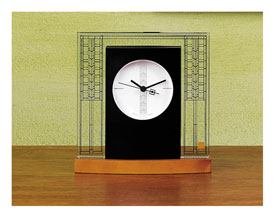 Dad has given us so much of his time over the years, so for Father's Day, why not give some time back to him? We think that this desk clock from the Metropolitan Museum of Art is the perfect way to capture time and share it with dear ol' pop. It's adapted from a 1905 art glass window by Frank Lloyd Wright, which was created for the living room of the W.A. Glassner House in Glencoe, Illinois. The $65 clock is constructed from a mineral glass panel and a solid wood base with a light cherry stain. (Measures 6 1/4" in height, 6 1/4" in width, and 2" in depth.) Available at the Metropolitan Museum of Art bookstores (800-662-3397) or online (www.metmuseum.org/store). Watch as tempus fugit with this gift!

Posted on Tuesday, June 12, 2007 @ 10:00 AM | 0 replies Start the Discussion
---
City Shopping
With Father's Day approaching, time to start thinking about dear old dad…and truth is, there are traditional gifts and then there are wacky ones. But one of the most popular gifts is alcohol, to stock up the bar, and perhaps to offer something that Dad might not splurge on for himself.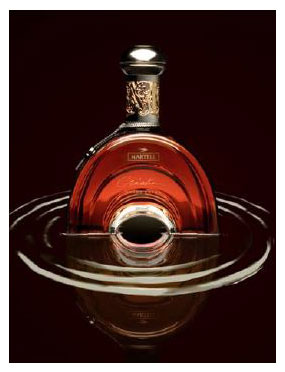 So, if you are going to break the bank, then break it with Martell's most dee-lish and dee-vine cognac, Creation Grand Extra, which is a reinterpretation of the Martell Extra that was first conceived two centuries ago. This is the smoothest, most mellow cognac you can imagine, with a delicate nose and an extraordinary finish -- like drinking a cloud. Sheer velvet. The color alone should tell you it is magical; it's blended from cognacs ranging in age from 50- to 100-years-old. It comes in a stunning, arc-shaped, semi-circle, crystal-looking bottle, at $299 for 750 ml. This will assuredly tell dad that he's the number one in your book.



For those dads who fancy vodka, Stolichnaya's elit vodka is the ticket. It's made with a century-old recipe, in the time-honored Russian tradition (and made in Russia): distilled four times, mixed with pure spring water, and then filtered using a patented freeze, a nifty process that causes the contents inside of the barrel to ice up, leaving only the best and most delectable vodka unfrozen in the center -- and that ultimately serves up unprecedented clarity and smoothness. This is for the true vodka connoisseur. It's $75 a bottle for 750 ml.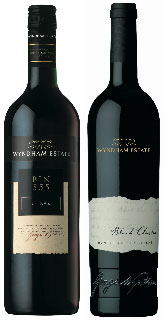 Last, and assuredly not least, are the prestige wines from Wyndham Estate, Australia's oldest continuously operating winery, and originally family-owned and -operated. An émigré from the U.K., George Wyndham first planted vines in 1828 and today the vineyard is home to countless award-winning wines, although the vintner is perhaps best known for its shiraz -- and for an extensive variety of shiraz, from a modest $9.99 for the BIN 555 (which won a Critic's Award at the Critics Challenge International Wine Competition) to the award-winning Black Cluster at $35.99. The company also produces ultra-premium Pinot Noir, Merlot, and Chardonnay, among others.

If want to spring for a really special gift, you can take dear old dad to Australia to tour Wyndham Estate; the tour features a visit to the historic cellars, open fermenters, and a 100-year-old operational basket press, ensuring that guests enjoy the traditional winery experience. There is also a 400-seat restaurant where tasting and sipping are definitely encouraged; the grounds further include a stunning natural amphitheatre that plays host to a number of musical and theatrical events. Overlooking the winery from a picturesque hill is Dalwood House, the original home of George Wyndham, which has been deemed a National Trust treasure.

Posted on Monday, June 11, 2007 @ 04:02 PM | 0 replies Start the Discussion
---
City Shopping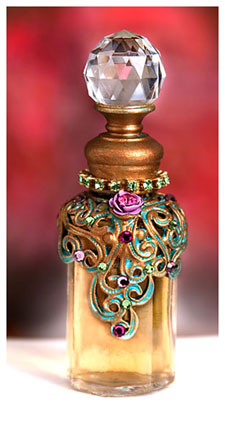 If you like fresh and romantic floral fragrances, then Summersent is for you. We know that it's certainly for us. The heady, intoxicating fragrance is a blend of Italian jasmine, Moroccan orange blossom, cassis flower, and something called genet, not to mention some other mysterious blossoms. We're not sure what the entire mixture is, but whatever it is, it's so dee-vine that we are going to splurge and get some. And, we also love that it comes in bottles that are daintily embellished with Swarovski crystals, all hand-applied. (Don't think Liberace, think Harry Winston.) The parfum is available in a diminutive flaçon, in a very elegant shape, and is $150 for .3 fluid ounces; the eau de parfum is presented in a taller, more slender vial, and is $90 for 2 fluid ounces. There is also a brand-new body crème, selling for $80 for 4 ounces, and that, too, is capped with Swarovski crystals. It's available at Takashimaya, 693 Fifth Ave. btw. 54th & 55th Sts., 212-350-0100 and 800-753-2038.
Posted on Wednesday, June 06, 2007 @ 03:13 PM | 43 replies View/Post Feedback
---
City Shopping
Yesterday's deluge reminded us that we had totally forgotten to complete our April umbrella cycle! That is to say, when the April showers started coming, we suggested picking up the mini-est of mini-umbrellas, Totes' itsy-bitsy six-incher. But we had other umbrellas to share -- not tiny and not inexpensive, but VERY cool and very special. We snagged a picture or two of the ones we are eager to put over our head on a rainy day (or any day). But then again, our better judgment tells us that even when we become the proud owner of one of these rhinestone-encrusted brollies (just waiting to win the lottery, you see), to never take it out for a stroll, because we are sure to leave it in a cab, at the dentist's, or in somebody's office. And we'd just shoot ourselves. Because not only are these umbrellas, from an Italian company called Pasotti, singular and charming and stunning, but they're also pretty $$$ up there. Some are $450. Yeah. Hang on to your rain hat.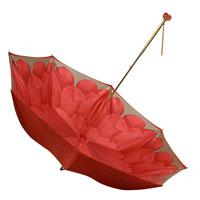 But the ones with the ombréed scattering or deliberate pattern of rhinestones are breathtaking. And they're all lined in different color fabric, too…so it's like having two umbrellas for the price of one. (Well, not really. That's just a rationalization, since you really can't turn them inside out!) But, on the plus side, the handles are special and jewel-like. As you can readily see, we are trying our damnedest to talk ourselves into running out right now and getting the hot pink one with all the rhinestones, sort of strewn over the surface. We're not saying "Rain, rain, go away," but we are hoping it never rains again, so we won't feel "deprived" when next we open up our plain black brolly (probably this afternoon) and feel like a have-not. (Oh, are we sounding like Paris now? Do you think she had to leave one behind when she entered the Big House?)

You can see a huge chunk of the Pasotti line at BrellaBar (www.brellabar.com) and can even shop online. (We've even spotted some Pasotti umbrellas on eBay!) Otherwise, it's a trip to 1043 Third Ave. btw. 61st & 62nd Sts., 212-813-9530. Bring a charge card, for sure, and be prepared for umbrella madness.

Posted on Tuesday, June 05, 2007 @ 02:01 PM | 0 replies Start the Discussion
---
City Shopping
Two years ago, we hit the proverbial terrycloth jackpot at the Frette sample sale, paying something like $80 for a sumptuous robe that we know would sell for a few hundred bucks under normal circumstances. Not to mention all the other little "trinkets" we picked up. (Hey, you never know when you need to give a lovely house gift -- a few washcloths, divine soaps, a set of guest towels, whatever.) Starting Sunday, June 3, through next Thursday, June 7, Frette is having a great sale at Soiffer-Haskin, at 317 W. 33rd St. (just west of Eighth Ave.). Daily Sunday through Wednesday, 9am to 6:30pm, and Thursday, 9 am to 5pm. If you don't know Frette, you're in for a tactile surprise, as the goods are just sumptuous, Italy's finest. Luxurious towels, linens, bedding, and home accessories, and even delicious lounge- and sleepwear. Absolutely worth the trip. As usual, no cash, no checks; credit cards only.
Posted on Thursday, May 31, 2007 @ 11:26 PM | 215 replies View/Post Feedback
---
City Shopping
Here's another top-flight sale from Soiffer-Haskin. This time it's Christofle, that French maker and purveyor of to-die-over silver, flatware, crystal, porcelain, hollowware -- and even jewelry. All suitable for gifts. Got any June weddings popping up? Well if so, here's a great opportunity to find a fab present, at a huge savings. As we always advise: Go early, buy what you absolutely MUST have, and eyeball whatever else you want...then return the last day, and pray that those items are still there, 'cause if they are, chances are they will marked down further. You know the deal: Credit cards only, no kids, no strollers. 317 W. 33rd St. (just west of Eighth Ave.); Wednesday and Thursday, May 30th and 31st, from 9am to 6:30pm. and Friday, June 1st, 9am to 5pm.
Posted on Tuesday, May 29, 2007 @ 01:48 PM | 4945 replies View/Post Feedback
---
City Shopping
Malo is one of Italy's finest cashmere producers, and along with Brunello Cucinelli, among our favorites. (O.K., yes, we admit, and we put it into print a week or so ago, we still lust after that TSE pullover that got away from us 18 years ago.)  But there is almost nothing in the Malo line we'd turn down. So that's why we're thrilled there's a Malo sample sale, starting Sunday, with goods for men and women -- mostly cashmere, but some silks, too. It's another Soiffer-Haskin sale, taking place at the company's site, 317 W. 33rd St., just west of Eighth Ave. It goes from Sunday through Wednesday, the 20th through the 23rd, from 9am to 6:30pm daily, except the last day, Wednesday, when it closes at 5pm. You know the drill by now: NO cash, NO checks, just credit cards. NO KIDS, NO STROLLERS.   

Posted on Friday, May 18, 2007 @ 03:45 PM | 5101 replies View/Post Feedback
---
City Shopping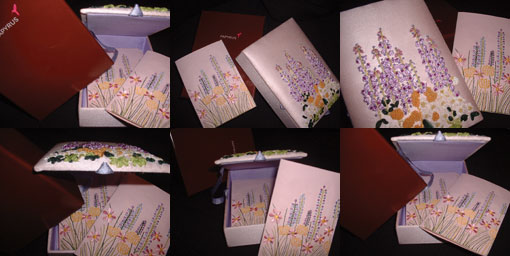 We have previously sung the praises of the local Papyrus stores, which keep sprouting up, everywhere in the city, it seems. We spot a new one every time we alight from the subway and stare at a street corner, figuring out which way to walk. And lauding the shops' merchandisers once again -- just in time for Mother's Day -- is actually in order. Yes, there are pretty picture frames, exquisite and diverse journals, bath and spa products, and even books Mom might like (on Audrey Hepburn, Chanel, and other iconic women), but once again, we have to say our favorite Papyrus things are the paper goods -- the stationery collections, the bags, the wrappings, the cards, the trinkets. Never have so few done so much with, and for, paper.

We spotted several stationery collections that would make lovely gifts, packaged in re-usable silky boxes, just oozing trimmings of one form or another -- embroidery, beads, opulent embellishments. And inside each is a set of handsome note cards, and maybe even a pen. Look for the celadon-green collection with tons of beads in forms that resemble a Chinese-inspired floral fantasy garden (around $40) or the silky, pale-lavender box, heavily embroidered with seasonal blossoms, containing six elegantly embroidered (yes, embroidered on handmade paper) note cards in the palest of pinks (around $30). The shops' assortment of cards is all-encompassing -- for the hip mom, the grandmom, the steadfast mom, the friend who acts like a mom -- whether you want to make a funny statement or hit a heartfelt, Hallmark-y kinda' note.

You will not go wrong with anything from the Papyrus shops. Surely, all the Papyrus people have mothers they want to please and they stocked the store with all the things that they'd buy for them! 

Posted on Friday, May 11, 2007 @ 04:03 PM | 255 replies View/Post Feedback
---
City Shopping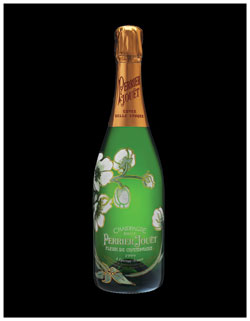 Regardless of what you are buying for mom, or where you are taking her to celebrate her special day on Sunday, pop the cork first on a bottle of the newest prestige vintage from Perrier-Jouët, its 1999 Fleur de Champagne. This prestige cuvée is blended exclusively in years that are marked by perfect weather conditions and a flawless harvest season. Since the 1964 vintage (which was released in 1969), only 17 subsequent vintages have been deemed worthy successors for the brand's standard. This new vintage benefited from near-perfect harvest conditions in 1999: a cold but frostless winter followed by a moderate spring season, a warm and sunny summer, and capped off by a cool August, culminating in a flawless weather trifecta. Et voilà! The resulting Chardonnay wines are delicate, with heady, fruity aromas, while the Pinot Noir wines are light, bright, and fruit-driven. The resulting Fleur de Champagne is an elegant signature blend from Perrier-Jouët, and of course, delivered in the classic green, anemone-covered bottle.

It is one of the most delicious Champagnes you'll taste and certainly perfect for Mom. It has a crisp and clean taste on the palate, with the slightest hint of almond and nougat, and a very long finish. Inhale its intoxicating scent and you'll find that there are notes of white flowers (think gardenias and paper narcissus), a touch of honey, and a mind suggestion of a toasty brioche. It is just heavenly. The 1999 Fleur de Champagne retails for $125, and as the L'Oreal commercials suggest, your mom is worth it. 
Posted on Thursday, May 10, 2007 @ 02:00 PM | 0 replies Start the Discussion
---
City Shopping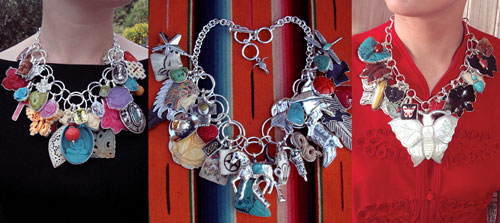 J. W. Cooper, one of the Shops at the Time Warner Center (10 Columbus Circle, 59th St. & Broadway), is well known for its extraordinary sterling silver belt buckles and Southwestern jewelry. Among its stunning fare, however, is a little-known item: The amazing sterling necklaces of Corinne Cordova, a jewelry designer who made herself a charm-laden necklace some years ago and suddenly found she was getting requests from friends. These show-stopping necklaces are now custom-crafted for Cooper customers, made to order with the exact sorts of charms you'd use to express yourself -- or honor mom, in this case. Cordova has the charms made mostly in Mexico, but also in far-flung corners of the world, like Tibet, China, Japan, Africa, and India. The shop keeps a supply of necklaces in stock that are themed around some popular motifs, Cordova's most requested subjects -- like "Lucky in Love," (which features a Queen of Hearts, an elephant with an upturned trunk, the key to your heart, a horseshoe, a four-leaf clover, and so on), and "Way Out West," which is chockablock with Southwestern-themed charms. If you want your necklace totally custom-built for you, you just tell the staff that you want farm animals, or gardening-oriented charms, or travel, or whatever....

A necklace with three charms is about $250; fuller necklaces range in price from $2,000 to $3,000.
Posted on Wednesday, May 09, 2007 @ 10:44 AM | 0 replies Start the Discussion
---
City Shopping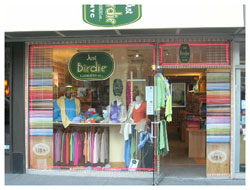 Just about the time last month that we were telling you about that "sneaky" Loehmann's opening on Broadway and 73rd Street, another stealthy retail debut occurred nearby, one that we have been meaning to write up and share with you. The shop is called Just Birdie, with homage paid to golfers (as its name implies), but its merch is not solely for duffers at all; "civilians" will find the stock alluring enough (and prices compelling enough) to make this shop a destination. And indeed, it's a darling, jewel-box-size store with wonderful cashmere-and-silk-blend sweaters, all of which would look very spiffy on the golf course. (The exterior of the shop is decorated with little vignettes picturing St. Andrews, and plaid seems to be the major design element on the interior -- so Scotland and golf are definitely part of the company's inspiration.)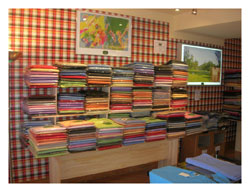 Started in France in 1996, the company has five stores in Europe and the one here at 2047 Broadway btw. 70th & 71st Sts. is the first in the U.S. There are well-priced styles for both sexes, and classics include turtle-, crew-, boat-, and V-necks, zip fronts and traditional cardigans, polos, T-shirt styles, and much, much more. Prices range from $89 to $165 for men, and from $79 to $165 for women, but there are accessories, wraps, and scarves in the store that are lower-priced. There are nearly three-dozen rich colors in the company?s yarn palette, ranging from delicate violet to deep russet.  

And just in time for Mother's Day, the shop is offering 10% off your purchases (if you mention that you read about it here), and considering that these are such well-priced sweaters to begin with, it?s a steal. So, forget scoring a birdie -- the shop is a hole-in-one!  
Posted on Monday, May 07, 2007 @ 01:16 PM | 248 replies View/Post Feedback
---
City Shopping
For Proust it was it was the petite madeleine, for us it was a blush-pink, exquisitely simple yet lavishly knit TSE cashmere sweater. It was showcased, front and center, on a table with its confreres (maybe we should say consœurs, since it was such a feminine sweater, but we're sure that is a word that exists in our mind's eye only). At any rate, it was showcased on a lovely merchandise table in the old Bendel's on West 57th Street. We can still remember walking into the shop and seeing it straight ahead of us, that luminous pink yarn beckoning. The detailing, the intricate basket-weave knit on the entire upper part of the garment (and not just on the front side -- always a sign of a cheap manufacturer, cutting corners).  That rich basket-weave gave way to an equally intricate horizontal knit of some type around what was the hip area, for this was an extra long, snuggly sweater. It was a work of pullover art. And in 1989 or 1990, at $300, it was an unaffordable work of art. We used to go by Bendel's constantly, watching it, caressing it, waiting for a sale. And we wondered, who is this TSE company, and why had we never heard of these fantastic designers before? Alas, that pink sweater remains "the one that got away," but we assure you that if we had ever snagged it, we'd still own it.  Heck, we still have an Irish fisherman's sweater mom bought for like $7 in 1902. Good quality wins out and lasts.

So, all that is a prelude to telling you that TSE -- very much a known quantity now, some 18 years later -- is having a sample sale starting Sunday the 6th. Do not miss it, or you'll have stories to tell the grandchildren about the sweater that got away…

The sale runs through Thursday, May 10th, 9am to 6:30pm daily, at Soiffer-Haskin, 317 W. 33rd St., just west of Eighth Ave. Cash and credit cards only, and if you're a regular reader, then you know already, no tots, no strollers. Expect discounts to be as hefty as 80% off retail. 

Do not miss this sale, as there will be goods for women, men, babies, home, and not just in the company's signature cashmere, but also in cotton and fine wool. We will be there, still thinking about that beauteous sorbet-colored sweater. 
 
Posted on Friday, May 04, 2007 @ 03:57 PM | 46 replies View/Post Feedback
---
City Shopping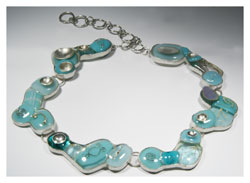 The teachers from the design and art/craft departments at the Jewish Community Center on the Upper West Side are holding a sale of their works next week, just in time for Mother's Day. It will take place in the lobby of the JCC building on May 8 and 9, Tuesday from 11am to 8pm and Wednesday from 11am to 6pm. We've written up the instructors' December holiday sale before, and know from first-hand experience that they showcase beautiful goods for reasonable prices (ranging from $15 to $500). You'll find handmade jewelry (gold, silver, glass, and beaded bijoux), ceramics, scarves, pillows, and much more. Shown here is a handmade, one-of-a-kind, show-stopping necklace from artist Melissa Terman. If you're on the Upper West Side those days, stop in, as you will not be disappointed…and hopefully, your mom will not be, either!  The JCC is located at 334 Amsterdam Ave. at 76 St.  (Cash, checks, and credit cards accepted.)  

Posted on Wednesday, May 02, 2007 @ 12:27 PM | 2 replies View/Post Feedback
---
City Shopping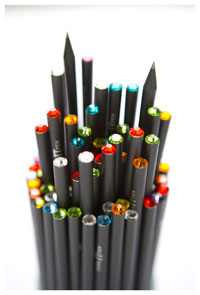 Twelve more shopping days 'til Mom's special day. Have you made a list, checked it twice? Oh, dear, that's the wrong holiday. But actually, it's not, as we are eager to get you to write something...and to use that instrument as a jumping-off point for a gift for mom. Russell + Hazel has just come out with (they're so new, you'll be able to get them ONLY at the Web site, www.russellandhazel.com, but soon, they'll be in stores) the world's most magnificent pencils. Sleek matte black, they're crowned with a brilliant, luminous Swarovksi crystal. Oh, O.K., we know: "Hasn't' the world seen enough Swarovski crystals?" you're sneering. But no, it's never enough…and you've not seen them like this, anyhow. Besides, we really love sparkly things (we wouldn't turn down a tiara, you know) and we're sure your mom will just adore these sparkly things, too. Big deal -- so you can't get her the Kohinoor Diamond, or the Hope, but get her a basket of these beauties. And, by the way, they're not that cheap, either; she won't think you chintzed on her gift. Three pencils are a mighty $20, but they are ever so worth it. They come in three different colorways -- the orange-y/red group is nice, we think, but the celery/light blue group is even nicer, and then there's the orchid/pink group that is just splendid. Oh, they also come in gold!

Posted on Tuesday, May 01, 2007 @ 01:56 PM | 0 replies Start the Discussion
---
Subscribe to this Blog's
Feed