City Shopping - Handbags & Totes Blogs
Back to Blog... | View More Bloggers...

About the Author: About the Author: Ruth J. Katz is a well-known shopping and service writer based in New York City. She has written about shopping for 25 years for New York magazine; covered the topic on-air at Fox-TV for several years as the Home Services expert; and had her own show on both the USA and Lifetime Cable networks. Katz wrote extensively for The New York Times as well, and contributed periodically to the New York Daily News. She is a passionate shopper, always looking for not merely a good buy, but the best buy, ferreting out a "steal" or discovering up-and-coming designers. She has written five books and is a former contributing editor to Hearst's Redbook, Classic Home, and Colonial Homes; she is currently a Contributing Editor of New York Home, Golf Connoisseur, The Modern Estate, and Promenade magazines. She is also the former Shopping Director for Davler Media's Manhattan Living.


---
City Shopping
It's travel season, officially, what with Memorial Day-the unofficial beginning of summer-upon us. And, darn, if it isn't inconvenient to start meting out three-ounce "servings" of all your vital and favorite cosmetics and toiletries to stick into plastic bottles, all of which then have to be stuffed into a ridiculously small plastic bag. Well, forget it. We just check our l
uggage these days, despite the nasty luggage fee. One royal pain, indeed.
However, if you want to travel in style, with the most gorgeous "train" case (yeah, these train cases know how to travel in plane luggage holds, too!) loaded to the brim with travel-size lotions and potions, then treat yourself to the Luxe Travel Cases from Minimus , a Web retailer which specializes in all things travel-size...and we mean all things! If it's something you want to take on the road with you, they've got it in miniature. Single-servings of things you do not want to buy in bulk; or oddball, travel accessories of medicines; or European cosmetics, or whatever.
For the lady-like jet-setter, there is a stunning, cream- and luggage-colored "Tuscan" train case by Bric's, makers of fine-quality valises and totes, all crafted in Italy-artistry, quality, and craftsmanship are inherent in these bags. The little valise is loaded up with 52 (yes, really) travel-size, beauty-regime products, and includes things like: Badger Headache Soother in peppermint and lavender; Evian Facial Spray (this is one of my favorites and I take it on every plane trip!); H2O+ Lip Mender; Philip B Chocolate Milk Body Wash & Bubble Bath (yummy, yummy); Nexxus Mousse Plus...and way more. The entire case and contents retails for $895, which is probably more than your plane ticket costs.
For those with a Y chromosome, there is a slightly smaller cache of goodies, 43 items, and they include high-end luxury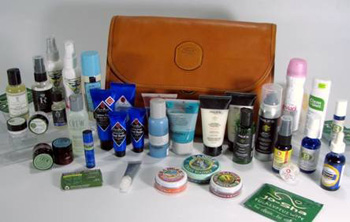 brands, and hard-to-find items, including things like: Dr. Singha's Travel Tonic Herbal Supplement; E-shave Pre-Shave Oil in a lavender scent; Jack Black Oil-Free Sweat Resistant Sun Guard SPF 30+; Badger Sore Muscle Rub (now, we're talking-who doesn't get absolutely trashed on long flights?); Brittanie's Thyme Organic Insect Repellent. It's all packed very handsomely in a tobacco-toned Bric's Italian "Life Pelle Necessaire" tri-fold toiletry bag for $549.
Posted on Tuesday, May 25, 2010 @ 02:04 PM | 4 replies View/Post Feedback
---
City Shopping
If you are having a lazy Martin Luther King Day here is quickie errand you can run, while hopefully, not running up too large a bill on your charge card:  Yes, it's another Soiffer Haskin sale.  Today, tomorrow (Tuesday), and Wednesday (the last day).  Stuart Weitzman (one of our favorite shoe manufacturers (because, yes, we wear a size 10.5 and nobody makes that size, but we can always find something at Weitzman that fits just right and is stylish, too).  And Krizia, too.  And we don't need to embellish about Krizia, do we? 
So, here's the usual deal: Soiffer Haskin, 317 West 33rd Street, just west of 8th Avenue; credit cards only; all sales final; strollers not allowed; no children under 12 will be admitted. 
So, go out and get yourself some shoes!
Posted on Monday, January 21, 2008 @ 01:33 PM | 3812 replies View/Post Feedback
---
City Shopping
We're not sure just what this sale is promising today, but we're going to check it out later and we'll report from the front.  It's allegedly supposed to have Gucci and Pucci…and Chanel and Hermès.  We shall see just how much of each of these houses it actually has for sale…and for how much off.  The material sent to us by our friends at Lazar Media says that there will be clothing and accessories at 75% off.  Stay tuned for tonight's report.  But in the meantime, here is what you need to know:  It's today and tomorrow, at the Shoreham Hotel, 33 West 55th Street (between Fifth and Sixth Avenues), Ground Floor; from 10 a.m. to 7 p.m.....credit cards accepted.
Posted on Wednesday, September 26, 2007 @ 01:14 PM | 184 replies View/Post Feedback
---
City Shopping
Celine, the French maker of fine quality small leather goods, as well as handbags, shoes, and tailored, tasteful accessories, is ending a sample sale today…and if only we'd had the two seconds to post it yesterday.  But, you have until 3 p.m. tomorrow, Thursday to make it there, to get yourself to the company's offices (at 19 East 57th St., 8th floor, 212-931-2120), to take advantage of the huge savings on the luxury goods.  Bring ID to get into the building and a credit card to pay for your bounty. 
Posted on Thursday, August 02, 2007 @ 10:33 AM | 271 replies View/Post Feedback
---
City Shopping
Maybe you lusted after the Chanel "Naked" bag, but just didn't want to spend $895. Maybe you bought one of Target's two-in-one bags, with the clear outer tote and the cotton, printed-floral inner tote, for a remarkable le $10.49. Regardless, you cannot have escaped the trend this season for clear, clear, clear plastic, vinyl, PVC, whatever. They are everywhere...and we really love them. Coach has a beauty, too…but the two we think are the best (the Chanel one is just too small, anyhow, so who needs it?), are from Furla and the Metropolitan Museum of Art (yeah, really).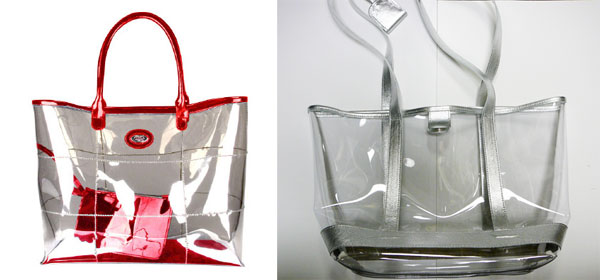 The Furla bag, called "May" (left), comes with leather trim in a few colors -- and here it is with red patent leather trim and a matching little change purse tethered to the bag. It's roomy, chic, fun, and very of-the-moment. ($260; www.furlausa.com)
The Met's version (style number 15-00637-2, for $195) is also very roomy with sturdy, wide handles in silver (ooh-la-la) or brown leather (too utilitarian for our taste), and also very stylish. It's available at the Met's Great Hall Luxury Boutique or by calling 212-570-3894.
Posted on Thursday, May 24, 2007 @ 04:20 PM | 2 replies View/Post Feedback
---
City Shopping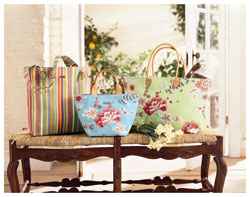 Despite last week's hail storm (beware the Ice of March!), the nip in the air today, and the slush puddles at every curb, it's Spring. At least that's what the calendar proclaims. We know it's a paltry offering, but we hope you can take some cold comfort in reading about springy stuff for the next day or so, as we share fleurs and printemps.

When we think of Pierre Deux, we think of those signature textiles, evocative of the French countryside. They have a distinctive feel, colors, and motifs and are instantly identifiable. They bear names like Avignonet, Indianaire, and Maianenco. No sooner do we conjure up those fabrics, we next think of those wonderful tote and market bags, satchels, and generous duffels, all made with those fabrics, and for which Pierre Deux is well known.

Newest to the Deux famille of fabric and bags are the Pauline bucket bags, bedecked with an oversize, uncharacteristically large floral print against a calming azure or pistachio background. We love the sturdy leather handles, the perfect sizes (priced at $78 and $120), the compartments. (On the left in our shot is another style in bold stripes, dubbed a "beach bag.") Grab them while they are in stock, as they were manufactured in limited editions and could be gone by the time you start to book your first jaunt on the Jitney. 625 Madison Ave., 212-521-8012; www.pierredeux.com
Posted on Wednesday, March 21, 2007 @ 02:53 PM | 0 replies Start the Discussion
---
Subscribe to this Blog's
Feed