City Shopping - Beauty: Medical Blogs
Back to Blog... | View More Bloggers...

About the Author: About the Author: Ruth J. Katz is a well-known shopping and service writer based in New York City. She has written about shopping for 25 years for New York magazine; covered the topic on-air at Fox-TV for several years as the Home Services expert; and had her own show on both the USA and Lifetime Cable networks. Katz wrote extensively for The New York Times as well, and contributed periodically to the New York Daily News. She is a passionate shopper, always looking for not merely a good buy, but the best buy, ferreting out a "steal" or discovering up-and-coming designers. She has written five books and is a former contributing editor to Hearst's Redbook, Classic Home, and Colonial Homes; she is currently a Contributing Editor of New York Home, Golf Connoisseur, The Modern Estate, and Promenade magazines. She is also the former Shopping Director for Davler Media's Manhattan Living.


---
City Shopping
I have written about Wahl products before, but maybe in at least one instance I ought to say "we" have written about the company previously since it was four-legged, furry Austin Katz who was doing the guest-blogging at least once when Wahl was the subject of a story. He extolled the virtues of Wahl's doggie-grooming tools. And now it's time for mom to praise Wahl's people products — the massagers and hot-cold packs for aching muscles that have saved my life recently.

Having survived two surgeries (both "structural," as I call them — shoulder and a new knee), I have nursed myself through months of physical therapy, iced irritated muscles, heated aching joints, elevated sore feet, and massaged throbbing trouble spots. I have every conceivable gizmo my physical therapist has recommended, but I recently added to the collection, incorporating a few products from Wahl that are unparalleled for my wellness program.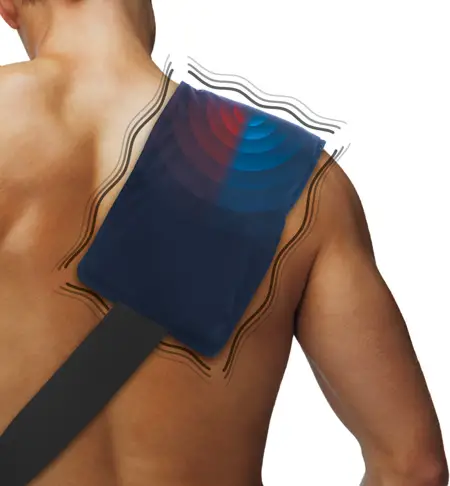 The first is the Hot-Cold Massaging Gel Pack. (Sure beats the cold-only bag of peas in the freezer, an old physical therapy trick.) This is terrific product for pain management, and it's a little surprising that Wahl, the company that invented the first electric massager nearly 100 years ago, took this long to combine the therapies of heat and cold with a massaging gadget. Notes Jenny McLaughlin, the product manager for Wahl's massager division: "People in pain use heating pads, hot/cold packs, and massage separately because there has never been one product incorporating them all." Well, now there is. It's so obvious, why didn't I think of this? And it's ideally suited for my knee...wraps around it just perfectly. And at a mere $24.99, it's a steal.

The benefits of heat and massage are known to include increased circulation which promotes healing and brings relief to sore muscles. Cold therapy is designed to restrict blood flow to a spot to reduce swelling and inflammation; for treatments such as joint pain and soreness of the extremities, light massage plus cold therapy can help speed up the recovery. And this product can deliver just that. You can pop this into the freezer or microwave and the gel pack holds its temperature for up to 30 minutes. The Velcro straps keep it in place handily. And having a little massager right in a pocket in the wrap is sheer genius!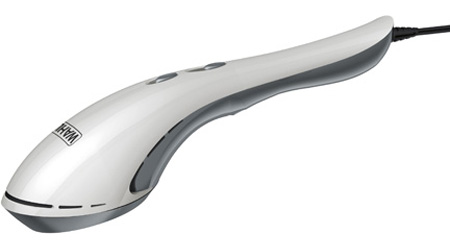 Speaking of hot and cold therapy brings me to another Wahl product, the Hot and Cold Therapy Massager, which is a corded massaging device that features a large flat surface, which is perfect for the lateral side of my knee, where tightness still lingers. The temperature plate is large and, therefore, it covers a lot of surface on the side of my knee, where there is still nerve damage, so anything I can do there to stimulate activity is welcome. It has four interchangeable plates, although I find the flat plate works the best for my purposes, and I think in general, this is ideal for swollen muscles, poor circulation (which is inherent in the knee, as you need to drive nutrition to the joint and get the synovial fluid into that tight space), and for general pain. This is a an invaluable tool for the days I have spent on my feet at the Javits Center, say, walking 6 hours at the Gift Show. (Approx. $69.99)

Lastly, for my shoulder, I needed something with a very focused nozzle, or pointed energy, so I could dig it into my shoulder, where the tear was and where there is still sensitivity and tenderness. Deep pressure and massage work best here. The Personal Therapeutic Massager ($18.95), which features a flexible neck (and is battery-operated) was the answer to my prayers here. The flexibility of the neck allows me to really press it into the hard-to-reach interstitial space in my shoulder, to focus on the tender spot that needs the massaging. It comes with a travel case, as well, and a few other additional attachments.

You can find all these products online at the Wahl store here.
Posted on Tuesday, September 17, 2013 @ 10:04 AM | 0 replies Start the Discussion
---
City Shopping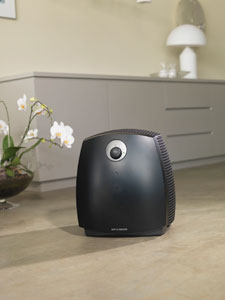 If you are sneezing your brains out, as the saying goes, because of allergies in this season of big-time, high-count pollen, then do as I do: I had already put away my two-in-one humidifier and air purifier, because all winter long I usually just think of it as a humidifier, only because that is my main need—the radiators in my apartment are so fiercely hot and give off such drying heat, that I need to put as much moisture in the air as possible.
But, in truth, the Air-o-Swiss is just as much an air purifier, and when I started sneezing from allergies as winter turned to spring, and now, as spring has turned to summer, I realized that it was time to get the appliance out of the closet, and impress it into service.
The Air-o-Swiss "machine" that I swear by is model #2055A Air Washer, which offers a highly effective humidifying system and which operates without evaporator wicks or filters, and without anything other than a fascinating system of discs that turn and cleanse the water. (Think of the water wheels on a paddle boat.) This action removes impurities from the air in a natural, simple fashion. (Trust me, seeing is believing.) You never need to deal with replacement filters or that really laborious cleansing process.
The water tank has a transparent window, so you can see just how much is in it, and when the water gets low (when this 2-in-1 machine senses that there is no water left in the water base, it shuts off. The interesting thing is that you never see a mist emanating from the machine, as you do with a steam system or ultrasonic humidifier. However, I can attest to the fact that it delivers moist and purified air…and since I set it up again, I've scarcely sneezed.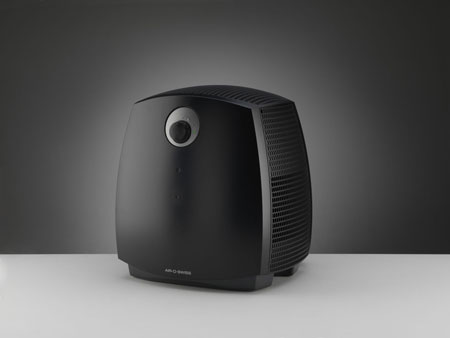 You can also sprinkle a cotton ball with a fragrance or essential oil and place it in an internal specifically designed container; this will allow the machine to scent the air at the same time it humidifies and purifies. The Air-o-Swiss air washer is ideally suited for rooms that are up to about 600 square feet in volume. It's also decent-looking, kinda' box-like, and is available, as Henry Ford supposedly quipped, in black, black, or black.
Since most stores have stopped selling humidifiers and have put them into storage, go directly to the manufacturer's Web site at www.airoswiss.net and grab one—you'll use it all year long. The suggested retail is $329.99, and it's worth every dime.
Posted on Monday, June 25, 2012 @ 10:01 AM | 0 replies Start the Discussion
---
City Shopping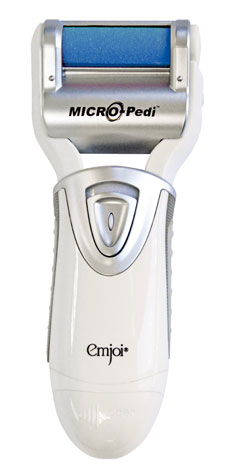 Last week, I touted the Panasonic Facial Steamer, and now, we are skipping from the face, all the way down to the feet. A few months ago, I discovered a wonderful new gizmo for removing rough, hard calluses and keeping feet soft and pink. I've been using it ever since -- perhaps using it more aggressively than most consumers, 'cause I think I wore out a roller in six weeks! The Emjoi Micro-Pedi is a little machine that looks like a little shaver -- well, sort of. And where the shaver would have its heads, the Micro-Pedi has an abrasive roller made of microscopic mineral particles that zooms around and "files" or buffs off calluses painlessly, easily, and quickly. It's a miracle device -- honest and true -- that is both gentle and highly effective. No more abrasive pumice stones, no more slicing with a cutting tool (always a dangerous proposition -- I cannot tell you how many times I have cut myself!), no more metal files that look like cheese graters.
Believe me, my best friend and I are always looking for stuff to keep our feet soft and callus-free. I will spare you the litany of all the apparati and emulsions we've bought and tested. BUT, nothing comes close to the Emjoi Micro-Pedi: It will get off hardened calluses in no time flat, and it's easy to use -- it has a nice ergonomic handle, and it's a snap to clean. The roller spins at an astonishing 30 times per second!
It's so effective, you'll want to do your pedicure over a towel, to catch all the callus debris -- and if you use a dark-colored catch-all, you'll kinda gasp at the amount of detritus you remove! It operates with two AA batteries, and is conveniently portable; so much so, that I took it on a trip a few weeks ago and it's now packed for another trip. It comes with two different rollers: coarse and very coarse. The only downside to this wondrous product is that when you need to buy replacement rollers, you have to buy the set, and frankly, I'd be happy just buying the extra coarse. The machine itself is $39.95 and a pack of the replacement rollers is $19.95.
I would heartily recommend the Micro-Pedi as a fab stocking stuffer, and I guarantee it will be the hit of somebody's Christmas morning!
Posted on Wednesday, December 07, 2011 @ 10:16 AM | 0 replies Start the Discussion
---
City Shopping
As with so many things, necessity often proves to be the Mother of Invention. For Dr.'s Remedy Enriched Nail Polish, it all started with a pregnancy caveat: Dr. Adam Cirlincione's wife, Rachel, was indeed, in the family way, and she was advised to avoid hair dyes for fear of being exposed to certain chemicals. Al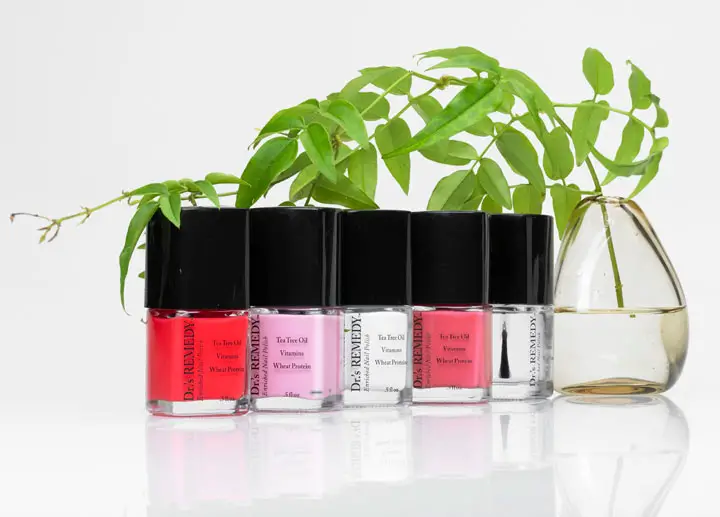 ong with that warning, came the advice to stay away from certain foods and beauty or household products which might contain harsh chemicals.
Dr. Cirlincione, a board-certified podiatrist, began to research the ingredients in commercial nail polishes and it became obvious to him that the formaldehyde, toluene (that is usually the stuff that makes the polish smell kinda' nasty), and DBP (dibutyl phthalate) regularly used in polish formulas could be both damaging to the nail, and moreover, potentially bad for one's health, not to mention a baby's health. Indeed, consumer activists, like the Campaign for Safe Cosmetics, have lobbied to persuade manufacturers to sign a Compact for Safe Cosmetics, which urges them to replace suspect chemicals with safer alternatives.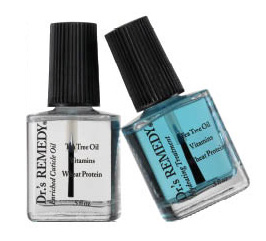 Dr. Cirlincione partnered with a colleague, Dr. William Spielfogel, and jointly, they undertook the challenge to develop polish that was free of those three "nefarious" chemicals. The result? Dr.'s Remedy. Their polishes and nail care products are free from the "big three," yes, but they are also enriched, helping to stave off the dry, brittle nails that can result from constant polish use. They have added things like tea tree oil and garlic bulb extract, which are naturally occurring anti-fungal and antibacterial agents-clearly their formulas are better for the nails. For anyone with allergies (yours truly stopped using "regular" polishes years ago, and sticks with glazes that are toluene-free), they are a godsend. And now that it is definitely pedi season-even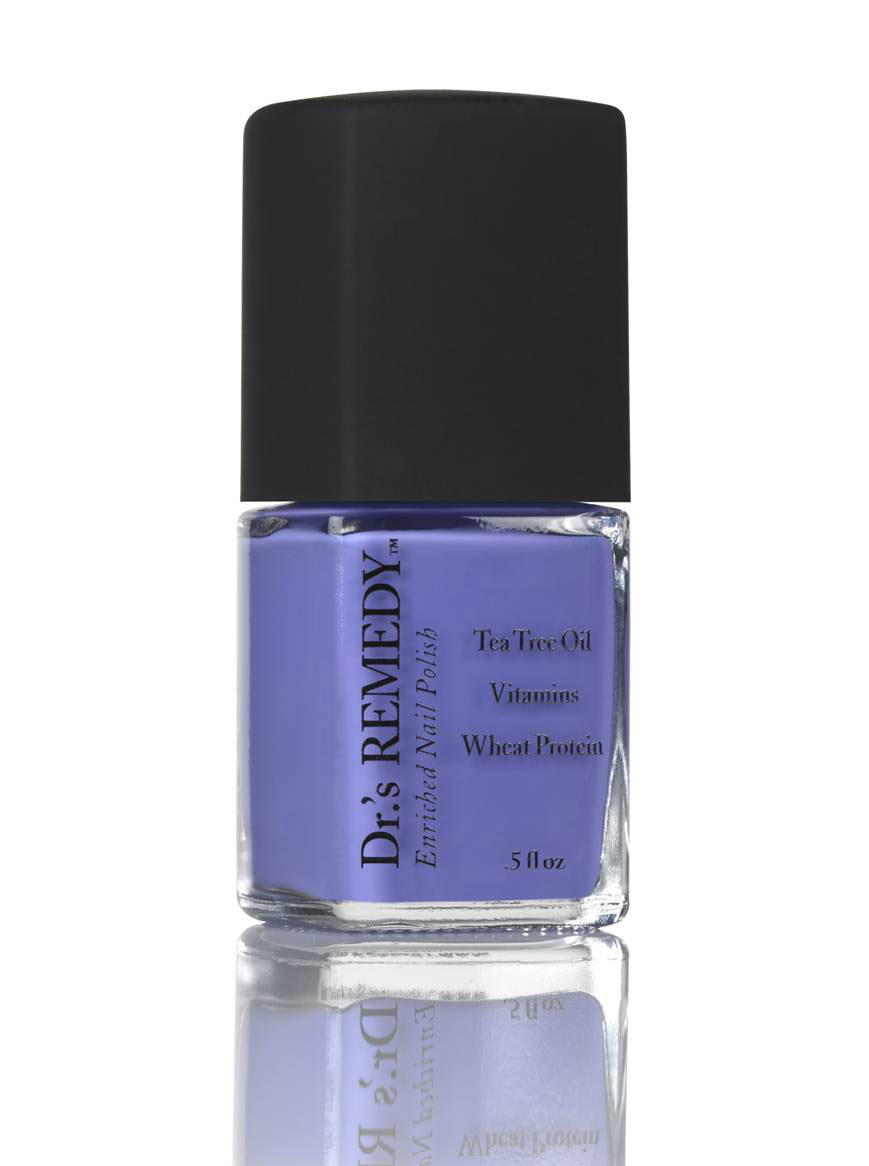 if you kept your tootsies hidden in boots all winter-it's time to bare the metatarsals and get some stylish (and safe) polish on those digits.
This past winter, Dr.'s Remedy unveiled a batch of cool colors-chic dark, wintry tones, like claret, burgundy, brick, and ruby. But for spring there is bright, flower-garden-like menu of perky poppy, subtle rose, creamy coral, peachy-pinks, and a French manicure kit. There are also nail-care products in the line-acetone-free remover, oil for cuticles, base and top coats--and the best product--a tea tree oil brush-on treatment, for helping damaged nails. The polishes are priced at $17.00 and are available at the on-line store.
© Ruth J. Katz, all rights reserved
Posted on Tuesday, May 24, 2011 @ 01:27 PM | 0 replies Start the Discussion
---
City Shopping
The International Housewares Show in Chicago, held every year in March, is a visual feast, really (not to mention an exhausting and exhaustive exploration) into all new products for hearth and home and it marks, in a sort of oblique way, the beginning of the Christmas season for retailers, i.e, because they start ordering the merchandise that they will be featuring and promoting for gifts for next Xmas. At the show last

year, I ordered a Philips Sonicare FlexCare+ sonic toothbrush ($189.99) and it has been my constant dental companion since. I cannot say that I have needed fewer cleanings/scrapings at the dentist's office, but my periodontist, dentist, and hygienist have all applauded my superlative "dental care." I even take the brush with me when I travel; it comes with a small, plastic container to house the main handle and brushes for travel, as well as with a small charger.
Now, this year at the show, a little step-sister model, for half the price, was introduced. But, first, the big sister: FlexCare+ contains some significant patented technology (according to the company) to produce a powerful, yet gentle cleaning that reaches deep between the teeth and gum line. The toothbrush can be set in many modes, with the touch of a finger, to cycle through the various applications--Clean, Gum Care, Refresh, Massage, and Sensitive--going from a light brushing to a deeper cleansing. The company says that when it is used in Gum Care Mode, its tests have indicated that it improves gum health, reduces gingival bleeding, reduces inflammation, helps prevent gum recession, and removes significantly more plaque than does a manual brush. The charger also has a UV sanitizer, which they say removes up to 99 per cent of the typical bacteria found on a brush head, in the ten-minute sanitizing cycle.
What I like the best, however, is that the brush beeps-so that you know how long you have spent brushing each area. Oral care professionals say you should brush at least 30 seconds per quadrant, for a total of 2 minutes; the beeps keep you in line. And if you don't need/want them, or find them annoying, then you can turn that feature off. I like it; it assures me I am giving each quadrant, inside and out, its 15 seconds of fame.
The little sister, SonicCare EasyClean ($89.99) has the same patented technology, just not all the bells and whistles, but does include one feature that is really invaluable: the brushes are "reminder" brushes, in that they fade in color over time to indicate when the brush head should be replaced. This brush doesn't have the sanitizer apparatus, the travel case, and so on, and doesn't cycle through the nifty applications, but for a toothbrush with advanced technology that helps you keep your teeth and gums on the straight and narrow, it's a godsend-since it cleans way more effectively than a manual toothbrush for better, long-term oral health. It will be available starting April at Bed Bath & Beyond ....and for the price, it's a lotta' bang for the buck.
Posted on Tuesday, March 15, 2011 @ 01:52 PM | 0 replies Start the Discussion
---
City Shopping
So, as "unsexy" as it is, this is the gift you should have gotten for Christmas! In fact, in the next few weeks, I'd like to show you a few things you should have received as gifts for the holidays, but most likely did not; and, actually, if anyone had put these items under your tree, you might well have beaned them (at first blush!), but after test-driving, you'd have been VERY grateful.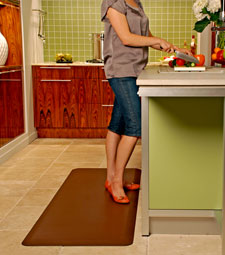 A WellnessMat is a -- well, a mat you stand on at the kitchen sink, or frankly, in any work area. Initially developed for workers who are on their feet a lot in professional settings -- in the health-care (think chiropractors) profession, beauty/salon/spa fields, hospitality industry, and the like -- the mats were created with health and comfort in mind. It didn't take long for other professionals to latch on to these mats: Think of airline personnel standing for hours behind a ticket counter, or salespeople in retail who are on their feet behind a cash register all day long. In fact, they are the mat of choice for the Department of Homeland Security and the TSA.
The use of the WellnessMat spread very quickly among pros and as the mats were adopted widely, the company decided to expand availability to the "civilian" population, so that they are now sold to consumers. And trust me, anyone who stands on his/her feet a great deal will ooh and aah with delight and surprise (as I did) when I first stepped onto a WellnessMat and felt that springiness underfoot.
The mats are built with a patented anti-fatigue technology, and according to CEO Dan Bouzide, they are proven to medically promote proper circulation and reduce fatigue; made with something the company calls Advanced Polyurethane Technology, WellnessMats' proprietary technology guarantees that these single-piece construction mats will never curl at the edges or delaminate; moreover, the mats deliver longevity and durability, resulting in WellnessMats' seven-year warranty.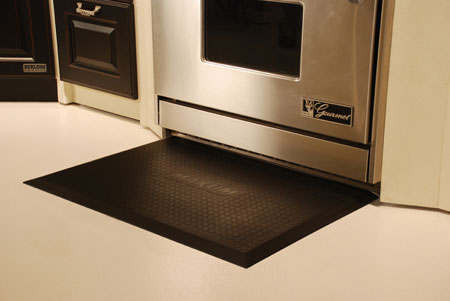 When I put one down in front of my kitchen sink, I couldn't get over the feeling of support and cushy comfort. My tired legs and bad knees felt light and rested. "Standing is believing," as the company motto states, and so it is. The mats are non-toxic and PVC-free, and are ergonomically engineered to provide maximum comfort, safety, fatigue-relief, and general well-being while you stand. They remain flat and "unrumpled" on the floor, and they stay where you put them -- and you won't trip on the mat, as it's got a beveled edge. They are also bacteria- and stain-proof, heat-resistant, and puncture-proof.
WellnessMats are ideal for the laundry room, kitchen, garage or basement workroom, home gym, potting shed, and so on. They range in price from about $125 to $300, and are available in about six colors (black and neutral earth tones), and various sizes, from 2' x 3' to 4' x 5' to 3' x 6' and now they are available in what the company calls "puzzle" mats, whereby you can latch together a few pieces to make a longer and bigger mat. In other words, there is a mat for every spot you'd want to put one in.
Posted on Sunday, January 23, 2011 @ 05:59 PM | 0 replies Start the Discussion
---
City Shopping
Some years ago, when we were covering après-summer skincare, Dr. Soren M. White , a cosmetic dermatologist and Director of Dermatologic Surgery at Metropolitan Hospital, told us, "Keep it simple in the summertime." What he meant was that summertime is not the time for peels, procedures, "facial wor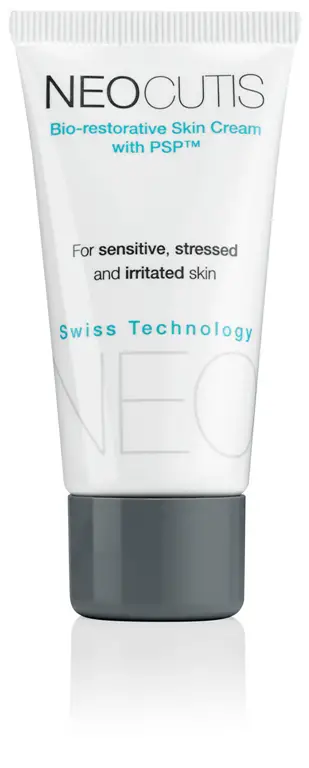 k," so to speak. He recommended for daily use-summer or winter-a strong sunblock and a product called NeoCutis, a cream developed by Swiss scientists, after years of bio-engineering research. Dr. White said it was a cream that had been developed to encourage new skin growth in burn victims. Regardless of its genesis, ever since that fateful interview, we have been addicted to NeoCutis, and now that we are getting ready for our winter beauty regimen, the NeoCutis folks have come out with more products, above and beyond the Bio-Restorative Skin Cream skincare cream that is our constant companion. (You need an amount the size of a pea to coat your entire face; $ 95.00/1.0 fl oz., and $135.00/1.69 fl. Oz.)
The official story of NeoCutis, from the horse's mouth: During years of research, physicians observed that fetal skin had a unique ability to heal without scarring and it was at the University Hospital of Lausanne, Switzerland, that scientists created a biotechnology process to extract the rich proteins responsible for scarless wound-healing fr

om cultured fetal fibroblasts; they then developed a dedicated cell bank for developing new skin treatments. The resultant products were meant for healing wounds and encouraging the skin of burn victims to recover.
However, fast forward to the present and the half dozen or so NeoCutis' products that all draw on this technology. Newest to the line and out just in time for winter is Lumière ($80.00 for .5 fl. Oz.); it's an intensive, line-smoothing eye cream with a high concentration of NeoCutis' secret ingredients. It will help smooth away telltale lines around the eyes, reduce puffiness, and remediate under-eye darkness.
Posted on Thursday, October 21, 2010 @ 12:02 PM | 0 replies Start the Discussion
---
City Shopping
Anyone who's ever heard anything about best-selling author and celebrity dermatologist Dr. Nicholas V. Perricone knows that he has based his skincare philosophy on a three-pronged approach, including an anti-inflammatory diet, supplements, and topical antioxidants. But if you're not an adherent and have no time for the regime, at least drop by the newish, posh salon and treatment center (not his office) and avail yourself of the miracle Electro-Stim Lifting Facial -- because you might just find it delivers the same result! We've had many a facial in our lifetime and have to say that this facial, at least as performed by master esthetician Estela Gilboe, is an hour-plus of sheer heaven, and the results are, well, utter magic.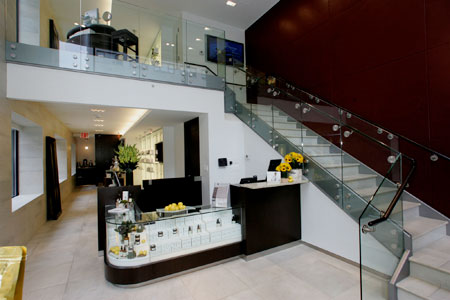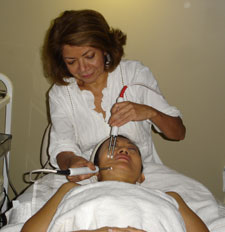 This is not your mother's facial, that's for sure. There's a cutting-edge machine involved that delivers some type of electro-stimulation technology that promises rejuvenation -- the non-invasive "facelift," if you will. The literature says it stimulates facial muscles, which in turn results in greater facial contour -- and a more youthful look, which the staff says can actually be measured by complexion analysis using VISIA technology. We don't know about all this, but what we do know is that Estela works miracles and that we saw lots of dead skin cells come sloughing off our face and we saw a more youthful visage a few hours later.

We also have to say that the time we spent with Estela was like visiting with an old friend. She is one of the most seasoned estheticians in the city...with an impressive resume and credentials. It's no wonder Dr. Perricone snapped her up from the Louis Licari Salon. Louis' loss was Nick's gain -- and ours. We cannot wait to go back to test drive the oxygen facial. The N. V. Perricone, M. D., Flagship Salon, 791 Madison Ave. (corner of E. 67th St.), 866-791-7911 and 212-734-2537; www.nvperriconemd.com
Posted on Monday, December 17, 2007 @ 09:00 PM | 7 replies View/Post Feedback
---
City Shopping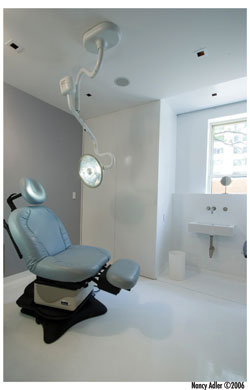 When you enter the Park Avenue offices of Dr. Neil Sadick, you may feel like you're on a Hollywood set, what an Oscar-winning art director thinks a Beverly Hills plastic surgeon's futuristic office should look like. But make no mistake: Very serious medicine takes place here.

Dr. Sadick's impressive credentials include four board certifications, and his list of prestigious titles and credentials takes up pages and pages in his resume. He has authored nearly a dozen books, written or co-authored hundreds of articles, and delivered speeches at over 500 medical seminars, classes, and workshops.

A gifted researcher and academic, Sadick is skilled with all the latest laser-lights and energy therapies, and the office is outfitted with state-of-the-art equipment, much of which he helped develop. His research has revolutionized contemporary dermatology with countless firsts: the first radiofrequency skin-tightening technology; the first lasers for treating varicose veins; the first ultrasound and radiofrequency liposuction. "The future will include more cost-effective, non-invasive, safe technologies that will require no down time," he says. "Some of these newer procedures will be incorporated into treatments in the physician's office, but many will be so safe that they can be used at home."

Come for the removal of a birthmark or to reinvent your birth date -- and everything in between: Botox, Sculptra, laser peels, Lipo-Selection, lesion removal, vein procedures, acne-scar treatment, hair transplant, or just a medi-facial. 911 Park Ave. btw. 79th & 80th Sts., 212-772-7242; www.sadickdermatology.com (This article originally appeared in the 9/06 issue of Manhattan Living.)

Posted on Tuesday, November 27, 2007 @ 10:00 AM | 8 replies View/Post Feedback
---
City Shopping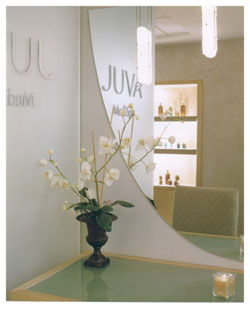 The Juva Center offers something for everyone when it comes to laser and cosmetic surgery, aesthetic skin care, and general dermatology, and the packed waiting room attests to the solicitous care and exceptional skill of the entire staff. Whether it's head-to-toe skin treatments, micro-dermabrasion, laser procedures to obliterate brown spots and little blood-vessel "tributaries," or injectibles to do away with varicose veins -- or even more extensive surgery, like face lifts or tummy tucks -- the Center's team is equipped to expertly handle it. Dr. Michael C. Bruck will tell you that the demand for state-of-the-art, specialized cosmetic procedures is burgeoning...but a more interesting statistic buried in that generality is that, among men, cosmetic procedures are definitely on the rise. Dr. Bruck estimates that nearly 20% of his patients are men, and the most common procedure they come for is to shed those endearing, but unwelcome love handles: "You can never just spot-reduce an area at the gym. You can build an area, but not effectively 'remove' it." And so liposuction is the best bet. More fascinating, however, is the number of men who come in for Botox -- for their hands! "A handshake says so much about us," he comments, and further adds that men whose hands perspire opt for Botox to alleviate it. He also observes that the "brow-and-forehead" complex is another target for men, and he says that Botox is again the solution for those furrows. The Center also sees many men who come to have excessive hair removed. In other words, no reasonable cosmetic problem cannot be solved here -- regardless of your sex. Juva Skin & Laser Center and Health & Wellness Center, 60 E. 56th St. btw. Madison & Park Aves., 212-688-5882; www.juvaskin.com (This article originally appeared in the 1/06 issue of Manhattan Living.)
Posted on Monday, November 26, 2007 @ 03:51 PM | 1 reply View/Post Feedback
---
City Shopping
"The first signs of aging," warns Harvard-educated, board-certified Dr. Haideh Hirmand, "are around the eyes." Dr. Hirmand, who is a clinical assistant professor of surgery at Weill Medical College of Cornell University and on staff at New York-Presbyterian and Manhattan Eye, Ear & Throat Hospitals, says she wasn't happy about using a needle when working with patients seeking a filler for the tired-looking, hollowed-out or darkened circles under the eyes (otherwise known as tear troughs). So she set about creating a way to deliver a filler like Restylane in a more efficient and safe manner. What she developed was a tiny canula with a blunt tip that allows her a better delivery system for getting deeply into that delicate area -- without cutting, with less bruising, and with superior performance. What does this mean for you? A great non-surgical ego-booster for around $1,000 (and up) -- and a perfect gift to yourself that'll get rid of the "harried holiday hollows" that two frantic months of shopping, schlepping, and stress may have wrought! 105 E. 73rd St. btw. Park & Lexington Aves., 212-744-4400; www.drhirmand.com (This article originally appeared in the 11/05 issue of Manhattan Living.)

Posted on Monday, November 26, 2007 @ 03:49 PM | 246 replies View/Post Feedback
---
City Shopping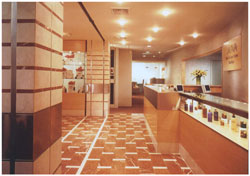 Well, we interrupted our barrage of spring stuff that we started last week (appropriately enough, on the first day of spring) to tell you about a few sample sales and so on, but we're back to putting spring in our step, especially after yesterday's 70-degree weather. So here's one post that is Strictly Ballroom -- or rather, we mean Strictly Beauty:

Juva MediSpa (60 E. 56th St., 212-421-9501; www.juvaskin.com) is sponsoring a series of info-evenings, called JuvaChats, focused on topics that can help you feel spring-like yourself. (Or as our friends say, will help you feel and look like "the Y word"  -- as in youthful).  Of course, some of those tools might just be things like Botox, Restylane, or Radiesse…and others might simply be a good night's sleep. Drs. Bruce Katz (no relation -- he's the highly esteemed medical director at Juva) and Michael Bruck (the Center's plastic surgeon) will impart the latest info and thinking on everything you need to know to get ready for bathing-suit weather.

On Apr. 10, the topic will be "Look Sizzlingly Good This Summer," dealing with age spots, spider veins, cellulite, and the like. On May 8, the evening's topic will be "Update on Fillers, Botox, and Lasers" -- learn how they not only make you look better, but they also can rejuvenate your skin. Dermatologist Katz writes and lectures prodigiously, and is an acknowledged expert in the field who will touch on the very newest weapon in his profession's arsenal: Artefill, which will soon get FDA approval.

The lectures are free and from 6 to 8pm both evenings. Pre-registration is mandatory: call 212-688-5882 to register. Hors d'oeuvres and light refreshments will be served and participants will all receive a Juva gift.   
Posted on Wednesday, March 28, 2007 @ 11:34 AM | 685 replies View/Post Feedback
---
Subscribe to this Blog's
Feed