City Shopping - Bridal Blogs
Back to Blog... | View More Bloggers...

About the Author: About the Author: Ruth J. Katz is a well-known shopping and service writer based in New York City. She has written about shopping for 25 years for New York magazine; covered the topic on-air at Fox-TV for several years as the Home Services expert; and had her own show on both the USA and Lifetime Cable networks. Katz wrote extensively for The New York Times as well, and contributed periodically to the New York Daily News. She is a passionate shopper, always looking for not merely a good buy, but the best buy, ferreting out a "steal" or discovering up-and-coming designers. She has written five books and is a former contributing editor to Hearst's Redbook, Classic Home, and Colonial Homes; she is currently a Contributing Editor of New York Home, Golf Connoisseur, The Modern Estate, and Promenade magazines. She is also the former Shopping Director for Davler Media's Manhattan Living.


---
City Shopping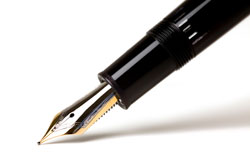 We are nuts for stationery. In fact, one of our good friends, a stationer himself, calls us a "paper slut." We cannot help ourselves. We see fine writing paper, unusual letterhead, vellum with a textured hand, and we just have to have it. It's a darn good thing we still believe in writing letters -- proper thank-you notes, congratulatory letters, best-wishes epistles -- or all this paper we have accumulated over the years would render us a waiting-in-the-wings Collyer Sister. But we use it, we cherish it, we love it, and we mail it!

And so it's all the more reason that we adore Russell Sloane, makers of the finest writing papers and most wonderful letterset personalized stationery. If you have an unlimited budget, assuredly, whatever you order from them can exceed it! Sloane Madureira, half the team here, has a studio-art background from Pratt, while her husband and partner, Russell Maret, studied book arts with a renowned master. Together, they are a formidable pair and their work incorporates all manner of craftsman-like, unique details. Sloane excels at creating elaborate invitations, with many pieces, and she adores tracking down the just-right components of a multi-part mailing. Russell is the master printer and will perform his leger de main even on wood veneer.

Like so many things we adore, stationery from this duo isn't inexpensive, but then we are a firm believer in having your papers put forth the right image (people often see your papers before they meet you, you know) and you should spend, spend, spend for that image. Wedding invitations with many parts (maps, binders, and so on) can go up to $60 or more per piece, and more pedestrian, everyday (but equally gorgeous) social stationery (with a two-week turnaround) can cost $700 to $1,200 for a box of 200. With prices like that, you?ll find you really WANT to write notes to people, especially those who will truly appreciate not only getting a handwritten note, but will also revel in the paper itself. 336 W. 37th St., Suite 204; 212-539-0184; www.russellsloane.com

Posted on Monday, December 17, 2007 @ 01:15 PM | 36 replies View/Post Feedback
---
City Shopping
Richard's is currently readying the interior of a house for an at-home wedding: 59 windows need new draperies -- not to mention all the new furniture and additional occasional pieces. Well, if he can do that for a sprawling suburban manse, imagine what he can do for a Manhattan apartment with, we're sure, a lot fewer than 59 windows! Richard Harary has been in the home fashion industry for over 25 years, and in his charming vest-pocket-size shop, he stocks fine-quality luxury fabrics, from which he makes draperies, window treatments (think Roman, balloon, and even motorized sunscreen shades), bedding ensembles, and furniture. 
Harary recently became an agent for imported, luxe Indian silks -- stripes, plaids, embroidered goods -- and sells them for between $40 and $90 per yard, although he quickly notes they sell for far more elsewhere. On staff are three designers who can help you plan your new living room, or just determine what will give a tired living room a cheery face-lift. He brings furniture up from North Carolina, and both club and wing chairs start at $1,200 and sofas at $2,000 (exclusive of fabric and freight). In a pinch, he might be able to turn around a single window treatment in two weeks, but workroom projects usually require a 4-6 week turnaround, and furniture 8-10 weeks. 1390 Lexington Ave. btw. 91st & 92nd Sts., 212-831-9000; richardsinteriordesign.net (This article originally appeared in the 4/06 issue of Manhattan Living.)
Posted on Monday, November 26, 2007 @ 03:51 PM | 980 replies View/Post Feedback
---
City Shopping
Cakes, wedding or otherwise, simply do not come any more beautiful than Ron Ben-Israel's. And what's even better, they taste as good as they look: mouthwatering and exploding with confectionery flavor, which is not something you can generally say about wedding cakes. In business a little over ten years, Ben-Israel is the darling of brides in the know. Prior to his meteoric rise, the gifted baker was working for a caterer and baking charming little cakes on the side that were periodically used in window displays. One day, Martha Stewart walked by the Mikimoto storefront, and the rest is, as they say, history. (In fact, when Stewart's company celebrated its 15th anniversary, "the only cake she wanted," he declares proudly, "was mine.") 
Ben-Israel says he is always influenced by things that are taking place in the design world, whether it?s architecture, interior design, flower arranging, the haute couture ateliers, and so on. "When everyone was doing delicate cakes white and pale with baby's breath, I wanted to do lavish things with saturated colors and big flowers -- hydrangeas. When Vera Wang was doing sexy wedding dresses, I wanted to do sexy cakes." Today, Ben-Israel is the wedding cake man to emulate. Cakes range in price from about $12 to $15 per slice, and the minimum is $500, depending on time availability of the bakers; orders are usually placed six months in advance.  42 Greene St. btw. Grand & Broome Sts., 5th flr., 212-625-3369; www.weddingcakes.com (This article originally appeared in the 4/06 issue of Manhattan Living.)
Posted on Monday, November 26, 2007 @ 03:51 PM | 3197 replies View/Post Feedback
---
City Shopping
If you wanted to be a hat maker, you couldn?t have a much better pedigree than Leah Chalfen of Leah C. Couture Millinery. Armed with a degree from Temple University, Leah completed the millinery program at the Fashion Institute of Technology and went on to work at renowned British hat designer Patricia Underwood's studio. Before striking out on her own, Chalfen even worked in the remarkable millinery department of the Metropolitan Opera House (which, as she notes, gave her insight into the world of theatrical styles -- sometimes veritably jaw-dropping styles, indeed). 
Her elegant and flattering headpieces are worn by "distinctive brides who want to walk down the aisle with pride and confidence -- not the 'classic' tiara woman," she says jokingly. "And I'm known for the graceful use of feathers, too." Her headpieces embody the infinite possibilities that feathers, flowers, veiling, pearls, and a gifted hand and creative eye can bring to them -- and editors of major bridal magazines agree, as her headpieces are regularly published in national periodicals, including top-tier magazines like Town & Country and InStyle. "I love to make the most flattering veils and headpieces for my brides -- things that are contemporary and stylish," she notes. Veils start at $125 and headpieces range from about $275 to $425. 124 W. 30th St. btw. Sixth & Seventh Aves., Suite 203, 212-947-3505; www.leahc.net (This article originally appeared in the 4/06 issue of Manhattan Living.)
Posted on Monday, November 26, 2007 @ 03:51 PM | 5082 replies View/Post Feedback
---
City Shopping
Once Upon a Bride helps create magic on that special day when a woman wants to feel more glamorous than she's ever been in her entire life. Stacey Lyn, the founder and creative director of OUAB who has been in the beauty biz for 20 years, observes, "When I'm getting brides ready to walk down the aisle, that's when perfection matters most. I try to bring a modern and sexy look to a bride and make her feel like a goddess on her wedding day." 
Lyn, who has worked as a make-up artist and hair stylist at some of the city's most prestigious salons, went on to ply her trade on countless movies and TV shows, including the sudsy "Another World" and "As the World Turns." She did the bridal party for Robert Downey, Jr.'s wedding and she's been featured in InStyle magazine. She's put together a swat team of beauty experts -- her "glam squad" -- who perfect hair and make-up on location for brides, doing everything from pedicures to highlights. Prices range from approximately $350 each for hair and make-up (for a senior staff person) to well over a thousand dollars for toes-to-tiara beauty procedures with Stacey herself. When brides come in for a run-through ($250 and up), they are asked to bring their favorite make-up, a picture of their dress, and so on, and Stacy experiments with different looks so that there are no surprises, no mistakes...and hopefully, there will be a happily-ever-after ending. By appointment only. 296 Elizabeth St. btw. Bleecker & Houston Sts., 212-353-2350; www.ouab.com (This article originally appeared in the 4/06 issue of Manhattan Living.)
Posted on Monday, November 26, 2007 @ 03:51 PM | 3300 replies View/Post Feedback
---
City Shopping
Junko Yoshioka, maker of fine hand-sewn, couture bridal wear, has signed a lease for seven years. (Could there be something to that?  To that odd number?  Like that Biblical thing about seven years of good luck and seven years of bad luck -- not to mention the seven-year itch…hmmm…)  The company has 18 bridal salons around the States and Japan, and this site will be a huge 3,000 square feet.  They're at 580 Broadway between Prince and Houston…as usual, with new leases, stay tuned.  We're sure to have more info down the road.
Posted on Tuesday, August 14, 2007 @ 01:38 PM | 49 replies View/Post Feedback
---
City Shopping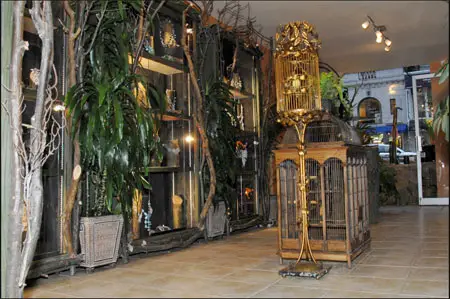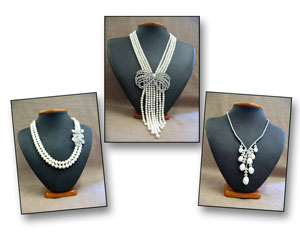 We're off to a wedding this weekend, and it got us to thinking about jewelry designer Siman Tu and his brand-new store at 860 Lexington Ave. at 65th St. It looks less like a bridal salon and more like a learning experience; something conjured up by the wizards behind the educational exhibits at the Bronx Zoo. Tu's shop, you see, is sort like a little Amazon rain forest in the middle of an urban jungle. The trees, the plants, the fish pond, and the birds are all accented with showcases of lustrous pearls, gleaming zircons, Victorian reproduction jewelry, and other sort of earthy bijoux, crafted from things like lapis and natural-looking stones. Tu has a few different collections (one of which is very bridal-y) and they couldn't be more diverse.  (Prices range from about $150 to $3,000.)  We're drawn, however, to the bridal looks -- they're sleek and grown-up looking -- and, they deliver a lot of bang for the buck. Moreover, just because you're not getting married, it doesn't mean you can't snatch up a tiara, or a stunning crown, or hair comb, or barrette, or whatever. Worst case scenario: a parure of a necklace, a bracelet, and earrings to wear to someone else's wedding.

Posted on Friday, July 06, 2007 @ 12:42 PM | 0 replies Start the Discussion
---
City Shopping
Sure, we all like Vera Wang. And there's nothing wrong with Monique Lhuillier, for that matter, either. But in that same breath, is often uttered the name Reem Acra. This designer's gowns are truly the ne plus ultra in wedding finery. And for those of you lusting after her evening attire as well (hello, mother of the bride!), she's opening up her showroom for TWO (not one, but TWO) sales: Evening Collection, Apr. 22 and 23,  Sunday from 11:30am to 7:30pm and Monday, 8am to 7pm.  Bridal Collection, Apr. 29 and 30, same hours (Sunday, from 11:30am to 7:30pm and Monday, 8am to 7pm). Reem Acra showroom, 14 E. 60 St., Ste. 212, btw. Fifth & Madison Aves.,  212-421-3200.

And in case you are wondering, SAMPLE dresses will be as much as 80% off retail and stock dresses will be at least 60% off retail. Retail prices range from $450 to $10,000 and here they are $150 to $4,000. Choose wisely, no return, no exchanges. (Thanks to Lazar Media for sending us this sale!)
 
Posted on Wednesday, April 18, 2007 @ 04:27 PM | 0 replies Start the Discussion
---
Subscribe to this Blog's
Feed