City Shopping - Fix It Blogs
Back to Blog... | View More Bloggers...

About the Author: About the Author: Ruth J. Katz is a well-known shopping and service writer based in New York City. She has written about shopping for 25 years for New York magazine; covered the topic on-air at Fox-TV for several years as the Home Services expert; and had her own show on both the USA and Lifetime Cable networks. Katz wrote extensively for The New York Times as well, and contributed periodically to the New York Daily News. She is a passionate shopper, always looking for not merely a good buy, but the best buy, ferreting out a "steal" or discovering up-and-coming designers. She has written five books and is a former contributing editor to Hearst's Redbook, Classic Home, and Colonial Homes; she is currently a Contributing Editor of New York Home, Golf Connoisseur, The Modern Estate, and Promenade magazines. She is also the former Shopping Director for Davler Media's Manhattan Living.


---
City Shopping
Although the calendar said that summer officially came in late June, the unofficial beginning of the sweltering season is now, right after July Fourth. And that to me signals the time to take out the linens and cottons, the gorgeous lightweight summer clothing that, sadly, needs ironing. No way around it. BUT, there is a way to make it easy and professional: The Rowenta Company has been making irons for over 100 years and they know a thing or three about crafting a really good iron. The company's R & D is not sidetracked by manufacturing countless categories of other home appliances: Irons are their business, and in essence, their only business. (They do make floor care cleaners and vacs, but in truth, some of their floor-care cleaning products employ technology used in developing steam irons.) So, unlike other companies that produce irons and small appliances, like mixers, toasters, meat slicers, and so on, Rowenta subdivides its company's product divisions into categories of irons—professional irons/steamers, travel irons, and the like.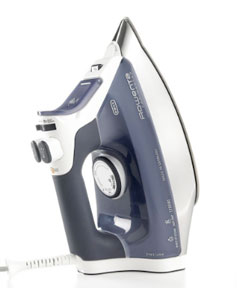 The well designed model DW-8080 (pictured here) is my new favorite. It is a powerful 1700-watt model, professional in all ways, and short of being attached to a continuous steam tank and more sophisticated machinery, it is as professional as you can get for a home model that does the job efficiently and easily. It has a stainless soleplate with a precision tip for advanced steam distribution, and the holes on the bottom assure the same. The burst of steam is long-lasting, and the spray nozzle really covers a lot of ground, so you can dampen a pesky linen shirt over half its front, with one big burst of steam. And I have noticed that I do not have to go over the same area again and again...it delivers perfect ironing with the first (and only) glide.
The iron is substantial, but not heavy-feeling in the hand, particularly because of the ergonomic handle and the smooth glide of the soleplate. It has a good-size water tank (over 12 ounces), with a closure that is secure. It heats up quickly and has an auto shut-off if it isn't moved in 8 minutes when in the vertical position, and after 30 seconds, if it is tipped over, an excellent safety feature. Additionally unlike most irons, it can be used in the vertical position as a steamer, a real plus. Lastly—another selling point—it is self-cleaning, with anti-drip and anti-calc systems, so it produces long-lasting, continuous clean steam. (It also comes with a 10 ounce water fill cup and has a one-year warranty.) The iron retails for approximately $125, although I've found it on the Internet for less; but regardless, it's worth it as the one (and last) iron you will buy!
Posted on Thursday, July 05, 2012 @ 11:20 AM | 0 replies Start the Discussion
---
City Shopping
By this time, your furs should have gone to summer camp -- if they haven't, now is definitely the time. Don't think that keeping them sequestered in the back of a closet in an air-conditioned apartment is okay. To maximize the life of a delicate and costly fur coat during summer, its hides need to be maintained in a moisture-controlled, 50-degree environment.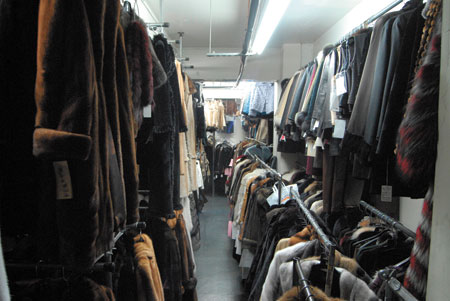 "Do not store them in plastic, do not mothproof them...these can shorten the life of your coat," cautions Murray Cox, the director of sales at Alexandros, a family-owned, fourth-generation furrier in the city's famed fur district. Prices here for cleaning and storing are very reasonable. And of course, they're inspected for loose seams, dangling hooks, frayed hems, and so on; repair costs are additional. Storage alone, for all garments: $45; cleaning and glazing (a sort of finishing and "fluffing" of the fur) classic fur coats, $45, and for fur-lined raincoats, suede, shearlings, and leather coats, $75 and up. Pick up or delivery is free; the return trip is $25. 345 Seventh Ave. btw. 29th & 30th sts., 4th flr., 212-868-1043 (This article originally appeared in the 6/06 issue of Manhattan Living.)
Posted on Tuesday, November 27, 2007 @ 10:00 AM | 2476 replies View/Post Feedback
---
City Shopping
In business since 1935, this throwback to another era specializes in all things relating to hats -- from making fab, one-of-a-kind chapeaux to maintaining them. Horace Weeks, who's been with the company since the 1940s, will oversee whatever you fancy. For summer, it's the cleaning and the blocking that we're interested in, to keep our boaters and our big straw beach hats pristine.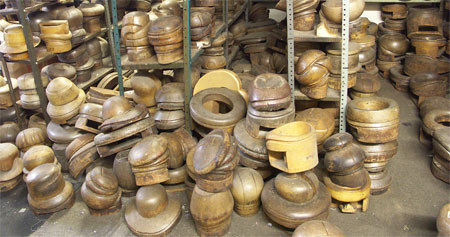 Anika Lopes, who runs the operation, says that they have the largest selection of hat blocks in the U.S. "Just hundreds -- it's like a museum! And there's nothing we can't do with a hat," she notes, and that includes minor things like changing the inside or outside sweatband, sizing, repairing, and so on. For cleaning and blocking (about $45 and up, with approximately a week's turnaround), walk-ins are welcome; other jobs require an appointment. 36 W. 38th st. btw. Fifth & Sixth aves., 4th flr., 212-730-4369; www.peterandirving.com (This article originally appeared in the 6/06 issue of Manhattan Living.)

Posted on Tuesday, November 27, 2007 @ 10:00 AM | 740 replies View/Post Feedback
---
City Shopping
It's a dirty job, but someone has to do it -- and David Stern has been doing it for more years than he cares to recount. The "it" is laundering and repairing Venetian blinds. Stern and his nimble-fingered staff can clean and refurbish almost any type of blinds: wooden, faux-wood, aluminum, plastic, verticals, and even vintage, assuming he has or can make the parts. He can handle product from Levelor, Hunter Douglas, and Graber, among the most popular manufacturers; he can even rejuvenate Hunter Douglas' Duettes, Silhouettes, and Vignettes.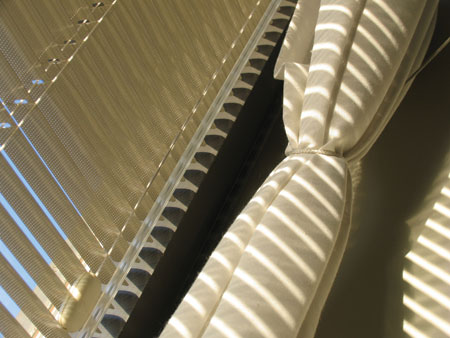 Some simple repairs (like re-cording or putting on new pulls) can even be done on your premises. (More intricate tasks, like re-taping, must be done at his shop.) He can replace slats, wash city debris off of surfaces, and even do on-site cloth-shade and drapery cleaning (starting at $400). The minimum for in-home repairs is $200, so it's worth waiting until you have a lot of work for him before calling; otherwise, you can mail blinds to his shop and he'll turn most repairs around in about a week. He does make occasional trips into the city for consultations and pick-ups, so it's best to call first to discuss your repairs and catch him on a day he's scheduled for city work. 79 South Third Ave., Mt. Vernon, NY, 914-668-8860; www.davidsternwindowtreatments.com (This article originally appeared in the 3/06 issue of Manhattan Living.)
Posted on Monday, November 26, 2007 @ 03:51 PM | 4236 replies View/Post Feedback
---
City Shopping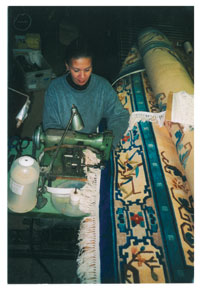 "One of the biggest problems we see is rot, the result of potted plants," observes partner Howard Katz, whose father started this company nearly 80 years ago. Katz explains that carpets can degrade and disintegrate from the moisture leaching from a clay pot. "It's the moisture-loving clay that does it." "Crumbling" carpet, torn fringe, burned and stained spots -- to name but a few of the problems that Majestic tackles -- are all in a day's work for Katz and his magicians. Patching a 12-inch square of carpet starts at $75; from its enormous cache of supplies, the company can choose another carpet piece that is similar and will more or less match in weight, color, and pattern. Katz's "pile patrol" can also overcast frayed edges, sew rips, and re-fringe ends or machine-bind edges (both $5 per foot). The company also cleans carpets, and the cost is based on carpet classification, from simple bound remnants to decent machine-woven carpets, to delicate hand-mades; cleaning a 9-foot-by-12-foot Oriental is usually around $175. Pick-up and delivery are included in the price, although there's a modest fee for putting a rug back down. About the only thing Majestic doesn't do is reweave. 644 Whittier St., The Bronx, 718-542-7474 & 212-922-0909 (This article originally appeared in the 3/06 issue of Manhattan Living.)
Posted on Monday, November 26, 2007 @ 03:51 PM | 3829 replies View/Post Feedback
---
City Shopping
In his native Hungary, Janos Spitzer was a horse-drawn-carriage maker, but when he came to America over 40 years ago he realized he wouldn't be building too many carriages stateside. So he turned his prodigious woodworking skills to something more useful: flooring. Today he is considered one of the preeminent flooring artists in the city.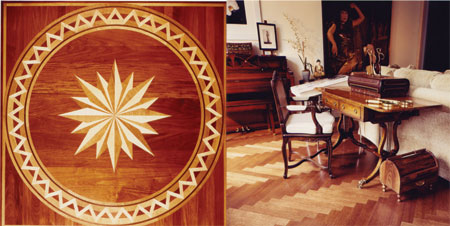 He focuses on high-end residential projects, building and repairing plain flooring, straight-strip floors, and elaborate parquets. Enamored by exquisite flooring, Spitzer matter-of-factly states the he is "on a mission to teach architects how to design properly constructed floor systems." And to do that, he holds monthly seminars for architects and designers. He further notes that one of his most satisfying projects was consulting "in the building that used to be Alexander's, the Bloomberg building. I designed the floor assembly, assisted in obtaining the quarter-sawn white-oak plank material, and supervised the milling and installation. I am proud to say that you can do a 'proper' floor in a high rise -- it's level, it has sound attenuation, built-in softness, and beauty -- and it's a whole lot less expensive than you would think." His talented artisans work on both pre- and post-war flooring, although they are handled quite differently. They will sand and refinish mechanical (i.e., nailed-down) floors, starting at $6 a square foot. "We sand four to five times with different grades of sandpapers, and our prep is very thorough. We will even move and protect furniture, taking photos so we put it all back where it goes when the floor is complete." Installation of top-quality flooring starts at $25 per square foot. 133 W. 24 St. btw. Sixth & Seventh Aves., 212-627-1818; www.janosspitzerflooring.com (This article originally appeared in the 3/06 issue of Manhattan Living.)
Posted on Monday, November 26, 2007 @ 03:51 PM | 1405 replies View/Post Feedback
---
City Shopping
If the holidays brought not only cheer but also a broken antique Limoges platter or a shattered alabaster candy dish, then carefully pack up the pieces and head over to Ark. Rena and Anatoly Kristul are geniuses at putting things back together again, to paraphrase a well-known line about Humpty Dumpty. Rena studied design, glass, and porcelain manufacturing, and Anatoly engineering, and together they can tackle repair and conservation jobs on just about any objet -- ceramics, stone, wood, metal, enamel, and even glass. 
While they count prestigious museums and bold-face-name collectors among their clients, they will still repair a humble coffee mug, but only you can decide if it's worth the tariff. The easiest repair is a sharp break (with clean edges) and, assuming you haven't fiddled around with Krazy Glue yourself, Rena can often do a minor repair -- a lifesaving measure, if you will -- for $35. More elaborate partial restoration -- where a chip, say, on the rim of a plate is filled in and colored but not glazed -- would represent another rung up in the price scale. The most costly restoration (and Anatoly says rates can escalate into the thousands) for multiple, nasty breaks on a pedigreed Sevres tureen, for example, would require recreating a glaze and overglaze (and might even necessitate creating a tricky clay body), sculpting a shape to fill in missing parts, and might also involve gilding. But Ark's work is seamless, producing a repair that is virtually invisible. By appointment only. 252 W. 37th Sts. btw. Seventh & Eighth Aves., 17th flr., 212-244-1028; www.arkrestoration.net (This article originally appeared in the 1/06 issue of Manhattan Living.)

Posted on Monday, November 26, 2007 @ 03:51 PM | 8 replies View/Post Feedback
---
City Shopping
This is the time to start repairing your summer wardrobe and getting it ready for hibernation. And there is nothing that Irene Chermiakhovsky and Brenda Barmore and their crew of nimble-fingered magicians can't alter, take in, let out, lift up, hem, or just reinvent. Whether your problem garment's still got tags on it, or it's a resale-shop treasure, they can ply their sleight of hand and refit or retrofit it. In business nearly 35 years, they count the Metropolitan Museum of Art Costume Institute among their clients.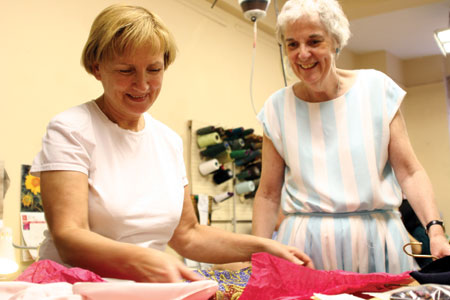 They'll work on humble raiment with no pedigree or the most rarefied couture -- blue jeans, fine lingerie, office attire, or wedding gowns -- anything. Not only is their work professional and creative, but better still, it's well priced: Pants hems start at $22; jacket hems, $22 and up; hems on unlined skirts, $25 and up. They're extremely clever with vintage fashion, inventing novel ways to "sculpt" a fit and salvage a potential jewel. (Repairs only, no custom clothing; closed on Sun. & Mon.) 160 W. 71st St. btw. Broadway & Columbus Ave., 212-877-3372 (This article originally appeared in the 8/05 issue of Manhattan Living.)
Posted on Monday, November 26, 2007 @ 03:49 PM | 249 replies View/Post Feedback
---
City Shopping
Julie Lewit-Nirenberg is a fashion-conscious and fussy New Yorker who got tired of getting clothes back from the hand laundry that were poorly ironed or still stained. So, as a former publisher who is accustomed to solving problems on the spot, she tackled this one head on and went into the laundry business herself. 
She started Ladies Who Launder, an operation that not only picks up and returns your laundry, but also delivers top-of-the-line service with middle-of-the-road pricing. Yes, it costs just about what your local drop-off establishment charges -- a mere $1.50 per pound. But your laundry comes back spotless, punctiliously folded, and stacked in a heavy-duty, lidded cardboard box lined with snazzy leopard-print tissue paper. Lewit-Nirenberg's venture was so successful, she added a dry-cleaning service, too. Those items are returned on black plastic hangers ("No Mommie Dearest wire hangers here," she smirks) stuffed with tiger-print tissue -- and, again, prices are competitive with the local cleaners'. East Side: Mon., Wed., & Fri.; West Side: Tues. & Thurs. 212-828-3800; www.ladywholaunder.com (This article originally appeared in the 9/05 issue of Manhattan Living.)
Posted on Monday, November 26, 2007 @ 03:48 PM | 2 replies View/Post Feedback
---
City Shopping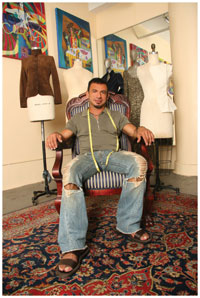 What a wizard Ecuadorian-born Guillermo Molina is! Just give him a swathe of fabric, a needle, and some thread, and he?ll whip up a wardrobe that will rival anything the Mam'selle herself could have envisioned. In fact, countless private clients come to him just to ask for Chanel look-alikes: He can copy anything -- and he can design originals, too. Show him a picture from a magazine, or a fanciful sketch of something you dreamed up, and he can fabricate it. Present him with your favorite well-worn, about-to-die Armani or Donna Karan and he'll "rub off" (as they say in the industry) the pattern and deliver a flawless replacement. See a stylish Prada in a store window that you're dying for, but can't afford? It's no problem for Willie (as he's known to his longtime customers) to make you a dead ringer. (Closed Sun.) Starting prices (includes fabric): Trousers, $400; blouses, $400; tailored suit, $1,200; dressy evening suit, $1,500; cocktail dress, $900; coat, $1,100. House calls start at $500. 153 W. 27th St. btw. Sixth and Seventh Aves., Ste. 301, 212-366-6965; www.guillermocouture.com (This article originally appeared in the 8/05 issue of Manhattan Living.)

Posted on Monday, November 26, 2007 @ 03:48 PM | 0 replies Start the Discussion
---
City Shopping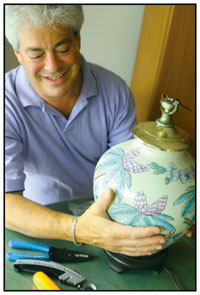 Without attending so much as one post-doctoral seminar, Roy Schneit went from Lamp Doc to Lamp Surgeon. "I gave myself a promotion," he chuckles. Schneit grew up in the lamp and lighting business -- his family imported and distributed chandeliers -- and he owned a shop on Avenue of the Americas and 12th Street for 12 years. When he shuttered it a few years ago, he missed tinkering with lamps so much that he started making house calls (assisted by his wife Lois, whom he calls his "nurse"), becoming known throughout the tri-state area for his work. While he doesn't do installations and won't hang or remove chandeliers, he will tackle almost any other type of repair -- on table lamps, chandeliers, sconces, floor lamps, and oddball fixtures. One common job is the conversion from European to American wiring standards, but any burnt-out socket, frayed wire, or rewiring job is putty in his hands. He'll convert a one-way socket into a three-way, or turn a lovely vase into a lamp. Most jobs range between $55 to $100 (halogen lamps generally cost a little more); a major rewiring of, say, an eight-way chandelier might be as much as $250. (House calls only, by appointment.) 917-414-0426 (This article originally appeared in the 9/05 issue of Manhattan Living.)
Posted on Monday, November 26, 2007 @ 03:48 PM | 47 replies View/Post Feedback
---
City Shopping
Over 50 years ago, father and son Paul and Al Wiederlight founded the Fountain Pen Hospital, which is now run by the third generation, Terry and Steve Wiederlight, who are just as passionate. 
With thousands of pens in stock (from $15 up to nearly $20K),you're bound to find the perfect one for the grad embarking on a new career. They stock the well-known manufacturers, while some of the more obscure names, like Montegrappa, Lepine, Bexley, Ducati, Michel Perchin, and Namiki, are sought after by aficionados. Shown here is the sleek sterling silver and lacquer Ferrari da Varese "Savant" Collection ballpoint. They also repair fountain pens, with an extensive inventory that allows them to use original parts for most vintage-pen repairs. 10 Warren St. btw. Church St. & Broadway, 212-964-0580; www.fountainpenhospital.com
Posted on Monday, November 26, 2007 @ 03:48 PM | 0 replies Start the Discussion
---
---
City Shopping
William Manfredi spent a good chunk of the '70s in Florence, Italy, at first pursuing an masters in fine arts and then falling in love -- with sterling silver. Some 30 years later, Manfredi estimates that he's repaired 80,000 or even 90,000 metal objects (mostly sterling silver), from candlesticks to little boxes, to presentation items, to platters, to you-name-it.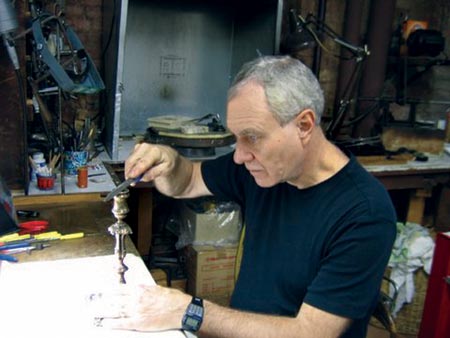 He works on precious metals only -- silver, gold, and bronze (no base metals) -- and hollowware and flatware, at that. The simplest repairs ($100) might involve removing a dent or soldering a broken foot onto a creamer or a handle onto a pitcher, and his most delicate or complicated jobs -- which could easily soar into the thousands -- involve fashioning missing parts for elaborate pieces (like armatures for extravagant candelabras), repairing Tiffany lamps, and creating new works on commission. He has a fully equipped metalsmith's studio and most days can be found sawing, hammering, sculpting, and crafting -- that is, when he's not teaching antique-metal restoration or silversmithing at the F.I.T. Restoration Program, or in the regular curriculum. Turnaround time for the easiest jobs can be as little as week to ten days. By appointment only. William Manfredi, Silversmith, Inc., 46 Great Jones St. btw. Bowery & Lafayette Sts., 212-260-5591 (This article originally appeared in the 1/06 issue of Manhattan Living.)

Posted on Friday, August 10, 2007 @ 10:51 AM | 0 replies Start the Discussion
---
City Shopping
Next time someone lights your fire -- or rather, lights you on fire -- with a cigarette burn on your clothing, the rescue squad you'll be calling is French American Reweaving Co. The company has been in business since the 1930s, and owner Ronnie Moore has been there since the '60s. He and his nimble-fingered magicians in the back room can make holey cloth whole, either by piece-weaving sections of fabric (harvested from inconspicuous places on the garment) into the missing spots, or weaving single threads into the gaps -- one by one by one. Yup, even where there is no cloth they can create fabric, and do it so seamlessly that you'd be hard-pressed to find the original tear, burn, or hole. 
Got a pair of trousers with a worn crotch, or a hip/wallet pocket that is threadbare around the edges? Or how about a bunch of little moth holes in a pretty sweater? (And you'll definitely want to save this resource for the fall, when you awaken your clothes from their lollygagging estivation and you discover that a family of moths has turned a cashmere sleeve into lunch!) Moore's work is flawless --  but be forewarned, this kind of handwork is pricey -- and people send him their ripped and tattered clothing from all over the country and as far away as Australia. Re-knitting a cigarette burn on a sweater starts at $45; piece-weaving on a woven starts at $95; single-thread reweaving on a woven starts at $115; repairing a worn crotch starts at $65; and repairing a worn hip pocket starts at $75. French American Re-weaving Co., 119 W. 57 St. btw. Sixth & Seventh Aves., 212-765-4670 (This article originally appeared in the 5/06 issue of Manhattan Living.)

Posted on Thursday, August 09, 2007 @ 02:06 PM | 0 replies Start the Discussion
---
City Shopping
Jerry Leeds, Fashion Award Cleaners' owner, has been in the dry-cleaning biz nearly 40 years and is one of the city's go-to guys for tricky cleaning jobs. The one thing that Fashion Award can do that arguably few -- if any -- other cleaners can do is remove the smoke smell from clothing in an ozone chamber. The ozone room looks like any other well-sealed room, but it's hooked up to a sort of life-support machine that constantly sucks the air out of the room, purifies it, and then puts it back so that, over a 24-hour period, the smell of the smoke (and even the mildew-y smell of water damage on, say, draperies soaked from a flood) is mitigated. Inside the room, there is also a hepa-filter that further purifies the air. Fashion Award's manager, Henry Ortiz, says you can expect 98.9-percent success in removing noxious smells. Items are first dry-cleaned before going into the chamber and, afterwards, they're finished, steamed, and pressed. The cost is variable, and is in addition to the fee for the dry cleaning. 2205 Broadway btw. 78th & 79th Sts., 212-289-5623; fashionaward.com (This article originally appeared in the 5/06 issue of Manhattan Living.)
Posted on Thursday, August 09, 2007 @ 01:35 PM | 1 reply View/Post Feedback
---
City Shopping
Superior Leather Restorers. "But if it were made of leather, we'd be able to do it." Rosen's been restoring and repairing leather goods for 45 years and there isn't anything that he cannot repair -- from your most delicate lavender, buttery-suede trench coat with a nasty stain on it to a special designer handbag that needs new straps. 

Got a nasty gash in your best-fitting, slim leather pants? Marvin's your guy. The trickier the job, the more he likes the challenge. Those trousers with the hole in them? He can replace the entire panel and match the color, no sweat ($95 and up). Shortening the straps on a handbag starts at $50; changing straps and hardware on a handbag starts at $150; re-glazing an alligator or croc bag starts at $175. Replacing zippers on leather garments starts at $95, but a simple zipper repair might be $35. Refinishing a leather jacket (brown and black only) is $125 and up, while the same work on a jacket in a fashion color that Rosen has to mix and match would be $195 and up. Even if your job is a simple cleaning, Superior will do a superior job. 141 Lexington Ave. btw. 29th & 30th Sts., 212-889-7211; www.superiorleathernyc.com (This article originally appeared in the 9/06 issue of Manhattan Living.)
Posted on Thursday, August 09, 2007 @ 11:25 AM | 0 replies Start the Discussion
---
Subscribe to this Blog's
Feed