City Shopping - Mother's Day Blogs
Back to Blog... | View More Bloggers...

About the Author: About the Author: Ruth J. Katz is a well-known shopping and service writer based in New York City. She has written about shopping for 25 years for New York magazine; covered the topic on-air at Fox-TV for several years as the Home Services expert; and had her own show on both the USA and Lifetime Cable networks. Katz wrote extensively for The New York Times as well, and contributed periodically to the New York Daily News. She is a passionate shopper, always looking for not merely a good buy, but the best buy, ferreting out a "steal" or discovering up-and-coming designers. She has written five books and is a former contributing editor to Hearst's Redbook, Classic Home, and Colonial Homes; she is currently a Contributing Editor of New York Home, Golf Connoisseur, The Modern Estate, and Promenade magazines. She is also the former Shopping Director for Davler Media's Manhattan Living.


---
City Shopping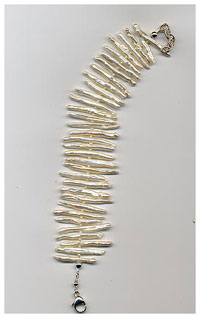 The Jewish Community Center on the Upper West Side is holding its annual Mother's Day Gift Sale, Tuesday and Wednesday, May 6th and 7th, from 11 a.m. to 8 p.m., featuring the work of the Center's professional teaching staff, from its art/craft/design faculty. We always write this sale up, as we know that there are so many wonderful artists, designers, and craftspeople there selling great stuff...and the price is usually "right."

Here is a perfect opportunity to snag some exquisite jewelry, textiles, ceramics, and other professionally handmade items that are well priced and one-of-a-kind, the perfect gifts to say "I Love You" to Mom. There will be richly beaded necklaces, bracelets, and earrings; lavish hand-painted scarves and pillows; belts, hats, and other fashion accessories; as well as home furnishing items. Prices are from $15 and up. (Shown here: a lavish pearl bracelet from glass artist/jeweler Melissa Terman, whose work includes both beaded jewelry and blown-glass jewelry.)

All the teachers at the sale offer courses, too, at the JCC (that's the whole point, of course!), so inquire about signing up for the late spring or early summer semester if you are inspired and think you'd like to learn how to make beaded jewelry or paint on silk yourself...or whatever.

Cash, checks, and credit cards accepted. For more information call Sigrid Orr at 646-505-5715. JCC in Manhattan, The Samuel Priest Rose Building, 334 Amsterdam Avenue at 76th Street; www.jccmanhattan.org
Posted on Monday, May 05, 2008 @ 07:46 AM | 1050 replies View/Post Feedback
---
City Shopping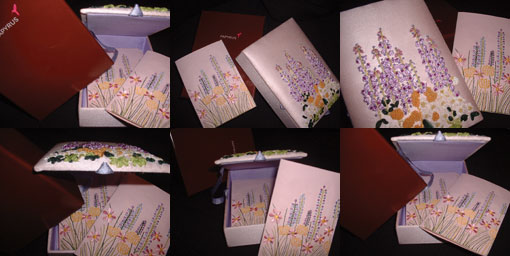 We have previously sung the praises of the local Papyrus stores, which keep sprouting up, everywhere in the city, it seems. We spot a new one every time we alight from the subway and stare at a street corner, figuring out which way to walk. And lauding the shops' merchandisers once again -- just in time for Mother's Day -- is actually in order. Yes, there are pretty picture frames, exquisite and diverse journals, bath and spa products, and even books Mom might like (on Audrey Hepburn, Chanel, and other iconic women), but once again, we have to say our favorite Papyrus things are the paper goods -- the stationery collections, the bags, the wrappings, the cards, the trinkets. Never have so few done so much with, and for, paper.

We spotted several stationery collections that would make lovely gifts, packaged in re-usable silky boxes, just oozing trimmings of one form or another -- embroidery, beads, opulent embellishments. And inside each is a set of handsome note cards, and maybe even a pen. Look for the celadon-green collection with tons of beads in forms that resemble a Chinese-inspired floral fantasy garden (around $40) or the silky, pale-lavender box, heavily embroidered with seasonal blossoms, containing six elegantly embroidered (yes, embroidered on handmade paper) note cards in the palest of pinks (around $30). The shops' assortment of cards is all-encompassing -- for the hip mom, the grandmom, the steadfast mom, the friend who acts like a mom -- whether you want to make a funny statement or hit a heartfelt, Hallmark-y kinda' note.

You will not go wrong with anything from the Papyrus shops. Surely, all the Papyrus people have mothers they want to please and they stocked the store with all the things that they'd buy for them! 

Posted on Friday, May 11, 2007 @ 04:03 PM | 255 replies View/Post Feedback
---
City Shopping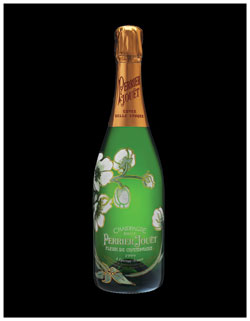 Regardless of what you are buying for mom, or where you are taking her to celebrate her special day on Sunday, pop the cork first on a bottle of the newest prestige vintage from Perrier-Jouët, its 1999 Fleur de Champagne. This prestige cuvée is blended exclusively in years that are marked by perfect weather conditions and a flawless harvest season. Since the 1964 vintage (which was released in 1969), only 17 subsequent vintages have been deemed worthy successors for the brand's standard. This new vintage benefited from near-perfect harvest conditions in 1999: a cold but frostless winter followed by a moderate spring season, a warm and sunny summer, and capped off by a cool August, culminating in a flawless weather trifecta. Et voilà! The resulting Chardonnay wines are delicate, with heady, fruity aromas, while the Pinot Noir wines are light, bright, and fruit-driven. The resulting Fleur de Champagne is an elegant signature blend from Perrier-Jouët, and of course, delivered in the classic green, anemone-covered bottle.

It is one of the most delicious Champagnes you'll taste and certainly perfect for Mom. It has a crisp and clean taste on the palate, with the slightest hint of almond and nougat, and a very long finish. Inhale its intoxicating scent and you'll find that there are notes of white flowers (think gardenias and paper narcissus), a touch of honey, and a mind suggestion of a toasty brioche. It is just heavenly. The 1999 Fleur de Champagne retails for $125, and as the L'Oreal commercials suggest, your mom is worth it. 
Posted on Thursday, May 10, 2007 @ 02:00 PM | 0 replies Start the Discussion
---
City Shopping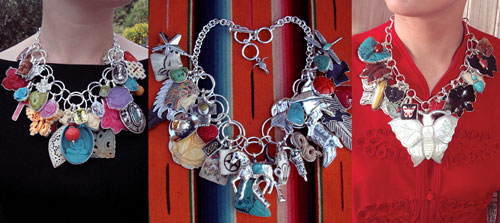 J. W. Cooper, one of the Shops at the Time Warner Center (10 Columbus Circle, 59th St. & Broadway), is well known for its extraordinary sterling silver belt buckles and Southwestern jewelry. Among its stunning fare, however, is a little-known item: The amazing sterling necklaces of Corinne Cordova, a jewelry designer who made herself a charm-laden necklace some years ago and suddenly found she was getting requests from friends. These show-stopping necklaces are now custom-crafted for Cooper customers, made to order with the exact sorts of charms you'd use to express yourself -- or honor mom, in this case. Cordova has the charms made mostly in Mexico, but also in far-flung corners of the world, like Tibet, China, Japan, Africa, and India. The shop keeps a supply of necklaces in stock that are themed around some popular motifs, Cordova's most requested subjects -- like "Lucky in Love," (which features a Queen of Hearts, an elephant with an upturned trunk, the key to your heart, a horseshoe, a four-leaf clover, and so on), and "Way Out West," which is chockablock with Southwestern-themed charms. If you want your necklace totally custom-built for you, you just tell the staff that you want farm animals, or gardening-oriented charms, or travel, or whatever....

A necklace with three charms is about $250; fuller necklaces range in price from $2,000 to $3,000.
Posted on Wednesday, May 09, 2007 @ 10:44 AM | 0 replies Start the Discussion
---
City Shopping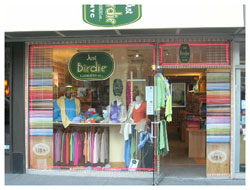 Just about the time last month that we were telling you about that "sneaky" Loehmann's opening on Broadway and 73rd Street, another stealthy retail debut occurred nearby, one that we have been meaning to write up and share with you. The shop is called Just Birdie, with homage paid to golfers (as its name implies), but its merch is not solely for duffers at all; "civilians" will find the stock alluring enough (and prices compelling enough) to make this shop a destination. And indeed, it's a darling, jewel-box-size store with wonderful cashmere-and-silk-blend sweaters, all of which would look very spiffy on the golf course. (The exterior of the shop is decorated with little vignettes picturing St. Andrews, and plaid seems to be the major design element on the interior -- so Scotland and golf are definitely part of the company's inspiration.)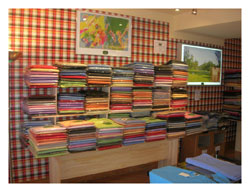 Started in France in 1996, the company has five stores in Europe and the one here at 2047 Broadway btw. 70th & 71st Sts. is the first in the U.S. There are well-priced styles for both sexes, and classics include turtle-, crew-, boat-, and V-necks, zip fronts and traditional cardigans, polos, T-shirt styles, and much, much more. Prices range from $89 to $165 for men, and from $79 to $165 for women, but there are accessories, wraps, and scarves in the store that are lower-priced. There are nearly three-dozen rich colors in the company?s yarn palette, ranging from delicate violet to deep russet.  

And just in time for Mother's Day, the shop is offering 10% off your purchases (if you mention that you read about it here), and considering that these are such well-priced sweaters to begin with, it?s a steal. So, forget scoring a birdie -- the shop is a hole-in-one!  
Posted on Monday, May 07, 2007 @ 01:16 PM | 248 replies View/Post Feedback
---
City Shopping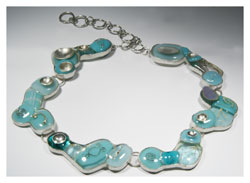 The teachers from the design and art/craft departments at the Jewish Community Center on the Upper West Side are holding a sale of their works next week, just in time for Mother's Day. It will take place in the lobby of the JCC building on May 8 and 9, Tuesday from 11am to 8pm and Wednesday from 11am to 6pm. We've written up the instructors' December holiday sale before, and know from first-hand experience that they showcase beautiful goods for reasonable prices (ranging from $15 to $500). You'll find handmade jewelry (gold, silver, glass, and beaded bijoux), ceramics, scarves, pillows, and much more. Shown here is a handmade, one-of-a-kind, show-stopping necklace from artist Melissa Terman. If you're on the Upper West Side those days, stop in, as you will not be disappointed…and hopefully, your mom will not be, either!  The JCC is located at 334 Amsterdam Ave. at 76 St.  (Cash, checks, and credit cards accepted.)  

Posted on Wednesday, May 02, 2007 @ 12:27 PM | 2 replies View/Post Feedback
---
Subscribe to this Blog's
Feed