City Shopping - Favorite Finds Blogs
Back to Blog... | View More Bloggers...

About the Author: About the Author: Ruth J. Katz is a well-known shopping and service writer based in New York City. She has written about shopping for 25 years for New York magazine; covered the topic on-air at Fox-TV for several years as the Home Services expert; and had her own show on both the USA and Lifetime Cable networks. Katz wrote extensively for The New York Times as well, and contributed periodically to the New York Daily News. She is a passionate shopper, always looking for not merely a good buy, but the best buy, ferreting out a "steal" or discovering up-and-coming designers. She has written five books and is a former contributing editor to Hearst's Redbook, Classic Home, and Colonial Homes; she is currently a Contributing Editor of New York Home, Golf Connoisseur, The Modern Estate, and Promenade magazines. She is also the former Shopping Director for Davler Media's Manhattan Living.


---
City Shopping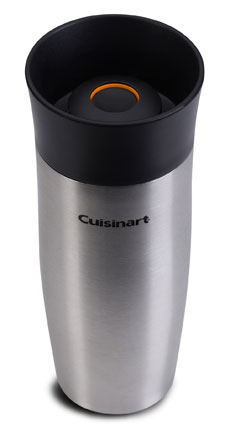 I have tried every single portable coffee mug known to man, or at least I think I have. Every time I find a new one at a trade show, or an editors' event, I try it. I often take a mug outside with me, for when I am walking the doggie and for when we go to the dog park. I have yet to find a mug that doesn't leak. I bend over, the dogs knock the thing over, I shove it into the doggie's carry-all, and so invariably, somehow it leaks and gets coffee all over everything, including me.
So imagine my shock when I tried Lifetime Brands' Cuisinart Easy Clean Thermal Mug. IT WORKS!!! It really works. There is not a tiny leak, making it just acceptable. No, there are no leaks. Turn it upside down, and it doesn't leak. Put it on its side, and it doesn't leak.
Oh, yes, the literature with the mug says it is both spill- and leak-resistant, so I was a little skeptical. Because "resistant" doesn't mean "proof." For my money, they could say it's spill-proof and leak-proof, but I guess they don't want to go out on a legal limb. But, the thing that makes this mug different form all the ones we've tried, is, not surprisingly, the drink spout: It doesn't slide, or flip, or have a lame drink control switch. It has a sort of pop-up button that almost feels like a vacuum kinda' thing. There is a simple center push button that makes it easy to open and close (it clicks so you know it's been activated, or that it's closed), and when it's closed, it's really leak-proof. Plus, you can drink from anywhere on the lid, which is more convenient when traveling, walking, or driving. The body of the mug is made of double-walled stainless steel so hot drinks stay hot and cold drinks stay cold. And the lid has two parts that you can take apart, so you can clean this mug easily and completely; I do it in the dishwasher. Another good thing about it? It's a mere $19.99. Trust me, you'll swear by this mug for your travels.
Posted on Thursday, November 08, 2012 @ 10:41 AM | 0 replies Start the Discussion
---
City Shopping
I have been a house-captive for a while, napping on the sofa and snoozing in bed....the result of having become, a few weeks ago, a bionic woman with a new knee. One thing that is always at my side is my Tervis drinking glass, with its plastic lid (with an easy-slide opening) with just enough room for me to insert a straw for quick access. It is particularly convenient, simple to use, and practical for my purposes—keeps hot things hot and cold things cold, and when sealed shut, I don't have any concern that the lid will leak if I knock it over. And if I am using it with a straw, the opening is still small—so if I do accidentally hit it and it turns over, I'm not worried that there will be a mess on the carpet. (I wouldn't dream of keeping a drinking glass with no lid by my side--I'm pretty sleepy at times, and reach for the glass with a less than radar-targeted vision!--any more than I would keep a glass next to me that is made out of actual, breakable glass.)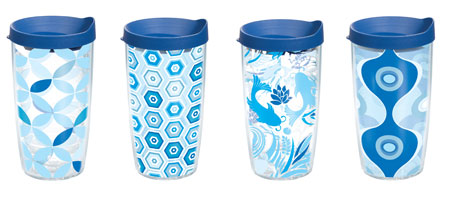 I have used Tervis products for years, but these days I find myself truly relying on them. So I did a little more research on the company and discovered that Tervis drinkware has had been made in America since 1946 by a family-owned and -operated company. (Created by two engineers—one G. Howlett Davis and the other a Frank Cotter—who chose an amalgam of their names for the company title; today that company employs a staff of 700!!) The duo discovered the natural insulating powers of air to create a permanently sealed, double-walled tumbler and the result was Tervis drinkware, manufactured from a high grade of a resin or plastic. It indestructible...not to mention, safe for use near the pool, or for outdoor use at picnics, etc.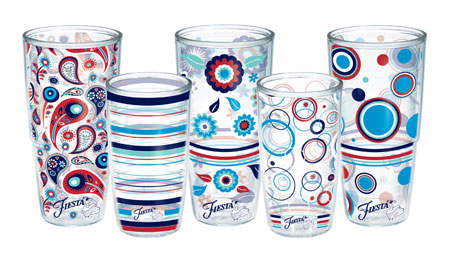 Tervis drinkware comes with a lifetime guarantee, even if you've long thrown out the receipt. If it says Tervis on the bottom, the company will honor the product and replace it if it's disappointed you in its performance. But chances are, it will not disappoint: It's virtually unbreakable, and is freezer- and microwave-safe. Also, the combos of design, color, and size make for countless choices; the company says, in fact, that it sells thousands of designs—and the company also does many specialty, customized items, with corporate logos and proprietary pictures, etc.....so you may well have gotten a Tervis tumbler (and not even realized it), with a giveaway from a corporation—there are licenses with Disney, Star Wars, NASCAR, Hello Kitty, and with just about every professional sports team you can think of, from the NFL and the NBA to the NHL. The sizes are variable (from 10 ounces to 24 ounces), and there are even coffee cups and water bottles, the newest item in the Tervis family.
While you can certainly shop on line, there is also extesnive Tervis inventory at over 5,000 retailers, including biggies like Bed, Bath & Beyond and department stores like Macy's. (Prices can range from about $12.00 to $20.00 for the water bottle.)
Posted on Thursday, August 09, 2012 @ 08:33 PM | 0 replies Start the Discussion
---
City Shopping
So, imagine my shock and chagrin when Delta Airlines charged me for overweight luggage—a whopping $75 (but that is a whole lot better than the $400 I heard someone pay on another recent trip) and there was nothing that could be done about it. I was lugging about a million copies of Promenade magazine—our lovely mag!—to give to give to a million (OK, ten) people in the UK and even if I took those mags out, and attempted to hand-carry them, my suitcase was still five pounds (a mere five pounds, I'd like to point out to the Luggage Police) overweight...so I plunked down the tariff grudgingly. But since I am a loyal frequent flyer, the counter agent promised me frequent flyer miles to make the financial sting less sharp. (Alas, I never got them...and, yes, I will write to Delta sooner or later to remind them.)
So, to make sure this would never happen again and to be 100% certain I was never a recalcitrant flyer and overweight again (not the bod, but the luggage), I picked up the WONDERFULLY PRACTICAL EatSmart Precision Voyager digital luggage scale.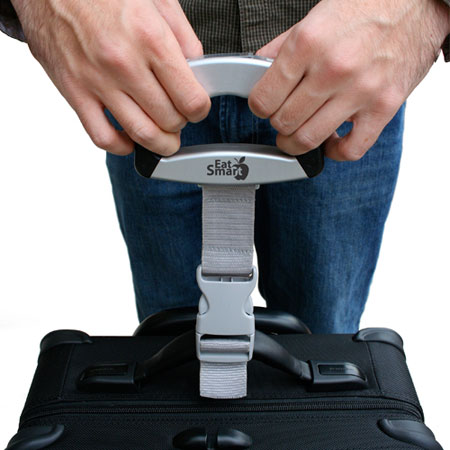 I have used EatSmart's food scale (more about that in a few weeks), and know their products to be accurate, durable, and well made. So, it was definitely a worthwhile investment for moi, since I am on the road a fair amount of time. And here is why you'll want one, too, for all your upcoming summer/holiday travel, since vacation time is upon us. It is reasonably priced (you'll find it most places for $19.95) and it will, potentially, save you a bundle; I have actually seen people at airports remove clothing out from their suitcases, abandoning goods in the airport.
It is simple to use: Just pack and zip up your bag, then secure the clip over the valise's handle. The scale has an easy-grip handle (you can use both hands, a smart design feature) with the scale built right into the handle. Then lift! The scale beeps when it has determined the weight and it's easy to read, with a back light. You can also check the avoir du poids in pounds or in kilos. When you turn it off, the scale resets to zero. But here is the best part -- I learned that my own luggage weigh an incredible 17 pounds!!! I was shocked. Next time, I'll buy luggage that is lighter weight. That sure takes a bite out of your clothing weight allotment.
And if you are a shopper, and think your luggage is going to -- shall we say? -- weigh more on the return trip, then just throw the scale into your suitcase pocket and you can weigh your luggage before the return trip, also. (The scale can weigh up to 110 pounds but if you are totin' a suitcase that weigh that much, then you're in serious trouble—back trouble and wallet trouble!) The sale comes with a battery that EatSmart says has a very long life, so you should be set for quite some time. Trust me, this is an item that is worth its weight in gold!
Posted on Monday, May 07, 2012 @ 04:32 PM | 0 replies Start the Discussion
---
City Shopping
Two years ago when Lev Ekster was polishing his resume, anticipating graduation from New York La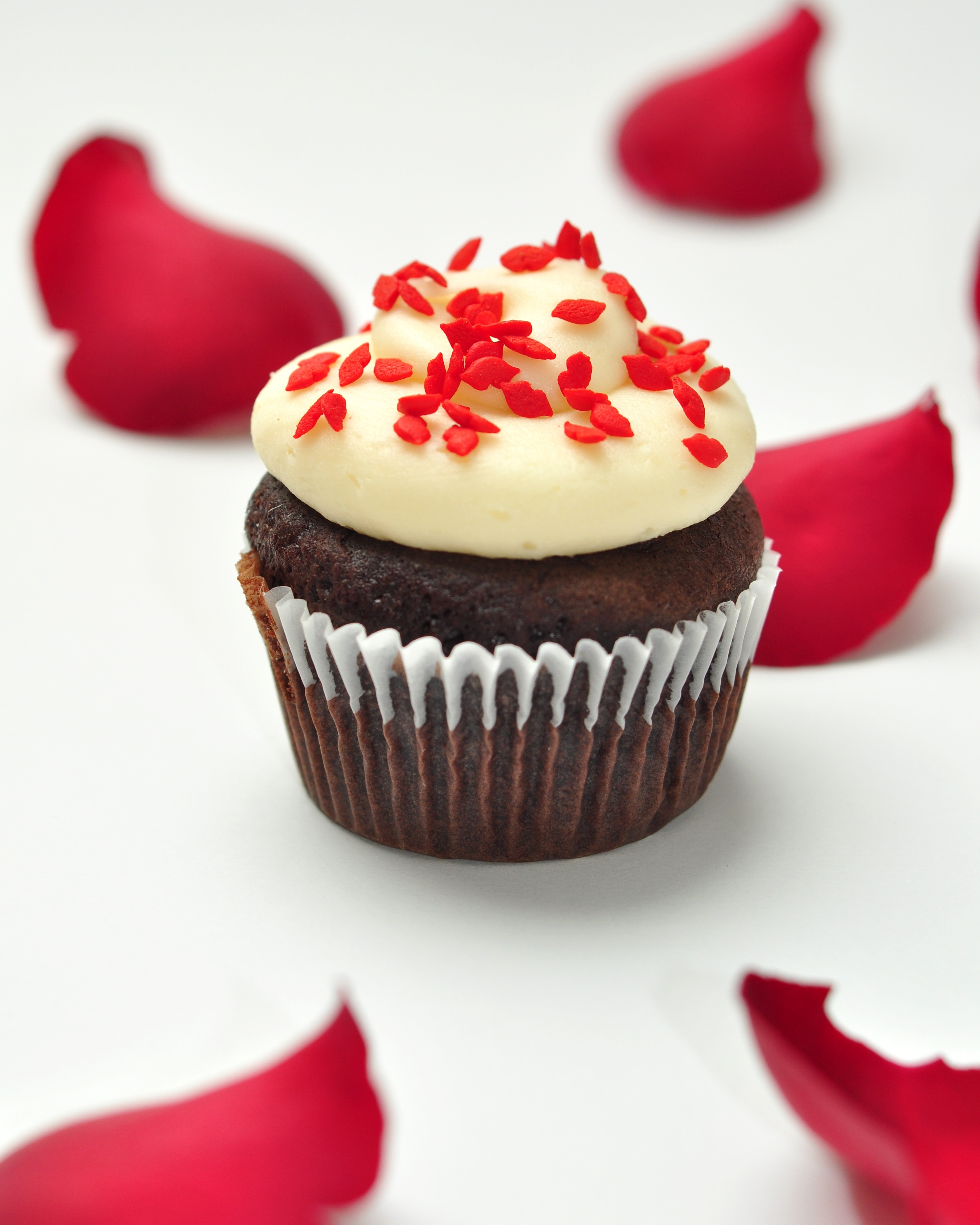 w School, he realized that the prospects for employment were, shall we say, on the grim side, even for an honors student like himself. So, what would you do at least for the foreseeable year or so, if your law school thing looked like it was on shaky ground in an anemic job market? Why, you'd look for something to do in the interim, something to keep you busy while the economy retooled. The thing you'd light upon would be to start a mobile cupcake bakery-in a traveling truck. Yeah, that's the obvious answer.
Ekster scouted out cupcakes, bakers, frostings, and filings (a dirty job, but somebody had to do it), not to mention, he scouted out trucks, too. And ultimately he found a terrific, talented team of bakers and staff, all with impressive culinary training. Within a year, the Cupcake Stop had a thriving business and loyal followers. And soon it had another peripatetic van, i.e., another "store"...and then a less mobile outpost in the Limelight's mini-mall....and NOW, it has an honest-to-goodness, bricks-and-mortar retail location.
But, for the bakery's 15,000 followers on Twitter, there's nothing like the "real deal," the cupcakes from the truck. And even the menu has expanded. Not content with the classic chocolates, vanillas, red velvets, and so on, Ekster's flavors (a few dozen of them) include savory and sweet things like French toast (and even French toast with bacon), cranberry cream, strawberry lemonade, and even apple pie a la mode. The menu has even been fattened up, to include flaky, buttery croissants; mini cheese cakes; brownies and blondies; and biscotti, amon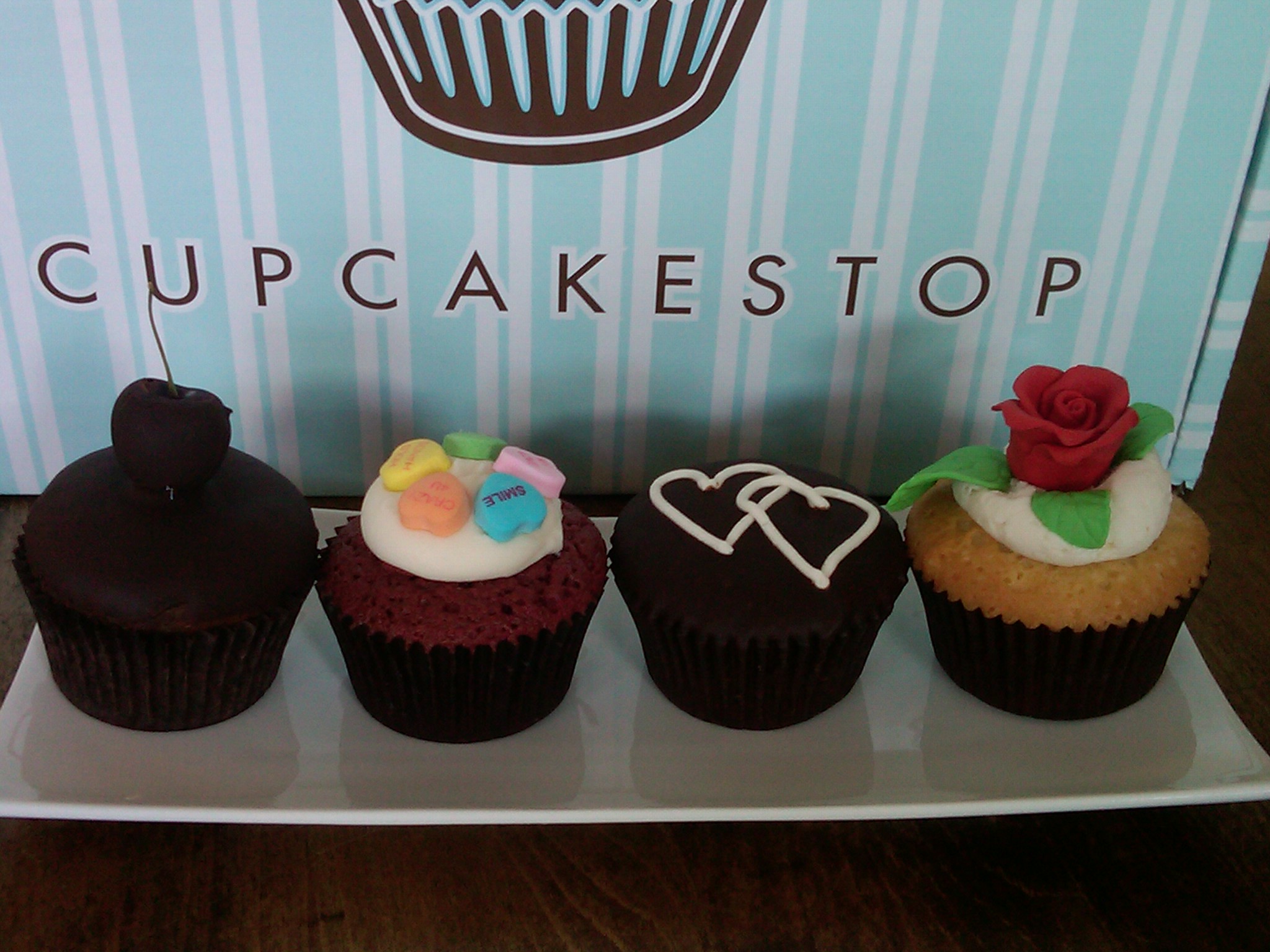 g the tantalizing mix.
So, this year instead of getting the traditional box of chocolates for Valentine's Day to give to your sweetie, why not get a box of cupcakes? The shop is at 70 Greenwich Street (just off Seventh Avenue), and the trucks' itineraries are posted on the Web site. Tickle your palate with something wonderfully sweet and slightly different. These are the tastiest cupcakes you'll ever eat and worth every calorie.
Posted on Wednesday, February 09, 2011 @ 01:55 PM | 1 reply View/Post Feedback
---
City Shopping
On my first trip to the United Kingdom, too many years ago to count, I remember shopping in the popular Waite Rose supermarket and buying Peek Frean biscuits because the packaging carried the intriguing and exotic Royal Warrant. I had no idea then what a Royal Warrant was--and we sure didn't have them on package goods at my local Shop Rite. The cello warp bore a coat of arms, or
some such important-looking thing, along with the message that these biscuits or the biscuit-maker/bakery was "By appointment to Her Majesty the Queen." And I thought, "Heck, that ought to mean something."
And indeed, it does. These warrants do not come lightly; handpicked purveyors of goods and services are selectively granted the right to display that warrant, and it is usually bestowed by one of perhaps three people in the royal household. I have since learned what a Royal Warrant is and since then have also made dozens of trips to London and other parts of England, Wales, and Scotland, and as a sort of fun game, am always on the lookout to see which master shoemaker, piano-builder, perfumer, or grocer is anointed with that privilege, accorded the honor to display and boast that Royal Warrant.
One such warrant-holder is the chocolatier Charbonnel and Walker which happily for us has come stateside, with a shop on the eighth floor of Saks Fifth Avenue. And since it is holiday time, there are plenty of reasons to pick up some of the company's charming, round boxes of truffles (the newest flavor, Champagne, in the round pink boxes, is a SURE hit!), or one of the handsomely packaged Christmas hampers, as the Brits call them (we'd say gift baskets), for hostess presents, or to just indulge in a few bits of chocolate, for a little treat after a hard day of shopping.
The company was established in 1975, when Edward VII (then Prince of Wales), cajoled a certain Mme. Charbonnel to leave the French chocolatier Maison Boissier to join a Mr. Walker in London, where the two could ply their skills extraordinaire, and open a fine confectionery. The original shop was housed on New Bond Street and it has, in essence, remained in that spot since--located today in the prestigious Royal Arcade on Old Bond Street, in the shadow of the original footprint.
Charbonnel and Walker has been known since that time for its fine handmade chocolates with a silky and flavorful courverture, sumptuous flavors, mouthwatering bonbons, and its beautiful packaging. (The line has some charming boxes for upcoming Valentine's
Day and the spring season...tiered trays that swivel in and out of stunning oval containers, bedecked in colorful, gay ribbons and so on.) But, you don't buy chocolates for the packaging alone. Charbonnel and Walker produces some truly fine products--chocolate sauces, rose and violet creams, chocolate bars, fancy truffles, delectable nibbles, and cocoas, among the extensive line. The best thing is that there is a little café on Saks' eighth floor where you can sit down and rest during your holiday shopping marathon and savor some tasty hot chocolate or feast on to-slaver-for pastries. And while you're resting, compile a list of the hostess gifts you need between now and the new year (include a few boxes of treats for yourself), and cross a few names off your shopping list, knowing you're giving the lucky recipients a universally beloved present.
Merry Christmas and Happy New Year, by appointment of Ruth and occasional substitute scribe, Austin Katz.
Posted on Wednesday, December 22, 2010 @ 03:23 PM | 0 replies Start the Discussion
---
City Shopping
No, this "cleaning up over holiday time" isn't about amassing the most loot under the Christmas tree. It's the old-fashioned way to clean-up-actually using an appliance to tidy up after the crowd has departed and the leftovers have been stashed in the fridge. Not to mention the other kind of cleaning:the pre-company heavy-lifting. Between now and the new year, we'll be a-cleaning, a-shopping, and a-cleaning again.
To cut to the chase: Nobody makes the cleaning easier than Hoover, with its line of vacuums, sweepers, carpet-cleaners, and hand-helds. The company has been in the biz for over 100 years; it actually invented the first electric portable vacuum machine-called the suction sweeper-in 1908! Hoover engineers have been at the forefront of technologies that have made life easier for us-Wind Tunnel, SprinScrub, DualV Nozzle, MaxExtract Technologies. But the one I am most excited about is the LiNX Cordless battery system.
Truth is, I'd been planning since the Housewares Show last spring to write about the Platinum line of Hoover products (esp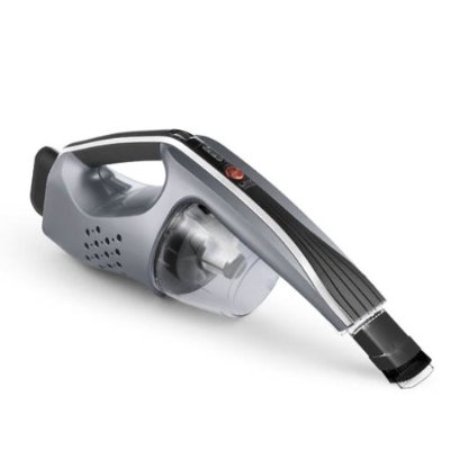 ecially the Cordless Hand Vacuum), that use this technology. With Austin Katz, Canine Correspondent to this blog (who just happens to shed Golden Retriever fur everywhere), a hand-held needs to be at the ready--always. (Attention Fans of Austin: The Big Boy is returning for a cameo scribe job for two weeks to write about doggie Xmas gifts....but he could be writing this entry, too, since the hand-held is used mostly for High Highness' detritus.)
So, the Hoover Platinum Line Cordless Hand Vacuum: In a word, I love it. It's not that I didn't have a hand vac; I did, and it was a "fancy" one. But it always seemed to lose its charge all too quickly, and all the attachments always seemed to migrate to Never Never Land. Not to mention, the debris chamber was just too small for all the dog fur. For anyone who swears by a hand-held, this is your dream-come-true.
For starters, this Platinum Collection (there are a few models in it, including a heavy-duty carpet cleaner [$400] that and a stick vac [$180] that is easy to use and stash), are powered by a LiNX battery system (it's a lithium-ion) that can be swapped back and forth among appliances, and most importantly, that battery has a charge life of three hours! You are completely free of power cords, plus the machines deliver great suction, and don't do a slow fade. (There is even Platinum Pet Plus Carpet & Upholstery Detergent to use with the carpet cleaner.)
The hand-held (about $140) also has the niftiest built-on and built-in attachment for upholstery, crevices, and odd jobs. The multi-functional nozzle is already attached to the hand-held, on a hinge. It folds back under the main nozzle--it can never get lost! The batt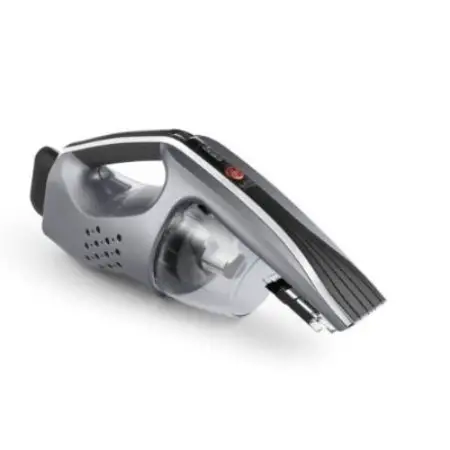 ery takes three hours, give-or-take, to charge up the first time, and after that, you're home free. Once you start using this Platinum Collection, you may well throw away your old vac! There is even a battery gauge (the fuel gauge, they call it), so you know how much of your charge is left, something my old hand-held didn't' have and it made it all the more maddening, when it just died in the middle of vacuuming sofa cushions. The dirt cup is also see-through, so you can tell when it's time to empty it. And the filter is a breeze to clean-just run it under cold water.
So, commona' my house this holiday season. I'm just dying to clean up after people (and dogs!).
Posted on Wednesday, December 01, 2010 @ 05:51 PM | 0 replies Start the Discussion
---
City Shopping
Just in time for Cyber Monday, comes The Foundary, a flash-sale site, featuring high-end home furnishings--things like picture frames, luxurious doggie beds, beautiful leather journals, cookware and appliances, carpets and rugs, and even oddball services like LobsterGrams. (If anyone is reading who wants to send me a birthday present, a LobsterGram is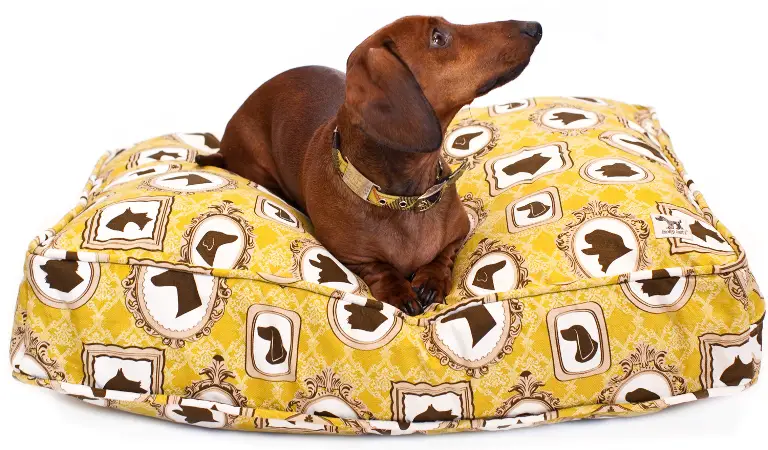 a really nice idea! Along with the butler to do the cooking, serving, and tidying up.)
The site just launched, so it is leading with some really neat sales. Founded by seasoned retailers who say they have combed the depths of the retail markets to find the best, the latest, the newest, and the neatest, so expect to nail some good deals here. As with all flash-sale sites, the offerings are good for a few days only, and when the merchandise is depleted, that is the end of it. Finito. If you're a fan of other sale sites and follow the fashion sites--places like RueLaLa , Ideeli and Haute Look--then this site is for you. Sale deals can be as much as 70% off retail. Many sites, such as Gilt Group ask that a "member" refer you to "get into the site," but t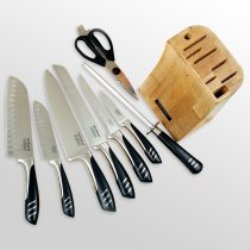 he notion of membership is a sort of silly one, with just about all these sites: No site is going to turn you away because a friend didn't refer you!
So, testing the waters of The Foundary, last week, I stocked up on Austin's doggie's Xmas gifts--for him and for him to give to his canine pals--with treats from the adorable Polka Dog Bakery, all exceptionally well-priced, nicely packaged, tasty (so far as I can tell, since Austin is the arbiter). The Naughty and Nice cookies look adorable, too! Coming up soon will be a sale on rival dog-stuff manufacturer, Harry Barker, and for the felines among you, Molly Meow will be on board with a sale soon, also.
Currently there are sales for snow globes, carpets-and just in time for Thanksgiving-fabulous cutlery and carving knives from Top Chef. There have been sales fro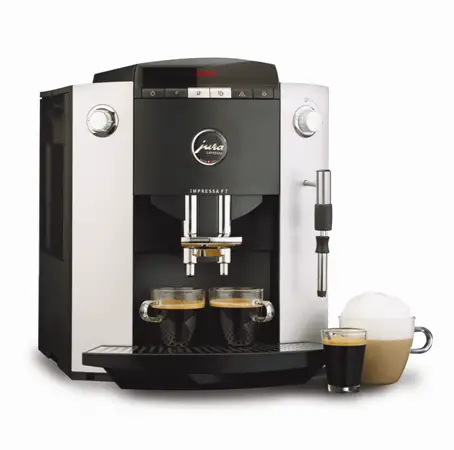 m companies like Jura Capresso, featuring its ultra-luxe espresso/coffee/cappuccino makers (yeah, if that same person is reading, I could use one of these, too!), and it is not uncommon to find names like Dyson, Le Cruset, Nancy Koltes (linens to slaver over), and Riedel Crystal offering their upmarket brands at "good" prices. Whether they are overstocks or returned orders from the likes of Gump's,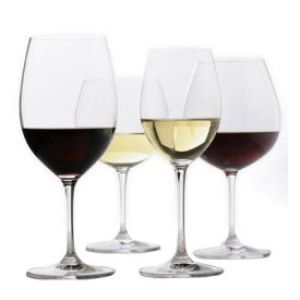 who cares. They are yours for the plucking.
Most sales start at 11 a.m. and last for three days, with the clock ticking on the side of the site...should the merchandise be exhausted sooner, then that is that, alas. After traipsing around and exhausting yourself on Black Friday, it will really be a pleasure to sit and point and click on Cyber Monday.
Posted on Tuesday, November 23, 2010 @ 11:36 AM | 0 replies Start the Discussion
---
City Shopping
Time to start thinking about Xmas. Yeah, we know. It's not even Halloween yet, and we're yakking about Noel. But, for those who like to be ahead of the ticking clock, it's the witching hour for getting your card orders in the works and for thinking about pretty personalized gift/hang tags--not to mention you might just want to give gifts of handsome personalized stationery. So, it's definitely time.
We recently were introduced to an excellent resource, the Web site Lobird, and wanted to share it with you. Founded by Laurie Rohrbach, Lobird is the nickname her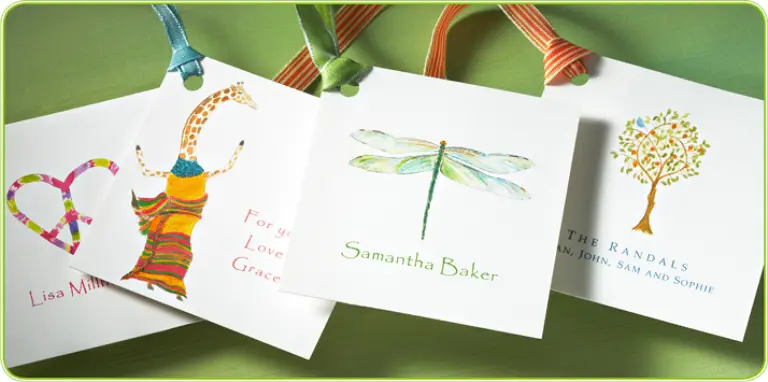 father used to call her. Laurie's mom died when she was but three, and later in life, she found a cache of letters handwritten by her mother; they were evocative, and moreover, many had decorative doodles in them, a sketch, say, of a Mayan motif her mother had seen in her travels, or something she had admired in a local market. It was a telling moment for Laurie: She instantly grasped the power of the handwritten word, the sentiment and personal significance a splendidly penned note can convey.
As an artist, she saw that her path was clear. And, thus, Lobrid was created. All of Laurie's designs come from her heart and her hand-painted images are delicate, somewhat whimsical, while still being representational-sweet without being precious. She was born in Australia, raised in California, and served in the Peace Corps in Thailand, so she draws on her world travels and p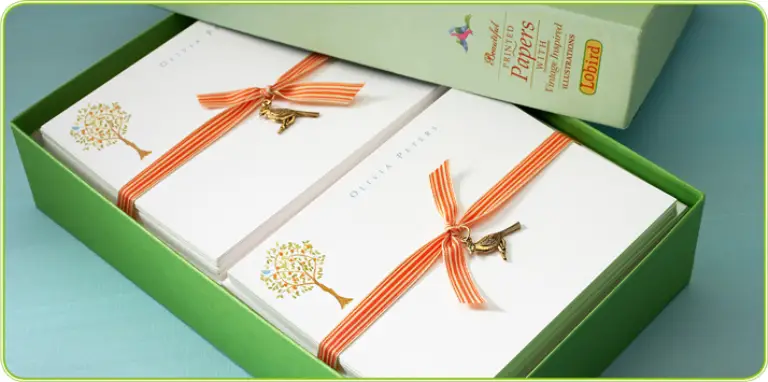 ersonal journeys--spiritual and physical--for inspiration.
Her paintings are all delicate and her color combinations--even her choices of ribbons for hang tags or sheer papers for envelope linings--are very precisely selected. There are virtually hundreds of motifs from which to select, and the website is so well organized you'll have no trouble finding things animal, vegetable, mineral, so to speak. She's organized the site by recipient/user, by category, by theme, and so on. And once you have selected your category and image, fine-tuning for the personalization is a snap.
Lorbird's prices are quite fair, also. Everything comes packaged carefully and exquisitely, wrapped in clear envelopes, encircled with ribbons, embellished with little charm accents-all thoughtfully wrapped and protected. Note cards start at $25 for a set of 12 (25 are $43), and for additional upcharges, clients can have envelopes lined and/or printed with return addresses. Gift tags (they are so delightful, the perfect finishing touch to a wrapped present) start at $28 for a set of 12 (25 are $48). These are her bestseller year 'round, and they can be easily personalized-typeface, ribbon color, message, design, and so on. She also makes charming gift enclosure cards.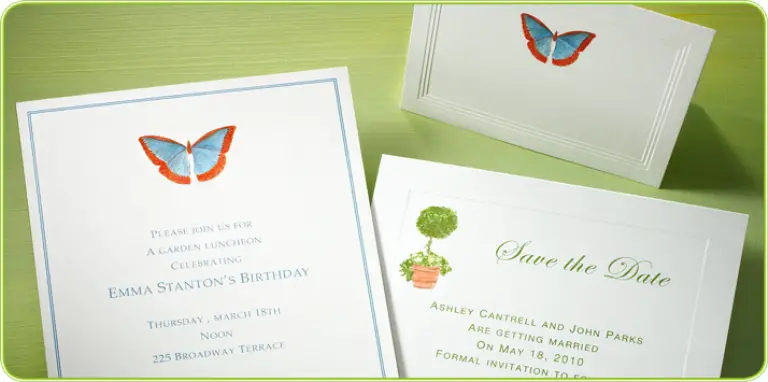 In addition, given that it's holiday/entertaining season and a new calendar year is 'round the bend, think of Lobird for customized party invitations and for her fanciful calendars. (The calendar brass easel is $48).
Posted on Wednesday, October 27, 2010 @ 01:37 PM | 0 replies Start the Discussion
---
City Shopping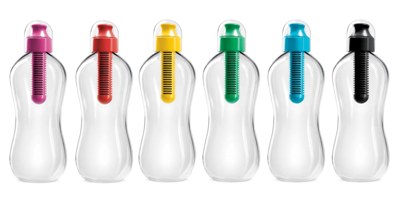 It's got a really cute name, Bobble, to go with its really cute design, which is from the fertile pen and mind of that genius of modern everything, industrial designer Karim Rashid. It's a stylish water bottle with a smart patented filter built into it, a filter that removes chlorine and organic contaminants from municipal tap water. It more or less replicates the experience of drinking purchased, clean, bottled water.
And since we spend over $15 billion a year to buy water, it's sure going to save us all a little bit of moolah, not to mention space in landfills. It's made from recycled plastic and is free of BPA and PVC...in other words, stuff you don't want your water bottle made of. Given the heat waves we have been experiencing these past weeks, nobody, not even a camel, is likely to leave the house without toting a bottle of hydration.
The Bobble comes in a half dozen snappy colors - Kelly green, poppy red, lemon yellow, turquoise, magenta, and sedate black. The carbon filter is good for about 40 gallons of water and it's suggested that it be replaced every two months or so; to clean it, soak in boiling water. It sells for $9.95 and is available on line, and at Bed Bath & Beyond and Barnes and Noble.
Posted on Tuesday, August 03, 2010 @ 04:47 PM | 0 replies Start the Discussion
---
City Shopping
Austin here, (like you couldn't tell, looking at my big wet nose), the top dog in the Katz household. I'm doing the blogging this week, as Mom is busy, getting ready to go to the GIANT Housewares Show in Chicago. She said she'd send back a few blogs about new and fab products she sniffs out in the Windy City. But in the meantime, I've got my fat mitts on the keyboard to tell you about a few other products I tested for Mom. As we said last week, we're still in a doggie state of mind, following the Westminster Kennel Club Show, so here are two things I really like:
The Wahl Kennel Pro Combo Kit (a 17-piece--yikes, woof!--grooming kit). Mom can always tell when I need to be groom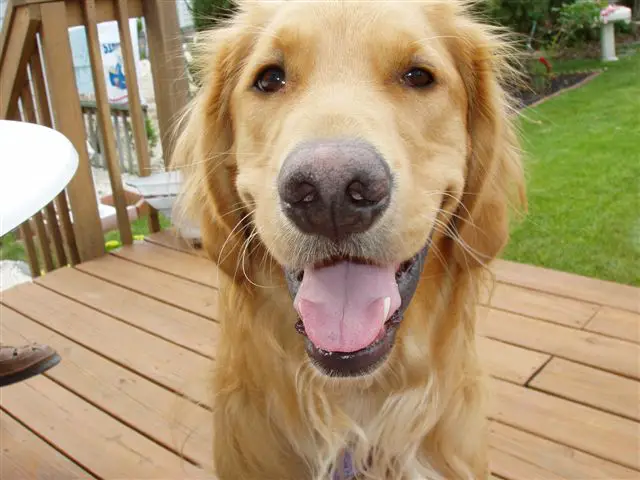 ed. For starters, on the bottom of my paws, I grow exploding clumps of fur in between my pads, ...and don't even ask what the tops of my paws look like-big, furry, blonde tufts erupt from my dainty webbed feet. My neighbor Paxil, the Cairn Terrier, says I look like I am growing fuzzy slippers on my feet. So, that's when we know it's time to get the paws clipped. Dum-da-dum-dum....I used to hate it. But now I love it with my new Wahl clippers.
Don't think you can use a people clippers, either. You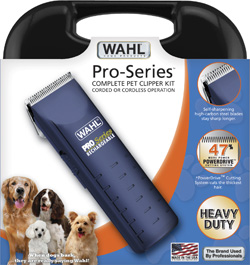 need a doggie clippers, as they are, in the words of my pal Mark, who is a top dog at Wahl, more aggressive with a dog's fur and they do the job more successfully, with their self-sharpening, high-carbon steel blades. So, we got the deluxe kit (shown here) and I highly recommend it. (Although I must admit, I don't use the mirror that comes with the kit--like what am I gonna' do with a mirror? But Mom uses it.) The clippers are rechargeable and do the job expertly, neatly, swiftly. I don't mind the buzzing and sort of like how it feels on my bod. We recommend all the Wahl clippers, as there are many models, priced from about $25 to about $160, for the fanciest (professional) model. And when my paws are all done, I have bee-yoo-tee-ful feet, like the big lions outside the New York Public Library.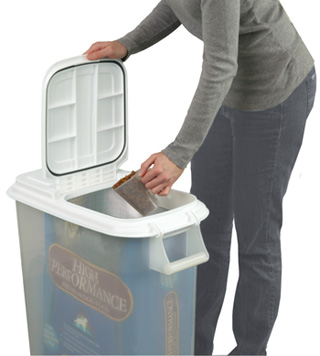 Next, I like my new ENORMOUS food bin--it holds SIXTY pounds! Mom says until she found this giant, heavy-duty bin, it was just such a pain storing my food because she buys in bulk and needs to keep my food fresh, handy, and protected. (For the record, I don't think we need to keep it protected, as I would like to get at it all the time...I've been known to be Houdini and climb on the window seat in order to get to the top of the refrigerator to eat chocolates from Maison du Chocolat. But that is another story.) Anyhow, Buddeez makes the very best containers for storing pet food. They are all cleverly designed, with wheels, handles, pour spouts, and safety-snap (airtight) lids--and, they are BPA-free, safe for food, obviously; and, the bins are transparent, so you (and I) can see how much kibble is left. (Oh, hello, do you want to torture me?) Well, Mom loves this new bin with its various easy openings, narrow footprint (for slipping into a tight space), and moreover, with the measuring cup that snaps in place on the underside of the lid. Woof! I agree. Now feed me.
Posted on Friday, March 12, 2010 @ 02:21 PM | 0 replies Start the Discussion
---
City Shopping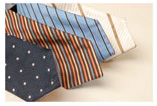 We would normally say that we think Century 21 is a good place to shop for discounts, and discounted designer ties among those bargains. Or Hermès, definitely, for classy ties, distinguished ties. Ties that any knowing eye would recognize as readily as one recognizes an Hermès scarf. And what other destinations? Bergdorf Goodman's Men's Store for variety. Or Barneys for the colorful displays...so many ties, so few -- only 365 -- days to wear them.
But we're going to throw in a ringer here: Lord & Taylor. And why? Well, it?s really because of the Henry Jacobsen reversible ties (pictured). Other stores have bigger selections, or better selections, or more reasonably priced selections, or whatever. But nobody has these neat reversible ties. And they're barely $75. We think at that price, considering you're getting two-for-the-price-of-one, they're a steal.
And lest we forget: For those venturing beyond the Hudson (mon Dieu!), there is a wonderfully upscale, family-owned store called Garmany in Redbank, in La Nouvelle Jersey, that has an amazing selection of ties, many of which you will find nowhere else. Don't ask -- we don't know how Larry Garmany and his son Johnell do it, but they find manufacturers in Italy who do exclusive, limited-edition runs of ties with prices that can soar up to $300...so we figured it's worth a mention here. You definitely will not see yourself coming and going in those Garmany ties. Lord & Taylor, 424 Fifth Ave., 212-391-3344; www.lordandtaylor.com. Garmany, 121 Broad St., Redbank, New Jersey, 732-576-8500; www.garmany.com
Posted on Wednesday, December 19, 2007 @ 11:55 AM | 2333 replies View/Post Feedback
---
City Shopping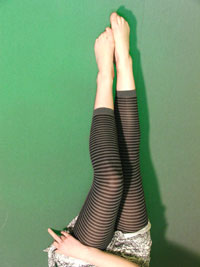 What we like about Fogal can be summed up in three words: The Crayola Effect. There isn't a color of hosiery that this company does not fashion...well, at least they make well over 80 shades of black, white, and everything in between. We like to just click on the Web site and watch the Pantone-like parade of colors whisk by. And once you find your color, then you have to choose your hose style, from super sheer to opaque, from textured to shiny, to whatever. Unlike competitor Wohlford, which has a sort of dependably black palette, Fogal just hasn't met a color it doesn't like. And that's what we like. Because you never know when you'll need something to match a luteous green bridesmaid's dress -- or what if you land a job as a flight attendant on Austrian Air and need bright-red hose? Fogal's sure to be your new best friend. There are also some neat body suits and other intimate accessories for women, along with hose for men and cute stuff for kids. But still, we come back time and time again for that Grumbacher palette of hosiery. Dependable. Colorful. Textured styles, sleek styles. And a decent size range. What legs could ask for more? 515 Madison Ave. (near 53rd St.), 212-355-3254; www.fogal.com

Posted on Monday, December 17, 2007 @ 02:18 PM | 6142 replies View/Post Feedback
---
City Shopping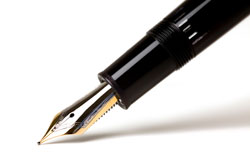 We are nuts for stationery. In fact, one of our good friends, a stationer himself, calls us a "paper slut." We cannot help ourselves. We see fine writing paper, unusual letterhead, vellum with a textured hand, and we just have to have it. It's a darn good thing we still believe in writing letters -- proper thank-you notes, congratulatory letters, best-wishes epistles -- or all this paper we have accumulated over the years would render us a waiting-in-the-wings Collyer Sister. But we use it, we cherish it, we love it, and we mail it!

And so it's all the more reason that we adore Russell Sloane, makers of the finest writing papers and most wonderful letterset personalized stationery. If you have an unlimited budget, assuredly, whatever you order from them can exceed it! Sloane Madureira, half the team here, has a studio-art background from Pratt, while her husband and partner, Russell Maret, studied book arts with a renowned master. Together, they are a formidable pair and their work incorporates all manner of craftsman-like, unique details. Sloane excels at creating elaborate invitations, with many pieces, and she adores tracking down the just-right components of a multi-part mailing. Russell is the master printer and will perform his leger de main even on wood veneer.

Like so many things we adore, stationery from this duo isn't inexpensive, but then we are a firm believer in having your papers put forth the right image (people often see your papers before they meet you, you know) and you should spend, spend, spend for that image. Wedding invitations with many parts (maps, binders, and so on) can go up to $60 or more per piece, and more pedestrian, everyday (but equally gorgeous) social stationery (with a two-week turnaround) can cost $700 to $1,200 for a box of 200. With prices like that, you?ll find you really WANT to write notes to people, especially those who will truly appreciate not only getting a handwritten note, but will also revel in the paper itself. 336 W. 37th St., Suite 204; 212-539-0184; www.russellsloane.com

Posted on Monday, December 17, 2007 @ 01:15 PM | 36 replies View/Post Feedback
---
City Shopping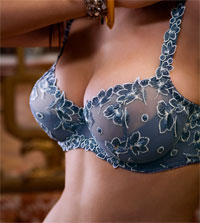 For all those "personal things" that go underneath the finished product, head uptown to Intimacy on Madison and 90th Street. Smashingly sexy (and supportive) bras, seductive undies, and everything else that is hidden under your jeans or jumper -- it's all here, in this cozy shop with the pretty peach walls. It's not just that the staff know how to fit a bra properly (and they should, considering that they carry bras with cup sizes ranging from A to JJ), but they know how to do it discreetly, politely, with care. (We especially like Evanny, who fit us for our latest little lacy something.) There are brand names here you know, like La Perla and Felina, but mostly there are fabulous European imports that you don't know, and that you won't see anyone else in, especially when you're at the gym changing into your sweats -- names like Lise Charmel, Prima Donna, Chantelle, and Aubade. And even better, these are brands that a certain someone (with a Y chromosome) hasn't seen yet, either. Nothing here comes cheap, but everything is oh-so-worth it. Forget those ancient ads, "Last night I dreamed I was a whatever in my Maidenform bra..." and actually be a whatever-you-want in the finery and fabulousness sold here. Intimacy, 1252 Madison Ave. at 90 St., 212-860-8366; www.myintimacy.com
Posted on Monday, December 17, 2007 @ 01:08 PM | 277 replies View/Post Feedback
---
Subscribe to this Blog's
Feed