City Shopping - Services Blogs
Back to Blog... | View More Bloggers...

About the Author: About the Author: Ruth J. Katz is a well-known shopping and service writer based in New York City. She has written about shopping for 25 years for New York magazine; covered the topic on-air at Fox-TV for several years as the Home Services expert; and had her own show on both the USA and Lifetime Cable networks. Katz wrote extensively for The New York Times as well, and contributed periodically to the New York Daily News. She is a passionate shopper, always looking for not merely a good buy, but the best buy, ferreting out a "steal" or discovering up-and-coming designers. She has written five books and is a former contributing editor to Hearst's Redbook, Classic Home, and Colonial Homes; she is currently a Contributing Editor of New York Home, Golf Connoisseur, The Modern Estate, and Promenade magazines. She is also the former Shopping Director for Davler Media's Manhattan Living.


---
City Shopping
Silhouettes and Profiles has been in business nearly 40 years and has had some of the same loyal patrons for all that time! Not hard to fathom, when you consider that it is tricky to find a really good tailor/dressmaker who will just as happily put up a simple trouser hem as create a new, lavish evening cape-and owner Irene Chermiakhovsky can do both with great skill and an artistic eye. At Silhouettes and Profiles, Irene, along with her right arm, Anna Drugova (not to mention Irene's half-dozen crew of nimble-fingered magician-sewers, mostly all foreign-born) will work on your simple mending, your complicated alterations and remakes, just as eagerly as she will refashion and revitalize a vintage Poiret, for example (should you be fortunate enough to own one). Irene counts the Metropolitan Museum of Art Costume Institute among her clients, thank you very much, and she particularly relishes working on vintage clothing and heirloom garments. However, if your problem garment's still got tags on it, or it's a resale-shop treasure, no matter: Irene and her team can ply their sleight of hand and refit or retrofit it.
They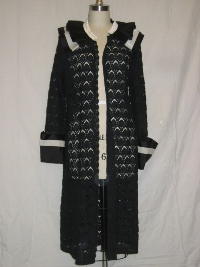 have also created a boutique-y line of clothing that they will custom-make to your size, mostly vintage-inspired, with touches of period laces, beading, or remarkable trims. But not all the line has its root in fashion history. There are also young, hip garments that are cut from very edgy designs-a cute straight, asymmetric white skirt with interesting black writing on it, and a flirty little ruffle, $120. There is a fabulous crochet-look, long, straight coat-sweater, with the cuffs embellished with layers of ribbon ruffles that are iconic of this season's Chanel chiaroscuro silhouettes, and so Irene's interpretation is, of course, fashioned in classic black and white, $275. She has also designed an extraordinarily stylish, black-and-white, Courrèges-inspired jacket, with red leather trim, $450. (It is also a great buy, because it's reversible to a small checkered woolen fabric, so it's really like gettin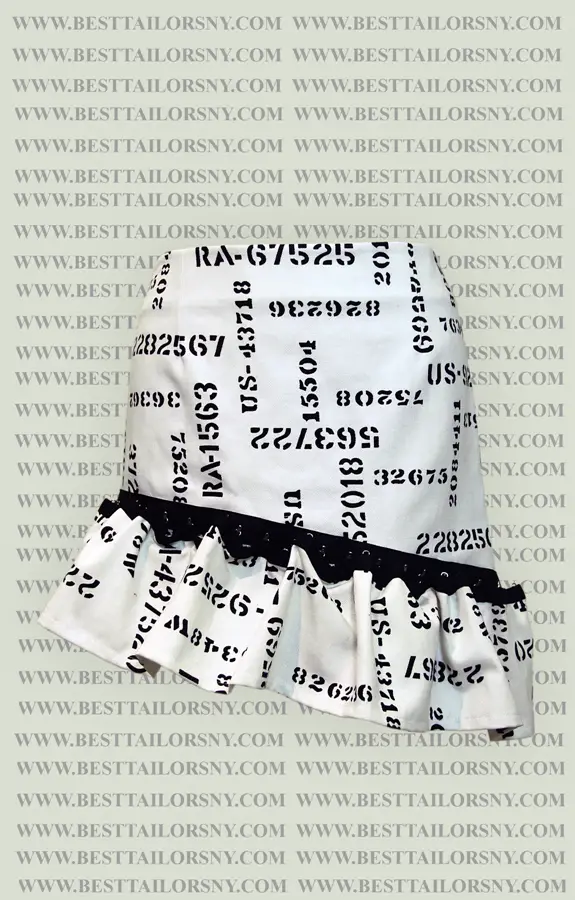 g two jackets in one.) There are sexy sweaters, blouses, and a half-dozen styles of dresses (also with various vintage trims mixed into the styling), and naturally, if you walk in with your own fantasy design, they can whip it up. You dream it up, they stitch it up.
Naturally, they still do repairs, so that if all you need is a hem put up on trousers ($24)*, or a jacket ($45) or a skirt ($25), they will cheerfully do just that, or take in/let out anything, or patch a knee, elbow, or inner thigh.....in other words, whatever.
*prices quoted are the starting tariffs for these types of repairs; so for example, a trouser with a cuff and a lining may cost more
Silhouettes and Profiles
160 West 71st Street
(Broadway and Columbus Avenue)
212-877-3372
closed Sunday and Monday
www.silhouettesandprofiles.com
Posted on Tuesday, November 03, 2009 @ 04:03 PM | 0 replies Start the Discussion
---
City Shopping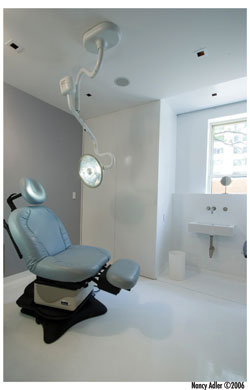 When you enter the Park Avenue offices of Dr. Neil Sadick, you may feel like you're on a Hollywood set, what an Oscar-winning art director thinks a Beverly Hills plastic surgeon's futuristic office should look like. But make no mistake: Very serious medicine takes place here.

Dr. Sadick's impressive credentials include four board certifications, and his list of prestigious titles and credentials takes up pages and pages in his resume. He has authored nearly a dozen books, written or co-authored hundreds of articles, and delivered speeches at over 500 medical seminars, classes, and workshops.

A gifted researcher and academic, Sadick is skilled with all the latest laser-lights and energy therapies, and the office is outfitted with state-of-the-art equipment, much of which he helped develop. His research has revolutionized contemporary dermatology with countless firsts: the first radiofrequency skin-tightening technology; the first lasers for treating varicose veins; the first ultrasound and radiofrequency liposuction. "The future will include more cost-effective, non-invasive, safe technologies that will require no down time," he says. "Some of these newer procedures will be incorporated into treatments in the physician's office, but many will be so safe that they can be used at home."

Come for the removal of a birthmark or to reinvent your birth date -- and everything in between: Botox, Sculptra, laser peels, Lipo-Selection, lesion removal, vein procedures, acne-scar treatment, hair transplant, or just a medi-facial. 911 Park Ave. btw. 79th & 80th Sts., 212-772-7242; www.sadickdermatology.com (This article originally appeared in the 9/06 issue of Manhattan Living.)

Posted on Tuesday, November 27, 2007 @ 10:00 AM | 8 replies View/Post Feedback
---
City Shopping
Although John Sahag died a year ago, his salon lives on; the master hair stylist left his business to "the kids" -- his stylists -- and one tradition they maintain is Student Night (Wed., 6:30 p.m.), where rock-bottom prices and top-flight talent await you. Haircuts are a mere $45! (Women's, normally $150-$225; men's, $100-$160). Single-process color is a scant $30 (normally, $125 & up), and highlights, $65 (regularly, $250 & up). Call Tues. between 11 a.m. & 12:30 p.m. 425 Madison Ave. at 49th St., 2nd flr.,  212-826-3305; www.johnsahag.com (This article originally appeared on the 9/06 issue of Manhattan Living.)

Posted on Tuesday, November 27, 2007 @ 10:00 AM | 1276 replies View/Post Feedback
---
City Shopping
Richard Heller has been hoisting trees and rooting around in dirt -- doing all manner of urban landscape work -- for over 30 years. A Certified Landscape Technician, he speaks with passion about putting the just-right kind of greenery in a backyard and on a rooftop or terrace. "It should reflect the architecture of the house, and complement it. We can do anything, but I love doing green roofs," he notes, speaking of the type of installations that are particularly ecologically friendly. 

Heller has an aesthetic eye that was trained at Vassar "in countless courses in design theory, architecture, and art history." First, clients work with him by going to his office and looking at hundreds of pictures of gardens to give him a sense of what they like...then he takes over, figuring out what will work, what fits the budget, and what is practical for their spaces. The minimum design fee is $1,500 (labor and materials are extra), he has a staff of 30, and his company can even care for and service your garden once it's installed. 914-637-9870; www.greenerdesigns.com (This article originally appeared in the 7/06 issue of Manhattan Living.)
Posted on Tuesday, November 27, 2007 @ 10:00 AM | 3730 replies View/Post Feedback
---
City Shopping
In the last decade, a heretofore unknown business has sprung up in the real estate biz: staging. It's all about setting the stage in your apartment to sell it, move it, and/or market it like anything else -- as if it were a can of soda, a car, a breakfast cereal. It's not enough to put out flowers and stick fresh linens on the bed to make it look appealing. Enter stage right: Nairn Friemann, of Ingenuity & Pizzazz, who holds an MBA and is an accredited staging professional. 

She's been doing this for three years and has staged several hundred apartments. She can either help you with a step-by-step plan that you can implement yourself (for as little as $300 per room) or she can do the entire job (for anywhere from $1,200 to $1,500 for a day, and it usually takes just one day). Getting pictures taken, she readily cautions, "are vital to selling a property. An apartment must be showcased properly on the Internet to even get people in the door. It's your biggest tool today and the first step in any marketing plan." After that, she'll help you figure out how to keep the place sanitized and spiffy for a sale -- usually "above asking," and with countless offers. Her track record speaks for itself. 212-308-4642; www.ingenuitypizzazz.com (This article originally appeared in the 7/06 issue of Manhattan Living.)
Posted on Tuesday, November 27, 2007 @ 10:00 AM | 10 replies View/Post Feedback
---
City Shopping
By this time, your furs should have gone to summer camp -- if they haven't, now is definitely the time. Don't think that keeping them sequestered in the back of a closet in an air-conditioned apartment is okay. To maximize the life of a delicate and costly fur coat during summer, its hides need to be maintained in a moisture-controlled, 50-degree environment.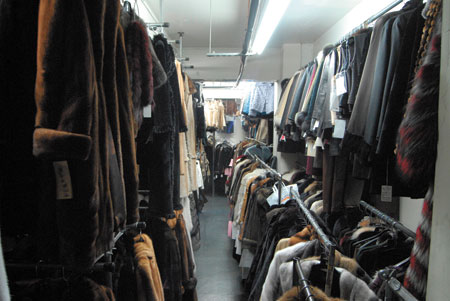 "Do not store them in plastic, do not mothproof them...these can shorten the life of your coat," cautions Murray Cox, the director of sales at Alexandros, a family-owned, fourth-generation furrier in the city's famed fur district. Prices here for cleaning and storing are very reasonable. And of course, they're inspected for loose seams, dangling hooks, frayed hems, and so on; repair costs are additional. Storage alone, for all garments: $45; cleaning and glazing (a sort of finishing and "fluffing" of the fur) classic fur coats, $45, and for fur-lined raincoats, suede, shearlings, and leather coats, $75 and up. Pick up or delivery is free; the return trip is $25. 345 Seventh Ave. btw. 29th & 30th sts., 4th flr., 212-868-1043 (This article originally appeared in the 6/06 issue of Manhattan Living.)
Posted on Tuesday, November 27, 2007 @ 10:00 AM | 2476 replies View/Post Feedback
---
City Shopping
In business since 1935, this throwback to another era specializes in all things relating to hats -- from making fab, one-of-a-kind chapeaux to maintaining them. Horace Weeks, who's been with the company since the 1940s, will oversee whatever you fancy. For summer, it's the cleaning and the blocking that we're interested in, to keep our boaters and our big straw beach hats pristine.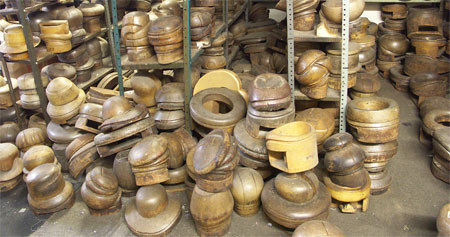 Anika Lopes, who runs the operation, says that they have the largest selection of hat blocks in the U.S. "Just hundreds -- it's like a museum! And there's nothing we can't do with a hat," she notes, and that includes minor things like changing the inside or outside sweatband, sizing, repairing, and so on. For cleaning and blocking (about $45 and up, with approximately a week's turnaround), walk-ins are welcome; other jobs require an appointment. 36 W. 38th st. btw. Fifth & Sixth aves., 4th flr., 212-730-4369; www.peterandirving.com (This article originally appeared in the 6/06 issue of Manhattan Living.)

Posted on Tuesday, November 27, 2007 @ 10:00 AM | 740 replies View/Post Feedback
---
City Shopping
The annual Kips Bay designer showhouse always features some pretty nifty rooms filled with sumptuous furnishings -- the finest carpets, extraordinary draperies, and countless objets and bibelots all just waiting to be manhandled and broken. The delicate task of cleaning the tchotchke-filled mansion during the month-long show falls on the shoulders of New York's Little Elves, run for 30 years by the intrepid Barbara Fierman. (In addition, Fierman numbers among her clients the Southampton Showhouse, countless fussy designers, and the party space at the Time Warner building.) In short, these elves know how to clean up after a major bash and for very particular folks...and they'll know how to scour and polish after your engagement party or at-home wedding -- or how to tackle that spring cleaning you've been putting off. Some of Fierman's staff have been with her for over ten years, and many of her employees are part of extended families. (Most importantly, she points out, all her people are covered by workers' comp, something very few firms can boast about.) And they're fussy, careful, and thorough. The cost is $34 per hour per person, and if you need three or more, she'll supply a captain for the crew at $43 per hour. They'll use your supplies ("Most people have pretty weak vacuums, though," she points out) or they'll bring their own ($125), everything from Q-Tips to an industrial vacuum. One thing she jokes about: "We don't do windows," but she'll bring in the service she regularly uses that does! By reservation only. 212-673-5507; www.nyelves.com (This article originally appeared in the 4/06 issue of Manhattan Living.)
Posted on Monday, November 26, 2007 @ 03:52 PM | 211 replies View/Post Feedback
---
City Shopping
Richard's is currently readying the interior of a house for an at-home wedding: 59 windows need new draperies -- not to mention all the new furniture and additional occasional pieces. Well, if he can do that for a sprawling suburban manse, imagine what he can do for a Manhattan apartment with, we're sure, a lot fewer than 59 windows! Richard Harary has been in the home fashion industry for over 25 years, and in his charming vest-pocket-size shop, he stocks fine-quality luxury fabrics, from which he makes draperies, window treatments (think Roman, balloon, and even motorized sunscreen shades), bedding ensembles, and furniture. 
Harary recently became an agent for imported, luxe Indian silks -- stripes, plaids, embroidered goods -- and sells them for between $40 and $90 per yard, although he quickly notes they sell for far more elsewhere. On staff are three designers who can help you plan your new living room, or just determine what will give a tired living room a cheery face-lift. He brings furniture up from North Carolina, and both club and wing chairs start at $1,200 and sofas at $2,000 (exclusive of fabric and freight). In a pinch, he might be able to turn around a single window treatment in two weeks, but workroom projects usually require a 4-6 week turnaround, and furniture 8-10 weeks. 1390 Lexington Ave. btw. 91st & 92nd Sts., 212-831-9000; richardsinteriordesign.net (This article originally appeared in the 4/06 issue of Manhattan Living.)
Posted on Monday, November 26, 2007 @ 03:51 PM | 980 replies View/Post Feedback
---
City Shopping
Cakes, wedding or otherwise, simply do not come any more beautiful than Ron Ben-Israel's. And what's even better, they taste as good as they look: mouthwatering and exploding with confectionery flavor, which is not something you can generally say about wedding cakes. In business a little over ten years, Ben-Israel is the darling of brides in the know. Prior to his meteoric rise, the gifted baker was working for a caterer and baking charming little cakes on the side that were periodically used in window displays. One day, Martha Stewart walked by the Mikimoto storefront, and the rest is, as they say, history. (In fact, when Stewart's company celebrated its 15th anniversary, "the only cake she wanted," he declares proudly, "was mine.") 
Ben-Israel says he is always influenced by things that are taking place in the design world, whether it?s architecture, interior design, flower arranging, the haute couture ateliers, and so on. "When everyone was doing delicate cakes white and pale with baby's breath, I wanted to do lavish things with saturated colors and big flowers -- hydrangeas. When Vera Wang was doing sexy wedding dresses, I wanted to do sexy cakes." Today, Ben-Israel is the wedding cake man to emulate. Cakes range in price from about $12 to $15 per slice, and the minimum is $500, depending on time availability of the bakers; orders are usually placed six months in advance.  42 Greene St. btw. Grand & Broome Sts., 5th flr., 212-625-3369; www.weddingcakes.com (This article originally appeared in the 4/06 issue of Manhattan Living.)
Posted on Monday, November 26, 2007 @ 03:51 PM | 3197 replies View/Post Feedback
---
City Shopping
If you wanted to be a hat maker, you couldn?t have a much better pedigree than Leah Chalfen of Leah C. Couture Millinery. Armed with a degree from Temple University, Leah completed the millinery program at the Fashion Institute of Technology and went on to work at renowned British hat designer Patricia Underwood's studio. Before striking out on her own, Chalfen even worked in the remarkable millinery department of the Metropolitan Opera House (which, as she notes, gave her insight into the world of theatrical styles -- sometimes veritably jaw-dropping styles, indeed). 
Her elegant and flattering headpieces are worn by "distinctive brides who want to walk down the aisle with pride and confidence -- not the 'classic' tiara woman," she says jokingly. "And I'm known for the graceful use of feathers, too." Her headpieces embody the infinite possibilities that feathers, flowers, veiling, pearls, and a gifted hand and creative eye can bring to them -- and editors of major bridal magazines agree, as her headpieces are regularly published in national periodicals, including top-tier magazines like Town & Country and InStyle. "I love to make the most flattering veils and headpieces for my brides -- things that are contemporary and stylish," she notes. Veils start at $125 and headpieces range from about $275 to $425. 124 W. 30th St. btw. Sixth & Seventh Aves., Suite 203, 212-947-3505; www.leahc.net (This article originally appeared in the 4/06 issue of Manhattan Living.)
Posted on Monday, November 26, 2007 @ 03:51 PM | 5082 replies View/Post Feedback
---
City Shopping
Once Upon a Bride helps create magic on that special day when a woman wants to feel more glamorous than she's ever been in her entire life. Stacey Lyn, the founder and creative director of OUAB who has been in the beauty biz for 20 years, observes, "When I'm getting brides ready to walk down the aisle, that's when perfection matters most. I try to bring a modern and sexy look to a bride and make her feel like a goddess on her wedding day." 
Lyn, who has worked as a make-up artist and hair stylist at some of the city's most prestigious salons, went on to ply her trade on countless movies and TV shows, including the sudsy "Another World" and "As the World Turns." She did the bridal party for Robert Downey, Jr.'s wedding and she's been featured in InStyle magazine. She's put together a swat team of beauty experts -- her "glam squad" -- who perfect hair and make-up on location for brides, doing everything from pedicures to highlights. Prices range from approximately $350 each for hair and make-up (for a senior staff person) to well over a thousand dollars for toes-to-tiara beauty procedures with Stacey herself. When brides come in for a run-through ($250 and up), they are asked to bring their favorite make-up, a picture of their dress, and so on, and Stacy experiments with different looks so that there are no surprises, no mistakes...and hopefully, there will be a happily-ever-after ending. By appointment only. 296 Elizabeth St. btw. Bleecker & Houston Sts., 212-353-2350; www.ouab.com (This article originally appeared in the 4/06 issue of Manhattan Living.)
Posted on Monday, November 26, 2007 @ 03:51 PM | 3300 replies View/Post Feedback
---
City Shopping
It's a dirty job, but someone has to do it -- and David Stern has been doing it for more years than he cares to recount. The "it" is laundering and repairing Venetian blinds. Stern and his nimble-fingered staff can clean and refurbish almost any type of blinds: wooden, faux-wood, aluminum, plastic, verticals, and even vintage, assuming he has or can make the parts. He can handle product from Levelor, Hunter Douglas, and Graber, among the most popular manufacturers; he can even rejuvenate Hunter Douglas' Duettes, Silhouettes, and Vignettes.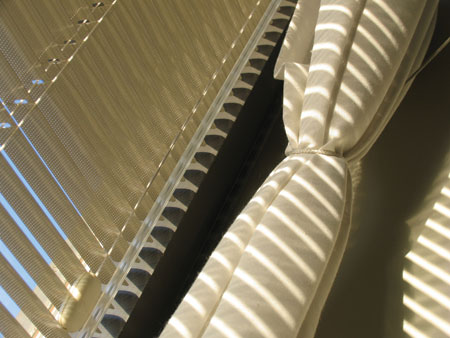 Some simple repairs (like re-cording or putting on new pulls) can even be done on your premises. (More intricate tasks, like re-taping, must be done at his shop.) He can replace slats, wash city debris off of surfaces, and even do on-site cloth-shade and drapery cleaning (starting at $400). The minimum for in-home repairs is $200, so it's worth waiting until you have a lot of work for him before calling; otherwise, you can mail blinds to his shop and he'll turn most repairs around in about a week. He does make occasional trips into the city for consultations and pick-ups, so it's best to call first to discuss your repairs and catch him on a day he's scheduled for city work. 79 South Third Ave., Mt. Vernon, NY, 914-668-8860; www.davidsternwindowtreatments.com (This article originally appeared in the 3/06 issue of Manhattan Living.)
Posted on Monday, November 26, 2007 @ 03:51 PM | 4236 replies View/Post Feedback
---
City Shopping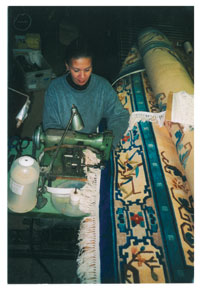 "One of the biggest problems we see is rot, the result of potted plants," observes partner Howard Katz, whose father started this company nearly 80 years ago. Katz explains that carpets can degrade and disintegrate from the moisture leaching from a clay pot. "It's the moisture-loving clay that does it." "Crumbling" carpet, torn fringe, burned and stained spots -- to name but a few of the problems that Majestic tackles -- are all in a day's work for Katz and his magicians. Patching a 12-inch square of carpet starts at $75; from its enormous cache of supplies, the company can choose another carpet piece that is similar and will more or less match in weight, color, and pattern. Katz's "pile patrol" can also overcast frayed edges, sew rips, and re-fringe ends or machine-bind edges (both $5 per foot). The company also cleans carpets, and the cost is based on carpet classification, from simple bound remnants to decent machine-woven carpets, to delicate hand-mades; cleaning a 9-foot-by-12-foot Oriental is usually around $175. Pick-up and delivery are included in the price, although there's a modest fee for putting a rug back down. About the only thing Majestic doesn't do is reweave. 644 Whittier St., The Bronx, 718-542-7474 & 212-922-0909 (This article originally appeared in the 3/06 issue of Manhattan Living.)
Posted on Monday, November 26, 2007 @ 03:51 PM | 3829 replies View/Post Feedback
---
City Shopping
In his native Hungary, Janos Spitzer was a horse-drawn-carriage maker, but when he came to America over 40 years ago he realized he wouldn't be building too many carriages stateside. So he turned his prodigious woodworking skills to something more useful: flooring. Today he is considered one of the preeminent flooring artists in the city.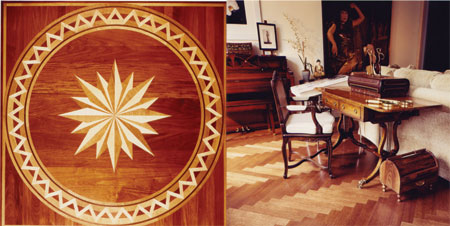 He focuses on high-end residential projects, building and repairing plain flooring, straight-strip floors, and elaborate parquets. Enamored by exquisite flooring, Spitzer matter-of-factly states the he is "on a mission to teach architects how to design properly constructed floor systems." And to do that, he holds monthly seminars for architects and designers. He further notes that one of his most satisfying projects was consulting "in the building that used to be Alexander's, the Bloomberg building. I designed the floor assembly, assisted in obtaining the quarter-sawn white-oak plank material, and supervised the milling and installation. I am proud to say that you can do a 'proper' floor in a high rise -- it's level, it has sound attenuation, built-in softness, and beauty -- and it's a whole lot less expensive than you would think." His talented artisans work on both pre- and post-war flooring, although they are handled quite differently. They will sand and refinish mechanical (i.e., nailed-down) floors, starting at $6 a square foot. "We sand four to five times with different grades of sandpapers, and our prep is very thorough. We will even move and protect furniture, taking photos so we put it all back where it goes when the floor is complete." Installation of top-quality flooring starts at $25 per square foot. 133 W. 24 St. btw. Sixth & Seventh Aves., 212-627-1818; www.janosspitzerflooring.com (This article originally appeared in the 3/06 issue of Manhattan Living.)
Posted on Monday, November 26, 2007 @ 03:51 PM | 1405 replies View/Post Feedback
---
City Shopping
Martin Albert Interiors has been in the decorating business 25-plus years, custom-crafting draperies, valances, window treatments, headboards, bedding ensembles, pillows, and all manner of home furnishings. The company keeps thousands and thousands of fabric samples and swatch books in the shop and offers excellent prices on designer yard goods that would cost much more elsewhere (cottons from as low as $12 a yard, to silk taffetas at about $45 per yard, up to the most opulent silk brocades at $600 a yard); its fees for its workroom labor are also affordable. 
For the design-challenged, there are talented decorators on staff who can guide you through what might be, for some, a daunting process. Recently, the shop opened up an on-premises workroom -- in addition to the smaller atelier it maintains above the store -- for actually building furniture, and now Martin Albert can custom-craft any one of a dozen chairs and a half-dozen sofas that it maintains in its proprietary line. Here's how it works: You pick the model sofa that you like -- say, a camel-back, or a Chesterfield, or a classic Lawson style -- and then the frame is built and the entire unit is covered in muslin. You come in for a "fitting" and adjust the seat height, depth of the back, the pitch, or whatever needs tinkering with. The turnaround time is quick for custom work; usually less than three weeks. Prices (without fabric) are quite reasonable for what you're getting: $1,600 to $2,400 for club chairs, $3,200 to $5,000 for sofas. 9 E. 19 St. btw. Fifth Ave. & Broadway, 212-673-8000; www.martinalbert.com (This article originally appeared in the 3/06 issue of Manhattan Living.)

Posted on Monday, November 26, 2007 @ 03:51 PM | 4305 replies View/Post Feedback
---
City Shopping
Karen Lee has spent over 30 years at the stove -- whether teaching, lecturing, writing cookbooks, catering, developing recipes, or just fiddling around doing her favorite thing: cooking. Suffice it to say, she really knows her way around a whisk. And you and your "better half" will, too, if you take one of her heart-healthy cooking classes for couples. (Fret not: If you're not part of a couple, but might like to be, she's got classes for singles, too.) Everything Lee makes -- and will teach you to make (and you?ll dine plentifully after class) -- is geared toward wholesome eating, but unlike so many other so-called healthy meals, Lee's repasts are so flavorful, you'll swear the chef cheated.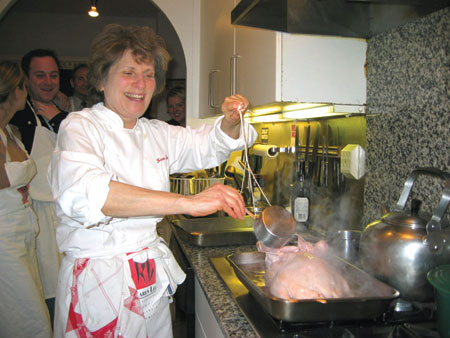 Lee's tasty cuisine is heavy on Asian and fusion influences, and all of her recipes are exciting?red snapper a la Veracruzana, chicken with shallots and walnuts, and winter squash stew (we swear, we?ve never eaten anything that is this delicious). Couples classes will meet on Tuesday nights, with a revolving schedule throughout the month); classes for singles on Thursday evenings. (Per person: $90 per class for four classes, or $100 per class.) Call for reservations and information. 212-787-2227; www.karenleecooking.com (This article originally appeared in the 2/06 issue of Manhattan Living)
Posted on Monday, November 26, 2007 @ 03:51 PM | 248 replies View/Post Feedback
---
City Shopping
"The best medicine for heart disease is early detection," advises Albert Barrette, the managing director of Inner Imaging, the only independent heart-scanning facility affiliated with a major medical center, the Continuum Heart Institute at the Beth Israel Medical Center. There is no better Valentine's Day present than to give the gift of life. So why not treat the one you love (and yourself) to a heart scan, to nip a potential problem in the bud? Barrette proffers some alarming statistics about what is commonly called "the silent killer": That heart disease kills more than twice as many people as cancer and that this year, a half-million will die from it by age 45. That nearly 70 million Americans -- half of all men and one-third of all women -- suffer from one form or another of heart disease. Barrette further warns that you can actually have heart disease for over 15 years before you have symptoms, which is all the more reason that early detection is critical.

The scans offered at Inner Imagining are non-invasive, take 40 seconds, and are 98% accurate in determining whether you have coronary artery disease. The center's machine, which performs Electron Beam Tomography, is a GE Imatron, considered the gold standard for heart scans. The physicians at Inner Imaging recommend them for men over 35 and women over 45 and note that these scans are more accurate than a CAT scan. Can you put a price on peace of mind? It will be the best $495 you've ever spent. 67 Irving Pl. btw. 18th & 19th Sts., 212-777-8900; www.innerimaging.com (This article originally appeared in the 2/06 issue of Manhattan Living.)
Posted on Monday, November 26, 2007 @ 03:51 PM | 263 replies View/Post Feedback
---
City Shopping
If the holidays brought not only cheer but also a broken antique Limoges platter or a shattered alabaster candy dish, then carefully pack up the pieces and head over to Ark. Rena and Anatoly Kristul are geniuses at putting things back together again, to paraphrase a well-known line about Humpty Dumpty. Rena studied design, glass, and porcelain manufacturing, and Anatoly engineering, and together they can tackle repair and conservation jobs on just about any objet -- ceramics, stone, wood, metal, enamel, and even glass. 
While they count prestigious museums and bold-face-name collectors among their clients, they will still repair a humble coffee mug, but only you can decide if it's worth the tariff. The easiest repair is a sharp break (with clean edges) and, assuming you haven't fiddled around with Krazy Glue yourself, Rena can often do a minor repair -- a lifesaving measure, if you will -- for $35. More elaborate partial restoration -- where a chip, say, on the rim of a plate is filled in and colored but not glazed -- would represent another rung up in the price scale. The most costly restoration (and Anatoly says rates can escalate into the thousands) for multiple, nasty breaks on a pedigreed Sevres tureen, for example, would require recreating a glaze and overglaze (and might even necessitate creating a tricky clay body), sculpting a shape to fill in missing parts, and might also involve gilding. But Ark's work is seamless, producing a repair that is virtually invisible. By appointment only. 252 W. 37th Sts. btw. Seventh & Eighth Aves., 17th flr., 212-244-1028; www.arkrestoration.net (This article originally appeared in the 1/06 issue of Manhattan Living.)

Posted on Monday, November 26, 2007 @ 03:51 PM | 8 replies View/Post Feedback
---
City Shopping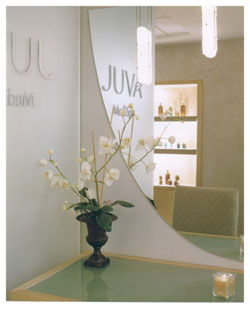 The Juva Center offers something for everyone when it comes to laser and cosmetic surgery, aesthetic skin care, and general dermatology, and the packed waiting room attests to the solicitous care and exceptional skill of the entire staff. Whether it's head-to-toe skin treatments, micro-dermabrasion, laser procedures to obliterate brown spots and little blood-vessel "tributaries," or injectibles to do away with varicose veins -- or even more extensive surgery, like face lifts or tummy tucks -- the Center's team is equipped to expertly handle it. Dr. Michael C. Bruck will tell you that the demand for state-of-the-art, specialized cosmetic procedures is burgeoning...but a more interesting statistic buried in that generality is that, among men, cosmetic procedures are definitely on the rise. Dr. Bruck estimates that nearly 20% of his patients are men, and the most common procedure they come for is to shed those endearing, but unwelcome love handles: "You can never just spot-reduce an area at the gym. You can build an area, but not effectively 'remove' it." And so liposuction is the best bet. More fascinating, however, is the number of men who come in for Botox -- for their hands! "A handshake says so much about us," he comments, and further adds that men whose hands perspire opt for Botox to alleviate it. He also observes that the "brow-and-forehead" complex is another target for men, and he says that Botox is again the solution for those furrows. The Center also sees many men who come to have excessive hair removed. In other words, no reasonable cosmetic problem cannot be solved here -- regardless of your sex. Juva Skin & Laser Center and Health & Wellness Center, 60 E. 56th St. btw. Madison & Park Aves., 212-688-5882; www.juvaskin.com (This article originally appeared in the 1/06 issue of Manhattan Living.)
Posted on Monday, November 26, 2007 @ 03:51 PM | 1 reply View/Post Feedback
---
Subscribe to this Blog's
Feed