City Shopping - Stationery/Writing Instruments Blogs
Back to Blog... | View More Bloggers...

About the Author: About the Author: Ruth J. Katz is a well-known shopping and service writer based in New York City. She has written about shopping for 25 years for New York magazine; covered the topic on-air at Fox-TV for several years as the Home Services expert; and had her own show on both the USA and Lifetime Cable networks. Katz wrote extensively for The New York Times as well, and contributed periodically to the New York Daily News. She is a passionate shopper, always looking for not merely a good buy, but the best buy, ferreting out a "steal" or discovering up-and-coming designers. She has written five books and is a former contributing editor to Hearst's Redbook, Classic Home, and Colonial Homes; she is currently a Contributing Editor of New York Home, Golf Connoisseur, The Modern Estate, and Promenade magazines. She is also the former Shopping Director for Davler Media's Manhattan Living.


---
City Shopping
Now that you have gazillions of holiday digital shots--not to mention funny shots of your dog buried in two feet of snow in Central Park--out of your camera and into your computer, what are you going to do with them? Most of us do nothing, at least for a long time, until we feel less intimated by the jumble of p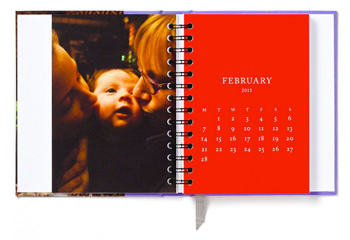 ictures with indecipherable code names, like SAM-897-a402.cf, instead of names that read: "Rosie and Austin Making Snow Angels." But, even if you are the least bit digitally-challenged, Pinhole Press can help you make lemons from the digital salmagundi.
The company, a destination online boutique for personalized photo gifts, was launched a mere two months ago, a combo effort between the design firm of Rosebrook | Peters | Funaro and Mohawk Fine Papers, makers of superior-quality, elegant writing papers (think: Strathmore), and the largest privately-owned manufacturer of premium printing, writing, and digital papers in North America. The effort is a home run, from photo books and holiday cards to calendars and day-planners. Each photo gift is handsomely designed, sophisticated, and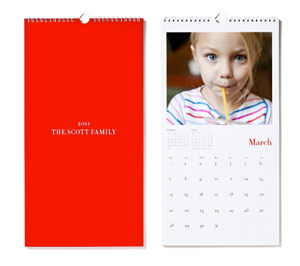 stylish.
The Web site offers more than 150 gift ideas (hey, make some for yourself-they don't all have to gifts!), from simple holiday cards (at $1.59 each) to the most pricey item on the site, a 13-photo large day-planner ($78.99). The site is very beautifully designed-a clean, crisp presentation, making it easy to find what you want, and order it. You do not have to hold a degree from MIT in order to figure out how to get your pictures into their format, to make a calendar (I made four in the wink of an eye!), or a beautiful day-planner or journal. In fact, once your picture is up on the site, you can tinker with it and edit a little, crop, and so on. "We had our mothers in mind when we were creating the products for Pinhole Press," said Peters. "Simplicity is at the core of the products, website and design; and each one of our products was conce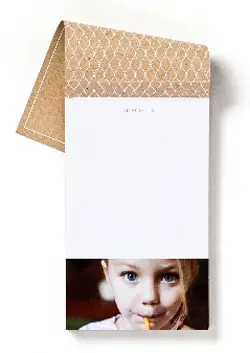 ived to make gifting easy and fun. We want to give consumers the opportunity to share their photos in the most beautiful, yet simple way."
Once you log on and start to make agendas, calendars, notepads, etc., you'll agree. Just as an aside: I made my stuff early on when the site was brand-new and a little hinky; I've checked it weekly and all seems to be running smoothly now, so get online and put those digital photos somewhere where you can admire them, not taking up RAM in your computer, tucked away in folders! Pinhole Press is classy, affordable, and easy to use!
Posted on Thursday, January 06, 2011 @ 12:27 PM | 0 replies Start the Discussion
---
City Shopping
Time to start thinking about Xmas. Yeah, we know. It's not even Halloween yet, and we're yakking about Noel. But, for those who like to be ahead of the ticking clock, it's the witching hour for getting your card orders in the works and for thinking about pretty personalized gift/hang tags--not to mention you might just want to give gifts of handsome personalized stationery. So, it's definitely time.
We recently were introduced to an excellent resource, the Web site Lobird, and wanted to share it with you. Founded by Laurie Rohrbach, Lobird is the nickname her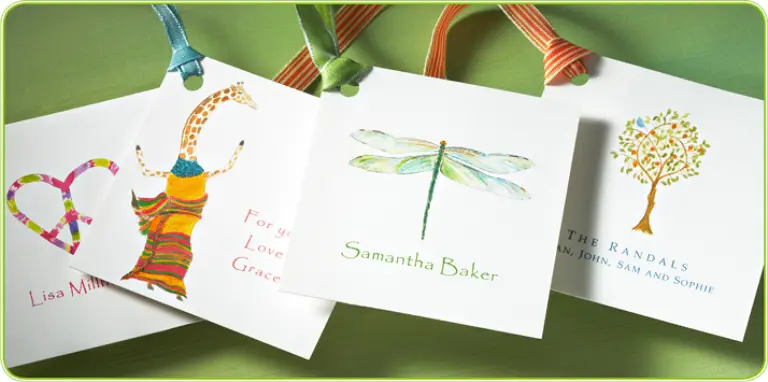 father used to call her. Laurie's mom died when she was but three, and later in life, she found a cache of letters handwritten by her mother; they were evocative, and moreover, many had decorative doodles in them, a sketch, say, of a Mayan motif her mother had seen in her travels, or something she had admired in a local market. It was a telling moment for Laurie: She instantly grasped the power of the handwritten word, the sentiment and personal significance a splendidly penned note can convey.
As an artist, she saw that her path was clear. And, thus, Lobrid was created. All of Laurie's designs come from her heart and her hand-painted images are delicate, somewhat whimsical, while still being representational-sweet without being precious. She was born in Australia, raised in California, and served in the Peace Corps in Thailand, so she draws on her world travels and p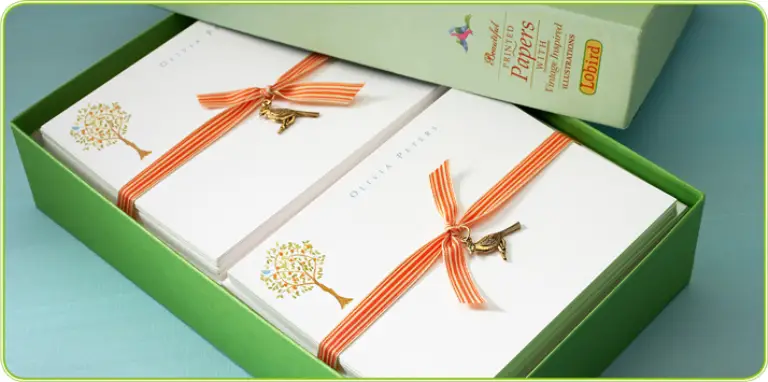 ersonal journeys--spiritual and physical--for inspiration.
Her paintings are all delicate and her color combinations--even her choices of ribbons for hang tags or sheer papers for envelope linings--are very precisely selected. There are virtually hundreds of motifs from which to select, and the website is so well organized you'll have no trouble finding things animal, vegetable, mineral, so to speak. She's organized the site by recipient/user, by category, by theme, and so on. And once you have selected your category and image, fine-tuning for the personalization is a snap.
Lorbird's prices are quite fair, also. Everything comes packaged carefully and exquisitely, wrapped in clear envelopes, encircled with ribbons, embellished with little charm accents-all thoughtfully wrapped and protected. Note cards start at $25 for a set of 12 (25 are $43), and for additional upcharges, clients can have envelopes lined and/or printed with return addresses. Gift tags (they are so delightful, the perfect finishing touch to a wrapped present) start at $28 for a set of 12 (25 are $48). These are her bestseller year 'round, and they can be easily personalized-typeface, ribbon color, message, design, and so on. She also makes charming gift enclosure cards.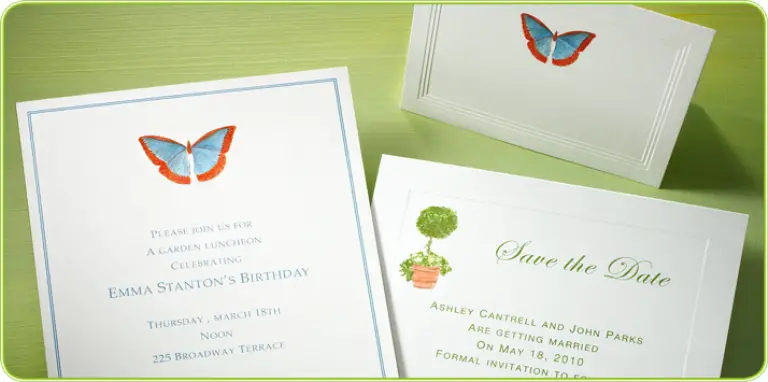 In addition, given that it's holiday/entertaining season and a new calendar year is 'round the bend, think of Lobird for customized party invitations and for her fanciful calendars. (The calendar brass easel is $48).
Posted on Wednesday, October 27, 2010 @ 01:37 PM | 0 replies Start the Discussion
---
City Shopping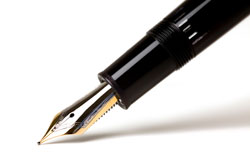 We are nuts for stationery. In fact, one of our good friends, a stationer himself, calls us a "paper slut." We cannot help ourselves. We see fine writing paper, unusual letterhead, vellum with a textured hand, and we just have to have it. It's a darn good thing we still believe in writing letters -- proper thank-you notes, congratulatory letters, best-wishes epistles -- or all this paper we have accumulated over the years would render us a waiting-in-the-wings Collyer Sister. But we use it, we cherish it, we love it, and we mail it!

And so it's all the more reason that we adore Russell Sloane, makers of the finest writing papers and most wonderful letterset personalized stationery. If you have an unlimited budget, assuredly, whatever you order from them can exceed it! Sloane Madureira, half the team here, has a studio-art background from Pratt, while her husband and partner, Russell Maret, studied book arts with a renowned master. Together, they are a formidable pair and their work incorporates all manner of craftsman-like, unique details. Sloane excels at creating elaborate invitations, with many pieces, and she adores tracking down the just-right components of a multi-part mailing. Russell is the master printer and will perform his leger de main even on wood veneer.

Like so many things we adore, stationery from this duo isn't inexpensive, but then we are a firm believer in having your papers put forth the right image (people often see your papers before they meet you, you know) and you should spend, spend, spend for that image. Wedding invitations with many parts (maps, binders, and so on) can go up to $60 or more per piece, and more pedestrian, everyday (but equally gorgeous) social stationery (with a two-week turnaround) can cost $700 to $1,200 for a box of 200. With prices like that, you?ll find you really WANT to write notes to people, especially those who will truly appreciate not only getting a handwritten note, but will also revel in the paper itself. 336 W. 37th St., Suite 204; 212-539-0184; www.russellsloane.com

Posted on Monday, December 17, 2007 @ 01:15 PM | 36 replies View/Post Feedback
---
Subscribe to this Blog's
Feed